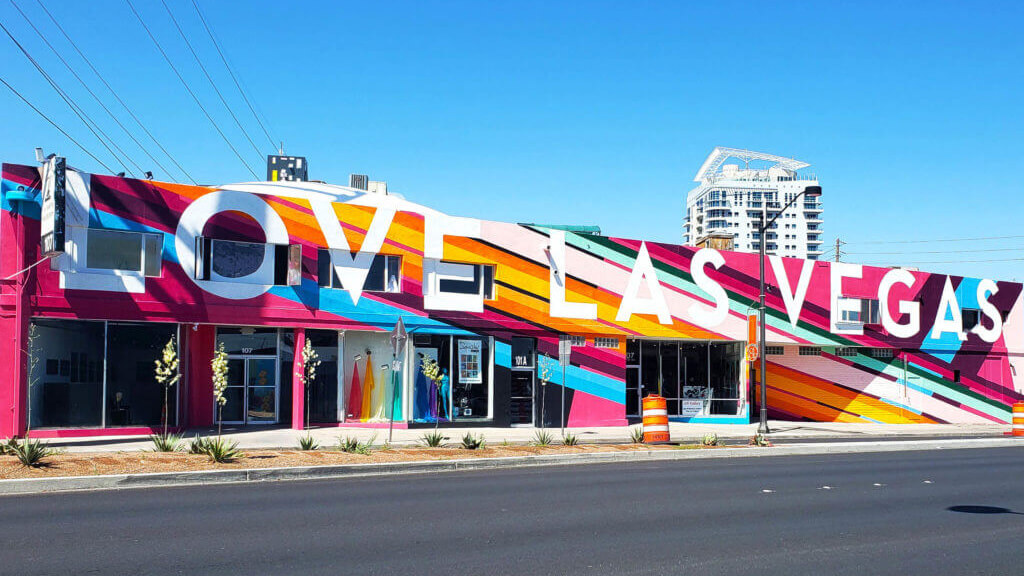 Welcome to the Vegas your pals never noticed from their bachelor party suite: the Las Vegas Arts District, also known as "18b"—the 18-block neighborhood and community vision that's shaping the city's character with its self-described "cultural explosion" of art galleries, funky antique shops and boutiques, chic cafés and bars, and a totally fresh, locally-driven flavor. Basically, if you've ever wondered "wait, people actually live in this town… where do they even go?"—first off, congrats on being that person. Second, here's your answer.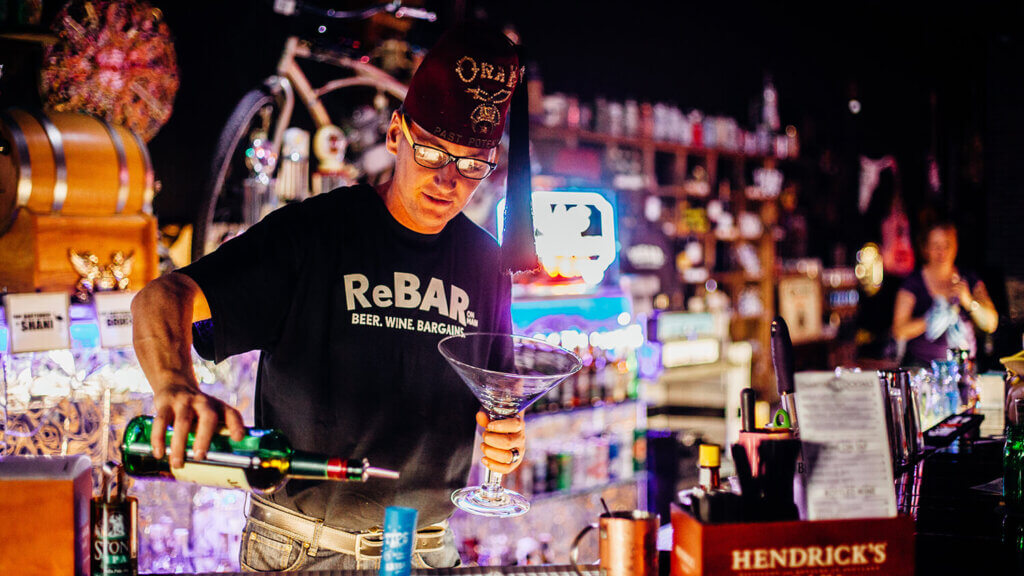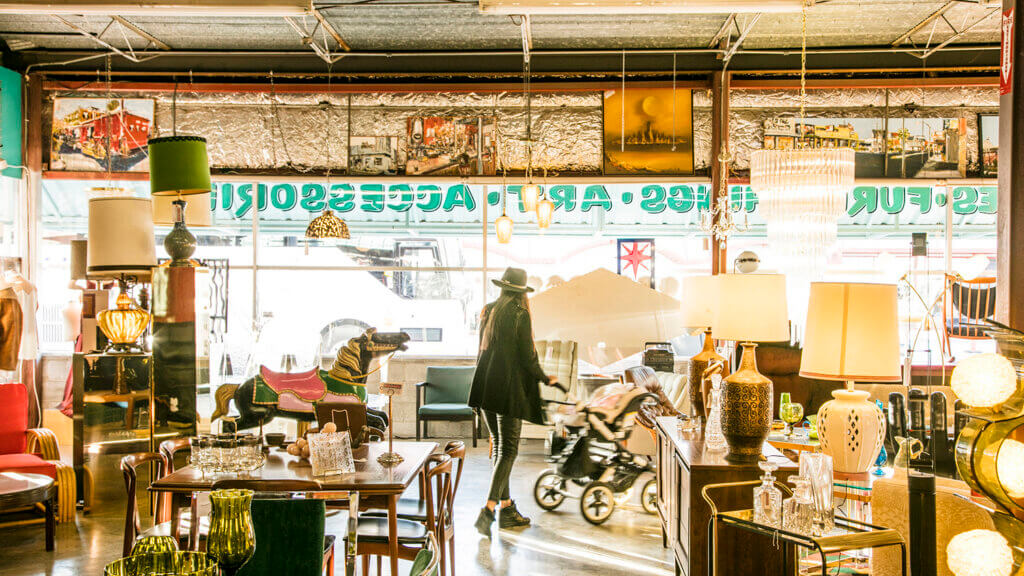 Galleries Galore
Art galleries and studios line 18b's backbone, producing and exhibiting a wide range of styles and media, from surrealist paintings and ceramics to fine art and photography.
Antique Alley
Over 20 independent shops sell retro furniture, vintage clothing, antiques, and other nifty wares—many oozing with the essence of the city's bygone eras. Get lost in Antique Alley Mall or browse the museum-like Retro Vegas for casino castoffs and other mid-mod swag. Get outfitted for the occasion with new-to-you duds from Glam Factory Vintage or the decidedly pin-up chic Rockin' Bettie.
Heart & Soul
Right in the geographic and cultural heart of the district, pop into The Arts Factory, a converted warehouse where you can ogle art, try on jewelry, catch a poetry reading, or grab a libation. Then head across the street to Art Square for another helping of it all, in restored vintage buildings that also house the intimate Vegas Theatre Co., a swanky cocktail lounge, and even a wedding chapel (because Vegas).
Graffiti Art Gallery Alley
With commissioned murals coating more and more businesses, this pair of multi-block, free-for-all outdoor canvases host a constant stream of naturally-replenishing street art.
Bars & Bistros
It may not be the Strip, but it's definitely still Vegas, so be sure to show up hungry and thirsty. With endless choices—from street tacos to haute cuisine, artisanal cocktails to siphon coffee—the cuisine scene here is as dynamic as the art. Try Nevada Taste Site for "Nevada-inspired" recipes and 20+ NV-brewed beers on draught; Jammyland for jerk chicken on the patio of a "Cocktail Bar & Reggae Kitchen;" and, of course, ReBar—equal parts hip drinkery and retro furniture boutique, it may well be "the only bar where everything's for sale!"
First Friday
This long standing monthly festival, Las Vegas' premier arts and cultural event, invites around 15,000 visitors to one big district-wide block party, revolving around food, drink, live music, visual performances, and artists showing off their creations. Preview Thursday happens the day before, allowing serious art lovers to mingle with artists and browse, without the crowds.
For the most up to date information on 18b—including new business openings and events—be sure to visit the Las Vegas Arts District's site, by clicking HERE.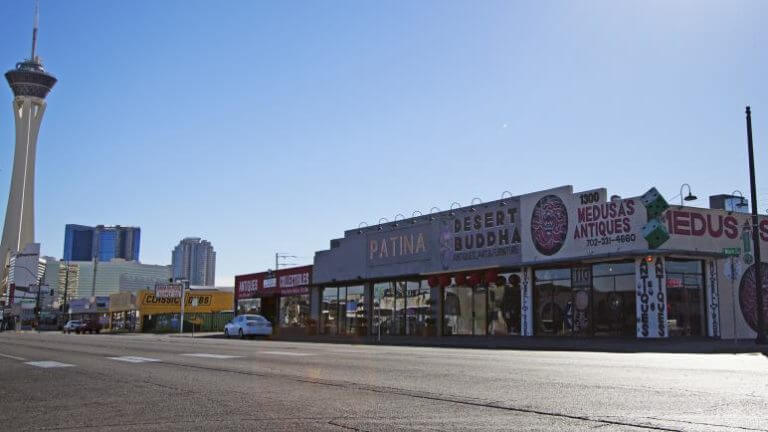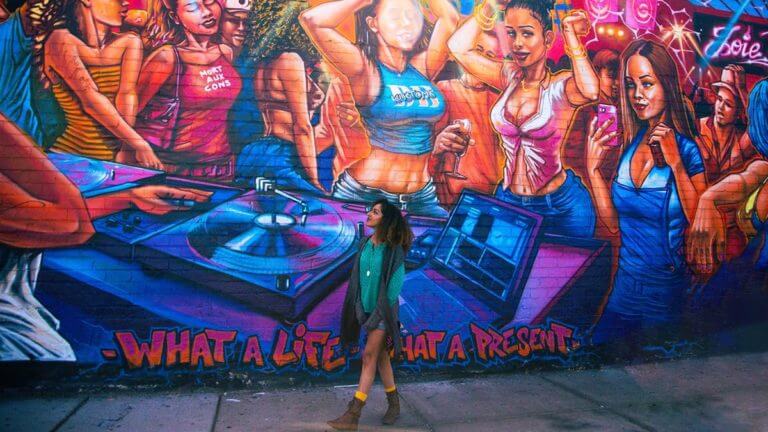 This Location: