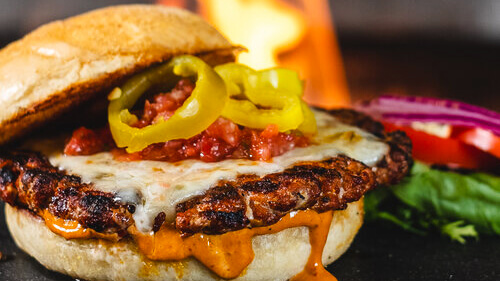 Butchers Kitchen Char-B-Que
Whether it was butchering, cooking, catering or BBQing, the Ferencik family has always been involved with food in one way or another. This time, uniting a variety of specialty skills across multiple generations, this father and sons team brings The Butcher's Kitchen Char-B-Que to Reno—a wood fired slow BBQ, Rotisserie and Open Char pit that's filled the bellies of locals, visitors, and any one can appreciate some damn good smoked meats.
Situated in south Reno at the Winners Crossing shopping center, discover masterfully prepared meats that have a way of making a classic BBQ menu come alive. From chicken breast, to pulled pork, grilled ahi, brisket, smoked meatloaf, butterflied filet mignon, to house-made sausages and Basque chorizo, nobody's walking out of this place hungry, or unsatisfied. Once you've selected your meat, put in a sandwich, burrito, specialty plate, or burger, then add on your sides. Even non-meat eaters will be impressed with a diverse menu of salads and sides here, ranging from ancient grains, to cold quinoa and mixed greens salads, to pickled veggies, southern slaw, roasted veggies, mac and cheese, seasonal soup offerings, and more.
Anything you order from the Butchers Kitchen Char-B-Que Reno is sure to satisfy. After all, this Reno restaurant managed to capture the attention of Guy Fieri, who filmed a segment of Diners Drive Ins and Dives here which featured Char-B-Que's Rib Tibs, Filet Sandwich, and house made Char-B-Que sauce. You can't go wrong no matter what you get your hands on here, but the house-made Chorizo Burger just so happens to be one of our faves. Sink your teeth into this Basque-inspired burger, topped with chipotle aioli, pico de gallo, and melted pepper jack cheese for one of the best burgers in the Silver State, then order up freshly made cookies and tarts for a BLC dining experience you won't be forgetting anytime soon.
Hours:
The Butcher's Kitchen is open Monday through Saturday from 11:00 AM to 8:00 PM. Closed Sundays.
This Location: