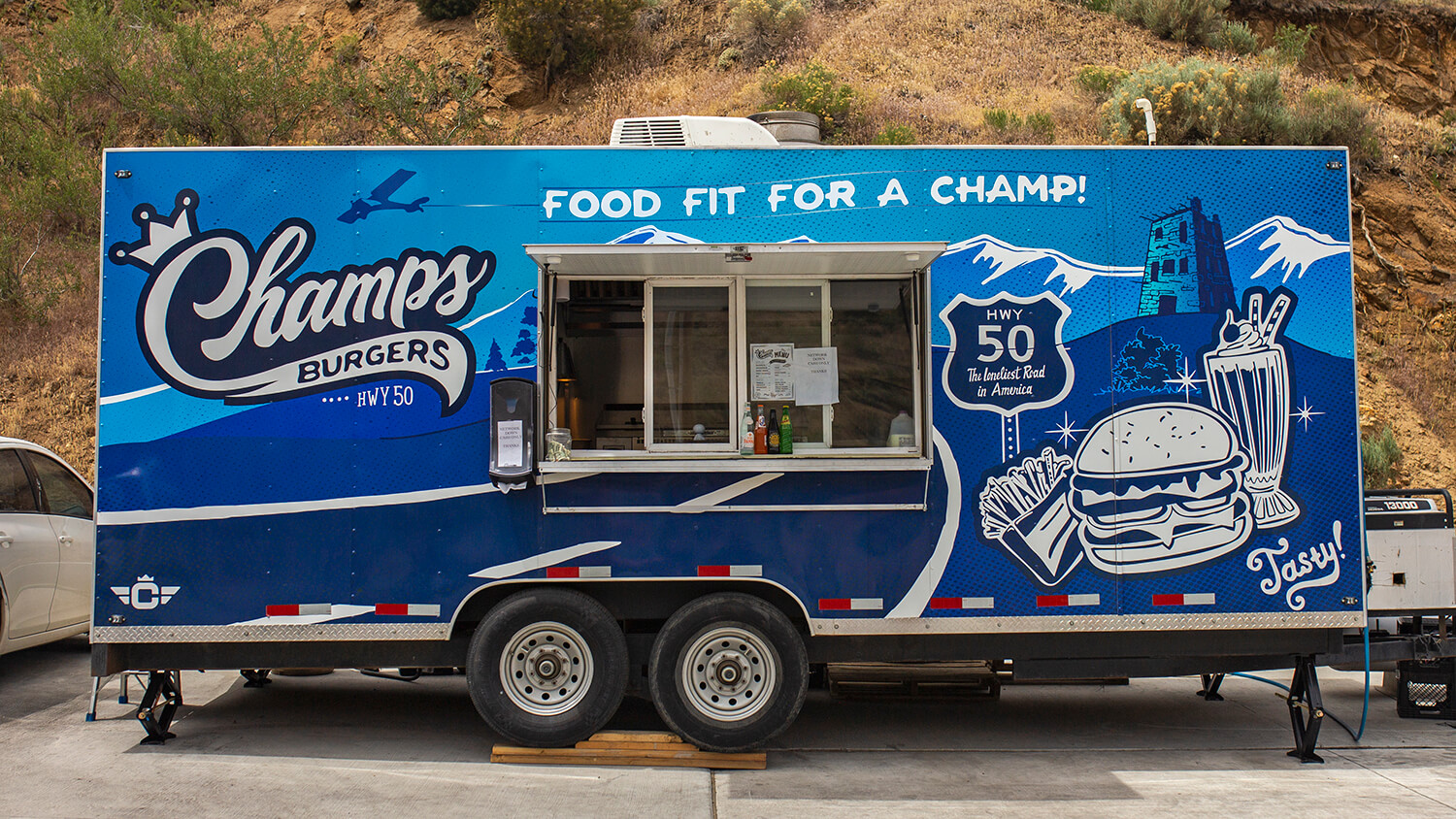 On a Nevada road trip stacked with some of the most legendary burgers in the Silver State, Champs Burgers has no problem standing out in a crowd. Situated in the heart of historic Austin, NV as the only operating restaurant in town, sink your teeth into one of the best burgers around at Champs Burgers food truck. As one of the newest businesses in this historic silver mining town, find the seasonally available Champs Burgers at Champs Gas Station on the western edge of Austin, NV.
Owned and operated by Champy, load up on all road trip essentials you might need at Champs Convenience Store, including freshly ground coffee and other refreshments, fresh deli sandwiches and salads delivered daily, clean restrooms, Loneliest Road in America pins, shirts, hats, and postcards, and friendly cashiers sure to stoke your excitement on all the things to see and do in this historic silver mining town. Outside, fuel up at the largest gas station in the area, or take advantage of EV charging stations equipped with Tesla adapters, and of course the seasonally operating Champs Burgers food truck.
But, Champs is far more than just a gas station and reliably stocked store. Open seasonally during the summer months only, order up one of the best burgers in the state at Champs Burgers food truck parked out front. Whether you order up a traditional or lettuce-wrapped burger, taste the quality in every hand-formed, locally ground, generously made Angus beef patties. Compliment one of the best burgers in the Silver State with freshly made fries, fried pickles, and other made-to-order treats.
Hours:
Champs Gas Station is open and welcomes guests year round, while Champs Burgers food truck is open seasonally, typically open from the months of May through October. During the summer months, Champs Burgers is open from 11:00 AM to 7:00 PM daily. For more information on Champs Burgers, get in touch with Champs Gas Station directly at (775) 964-2579.
This Location: