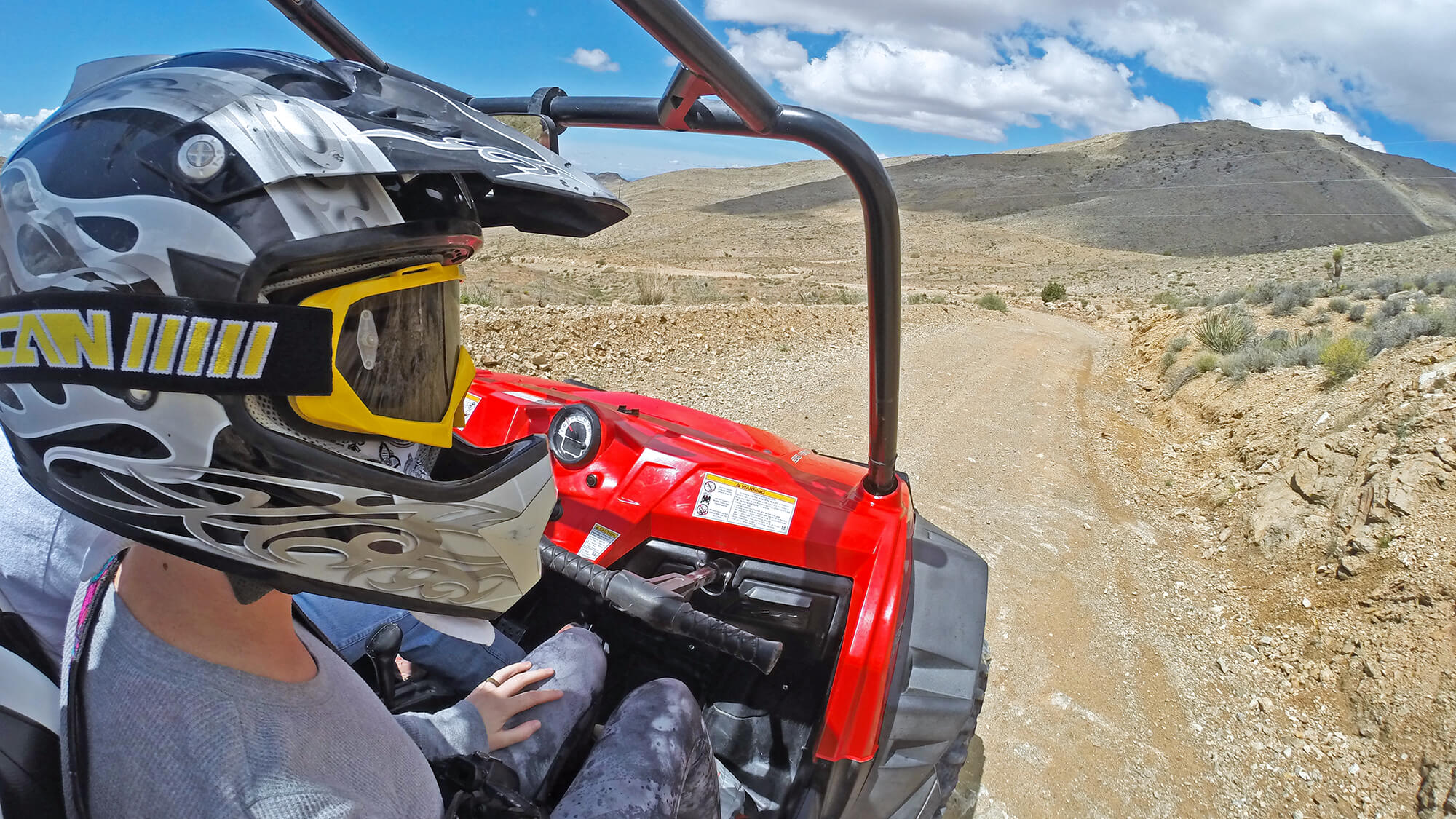 If you're planning only one off-the-Strip excursion, head for the fascinating and historic community of Goodsprings for an action packed afternoon of off-roading with Vegas Off-Road Tours. As the very first off-road tour in the Las Vegas area, owners Mel and Debra Stotts opened for business in hopes of offering an adventure filled day on OHVs, complimented with an immersive historical tour throughout a former mining community. Goodsprings was the perfect backdrop for their vision: one of southern Nevada's most lucrative mining areas of the early 1900s, with miles upon miles of killer trails.
To set the stage, significant prospecting occurred in Goodsprings. So significant in fact, that Goodsprings is still considered to be one of the most productive mining districts in all of Southern Nevada. Part of the reason Goodsprings drew in so many prospectors wasn't necessarily for the amount of loot in those hills, but the variety. Impressively, lead, silver, copper, zinc and gold were all mined in the area, which subsequently prompted a boom after the railroad was brought to Goodsprings in 1910.
Vegas Off-Road Tours begins at the World Famous Pioneer Saloon, the oldest bar in southern Nevada. The interior and exterior walls are stamped tin, manufactured by Sears and Roebuck, and thought to be one of the last [if not THE last] of its kind in the United States. Once you arrange for an excursion with Vegas Off-Road Tours, you'll meet at the Pioneer Saloon first thing, jump in your VegasRZR ATVs and hit the trail!
The tour typically lasts around 2.5 hours of in-seat driving time, taking you up and around the historic hills surrounding Goodsprings. Expect to take in of the area's fascinating history, as the tour will bring you through some impressive ruins. Once you've ripped up the trails, the tour will return back to the Pioneer Saloon for a legendary, Food Network-featured Ghost Burger from the Pioneer Saloon! Here, you'll have access to the Pioneer Saloon Museum, which includes the Clark Gable Memorial Room.
Visitors from other areas might think there is nothing to see in the desert landscape, but an afternoon with Vegas Off-Road Tours will assuredly change your tune. Positioned in the heart of the alluring Mojave Desert, off-road aficionados may even spot wild horses, quail, roadrunners, and depending on the season, a variety of vibrant wildflowers.
Vegas Off-Road Tours offers a few different vehicles that will suit each rider's needs. Each vehicle accommodates 1 to 2 drivers/riders, but also offers group rates of up to 20 people.
ALL VEGAS OFF-ROAD TOURS INCLUDE
Shuttle Service to Pioneer Saloon
5.5 hour tour, door to door
2.5 hours of in-seat driving time
Fun and educated guide
Helmets, Gloves and Googles
Wildlife protection scout
Bottled water provided on tour
Visit to Idle Spur Saloon
Pioneer Saloon Museum
Wild West History Lessons
Best burger ever with a cold beer or soda
Shuttle back to the hotel
For information on pricing and booking, please visit Vegas Off-Road Tour's website, or call ​(702) 721-8383.