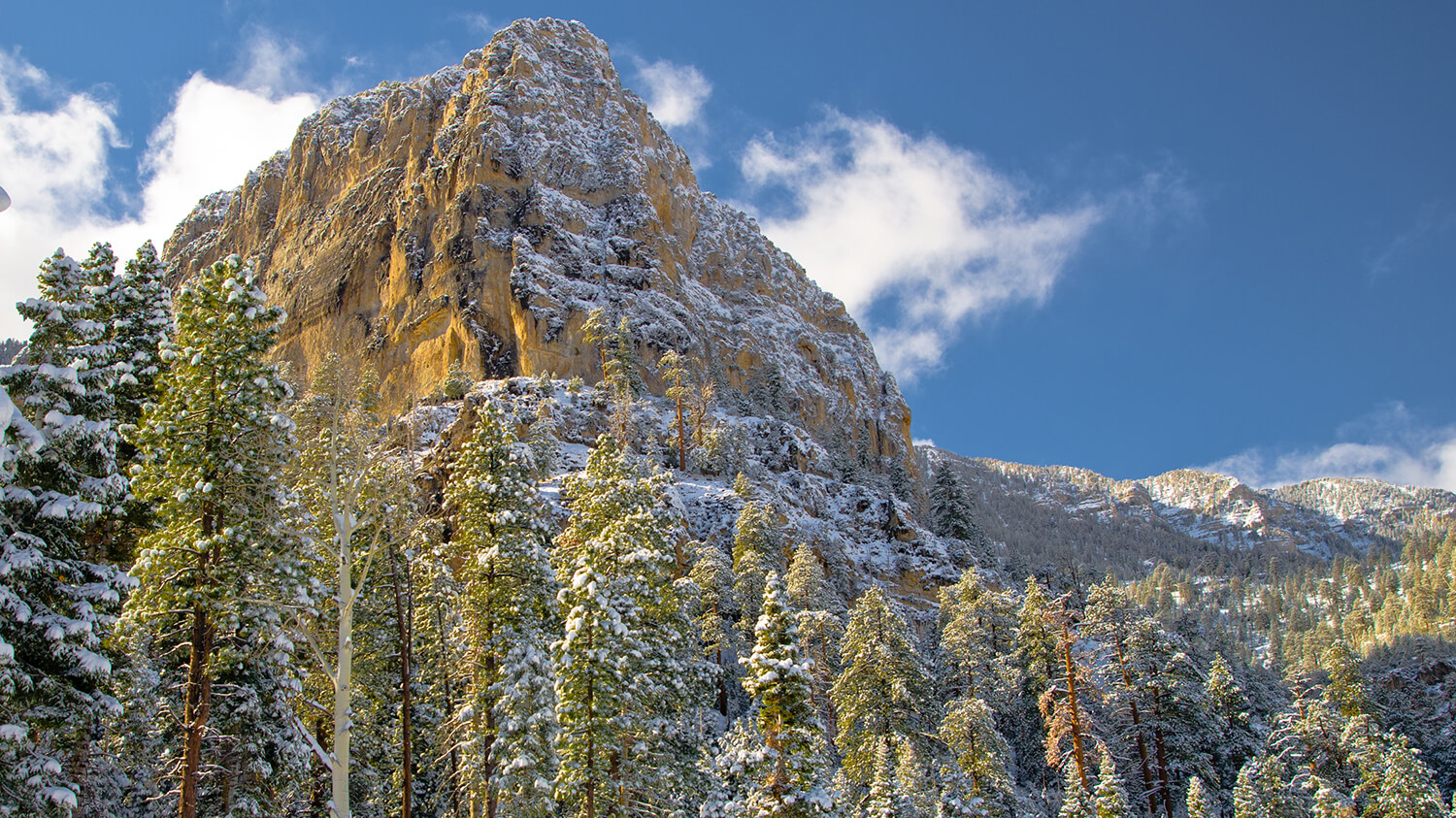 Spring Mountains National Recreation Area
Just beyond the glimmering lights of Las Vegas lies the spectacular Spring Mountains. Spanning 316,000 acres, this mountain range encompasses the world-renowned Red Rock Canyon National Conservation Area, the Mt. Charleston Wilderness Area, and La Madre and Rainbow Mountains. The Mt. Charleston Wilderness Area—57,478 acres of land managed by the Bureau of Land Management and the U.S. Forest Service—includes the Spring Mountains Range and Mount Charleston, Nevada's fifth tallest peak at 11,908 feet. Some refer to Mt. Charleston Wilderness Area as "Sky Island" because of its high elevation and isolation from the surrounding desert lowlands.
The incredible Bristlecone Pine—the oldest living trees in the world—are found throughout Mt. Charleston. Interestingly enough, this wilderness area contains 18,000 acres of them and is considered to be one of the largest Bristlecone Pine groves in the Intermountain West. The Mt. Charleston Wilderness Area also is home to 15 endemic wildflower plants as well as the Ponderosa Pine and White Fir, which are home to the Palmer's Chipmunk — a species exclusive to the Spring Mountains. Rocky Mountain Elk also are found here, along with wild horses and burros, desert tortoises, deer, coyote, foxes, bobcats, songbirds, hummingbirds and various birds of prey.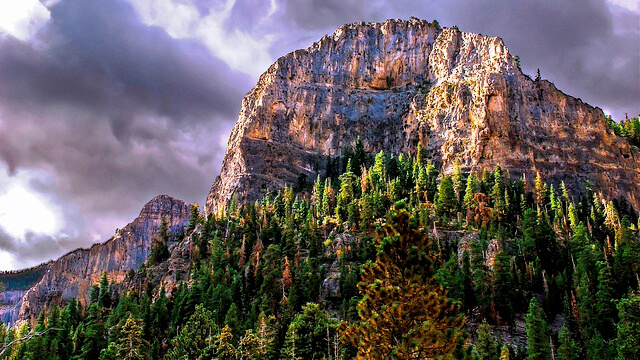 The Mt. Charleston Wilderness Area is an excellent place to relax year-round, but especially during the summer months as temperatures tend to be significantly cooler due to higher elevations. The rugged mountain scenery can be enjoyed with a relaxing drive, a scenic picnic, on the 40 miles of hiking trails, photography opportunities, wildlife viewing, or on the ski slopes. The mountain scenery extends across the crest of the Spring Mountains and includes an array of wide canyons and slot canyons, such as Fletcher Canyon, Robber's Roost, and Mummy and Trough springs.
Hiking and Horseback Riding
Most of the trails in the Spring Mountains are open to horseback riders, although the U.S. Forest Service stresses that the trails are difficult. Good day rides include the lower section of the Bristlecone Trail in Lee Canyon as well as the Fletcher Canyon Trail in Kyle Canyon. Horseback riders can reach Charleston Peak via the South Loop Trail (also known as the Spring Mountains National Recreation Trail) or the North Loop Trail and Trail Canyon Trail. Horses should be in good condition and prepared for high altitude.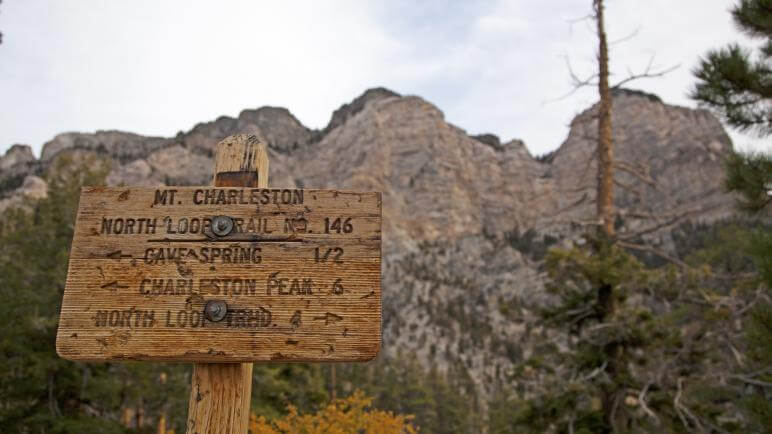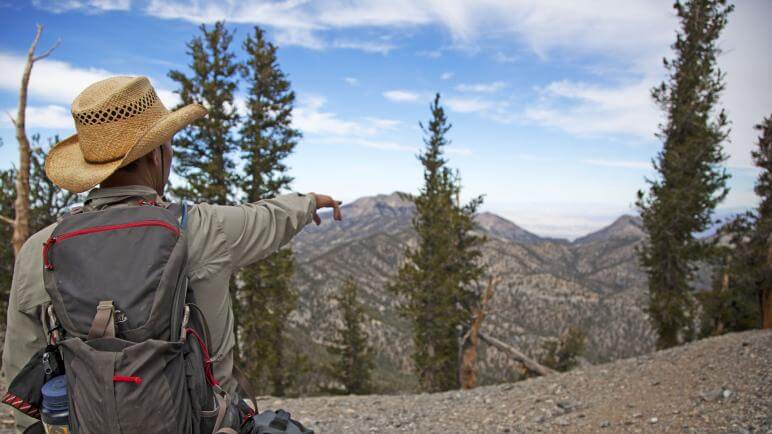 All trails in both Lee Canyon and Kyle Canyon are considered to be moderate to difficult, and many are considered to be steep, narrow, covered with shale and lacking water. The areas below 6,500 feet in elevation offer numerous forest service roads and trails winding through pinion, juniper and other high-desert terrain. Riders should note that the roads and trails are also used by off-highway vehicles. Camping with horses is allowed, but weed-feed hay is required.
Summiting Mt. Charleston Peak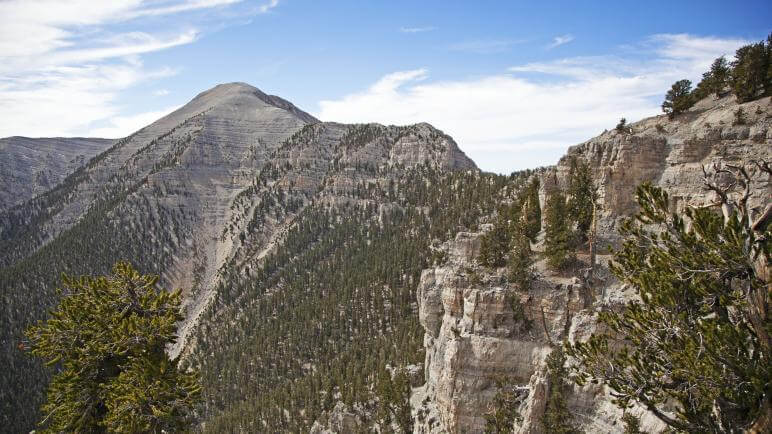 Sitting at 11,916', Mt. Charleston offers unmatched views of the Las Vegas metro area, North Las Vegas, Pahrump, and even glimpses of Death Valley. As Nevada's most ultra prominent peak, this jagged mountain range juts out of the surrounding Mojave Desertscapes. To access the summit trail and access some of the area's best hiking trails, head for Kyle Canyon. Here, you can access the North Loop Trail to summit Charleston, as well as Mary Jane Falls. To summit Charleston, plan for 17.2 miles round trip with 7,316' elevation gain over the course of 8 miles up.
Mary Jane Falls
Mary Jane Falls is a 3.2 mile round trip, moderately difficult hike located in the Kyle Canyon area of the Mt. Charleston Wilderness Area. A very popular route for visitors and locals alike and for good reason—what better way to escape the Las Vegas summer heat than cooler high elevation temps and a beautiful natural waterfall? During the winter months, Mary Jane Falls provides access to excellent snowshoeing, backcountry skiing, and even ice climbing.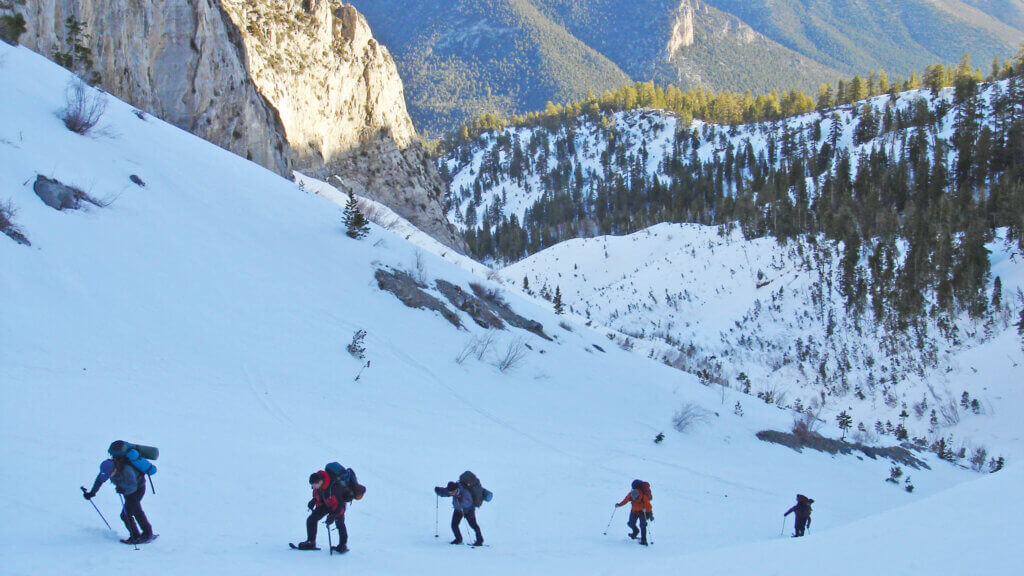 For the North Loop Trail and Mary Jane Falls, access Kyle Canyon Road via State Route 157. Keep an eye out for a public parking lot, and informational signs indicating trailhead access.
Climbing
The limestone cliffs of the Spring Mountains towering over the Las Vegas Valley make superb rock-climbing terrain. The mountain offers several climbing routes, including Angel Falls, The Hood (one of Mt. Charleston's most popular and developed areas, with four caves and routes up to 5.14), Imagination Wall (with routes from 5.10 and 5.12) and Universal Wall (its "Hydra" route is 5.11+.) YDS: 5.2 – 5.14+ Grade: III-V
Getting There
From downtown Las Vegas follow U.S. 95 northbound to a well marked turnoff for State Route 157 West. Follow 157 approximately 20 miles into the Spring Mountains National Recreation Area. Keep your eyes peeled for free parking areas, and signage about this spectacular high desert recreationalist's paradise. For more information on the area, or planning your visit, contact the United States Forest Office at (702) 872-5486.
Admission:
Recreating at the Spring Mountain National Recreation Area is free, no admission or special permits are required.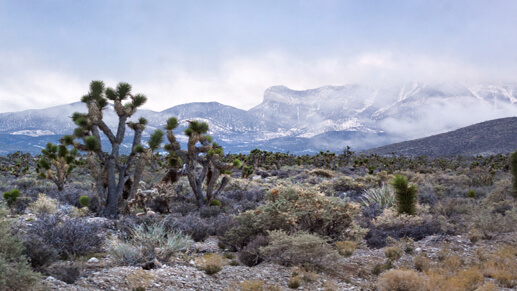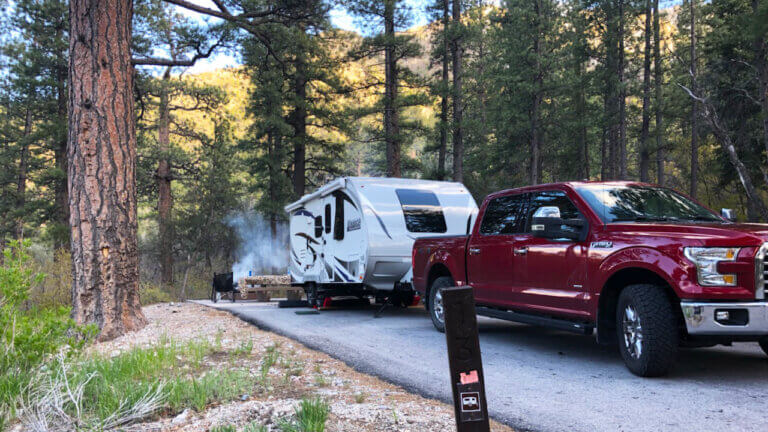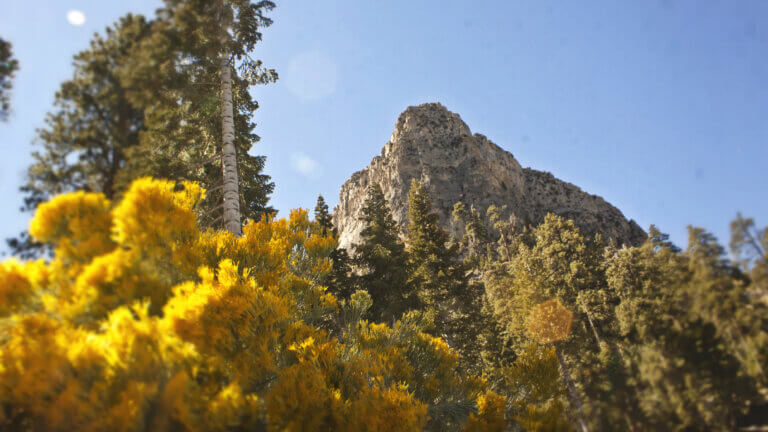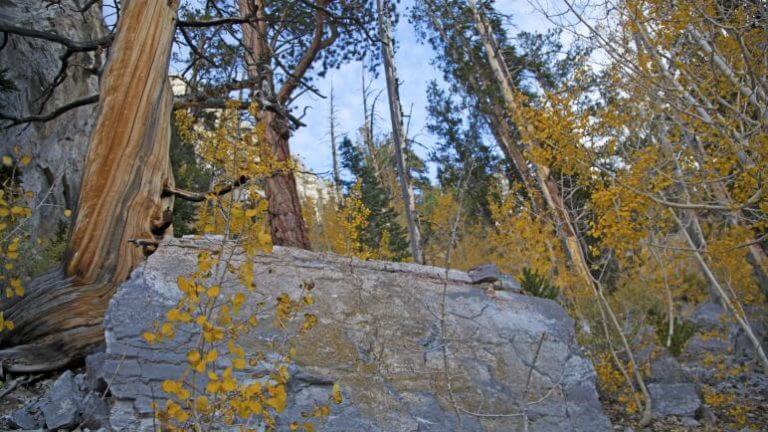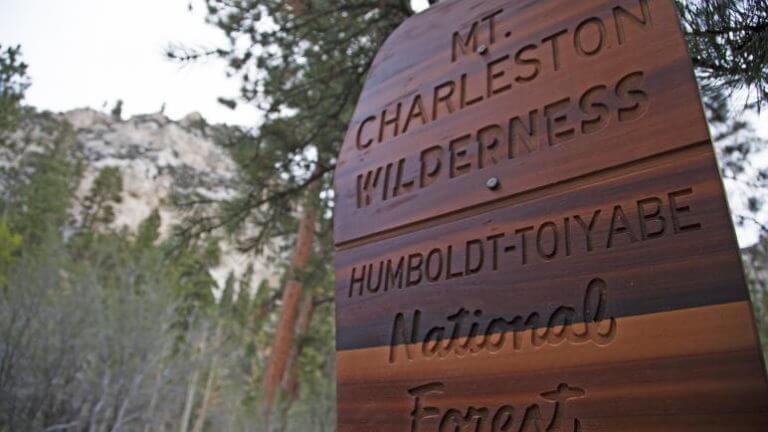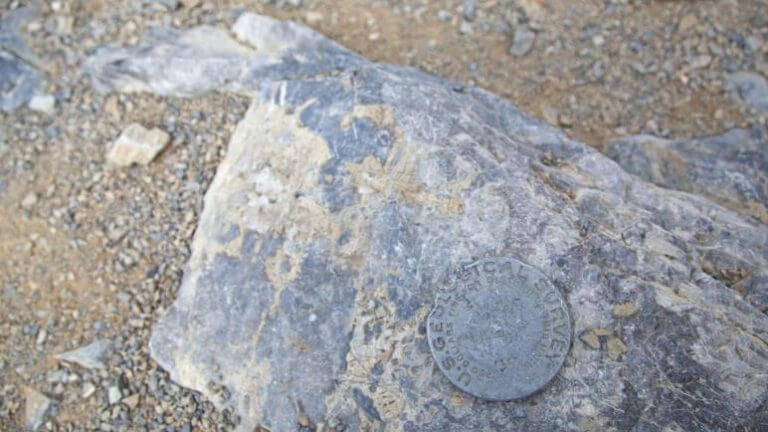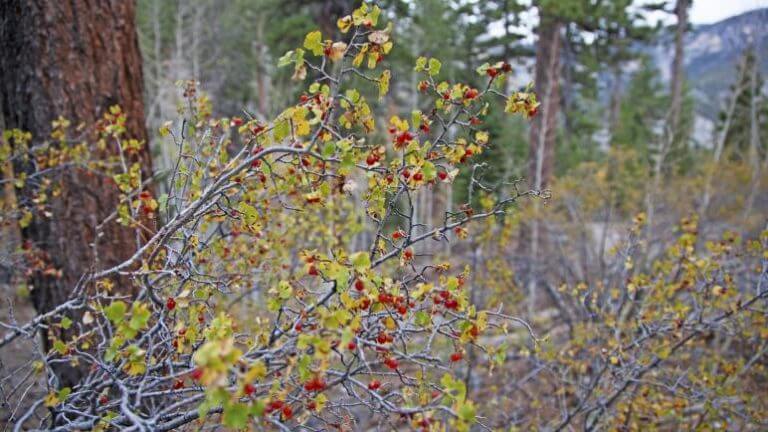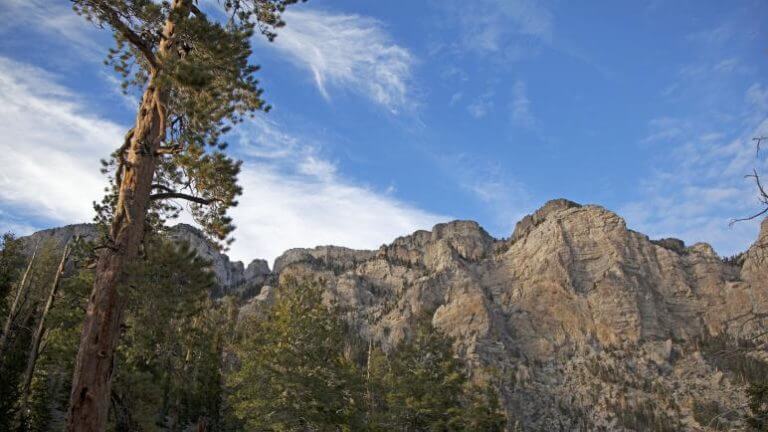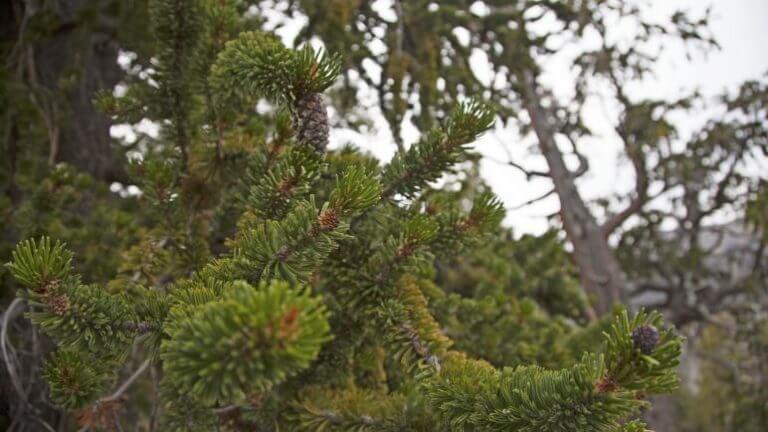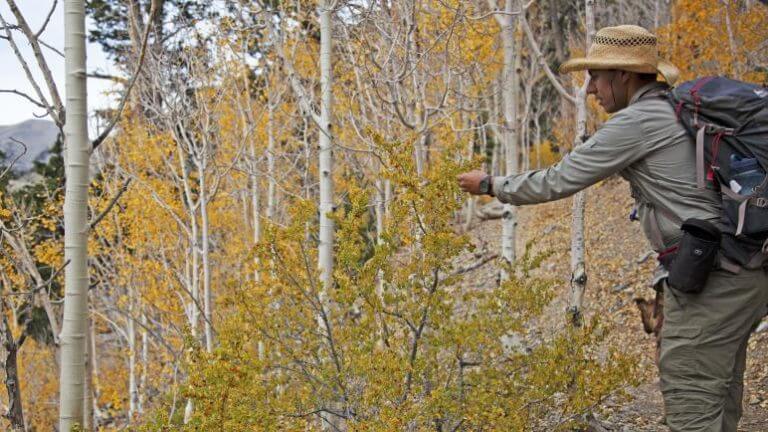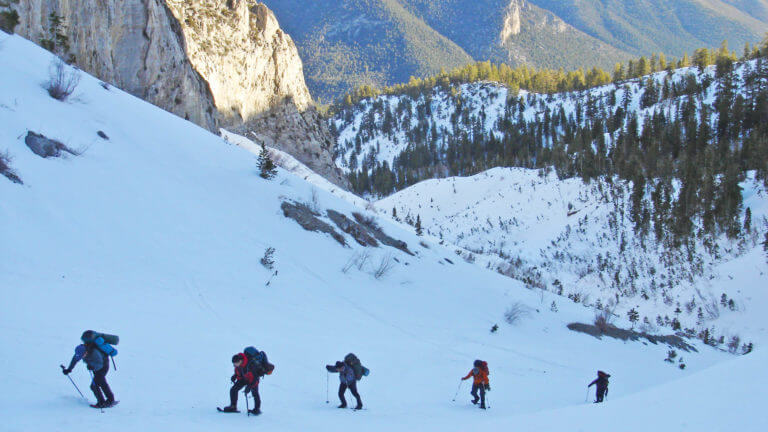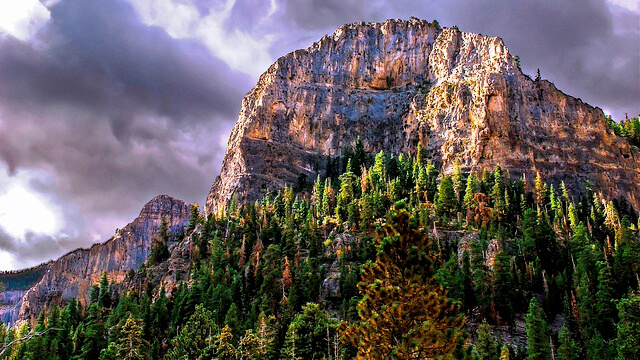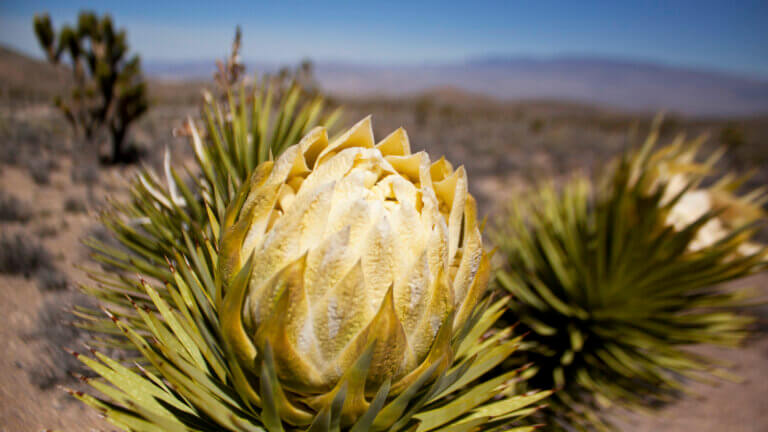 This Location: