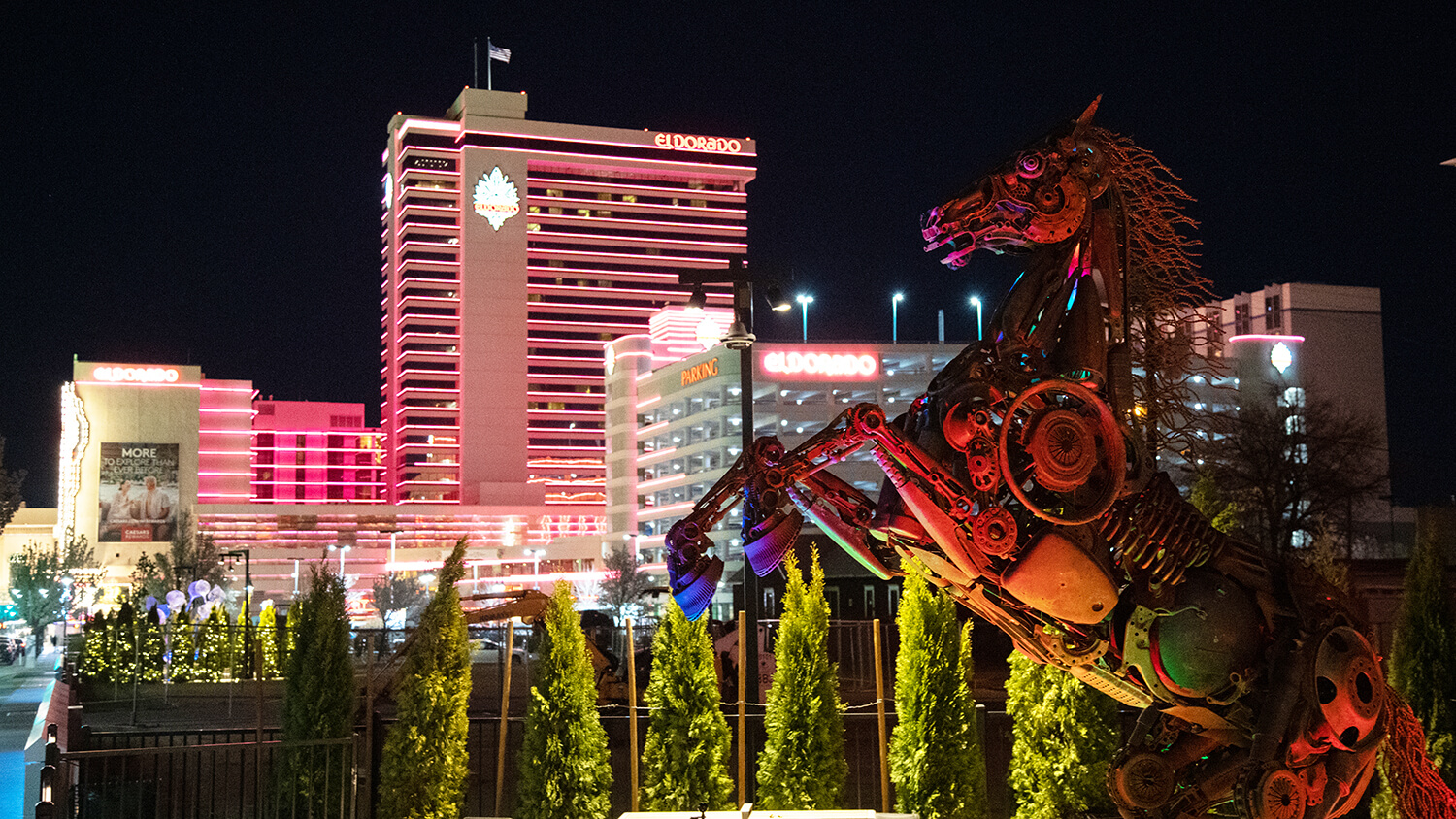 Soon to be brimming with historic neon signs, Burning Man art, new hotels, retail stores and restaurants, the reimagination of downtown Reno continues with the Reno Neon Line. A vision of Jacobs Entertainment, this storied stretch of the Lincoln Highway is one of the largest redevelopment projects of its kind, transforming worn properties into a new pedestrian-friendly Reno arts district spanning an impressive 20 city blocks in downtown Reno.
While revitalization efforts have been ongoing since 2019 and involves the acquisition of 50 separate properties in downtown Reno, Jacobs Entertainment plans to complete Reno's Neon Line soon, unveiling a $1 billion mixed-use development. With a goal to create a streetscape that changes dated perceptions about the downtown Reno experience, more public space will be added to the existing sidewalk width, and will feature Burning Man art and other sculptures throughout. While free, public art installations will change year to year, one permanent fixture to experience is the Wind Wall—whose surface will change in color intensity as the wind and weather systems roll through Reno.
YESCO, or Young Electric Sign Company, is the legendary neon signmaker responsible for crafting and restoring the bulk buzzing neon sign glory in every corner of the Silver State. As part of the Reno Neon Line District project, YESCO has completed the restoration, fabrication and installation of nine historic signs—all original to the Biggest Little City's story—found throughout Reno's Neon Line. Signs include Ramos Drugs Co., Nevada U.S. 40, Donner Inn, Harold's Club, Stag Inn, The Downtown Bowl, El Ray Motel, The Gold Room, and the City Center Motel.
In addition to the new cultural entertainment along the Reno Neon Line District, a hotel property that's been part of the Reno skyline for decades is set to receive its very own facelift as part of this revitalization effort. As part of this 20 block district's $250 million complete restoration, the former Sands Regency has reopened as the bold new J Resort, with the Gold Dust West Casino also set to be remodeled.
Please continue to check back for updates and new information as the Reno Neon Line District continues to develop.
This Location: