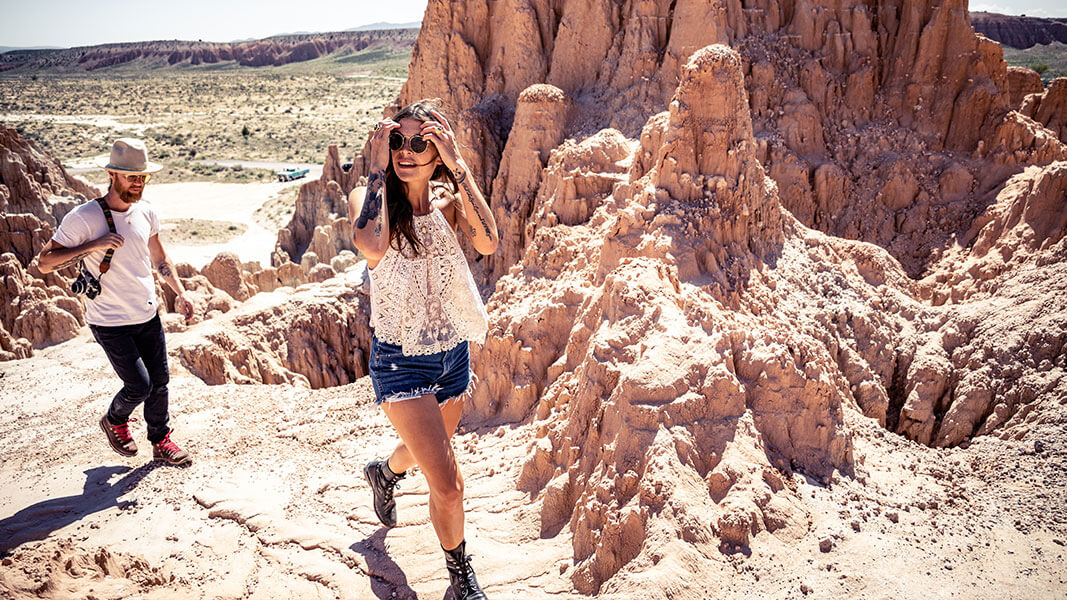 Central Nevada
Much of Central Nevada looks just as it did when the pioneers made their way west more than a century ago. The only addition to the mostly unchanged landscape are the trails that crisscross the topography and offer countless opportunities to get out and explore the region. This is Nevada Silver Trails, and it draws upon the adventurous spirit common to all mankind.
The eastern side of the state along US Highway 93 lays claim to the largest National Wildlife Range in the United States. Get Pahranagat National wildlife refuge on the docket immediately, you'll want to be sure to enjoy this lush, water-rich area teeming with waterfowl and wildlife, just two short hours northeast of Las Vegas. Best yet, peruse the hiking trails for ancient American Indian writings and carvings on the surrounding rock faces.
Keep driving north to Caliente, a town that got its name from the bubbling hot springs nearby. Caliente is also the perfect headquarters for exploring the surrounding 14 wilderness areas and the Silver State OHV trail. Traveling farther north, you'll find Pioche—one of the deadliest towns in the Old West. Rich gold mines in the 1860s put Pioche on the map, but the miners weren't about to let any ol' stranger roll into town and threaten their gold claims and were willing to back up them up with loaded six-shooters. Rumor has it that 75 men were buried in the cemetery before anyone actually died of natural causes. Today, Pioche is a picturesque community with a hopping saloon and wide-open terrain idea for hiking at ATVing.
For a serious "out of this world" experience, set out on State Route 375, otherwise known as the Extraterrestrial Highway. This east-west route skirts the famous Area 51, and travelers in the area are sure to tell colorful stories of UFOs and other unexplainable happenings in the desert. The hub of all things extraterrestrial is in Rachel, a small town with one restaurant, one motel, 98 residents and an unknown number of aliens.
The pioneers who settled in the Nevada made their fortunes in gold and silver, but those fortunes didn't always last, and the ghost towns that pepper the Nevada landscape are testaments to their fleeting wealth. One of the most photographed ghost towns is Rhyolite, near the southwestern border of the state. Nearby Goldfield was once one of the largest cities in the state with 30,000 residents, an opulent hotel, large courthouse and many affluent families. Now only a few hundred call the area home.
Nevada Silver Trails is a fascinating window to the past, but a few towns are also looking intently to the future. Pahrump is a thriving city just a short drive from Las Vegas, complete with large casinos and resorts and one of the state's first wineries.
Nevada Silver Trails consists of Alamo, Amargosa Valley, Beatty, Caliente, Gabbs, Goldfield, Hawthorne, Pahrump, Panaca, Pioche, Rachel, Round Mountain, Tonopah and Yerington.