New Year's Eve in Nevada
5:00pm - 11:59pm
$10.00 – $99.00
Statewide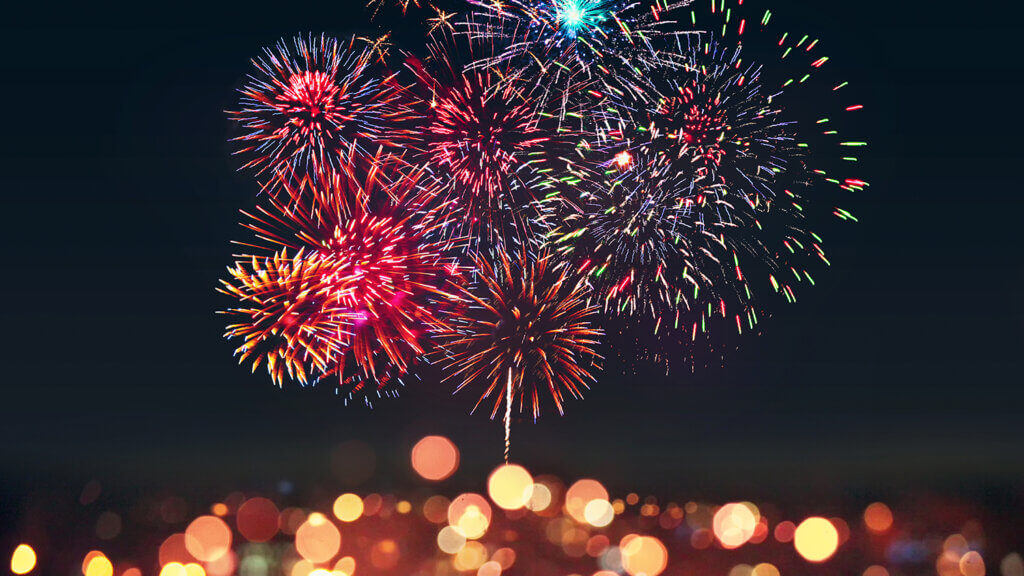 Details
Raise your glasses, don your finest attire, and get ready for a wild ride because Nevada does New Year's Eve better than anywhere else. From Las Vegas to Lake Tahoe, the Silver State offers many ways to celebrate on December 31.
Nevada New Year's Eve
As the Entertainment Capital of the World, it may be obvious that Las Vegas is one of the most bucket list-worthy places to celebrate a year coming to a close. But that's not the only town in Nevada home to crowd-pleasing New Year's Eve events. From where to watch the fireworks to who is offering a champagne toast at midnight, get the lowdown on how to do Dec. 31 right all across the Silver State.
Live it Up at Las Vegas New Year's Eve
Coming in right alongside New York's Times Square, the Las Vegas Strip is among the most famous New Year's Eve destination on Earth. The Strip closes to vehicles as over 300,000 partygoers come together to ring in the new year with fireworks and fanfare. As midnight hits, an over-the-top and expertly choreographed collaborative fireworks display launches from the rooftops of many different casinos along the Strip. Meanwhile, inside the nightclubs, restaurants, and bars, revelers vibe on extravagant parties, a champagne toast at midnight, and many other over-the-top festivities.
Midnight on the High Roller
Whether you're after an elevated view of the fireworks, or are looking for a socially distanced space to celebrate the new year, a midnight ride on the High Roller may just be the ticket. Located behind The LINQ Hotel & Casino, riders ascend to an unbeatable vantage point, complete with party favors like a champagne toast and more. This experience sells out fast, so keep an eye on the Caesars page for updates.
America's Party Downtown
Be sure to check out "America's Party Downtown" for a classic gathering in vintage Downtown Las Vegas! On New Year's Eve, the Fremont Street Experience brings people together under the 12-million-LED-bulb Viva Vision canopy for a digital show unlike any other alongside live music, street parties, and beyond. With something for everyone, Las Vegas New Year's Eve is a party—or rather, a whole bunch of parties—not to miss. Call the Las Vegas Visitors Center at 1-877-847-4858 or go to Visit Las Vegas for more information on planning your New Year's visit.
Raise a Glass to Lake Tahoe New Year's Eve
New Year's Eve at the world's second largest alpine lake is overflowing with parties, concerts, and fireworks shows throughout the Lake Tahoe Basin. From Heavenly Holidays and the Black & White Ball at swanky Edgewood Tahoe to the Crystal Bay Club's annual funktacular run of night-after-night concerts; from the casinos of Stateline and Crystal Bay to the Fire & Ice Festival at Northstar Village; and even on the slops from Mt. Rose to Palisades Tahoe ski resort, there are places for everyone to go and enjoy a New Year's Eve celebration. Head to Visit Lake Tahoe or Go Tahoe North for listings of New Year's Eve venues around Lake Tahoe to plan your New Year's trip to the Jewel of the Sierra.
Have a Rockin' Reno New Year's Eve
In northern Nevada, Downtown Reno is the place to be when the clock strikes midnight—especially beneath the iconic Reno Arch on South Virginia Street. Fireworks are launched from the tops of Downtown Reno casinos as Virginia Street packs out with partiers. Meanwhile, several downtown casinos, including the three that make up THE ROW, host all-night New Year's Eve parties. For more info on planning NYE in the Biggest Little City in the World, get in touch with Visit Reno-Tahoe directly at (775) 827-7600.
Fun Times in Fallon New Year's Eve
The City of Fallon and the Churchill County Parks and Recreation Department celebrate New Year's Eve in a whole different fashion. The annual New Year's Eve Bonfire is an exciting tradition on Dec. 31 that not only serves as a toasty and fun way to warm up for the upcoming year, but also as a way to get rid of old wood and Christmas trees that are taking up space. The fireworks start at 6 p.m. and the bonfire is lit immediately following the grand finale. People can drop off pallets, old wood, and Christmas trees at the Churchill County Fairgrounds starting about a week and a half before. The event is free, and coffee and cocoa are available all evening long. For more information, check out Visit Fallon or get in touch with Visit Fallon directly at (775) 423-4556.
Get Your Groove on at Gardnerville New Year's Eve
Main Street Gardnerville's annual New Year's Eve Candlelight Labyrinth Walk at Heritage Park Gardens takes place on Dec. 31. Luminaries light the way as you "Walk out the Old Year and Welcome the New Year" during this family-friendly event from 6:00 PM -9:00 PM. on New Year's Eve. Why walk a labyrinth on New Year's Eve? It's a time to create hopeful tomorrows. Labyrinths are used throughout the world as a way to quiet the mind, recover a balance in life, to meditate, gain insight, reduce stress, to create, and celebrate. Heritage Park Gardens is located 1461 Ezell Street in Gardnerville. For more info on ringing in the New Year in Carson Valley, get in touch with Visit Carson Valley directly at (775) 782-8027.
Fireworks Over Pahrump
Watch the sky above the Pahrump Valley sparkle with fireworks on New Year's Eve. Launch your own fireworks in a safe and supervised environment or simply enjoy the professional show. All visitors interested in launching their own fireworks must obtain a special permit from one of the five fireworks stores: Area 51 Fireworks, Phantom Fireworks, Red Apple Fireworks, and Black Jack Fireworks. The launch site is first come, first serve and visitors have a 30-minute time limit. The Fireworks Over Pahrump launch site is located one mile west on Gamebird Road right off of Highway 160. Go to Visit Pahrump Valley or call (775) 727-2820 for more information.
Details
December 31, 2022
5:00pm - 11:59pm
$10.00 – $99.00
Venue Location: