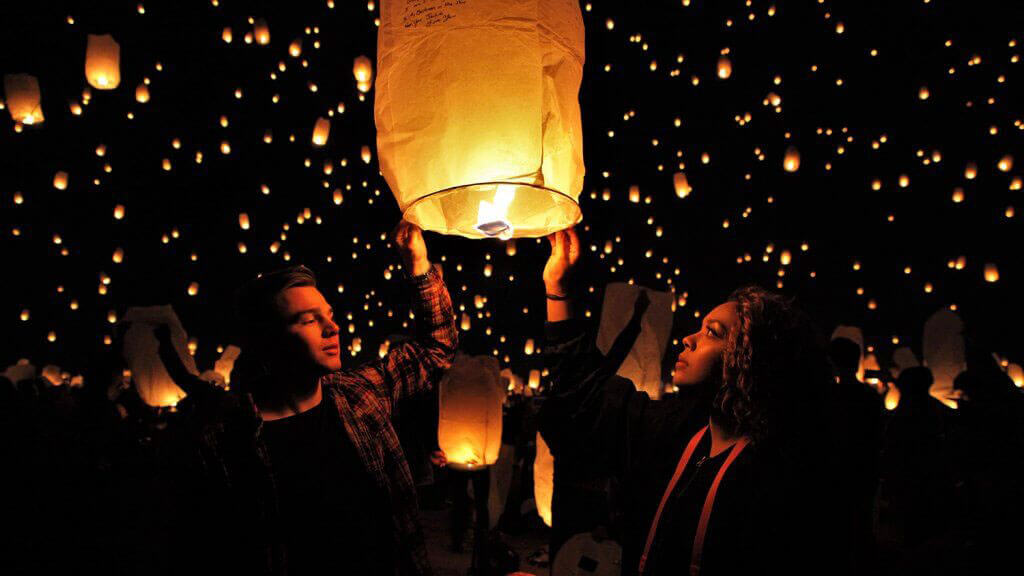 Each year, locals and visitors alike descend upon the Mojave Desert each year to experience the magic of thousands of lanterns rising high above the bright lights of the Las Vegas Strip. Celebrating music and art, individuality, a meaningful venue design, sustainability, and the timing of the Fire and Lantern Ritual, RiSE Lantern Festival honors the sum total of each participant's unique story and personal Lantern Message. Every ticket holder will receive two sky lanterns and a marker to inscribe their own unique personalized message for release, and ground mat to sit on. With sustainability and Leave No Trace methods front of mind, all lanterns are 100% biodegradable and event organizers will recover all lanterns from the surrounding desert after the event concludes.
Held each fall, RiSE Lantern Festival Nevada kicks off at the Jean Dry Lakebed, located about 30 minutes south of the Las Vegas Strip. Designed in the shape of a compass, RiSE attendees will fill a thoughtfully created event menu underscoring the natural progression of the times of day and movement of the sun, moon, and stars. The event kicks off mid-afternoon with energetic music, food and drink from local food trucks and vendors, all kinds of art, and human connection with friends and other festival goers. As the sun drops behind the surrounding mountains and nighttime descends, RiSE hosts will guide you as you light your lantern in time with music and natural wonders of the night. Villages located at the North and South end of the venue host restrooms, vendors, food and drink trucks, and shaded seating.
Situated a quick 30 minutes south of the Las Vegas metro area, shuttles are available from Mandalay Bay Road outside the main Delano entrance. RiSE Lantern Festival tickets can be purchased for Friday or Saturday night, ranging from $79-169 per person—Shuttle passes are an additional fee. If you'd like to drive your own vehicle, Jean Dry Lake Bed parking passes are available for $30. Please note that RVs are not allowed, and due to the remote location of the event, Ubers, Lyfts, and rideshares of any kind are not allowed.
For more information special lodging rates made available to RiSE participants and to purchase tickets, click here.
More Details
Show More Details