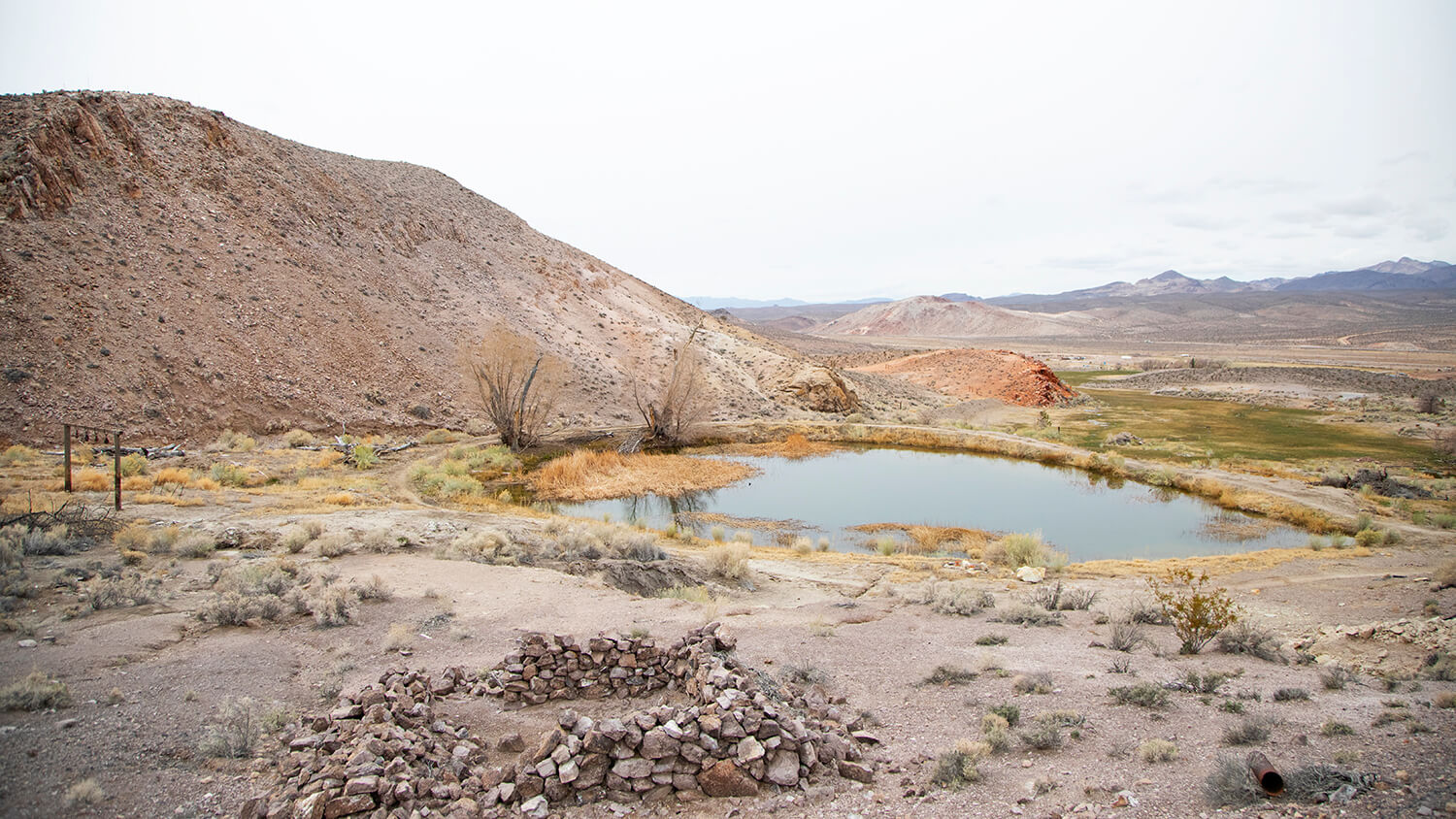 Transformed by longtime Beatty resident David Spicer, say hello to the largest mountain biking trails network in southwestern Nevada. A new addition to Beatty's growing outdoor recreation scene, this 120-acre working ranch is complete with cows, horses, all kinds of roaming wild burros, and 20 miles of rolling singletrack complete with century-old mining relics, active quarries, lush meadows and ponds, and unbeatable views of the Mojave Desert.
Throughout the years, David Spicer has transformed trails originally formed by wild burros the region into miles of singletrack trail, creating one of the best mountain biking trail systems in southwestern Nevada. The Spicer Ranch Trail (2.2 miles) lies on his property, but connects to other area trails, including the Plutonium Ridge Loop (9.5 miles), Dynamite Trail (2 miles), Canteen Trail (4.5 miles), Southpond Mountain Trail (0.9 miles), and the STORM Trail (0.7 miles.)
Situated minutes north of Beatty and within very close proximity of Las Vegas, Rhyolite Ghost Town, and Death Valley National Park, Spicer Ranch boasts sprawling green pastures with lush green grass and several freshwater pools, which provide habitat for a handful of endemic creatures found here, and only here, like the Amargosa Toad. In addition to the hiking and mountain biking trails system found throughout the property Spicer Ranch invites anyone visiting to spend the night at the on-site, donation-based campground, complete with shady campsites, picnic tables, hot showers, and restrooms.
Combining private property and federally managed BLM land, the ranch is open to the public year-round for mountain biking and hiking, and has hosted two Tough Mudder events, three regional Burning Man events, and a National Interscholastic Cycling Association event, along with with the Tinker Classic Cycling Festival & Race, which happens at the Spicer Ranch each spring.
Hours:
Spicer Ranch is open and invites the general public to visit year round. For the most current information on visiting Spicer Ranch, get in touch with the Beatty Chamber of Commerce directly at (775) 553-2424.
Admission:
Spicer Ranch campgrounds are offered on a first-come, first-served system, and are donation-based.
This Location: