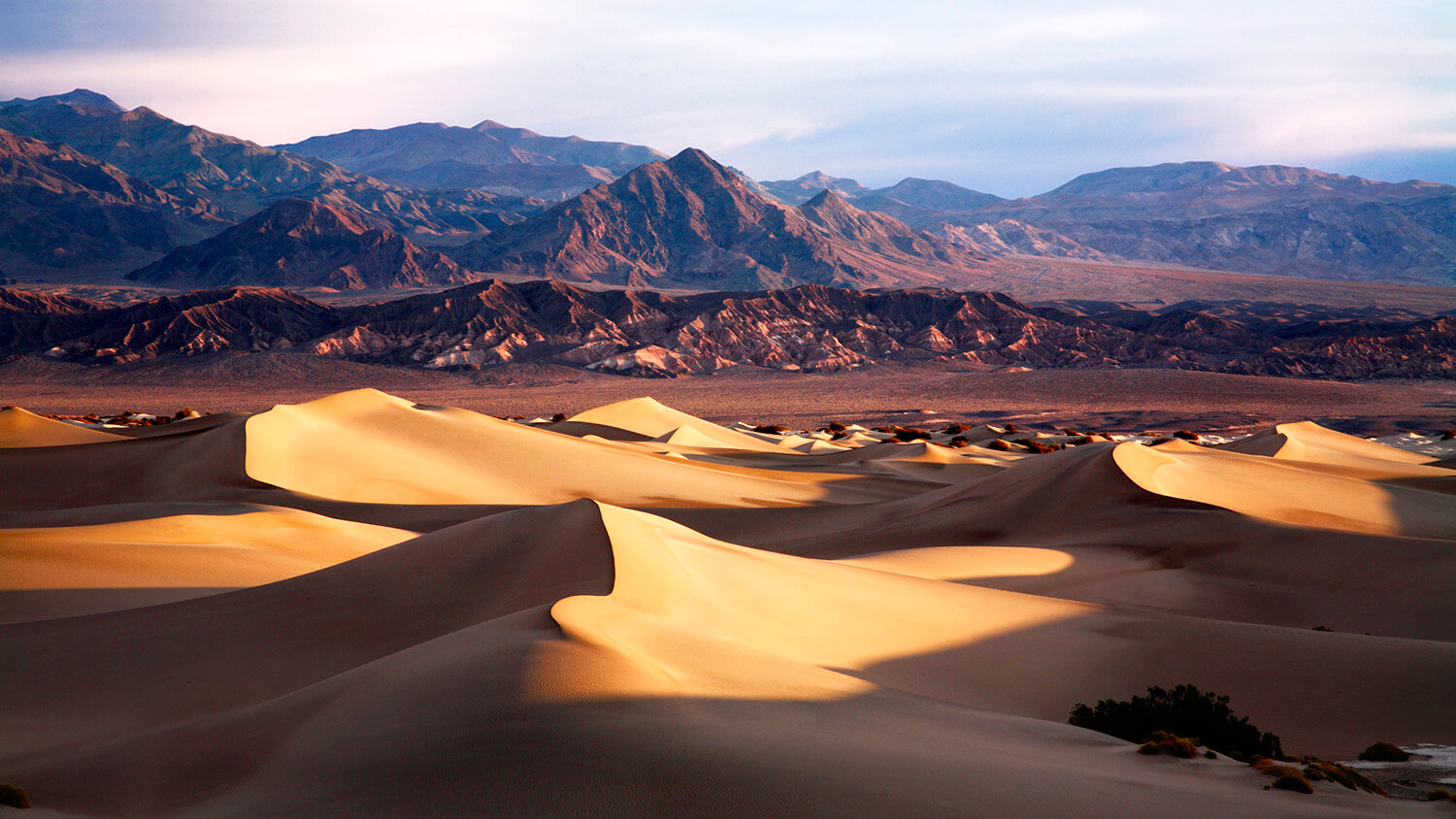 Death Valley National Park
Death Valley National Park is experiencing extreme, unusual flooding conditions which has resulted in multiple road closures and ongoing changes to park access. For the most current park conditions and updates, click here.
This remarkable and legendary landscape is alive with unmatched beauty characterized with miles and miles of huge sand dunes, technicolor rocks and canyons, rare and endemic wildlife, one-of-a-kind evaporative elements, and jaw-dropping peaks rising 11,000 feet above neighboring valley. A visit to Death Valley National Park promises a lifetime of unexpected discovery.
Visitors to Death Valley National Park will also find a wreath of relics from its long history that offer a glimpse into the harsh life of the area's early settlers and native inhabitants, including metal ore mines, charcoal kilns, ghost towns, petroglyphs, and ancient Shoshone foot trails. But first, where is Death Valley, anyway? The fascinating desert valley is situated on the eastern border of south-central California, in the northern Mojave Desert, and borders the Great Basin Desert. The area of Death Valley National covers 5,270 square miles (3.4 million acres), stretching into Nevada, and is the largest national park in the Lower 48.
Death Valley History
This striking southwestern landscape has long been ancestral land to the Timbisha Shoshone Tribe, who lived in and around modern-day Death Valley, Ash Springs, the Inyo Mountains, and other places in Mono County, California and Nye, Mineral, and Esmeralda Counties in Nevada. In 1849, a group of early pioneers looking for an easy shortcut on their way to California goldfields took what turned out to be a fictitious southern route through this incomparably hot and dry region. After months of hardship, the parties split. One made it (barely) to civilization while the other only did after more months waiting for two young men to walk 300 miles and return with horses. While only one man actually succumbed during their wait, one member is said to have looked back on the place one last time and proclaimed, "Goodbye, Death Valley." And so it would forever be known.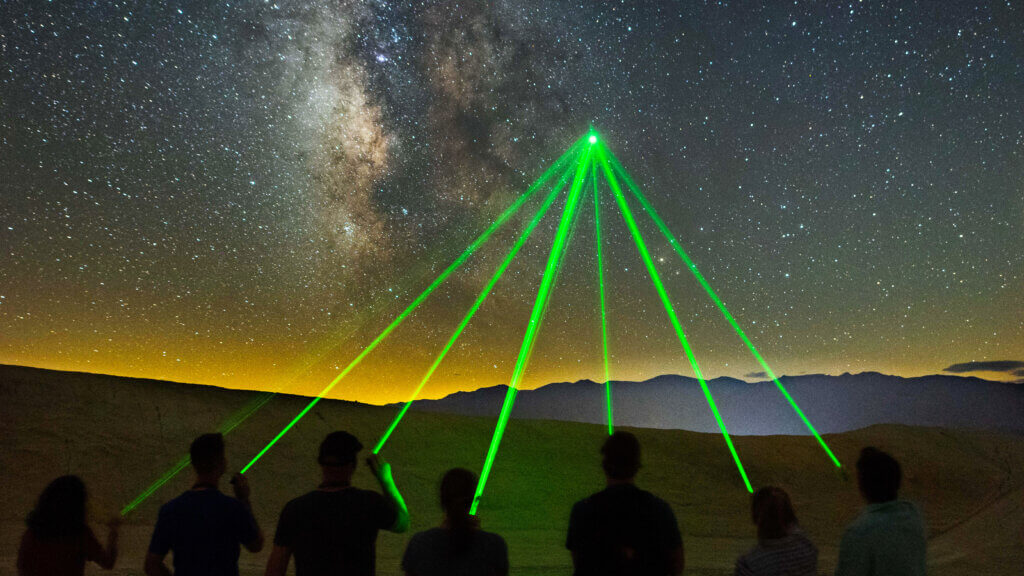 A few boomtowns managed to spring to life in this dangerously hot valley, but never lasted long, due to such extreme environmental conditions. The only long-term mining prospect was borax, famously transported out of Death Valley by twenty-mule teams, officially putting Death Valley on the map to the masses.
Tourism exploded in the 1920s when luxury resorts popped up in and around Stovepipe Wells and Furnace Creek, attracting many Hollywood celebrities the Death Valley area, as well as to what would later become Nevada's Spring Mountain Ranch State Park. Later in 1933, the valley was declared Death Valley National Monument, and officially became a National Park in 1994.
Things To Do In Death Valley
From leisurely walks to (seriously) strenuous hikes, and from camping to even playing on the lowest-elevation golf courses on Earth, there are endless ways to enjoy one of the world's hottest and driest places. The best way to learn Death Valley's massive terrain—the largest park in the National Parks system—is by getting your hands on a map, available at Furnace Creek Visitor's Center. Then chart a course to visit Death Valley National Park's most famous features. Even if you're short on time (or heat tolerance), must-stops include the colorful Zabriskie Point overlook, searching for droids at Mesquite Flat Sand Dunes and Golden Canyon, and getting as low as you can go (elevation-wise) at Badwater Basin. Other classic stops include breathtaking Ubehebe Crater, Mosaic Canyon, Salt Creek, and towering Telescope Peak; as well as the optimistically named Funeral Mountains, Hell's Gate, Starvation Canyon, Dead Man Pass, and Coffin Peak. Death Valley National Park is an International Dark Sky Park—plan your trip around a new moon, or be sure to get the Death Valley Astronomy Festival on the calendar, which typically happens each February.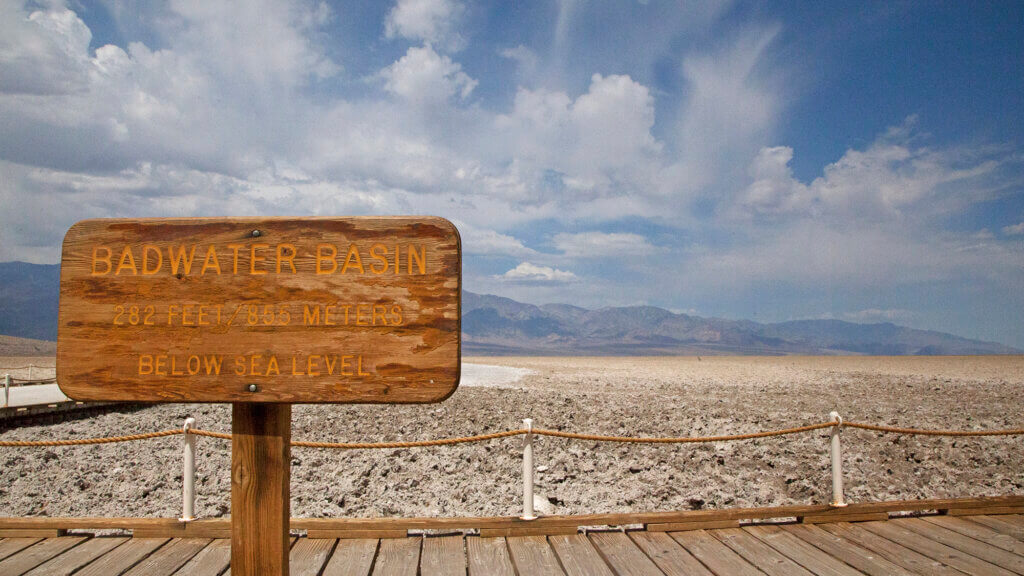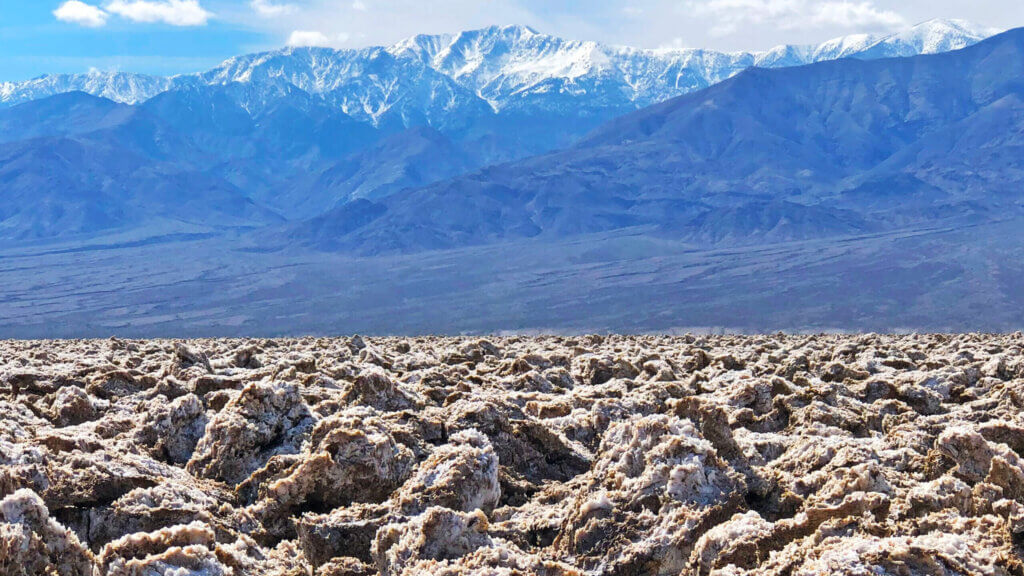 Death Valley Elevation: Badwater Basin to Telescope Peak and Beyond
Death Valley's fascinating features stretch a baffling 130 miles long by 12 miles wide. What's even more astounding is the fact that Death Valley covers a staggering 3.4 million acres of rugged, mostly unpopulated terrain that is filled with sweeps of desert broken up by towering mountains and rocky ridges. The elevation to the north end sits at about 3,000 feet and slopes steadily downward, putting the valley floor below sea level for 70 miles. Ultimately, the terrain bottoms out just beyond Artist's Drive at Badwater Basin—the lowest, hottest and driest point in the Western Hemisphere—sitting at a whopping 282 feet below sea level. This stark depression contributes to the equally extreme temperatures, which can climb to a scorching 130°F during summer days and dip to below 0°F on winter (or even other seasons') nights.
Explore Death Valley Sand Dunes and Salt Flats
When visiting Death Valley for the first time, it's easy to expect a sea of sand, right? You're not wrong—at least about certain places, including one of the most famous sand dunes in the country is found within Death Valley's borders, Mesquite Flat Sand Dunes. While recreation in Death Valley's sand dunes is allowed, off-road vehicles, sledding, and sand skiing are forbidden in most places to protect the fragile desert ecology.
Experience Death Valley Seasonal Wildflower Blooms
Death Valley is renowned for stunning super blooms of spring wildflower exhibits, but not every year. When perfect conditions happen, the desert fills with a sea of purple, gold, pink, and white wildflowers. A good wildflower year depends on at least three things: spread-out rain through the winter and spring, enough warmth from the sun, and light to non-existent harsh desert winds. The park will know ahead of time if conditions are right to produce a seasonal bloom, or even a world-famous Death Valley Superbloom, but you can typically plan for there to be seasonal blooms from February to April in lower elevations, early April and May from the 3,000 to 5,000 feet of elevation, and May to July for elevations beyond 5,000 feet.
Travel Nevada Pro Tip
Take all the photos you want. But remember: don't you dare pull our plants down. Picking wildflowers is strictly prohibited anywhere within (and often beyond) the borders of
Death Valley National Park
. Need a bouquet? Hit up the grocery store on your way out.
Beyond seasonal wildflower blooms, Death Valley is home to a spectacular 1,000 species of plants—23 of which found nowhere else on earth, like the Rock Lady and the Eureka Valley evening primrose.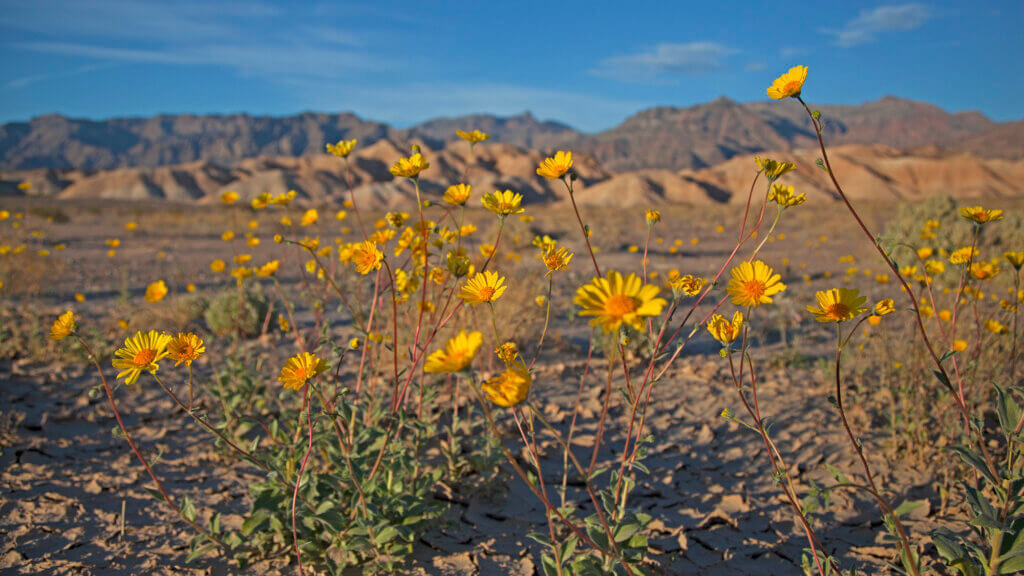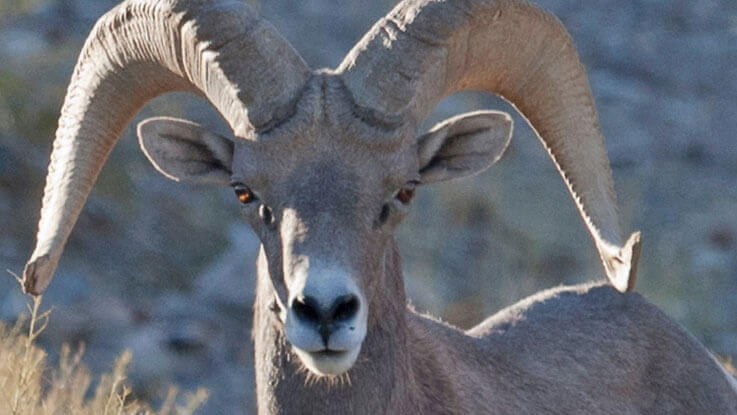 Death Valley Wildlife
Death Valley is a refuge to 400 animal species, and the key to their existence is their ability to adapt in the harsh Death Valley climate. At five feet long and three feet tall at the shoulder, the largest of these animals is the desert bighorn sheep. Thanks to a year-round freshwater spring that feeds their watering hole, Titus Canyon is one of the best places to look for these desert bighorn in Death Valley. On the other end of the animal spectrum, the kangaroo rat is one of Death Valley's best-adapted animals which uses its powerful hind legs to communicate through thumps and to jump as far as nine feet in a single bound.
Know Before You Go: Navigating Death Valley Safely
Death Valley is a land of extremes. With elevations that range below 200 feet sea level in view of snow-capped peaks cracking 12,000 feet, you'll often find all four seasons within Death Valley National Park, no matter what time of year you visit. When visiting Death Valley, remember to bring water, water, and more water, packing more than you think you'll need. With temperatures soaring well above the 100 degree mark, heat-related injury and illness is a real possibility.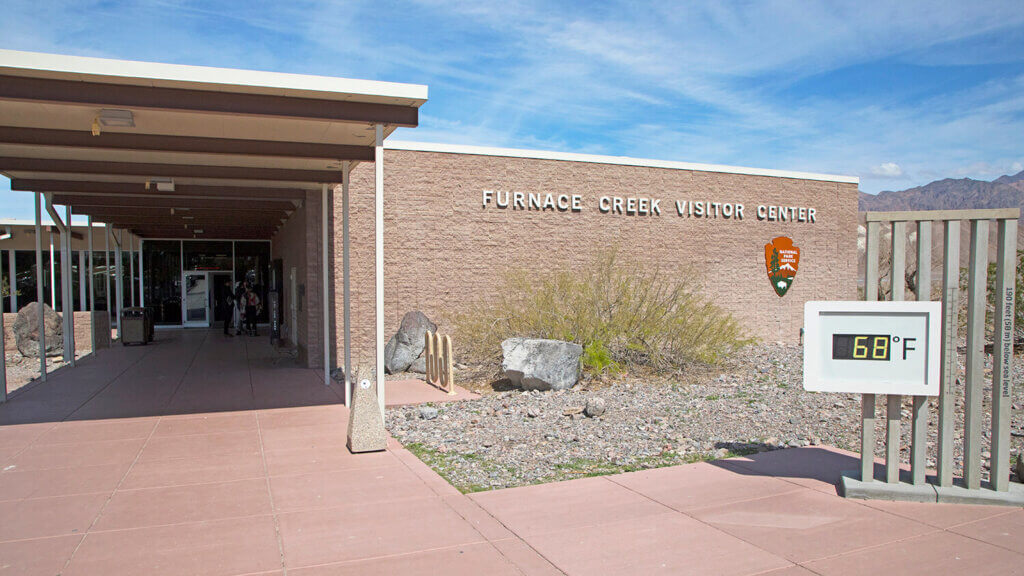 Travel Nevada Pro Tip
Seriously though, the heat here is no joke. Not only is it here in Furnace Creek that thermometers hit Earth's hottest verified temperature ever—134° F (56.7° c)—Death Valley also has topped the "hottest monthly temperature" in the world in recent years, records scientists predict will only continue. Visitors in the summer months should take extreme precautions to protect their bodies—and even their vehicles.
Drink plenty of water ahead of time, and be sure to carry lots of extra everything with you—depending where you are, a chance to restock may be hours away. Let someone know where you're headed and when you plan to return, and be sure your vehicle is in good working condition, prepared to endure extreme heat, and topped off with gas, and that you've got all kinds of extra food and layers of clothing in tow. The only places within park boundaries that offer amenities like water and fuel are found at Furnace Creek, Stovepipe Wells, and Panamint Springs Resort. Don't count on your cell phone to bail you out of a jam! Coverage within the park is minimal to non-existent, so be sure you plan ahead and stock up on supplies in nearby Beatty, Amargosa Valley, and Pahrump.
Hours:
The Furnace Creek Visitor Center & Museum is open daily from 8:00 Am to 5:00 PM PST, and most attractions within the park boundaries are open from sunrise to sunset each day. For more information on accessing Furnace Creek and planning your visit, get in touch with the park directly at (760) 786-3200.
Admission:
Individual admission to Death Valley National Park is $15 per person, or $30 per vehicle, valid for 7 days. Motorcycle entrance fees are $25 per bike, and annual Death Valley passes are also available for purchase for $55, valid for one year.