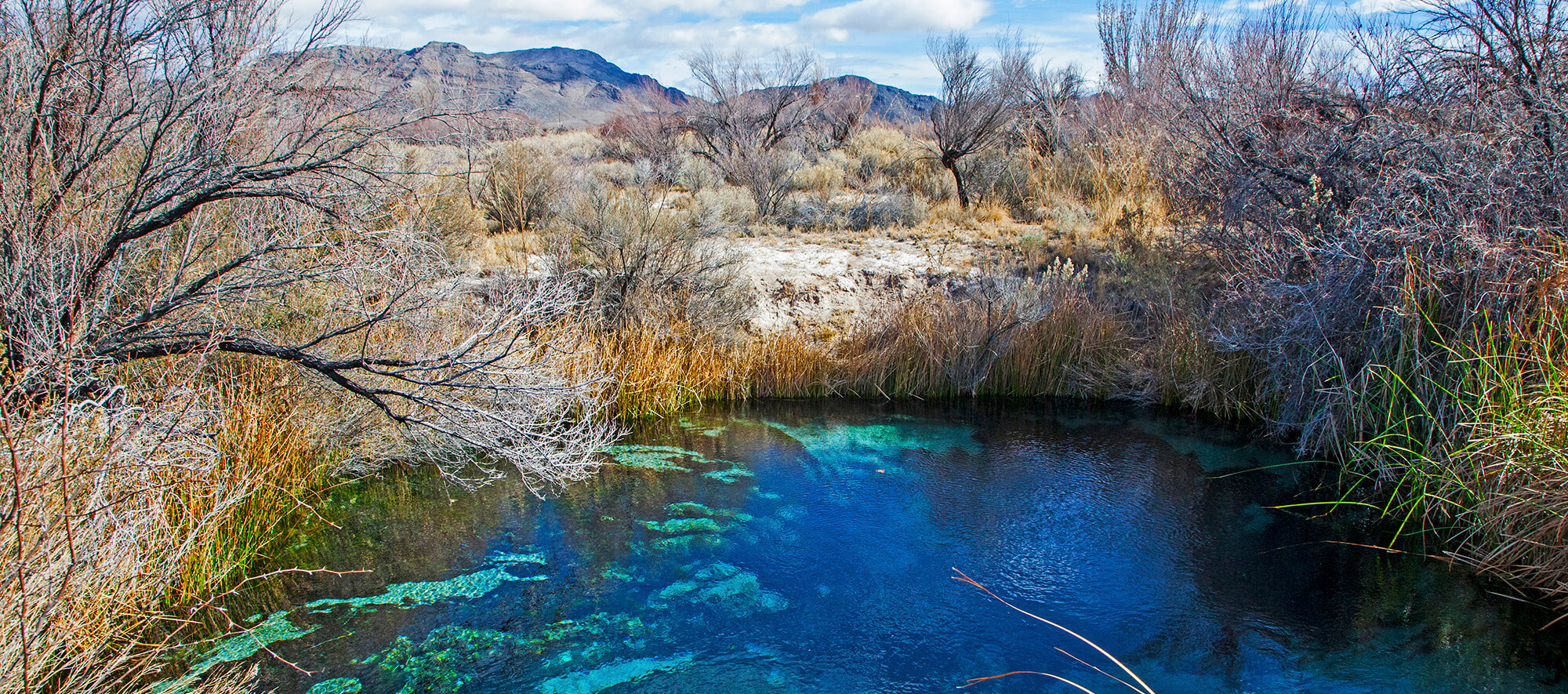 Amargosa Valley
Formerly known as Lathrop Wells, the Amargosa Valley is a quiet, friendly hamlet set in a region of historical splendor.
The alluring Amargosa Valley is a small town on the southern Nevada-California border that is perched in a desert of the same name. Flanked by the Funeral Mountains to the west and Yucca Mountain and the Nellis Air Force Range to the east, both the desert and town were named for the beautiful Amargosa River. This desert river flows through the valley when rainfall floods the desert washes, and ultimately spills into Death Valley National Park.
Formerly known as Lathrop Wells, the Amargosa Valley is a quiet, friendly hamlet set in a region of historical splendor. Ancient campsites dating back at least 10,000 years to the last ice age, suggests ancient people once called the valley home. Today, this welcoming burb offers a small selection of amenities, including a full-service hotel and casino, and serves as a gateway to a downright incredible array of natural wonders in the surrounding landscape.
When visiting Amargosa Valley, a visit Death Valley National Park is a no brainer. While Death Valley National Park truly needs very little introduction, many might not be aware that it is home to Badwater Basin, the lowest, hottest and driest point in the United States at 282 feet below sea level. Visitors can also explore the famed Borax mining site, the mysterious sailing stones on the Devil's Racetrack, or check out a vantage point like Zabriskie Point for cant-believe-its-real photo ops.
Also, a trip to Amargosa Valley isn't complete without checking out Ash Meadows National Wildlife Refuge, another stunningly scenic area that divvies up boundless historical nuggets and natural wonder. Spanning a brain-bending 23,000 acres, Ash Meadows encompasses both dry lake beds of the mysterious desert landscape as well as spring-fed wetlands that offer a unique sanctuary to at least 24 plants and animals that cant be found anywhere else on the planet. While any of these endemic creatures are worthy of your attention, a trip to the Devil's Hole pond should definitely be on the to do list as it's home to the Devil's Pupfish, arguably the world's rarest fish. Although you can get close to the watering hole and admire it's spectacularly hued waters, the fish is very much protected and so small in size that your chances of actually eyeing one are minimal at best.
Also nearby is Big Dune, is a staggering formation of sand dunes towering 300 feet over the surrounding landscape. A definite favorite for off-road adventurers.