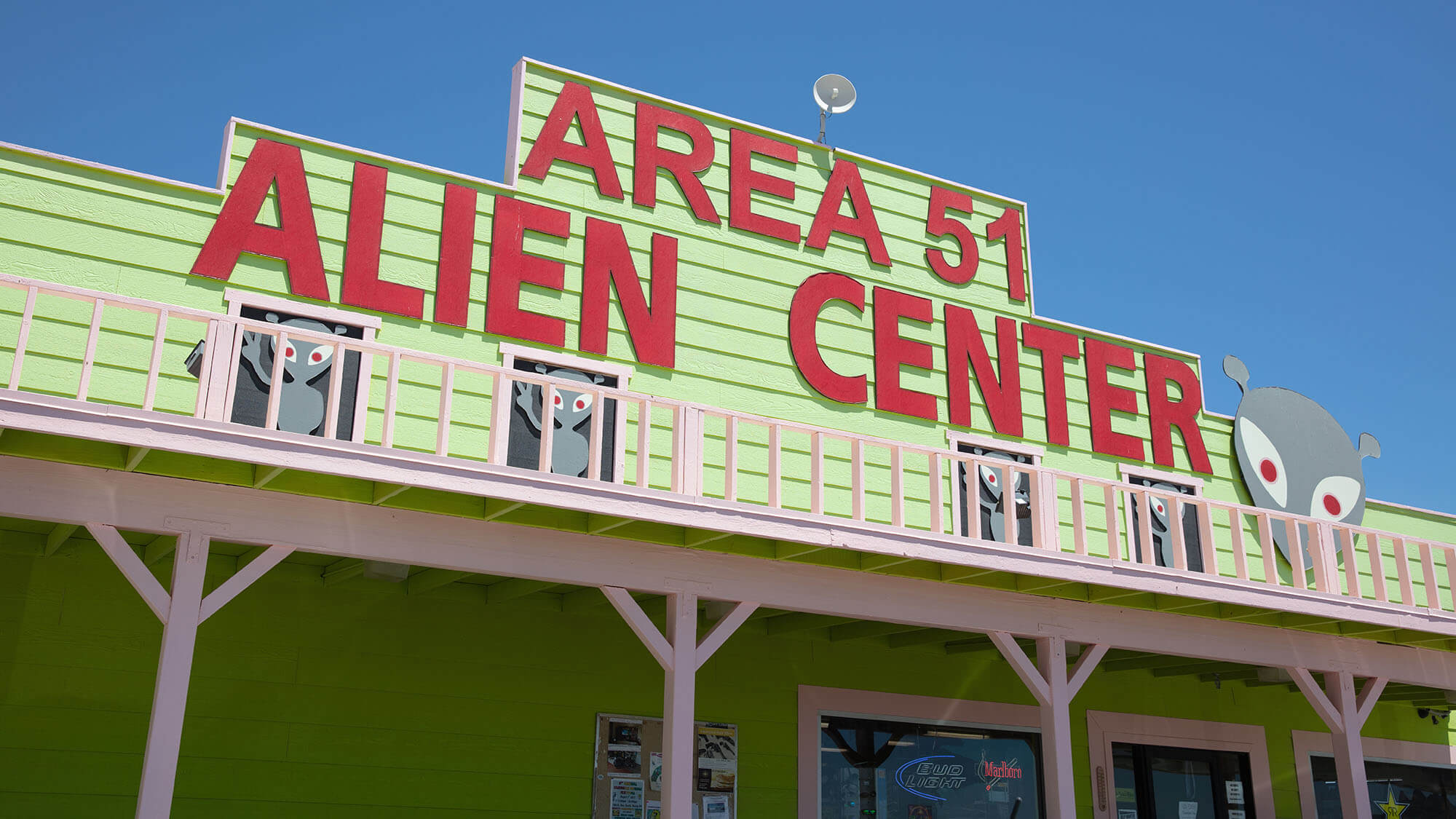 Area 51 Alien Travel Center & Brothel
An extraterrestrial-themed souvenir shop meets truck stop meets roadside diner meets… legal brothel? Yeah, that's a solid dose of Weird Nevada, for sure. Situated on U.S. Highway 95 in Amargosa Valley between Beatty and Vegas, it's only at the Area 51 Alien Center & Brothel where you can grab alien-themed anything you can imagine, fuel up on Free-Range Art Highway Road Trip snacks, grab a bite at the on-site restaurant, get your hands on some M-80s, or grab a drink and learn about Nevada's oldest profession at the Alien Cathouse.
About 90 miles north from Las Vegas and an hour northeast of Death Valley National Park, the Area 51 Travel Center borders the southwest corner of the storied Nevada National Security Site. Though there is a legal brothel on site that plays into all the extraterrestrial and top secret Area 51 fantasies you can dream up, this classic Roadside America-style stop is a must experience for any NV road tripper. 
With a glaring green and pink paint job complete with an enthusiastic alien motif, the exterior of the building is enough to beckon most drivers off the highway. Then there's the gas station and travel center, brimming with just about anything alien-themed you can imagine. Find alien socks, Area 51 security tees, shot glasses, stickers, and alien other trinkets in this well stocked souvenir shop. In the back of the Area 51 Travel Center, you'll find a damn good little restaurant too, Daddy D's Rocket Diner, serving great breakfast, lunch and dinner. Venture beyond, and you'll find the Area 51 brothel and bar, offering free tours and undoubtedly unforgettable conversation with locals, employees, and other visitors stopping through.
This Location: