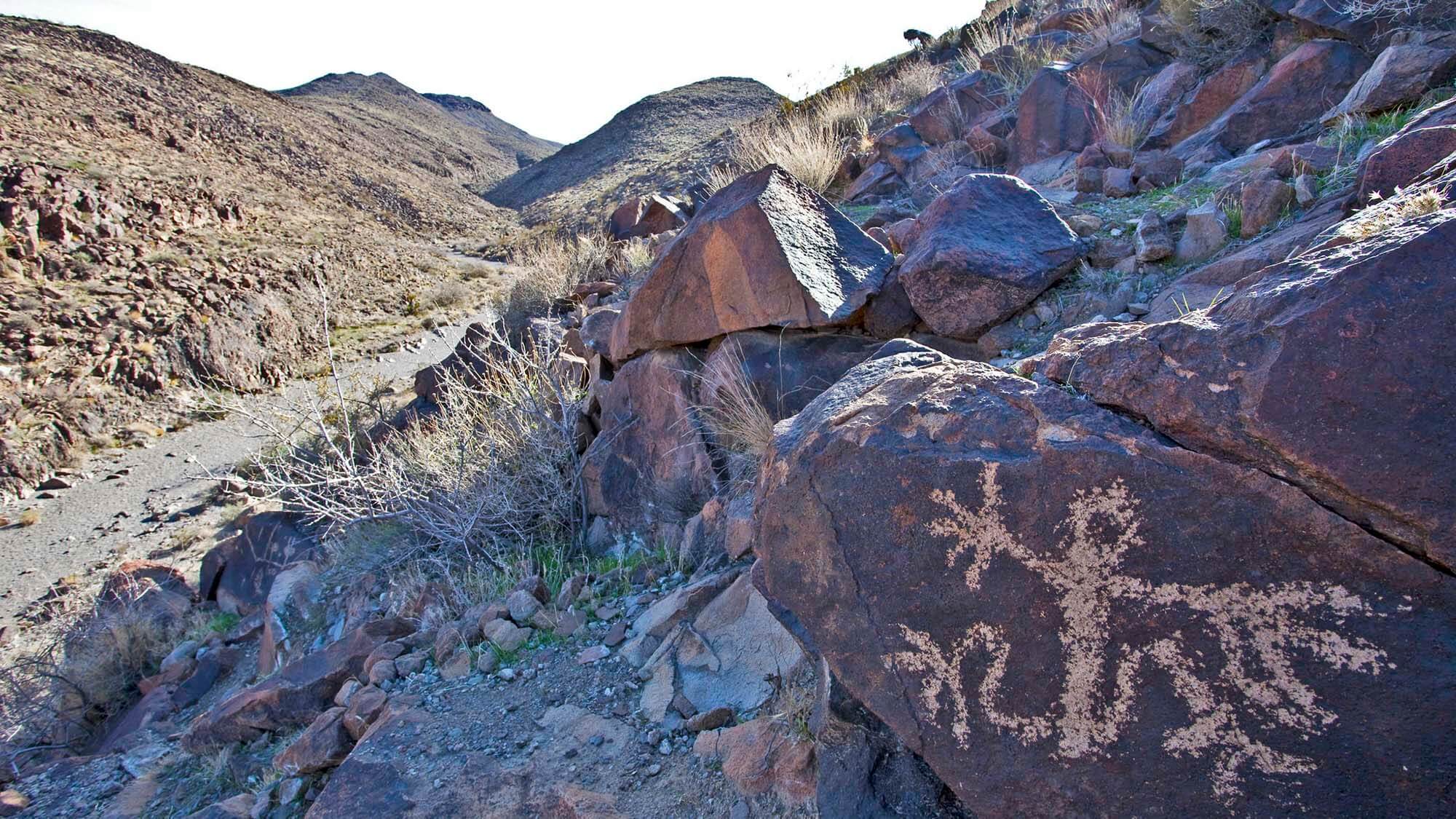 Sloan Canyon National Conservation Area
Sloan Canyon National Conservation Area's 48,438 acres provide peace and solitude for those who visit the unique scenic and geologic features and extraordinary cultural resources. The centerpiece of the area is the Sloan Canyon Petroglyph Site, one of the most significant cultural resources in Southern Nevada. Archaeologists believe the more than 300 rock art panels with 1,700 individual design elements were created by the native cultures from the Archaic to historic era.
WHAT IS A NATIONAL CONSERVATION AREA?
The West offers some of the most remarkable landscapes found on public lands. Many of these places have received special recognition and protection though congressional or presidential conservation designations. National Conservation Areas are designated by Congress to conserve, protect, enhance and manage public land areas for the benefit and enjoyment of present and future generations. Sloan Canyon was designated as a National Conservation Area in 2002 and responsible use of the area is encouraged.
RESPECTING ROCK ART
Sloan Canyon is one of the premier rock art sites in Southern Nevada. To keep the petroglyphs pristine, please do not touch the rock art because contact with the oils in skin will damage them. You may take photographs and sketches, but rubbings are not permitted. Avoid climbing near rock art sites.
WILDERNESS
Boundless wildlife spotting opportunities will make for an unforgettable day at Sloan Canyon. An impressive handful of mammals, reptiles and birds call the area home, including Jackrabbit, Desert Kangaroo Rat, Desert Tortoise, Chuckwalla, Coyote, Kit Fox, Roadrunner, Desert Bighorn Sheep, Bobcat, Mountain Lion, Quail, and a handful of bats.
The North McCullough Wilderness is located with Sloan Canyon National Conservation Area and rules that apply in this wilderness are the same in all congressionally-mandated wilderness areas. Mechanized/motor travel is not allowed, but activities such as hiking, horseback riding, and wildlife watching are encouraged. All vehicles, including mountain bikes, are prohibited within the wilderness boundary. Only hiking is encouraged in the Sloan Canyon Petroglyph Area.
HOW TO ENJOY THE AREA RESPONSIBLY
Please help conserve your public lands by staying on designated roads or trails, checking on fire restrictions before your visit and respecting rock art.
VOLUNTEERISM
A variety of volunteer opportunities exist at Sloan Canyon National Conservation Area including visitor contacts and trash cleanups.
HOURS
The Sloan Canyon Visitor Contact Station is open from daily, seven days a week from 8:00 a.m. – 4:30 p.m. between October through May.
Between the months of May and October, the Visitor Contact Station is open Friday, Sautrday & Sunday only, from 8:00 a.m. – 4:30 p.m.
GETTING THERE
Take Exit 27 for St. Rose Parkway (146) – 0.5 miles
Make the first right onto S. Las Vegas Boulevard – 0.2 miles
Make the first left onto Volunteer Boulevard – 2 miles
Turn right onto Via Inspirada – 1.5 miles
Road curves left and becomes Bicentennial Parkway – 0.6 miles
Turn right onto Savella Avenue for 1 block
Turn right back onto Via Firenze – 0.4 miles
At the intersection of Via Firenze and Democracy – 0.25 miles
Turn left onto the Nawghaw Poa Road – 0.7 miles
Arrive at Contact Station. If having difficulty in accessing, enter the Contact Station GPS coordinates into any mapping program or device: 35°54'58.12″N, 115° 7'34.31″W
***PLEASE NOTE***
This area is under construction and these directions may change without notice. Be sure to check back frequently for any updates.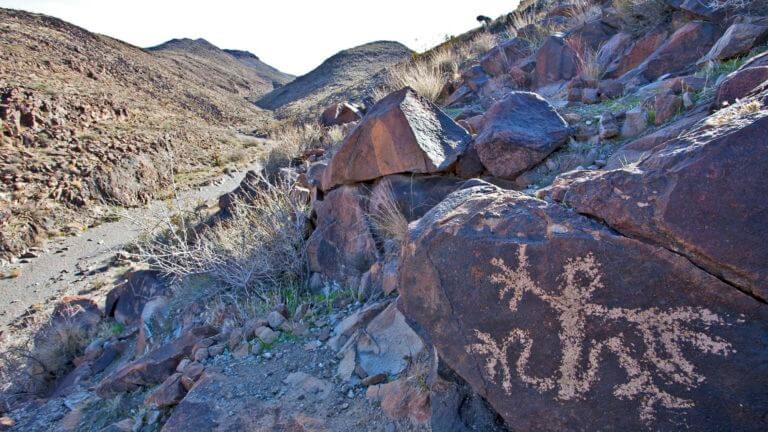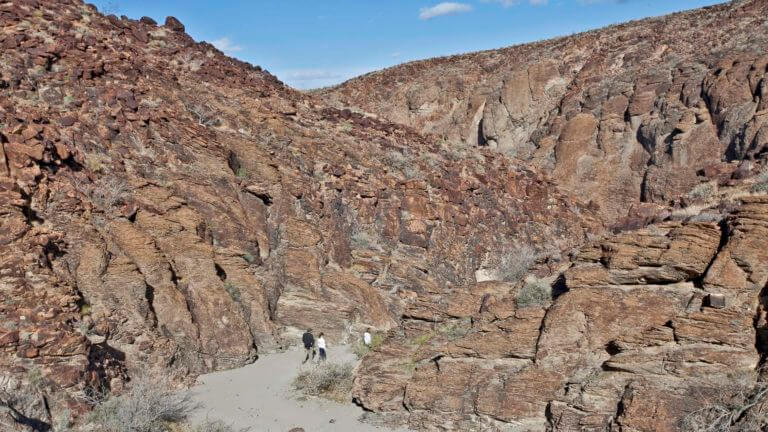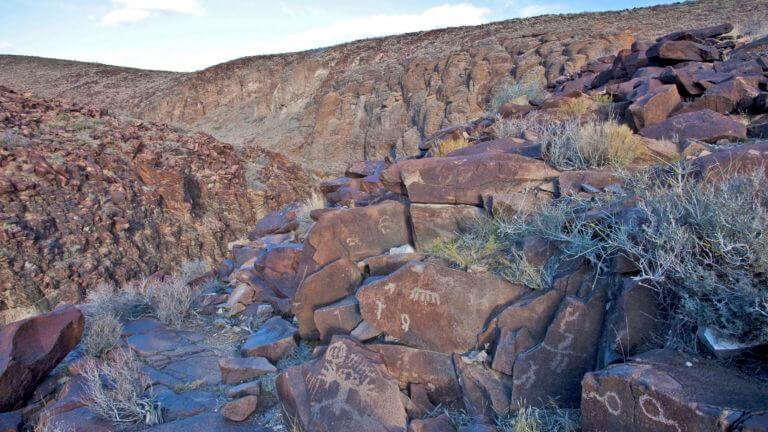 This Location: