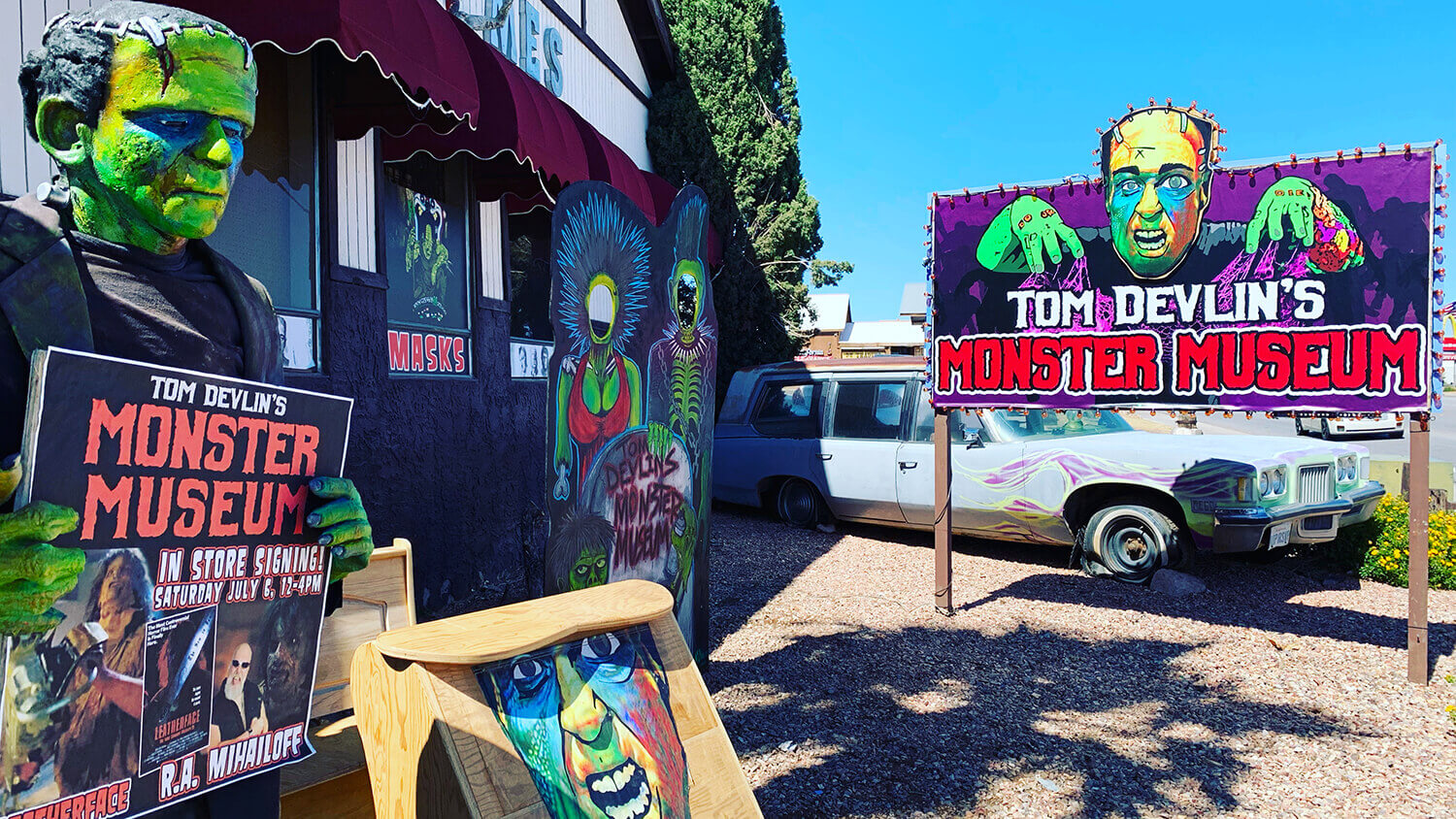 Tom Devlin's Monster Museum
Tom Devlin has taken his monster-making career from ghoul-ifying faces on The X-Files to creating the creepy puppets in Puppet Master and, finally, to Boulder City to share it with horror flick aficionados from around the world. Working as a professional special makeup effects artist on more than 100 scary movies and TV shows for nearly 20 years, Tom Devlin's passion for the craft simply oozes from this place.
After years of creating monsters professionally, Devlin decided to open a museum to share his personal collection with the world and preserve the art and history of special makeup effects. Nestled in the heart of historic downtown Boulder City, between original props from classic horror films to complete costumes worn by some of cinema's most macabre villains, Tom Devlin's Monster Museum is a must-see for those looking for a little taste of Weird Nevada.
Welcome To The Monster Museum
Once you step over the threshold, plan to find work Devlin created personally, along with his unrivaled private collection of screen-used props, creature suits, and custom pieces representing monsters throughout movie history. Many recreated props and makeup from some of the greatest horror films of all time (and yes, we're including plenty of "B horror movies" on that list… Toxic Avenger, anyone?) can be found throughout Devlin's Monster Museum, too. Best yet, don't forget to snag something monstrous to commemorate your trip to the Monster Museum. Devlin himself created a line of Halloween masks for the Haunted Attractions industry, selling his creations to some of the most well known haunts across the country from 2010-2015. Aside from some amazing, one-of-a-kind masks, lavish costumes, and collectibles, visitors can get their hands on t-shirts, costumes, and other monster-inspired collectibles before hitting the road.
Horror Museum Specialty Experiences
The RIP Experience
Consider yourself the ultimate monster fan? Well, then you've gotta book a real night at the museum at Tom Devlin's Monster Museum. The exclusive R.I.P Experience includes a hotel pickup and drop-off from Las Vegas in Devlin's custom hearse, along with a private, guided tour led by Devlin himself. This all-in experience isn't just to die for if you're a straight-up monster maniac; it's also an out-of-the-ordinary memory-maker for the kinds of small groups, families, and even bachelor/bachelorette parties who don't want their Vegas vacation pics to look the same as everyone else's.
Fright Zone Haunted House
On select nights, Tom Devlin opens up his chilling Fright Zone Haunted House to the public. Creep down the halls of one of the oldest buildings in Boulder City, where paranormal activity is said to have taken place, and explore this unique gallery of high-end props and set designs.
Hours:
Tom Devlin's Monster Museum is open 7 days a week from 10:00 AM to 6:00 PM.
Admission:
Tickets to Tom Devlin's Monster Museum is $20 for adults and $10 for children. Kids under 5 are free! To purchase tickets online, visit our website. For more information about planning your trip to Tom Devlin's Monster Museum, dial the museum directly at (702) 294-1313.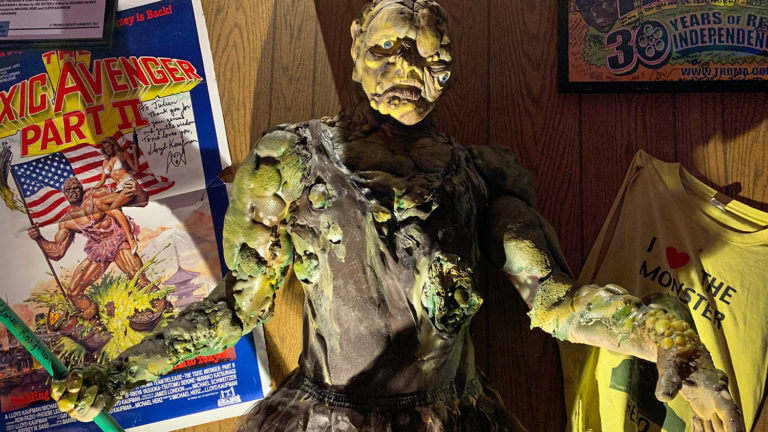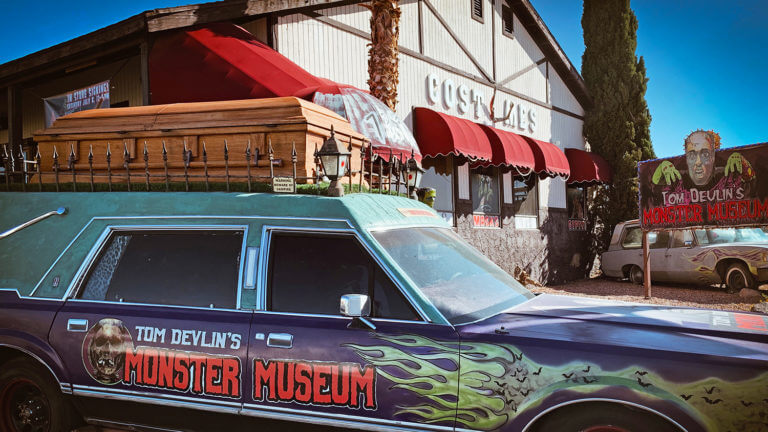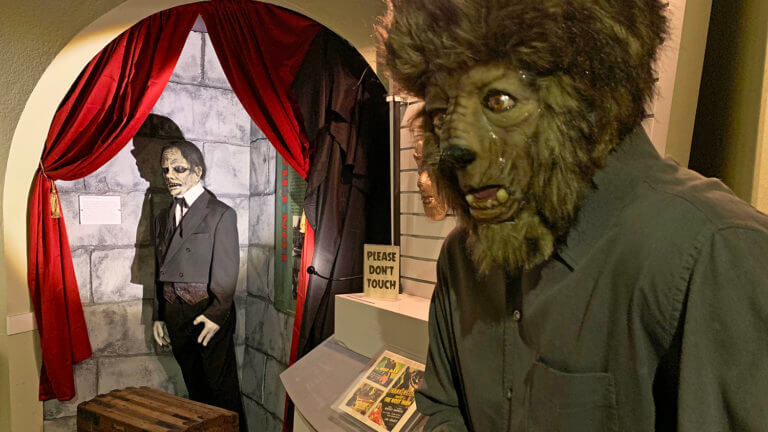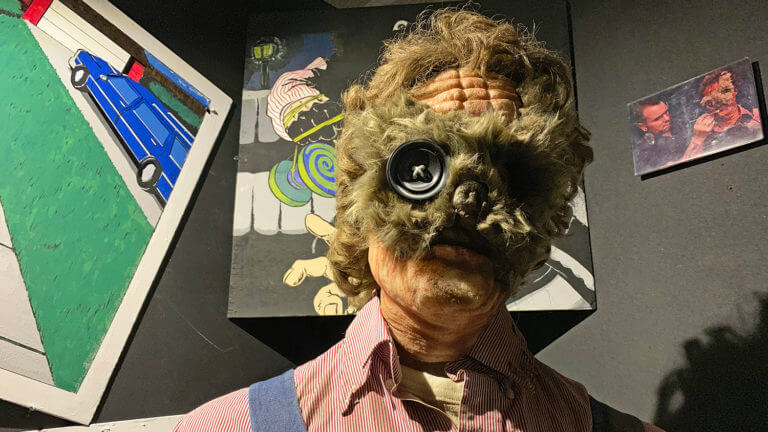 This Location: