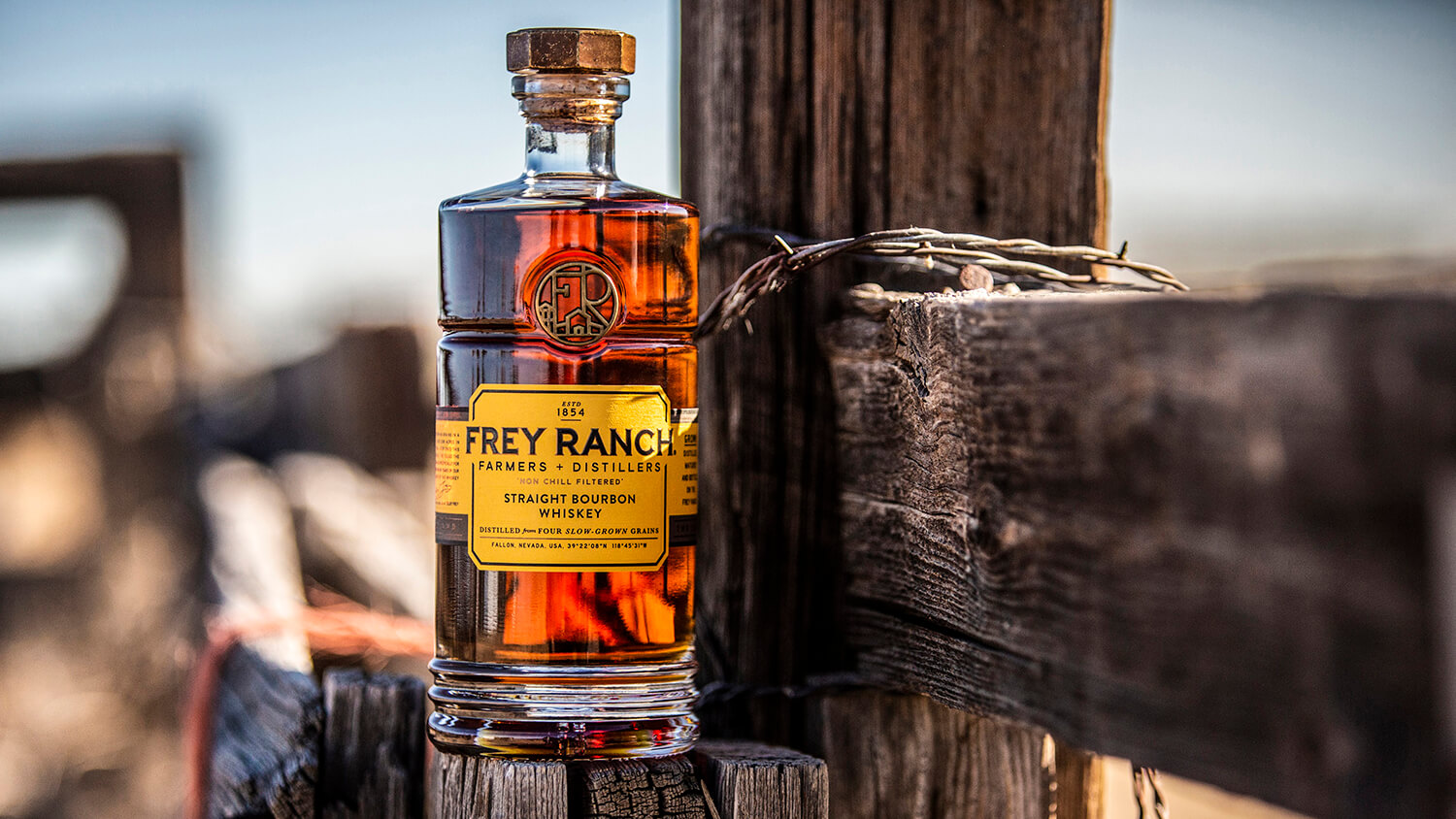 Frey Ranch Farmers + Distillers
An astonishing 165 years of farming expertise and custom distilling techniques make Frey Ranch Farmers + Distillers one of Nevada's—and the world's—premier grain-to-glass operations, specializing in single-barrel, straight bourbon and rye whiskey. One of only a handful of estate distilleries on the entire planet, fifth-generation Nevadans Colby and Ashley Frey lead the Silver State's sippin' scene from Fallon, NV—The Oasis of Nevada. Located about an hour east of Reno along the Loneliest Road in America, Frey Ranch sits significantly lower in elevation than surrounding valleys in verdant farmland ripe for growing the kind of grain that shines through with intricate flavors in these world-renowned sagebrush spirits.
The heart of the operation is Colby Frey, who oversees the process of growing, distilling, maturing, and bottling multiple styles of whiskey, right there on his family's historic Frey Ranch. The first to Nevada's commercial distilling scene (along with Las Vegas Distillery), Colby relied on knowledge gleaned from his family's five generations of farming the same ground to transform his ranch into one of the nation's few estate distilleries—two of which are in Nevada (the other is Bently Heritage Estate Distillery, located in Minden).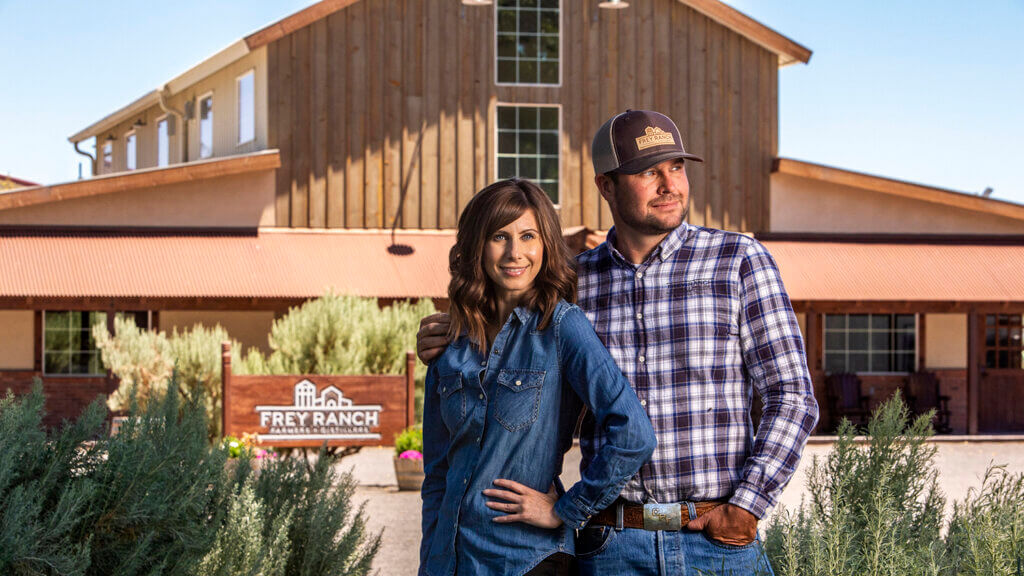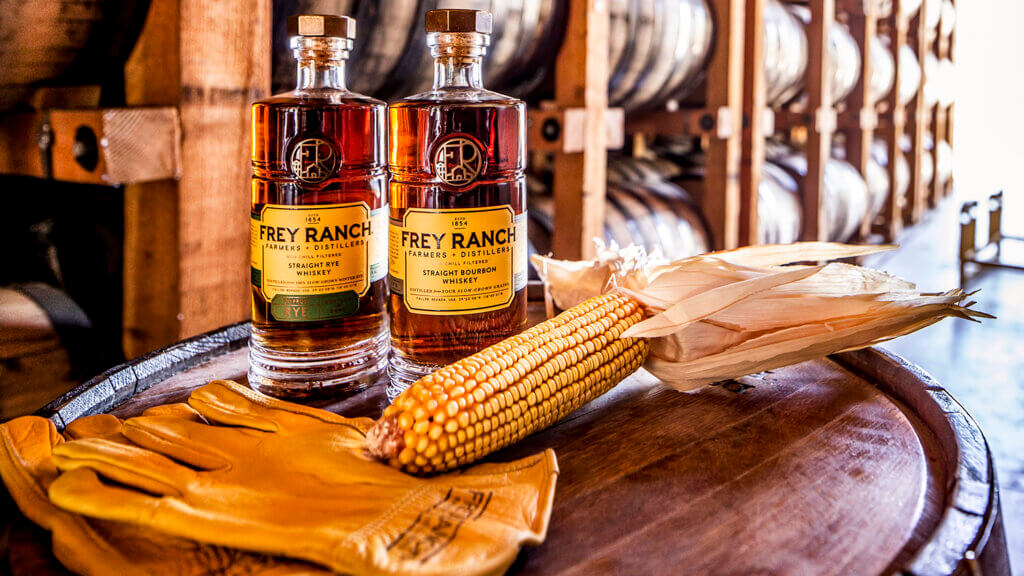 Frey Ranch History
The story of the Frey Ranch began way back in the 1850s when the Frey family (pronounced like "fray") started farming in Fallon, NV, right outside of Reno. The Frey family created a legacy of growing corn and grains on the property. They still do; now they turn it into top-shelf whiskey at Frey Ranch Distillery (formerly Frey Ranch Estate Distillery and Churchill Vineyards), under CEO and co-founder Colby Frey.
Colby was raised on the farm and taught the value of doing things the right way, with a wink and a smile. He put himself to work from an early age repairing tractors and working the land, a can-do mentality that ultimately led to the opening of the distillery, which he and his wife, Ashley, began in 2006, originally making gin, vodka, and even wine—all with the vision to, someday, age premium whiskeys.
Frey Ranch Bourbon & Whiskey
The Frey family values hard work, sustainable farming and prides themselves on their slow-grown grain, which is the essence of their famous, non-chill filtered, 90-proof bourbon. While the Frey Ranch started with farming grains, they now fancy themselves "Whiskey Farmers," raising the standards for whiskey in the United States.
The Frey Ranch Straight Bourbon Whiskey is a three-time, gold award-winning whiskey crafted in 2020. It is non-chill-filtered and made of four slow-grown grains. The whiskey will sweep you away with its tasting notes of earthy wood and leather with a pinch of cinnamon and spice. It also has hints of honey, burnt orange peel, and vanilla.
The straight rye whiskey is another award-winning libation that received double-gold awards in the 2021 San Francisco World Spirits Competition. This 100% rye whiskey is smooth enough to sip straight and yet spicy enough to shine in cocktails. In addition, the single barrel whiskeys are bottled at barrel strength, meaning that no water is added to proof it down, ensuring the customer tastes exactly what Colby tasted when he crafted this liquid gold onsite.
Hours:
The Frey Ranch offers free tours and tastings on Saturdays from 12:00 PM to 4:00 PM; reservations are strongly recommended. If you're road tripping the Loneliest Road in America any other days, check with Frey Ranch on tastings made by appointment only.
This Location: