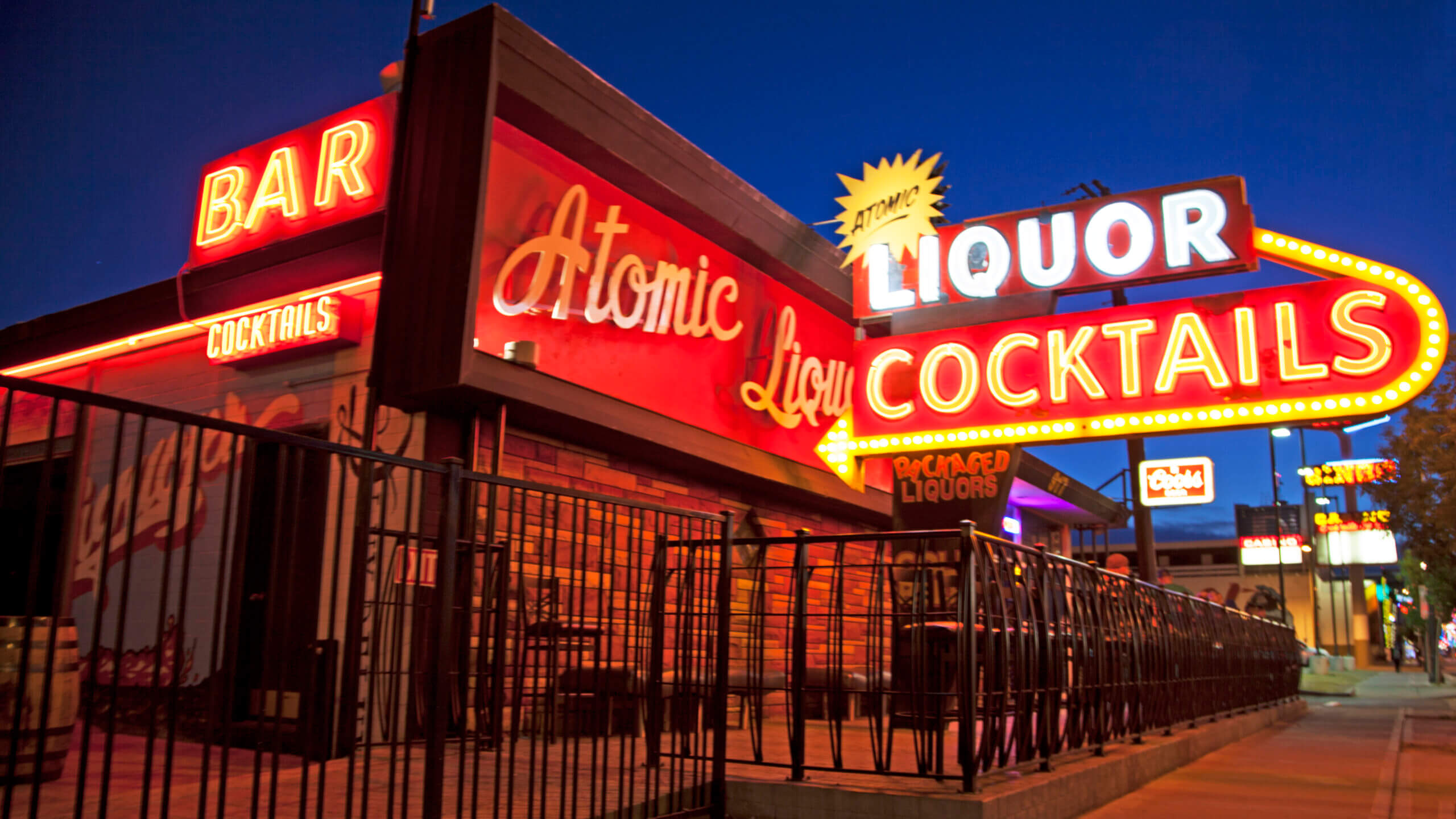 When you're the first at something, it helps if you're also the best at it. At least, that's the apparent philosophy behind Atomic Liquors, the first licensed watering hole in all of Las Vegas. So, is Atomic Liquors the oldest bar in Las Vegas? Absolutely, and they have the receipts to prove it. Just check the liquor license, numbered #00001, dating back to 1952. Sitting a few blocks away from the Fremont Street Experience, this aptly named rooftop bar has quite the history… and isn't nearly done telling its story.
The Oldest Bar In Las Vegas
Originally a restaurant called Virginia's Café, the location soon became a tourist attraction for its expansive rooftop views of the surrounding desert, where the United States military conducted nuclear testing. Nope—not a typo. People would flock from all over to watch atomic bomb blasts from the rooftop during the late 1940s and early 1950s, and there was no livelier viewing location than the rooftop of Virginia's Café. Husband-and-wife owners Joe and Stella Sobchik, cashed in on the trend in 1952 by changing their business from a café into what is now the oldest free standing bar in Las Vegas.
Atomic Liquors was a go-to spot for many of Las Vegas' famous performers, including the Rat Pack, Barbra Streisand, and the Smothers Brothers. You may or may not have stumbled upon the occasional wise guy here, too, but we ain't sayin' nuttin'. The Sobchiks faithfully operated Atomic until Joe's death in 2010 and hers in 2011. In 2012, the business changed hands, and after being closed for about a year for remodeling, it reopened to the public under the new ownership of brothers Kent and Lance Johns and partner Derek Stonebarger.
Travel Nevada Pro Tip
When the new owners began renovating the bar in 2012, they discovered a hidden floor safe mainly containing receipts. It has been covered in glass and is permanently displayed as a unique piece of Nevada tavern history.
New liquor shelving and a marble bar counter are among the cosmetic changes patrons will find when they stop by for cheekily named cocktails such as the Hunter S. Mash, Strawberry Fields, or the Atomic Mule. Atomic Liquors is geographically central to many of the initiatives funded by the Downtown Project, the revitalization project spearheaded by late Zappos CEO Tony Hsieh. Across the street, you'll find the eclectic Fergusons Downtown complex, the Las Vegas Test Kitchen, and all kinds of live entertainment, makers goods for sale, and much, much more just about any day of the week.
Atomic Kitchen Restaurant
Adjacent to Atomic Liquors Las Vegas, you'll find the Atomic Kitchen, which serves up its own signature cocktails and, of course, plenty of comfort grub for the Strip-weary traveler. Among the offerings are burgers, sandwiches, salads, wings, and an impressive list of drinks.
Hours:
Atomic Liquors Las Vegas is open every day from noon until 2:00 AM (officially, anyhow!), with extended closing hours of 3:00 AM on Friday and Saturday nights.
Admission:
There is no cost to enter this piece of Las Vegas history, but reservations are recommended to ensure a table at Atomic Kitchen.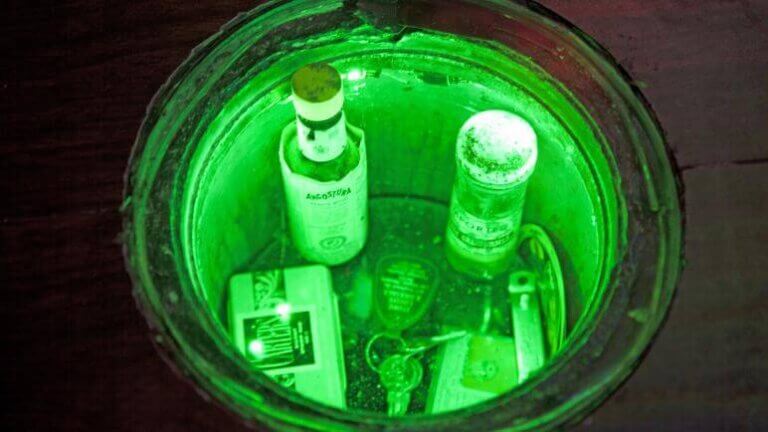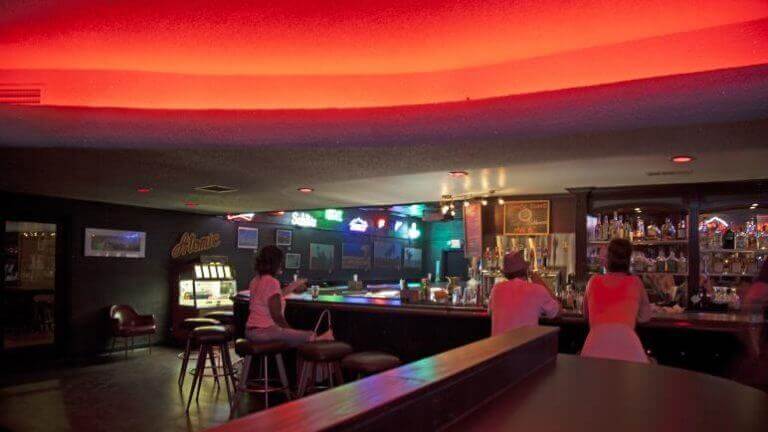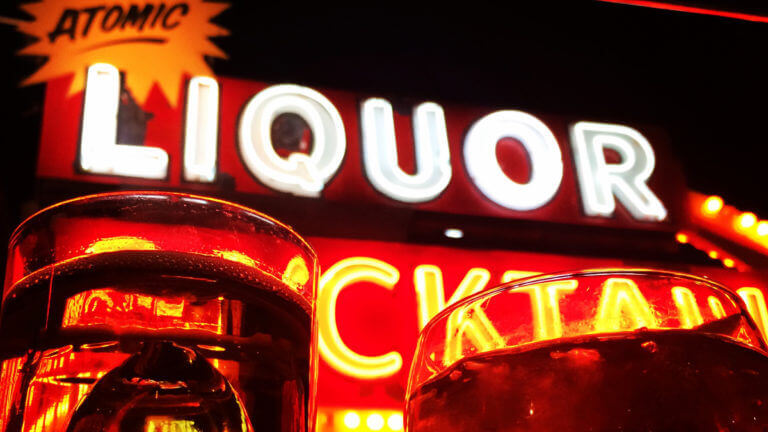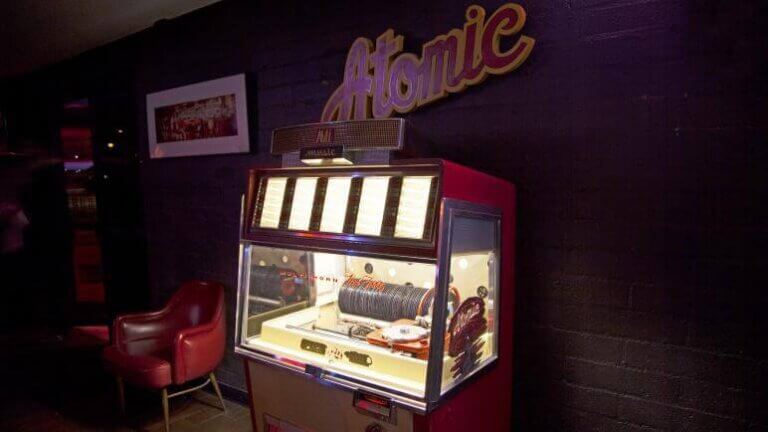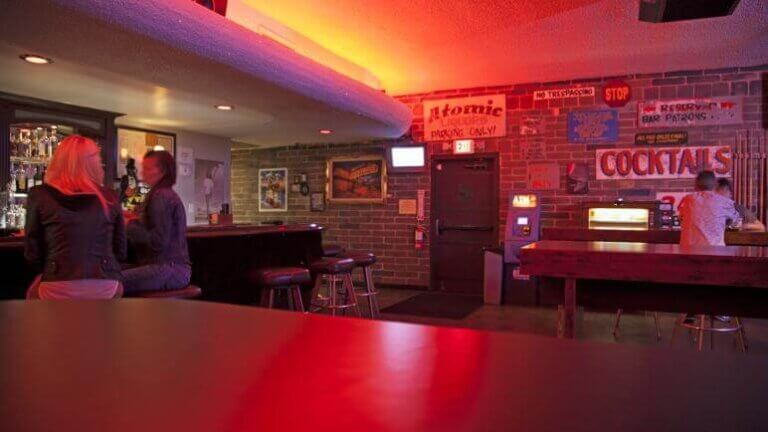 This Location: