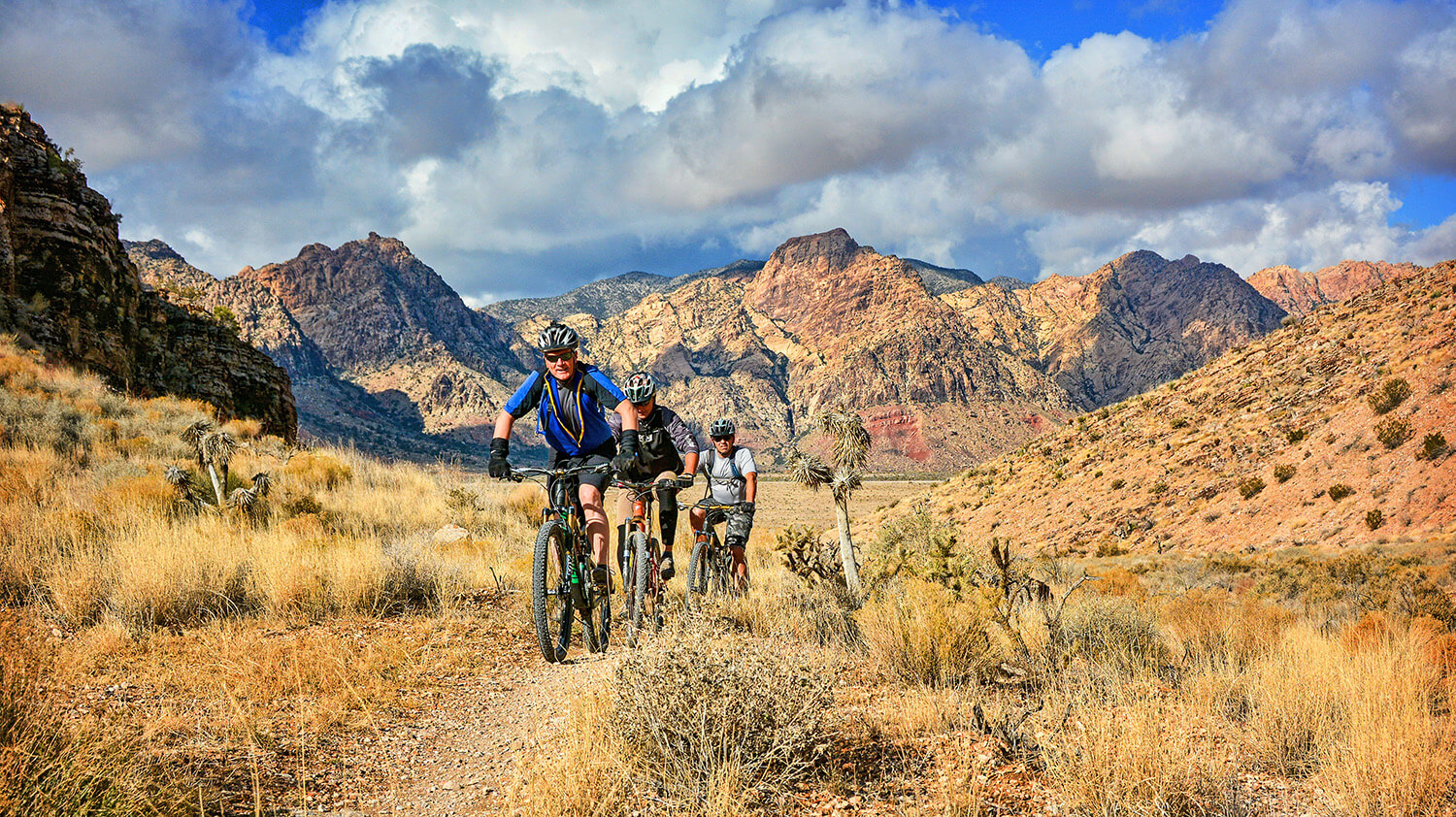 Riding outside Las Vegas has never been easier, or more spectacular, thanks to the stunning Blue Diamond Loop mountain biking trail. Best accessed from the charming town of Blue Diamond just beyond Red Rock Canyon National Conservation Area, load up the bikes, then hit the singletrack trails that await less than 45 minutes from downtown Las Vegas. Once you dip a tire or two into the dirt, you'll see why this southern Nevada mountain biking trail system is a fave for local and visiting mountain bikers, hikers, wildlife photographers, and anyone looking to get to know the incredible Spring Mountains a little better.
Nestled at the base of the Spring Mountains, the best access point for the Blue Diamond Loop trails is within the town of Blue Diamond itself. Brimming with small town charm minutes from the Las Vegas metro area, Blue Diamond and the trail systems that stem from it run through the Spring Mountains National Recreation Area, including the famously beautiful Red Rock Canyon and Spring Mountain Ranch State Park. Look for a parking spot at Mcghies Bike Outpost, then set off on a 10+ mile ride that contains the majority of the North Cottonwood Trail System, offering up big views of vibrant, jagged mountain ranges surrounded by blooming Joshua Trees, Yucca plants, cholla cactus and seasonal wildflower blooms.
As you hit the trail, ride through a handful of small, flat washes then begin a moderate climb to Lawnmower Saddle that offers great scenic overlooks of Blue Diamond and the surrounding valley below, then the descent is on through Rubber Ducky Trail (you'll know it when you see it) which connects on to the Inner Loop Trail. From here, follow a mellow, gradual descent to a fast and flowy section nicknamed Little Daytona. Jump on the Landmine Loop, and follow it back to Blue Diamond to complete the loop, and keep an eye out for a rusted out car—story has it this desert relic once belonged to the legendary Bonnie & Clyde. Stop for a picnic along the way, and definitely remember to bring your camera along to capture resident wild burros, jackrabbit, and if you're lucky, maybe even the protected Desert Tortoise—Nevada's official state reptile.
Getting There
From downtown Las Vegas, head west toward Summerlin, then follow Blue Diamond Road into Red Rock Canyon National Conservation boundaries. Pass the entrance to the Red Rock Scenic Drive & Visitor's Center, and follow State Route 159 through the valley to Blue Diamond. Make a right into Blue Diamond on Castalia Street, then look for Mcghies Bike Outpost. Park here, then be sure to head inside this local bike shop for last minute gear and more information about the trails in the area. For more info on Blue Diamond Loop, including seasonal tips and tricks, trail maps, and other info to know before you go, get in touch with Nevada BLM at (702) 515-5000.
Hours:
Blue Diamond Loop Las Vegas is open 24 hours a day, 7 days a week. The only thing preventing you from riding here would be related to a seasonal, weather-related closure. For more info on planning your visit, get in touch with the Nevada BLM Las Vegas Field Office at (702) 515-5000.
Admission:
Blue Diamond Loop is managed by Nevada Bureau of Management (BLM) Land, making free public access available to all.
This Location: