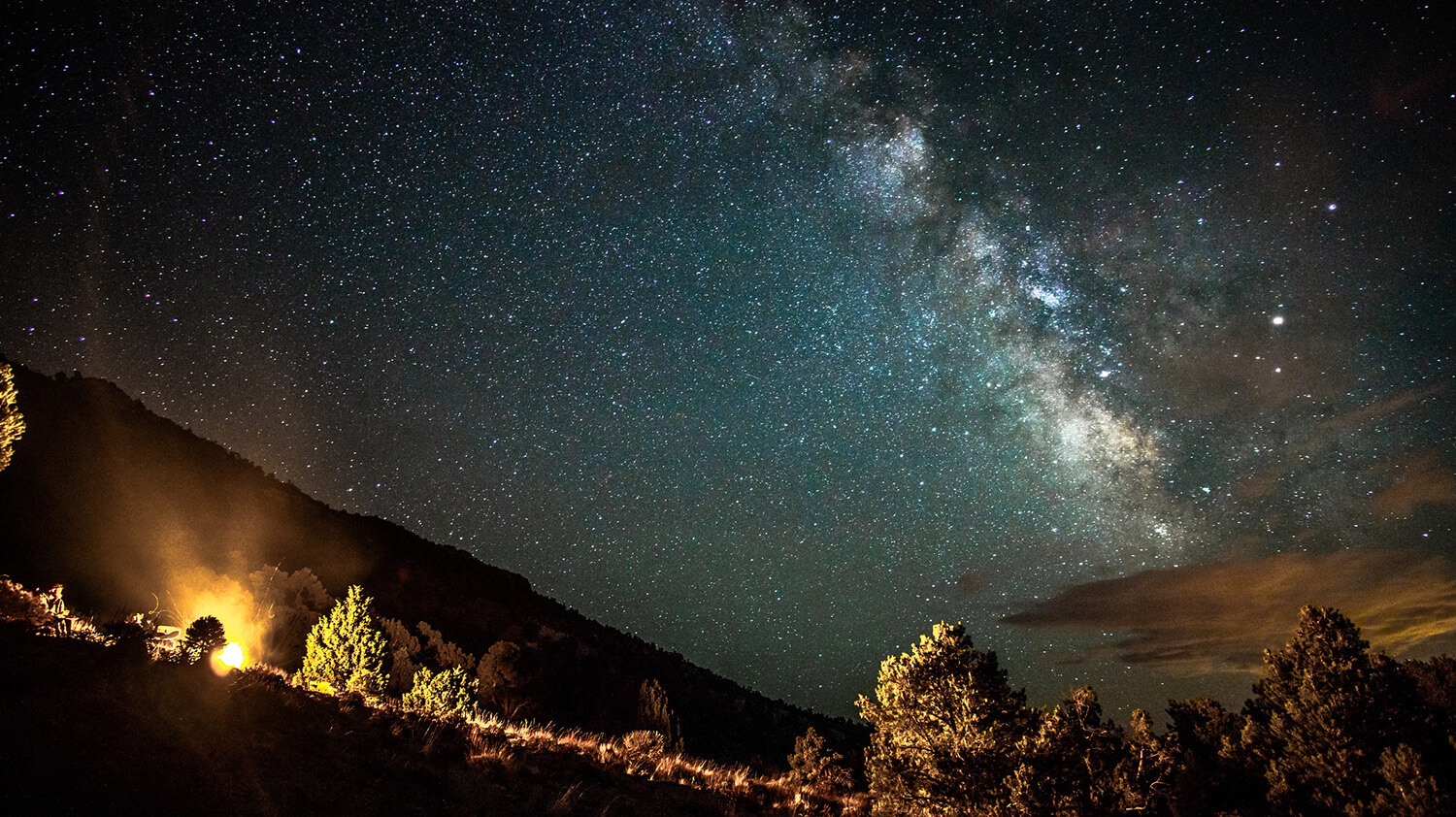 With more than 300 named mountain ranges and millions of acres of rugged, untamed wilderness and thousands of miles of get-outside potential, it's safe to say the Silver State offers dark sky lovers a lifetime of exploration. Some famous, big ol' stretches of Nevada night sky can be found at Great Basin National Park and Tonopah—and to be honest, just about everywhere you look up beyond the Vegas metro area offers a spectacular nighttime light show, thanks to little-to-no light pollution.
There are dark skies, and then there are dark skies, like what glimmers overhead at the spectacular Massacre Rim Wilderness Study Area. Like the neighboring Black Rock Desert and Sheldon National Wildlife Refuge, this northwestern corner of Nevada is known for rugged adventure within pristine landscapes, situated hours from hotels, electricity and paved roads. While some of the Silver State's best night sky viewing has minimal surrounding light interference, the mighty Massacre Rim has zero, making it a pristine dark sky sanctuary. This stupendously remote Nevada desertscape joins a mere six other locations around the world as one of the darkest places on earth—and that's during full moon conditions.
As if being some of the darkest places in Nevada, the United States, AND Planet Earth hasn't already upped the cool factor into the next dimension, many of Nevada's dark sky sanctuaries are also known to be some of the quietest too, providing increasingly rare habitats to a variety of creatures who can thrive in a true nocturnal environment. In fact, the combo of the exceptional quality of starry nights and an unblemished nocturnal environment has earned Massacre Rim a designation with the International Dark-Sky Association, protecting all 101,000 acres of this wilderness study area. It's here that scientists have discovered new, never-before-seen parts of the Milky Way galaxy, and on moonless nights stars shine so bright they actually cast a shadow. 
Getting There
Massacre Rim is situated about 4.5 hours north of Reno in northern Washoe County. After all, being located out in the middle of nowhere is what's earned its sterling reputation as one of the best places to stargaze in the state—and country. From Gerlach, Massacre Rim is still situated 3 hours north; from Denio it's about a 3.5 hour drive. Nearest the living ghost town of Vya, or Cedarville, CA this remote dark sky sanctuary lies on Nevada Bureau of Land Management (BLM) land, who collaborates with Friends of Nevada Wilderness on Massacre Rim conservation efforts. There are no established campgrounds in the area, but primitive, Leave No Trace Massacre Rim camping is permitted with a 14 day maximum stay per location.
For up-to-date information when planning your trip to Massacre Rim, or day-of travel tips including driving conditions and weather forecasts, be sure to check in with the Friends of Black Rock office located in downtown Gerlach.
Hours:
Massacre Rim is open 24 hours a day, 7 days a week. The only thing preventing you from getting outside here would be a seasonal, weather-related closure. For more info on Massacre Rim and to check road conditions before heading out, get in touch with the BLM Winnemucca Field Office at (775) 623-1500.
Admission:
Massacre Rim is managed by Nevada Bureau of Land Management (BLM), making free public access available to all.
This Location: