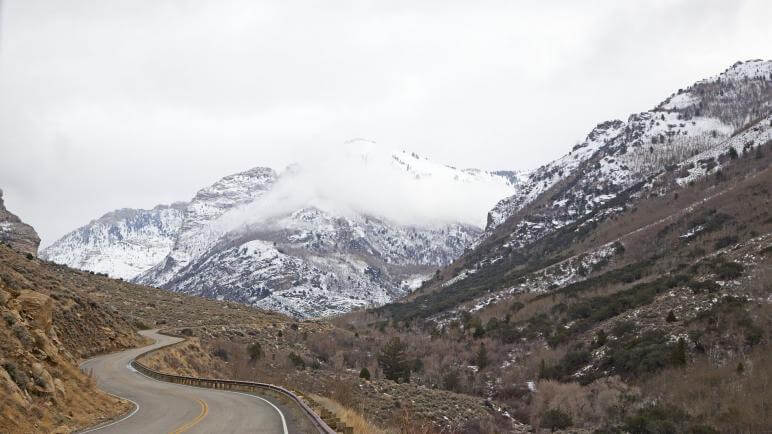 Lamoille Canyon Scenic Byway
No visit to the Lamoille area is complete without an expedition up the unbelievably beautiful Lamoille Canyon Scenic Byway. This two-lane, 12-mile drive up the canyon whisks you away to 8,800 feet, following a U-shaped, sherwalled canyon flush with summer wildflowers and spectacular colors in the fall.
On the way to the top, be sure to check out the Lamoille Glacier Overlook, where you can see the result of two, 1,000-foot-thick glaciers that carved out this U-shaped canyon more than 250,000 years ago. Here, you'll get a prime example of rugged glaciated peaks that tower overhead at a whopping 11,000 feet in elevation. Ruby Dome, the highest of the peaks, rises above at 11,249 which is nearly 5,500 feet above the valley floor.
Along the byway, you'll find a developed, self-guided car tour with interpretive signs describing the geology of this canyon. Near the end of the paved road, the parking lot sits at
The Ruby Mountains are Nevada's wettest, providing a verdant and lush landscape…a breath of fresh air compared to the contrasting surround area's desert ecosystem. The Ruby Crest Trail, a 40-mile route across the Ruby Mountain Ridge, is known worldwide for it's spectacular views. Lamoille Canyon hosts the northern trailhead, ending south in Harrison Pass.
Additionally, a number of other recreational opportunities await you, including camping, picnicking, mountain biking, backpacking and more. Truly a hiker's paradise, the area boasts more than 100 miles of hiking trails. Island Lake is an easy two-mile hike, and numerous alpine lakes can be found in the area. Although Lamoille Canyon Scenic Byway is not entirely open during winter months, the canyon is alive with snowmobiles and cross-country skiers who access the area from the parking lot at the entrance.
If you're looking for one of the most beautiful places in Nevada to host your backcountry getaway, Lamoille Canyon should be at the top of the list. Beautiful and unwaveringly enjoyable in all seasons, make sure to add this jewel to your next Nevada adventure!