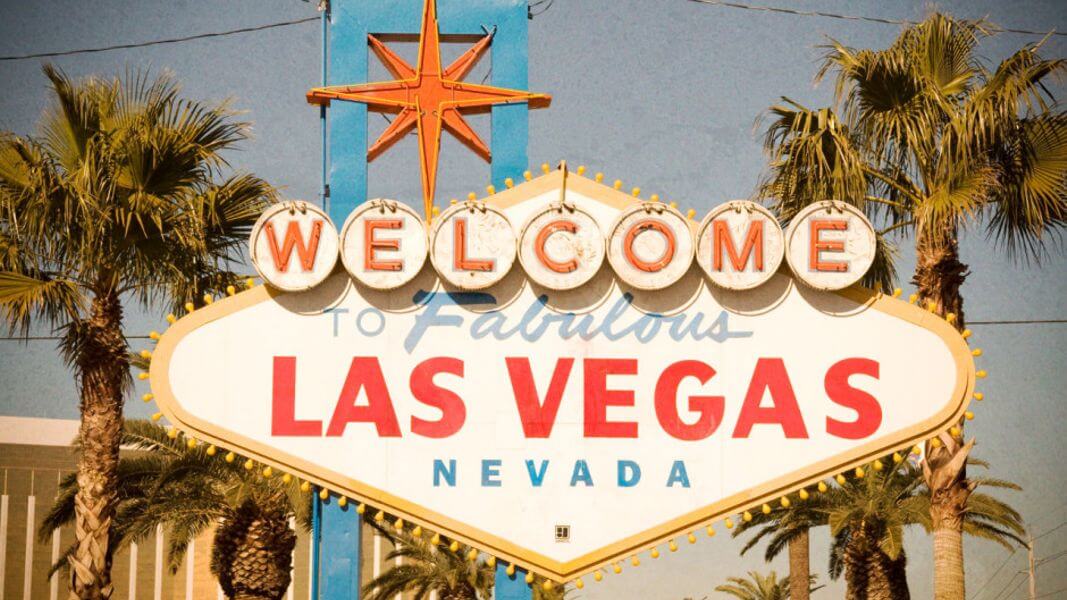 Vintage Vegas: A Retro Travel Guide to Sin City
Here's your guide to finding authentic spots — some untouched, some reimagined — that evoke an old-school hipness in today's Las Vegas.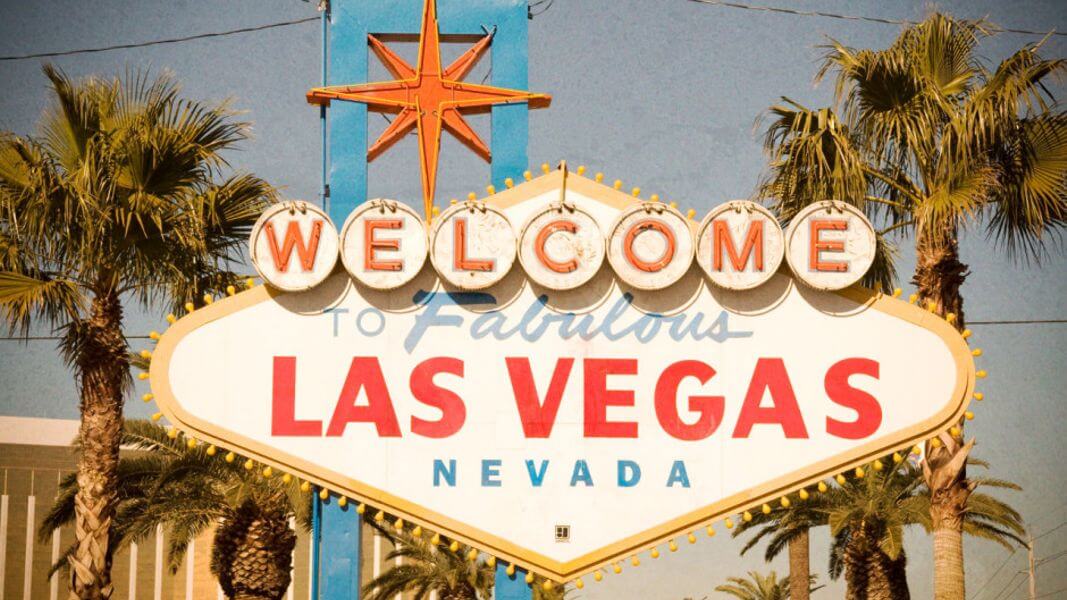 Golden Steer Steakhouse
With its wood-paneled walls, deep banquettes, and tuxedoed waitstaff — some of whom have been working the floor for more than 40 years — stepping into this Sahara Avenue steakhouse is a bit like visiting the Las Vegas people reminisce about, when women wore gowns to the blackjack tables and Frank Sinatra crooned nightly. At the Golden Steer, which opened in 1958, much of that era remains. There's still caesar salad made table-side, juicy cuts of prime beef, flaming sweets like bananas foster, and the priceless knowledge that you're digging in where gangsters like Tony Spilotro, superstars like Elvis, and greats like Muhammad Ali have dined.
Neon Museum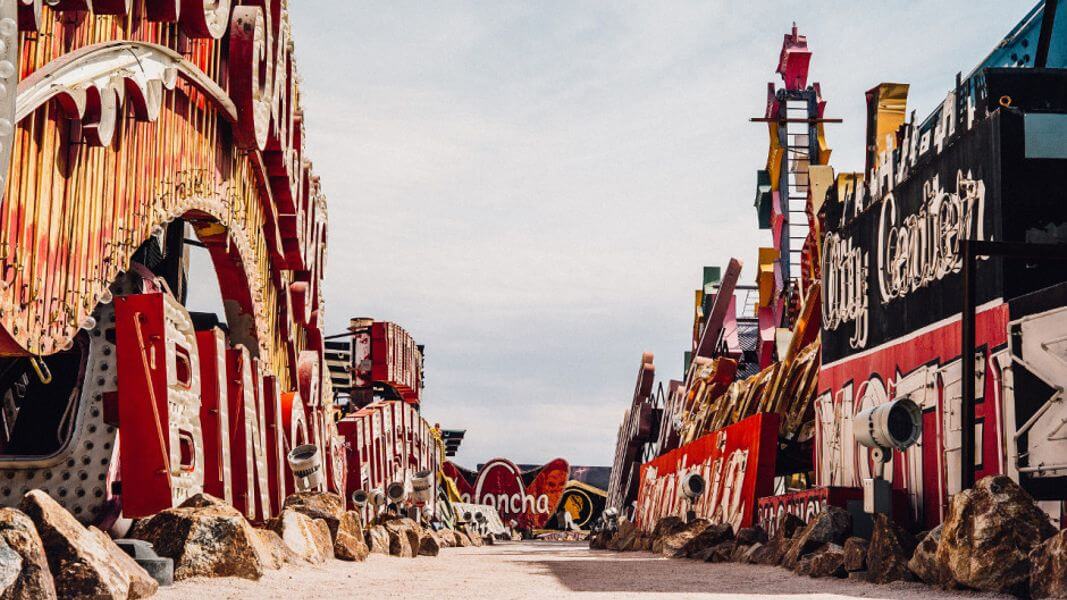 While Las Vegas is famous for its implosions, the revered signs from many iconic casinos and businesses have been saved thanks to this nonprofit and its landmark Neon Boneyard. Guides trace the story of Las Vegas through the Boneyard's collection of hulking glass-and-metal marquees from properties like the Stardust, Sassy Sally's, and the Sahara, offering an entertaining history lesson full of local lore. For a truly illuminating experience, book a nighttime tour and bask in the glow of the Boneyard's restored signs.
Carson Kitchen
Sure, this hip gastropub from famed chef Kerry Simon isn't an old-school haunt — in fact, it's only been around about a year. But the two-level neighborhood eatery is representative of Downtown Las Vegas' recent rejuvenation, funded largely by Zappos CEO Tony Hsieh and his investment group the Downtown Project. Housed in the former John E Carson Hotel, a vintage Vegas venue that opened in 1955, the restaurant draws a schmoozy local crowd with creative comfort food and potent cocktails. Grab a seat at the chef's counter and an order of bacon jam with baked brie, and take in this delicious example of Downtown development.
Golden Gate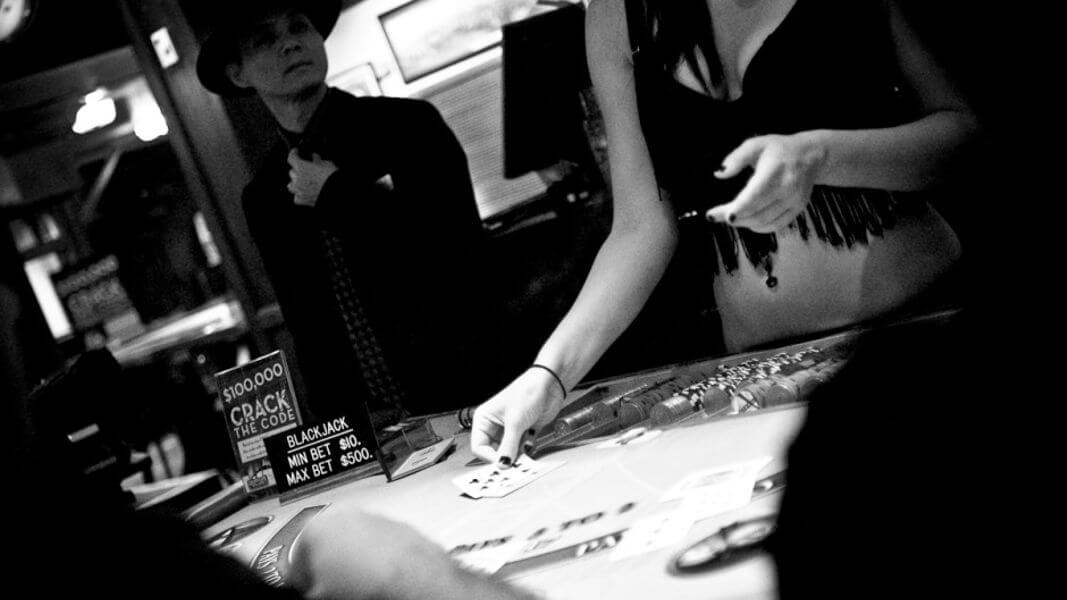 This historic casino hotel bookending the Fremont Street Experience dates to 1906, just after the city of Las Vegas was established with a population of around 800 people. While the property has been renovated in the intervening years, it's still a glimpse of the city's past, with low ceilings and packed rows of slots. Snake your way through the games and head for Du-Par's, the 24-hour diner famous for its pillowy pancakes and ample selection of pies.
El Cortez
This is vintage Vegas at its most authentic — El Cortez is the longest continually operating hotel and casino in the city, opened in 1941, and formerly owned by legendary gangsters Bugsy Siegel, Meyer Lansky, Gus Greenbaum, and Moe Sedway. These days, it's a family-run joint with updated rooms and plenty of old-school charm. Sidle up to the Parlor Bar to take down classic cocktails like the Blood and Sand or Gin Fizz, then hit the casino floor for an elusive game of single-deck 3-2 blackjack. Just like in the good old days.
Retro Vegas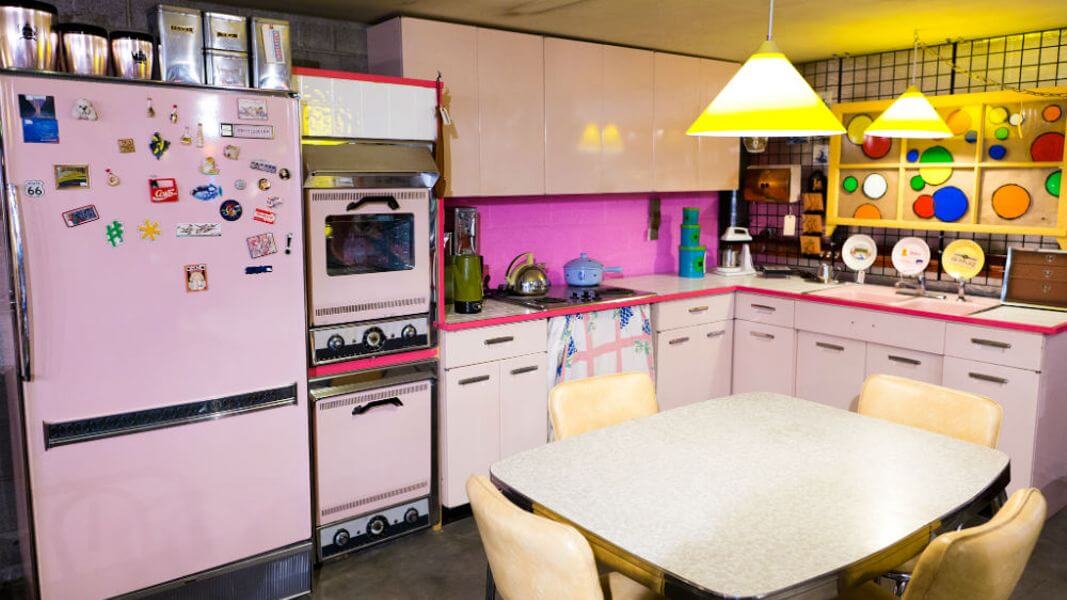 Looking for a piece of the Vegas legacy to take with you? This staple Arts District home shop is a destination for everything from mid-mod coffee sets to casino castoffs to vintage sofas and funky swag lights. Browsing the massive storefront is a bit like visiting a museum. Just be warned: It's nearly impossible to leave without picking up some delightful trinket as a souvenir.
Gold Spike
Another Downtown Project development, this 1976 hotel casino has been transformed into a neighborhood clubhouse complete with 24-hour bar and restaurant, living-room-style seating, games, and a backyard where local bands play. The upstairs rooms have been converted into micro apartments, while the neighboring Oasis at Gold Spike is a boutique hotel with amenities like bike rentals, turntables, and a library.
Mob Museum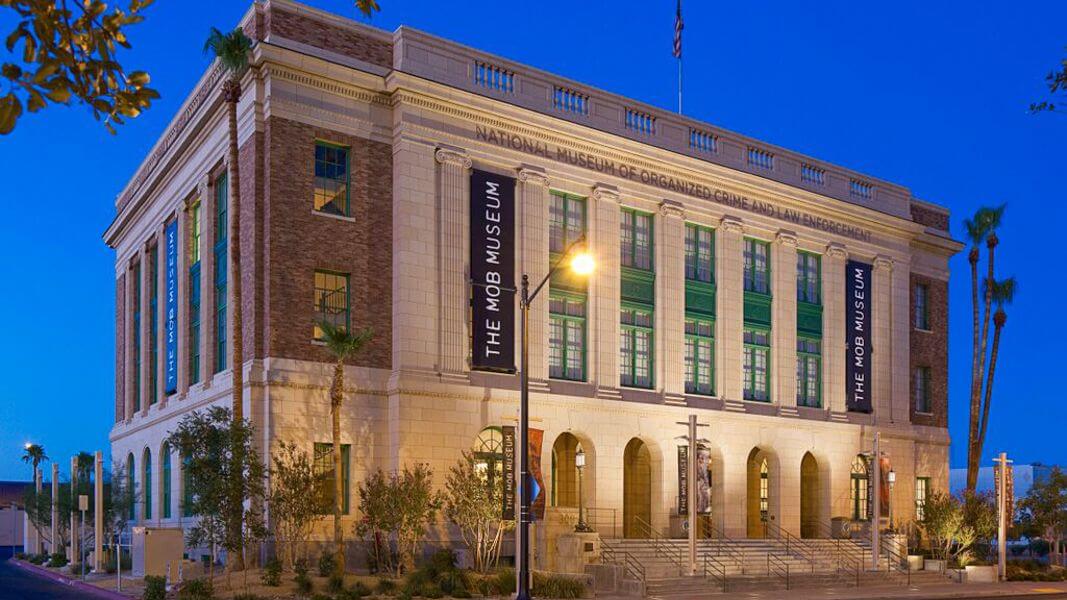 Housed inside the former federal courthouse where Senator Estes Kefauver held one of his hearings on organized crime in 1950, this museum takes visitors into the inner workings of the Mob in the US and the law enforcement figures tasked with bringing it down. The Mob Museum spares no graphic detail; along with weapons, photos, and countless other artifacts, the collection includes the wall from the St. Valentine's Day Massacre in Chicago and a replica of the electric chair from Sing Sing Prison where guests can take a cautious seat and pose for a picture. The museum also chronicles the Mob's impact on Las Vegas, from famed gangsters like Bugsy Siegel to former Mob lawyer and Las Vegas Mayor Oscar Goodman.
Hugo's Cellar
Fine dining may be out of fashion, but you'd never know it inside Hugo's Cellar, the Four Queens institution where the old-fashioned way is the only way. The menu here is Continental cuisine — hefty steaks and lobster tails served with all the accouterments, from table-side salad to a sorbet intermezzo to chocolate-covered strawberries for dessert. A local favorite for a romantic date night, every lady leaves with a long-stemmed rose — proof that chivalry lives on in Las Vegas, at least inside Hugo's.
Peppermill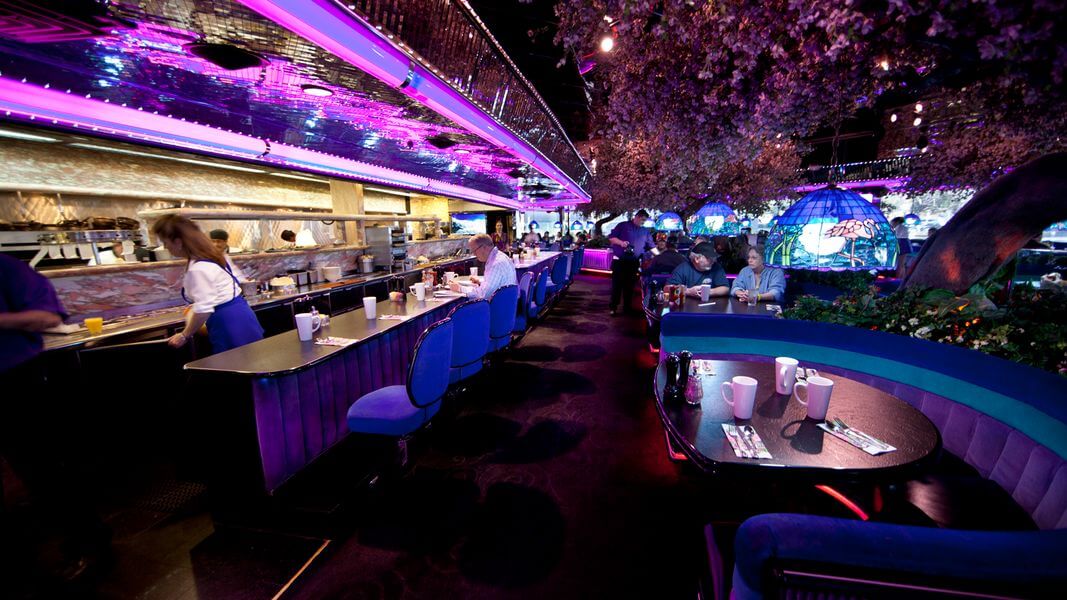 It may be 2015, but inside the classic Peppermill Restaurant and Fireside Lounge on Las Vegas Boulevard it's still 1972. That means mirrored ceilings, mood lighting, oversized cocktails, fire pits (surrounded by aquamarine moats), cocktail servers in full-length gowns, and the kind of self-assuredly swanky atmosphere that makes any night feel like one to remember. Here's hoping the Peppermill keeps doing its thing for another 40 years.
Get Inspired
Related Stories