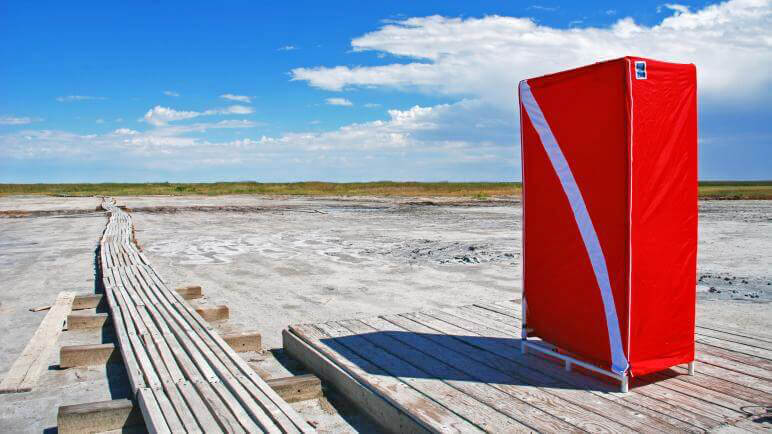 Blue Lake Wildlife Management Area
Scuba diving in the desert? You betcha. Set amid wetlands on the southeastern edge of the otherwise barren Bonneville Salt Flats lies Blue Lake Wildlife Management Area: a warm springs, or geothermal-heated lake that makes diving here easy, and in an against-all-odds landscape, completely popular year round. Situated about 20 miles south Interstate 80 nearest the community of West Wendover and a few hundred feet over the Utah border, Blue Lake makes for a great summer escape, promising dirt road driving, warm springs swimming, and an unlikely place to score a scuba cert.
Situated on BLM Land, this 60-foot deep lake is a popular place to learn how to dive for eastern Nevadans and folks from Salt Lake City, seeing as the warm springs that feed this lake promises 85 degree temps year round. Best yet, the high volume of fresh water provided by the springs results in profound visibility of up to 40 feet during the late fall, when summer algae blooms have died off. On the road access side of the lake, visitors will find a quarter mile-long wooden boardwalk along with steps and a handrail leading into Blue Lake, making for clean and easy access.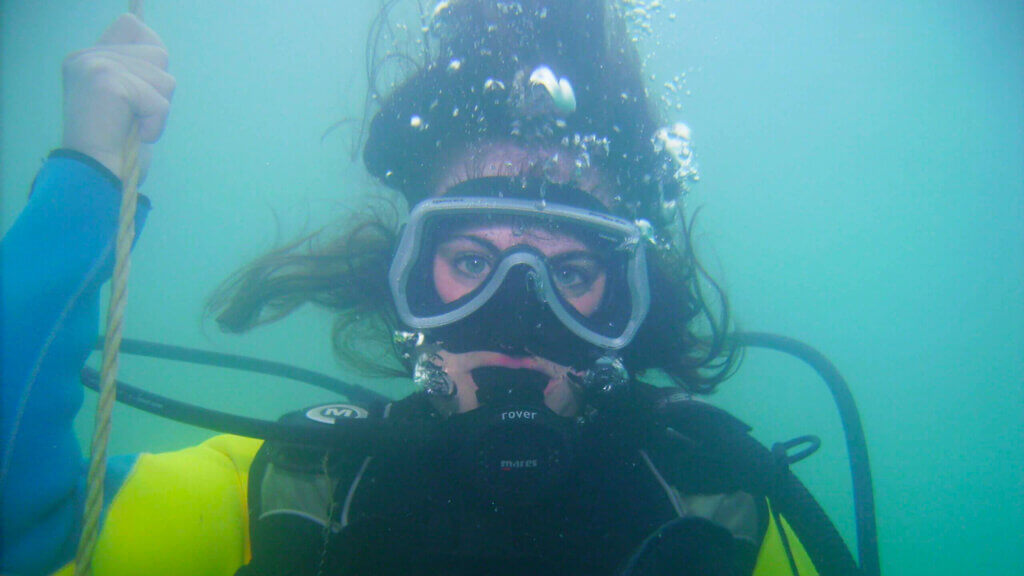 Though fishing for bluegill, bass, tilapia and sunfish, hunting and hot spring soaking draws visitors and locals like, Blue Lake's frontrunner is scuba diving. A handful of scuba training schools—think University of Utah Scuba Program and beyond—operate from Blue Lake, outfitting the area with platforms, and several sunken features like boats, a 12-foot metal hammer head shark, and other items designed to locate while training underwater.
Getting There and Info to Know Before You Go
The best time to access Blue Lake is during the fall months when the algae blooms have died off, making for optimal underwater visibility, and mosquitoes and horseflies drawn to the wetlands during summer months are no longer hanging around. To get there, head south of West Wendover, following U.S. 93 for about 14 miles to the Blue Lake Sign. Turn left (or east) down a rough washboard dirt road for about 5 miles. When the road is dry, any vehicle type should have no problem accessing, but when traveling any Nevada backroads, be sure to check road conditions prior to leaving, travel with 4×4 access whenever possible, and always carry a spare tire. Be sure to bring plenty of snacks and water, let someone know where you're headed and when you plan to return, and practice Leave No Trace methods whenever possible.
Hours:
Blue Lake Wildlife Management Area is open 24 hours a day, 7 days a week. The only thing from preventing you from accessing Blue Lake would be a seasonal, weather-related closure. For more info on visiting Blue Lake, and to check road conditions before heading to this unique geothermally fed lake, get in touch with the West Wendover Welcome Center at (775) 664-3138.
Admission:
Blue Lake Wildlife Management Area is protected by the Bureau of Land Management (BLM), making free public access available to all.
This Location: