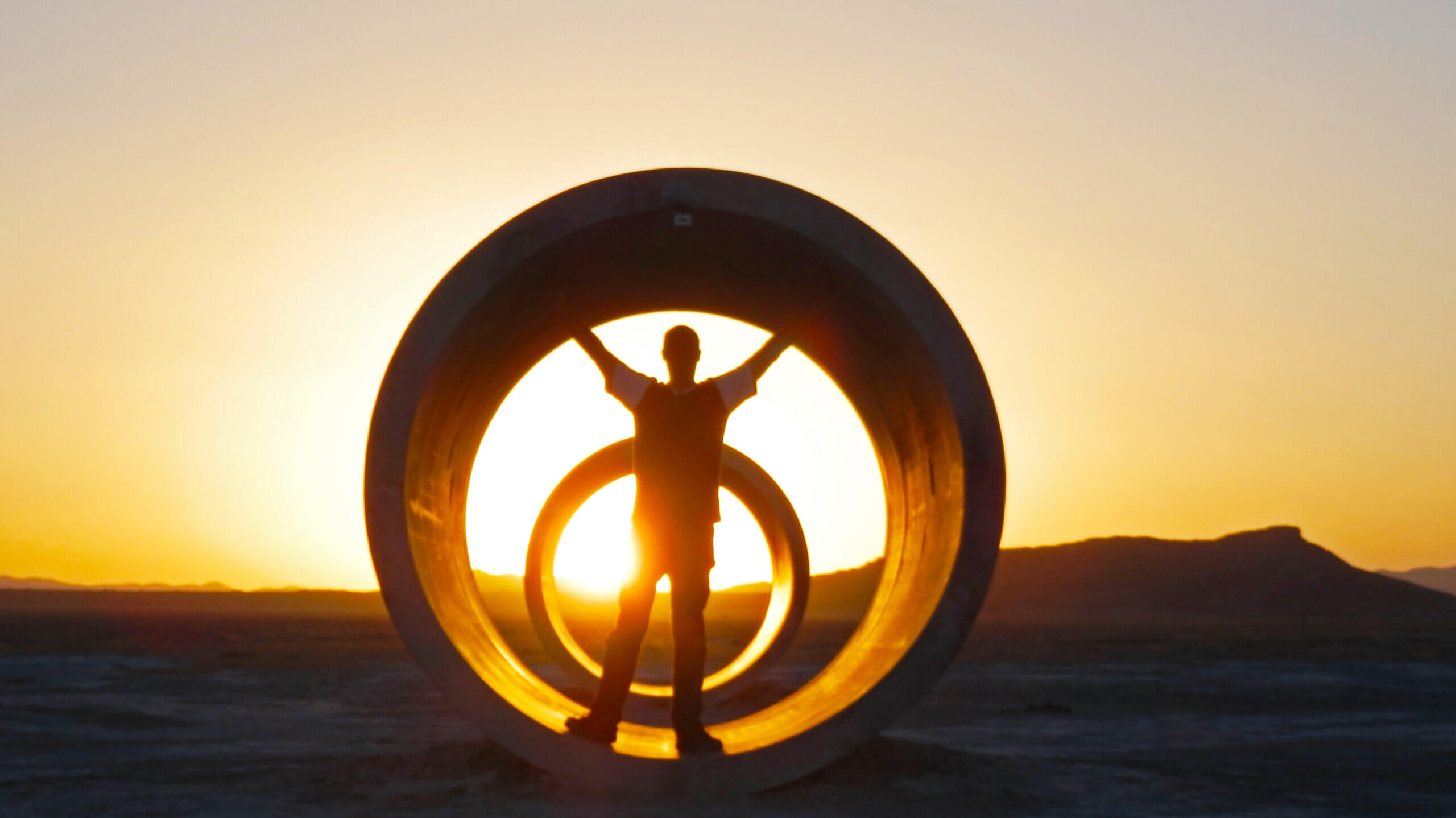 Sun Tunnels & Bonneville Land Art
There are few better ways to get away from it all and let the Great Basin inspire than appreciating an open-air art installation designed to do just that. Situated north of the quiet community of West Wendover, artist Nancy Holt created the Sun Tunnels installation from 1973-76, designed to explore the human perception of time and space, earth and sky. With support from the Holt Smithsonian Foundation, Holt purchased 40 acres of land to create her installation, employing a stunning 22 concrete pipes—each 9 feet by 18 feet long—that brings the sky down to earth. Four tunnels are laid out on the land in an X shape, each drilled with holes that resemble the Draco, Perseus, Columbia and Capricorn constellations, and two of the tunnels align with the setting and rising sun during the summer and winter solstices.
Nancy Holt's Sun Tunnels make for an unforgettable way of connecting with the landscape, all while sheltering you from it. Duck inside a massive tunnel for shelter from the desert sun, or head out to this remote landscape for an astronomy show you'll never forget. And of course, checking out the Sun Tunnels on a summer or winter solstice will be a way to usher in a changing season unlike ever before.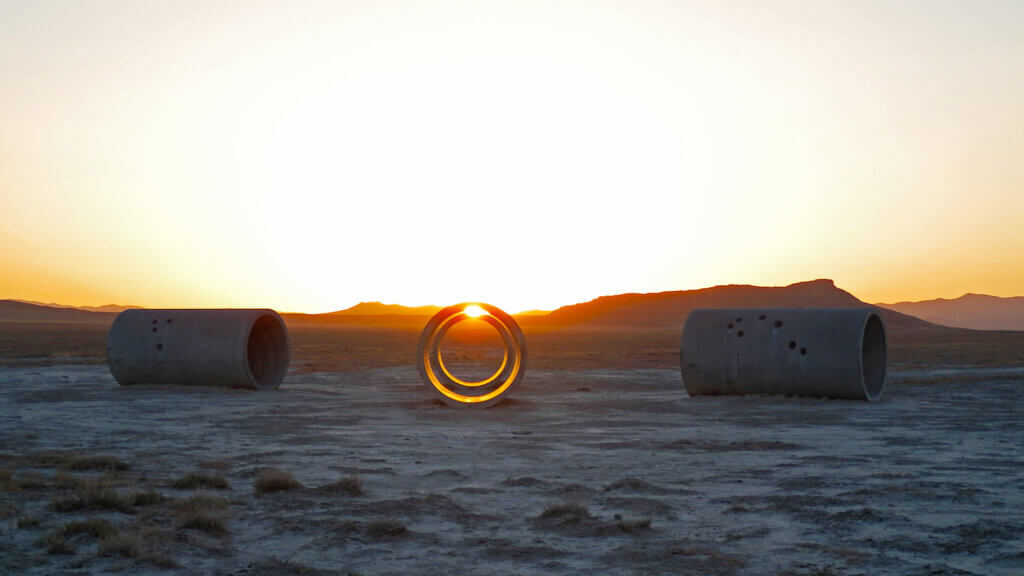 One of the great land artists of the American West, Nancy Holt's work joins other Nevada land artists like Michael Heizer—both of which were drawn to Nevada's vast, remote, uninhabited landscapes during the 1960s and 70s. Holt's tunnel art continues to inspire anyone willing to see it in person to this day, along with a handful of more recent land art installations found close by. While you're checking out the Sun Tunnels, be sure to stop by the Fistful of Art—located within the same valley—along with the Tree of Utah, situated along Interstate 80 as you make your way into West Wendover from Salt Lake City.
Getting There and Other Info to Know Before You Go
The Sun Tunnels are located just across the Nevada border, north of West Wendover. Getting there requires driving to, and navigating through some remote landscapes. To see the Sun Tunnels, head east on I-80, then take Exit 4 for the Bonneville Salt Flats Speedway. This road continues north—follow it past the speedway until the road makes a sharp right turn onto "TL Bar Ranch Road". Set your odometer to zero, and follow "TL Bar Ranch Road" for 45.5 miles. The road is paved, but turns to a well maintained dirt road. When you've traveled the 45.5 miles, make a right turn on another dirt road—at this point, you should be at a vantage point where you can see the Sun Tunnels in the valley below.
When traveling Nevada backroads, remember to live by the Dirt Road Code and Leave No Trace whenever possible. Exploring remote landscapes always proves to be satisfying, but keep in mind that there are no services or facilities at the tunnels, or anywhere along the route beyond the Bonneville Speedway. Remember to let someone know where you're headed, when you plan to return, and carry extra fuel, a spare tire, snacks and plenty of water.
Hours:
The Wendover Sun Tunnels is an open air, public art installation that is open and accessible 24 hours a day, 7 days a week. The only thing preventing you from accessing the area would be due to a seasonal weather-related closure. For more info on exploring the Sun Tunnels and other open air galleries on the Bonneville Salt Flats, get in touch with the West Wendover Welcome Center at (775) 664-3138.
Admission:
The Sun Tunnels is a free, public art installation that lies with 40 acres of land artist Nancy Holt purchased for the project. Free public access is available to this uniquely beautiful art installation with no admission required.
This Location: