Street Vibrations Fall Rally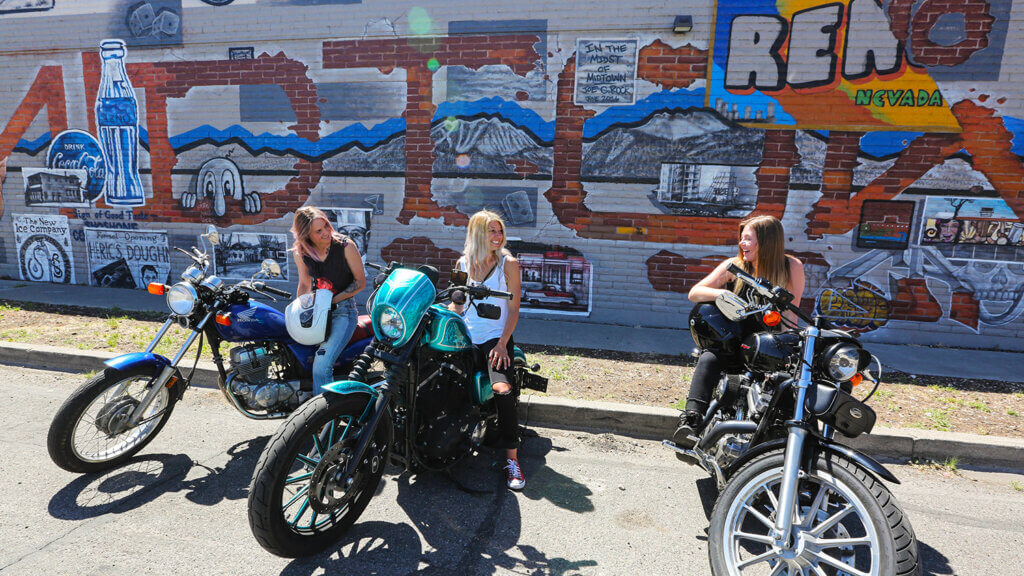 Photo Credit: VisitRenoTahoe.com
Whether you're into vintage panheads, classic Indians, custom choppers, or every hog in between, there's no better venue for music, metal, and motorcycles than Street Vibrations motorcycle rally. In good company with some of the biggest and baddest bike fests in the country—like Sturgis, Daytona Bike Week, Hogrock and more—Street Vibrations is the largest motorcycle rally in Nevada, beckoning more than 50,000 bikers to the Biggest Little City each September. Flashing chrome as far as the eye can see, see what hog heaven is all about with free live music and entertainment on multiple outdoor stages throughout downtown Reno, more than 250 vendor booths, organized rides and Poker Runs to Lake Tahoe and Virginia City, slow bike races, Monte Perlin's Globe of Death, official Harley-Davidson dealers, a tattoo expo, and all kinds of crafts, apparel, and food.
As one of Reno's biggest annual events, Street Vibrations organizes two different motorcycle rallies each year—a smaller, teaser-style event in the spring, then the larger of the two rallies later in the fall.
Street Vibrations Spring Rally
Typically held each June, the Street Vibrations Spring rally kicks off the start of the riding season in Reno. This three-day spring motorcycle rally is the smaller version of both events, but proves just as thrilling with live entertainment, dozens of vendor booths, the beloved poker walk, and fan-fave stunt show Globe of Death—where professional motorcycle riders perform stunts inside a giant metal sphere in downtown Reno.
Street Vibrations Fall Rally
Joining the Great Reno Balloon Race and the National Championship Air Races, Reno's Street Vibrations Fall Rally is one of the BLC's biggest—and loudest!—annual events. Typically held the last week of September each year as a closer to northern Nevada's riding scene, the free Street Vibrations Fall Rally is one of the largest motorcycle rallies in the nation, with riders two-wheelin' into town from all corners of the United States. For an entire week, thousands of bikers rumble through the Lake Tahoe Loop, taking over downtown Reno, Sparks, Virginia City, Carson, and Lake Tahoe, with organized rides and poker runs along some of the most scenic rides in the country.
For more information on Street Vibrations, including a full schedule of events, vendor booths, poker runs, and more, get in touch with event organizers directly at (775) 329-7469.
More Details
Show More Details