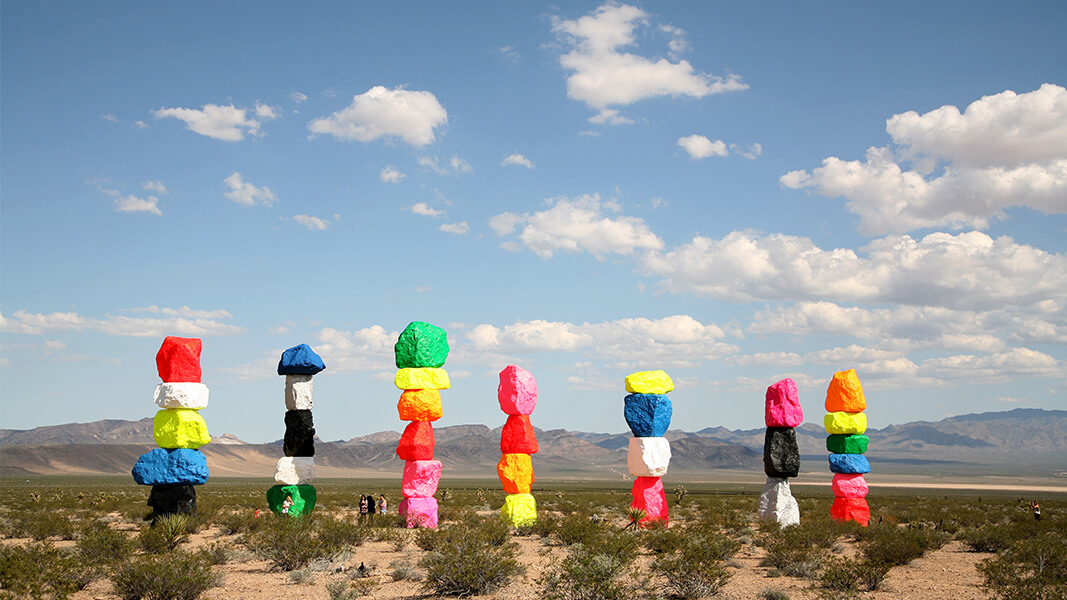 Hey, what can we say? Nevada is an inspiring place. Renowned Swiss artist Ugo Rondinone certainly felt the magic of Nevada's mighty Mojave when creating his public land art installation (Seven Magic Mountains) in cooperation with the Nevada Museum of Art and Art Production Fund, building seven three-story, day-glo towers sourced from the surrounding desert. The location is exactly what Rondinone was looking for, physically and symbolically between the natural and artificial—the natural expressed by mountain ranges and Jean Dry Lake, and the artificial represented by nearby I-15 and the constant flow of traffic between Los Angeles and Vegas.
A completely perfect day trip off the Strip, pack the camera and head for Seven Magic Mountains. While you're in the area, check out Goodsprings Ghost Town and the legendary Pioneer Saloon (and Hollywood elite Clark Gable and Carole Lombard's connection to the place). You can also hit the dirt with miles-and-miles of OHV routes in the area, and be back in Vegas in time to make your spa treatment, tee time, or Cirque show. And if this is just the beginning of your open air galleries discoveries? Get the lowdown on others in the area along the Free-Range Art Highway.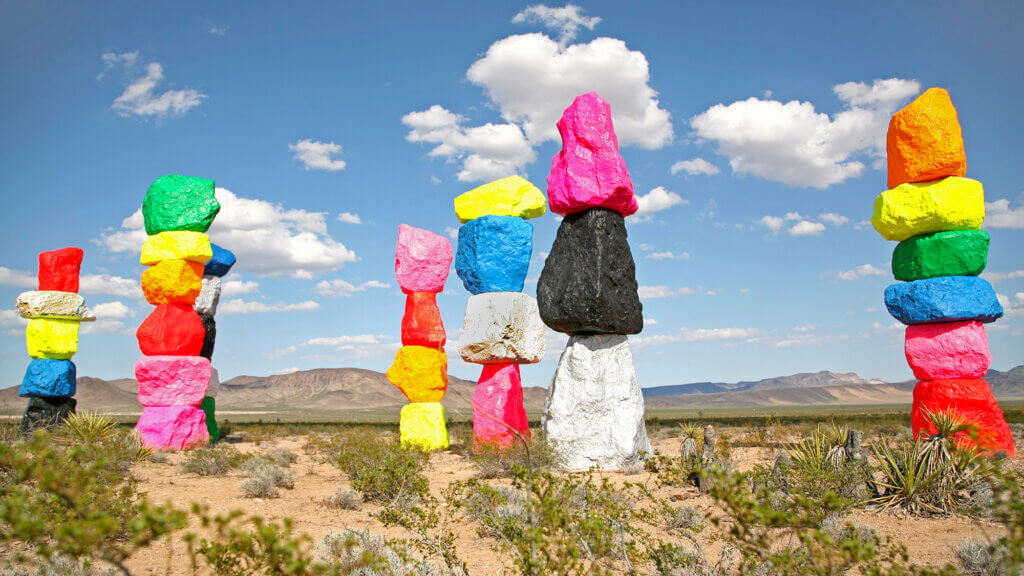 Getting to Seven Magic Mountains from Las Vegas and Los Angeles
Getting to Seven Magic Mountains from Los Angeles: Drive north on I-15 to Jean, NV (exit 12). Turn right (east) on NV-161 toward Las Vegas Blvd. Drive approximately 5 miles north on Las Vegas Blvd., and the artwork will appear on your right (east).
Seven Magic Mountains – What to Know Before You Go
Seven Magic Mountains is situated on and managed in partnership with the Nevada Bureau of Land Management (BLM), making free public access available for everyone. Before you head for our unspoiled horizons, brush up on how you can Recreate Responsibly here and on other public lands around the Silver State. Please park in the on-site parking lot, and don't park along the street. Remember to hit the restroom before you head to the installation site–no facilities are available at Seven Magic Mountains. Keep an eye out for interpretive signage when you arrive, and for an even deeper dive into what went into making Seven Magic Mountains, get the lowdown on a self-guided cell phone walking tour.
Seven Magic Mountains is pretty exposed and can be particularly warm during the summer months when temperatures are often above 100 degrees. Remember to pack plenty of water and snacks, along with sunscreen and a hat. Keep an eye out for wildlife living in and around the area, especially protected species like the desert tortoise. And of course, please don't destroy the artwork by climbing on it, attempting to move it, or defacing it (it's a crime to do so!) Lastly, remember to Leave No Trace whenever possible—pack it in, pack it out!
Hours:
Seven Magic Mountains is open daily from sunrise to sunset. For questions on the installation and Ugo Rondinone's work, get in touch with the Nevada Museum of Art at (775) 329-3333.
Admission:
Access to Seven Magic Mountains is free, no admission required.