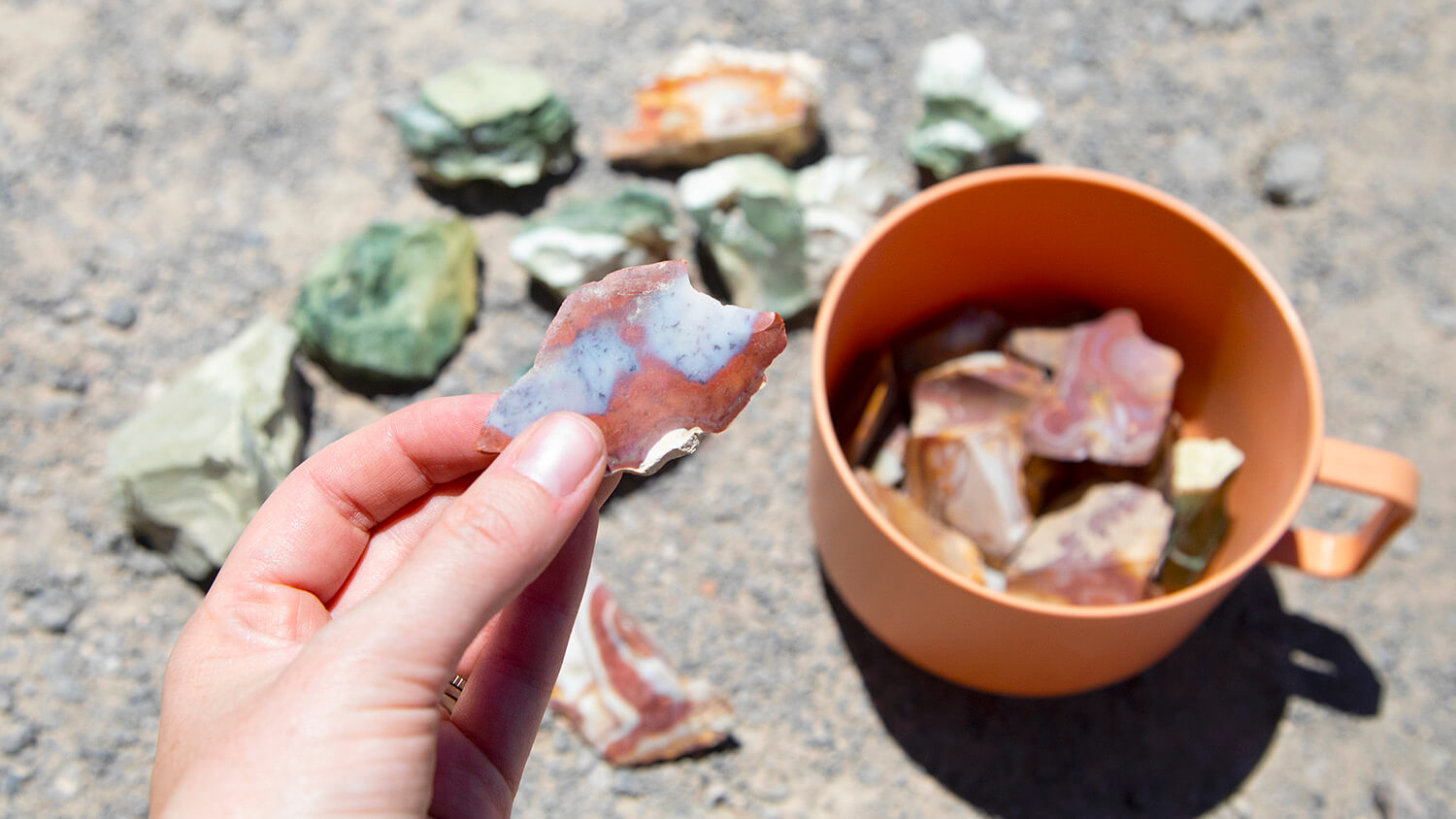 Nevada is a geologic wonderland and total rockhounder's paradise, brimming with natural deposits of turquoise, black fire opal, garnets, petrified wood, and thousands more mineral deposits in all corners of the state. No seriously—in just about every basin and range, desert explorers can plan to discover something cool in this mineral rich state. And then? Then there's Gemfield, which somehow ups the ante, thanks to a massive concentration of diverse minerals, all within one small area.
Situated a quick 4 miles from Goldfield and about 3 hours from Las Vegas, this pay-to-dig rockhounding site lies within Esmeralda County—a place with legendary mining history so rich, it drew the likes of people from all over the country hoping to hit it big. Here, the sea of sage transforms into every spectrum on the color wheel—from blue greens, to purply oranges, deep reds, sparkly crystalized blacks, and beyond—with open pit digs just about everywhere you look. Park your off-roading rig anywhere, so long as it's not blocking any roads and preventing other rockhounders from their bounty, and get to exploring the kaleidoscopic deposits at this Nevada gem. Bring along your rockhounding tools—think bucket or some type of container, gloves, rockhounding pick, spray bottle, and trowel—and dig your heart out.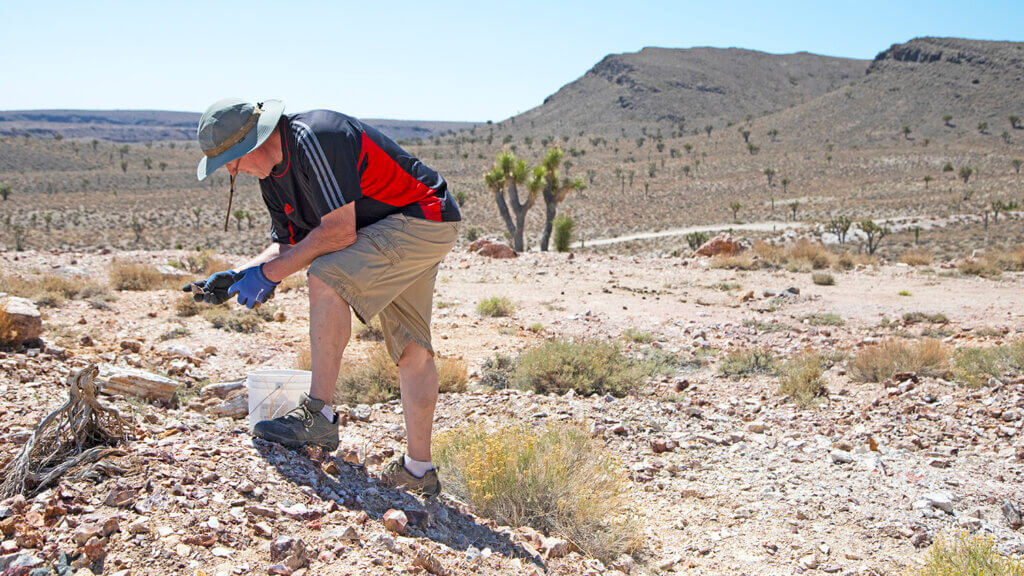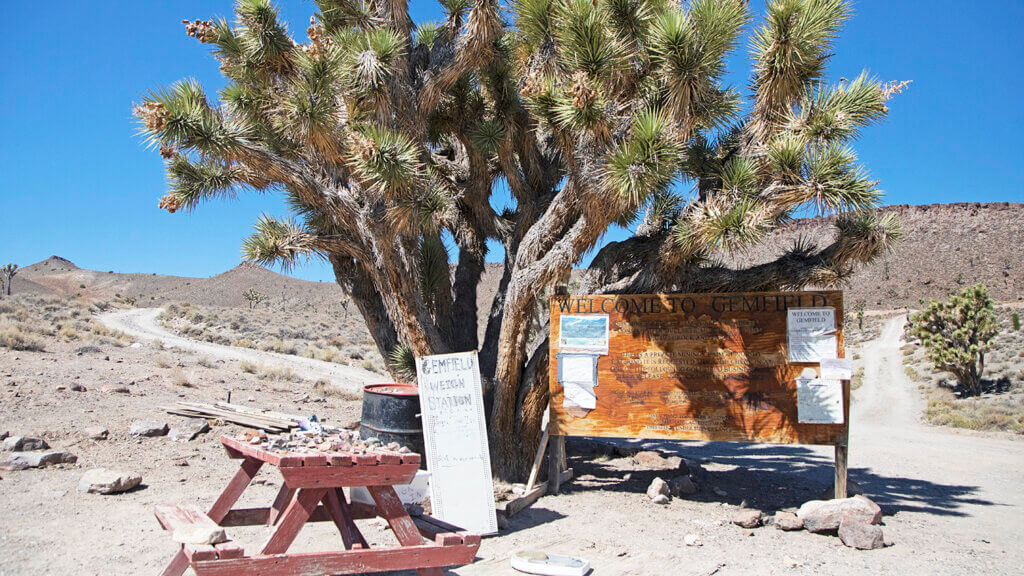 Though there are so many different types of mineral types in the area, though the Gemfield gems you should be chasing are Chalcedony. At Gemfield, there are a stunning 6 different types of this smooth, fine-grained variety of native silica quartz, which has been prized for thousands of years thanks to its hardness and beauty. The deposit found at Gemfield is thought to be the largest deposit of gemstone quality chalcedony in the U.S., exhibiting many different colors and patterns, and is perfect for polishing or rock tumbling.
Travel Nevada Pro Tip
Scratch that rockhounding itch, then head for Goldfield's rock shops. Get some local opinions on your bounty, or spring for already cut and polished jewelry, book ends, and beyond.
Know Before You Go
The historic town of Goldfield—just four miles from Gemfield—lies between Tonopah and Beatty along Highway 95. No gasoline is available in the town of Goldfield itself—be aware that the next closest place to gas up is 28 miles north in Tonopah. Adventure abounds in Gemfield, but creature comforts run lean. No public restrooms are in the area, so be sure to plan accordingly. Whenever you're exploring Nevada backroads, be sure to let someone know where you're headed, when you plan to return, and Leave No Trace whenever possible. Be sure to bring plenty of snacks and water!
Remember to bring your rockhounding toolkit with you—tools like picks, shovels and other hand tools are allowed and encouraged at Gemfield. While you're in the area, be sure to stay away from fenced off areas—these are old mine sites and are unsafe to enter or even explore around. Be sure to stay on designated roads, and be sure to keep an eye out for wildlife in the area! A resident herd of wild burros—or donkeys—graze in the area, along with pronghorn antelope, jackrabbits, coyotes, and a handful of reptiles and insects.
Hours:
Gemfield is open from sunrise to sunset 24 hours a day, 7 days a week, year round. For more information on visiting Gemfield and the Goldfield area, get in touch with the Gemfield site owners at (775) 485-3789, or the Goldfield Visitors Center at (775) 485-3406.
Admission:
When you arrive at Gemfield, plan to check out a welcoming sign with info on various mineral deposits in the area and how to find 'em. Although the claims are located on BLM property, the rocks, minerals and other materials are claimed property and may not be collected without permission. To seek permission, be sure to sign the visitor log at the entrance sign, which is also a release of liability. Dig $1 per pound, which is cash only and on the honor system. Discounts are available for Rock Clubs or larger volumes of rock.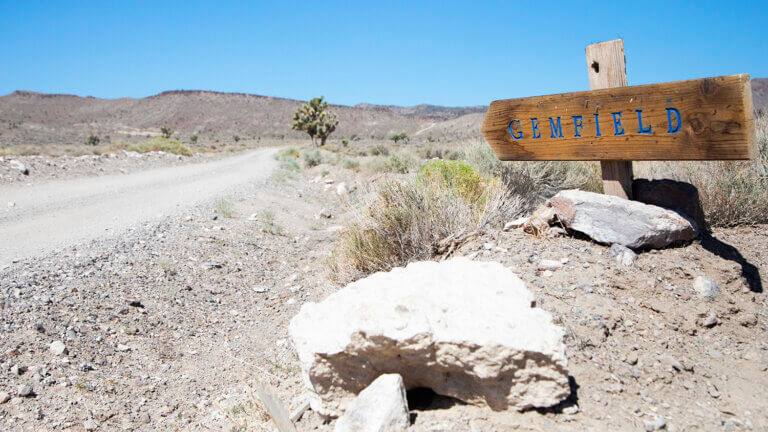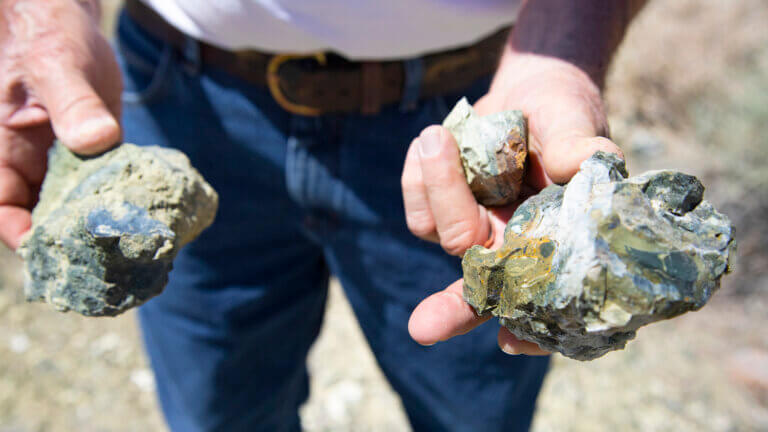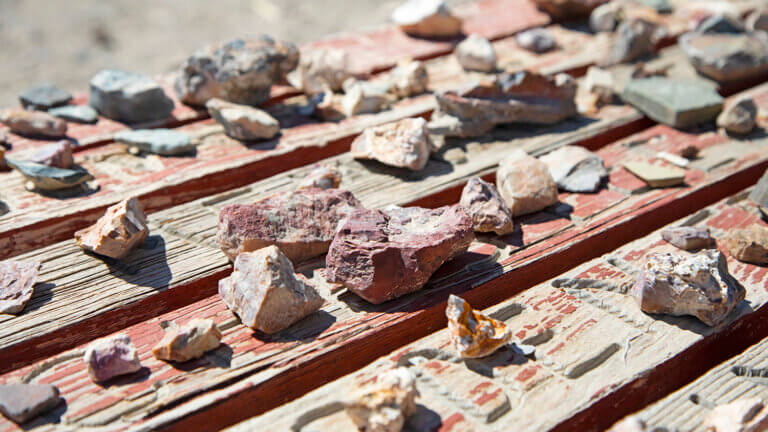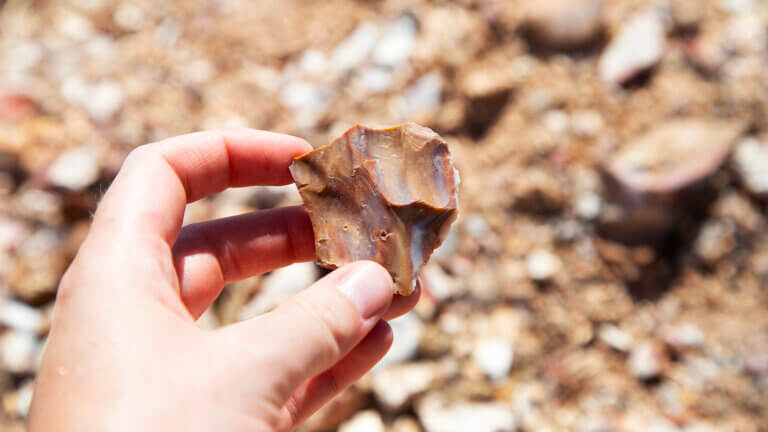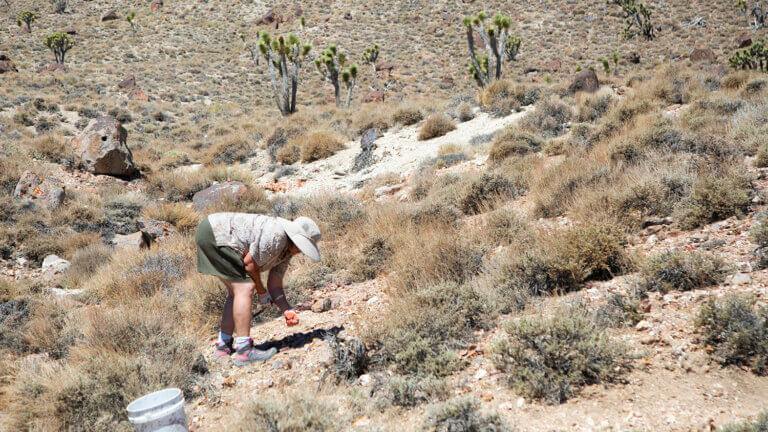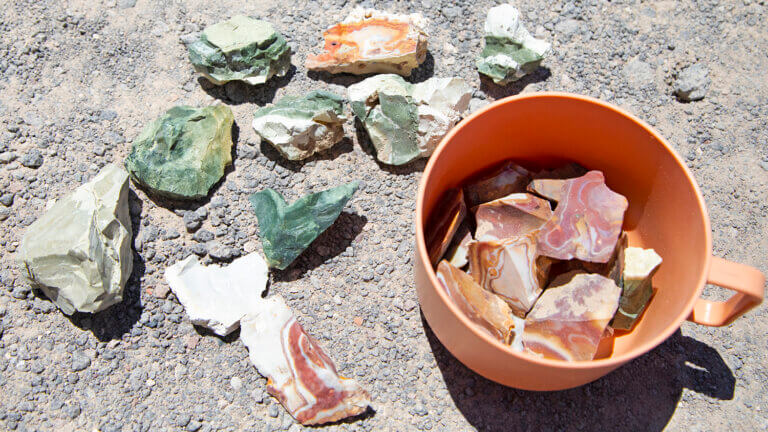 This Location: