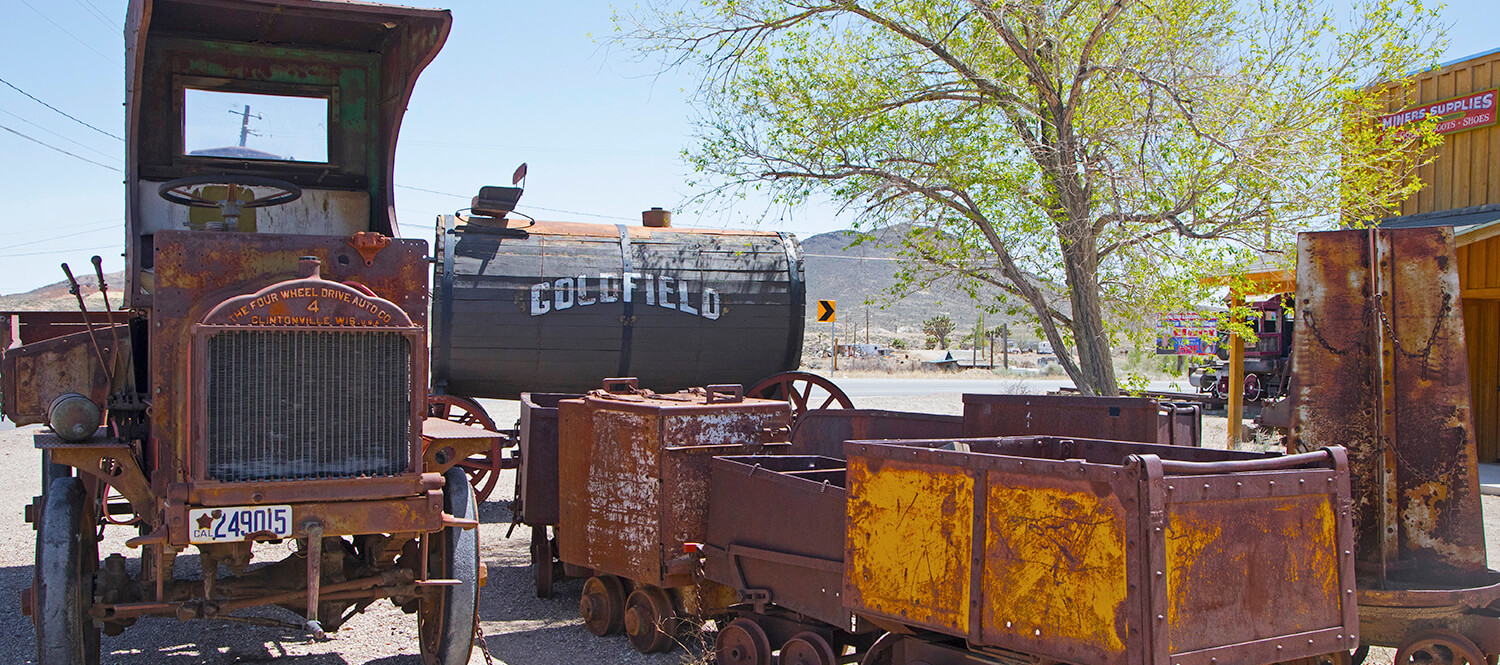 Goldfield
Once the largest town in Nevada, and one of the most notable boomtowns in the Silver State, visitors will be stunned with the fascinating history begging to be explored in the mysterious town of Goldfield.
The modest mining camp of Goldfield was originally established in 1902, but just a few short years later went through a boom unlike most other Nevada cities. Following a significant gold discovery in 1904, Goldfield became the largest city in the state of Nevada, and probably the wealthiest. At its height, Goldfield boasted a population of 20,000, three newspapers, five banks, a mining stock exchange, and what was most likely the longest bar in any mining town—Tex Rickard's Northern Saloon, which required 80 bartenders to handle its customers.
Amazingly profitable gold mines propelled Goldfield to opulence one might only imagine, yielding an astounding $86 million in gold. In fact, the gold here was so rich that miners soon began sneaking chunks of it away in hidden compartments like hollow pick handles or false boot heels. In response, Goldfield's governor called on President Roosevelt for Army troops to traffic it. As you can imagine, such a happening place drew in quite the slew of notable residents, including prominent Nevada businessman George Wingfield, Virgil and Wyatt Earp, and American boxing promoter Tex Rickard. In addition to running the longest bar in Goldfield, Rickard was the mastermind behind the famous Nelson-Gans match often referred to as the "Fight of the Century" that took place in downtown Goldfield in 1906.  He later went on to build the original Madison Square Garden in New York City.
Unimaginably wealthy gold mines funded it all, but by 1910 the mines were in severe decline. Although it was a pretty fair combination of a traditional, Wild West boomtown and a respectable city, much of the population moved on to the next big boomtown. Nearly 1,500 residents stuck around, that is until a flash flood surged through town in 1913, followed by a devastating fire in 1923. Today, less than 200 people call this once-great town home.
While only a hardy bunch have remained, tremendous history begs exploration in Goldfield today. The courthouse in Goldfield, which still remains the Esmeralda County seat has been in regular use since its grand opening in 1908. The elaborate building, constructed of native sandstone, was one of the most intricate buildings of its time and still features original Tiffany and Co. lamps. Just beyond the courthouse is the original jail with three levels of metal cells. Other historic buildings include the Santa Fe Saloon—proudly claiming to be the home of Nevada's Meanest Bartender—and the Goldfield High School.
But, it's the historic—and reportedly haunted—Goldfield Hotel that really stands out among the rest. Originally opening in 1908, the Goldfield Hotel was said to have been the most luxurious hotel between Chicago and San Francisco. This hard-to-miss stone and brick building was equipped with the most unfathomable luxuries of the time, including telephones, electricity and a heating system. Said to have had champagne flowing down the entryway steps on opening day, the lobby was opulently decorated with rich mahogany, over-stuffed black leather furniture, gleaming gold-leaf ceilings and crystal chandeliers.
While able to withstand several bouts of natural disaster, much of the town vacated and the hotel didn't have much of a fair shot at survival. The hotel is currently closed to the public and has fallen to substantial disrepair, but is occasionally opened up throughout the year for Goldfield town events, like Goldfield Days—held each August.
Soon after its grand opening, mining magnate George Wingfield bought the hotel and is said to haunt the property today. His signature cigar smoke can often be detected in his former living quarters, emanating from fresh ashes. Other reported ghouls include Wingfield's mistress and illegitimate child, two guests who committed suicide in the hotel, two children and a little person who are said to pull pranks on visitors, and "The Stabber," who is said to attack people with a knife, although his ghostly attacks cause more fear than any real harm.
Whether the ghosts are real or not, many people have attested to feeling strange presences in the hotel, and in room 109 cameras mysteriously stop working and the room is said to become intensely cold. The Goldfield Hotel has been featured on many TV shows and documentaries on haunted places, and more than one psychic has named it a gateway to another world.
Another Only-in-Nevada point of interest is the zany International Car Forest of the Last Church, not far from the downtown. Check out this one-of-a-kind sculpture garden/art gallery for an immersive Nevada experience definitely worthy of your attention.