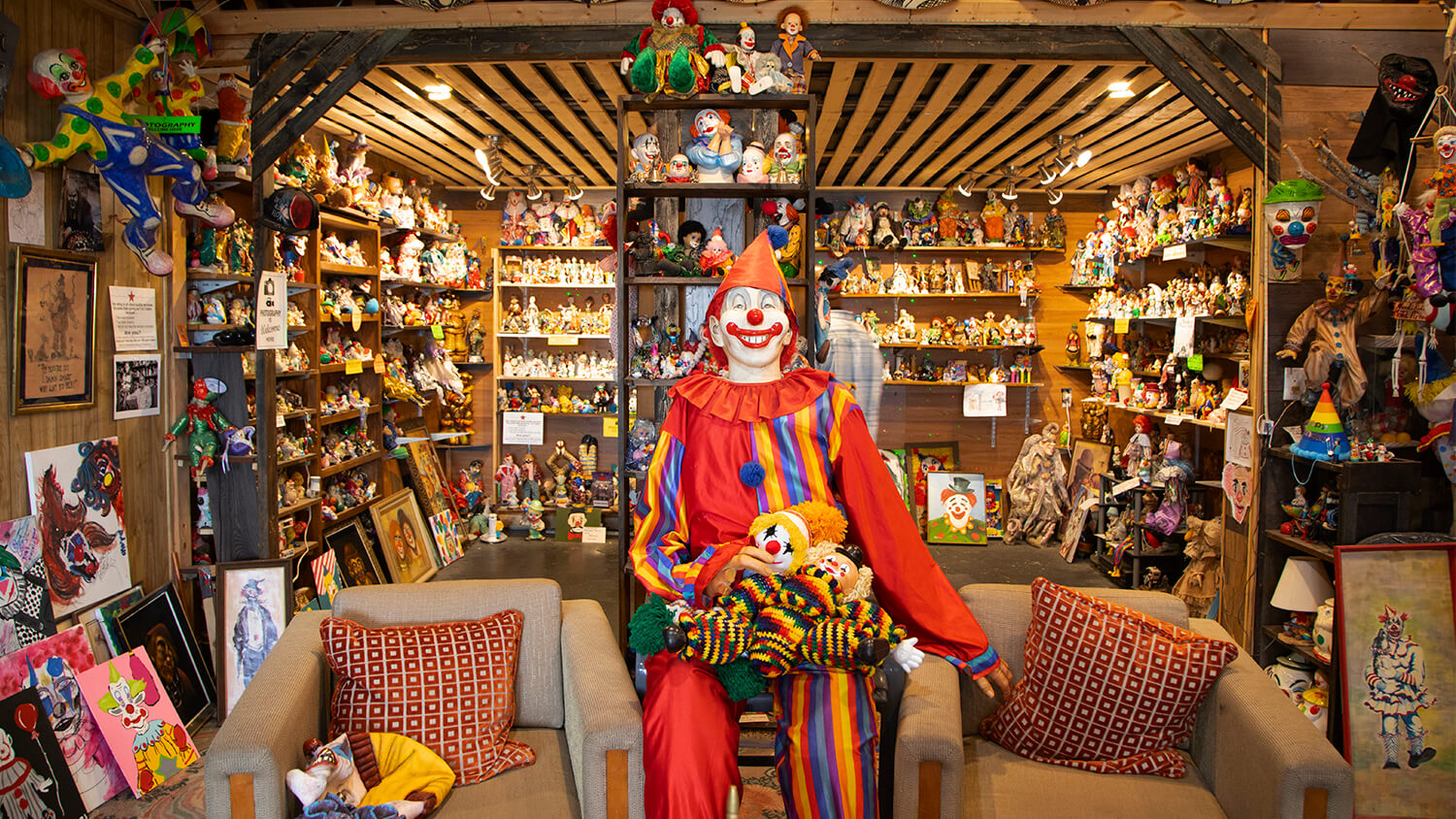 Q&A with the Ringleader of the World Famous Clown Motel
Nevada: Clown Capital of the USA? It's a colorful claim, and it might even be true—thanks, especially, to a certain clown-themed accommodation that houses somewhere north of 3,200 clown figurines and works of art in its lobby alone.
Whether people are really into the red-nosed characters or simply want stay the night at bona fide Uncommon Overnighter, they flock here from all over the world to experience a town that is home to more pieces of clown memorabilia than people.
So! Back in August of 2022—during International Clown Week, no less—we sat down with Hame Anand, manager (and, frequently, de facto spokesman) of The Clown Motel in Tonopah, NV to chat about the world-infamous accommodation, as well as its resident ghosts, art, and (of course) clowns. Here's how it went…
This interview has been edited for length and clarity.
Travel Nevada: First off… why clowns?
Hame Anand: When I was 13 or 14 years old, I went to the circus. I was so excited after waiting for it to come to my town in India for such a long time. However, I only made it about 15 minutes in. I was scared of the tigers and elephants, the girls on the wire, all those things. And I left!
But the next day, I was talking to my friend and he said, "How could you leave!" I told him why. He said, "You didn't see the whole thing. Tomorrow, we will go together and you'll see the good part. We went and I was scared again. But after 15 minutes, the clown came out and made everyone laugh! After all those horror scenes, the clown came out and made it OK, over and over again. If the clown hadn't been there, I could not have made it through the whole circus. I loved him.
Afterwards, I forced my parents to buy me a clown figurine, and the rest is history. I started collecting clowns for the rest of my life.
Travel Nevada: Do you still have that first clown figurine?
Hame Anand: Yes! It's still my favorite, and it's here in the lobby of The Clown Motel today.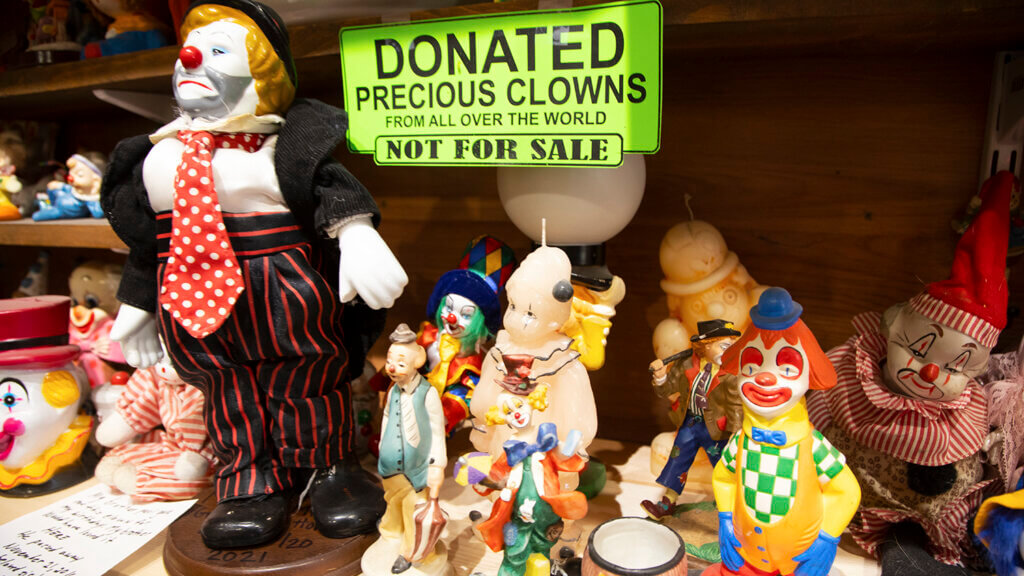 Travel Nevada: How did you go from watching a clown perform at a circus in India to managing The Clown Motel in Tonopah, Nevada?
Hame Anand: Oh, I had no interest in motels, man—believe me! I got my education in India, then my masters in the United States. I was an art director. This was not my plan.
But my cousin had a motel in Las Vegas. I was working for Amazon at the time and came to Vegas on vacation. He showed me what he was doing and encouraged me to get into the business, too. I was able to secure $1 million in budget—but… not gonna get you much in Las Vegas. I'd have to go somewhere else smaller. I found a place in Arizona, but the deal was fishy, and I kept looking.
Then I saw a listing for a property called The Clown Motel and I thought, HOLY COW! This actually exists in this world? As a clown collector, this was a divine call for me. At first, I figured, OK, this motel looks good on paper, but it's probably just a name. When I found out it was a totally clown-themed motel, I said, oh my god… My collection—it was about 150 clowns at the time—is going there.
Travel Nevada: Was it love at first honk of the nose?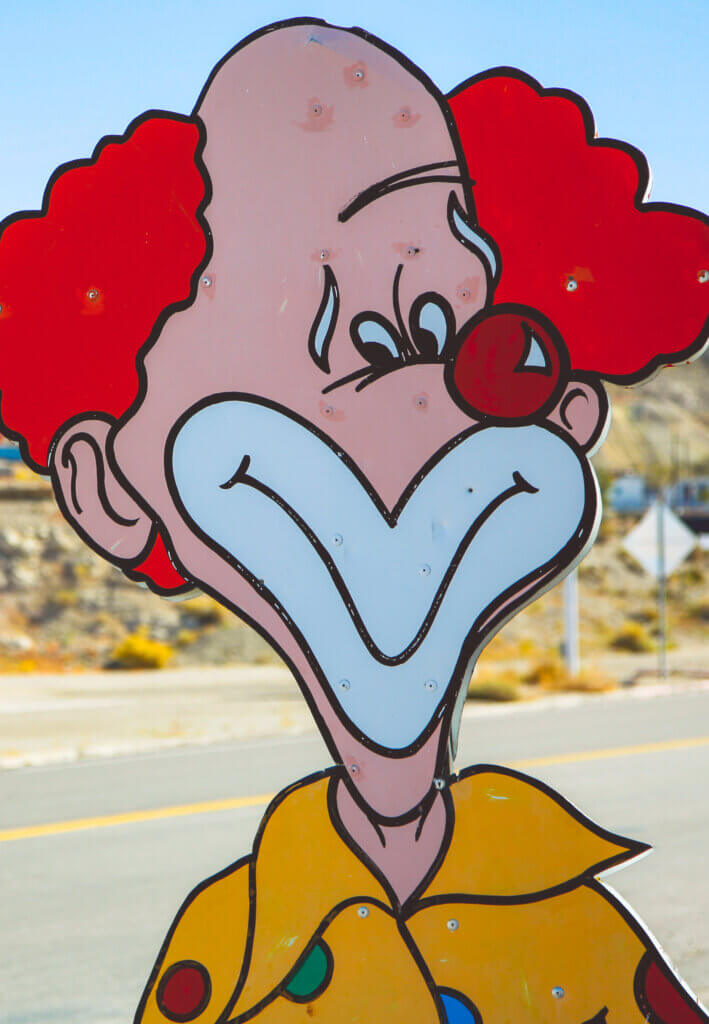 Hame Anand: Back then, in 2019, people were talking all kinds of BS about this motel. But I saw the potential. It was already popular and had something of a cult following. I thought you could spend ten million dollars and still never buy yourself this kind of popularity.
It was for sale for a long time. Other potential buyers had said, "I'm gonna change the name… I'm gonna tell the owner, 'Take all this BS with you when you leave. I don't want all these clowns.'" But [former owner] Bob Perchetti was waiting for a buyer who would keep it going.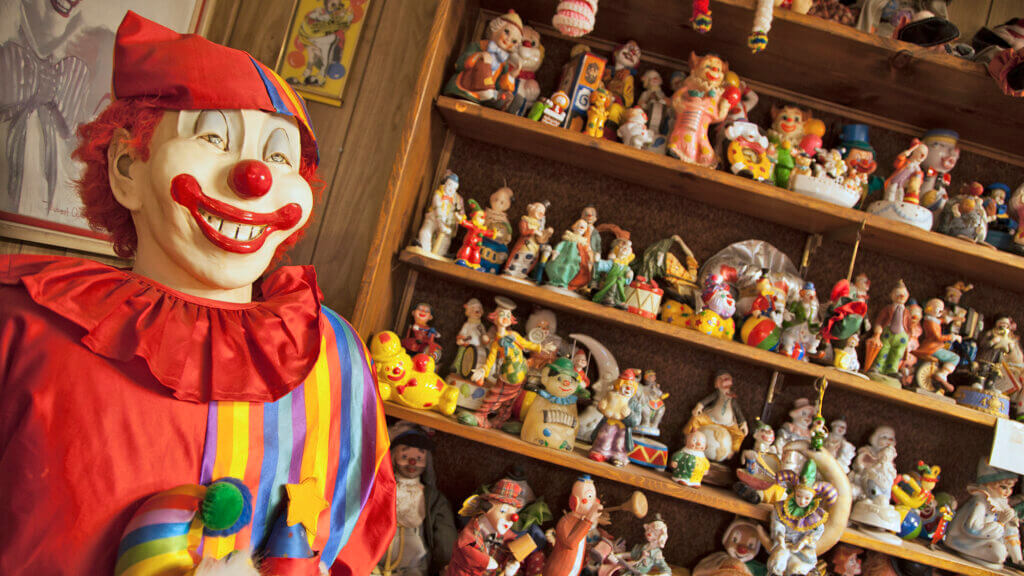 Anyway, within five minutes of me showing my cousin the listing, he said, "Oh wow. No way, Hame. You GOTTA get this place. And you gotta keep ALL the clowns."
So we decided that my brother, Vijay Mehar, would buy the place. I would run it. He had the money to put down; I had the vision.
Travel Nevada: So you obviously kept the clowns. Did you make any changes?
Hame Anand: Ha! All the money I had made in my life, I put into The Clown Motel. As an art director, I made it my project. Changed everything—except the clown theme, of course. Updated the rooms, new signage, a lot more items in the gift shop!
Travel Nevada: How many clowns are there now?
Hame Anand: So there were probably 600 when I got here. I brought my 150. As of last count, there are now 3,200 clowns at The Clown Motel. All the new ones: donations!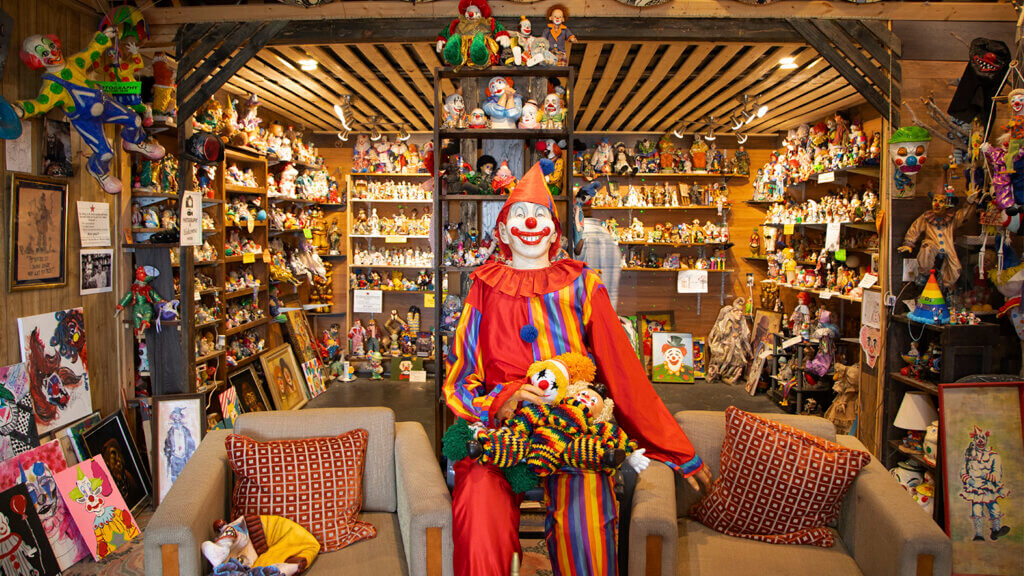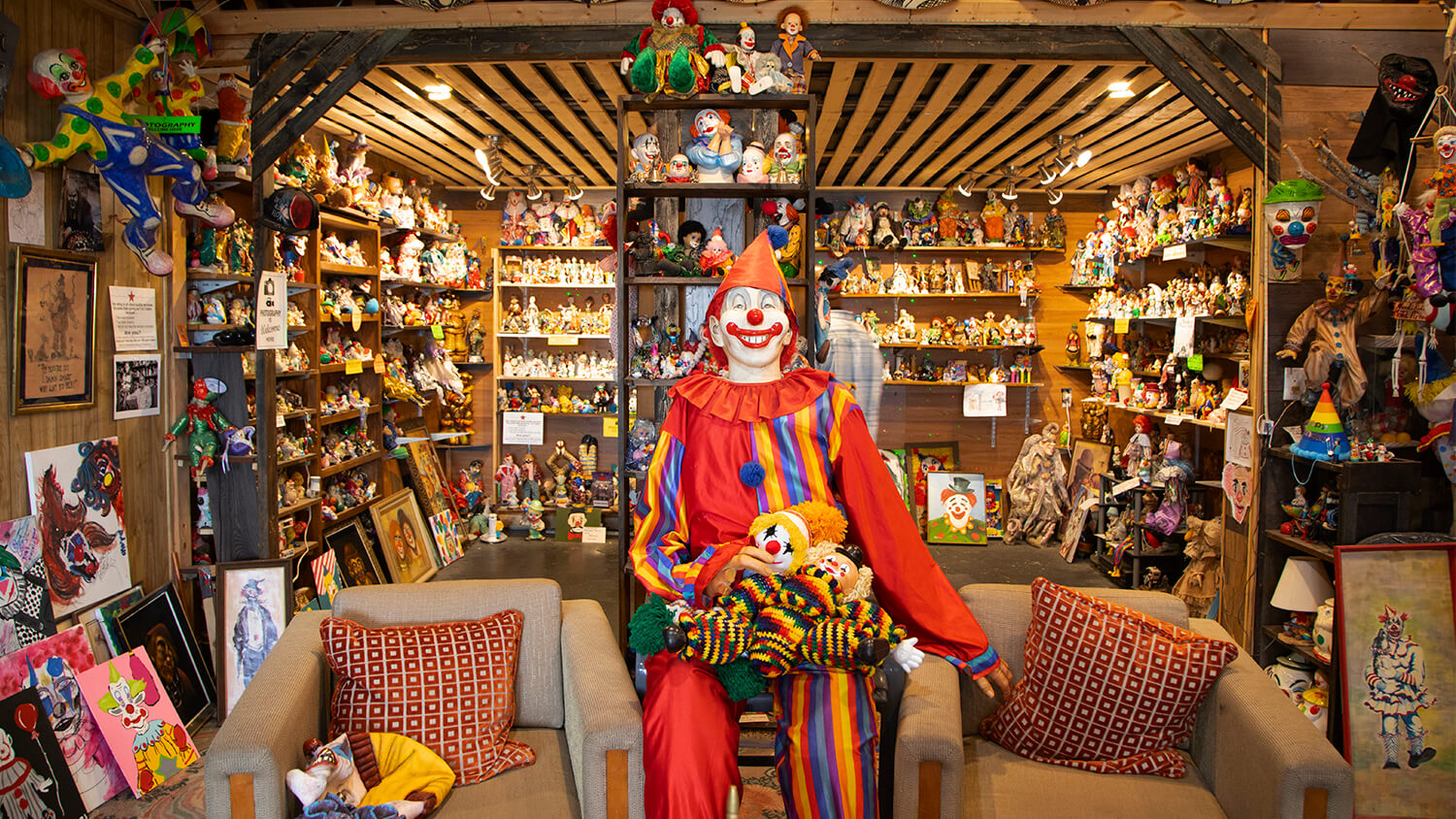 Travel Nevada: All the rest are donations?
Hame Anand: Oh man, yes. People mail them from all over the world. Almost every day we get more. Australia… New Zealand… Brazil… everywhere. Most people have stayed here and send them when they get home, but sometimes it's people who've never even been here. It's our aura or something. It's magic. I think in the next 20 years, it's gonna be more like 20,000 clowns here.
[Editor's Note: Hame has already had to knock out a back wall and expand the lobby to accommodate the motel's ever-growing clown collection.]
People come in all the time and offer to buy them. Especially my paintings [Ed's Note: Hame adorns the rooms with oil-on-canvas portraits of movie stars and rock 'n' roll icons in clown form, from Elton John to Prince, all of which he paints himself.] I say, pay me a million dollars. Because I will not sell any of them. They're priceless to me and to this place.
Travel Nevada: 3,200 clowns is a lot of clowns. Out of all the figurines and art, do you have a favorite?
Hame Anand: Of course. It's my first clown. That's my favorite forever. All are my babies. But my first one that I made my parents buy me after that circus… that was love at first sight. It's a clown doll playing a saxophone. I had no idea I would ever love saxophone, but I do now and that probably helped!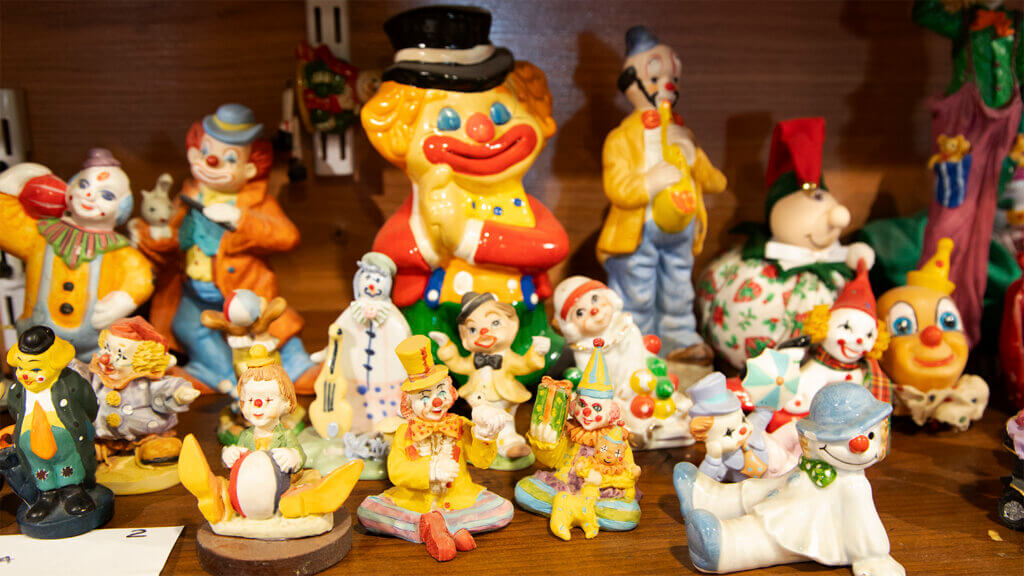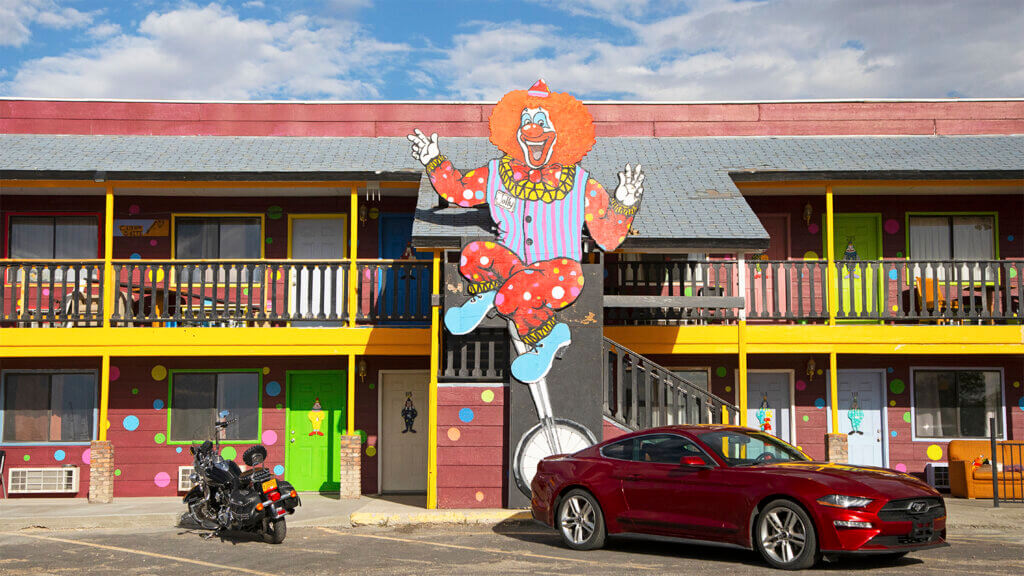 Travel Nevada: OK, slight topic shift. The Clown Motel has been featured on all kinds of ghost hunting shows. It was even dubbed "America's Scariest Motel." Are the rumors true? Is this place haunted?
Hame Anand: Oh yes. We have three spirits here, but all kinds of activity all over the property.
Travel Nevada: What kind of odd or unexplainable things do people experience?
Hame Anand: In the rooms, people see orbs, hear voices, doors close and open, their stuff moves, full camera batteries suddenly drain to zero. Some rooms have weird feelings… you can suddenly feel dizzy, the temperature suddenly shoots up. Even in winter when it's cold and the heat is off, the temperature just shoots up out of nowhere.
Some people don't experience something in their room, but then complain about the guy above them stomping around in work boots, moving furniture all night long, things like that. And then I have to say to them, "Hey man! There was no one staying above you last night. Here's a key; go check the room!" This is a very common complaint. Another common experience is feeling like someone is following you. Everyone here has felt that one.
I've seen things, too. My favorite one: Charlie the Clown, the big one sitting on the chair in the lobby… people have seen him move. I was in here around 2 AM when Ghost Adventures was here, and we saw him move his right hand and his left hand.
Travel Nevada: Good ghosts or bad ghosts?
Hame Anand: All friendly ghosts! I asked Bob when I got here and he promised that never has anyone ever gotten hurt, asked for a refund, or freaked out and left in the middle of the night… anything like that.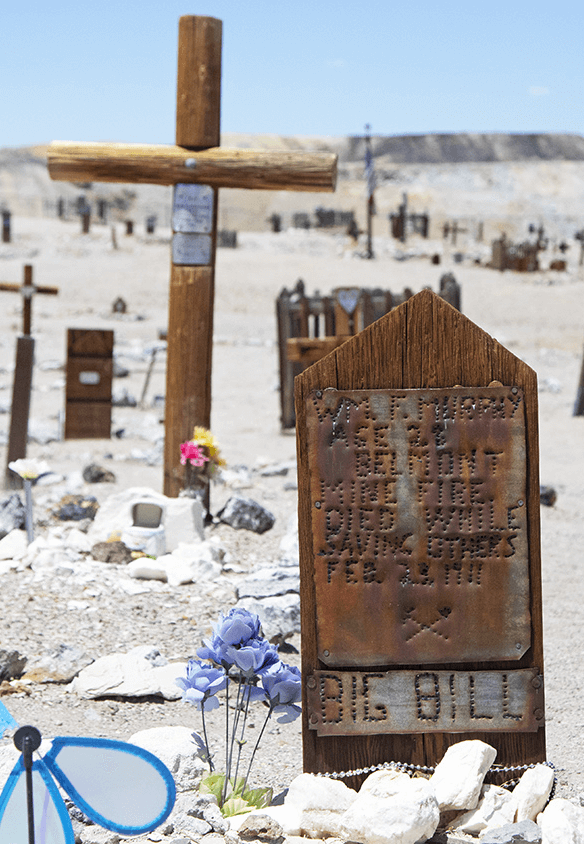 Travel Nevada: Phew! Even with that Old Tonopah Cemetery right next door?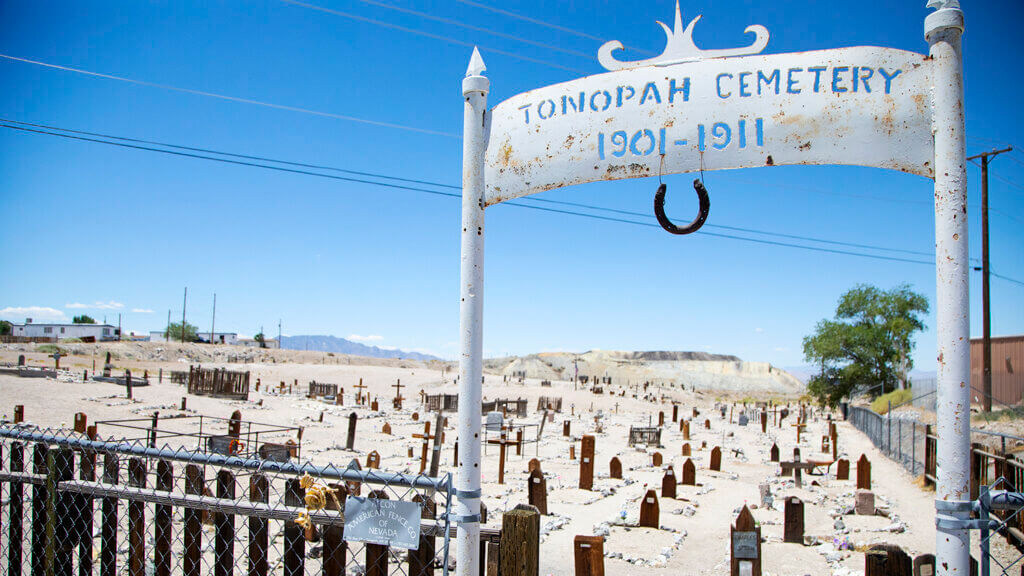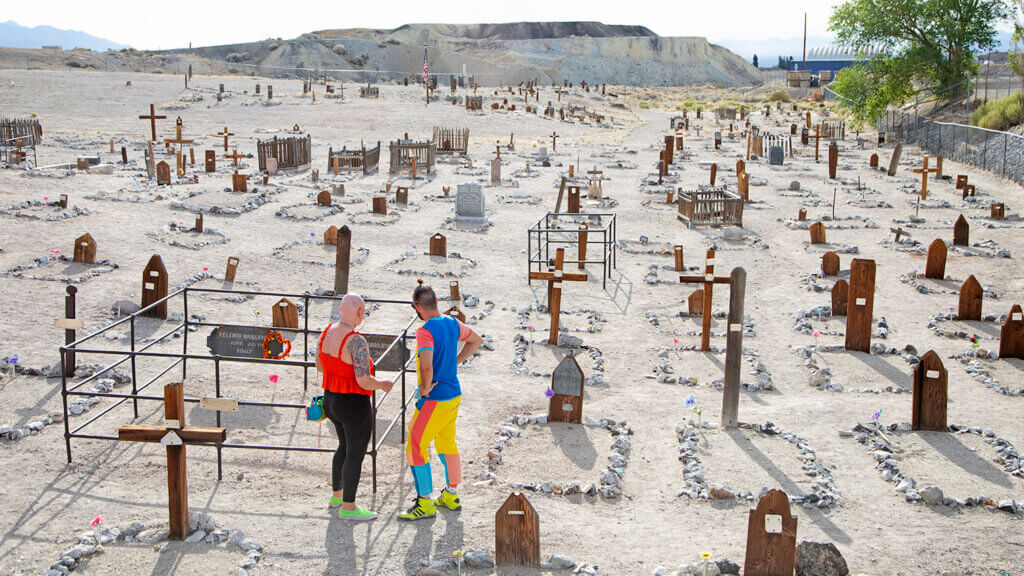 Hame Anand: Oh, the cemetery is a good, good match. That's just another thing that makes this place so unique and perfect. Where else is there a Clown Motel next to a cemetery? Find me another lot next to an old cemetery, I'll build another Clown Motel!
Travel Nevada: But you love clowns. That's the opposite of being afraid. Why do you think so many people are freaked out by them?
Hame Anand: Stephen King. Back in the 17th century, clowns existed to make people feel happy and laugh. They still do! Not in Stephen King's books and movies, though.
Travel Nevada: Have you ever seen anyone conquer their clown fears at The Clown Motel?
Hame Anand: Yes! Five or six times. One guy, his name's Albert. He's now 94 years old. He has been coming every year to celebrate his birthday—for eight years. One time, his daughter was sitting out in the car. I said, let her come in! He said, "She doesn't want to; she wants to stay in another motel. But I'm here to celebrate my 92nd birthday and I'm sad she doesn't want to stay with me." I said, can I talk to your daughter?
I went to the car, she rolled down the window, and I asked why she wouldn't come in. She said she was scared of clowns. I asked, can I show you a room? Nope. I asked one more time if she'd please just give me a chance. (Ha! We didn't go to the lobby, by the way…) The room I took her to had [Hame's painted clown versions of] Einstein and Gandhi on the wall. I said, you think Ghandi is going to scare you? Einstein is going to scare you? She said, "Oh my god. I had no idea The Clown Motel rooms could be like this. This is nice! Every time I stayed somewhere else, I could've stayed here!" The rooms are not full of clowns, just my paintings. So she stayed here and had a big celebration! Now they come together.
Travel Nevada: So your clown paintings helped turn her pro-clown.
Hame Anand: Maybe not entirely! But I can cater to every guest, based on the clown art. I can send someone to a room with Elvis and the the Easy Rider guys. Freddie Mercury and Charlie Chaplin. There's something for everyone. The free clown noses we give at the front desk help, too!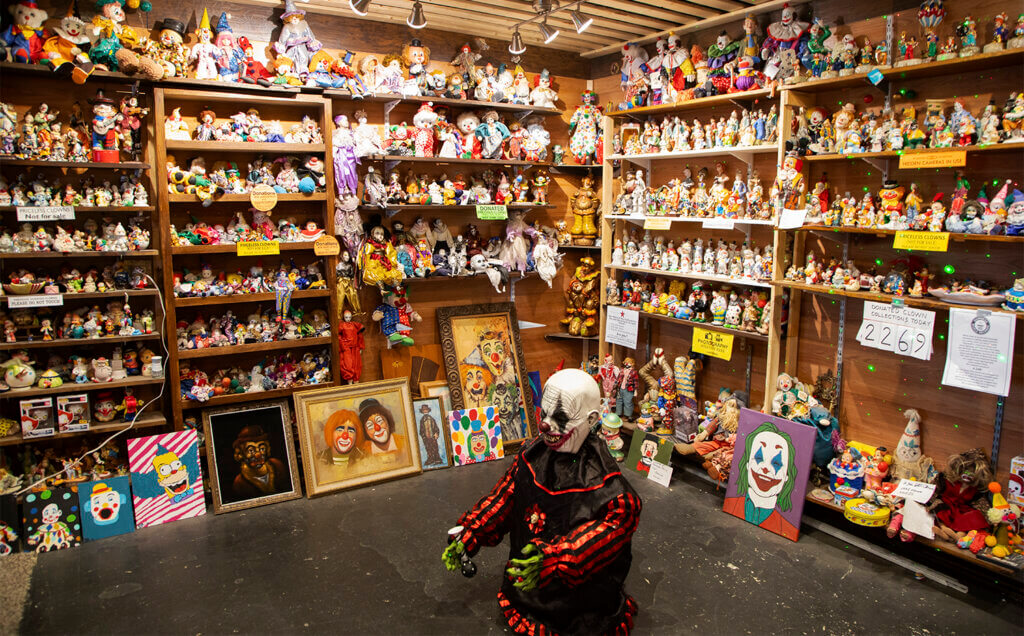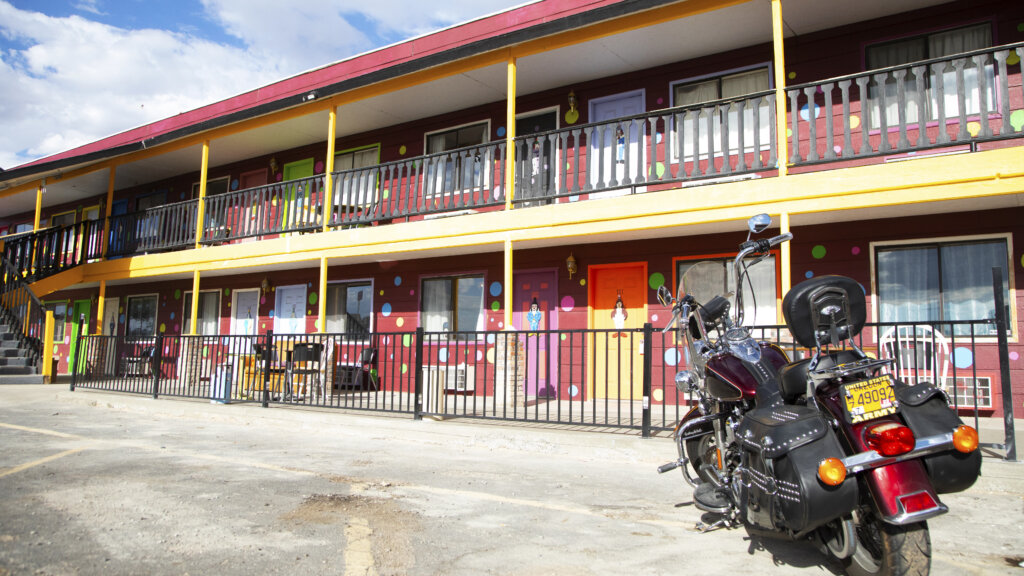 Travel Nevada: What is your advice for travelers who are considering staying at The Clown Motel?
Hame Anand: Ah! So that word… "traveler." People who consider themselves that, I like to say to them, wherever they may be in the world, "Oh, you're a traveler? You've been to Paris. You've been to Italy. Switzerland. Etc. That's great, but lots of people also have. However… have you ever stayed at The Clown Motel in Tonopah?" When people do stay here from around the world, I say, "Call ten of your most well-traveled friends. Tell them where you are right now." They are always jealous.
Travel Nevada: What's your favorite clown joke?
Hame Anand: OK, so my grandma used to say to me all the time… It's not really a joke, but she would tell me, "When you're down, look at the clown, and you don't have to frown."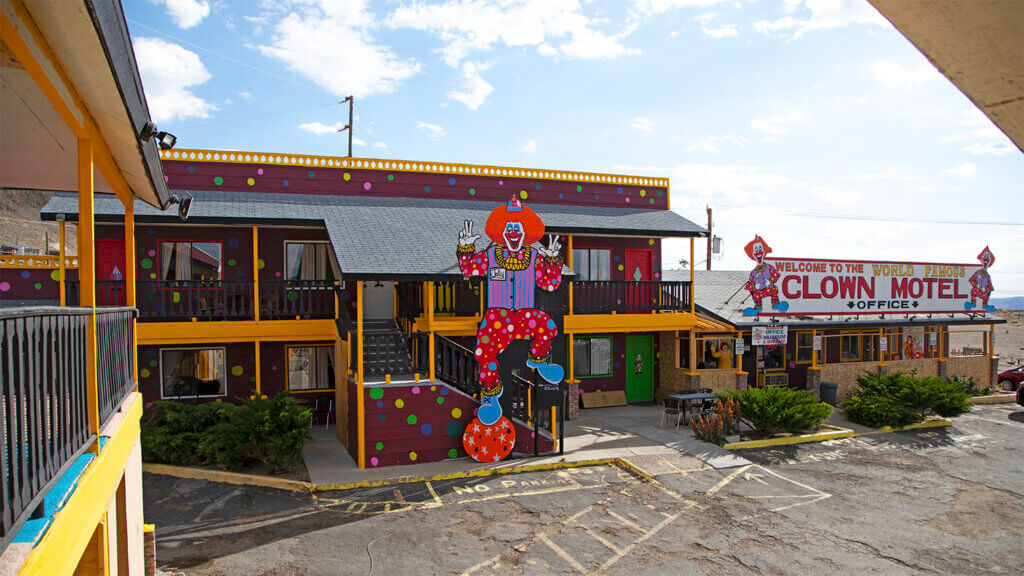 Plan your own visit to the World Famous Clown Motel here. Discover what else to see and do in Tonopah here. Then dive even further down the Weird Nevada rabbit hole and add more Uncommon Overnighters to the itinerary on the kind of adventure you can only find here in the Silver State.
Get Inspired
Related Stories