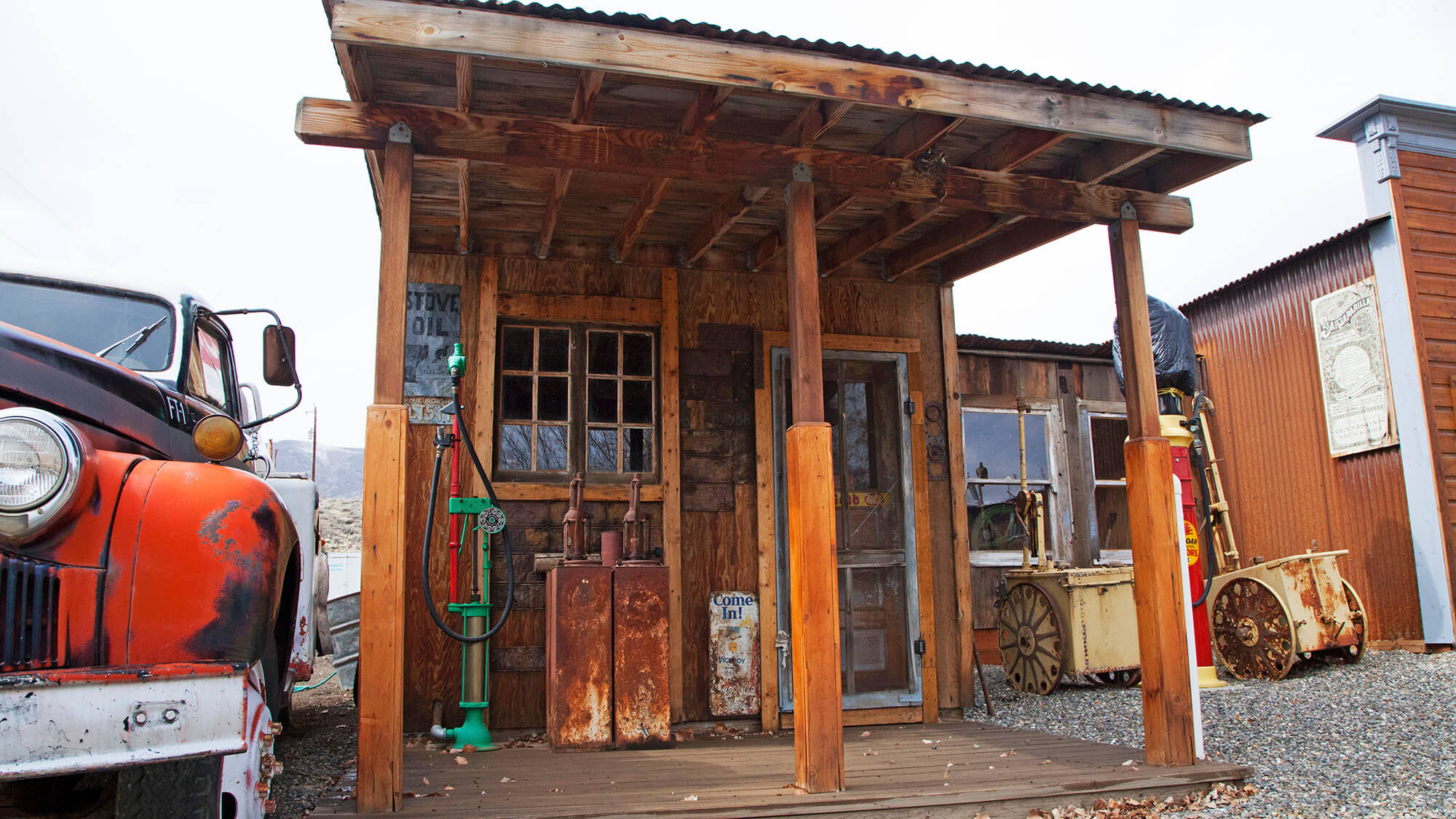 In good company with Jarbidge as one of the last great gold camps in the American West, there's no better place to get to know what a "living" ghost town is all about than a town like Midas. Situated north of Interstate 80 between Winnemucca and Battle Mountain, this Nevada ghost town great makes for the perfect Cowboy Corridor side trip, complete with all kinds of structures and relics original to the Midas story along with one of our fave Sagebrush Saloons in the state, sure to satisfy the history lover in all of us.
Historic Midas
Thanks to the Transcontinental Railroad creating a permanent pipeline of people to nearby Winnemucca and Battle Mountain, all kinds of folks made their way west in search of their own American Dreams. James McDuffy was one of these people, who discovered gold in northern Nevada at the base of the Owyhee Bluffs, quickly prompting two mining camps—Gold Circle and Summit—and the rush was on. Within one short year thousands of people settled in, but there was only one problem. In a state with more ghost towns and once-great mining claims than populated cities, each mining millions in Nevada's copper, silver and gold caches, you can bet these discoveries had a way of inspiring people. With hundreds of Nevada mining camps named after the riches (and string of emotions) sought within—we're looking at you, Treasure City, Gold Hill, Eureka, Gold Point, Silver City, and Bullion—there came a point where the postmaster said enough is enough. They just so happened to reach their threshold in Midas, prompting the name change from Gold Circle to Midas.
With gold and riches just about everywhere they dug, it's true—the place really did have the Midas touch. As thousands of people descended upon the canyon, Midas soon had saloons, hotels, general mercantile shops, and even two newspapers: the News and the Miner. Despite a steady and eager population of men, women and children, there weren't enough stamp mills to support gold ore production, which meant only the most lucrative finds were processed. As a result, almost the entire population hit the road within one year of Midas' boom, with a mere 250 residents remaining. Despite the fact that 80% of Midas' population hit the bricks, a mill was constructed in 1909 that was relatively successful in supporting this small community. That was, until a fire blazed through it in 1922, wiping most of the mill out. Small-scale, intermittent operations continued until World War II when Midas took its final blow. At this time, the mine officially closed along with the post office.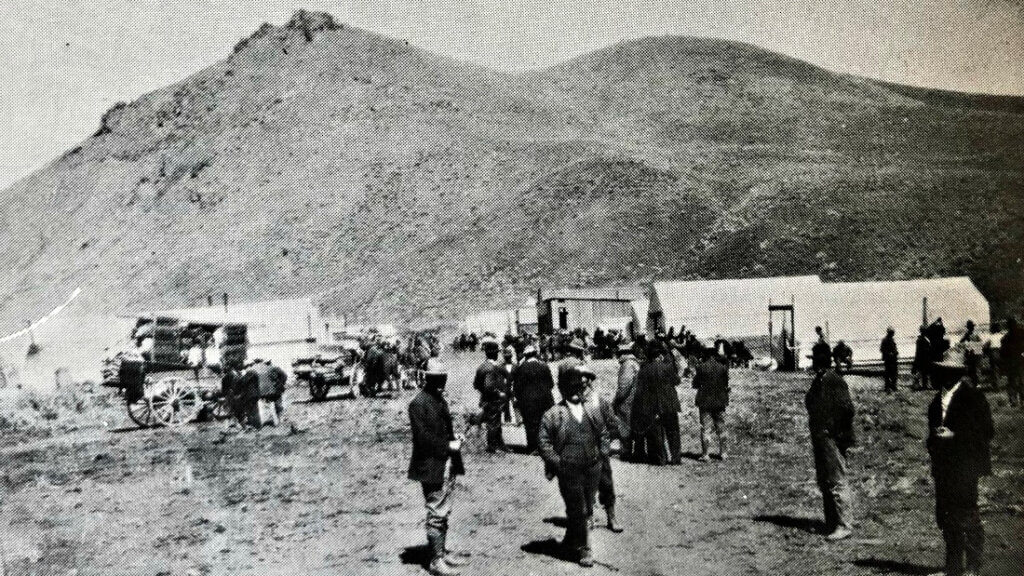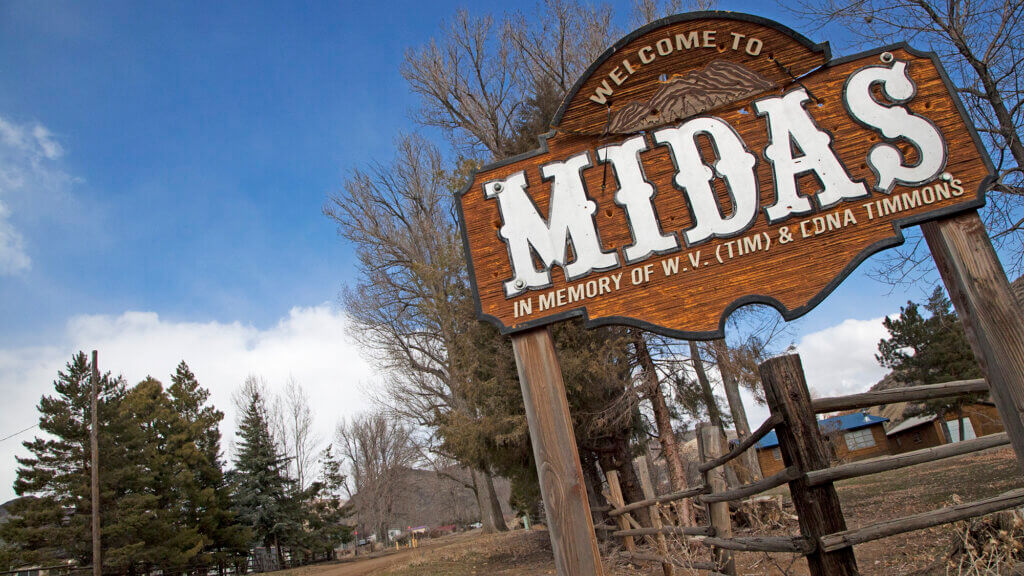 Visiting Midas Today
Even though Midas most certainly faced some difficult challenges, the town has never been completely abandoned. Electricity was introduced to the community in 1989 and the town barely forges on today with something like 12 full-time residents. From the main drag through town, get your camera ready for all kinds of structures and buildings original to the Midas story, an old fueling station with old Sarsaparilla signs and old mining equipment, along with a few new hunting lodges and the legendary Midas Dinner House & Saloon.
Midas Ghost Town Saloon
Ice cold beer and juicy steaks, anyone? As if this ghost town great couldn't get any better, one of our fave Sagebrush Saloons just so happens to be in Midas Ghost Town, too. Formerly the Midas Saloon & Dinner House, this Nevada backroads icon is under new ownership and recently renamed the Midas Ghost Town Saloon. Whether you're passing through or overnighting in town, the Midas Ghost Town Saloon is a must-experience—make sure you carve out some time for this true Sagebrush Saloon experience.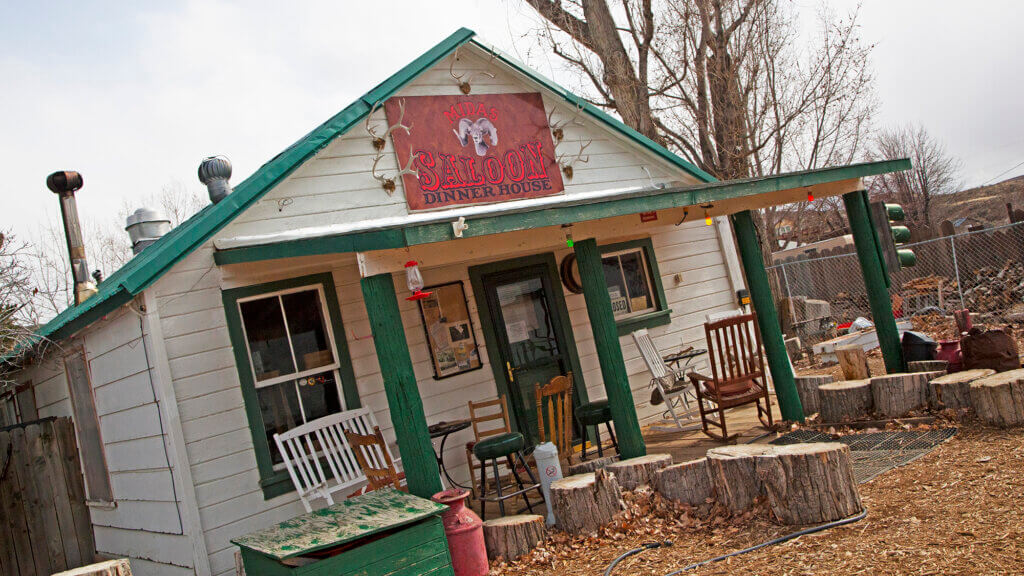 Getting There and Info to Know Before You Go
Midas Ghost Town is situated north of the Cowboy Corridor (or Nevada's Interstate 80) between Winnemucca and Battle Mountain. To find it, take the Golconda exit, then continue northeast on State Route 789 North/Midas Road for 43 miles. The paved road out of Golconda will slowly turn into a well-maintained dirt road, as modern day mining takes place in the Midas region. In the last stretch, you'll reach a fork in the road—take the left fork, and follow the remaining few miles into Midas. When exploring this "living" ghost town, remember that most of the relics you see before you sit squarely on private land, belonging to modern-day occupants. Please obey the power of posted no trespassing!
When traveling Nevada backroads, live by the Dirt Road Code by traveling with 4×4 access and a spare tire. Carry plenty of snacks and water, be sure to let someone know where you're headed and when you plan to return, and practice Leave No Trace methods whenever possible. And remember, there is only one safe way to deal with historic mine sites—stay out, stay alive. From shaky timbers, cave-ins, dangerous air quality and old explosives, exploring in and around old mining sites is extremely unsafe. Do not attempt to enter old mine shafts when exploring Nevada ghost towns.
Hours:
Midas Ghost Town is open 24 hours a day, 7 days a week with many private properties throughout. Please remember to respect the power of posted no trespassing!
This Location: