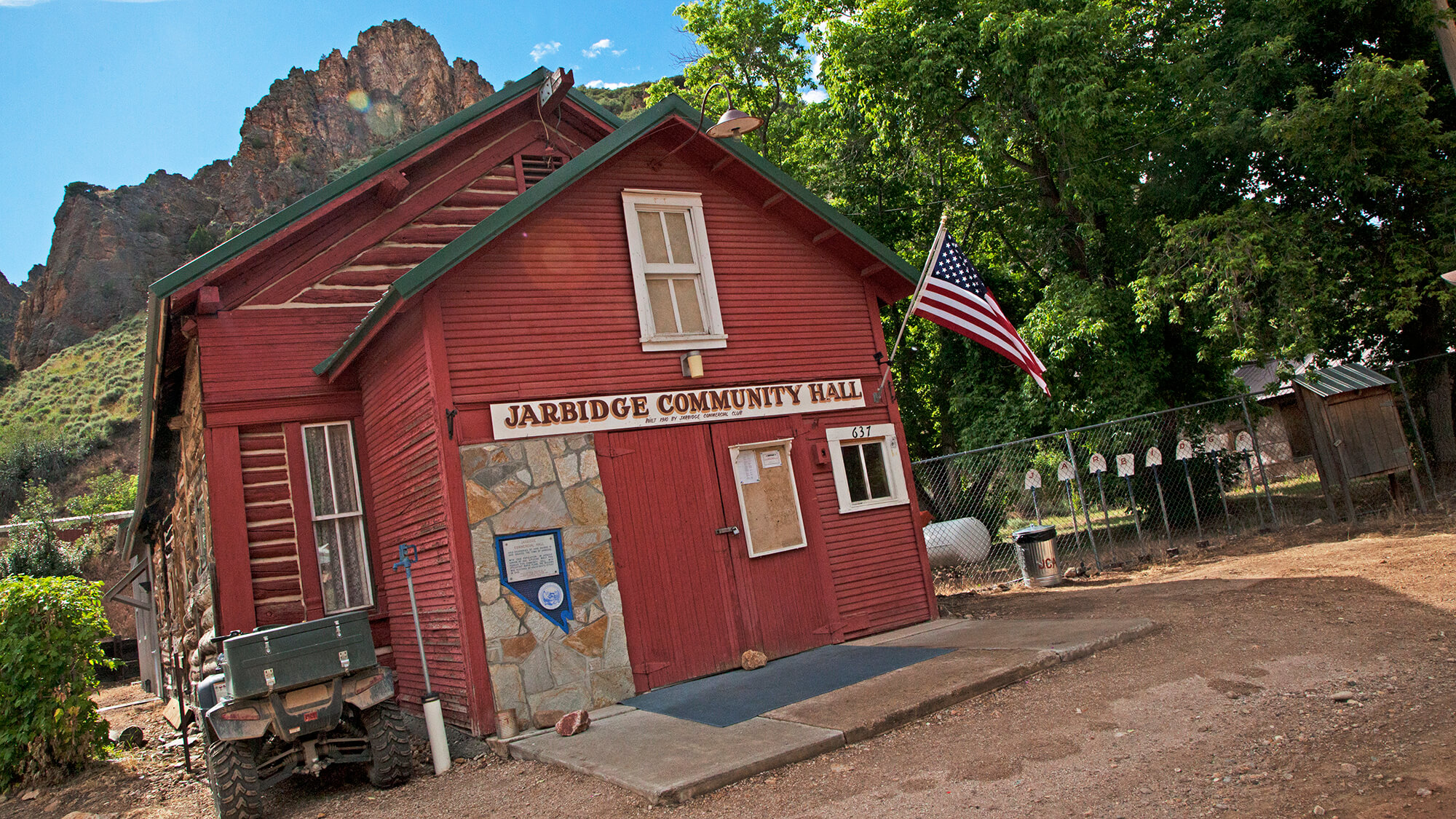 Jarbidge
The tiny town of Jarbidge may be the most isolated of Nevada's well-known mining towns of yesteryear, but it's also arguably in the most stunning setting. Visitors can enjoy jaw-dropping history, an unforgettable stay in the Outdoor Inn, or try their hand at some world-class fishing.
The tiny town of Jarbidge may be the most isolated of Nevada's well-known mining towns of yesteryear, but it's also arguably in the most stunning setting. The Jarbidge Wilderness Area, a sprawling 65,000-acre region that extends into Idaho, surrounds this historic community and is perfect for backcountry adventure. In winter months, access to this ruggedly remote town is usually limited to the drive in from Idaho, due to deep snowdrifts blocking off the Nevada entrance.
Originally settled in 1909 by prospectors following reports of a gold strike, Jarbidge was born. In fact, this was one of the last gold rushes in the American West. More discoveries were made the following year, and Jarbidge quickly became an official settlement with several hundred residents. Today, the town is home to roughly a dozen permanent residents who call Jarbidge home year-round, keeping tabs on the Trading Post, gas pump, post office, Red Dog Saloon, and the Outdoor Inn hotel and restaurant. They get together for regular events too, with Memorial Day, Fourth of July and Labor Day weekend celebrations.
Visitors passing through Jarbidge en route to the spectacular Jarbidge Wilderness Area load up with necessities before heading into the magnificent outdoors, right in the town's backyard. Swing by the Trading Post for just about anything you could possibly need, like food, drinks, toiletries or even live bait for some of the world-class fishing right around the corner.
Those visiting Jarbidge with the perception that Nevada is a dry, desolate state would stop dead in their tracks if they made the trek to Jarbidge, as towering mountains and rock formations jut up around you and roaring creeks rip through the canyon. As you can imagine, such a lush forest setting hosts a spectacular variety of wildlife. If you time it right, you'll also be able to see dozens of varieties of wildflowers scattered throughout the wilderness area, making the hills explode with unimaginable vibrancy. Bow hunting season attracts hunters from all over the world to stalk deer in the Jarbidge Wilderness Area, as some of Nevada's record deer come from these parts. Anglers from near and far are drawn to Jarbidge for incredible fishing, as it's one of the only places in the Nevada to get your hands on a Bull Trout.
When visiting Jarbidge, make time to wander down Main Street, where you can check out old miner's stables and huts, Pioneer Park, and even former brothels. Take a few minutes to check out the Jarbidge Community Center, where visitors can enjoy a walk through history in a piece of history itself—the building has recently been retrofitted, but was one of the original buildings when Jarbidge was founded. Here, you can admire historical bulletins, an original oil painting and other fascinating relics.
And, any trip to Jarbidge isn't complete until you've checked out the Jarbidge Jail. Another original building dating back to 1911, visitors can actually check out the inside of the jail cell, complete with a chamber pot cot, chair, and other nuggets of history. Best yet, the Jarbidge Jail has a slew of sensational stories as rich as the history itself. Perhaps the most noted prisoner was Ben Kuhl, who robbed the Rogerson-Jarbidge stage in December 1916. This rough-and-tumble act killed the driver, Fred Searcy. Just as Jarbidge was one of the last true gold rushes in the American west, the town can also claim that it is home to the last mail stagecoach robbery in the U.S.