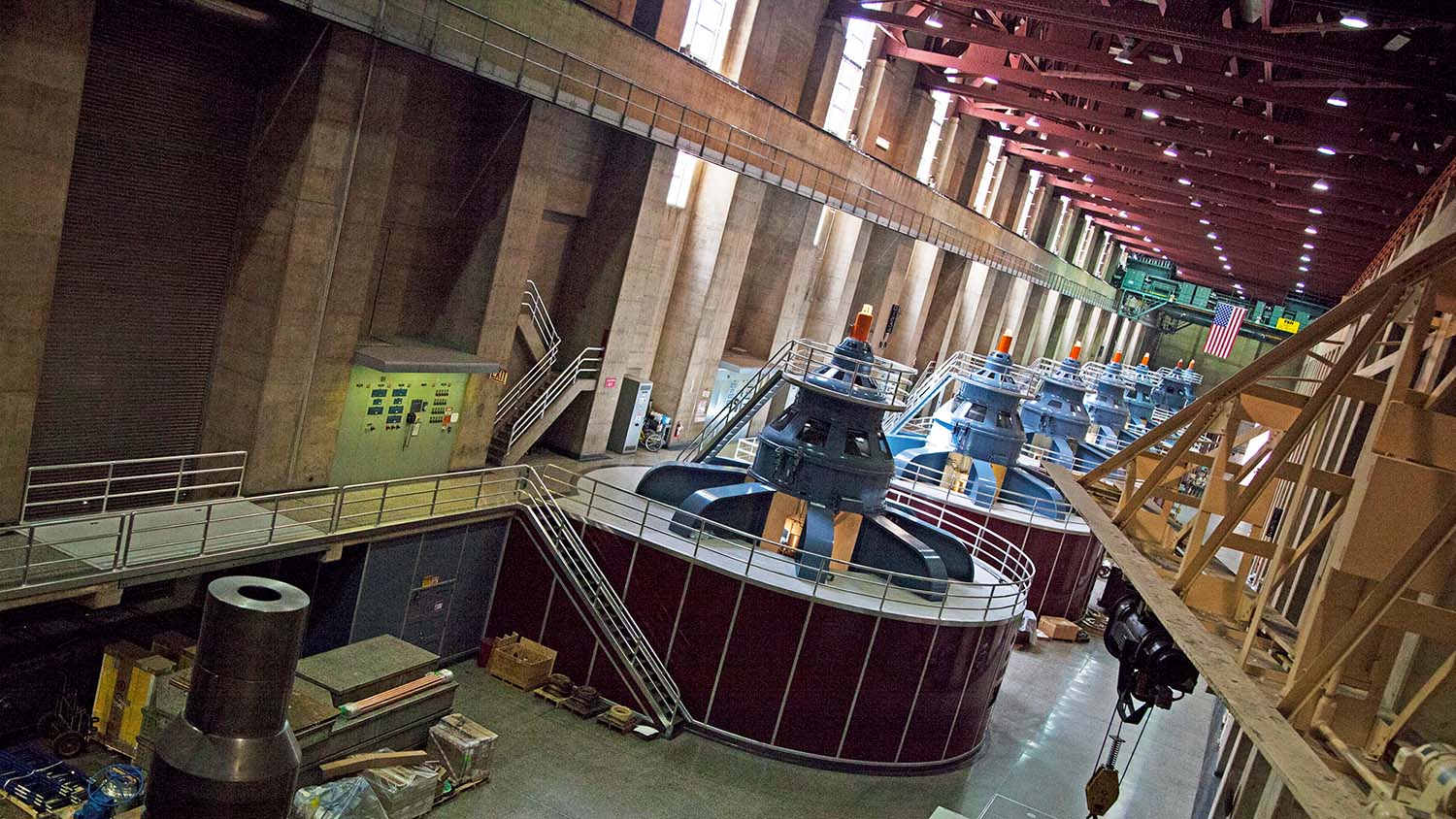 Planning to visit Hoover Dam? We highly recommend not just seeing it but also taking a tour. Hoover Dam tours are a fun and interactive way to see and learn what Hoover Dam is all about. Go behind the scenes to see how this marvel of engineering was carved out of the Colorado River's Black Canyon in the 1930s and how it went on to become one of the West's top tourist attractions. Tours of Hoover Dam are guided, allowing visitors to explore lesser-known parts of the dam.
Keep in mind that Hoover Dam tours include a one-hour guided tour of the powerplant and passageways within the dam itself, while the Powerplant Tour is a 30-minute guided tour of the powerplant only. Both tours include admission to the Visitor Center.
Hoover Dam Visitor Center
Hoover Dam Visitor Center is home base for tours of Hoover Dam. Here, you'll purchase tour tickets, explore exhibits that include the dam's massive, hydroelectric power-producing turbines, and generally find answers to all your questions about the dam.
Guided Tours
A fully-guided tour of Hoover Dam is well worth the money. Guided tour tickets are available daily at the Hoover Dam Visitor Center and visitors can choose from a shorter, general dam tour or a longer powerplant tour.
Tours Inside Hoover Dam
Each tour includes a "behind-the-curtain" peek at the inner workings of Hoover Dam and its powerful hydroelectric power operations as well as a look at the history of the dam and its construction. Tours are limited to groups of 20 to ensure everyone has an opportunity to learn and ask questions about Hoover Dam.
Travel Nevada Pro Tip
If you're short on time or budget, skip the Hoover Dam tour and walk across the top of the dam for free. Visitors will enjoy sweeping vistas of the bridge and surrounding geographic features, along with vertigo-inducing views looking straight down the dam.
Helicopter Tours
Feeling daring? See Hoover Dam as only the birds can on a helicopter tour. Tour operators such as Papillon Helicopters offer breathtaking photo ops from high above the top of the dam.
Hoover Dam Tours from Las Vegas
If you're staying in Las Vegas, Hoover Dam is only a little over a half-an-hour down the road. Don't have access to a car? Numerous bus tours are available that will pick you up on the Strip, take you for a day of sightseeing at Hoover Dam and Boulder City and then return you to Las Vegas in time for dinner. On your journey, you'll cross the Mike O'Callaghan–Pat Tillman Memorial Bridge (aka the bypass bridge) and rest at perfect photo spots along the Colorado River. Learn more about trips from Las Vegas to Hoover Dam here.
Hours:
Hoover Dam is open to visitors from 9:00 A.M. to 5:00 P.M. seven days a week. The first tour of the day begins at 9:30 A.M., with tours running every half-hour until the final tour at 3:30 P.M. Powerplant tours begin at 9:25 A.M. with the final tour at 3:55 P.M. The parking garage is open from 8:00 A.M. to 5:15 P.M. Hoover Dam Visitor Center is open every day of the year except for Thanksgiving and Christmas.
Admission:
Hoover Dam tours cost $30 for adults, seniors, juniors and military members. No children under 8 are permitted on the one-hour self-guided tours. Note: the tour is not accessible to visitors on crutches or in wheelchairs. It is also not recommended for those with claustrophobia or patients with defibrillators or pacemakers. Tickets must be purchased at the Visitor Center and are limited to 20 people per tour. Hoover Dam Powerplant Tours cost $15 for adults, $12 for seniors and those ages 4 to 16. Military members pay $12 for admission, or free if in uniform. Children under 4 are also admitted for free. Parking costs $10.