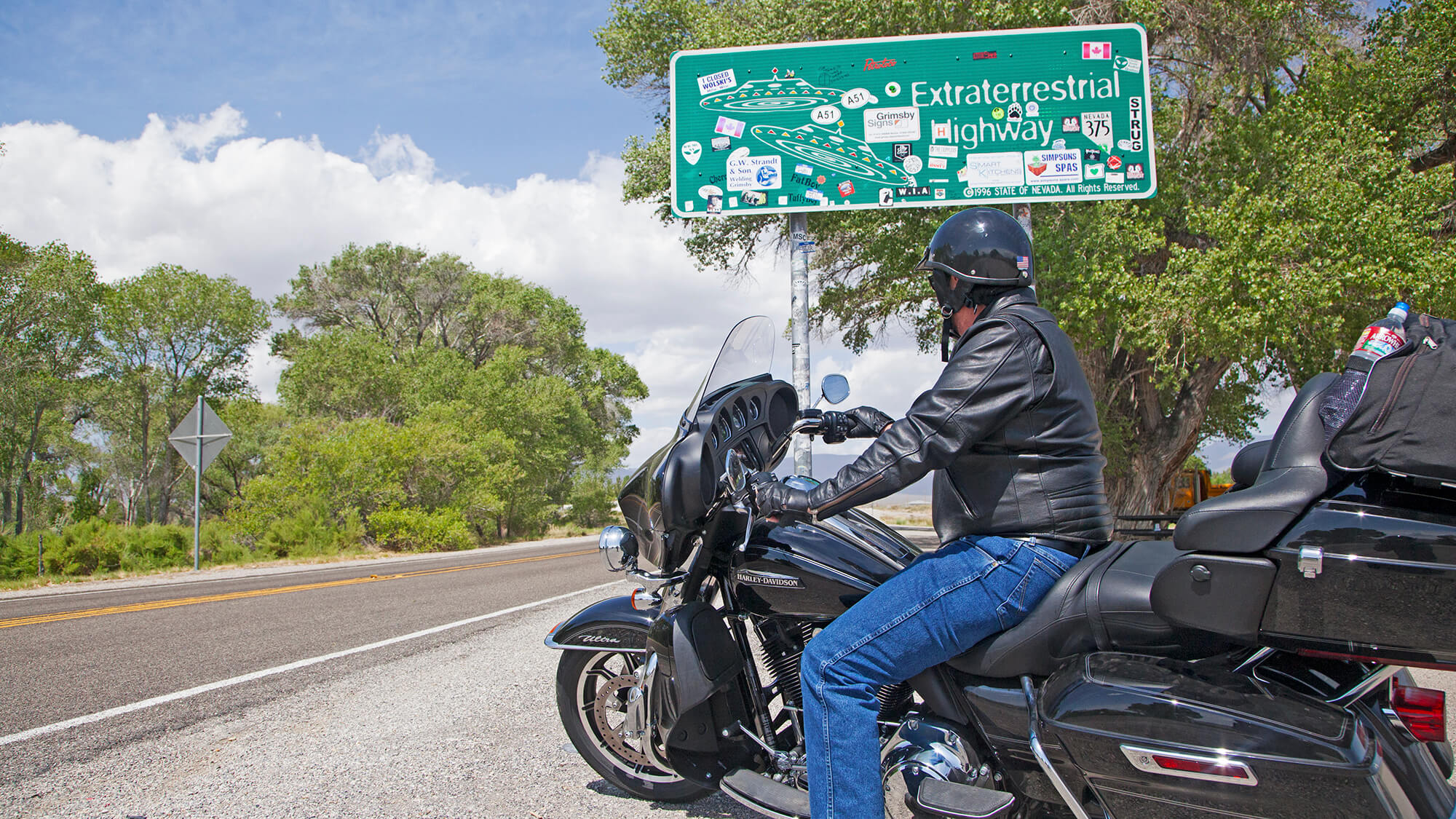 18 Ways To Earn Your Stripes On The E.T. Highway
When a string of unexplainable stories thrust their way into an international spotlight in the early 1980s, a stretch of road that runs parallel and extremely close to the Nellis Air Force Range's top-secret Area 51 solidified its place in Pop Culture kingdom forever. I'm talking about the always-alluring State Route 375, otherwise known as the Extraterrestrial Highway. A pretty sensational Larry King Live episode was filmed here, and scenes from the box office hit Independence Day, too, along with a thrilling string of unexplainable accounts that have gone down on this legendary stretch of road.
Aliens or not, the lack of human life on the E.T. Highway is a bit eerie—with less than 200 cars traveling from Tonopah to Hiko on the daily—which to me sets up a perfect canvas for your imagination to run wild, right? Forget Roswell, this area is the unofficial UFO Capital of the World, so if you haven't E.T. Highway-ed, you're already late to the party. Here are 18 ways to earn your E.T. Highway street cred on your next trip to the Silver State.
1. Get Your Hands On A Bike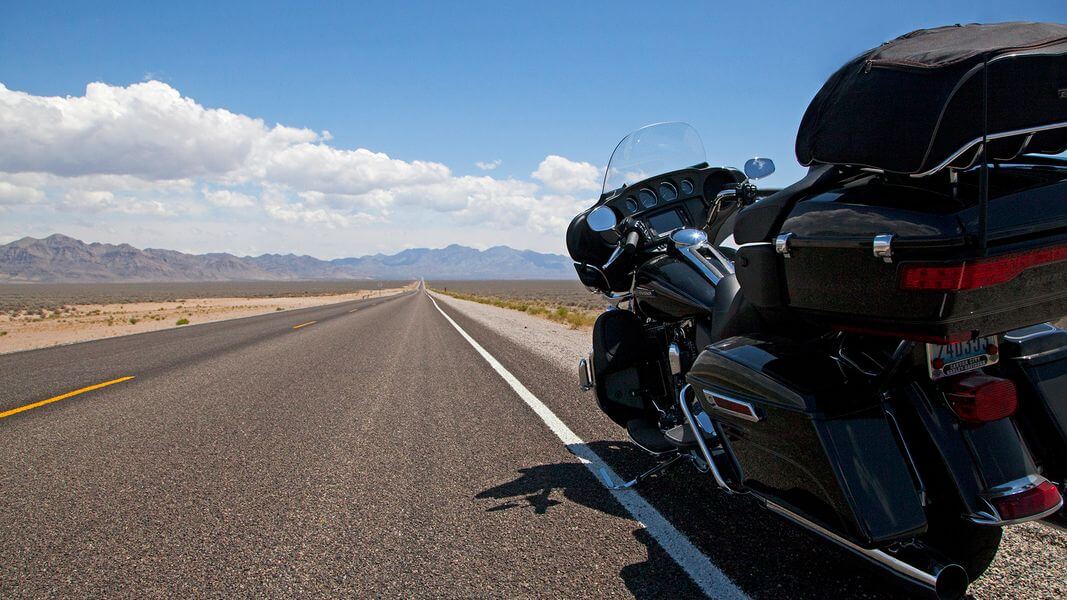 It's not crucial, but it IS pretty damn fun to ride this iconic route on two wheels. There aren't a lot of options for fuel along this route [actually only one] and you can imagine it's pretty pricey. Experience its wide-open greatness in a convertible if you must, but some chromed-out rumbling Americana beneath you is the only way to experience the E.T. Highway, IMHO.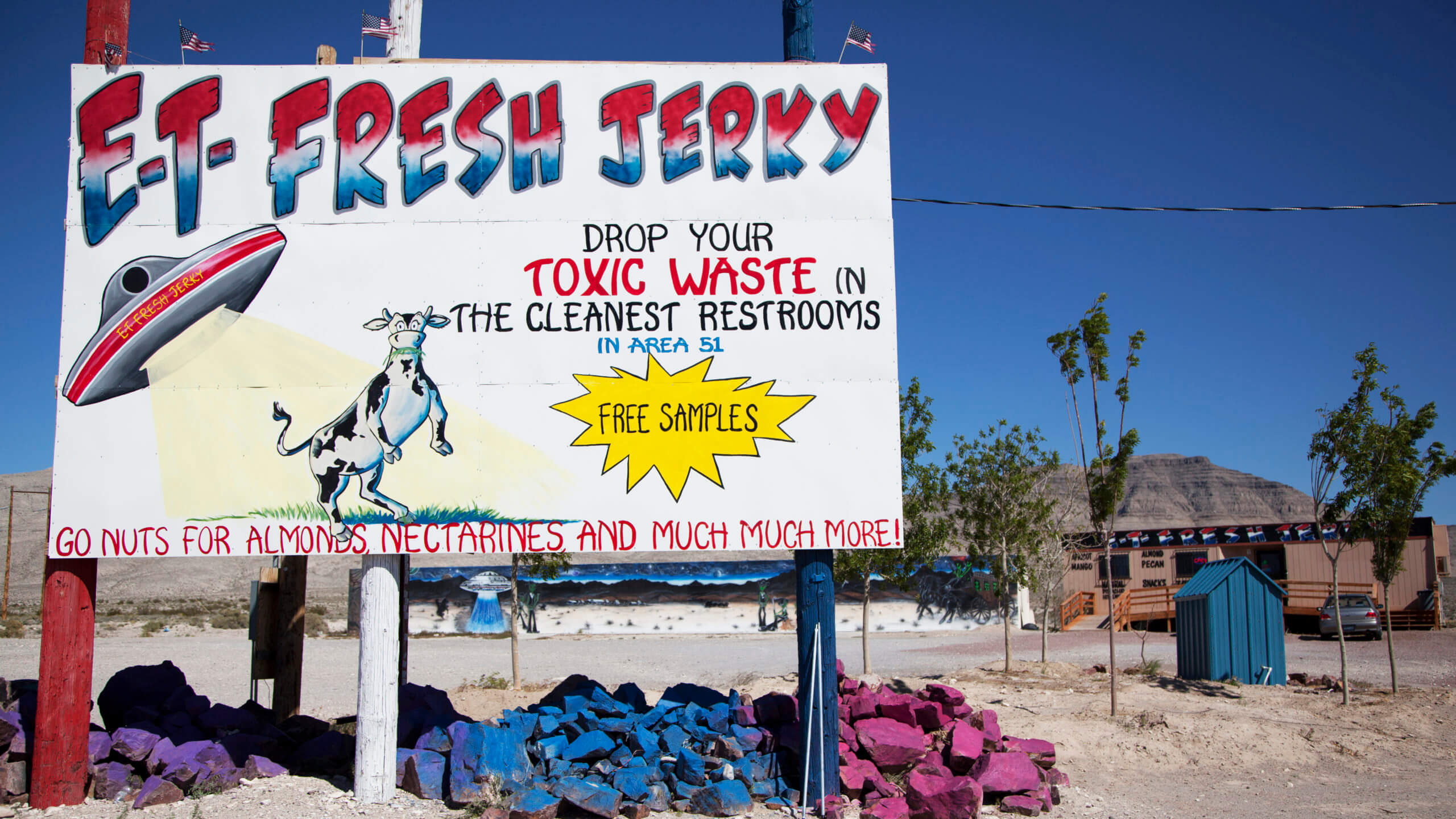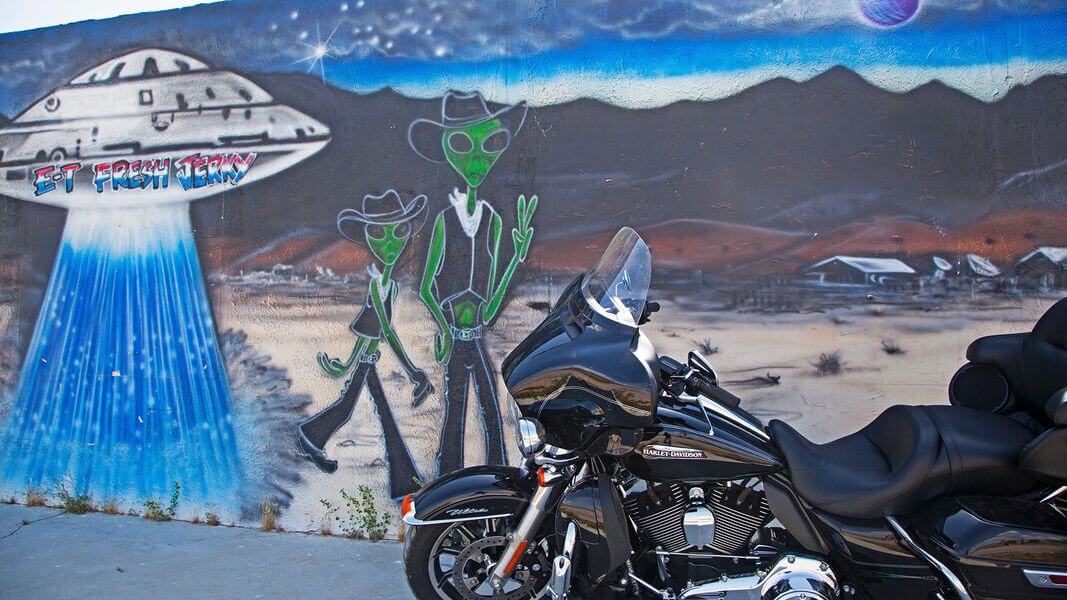 They market themselves as being the "Cleanest place to drop your toxic waste in Area 51" …goofy but oh so totally true. Use this as your last real restroom op before hitting the trail and get some pro tips from the super-friendly people who work there. Ask and they'll tell ya, they've totally seen it all.
3. …Be Sure To Sign The Wall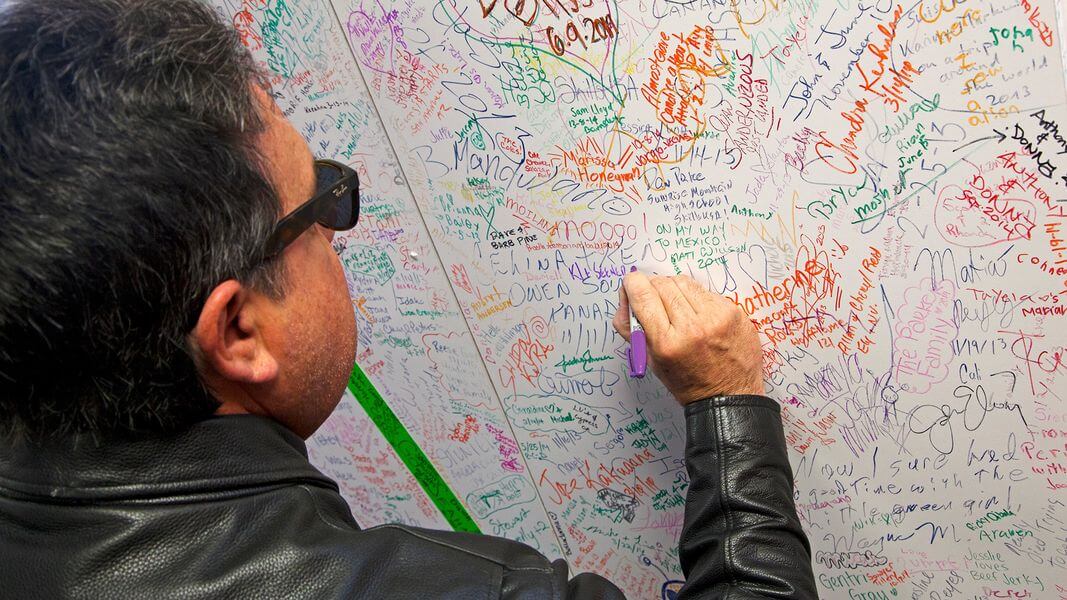 Don't fight the spirit and commit to this place, friends. "Drop your toxic waste," and snag a marker to pen your John Hancock along with the rest of the thousands of visitors who have been to this place. Truly, it's one of the best roadside stops in the state, why not make it official with a sig?
4. Snag Some Snacks That Basically Double As
Souvenirs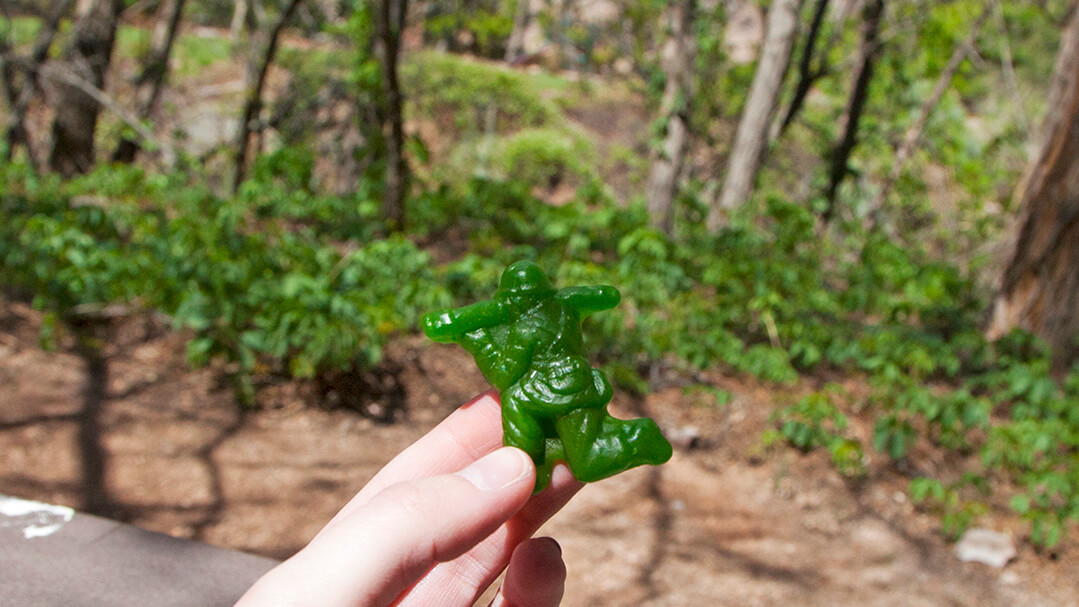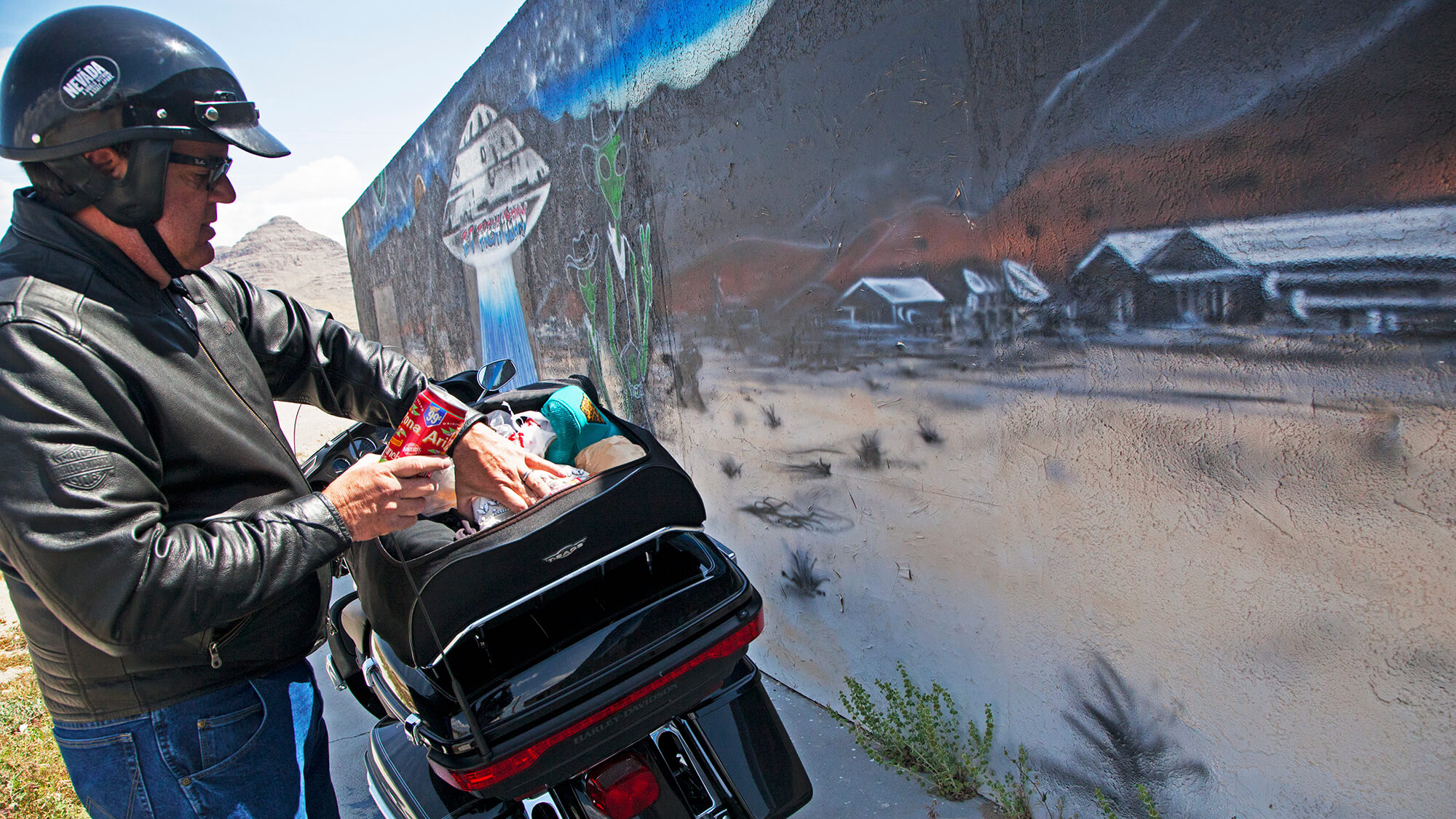 The road ahead is a desolate one; this is basically your last shot at snagging some supplies. A perfect Nevada moment is sitting in front of you, so seize it. Stock up on some themed treats to set the vibe for the day. My recommendation: Hell Hole Hot or Terrestrial Teriyaki Turkey, MMMM. Oh, and be sure to nab a container of little green army men gummies, after all, you're going to be skirting one heckuva large military base in a few.
5. And You Can't Leave Without A Selfie Next To the Mural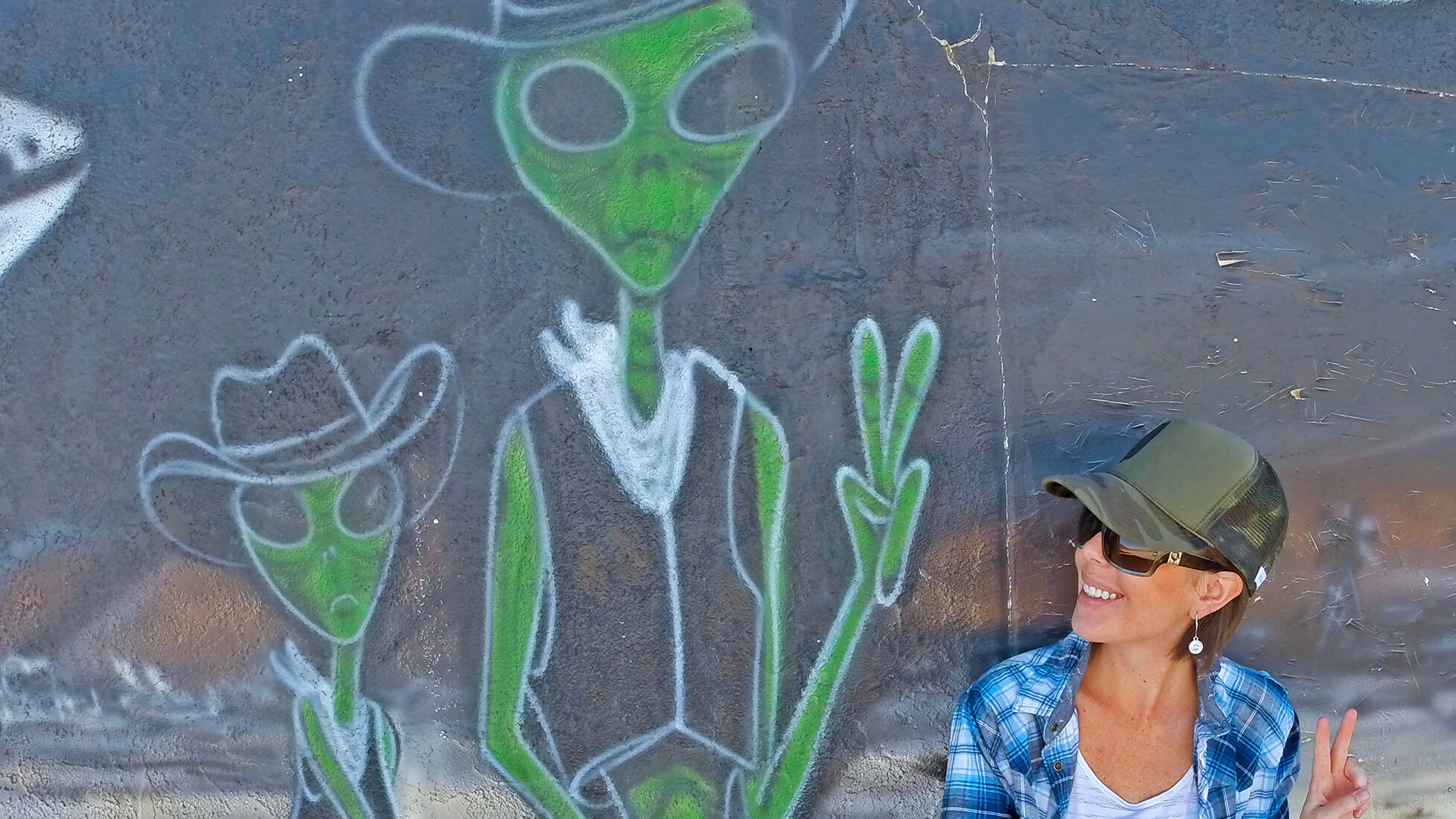 The exterior of E.T. Fresh Jerky is, I kid you not, decorated in a series of proooobably the coolest alien murals of all time. Get creative, or don't. With about 28,397,230,948 different photo ops begging to be snapped, the sky is the limit with the caliber of photos you can bring home.
6. Mark Your Territory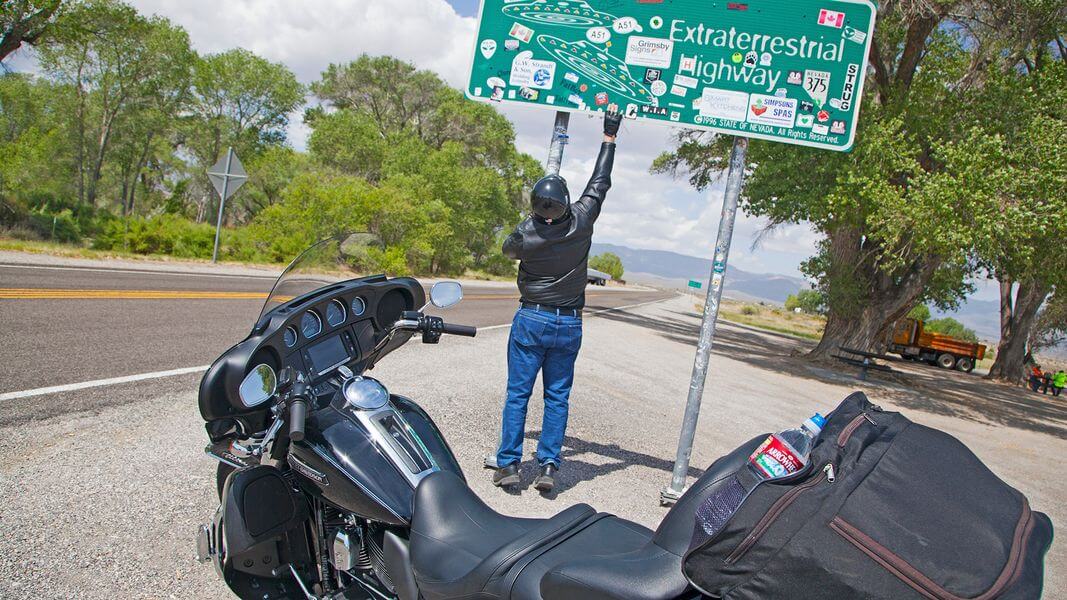 Ok. Let me preface with this: I would NEVER normally guide you to deface state property. But come on, this is a different story altogether! In fact, so many people slap their favorite sticker on the iconic ET Highway sign that state officials count on swapping it out on the reg. Start your expedition on the right foot, you've just gotta do this one [even if you've gotta balance on someone's shoulders.]
7. Visit The Alien Research Center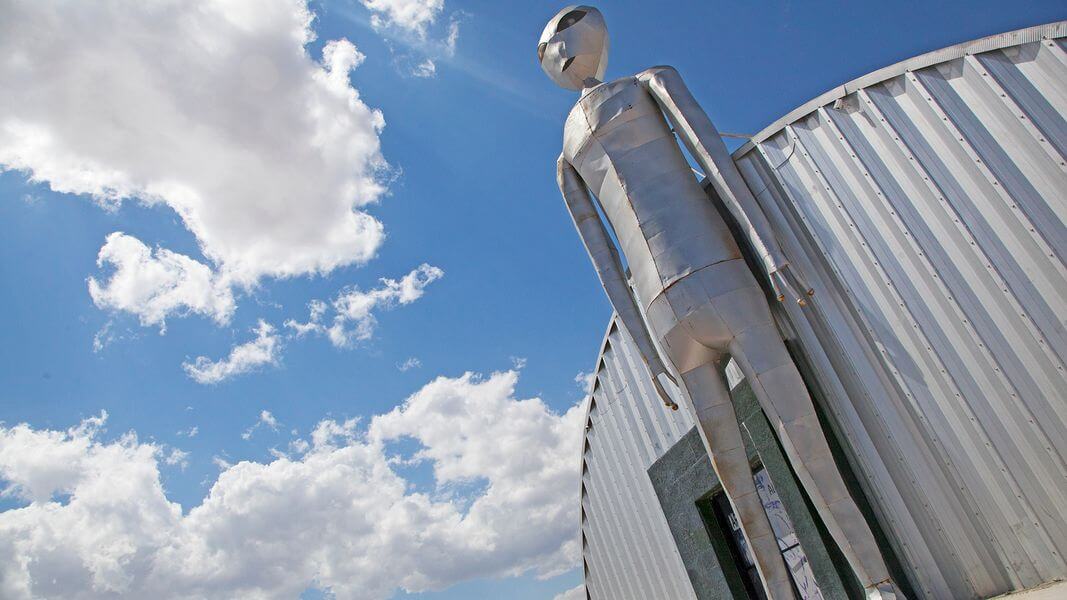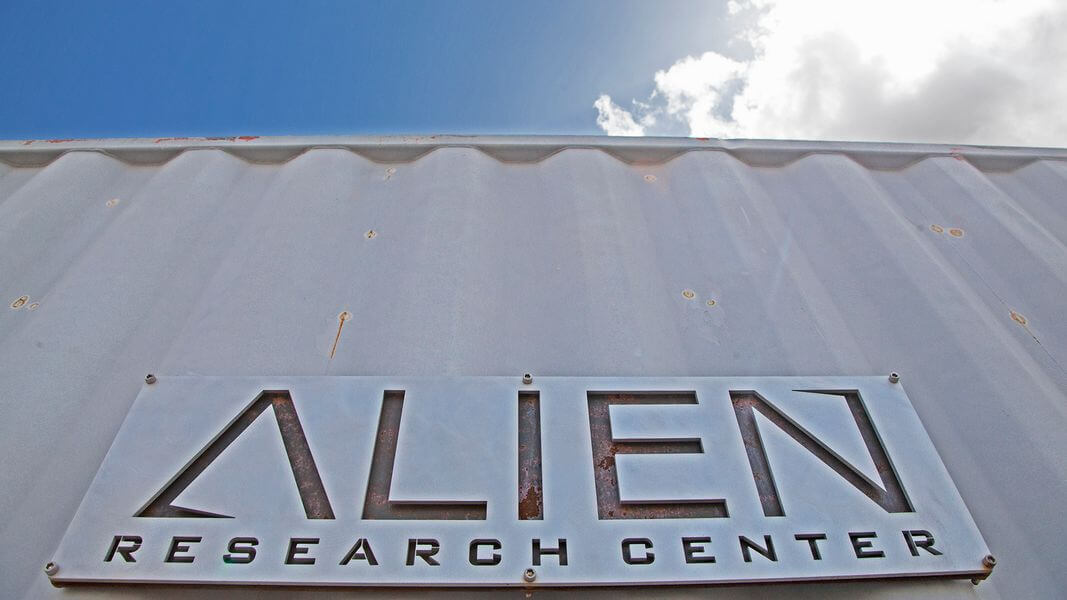 You won't be able to get into the notorious Area 51 [and seriously, don't try, the place is truly heavily guarded and a white truck will pop up of the horizon before you can say "E.T. Phone Home."] The closest you can get to living out your top-secret alien test center is here: the Alien Research Center. Heed warning: the place is rarely open. BUT, it's only one-ish miles into your trek and worth hopping out to take a photo to say the very least. Where else can you stand next to a three-story metal alien?
8. Wait For Your Eyes To Start Playing Tricks On You… 'Cause It's Gonna Happen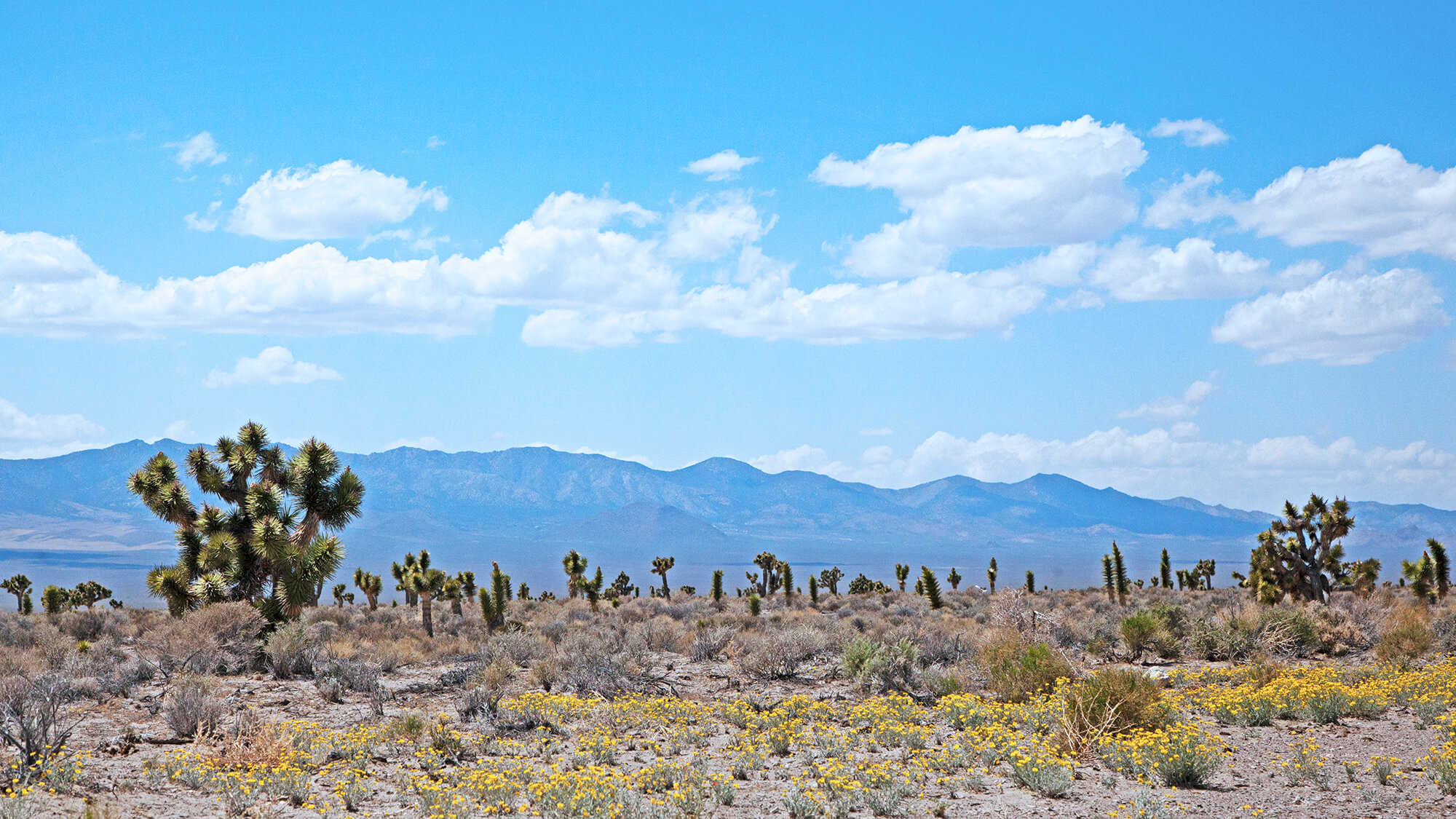 Next you'll be coming around a mountain range and dropping into a textbook Nevada scene: no economic development, and a straight and narrow road that stretches as far as the eye can see. Welcome to the E.T. Highway, lovies. You're in the thick of it now. Some of the most spectacularly gnarled Joshua trees pepper the landscape in this zone. I'm not sure if other life on this planet exists, but I do know that these Joshua trees will have you double taking for little green men the entire route. And you know what? I'm totally OK with that.
9. You're Going To Want To Pull Over To Really Take It All In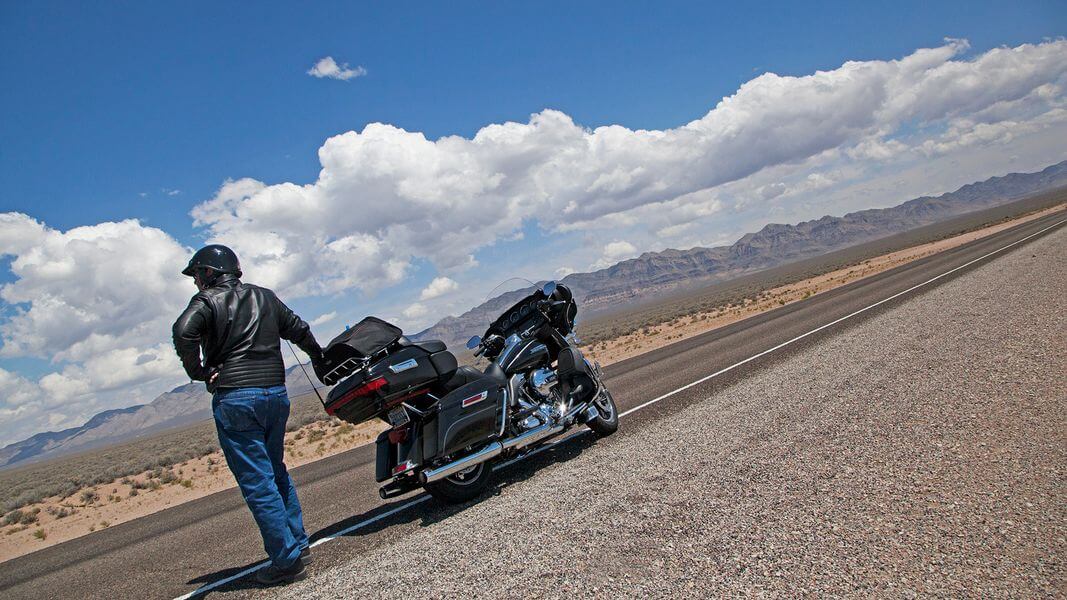 Agoraphobics, don't say I didn't warn you. One of my most favorite things about Nevada is the way the landscape centers you, making you feel like such a small thread of a great big universe, yet at the same time sets you free. When exploring this particular straightaway, the sea of sagebrush endlessly rolls on and all the tectonic action looks pretty damned beautiful under those postcard-perfect thunderheads. You're going to want to pull over just to take it all in, if you're two-wheelin' or not.
10. But, Some Unexplained Funny Biz Will Inspire You To Keep It Movin'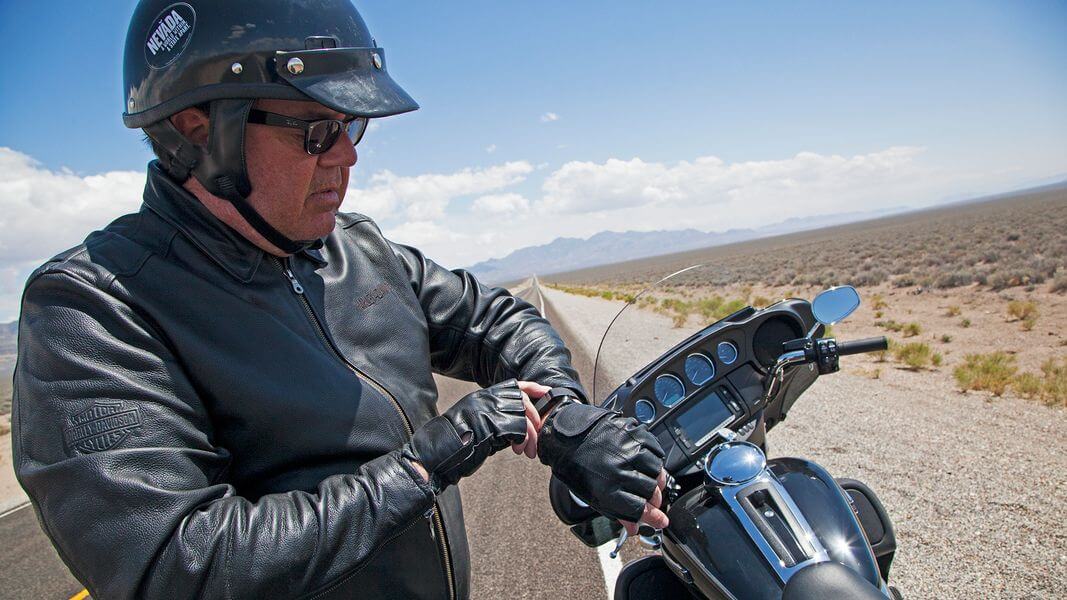 Who knows the real story behind Area 51; the whole top-secret classification most definitely inspires curiosity. Do I want to believe in all the scuttlebutt? CHYEAH. That afternoon when we were pulled over, both of our fitness tracking devises went totally berserk. Like randomly counting thousands of steps while moving perfectly still and toggling between modes like it was on the edge of a meltdown. Could it have been the vibration of the bike? Possibly. But maybe, just maybe, we were on the verge of being beamed up? Tally ho!
11. The "Wildlife" You've Heard About Is Totally Real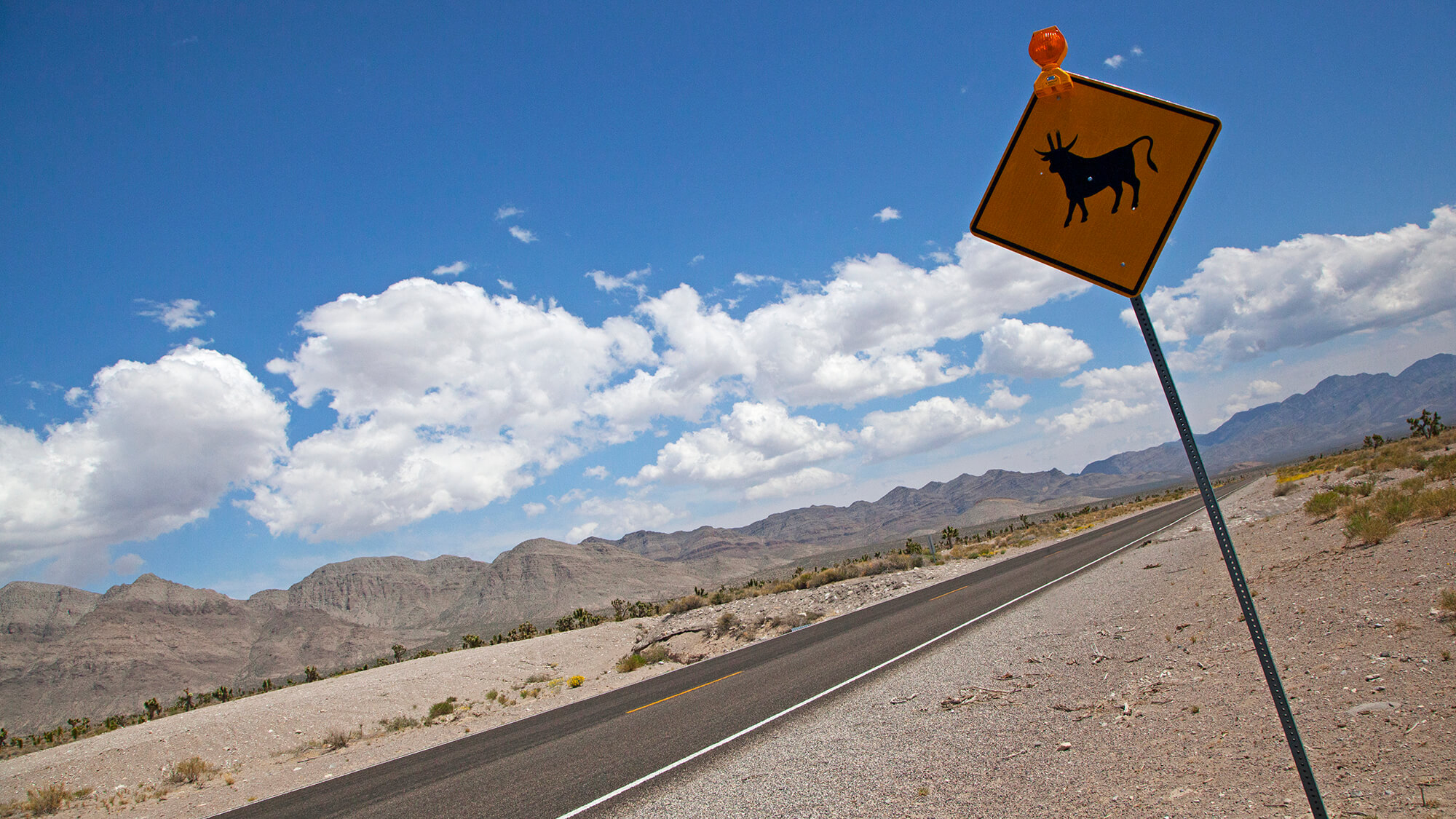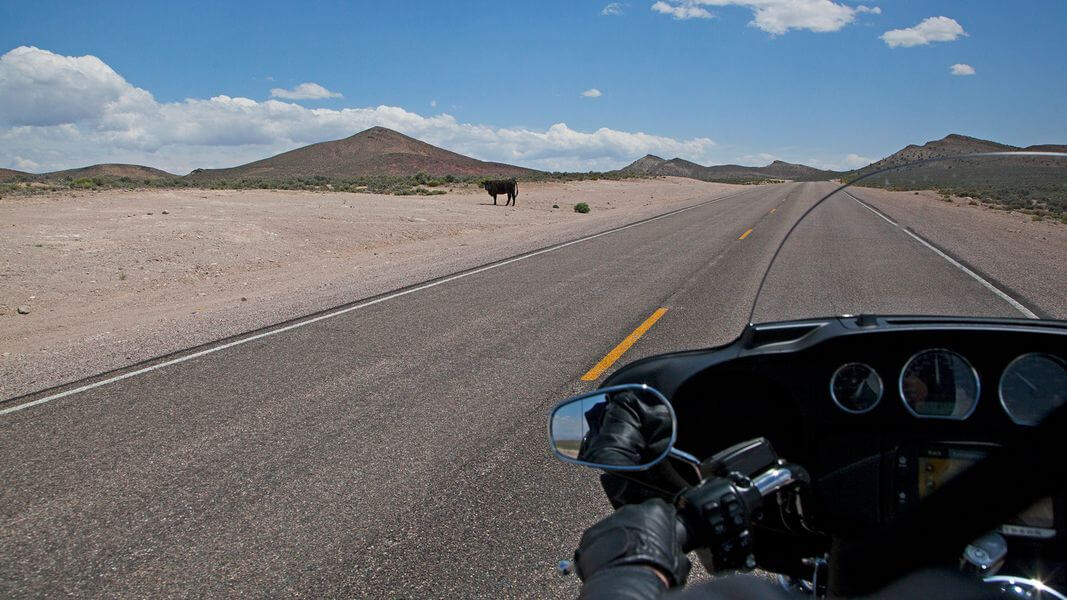 You know all those cartoons you're always seeing about cows being sucked up into alien spacecraft? After one daylong jaunt on the E.T. Highway, I totally get it. The open range signs make for a goofy photo op and these bovine beauties aren't difficult to spot…in fact, they're everywhere. PROTIP: if you're traveling this route by night, stay focused. They like the heat emanating off the asphalt and it isn't uncommon for them to post up right in the middle of the road.
12. And Just Like That, You've Made It To Rachel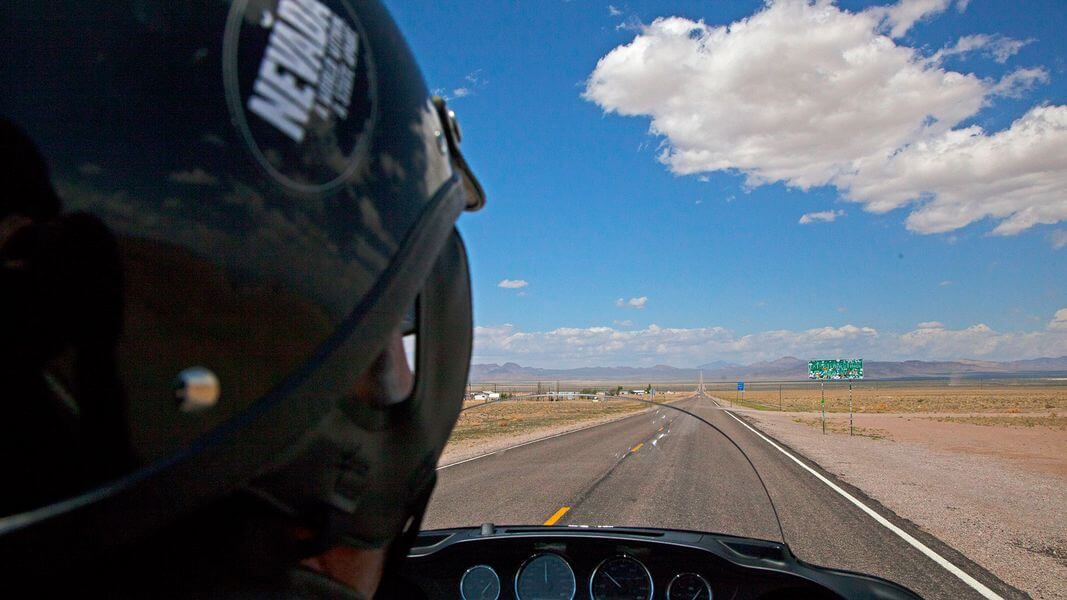 In case you missed your first shot, there's another E.T. Highway sign plopped right on the outskirts of the only town you'll see on this famed route: Rachel, aka the "UFO Capital of the World." The place hasn't been around for longer than a few decades, and was named Rachel after the first baby born in "city" limits.
13. Throw It In Park: Earthlings Welcome At The Little A'Le'Inn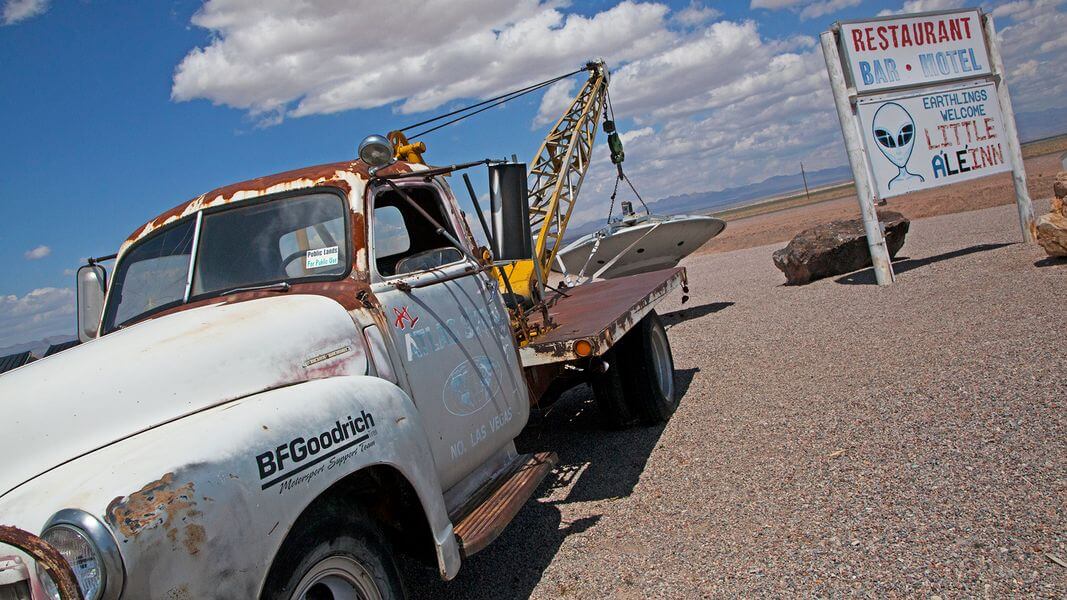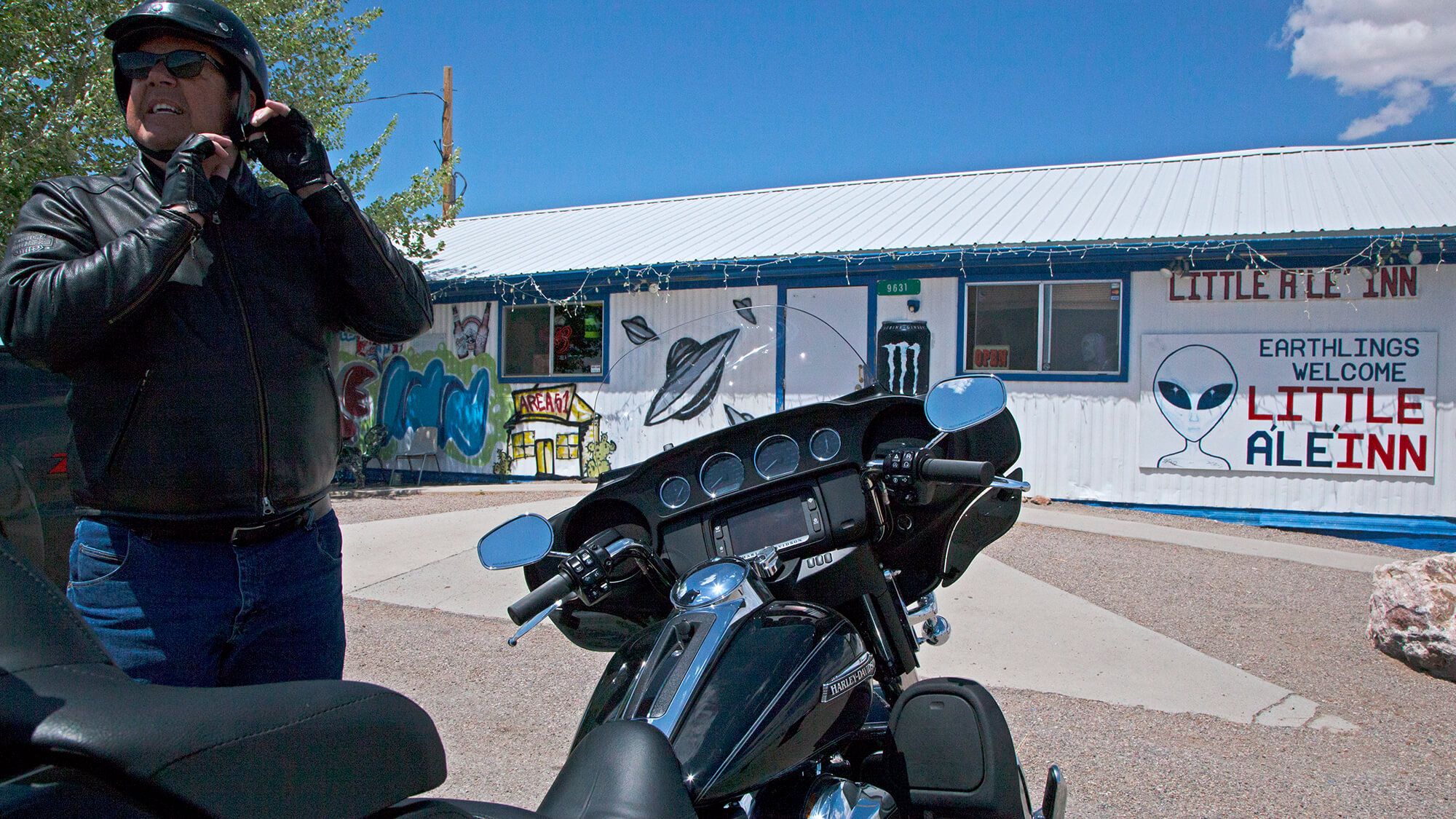 By now, you're overdue for a good, solid leg stretching. Other than the fact that this is THE only open business in the tiny town of Rachel, this place is the unofficial headquarters of the E.T. Highway and a missed opportunity if you keep ramblin' on. If you've somehow missed the boatload of zany photo ops along the way, here's another: there is an actual flying saucer dangling from a truck out front, ushering people in.
14. Study Up On UFO Sightings Spotted 'Round The Globe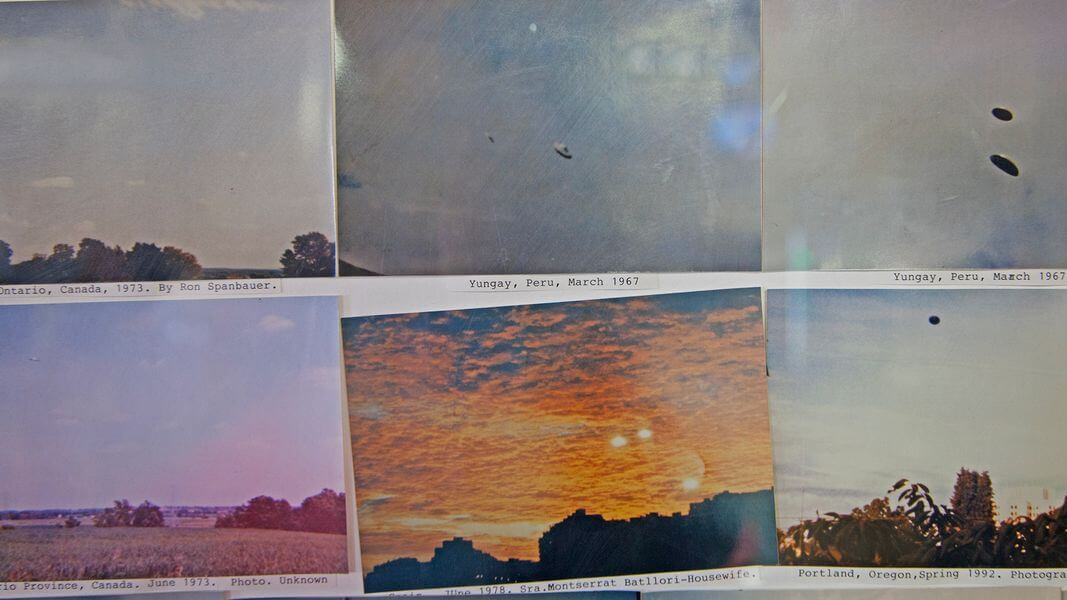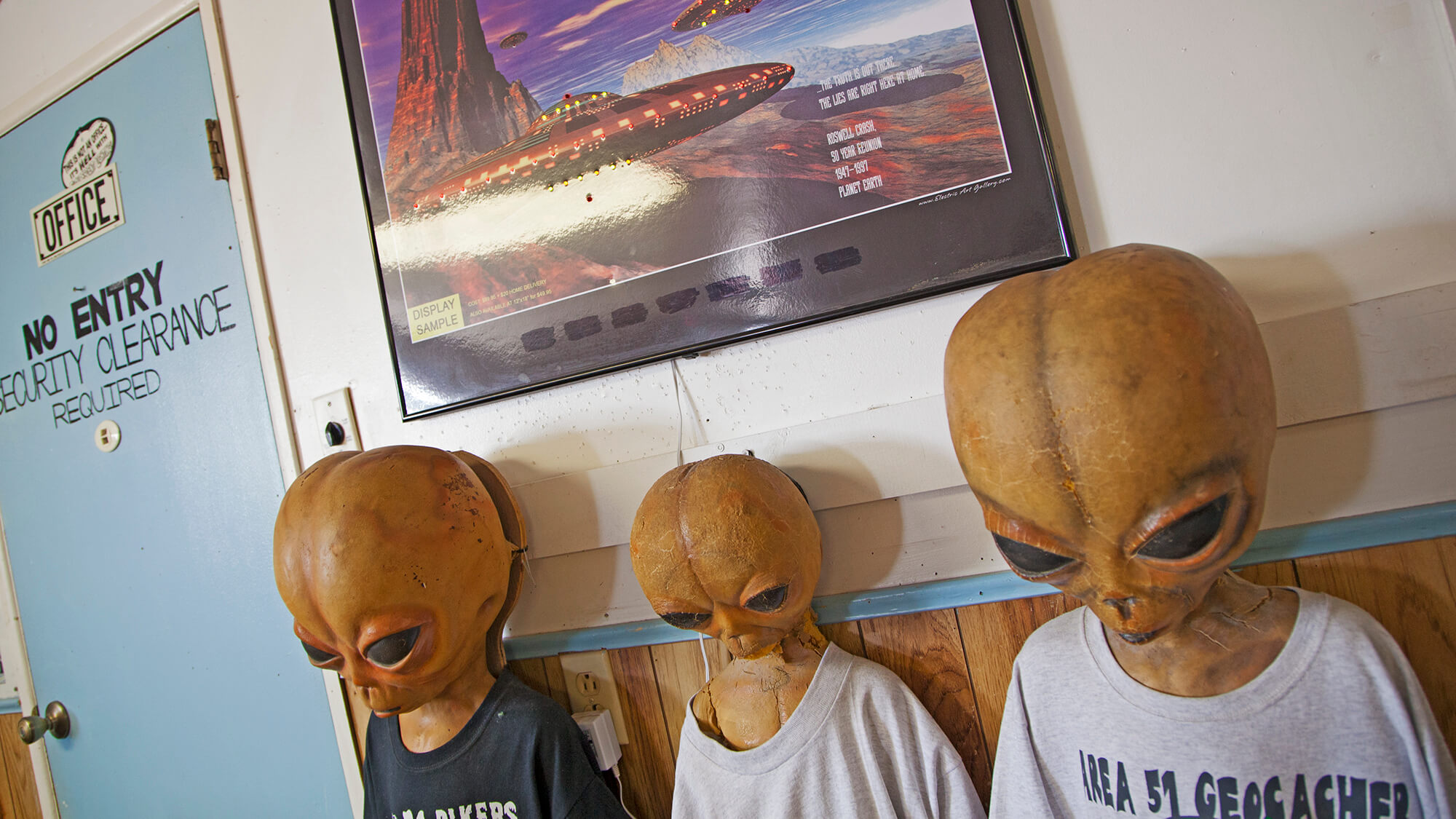 If you don't luck out and spot a UFO outside, you'll definitely have a chance to see some alleged occurrences found round the world inside the Little A'Le'Inn. Here, otherworldly enthusiasts have contributed photos of their sightings in far-reaching places like Canada and Peru. If the vibe wasn't already set in stone, leave it to this place to seal the deal. Life-size aliens lurk around just about every corner and the walls are covered in "true-life" accounts of suspicious activity. Study it, because face it: very few other places divvy up this kind of zaniness!
15. Tack A Dollar Bill On The Ceiling, Everyone's Doing It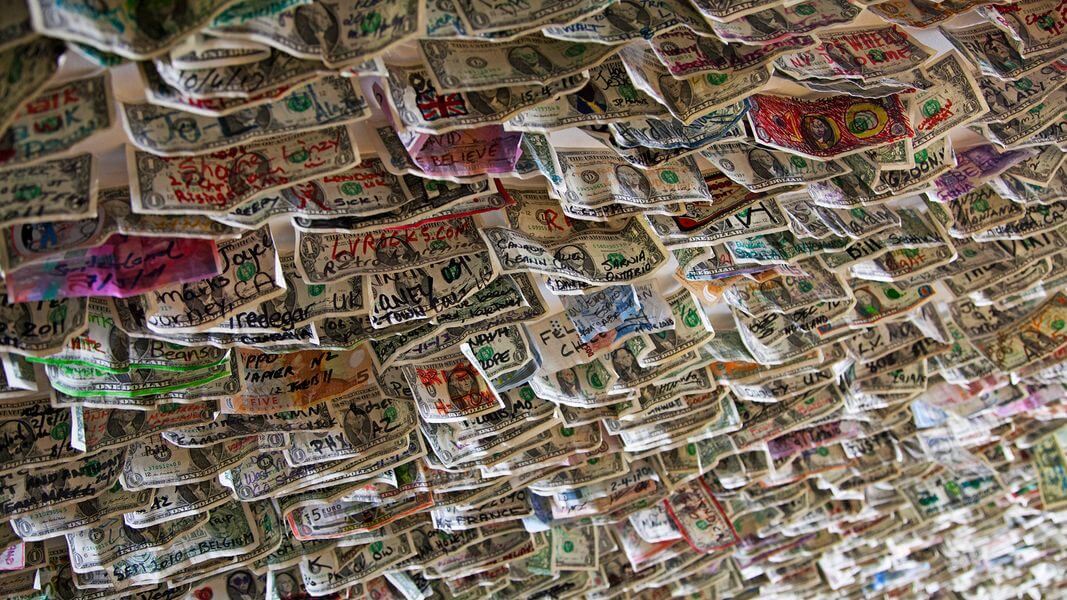 True to Nevada form, the ceiling at the Little A'Le'Inn is plastered with currencies from all over the world. Take a look, it's fascinating to see the variety of peeps who have walked over the threshold in this 50-person town. Just like you made your mark on the E.T. Highway sign at the beginning of your road trip, this too is an op you shouldn't pass up.
16. Pony Up To The Bar For Some Hard-To-Beat Convo Over An Alien Beer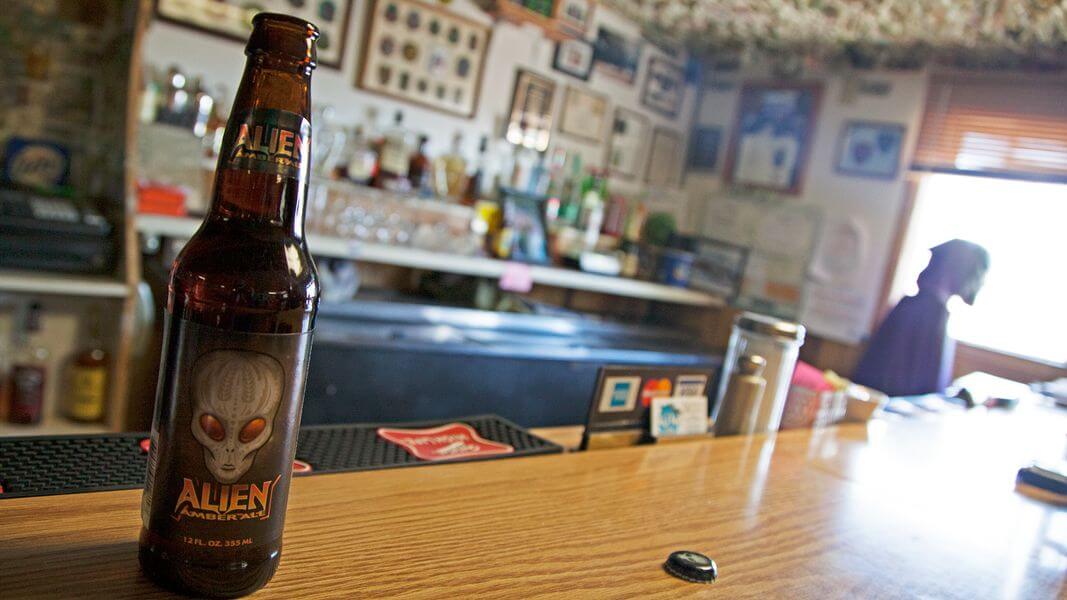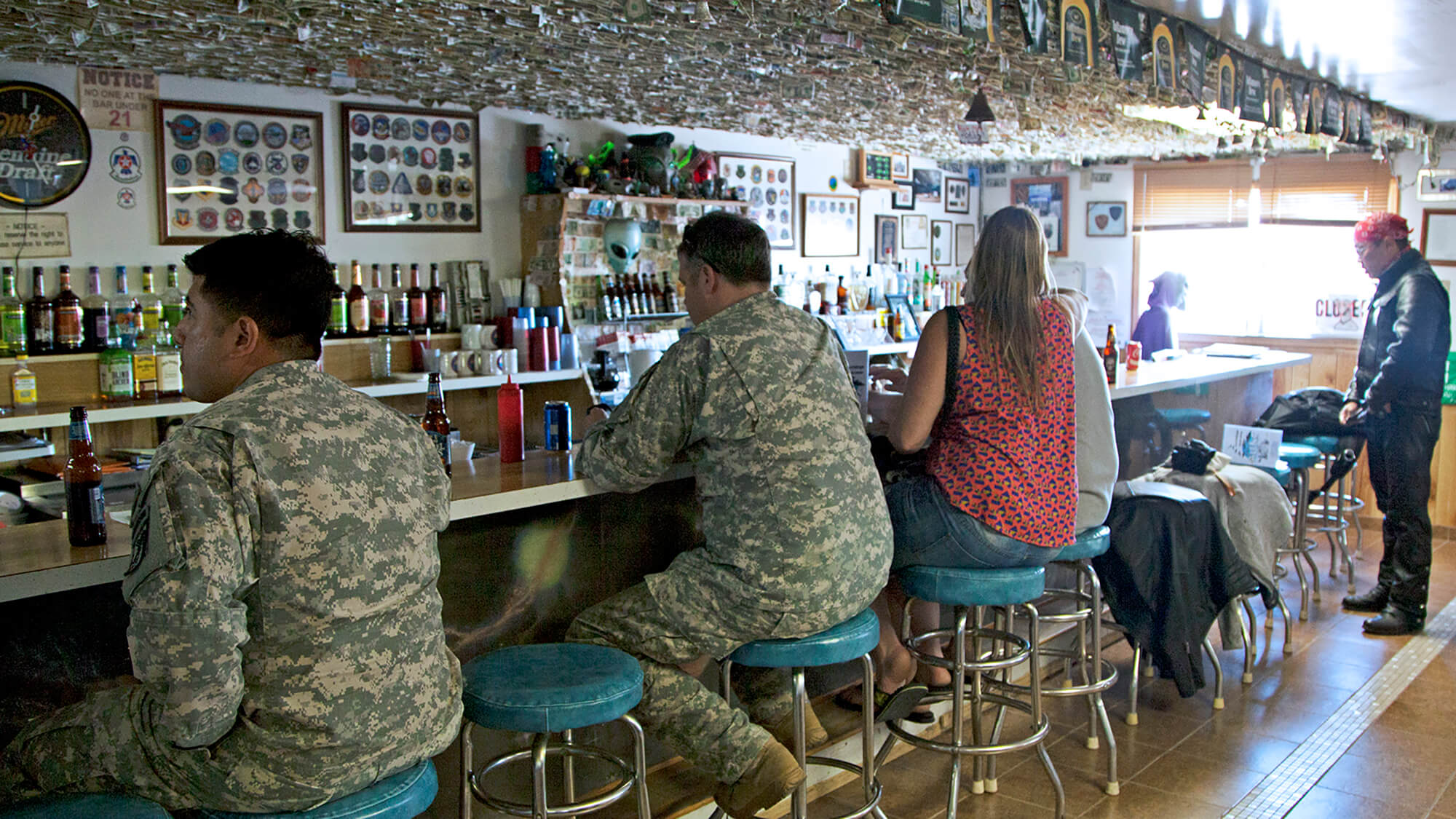 Have you ever seen that movie Men in Black? You know, the part where crazy aliens look like regular people? Yeah, that's kind of what this place is like—the characters you meet and stories they tell are unlike any other. Between other bikers, nearby military personnel, people with exotic accents from faraway places or the guy who lives up the street, the people in this place know how to spin a yarn. Grab an Alien Amber [my fav, anyway] and don't be afraid to get chatty.
17. Commit To A Nevada Rite Of Passage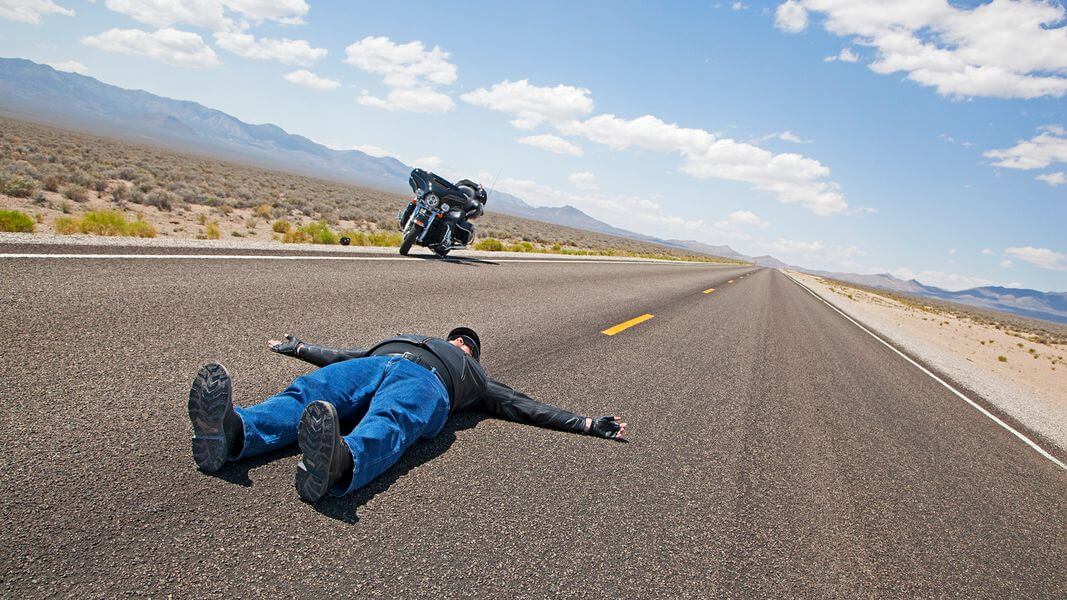 Rachel is basically the half way marker on the Extraterrestrial Highway…whether you're headed to Tonopah or Alamo, it's sadly time to get back at it. Lucky for you, Nevada is also stomping grounds for the Loneliest Road in America, but the E.T. Highway certainly gives it a run for its money. With less than 200 people making their way across the E.T. Highway on any given day, the traffic is minimal. We've all seen that iconic Nevada picture of the girl standing in the middle of the road. YAWN. Carpe that flipping diem and do what we all know you want to do: lay in the middle of that highway. BUT DON'T GET RUN OVER. Obvi use your head and watch for the minute amount of traffic out there, but do it. Where else can you post up in the middle of an active highway?
18. And Most Importantly, Bring A Travel Companion You Love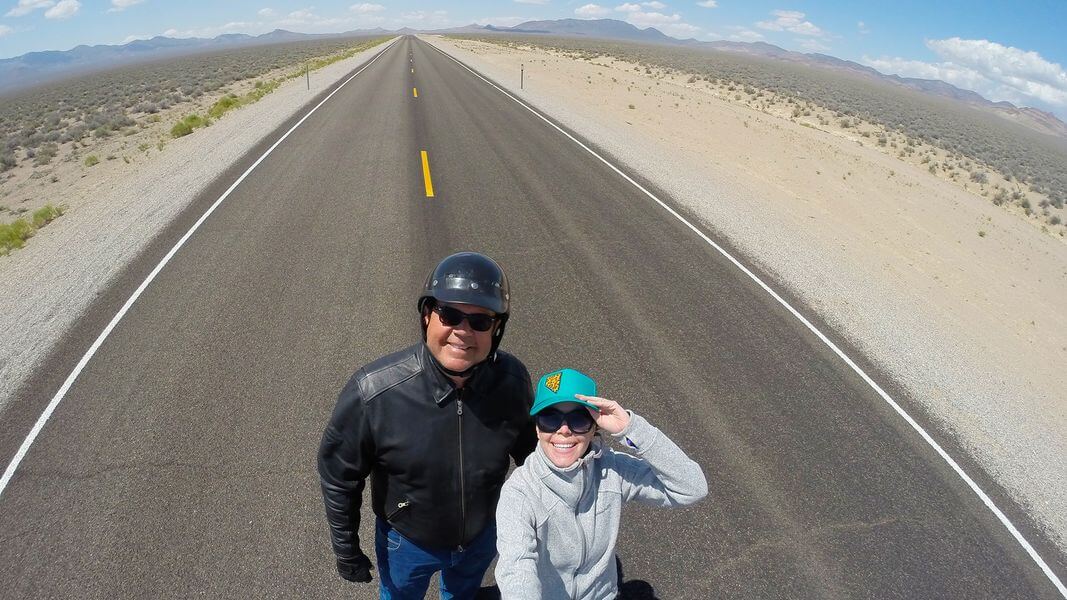 What good is a road trip, no matter the location, if you don't have someone to share it with? This is just the tip of the iceberg when it comes to traveling Nevada, and while you need to have a certain level of preparedness, don't be afraid to let Nevada in. Say YES to more things, you truly don't know where it will lead you in this amazing place. But, you've got to share it with someone you love…a stretch of road this iconic—you'll need two people just to reiterate the stories that are sure to come out of it. #NVRoadTrip
Get Inspired
Related Stories