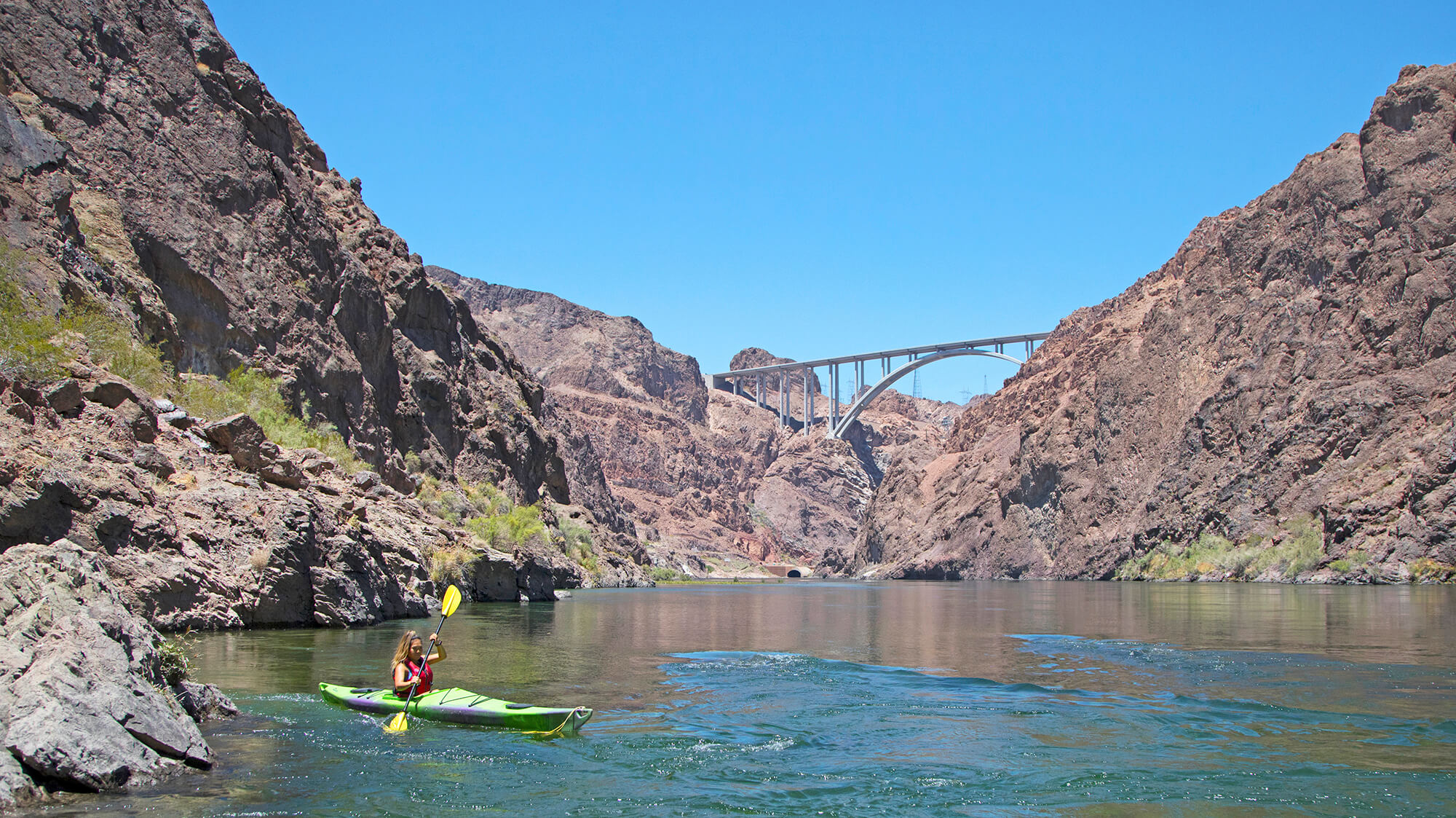 Spring Break Getaways For The Whole Fam
As Nevadans, we live in the Road Trip Capital of the whole country. Just pick a direction, load up the car, and hit the wide-open road to some solid Silver State adventures. Whether it's spring break for the kiddos or you simply love this season's cooler weather, now is the perfect time to grab the fam, head out, and make some memories. Here's a sneak peak at some of our favorite only-in-Nevada spring family road trips.
Lookin' for northern Nevada getaways? Click here.
Southern Nevada
Neon to Nature
Whether you're craving a quick off-strip day trip or a just-close-enough weekend away, see what the rest of your neck of Nevada has in store with these three charming, historic, scenic, and memory-making southern Silver State communities.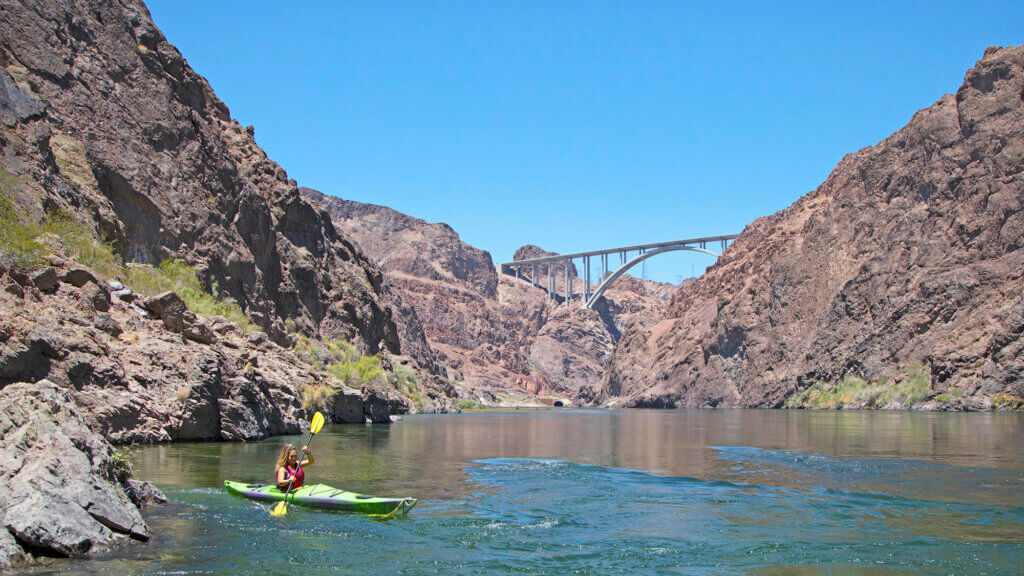 Boulder City
Just up the hill from Las Vegas, this wonderfully walkable, decked-in-Art-Deco community is positively beaming with rich history, exquisite eateries, and whole-family hobbies. In town, take on pedal-powered railroad rides, a retro-chic 1940s bowling alley, and park picnics alongside desert bighorn sheep; then hit some trails or get on the water with day-long raft floats and kayak tours on the scenic Colorado River.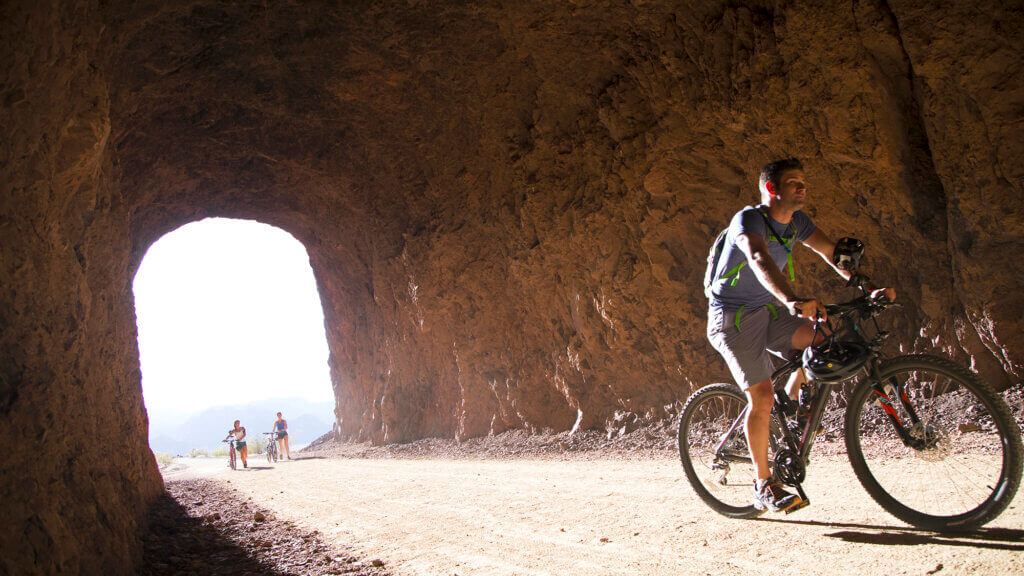 The whole family will enjoy the Historic Railroad Trail at Lake Mead that snakes through five historic railroad tunnels toward the Hoover Dam. Those with smaller kids can choose a raft adventure with Black Canyon River Adventures, and those a little older will enjoy kayaking. Both adventures provide amazing views of the Hoover Dam from river level. Stop by Chilly Jilly'z post-adventure to pick up a well-earned Dole whip.
Get our complete, quick getaway guide to Boulder City.
Laughlin
This sunny, southernmost Nevada city packs a splashy punch, boasting endless opportunities to get your kicks on the scenic Colorado River. With boating, fishing, jet skiing, kayaking, and cruising at your fingertips, a lively Riverwalk scene featuring almost a dozen amenity-packed resorts, and an iconic ghost town mine tour along the way, this family-friendly riverfront resort town is one of our favorite weekend escapes.
Get our complete, quick getaway guide to Laughlin.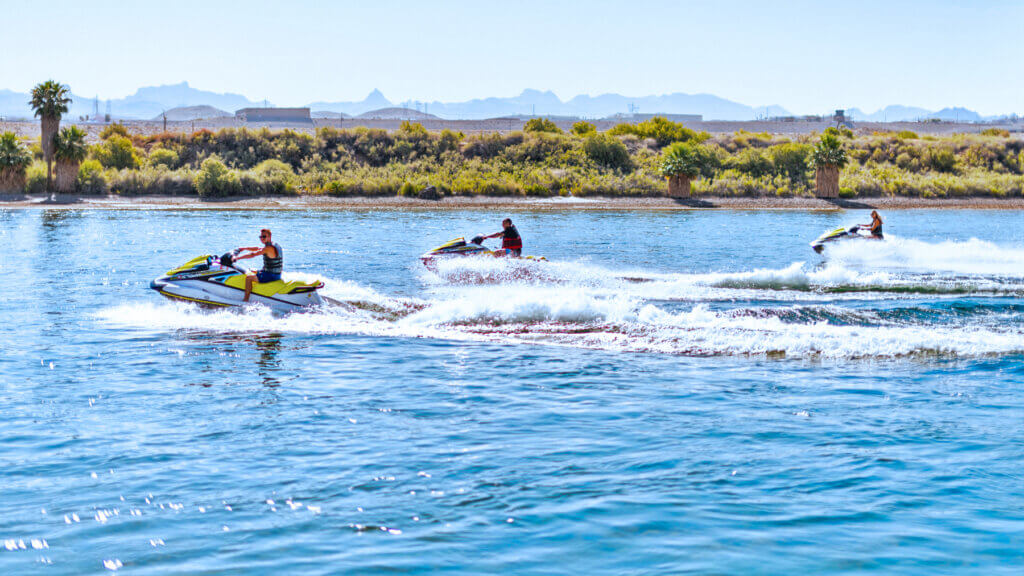 Mesquite
Oasis-like Mesquite marries the best of small-town life with resort getaway vibes, offering up five-star art, culture, eats, and kid-approved activities. Lounge by palm-studded pools, make fuzzy-humped friends at Camel Safari's Desert Ranch Experience (well-worth-it) advance reservations required), or rip around the Virgin Valley on a guided dune buggy tour. Want bonus points? Hike around Valley of Fire State Park along the way.
Get our complete, quick getaway guide to Mesquite.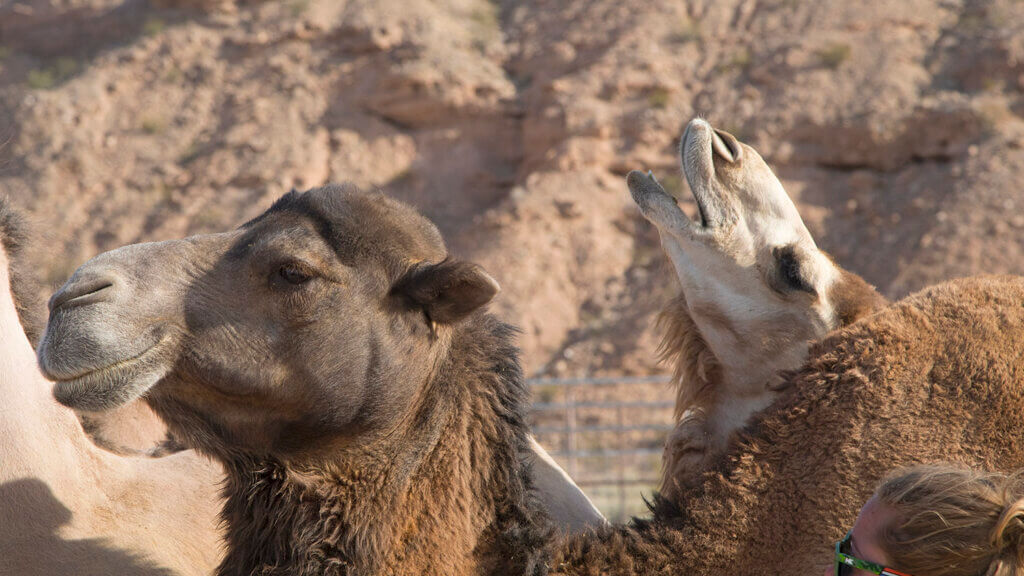 Death Valley Rally
The road trip formerly known as The Death Drive
For Las Vegans, living as close to Death Valley National Park as you do, this trip is a no-brainer. Swing through Spring Mountain Ranch State Park for some lovely strolls through this lush oasis, then head for Pahrump to grab a frozen custard at Seemore's, home of the "world's largest ice cream cone." In Amargosa Valley, embrace those #WeirdNevada vibes with a visit to Big Bovine, a 3,000 pound, six-foot tall cow, and be sure to swing through Ash Meadows to view one funky fish—the Devils Hole desert pupfish, the rarest on Earth.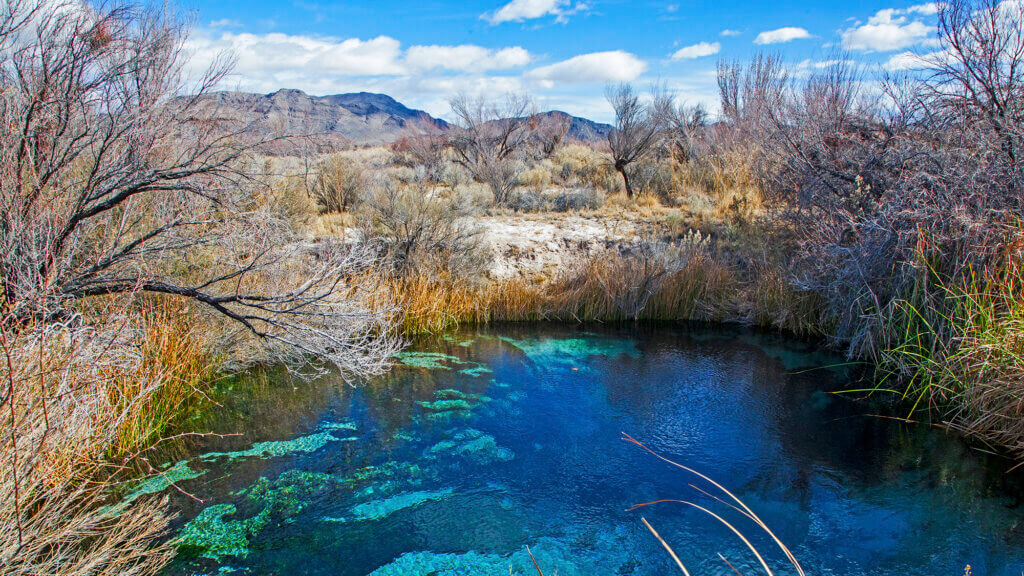 After your visit to Death Valley, take the long way home, driving up through Beatty to visit Rhyolite—the most photographed ghost town in Nevada—and the uber-oddball Goldwell Open Air Museum before dipping into Happy Burro Chili & Beer for some grub.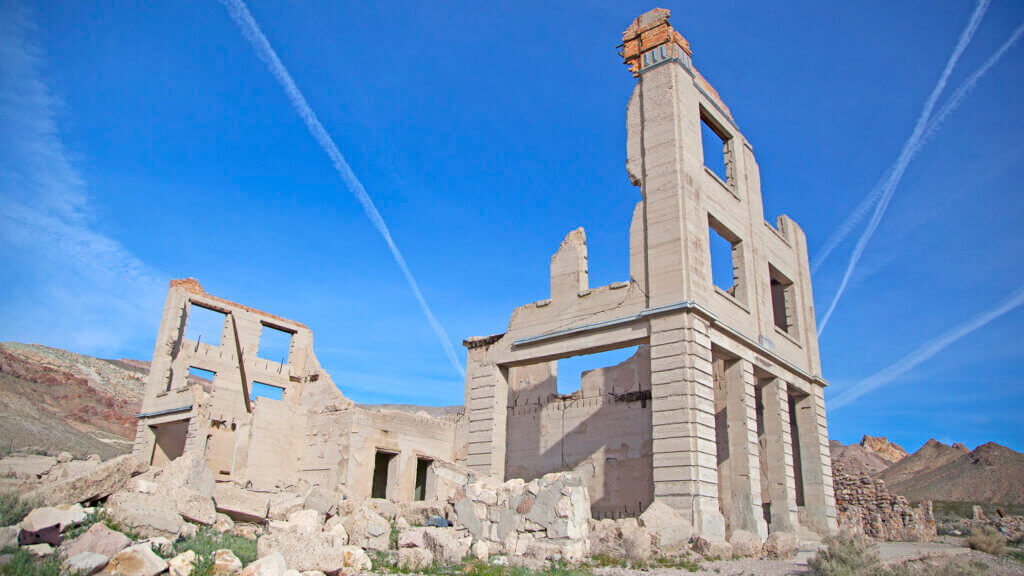 Free-Range Art Highway
You've probably made the ol' US-95 Vegas/Reno blast before. But this time, slow down and follow your curiosity to some "far out" fun. Named to represent the artists who felt inspired by the desert landscape, the Free-Range Art Highway provides plenty of weird and wondrous pull-the-car-over opportunities for all ages.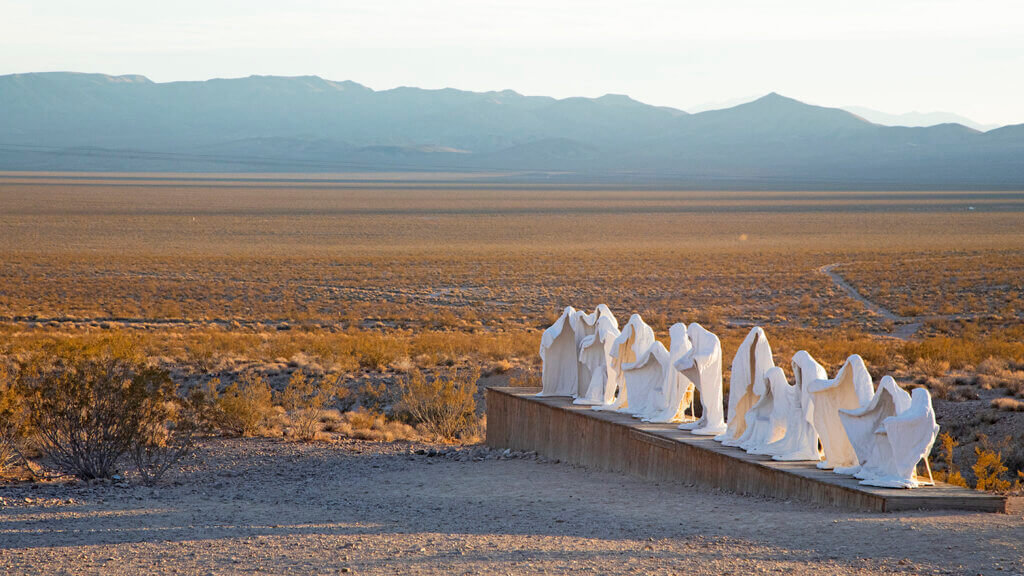 First stop: Goldwell Open Air Museum, an oh-so-Nevadan Death Valley desert art oasis, home to larger-than-life, eccentric sculptures overlooking Rhyolite, one of the nation's most photographed ghost towns. Back in Beatty, watch for wild donkeys en route to Happy Burro Chili & Beer (trust us; the name doesn't lie).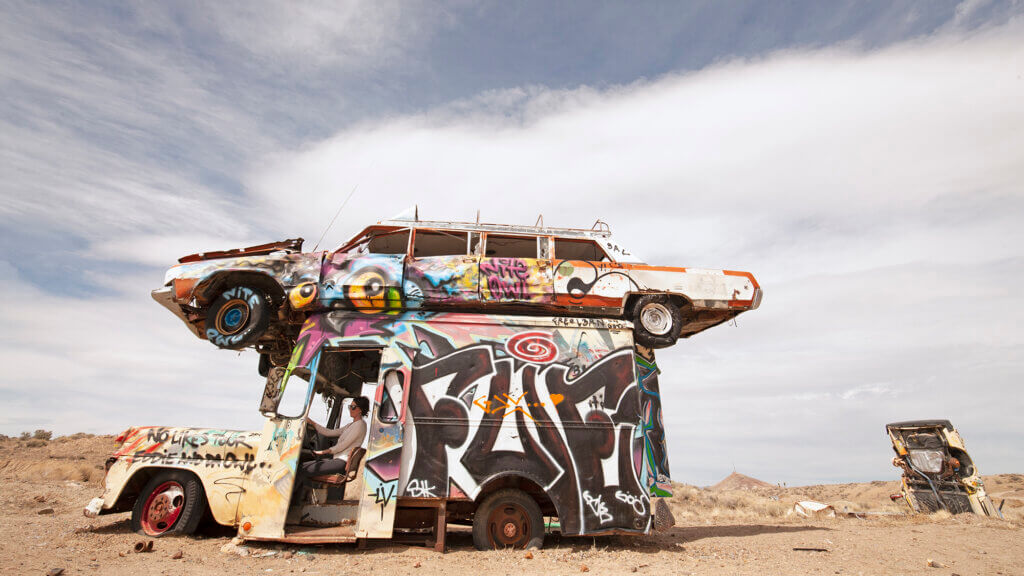 Then cruise onward to the "living ghost town" of Goldfield, site of the International Car Forest of the Last Church, a sprawling artistic junkyard of painted (and planted) vehicles, each an ever-changing canvas for spray paint-packing visitors. In town, relish Rocket Bob's Art Cars—a colorful fleet of automotive mosaics—along with a handful of haunted historic buildings and a couple classic sagebrush saloons.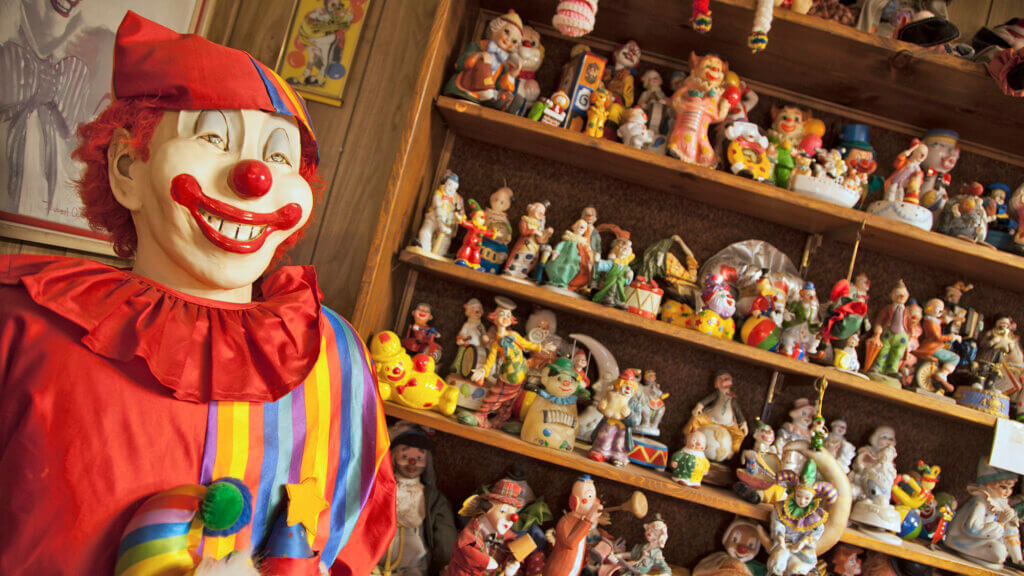 Let the scent of Tonopah Brewing Co.'s house-smoked everything tempt you off the road, dig in, and then let it settle at the period-chic Mizpah Hotel—or even the infamous Clown Motel. Come nightfall, fight that food coma long enough to step outside and gaze upward; the night sky views here are literally stellar.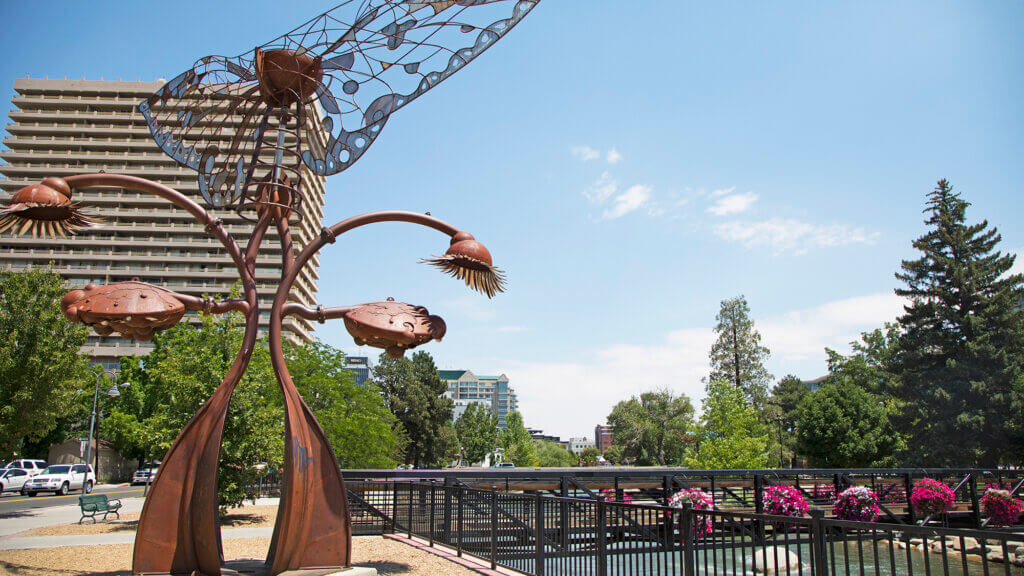 Further north, don't miss Fallon's Oats Park Art Center, then end up among Reno's hundreds of murals and Burning Man sculptures and, friend, you've officially answered the call of the weird.
Get our complete, quick getaway guide to Tonopah.
Northern Nevada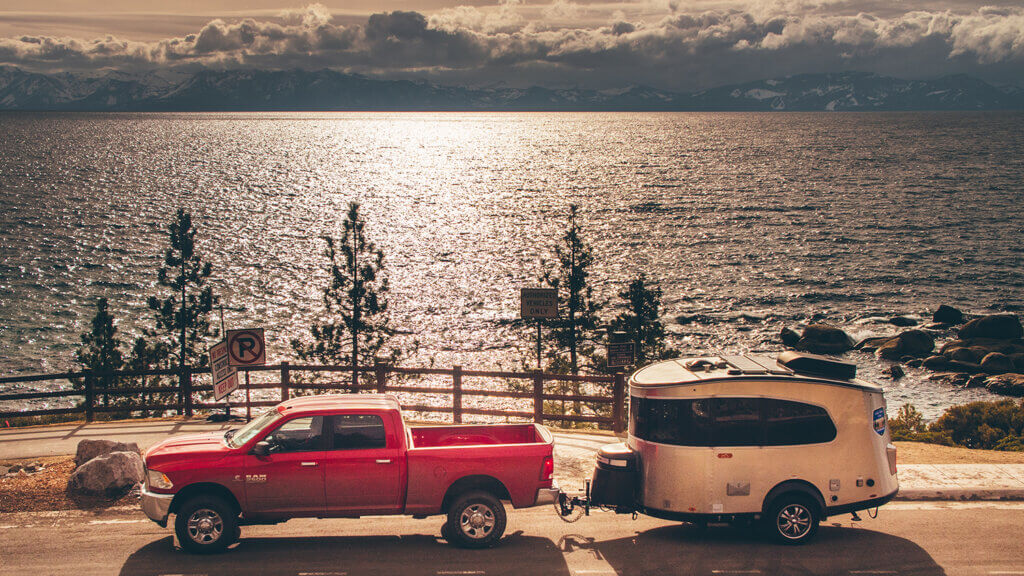 Lake Tahoe Loop
An easy getaway from Reno is the Lake Tahoe Loop, which weaves through the scenic, historic, activity-packed communities of Virginia City, Carson City, Carson Valley, and Lake Tahoe. Trust us; there's a LOT more to do here than you might have thought. And it's all just right down the road…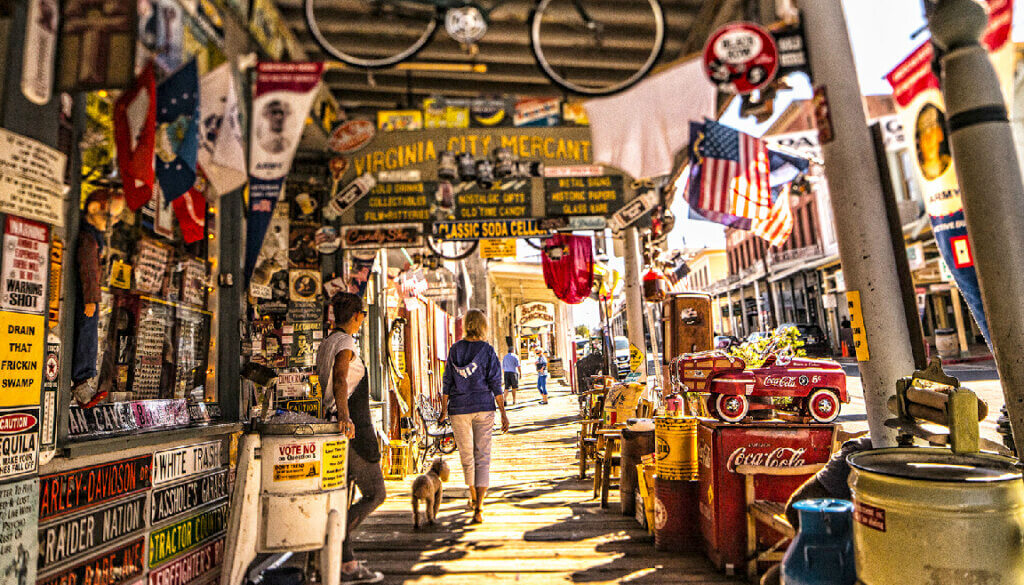 Virginia City
In Virginia City, younger kids will get a thrill on the V&T Railway, while the teens can get their own kind of thrill on a haunted ghost tour with Bats in the Belfry. The whole fam bam will enjoy walking the historic boardwalk, dipping into various antique shops and the mother of all candy stores, Barrels O Candy, while learning the hands-on history of this significant town at The Way It Was Museum, taking a mine tour, or visiting Piper's Opera House or the Courthouse Slammer and County Museum to see how it was done back then.
Get our complete, quick getaway guide to Virginia City.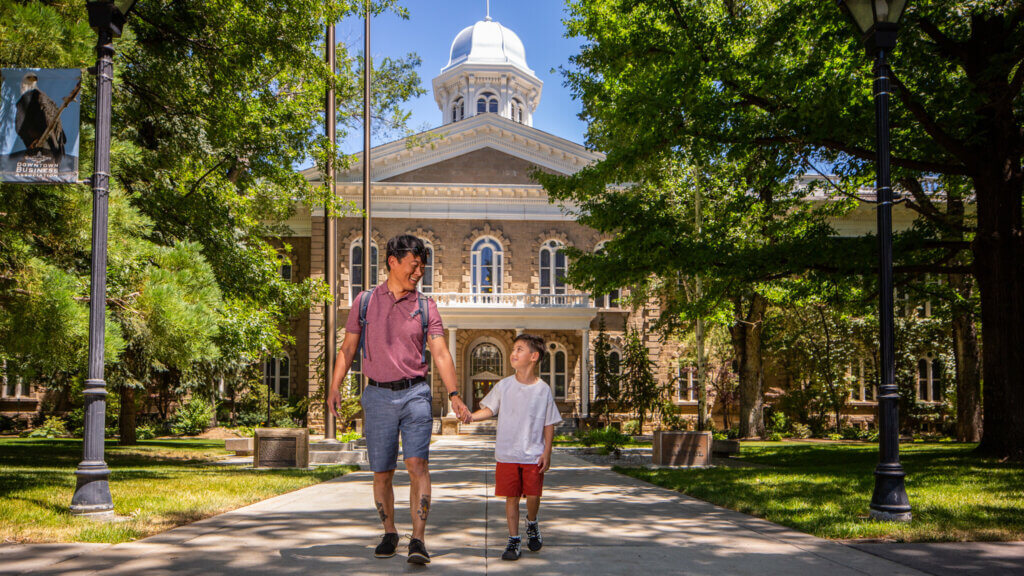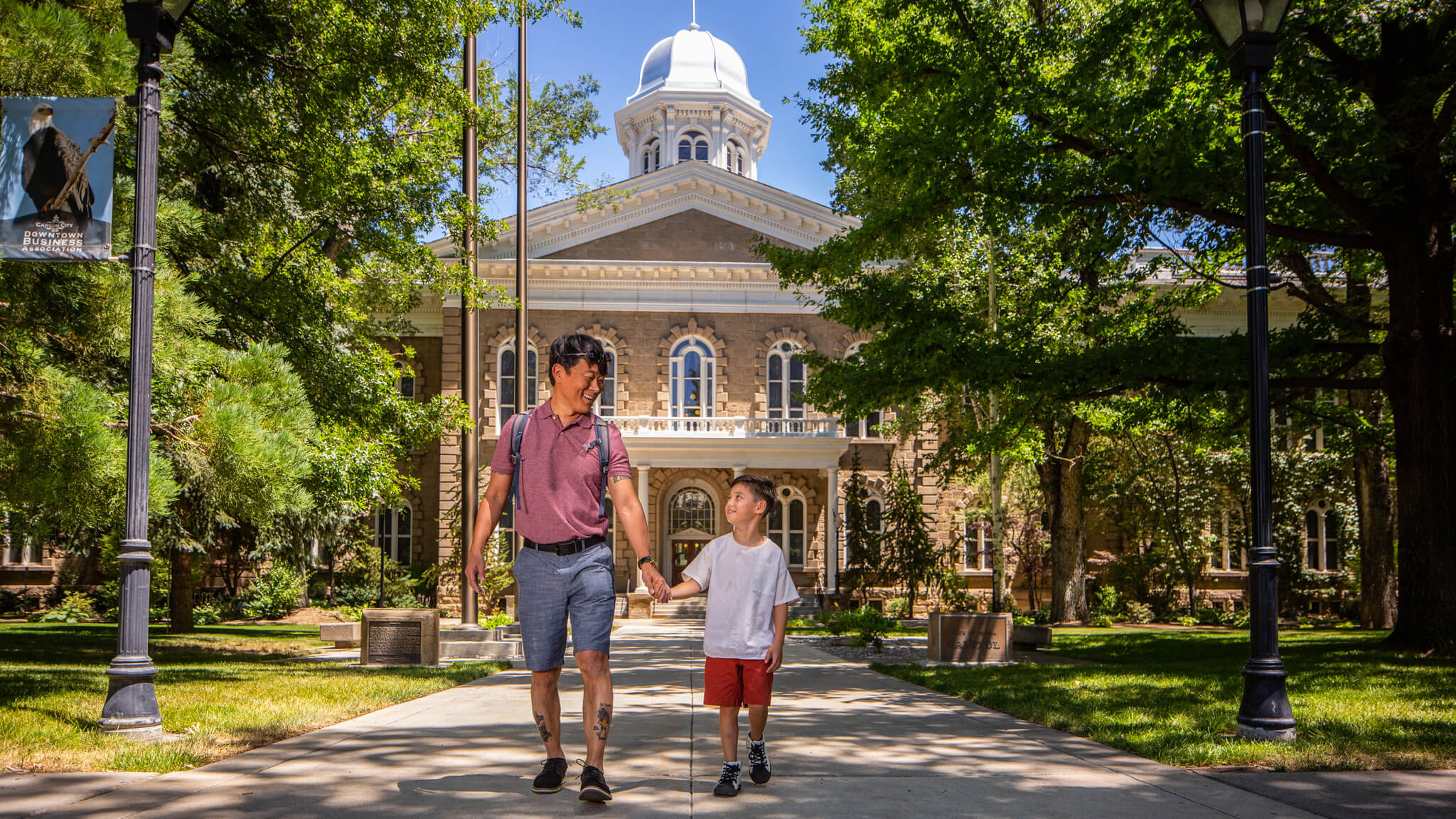 Carson City & Carson Valley
Head south to the capital, Carson City, and hit up the Nevada State Museum and Nevada Capitol Complex before piling on a Carson City Railbike for a pedal-powered tour of the area. Further south in Carson Valley, go back in time to the state's oldest non-Native settlement, Genoa, and stroll around Mormon Station State Historic Park before soaking in the view of the Sierra Nevada at David Walley's hot springs.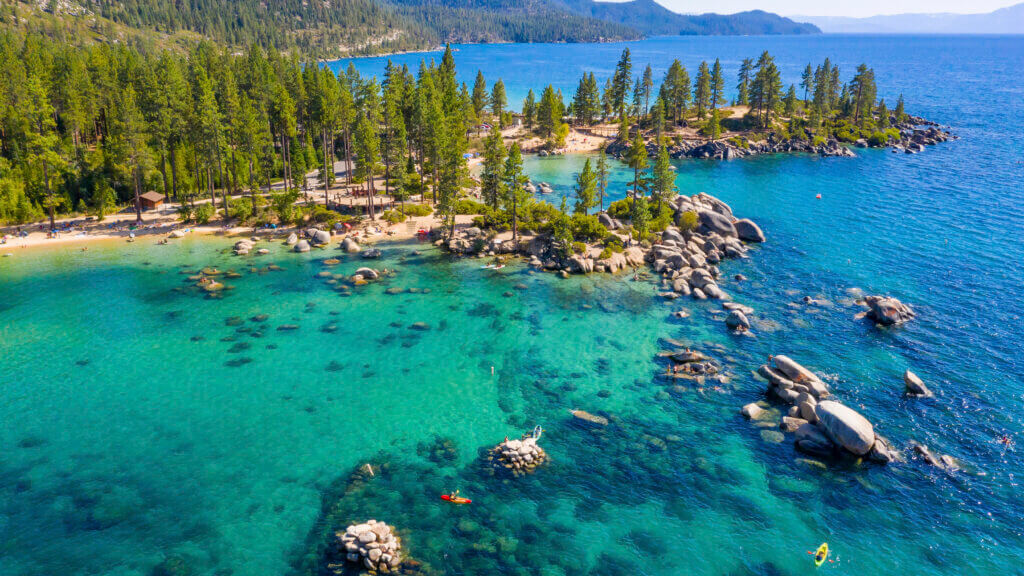 Lake Tahoe
Chances are Lake Tahoe has been one of your frequent summertime hot spots, but have you ever explored Big Blue the months between summer and winter? Learn more about the science of the lake at U.C. Davis Science Center, hike up to Monkey Rock, walk or bike the new Tahoe East Shore Trail, or kayak the crystal-clear waters with aptly named Clearly Tahoe.
There are lots of great places to stay in any of these towns. Cobb Mansion B&B and Edith Palmer's Country Inn & Cider House are charming options in Virginia City. In Carson City, head downtown to the Hardman House, or for full modern amenities (including swimming pools), bed down at the Holiday Inn Express or Hampton Inn. In Carson Valley, the Historian Inn or Carson Valley Inn are great spots. Or head further north to Genoa and bed at the White House Inn for a cozy B&B in the heart of Nevada's oldest town.
Get our complete, quick getaway guides to Carson City and Carson Valley.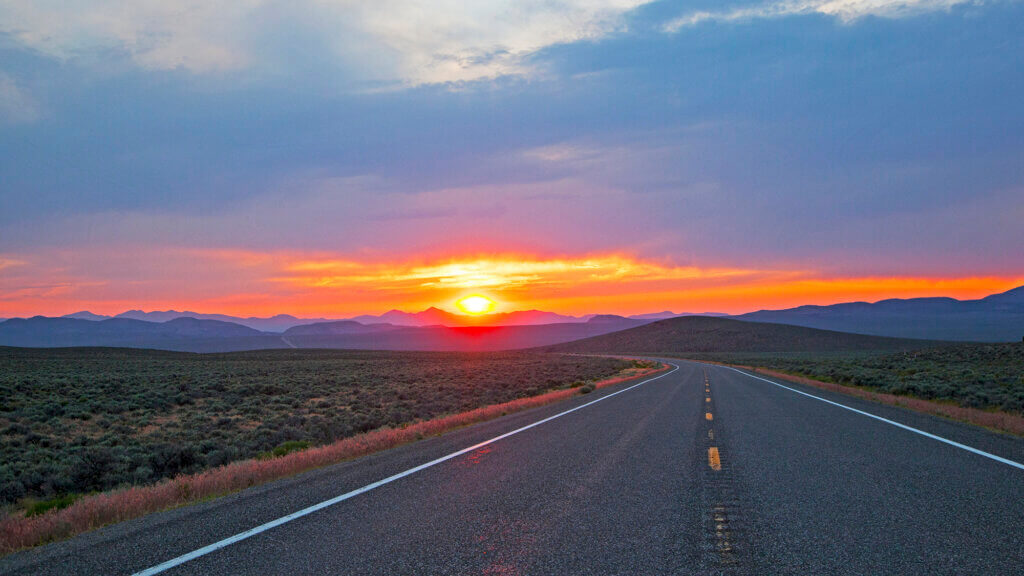 The Loneliest Road in America
For a truly classic Nevada road trip, the Loneliest Road is where it's at. The stretch of highway that traverses central Nevada promises plenty more than peace and quiet. You may have heard about the 1986 article in LIFE magazine that dubbed U.S. Route 50 the Loneliest Road in America, on account of its complete lack of attractions, warning drivers not to risk traveling it without proper "survival skills."
Travel Nevada Pro Tip
The whole family will enjoy participating in the Hwy 50 Survival Guide, collecting stamps in each town to prove you've got the chops to survive and thrive along this stretch of highway. Pick yours up at any visitor center along the way, or
order one in advance
.
As it happens, this classic – and beautiful – Nevada road trip is also your link to unsurpassed recreational opportunities, including hiking, biking, camping, RV-ing, off-roading, motorcycling, sandboarding, birdwatching, stargazing, and even hot springing. You'll also find a handful of welcoming, just-close-enough towns, from farm-fresh Fallon to western history-packed Austin, Eureka, and Ely along the way.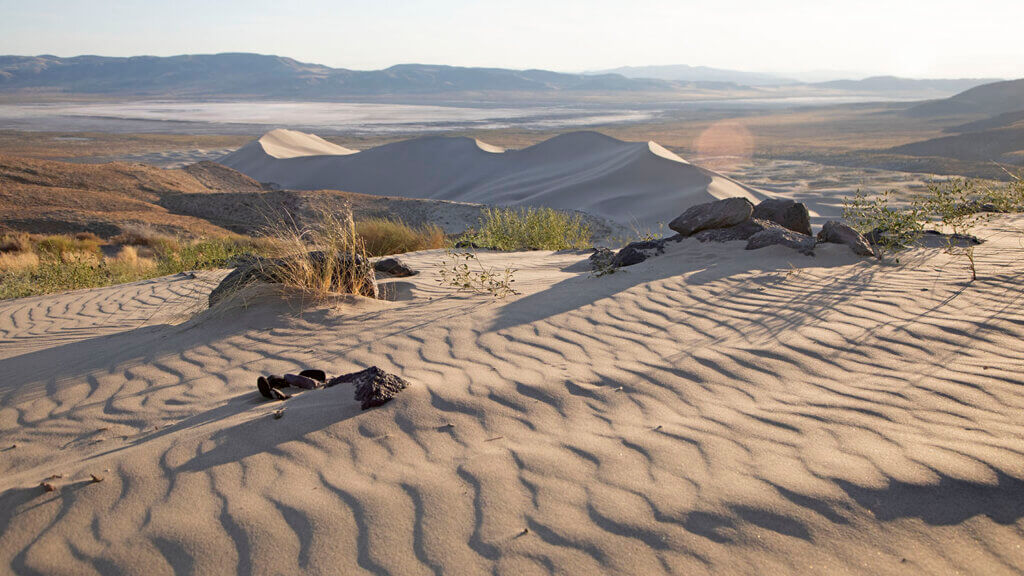 Fallon
An hour and change east of Reno "The Oasis of Nevada" awaits. In town, feast on farm-to-fork food and ogle art at Oats Park Art Center, then scope out ancient petroglyphs at Grimes Point and hike, board, or off-road a whistling, 900-foot-tall dune at Sand Mountain Recreation Area.
Get our complete, quick getaway guide to Fallon.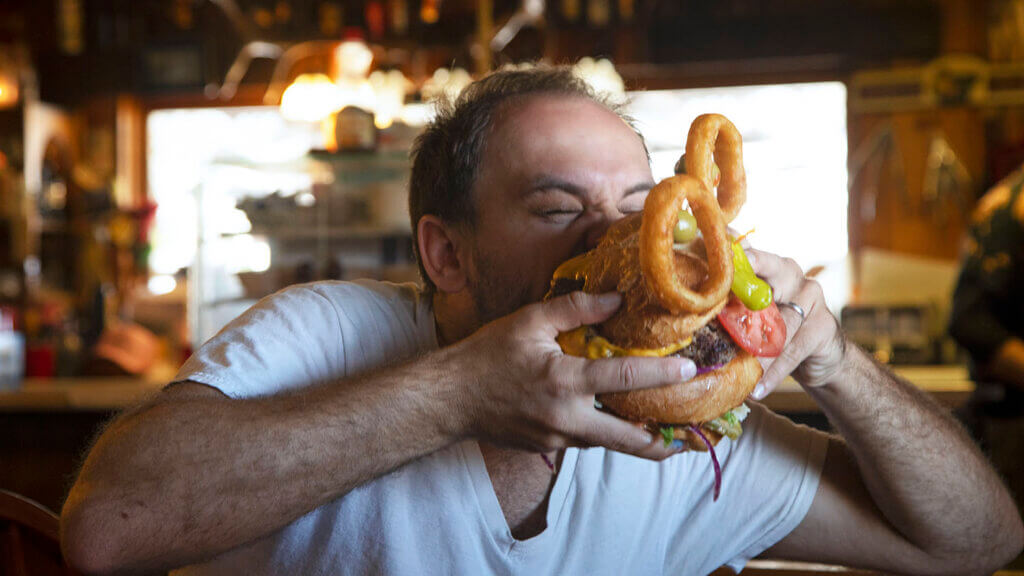 Middlegate Station
Just outside of Fallon, pull up to Middlegate, an old Pony Express pit stop, and try to conquer their four-pound Monster Burger. Succeed, and you've earned yourself some serious bragging rights… and a shirt. Don't forget to tack a dollar bill to the ceiling, like those who came before you.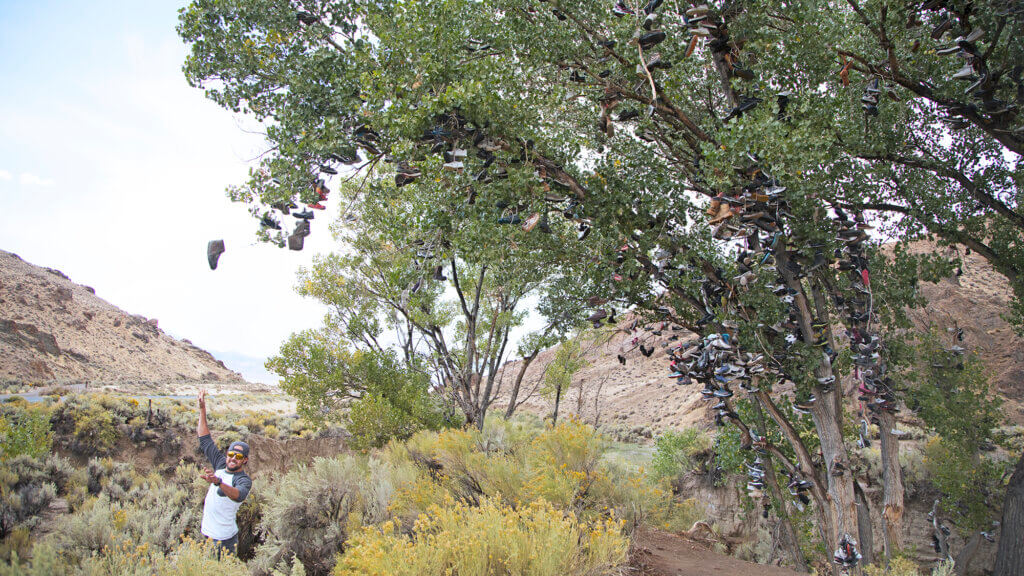 A couple miles east of Middlegate Station stands a sole-ful landmark to local lore. In a tradition allegedly begun by quarrelsome lovers, this old tree bears no fruit, but instead plenty of pairs of shoes slung into the branches from passers by. Bring some tore-up pairs of old now-too-small kicks and add to the allure!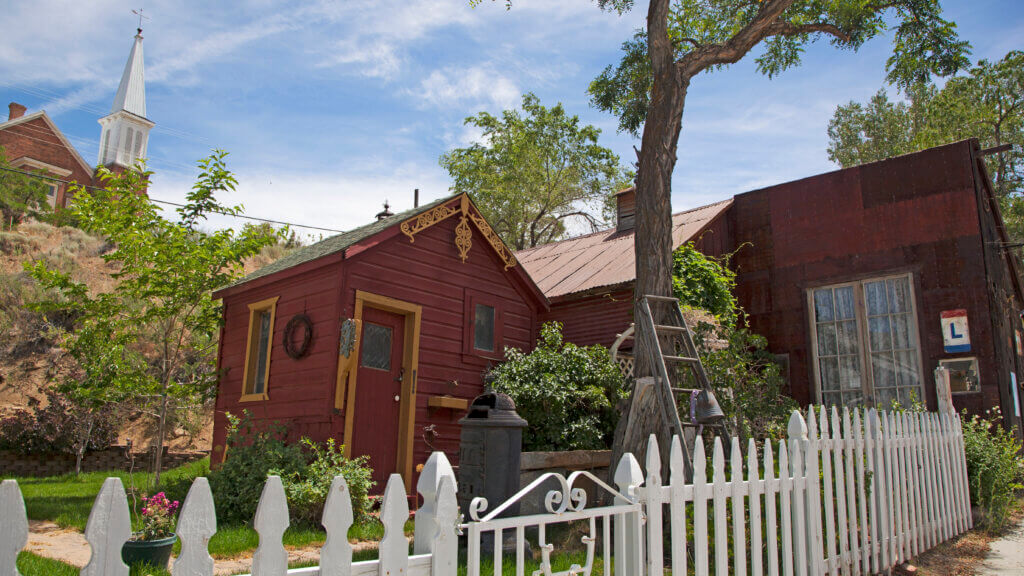 Austin
On your way into town, watch for a tall stone building up on the mountainside. Towering over the Reese River Valley at Austin's western edge, Stokes Castle was modeled after a real Roman tower for a well-heeled mining magnate in the late 1890s. Today it stands as a solid monument to the town's mining-era grandeur. Embark on a self-guided walking tour of "The City of Churches" and hunt for gems at the Little Blue Bird Turquoise shop.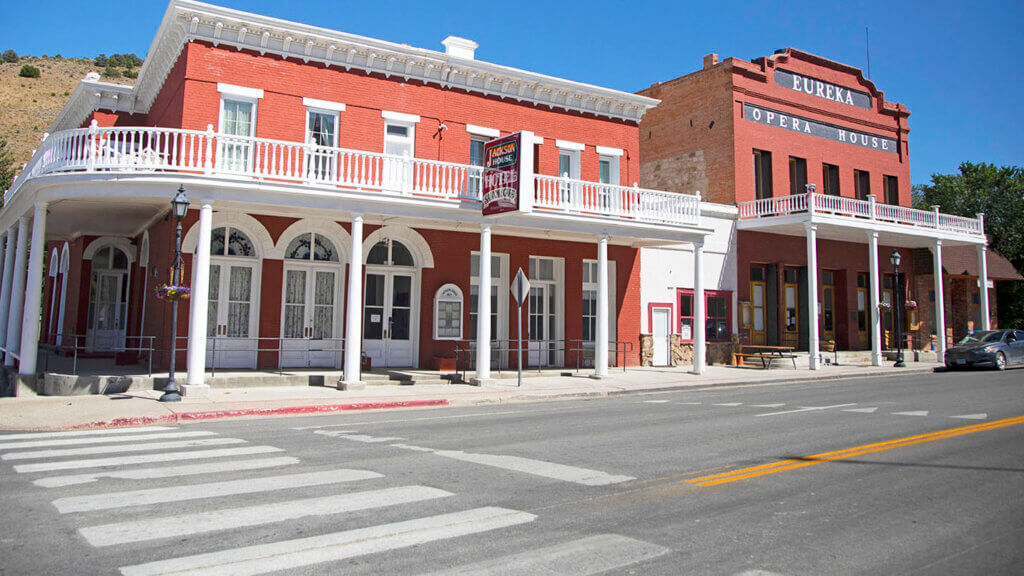 Eureka
Class up your car ride with a visit to the Eureka Opera House. Built in 1880, this architectural gem brought some Victorian high culture to the Wild West town of Eureka in the form of dances, operas, and masquerade balls. Explore the building for free or get lucky and catch a live performance.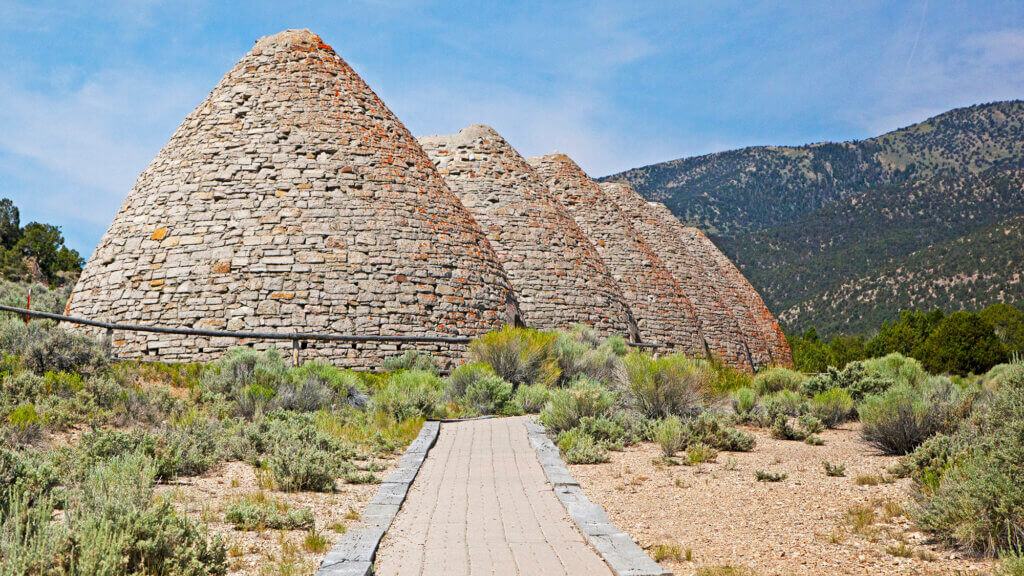 Ely
In Ely, chug over and see what 1907 looked like at the frozen-in-time East Ely Railroad Depot Museum, gateway to the vast grounds of the Nevada Northern Railway, where you can catch a ride—or even be the engineer—on a working steam locomotive. Be sure to look for famous Dirt the Cat. Other family fun activities in this area include "mining" for loose gems at Garnet Hill, hunting art murals around town (audio tour and all), and exploring both Ward Charcoal Ovens and Cave Lake State Park.
Get our complete, quick getaway guide to Ely.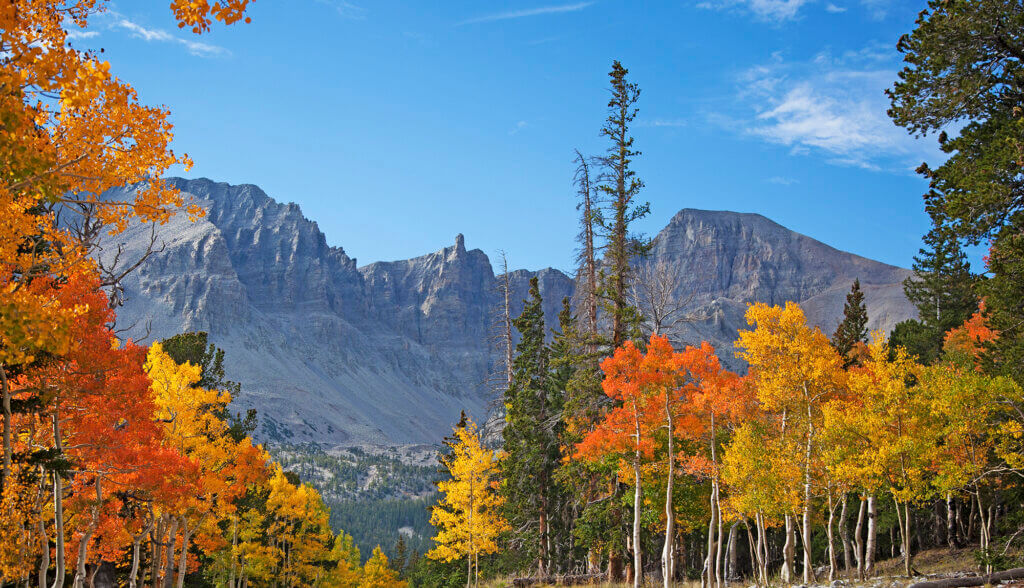 Great Basin National Park
Cap it all off with a visit to Great Basin National Park, where sky-scraping peaks and 5,000-year-old trees beckon those who like their national parks served without a side of elbows at their vista points. (Younger kiddos won't want to miss the Jr. Ranger Program and earn some of that national park cred.)
Travel Nevada Pro Tip
Bonus points? Easy detours carry you to pictograph-plastered caves, petroglyph-etched rocks, and plenty of ghost town goodness, including at Berlin-Ichthyosaur State Park.
Get Inspired
Related Stories