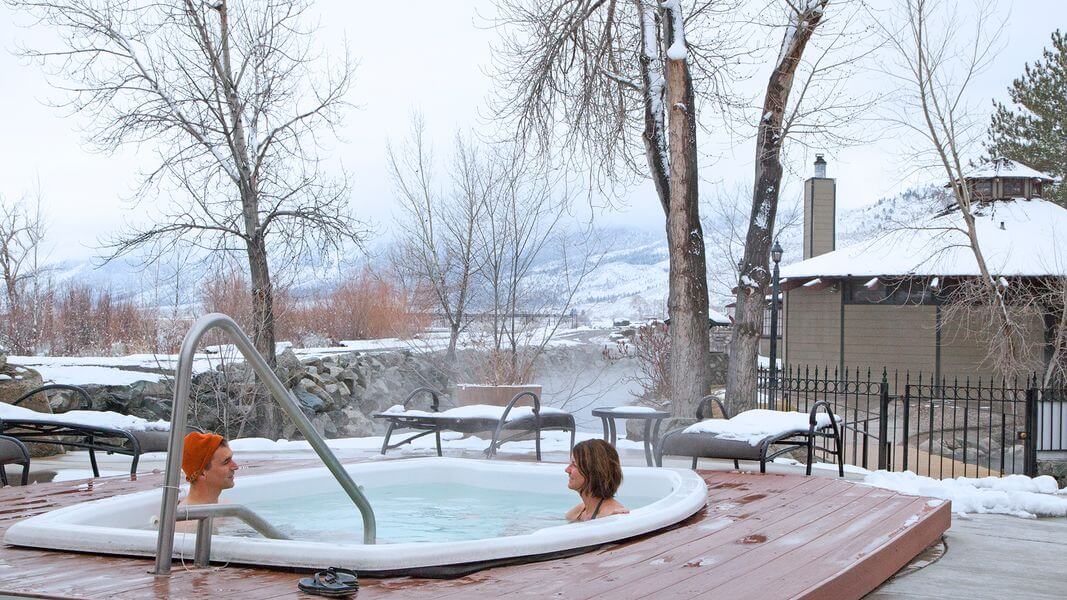 Score a Soak—and History Lesson—at 5 Nevada Resort Hot Springs
NOTE: Due to the ongoing global pandemic, Caliente Hot Springs Motel and Bailey's Hot Springs are both temporarily closed, but keep them warm on your radar for future soak sessions. In the meantime, always call hot springs resorts ahead of your visit to learn what experiences are being offered in accord with any current Nevada public health mandates. Happy soaking!
David Walley's Resort – Genoa
So, the whole idea of natural hot springs has piqued your interest and you're down for some good, solid relaxation, but the idea of hunting down a muddy-bottomed pool in the middle of a wide-open basin is sounding a bit too ambitious? I have good news for you: when it comes to David Walley's Resort, you can have your cake and eat it too. Perhaps the most stand-out quality about Nevada hot springs is the fact that most are located in a secluded, rural area, where the rushed pace of the daily grind slows to an alluring roll. David Walley's Resort stands out because it holds the best of both worlds; you're close to the creature comforts of the spectacularly scenic Carson Valley, but are only about a mile from Genoa, Nevada's Oldest Establishment. Boom. Vibe dialed.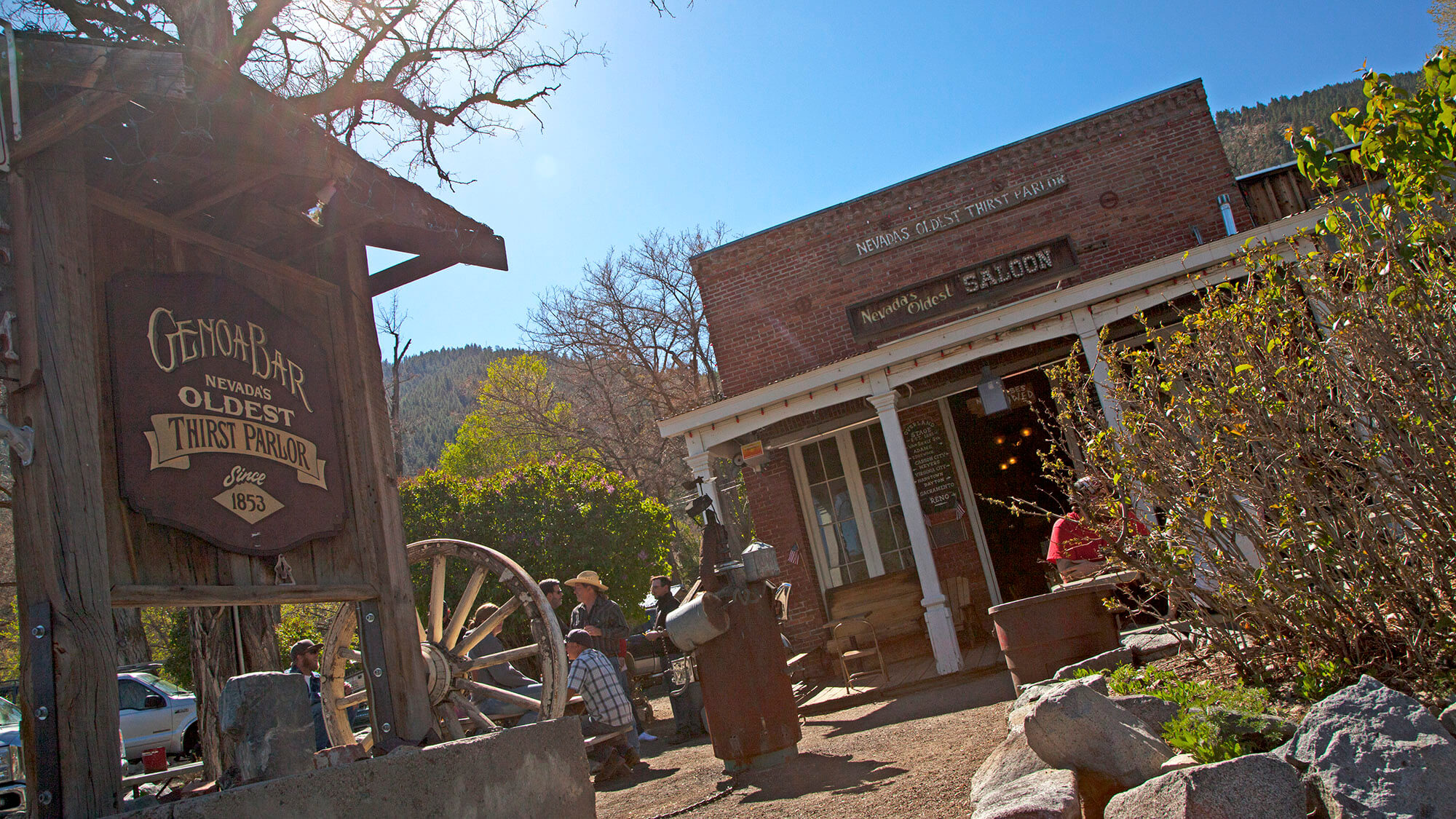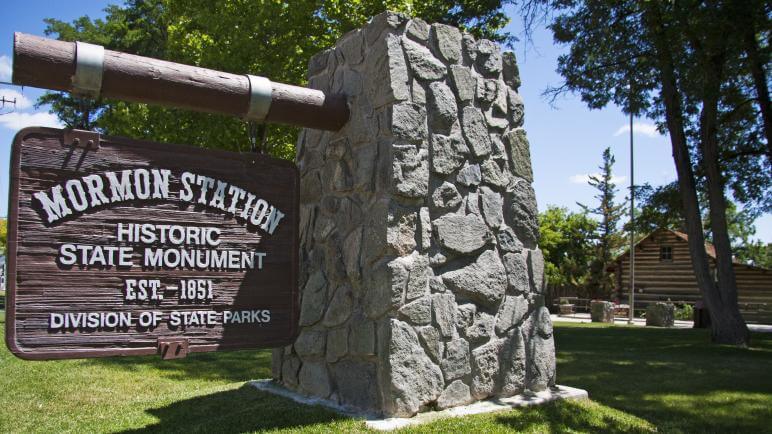 When easing into this experience, there's no other way to go about it other than embracing the history of the area. And trust, me, there is aplenty. Hit up one of the many antique shops in Genoa, tour Mormon Station State Park, and definitely grab a signature Bloody Mary at the Genoa Thirst Parlor—Nevada's Oldest Saloon. As you make your way toward Walley's, the history manages to run deeper and deeper, if you can imagine that. Before it became an official resort, this site was a real deal exchange station on the esteemed Pony Express Route, where riders would switch horses, grab a meal, and even take a restorative soak.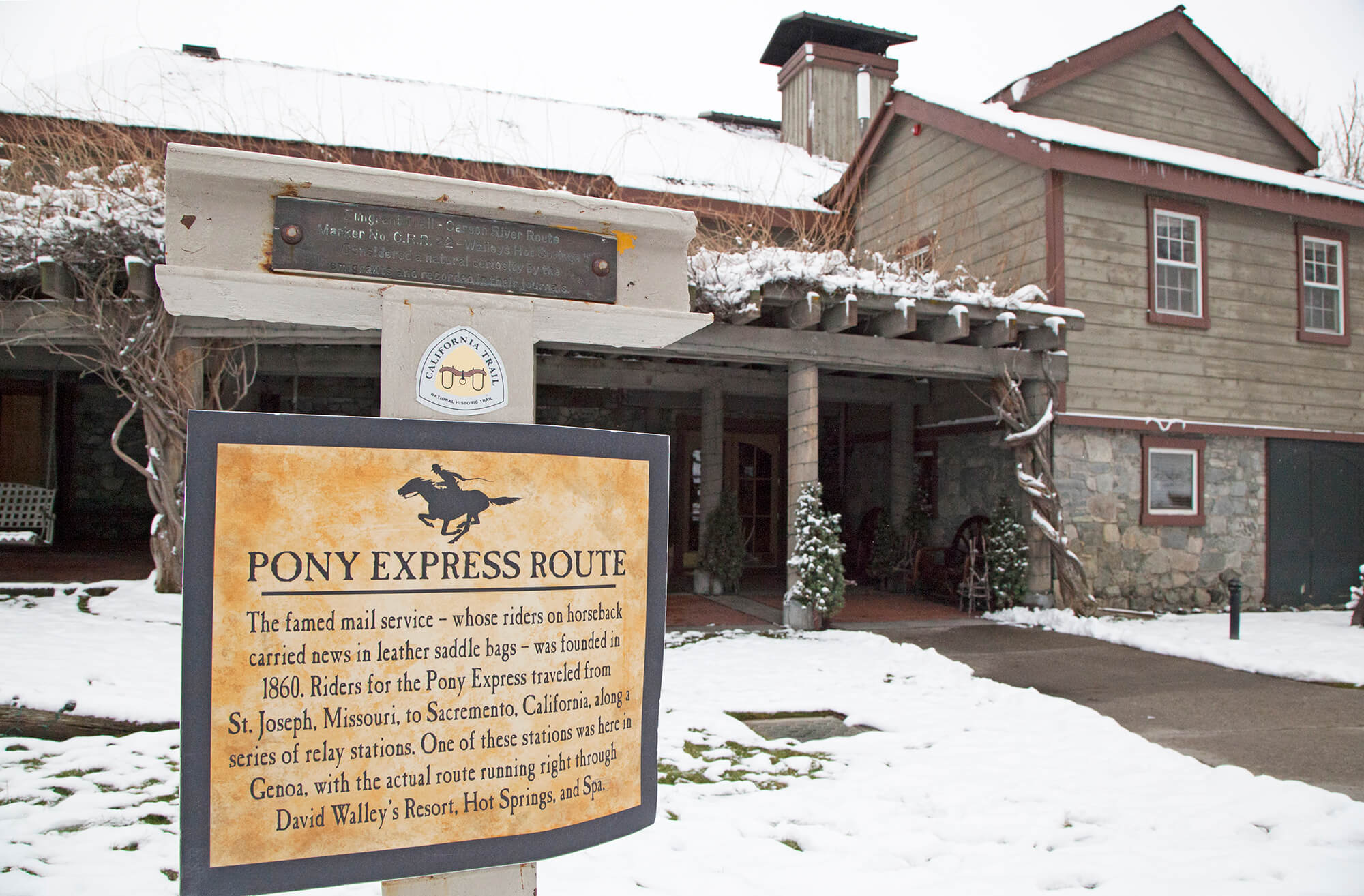 Before Nevada was even a state, a man by the name of David Walley came west to strike it rich. Instead of gold, he cashed in on water, and by 1862 instituted a luxury resort that drew clientele almost as unique as the setting, ranging from celebrities (including Mark Twain) to weary miners. Priding itself in offering opulent lodging, decadent dining and elixir-esque water, David Walley's became an instant success, continuing to impress all who visit today.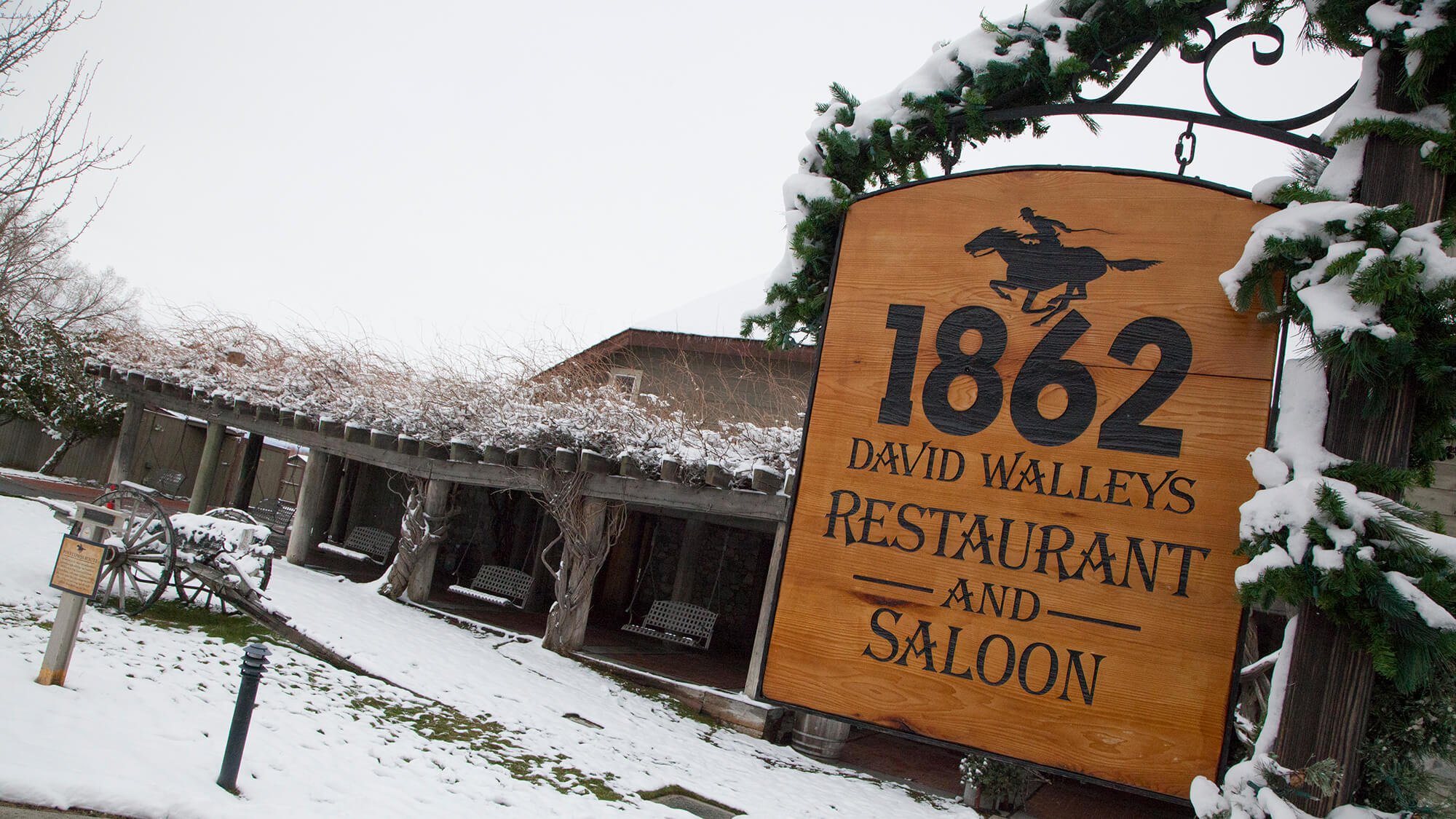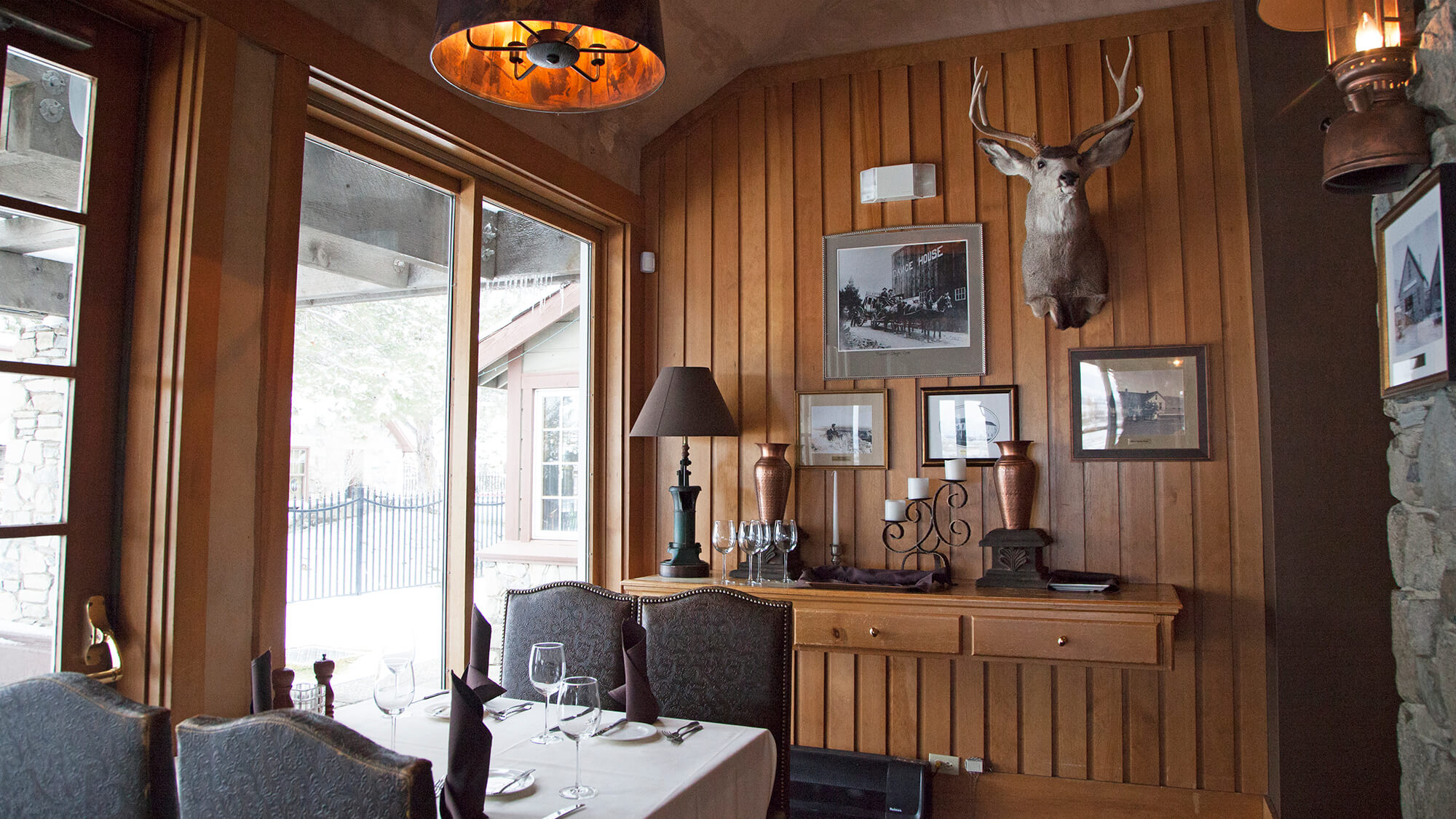 Unlike any other natural hot springs or hot springs resort in Nevada, David Walley's offers a robust relaxation experience. Priding themselves in pairing heath, beauty, and vitality, the resort delights hot water zealots and the most experienced spa aficionados with a large heated swimming pool and five separate mineral whirlpools ranging from 98 to 105 degrees. The water itself will assuredly have you feeling like you've just uncovered the fountain of youth, but your experience here will really go zero to a hundred with a delightful steak dinner and glass of bubbly at the on-site 1862 Restaurant & Saloon, and lavish rooming accommodations in which to sleep it all off. That right there is the stuff hot springs heaven is made of.
---
Steamboat Hot Springs Healing Center & Spa – Reno
Does it get better than basking in therapeutic "volcanic waters" and getting massaged into submission at the oldest hot spring in the state of Nevada? Nah, we didn't think so either. Cozied up on the foothills of south Reno's Truckee Meadows, buckle up and get ready for a hot spring so sensational, it's been seducing soakers since 1857. Steamboat Hot Springs is a no-brainer favorite for locals and visitors alike, but like all the best kept secrets, this place is almost hidden in plain sight. As you follow the Lake Tahoe Loop, keep an eye out for billowing steam rolling below the road, almost as if an actual Steamboat was forging ahead. Think that connection is just something we made up? Oh how we wish we could lay claim to that caliber of creativity, but that parallel belongs to none other than, again, Mark Twain and his unmistakable quip, baby. (Yep, the guy really liked his Nevada hot springs…)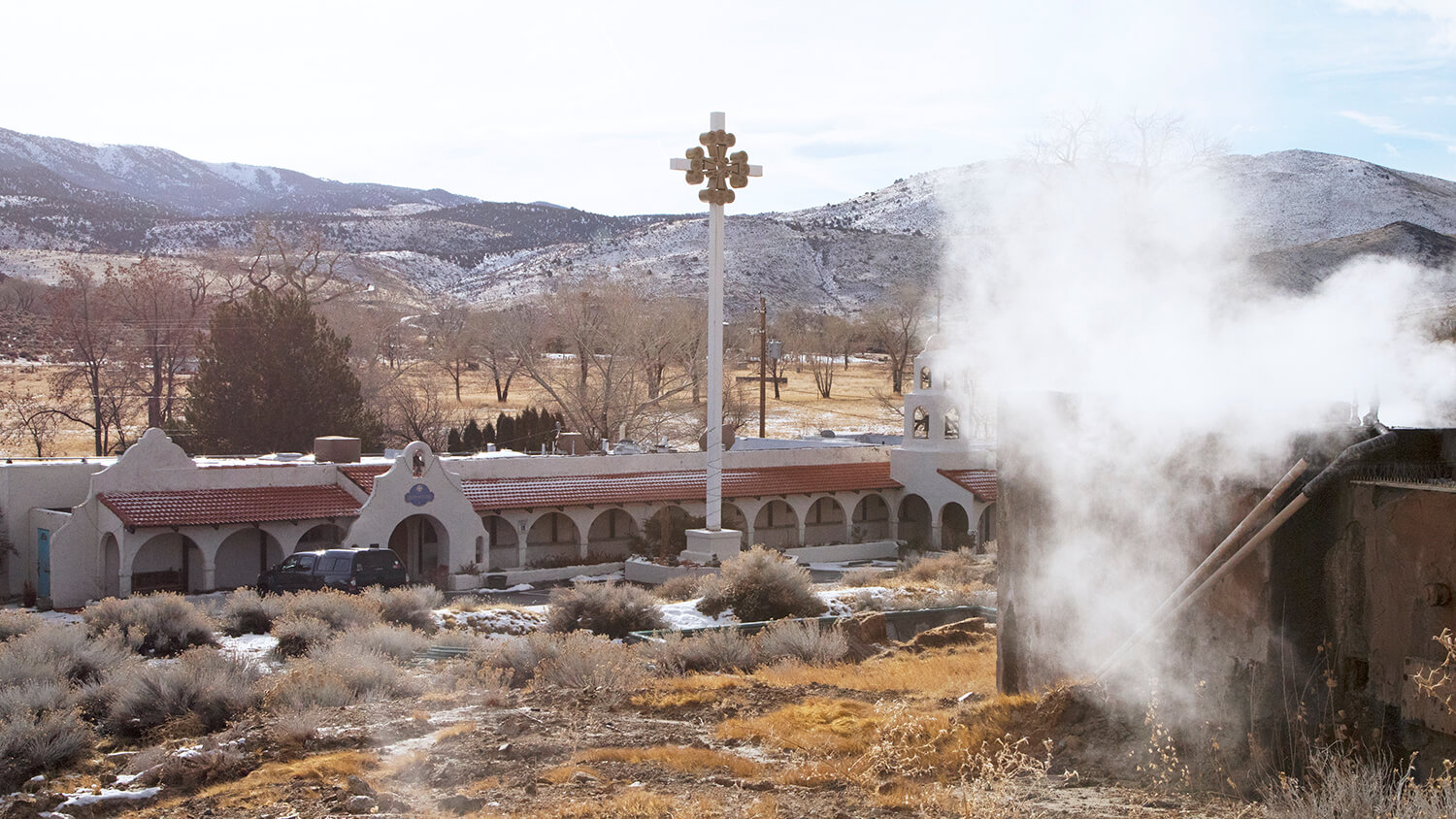 You see, these hot springs were first used by American Indians loooong before European Explorers came into the game, followed by early pioneers that flocked to the region. The reason? The largest recorded silver strike in history, just up the hill from these sprangs. This massive silver discovery—The Comstock Lode—created one of the most legendary boomtowns in the West, drawing the most qualified miners in the nation, famed ladies of the night, bougie businessmen, and Sam Clemens, who would become Mark Twain during his stint in Virginia City. During an 1863 visit to Steamboat, Twain proclaimed, "From one spring the boiling water is ejected a foot or more by the infernal force at work below, and in the vicinity of them one can hear a constant rumbling and surging, somewhat resembling the noises peculiar to a steamboat in motion." And there you have it—Twain himself is responsible for naming the dang place.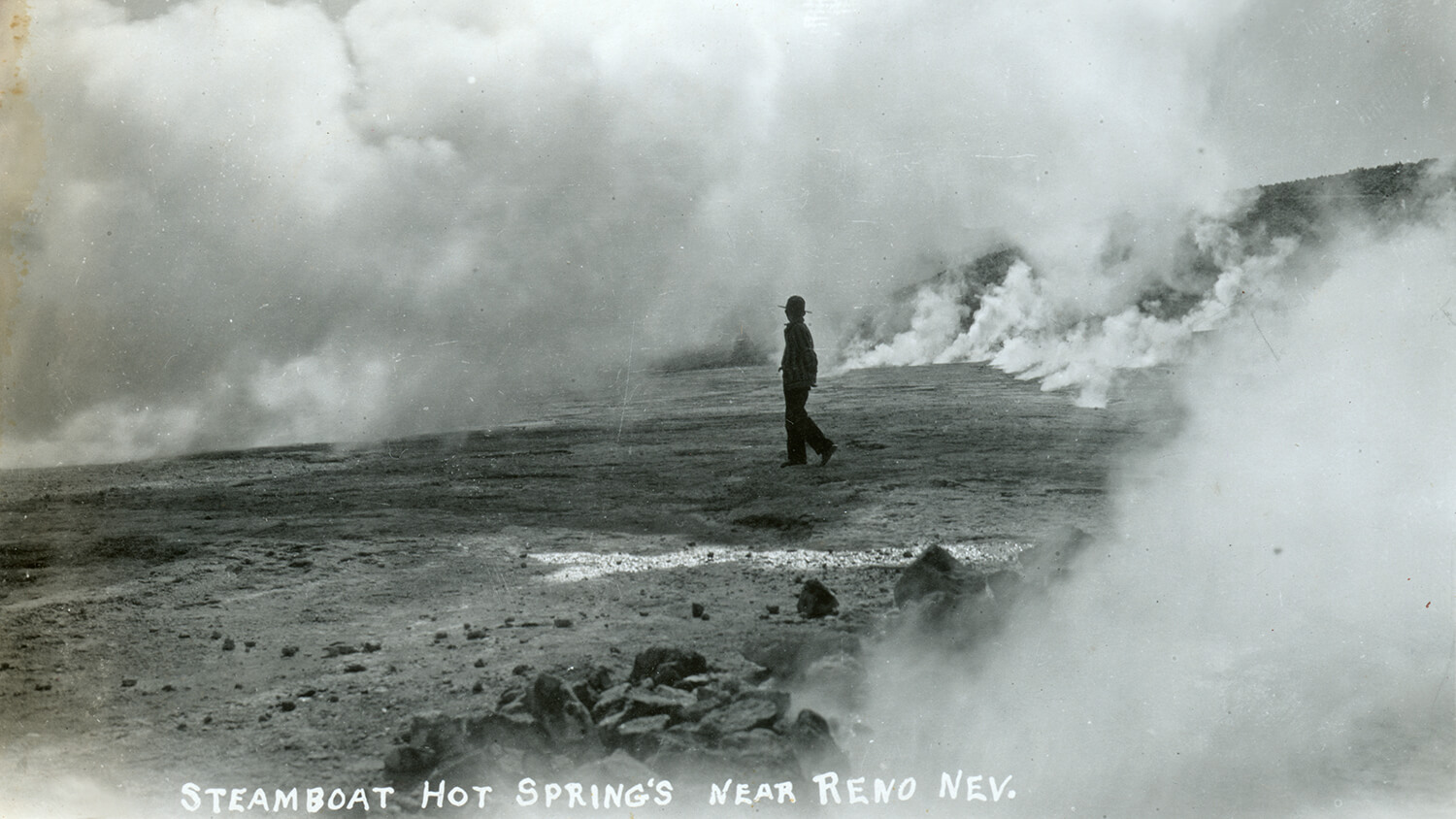 With the upper crust living a day's wagon adventure away, you can betcha booty they flocked to this otherworldly hot spring, guys. With a sight this sexy, how could you resist? But get ready to wrap your mind around this: the area surrounding Steamboat once had the third largest natural geyser in the nation. And you know what? People have been flocking to this wondrous place ever since. Throughout its lifetime, Steamboat has been home to three different hospitals, and received a boatload of funds by the International Church of Christ in the 1980s, which might explain the enormous cross out front. Although it's no longer a hospital, one founding principle has remained: a totally fabulous mission of healing and wellness. This ain't your average day spa, we can promise you that.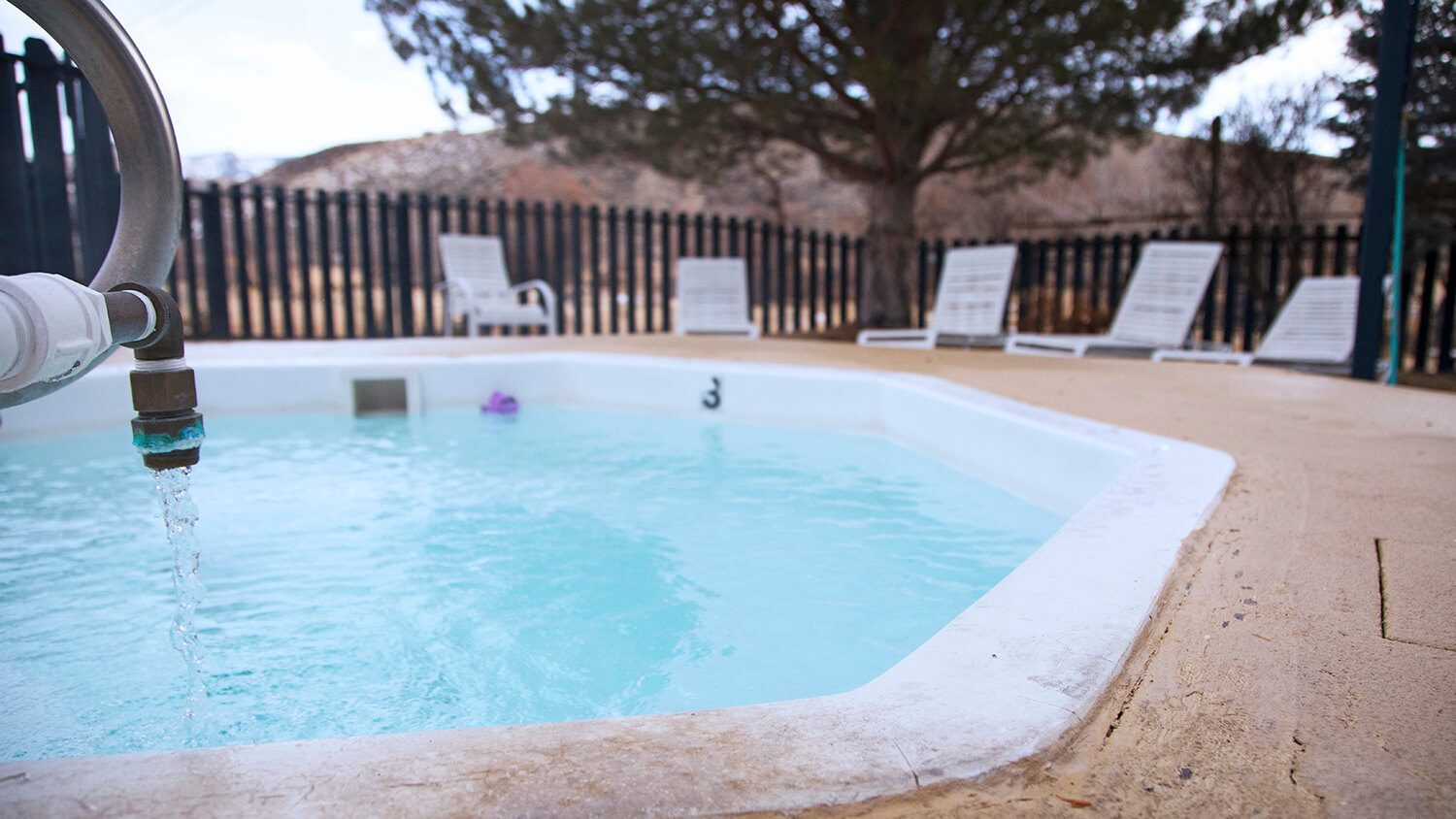 When you hit up Steamboat today, get down to business with a 30 or 60-minute soak in private Chakra-fied rooms. Yessiree, you read right: each of the seven private tub rooms are outfitted with seriously gorgeous stained glass, designed to target each of the seven chakras and their vortex of energies. Dial in your spirituality, intuition, communiciation, love, power, sexuality or survival energies right quick, or opt for some not so common services—like Ayurveda and Sonatherapy. Or, prove your plunging prowess and buck up and join the Tub Club. There must be something in the water at Steamboat, baby, and if this is wrong, we don't want to be right.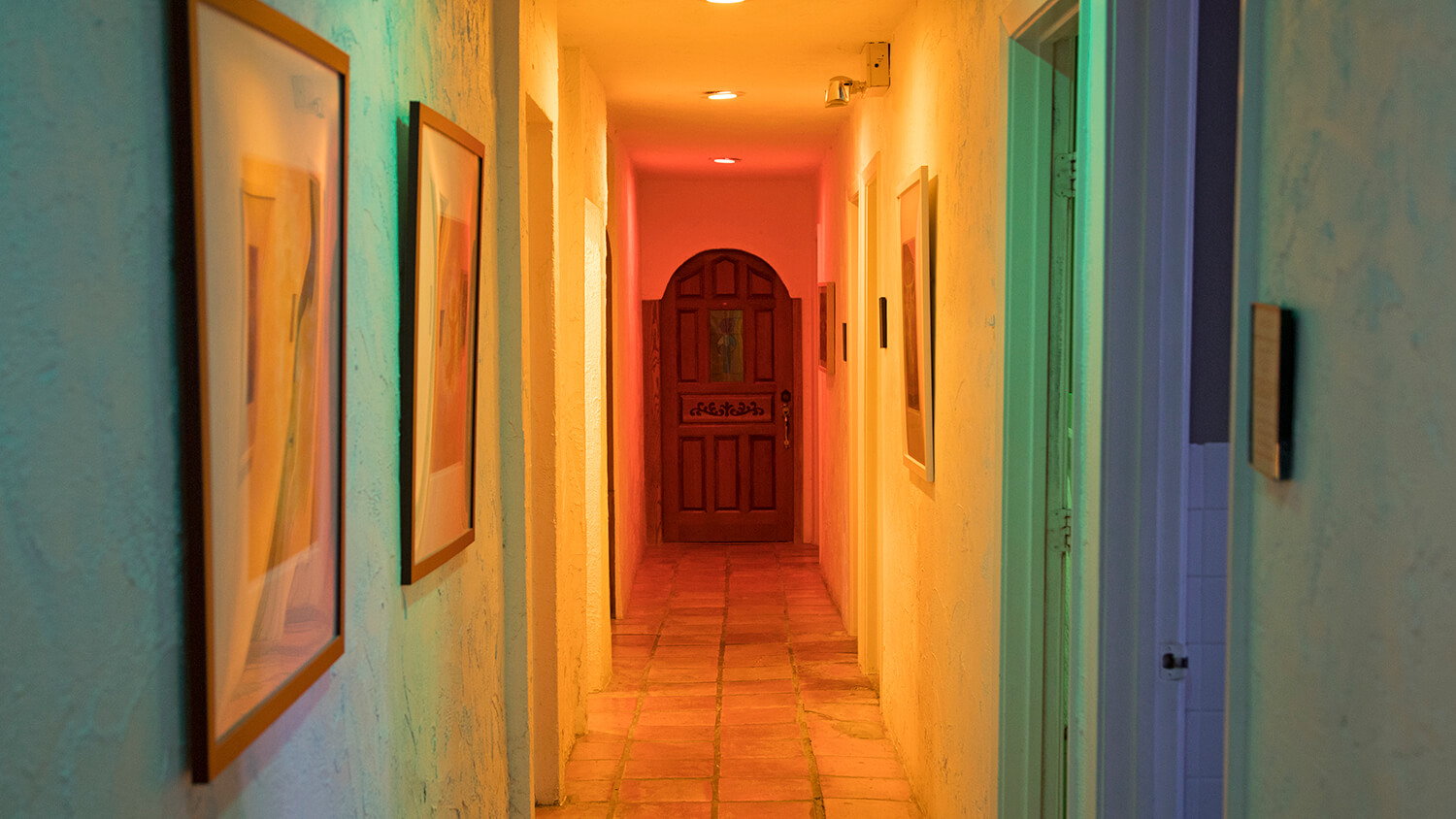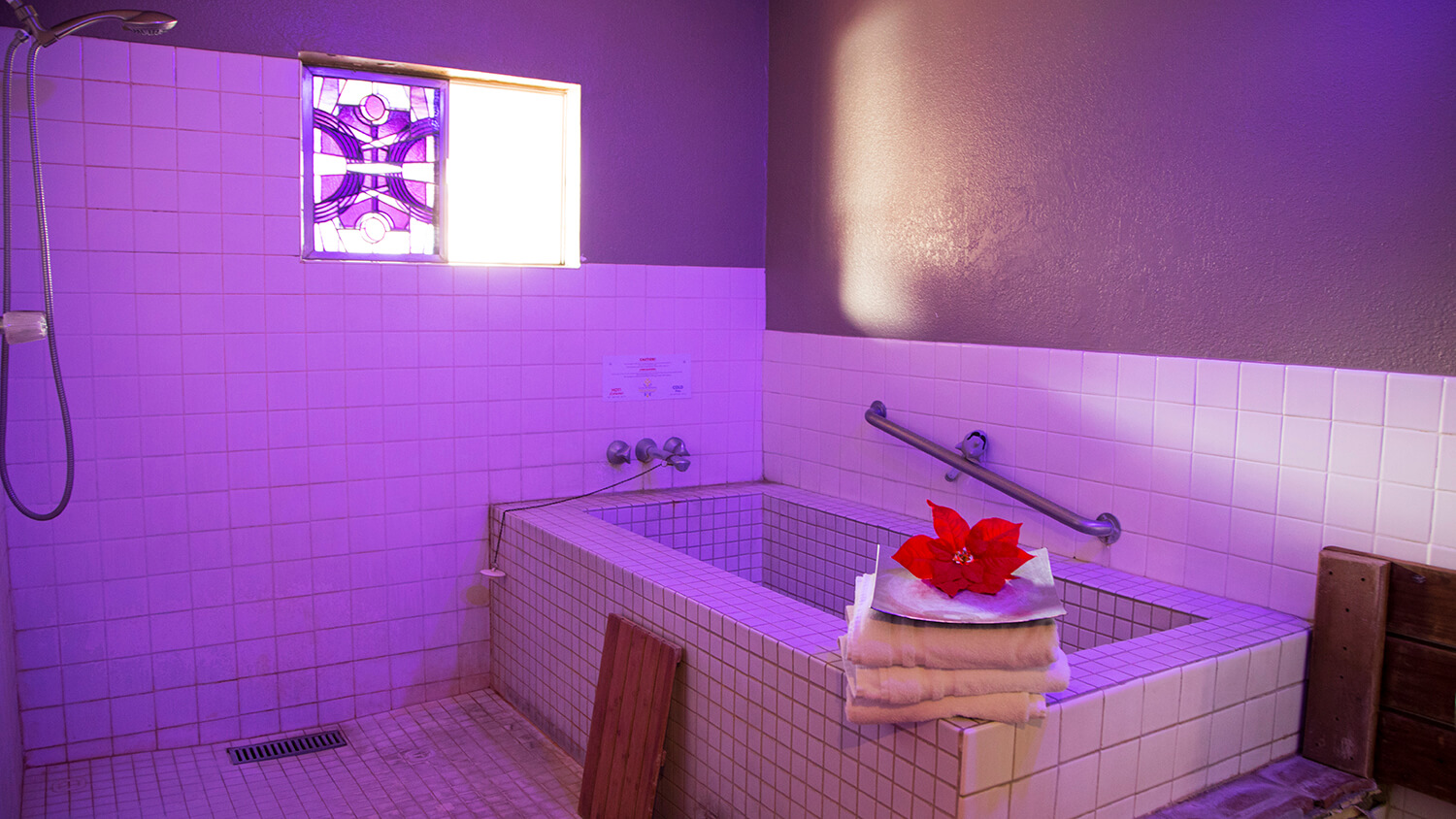 Even More Options
For a summertime natural spring resorting experience, swing through Washoe Valley and hit up Bowers Mansion. This too is a wildly historic property that does have a hot spring on site, but is diverted into a pool that's only open during summer months. By the time the spring water reaches the pool, it's a comfortable swimming experience [nothing like the year-round polar bear club experience found at Tahoe] but most certainly not your traditional hot spring. Make a day of it! Snag a picnic, romp around the park, and take a tasty dip in the pool while getting yet another dose of Nevada's totally alluring history.
---
Carson Hot Springs Resort – Carson City
The second purest water in the world. Be straight with us, how does that sit with you? I don't know, about you, but with a reputation like that, we're instantly laser focused and all about dropping everything and high tailing it to this spring. The good news? For this one, you don't have to stalk down directions, carry a spare tire, orrrr go off grid because this beaut is located right in the heart of Nevada's Capital City.
Maybe the most interesting thing about Carson Hot Springs, is the fact that it's been an icon of relaxation for hundreds of years. Long before early explorers and pioneers made their way West, the invigorating waters at these springs were utilized by Washoe Indians. As a result of the Comstock Lode in the late 1850s, tens of thousands made their way to the area that would become Carson City, and by 1880, Thomas Swift purchased the springs, naming it "Swifts Hot Springs." During his reign, the property really transformed into a bonafide resort, transitioning from your typical natural hot spring to a lavish getaway, with the implementation of bathhouses, a hot spring clubhouse and even a hotel with rates ranging from $10 to $14 per week.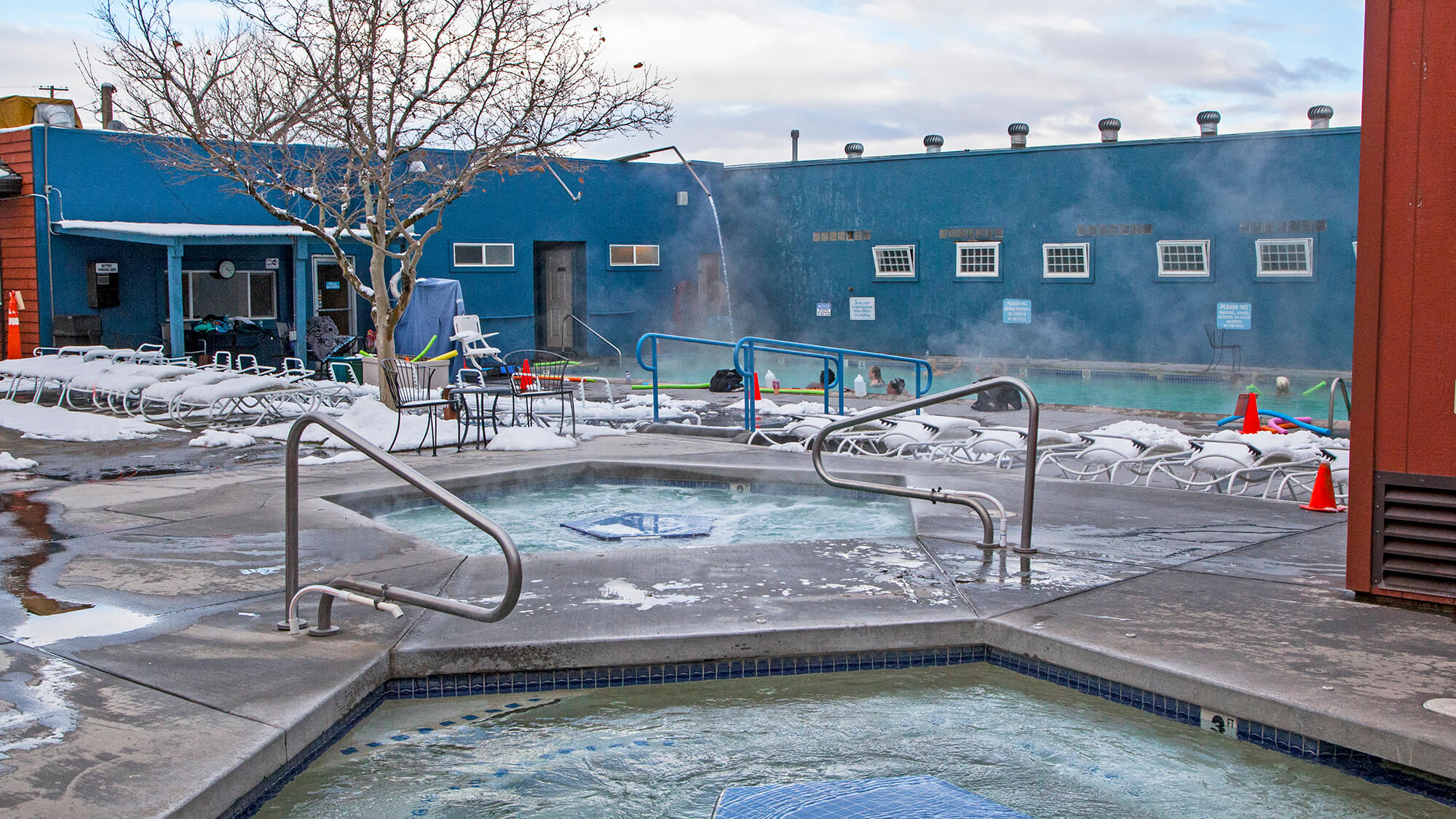 Throughout the next decade or so the resort changed hands a series of times, eventually being marketed as home of the 'World's Finest Mineral Water,' where guests could take their springing excursion to the next level by guzzling down bottled mineral water to quench their thirst. Such splashy qualities resulted in drawing big time celebrities, like opera stars, actors, writers, and get this… even famed prize fighters. The kicker? Many, like Gentleman Jim Corbett, went as far as proclaiming their big win was attributed to the therapeutic waters flowing at Carson Hot Springs.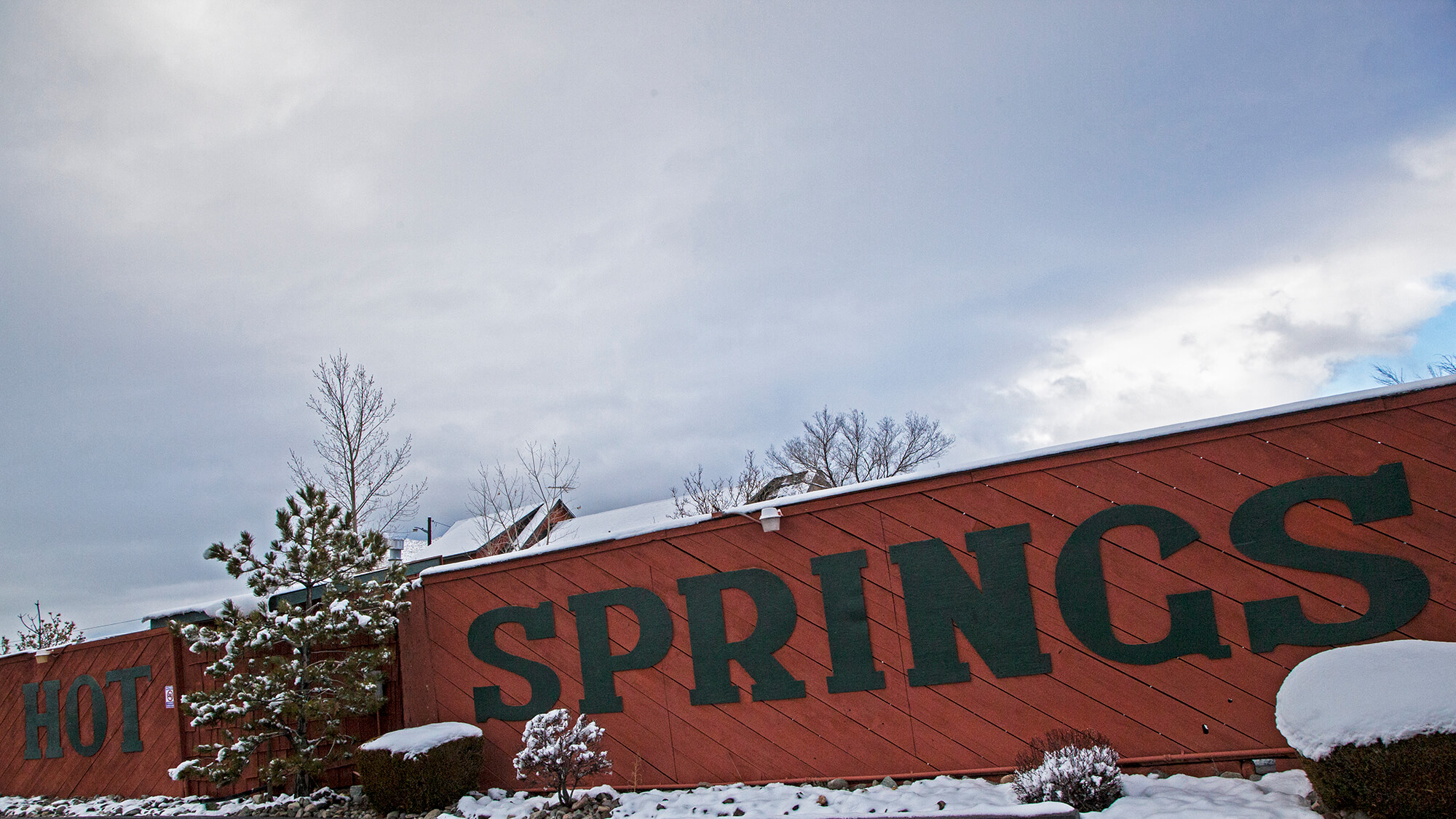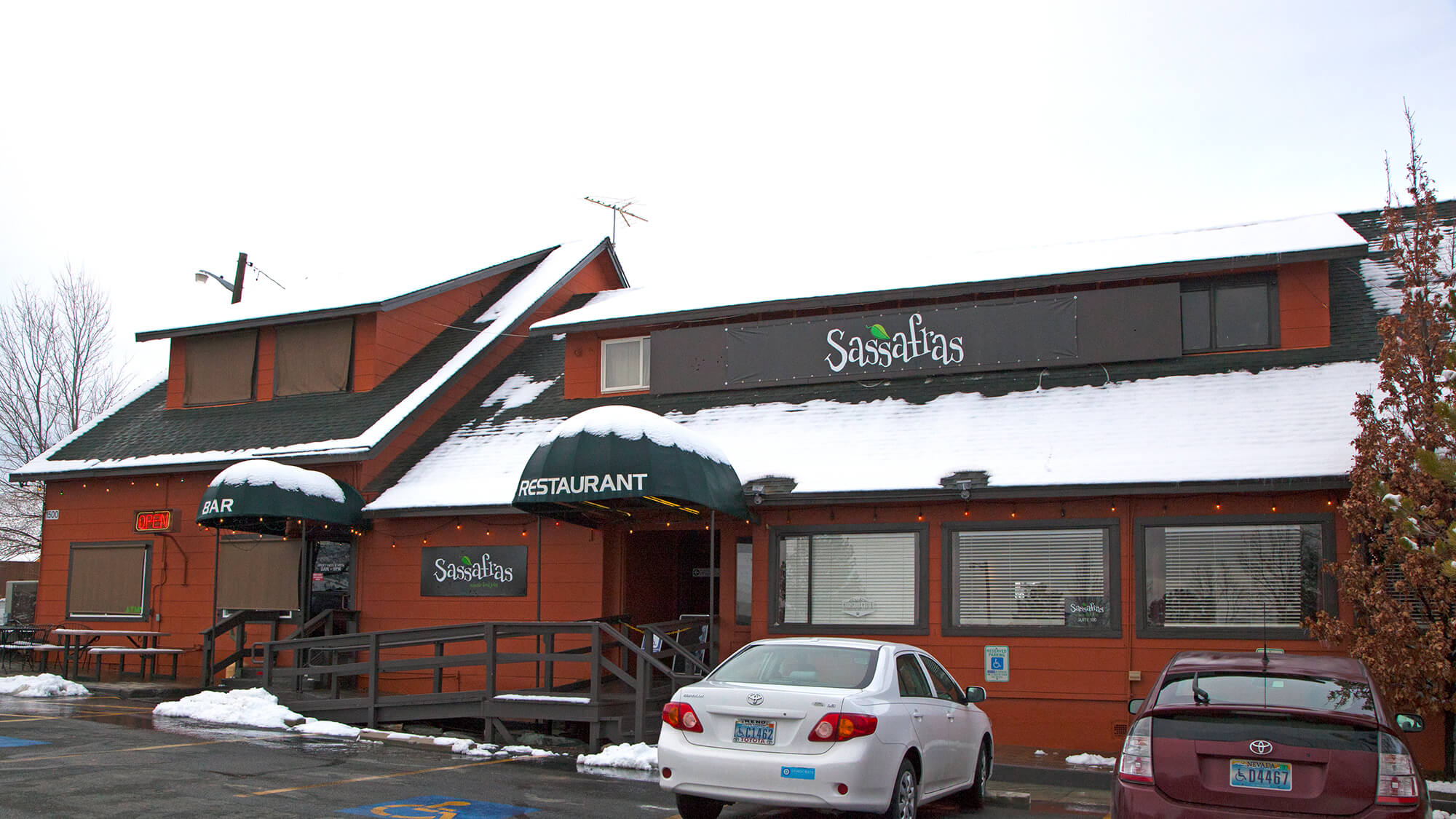 The cool thing is, despite being renovated to meet modern amenity expectations and having gone through handfuls of owners, the resort is more or less the same situation that first opened its doors for business 150+ years ago. Today, you can still luxuriously bathe in a large swimming pool tuned into 101 degrees, or spring for one of the nine private pool rooms, ranging from 99 to 110 degrees. Trust me, it's worth the extra couple bucks. Once you've realigned your chi, swing over to the onsite restaurant, Sassafras Bar & Grill for some seriously delicious treats, or grab a beer from The Shoe Tree Brewing Company's on site tasting room.
Travel Nevada Pro Tip
Grab a day pass and challenge yourself to what we call The Triathlon: soaking in the tubs, then drying off and digging into fresh, amazing eats next door at Sassafras Eclectic Food Joint, washing it down with a fresh brew at next-next-door Shoe Tree Brewing Co., then hopping right on back in the water.
---
Caliente Hot Springs Motel – Caliente
PROPERTY TEMPORARILY CLOSED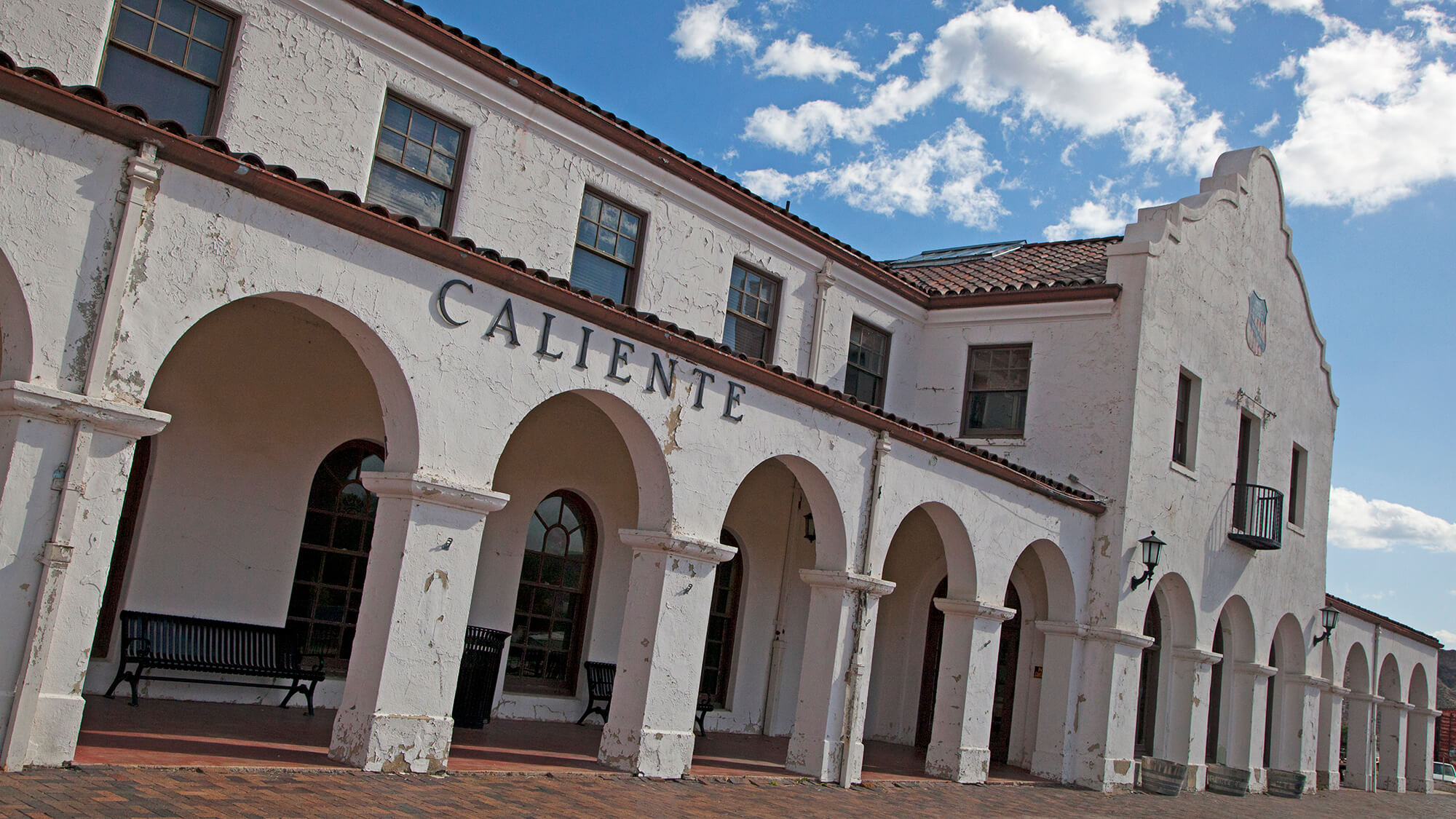 Think Caliente was known for it's mesmerizing pioneer history and its bad ass, movie-magic train depot? Well, you're totally right on both counts there boss, but this restorative little southeastern oasis was first known for one buzzed about little feature that by now, we know you can't say no to: HOT SPRINGS. Oooooh yes. Believe it or not, this tucked away canyon was originally settled in the 1860s by two runaway slaves—Ike and Don Barton—who had escaped from Arkansas. By the 1870s, massive amounts of early pioneers were making their way West, and this same area became known and settled as Dutch Flat. The whole area—Pioche, Panaca, Spring Valley, Rainbow Canyon—were all heavily trafficked by those chasing their American Dream… a lot of whom just ended settling in the region for good, renaming it again to Culverwell.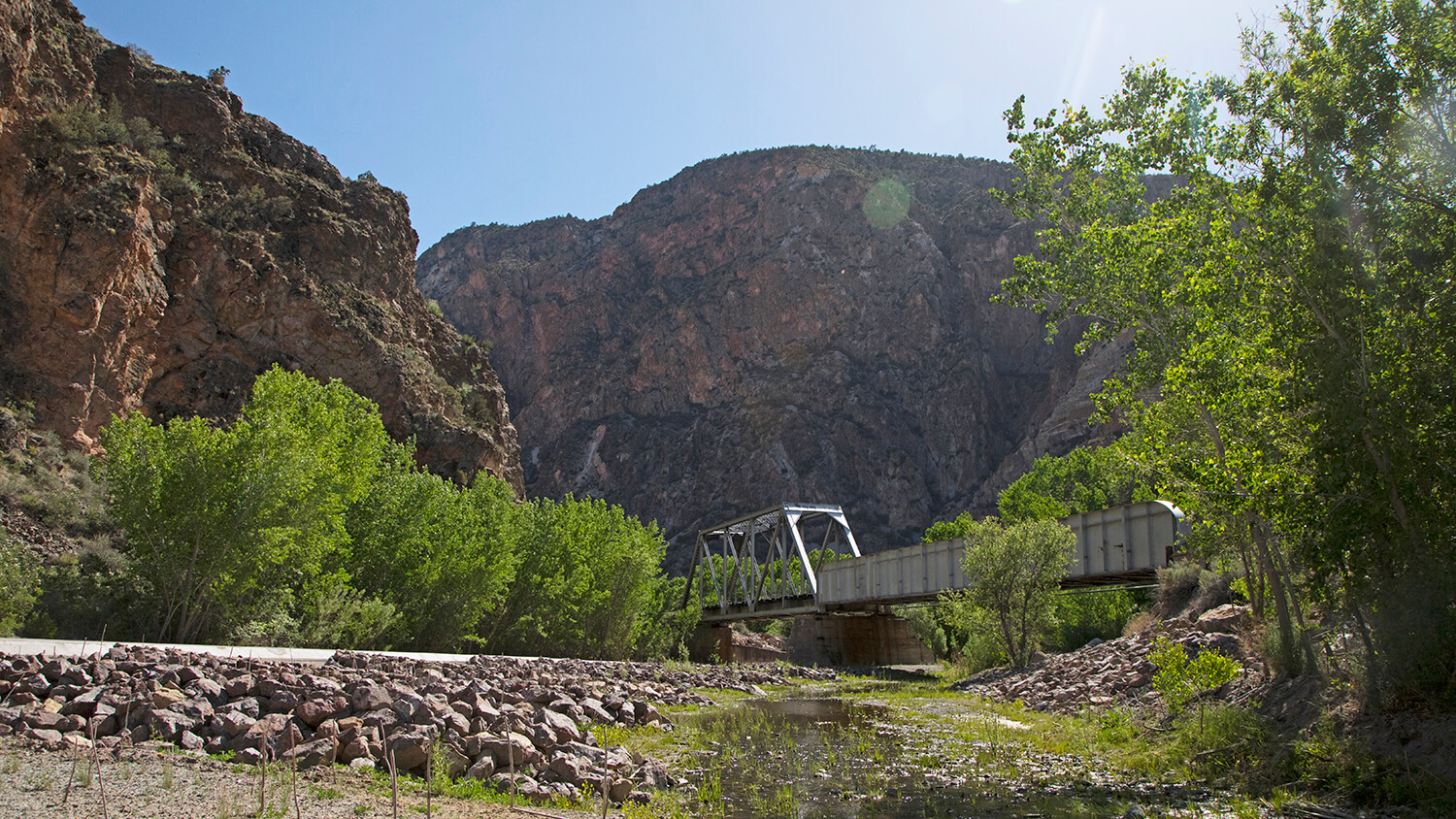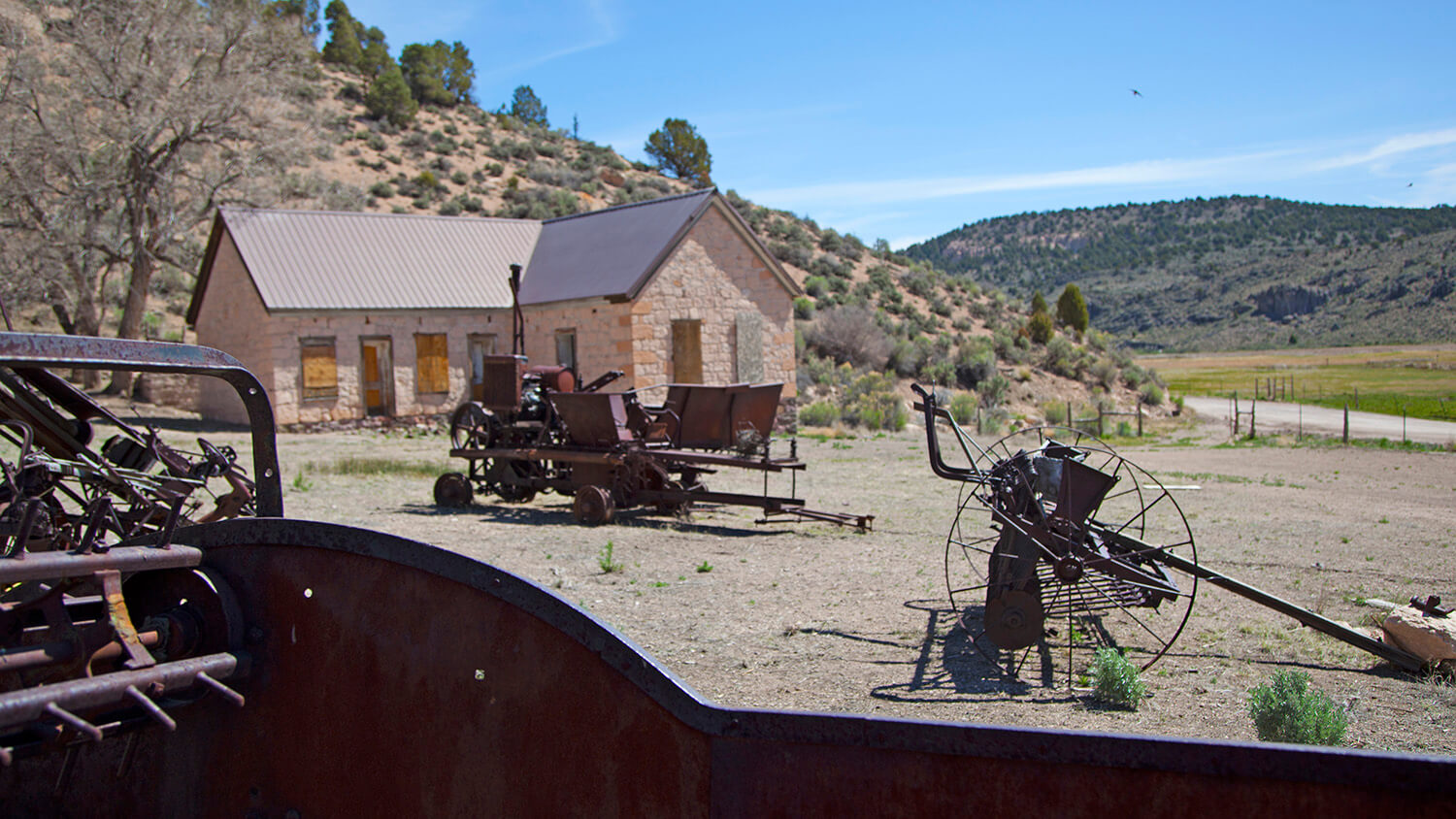 The area's new name, Culverwell, was named after a guy named William Culverwell, who owned most of the land in the area by the early 1900s. Interestingly enough, Union Pacific was looking for the perfect place to extend their Salt Lake City site all the way to Los Angeles, and nothing fit the bill more perfectly than Culverwell. The reason? It served up the perfect right of way in a canyon only big enough for a single set of tracks. Once the expansion of the railroad was seriously underway, Culverwell became "Calientes"—the Spanish word for hot—after the hot springs discovered in a cave at the base of the surrounding mountains. The town was surveyed, a post office was opened, and a name for this southeastern sanctuary finally stuck.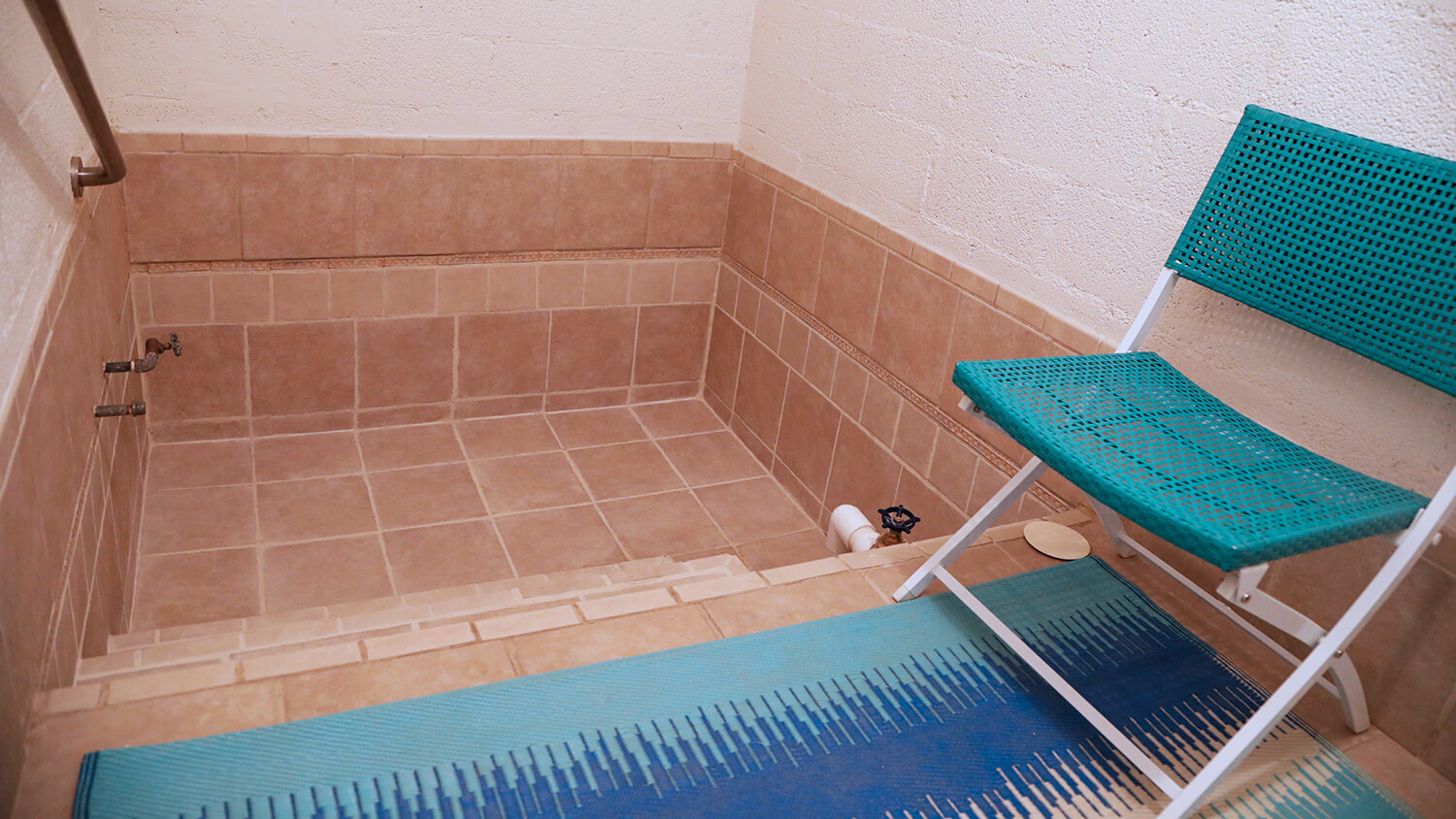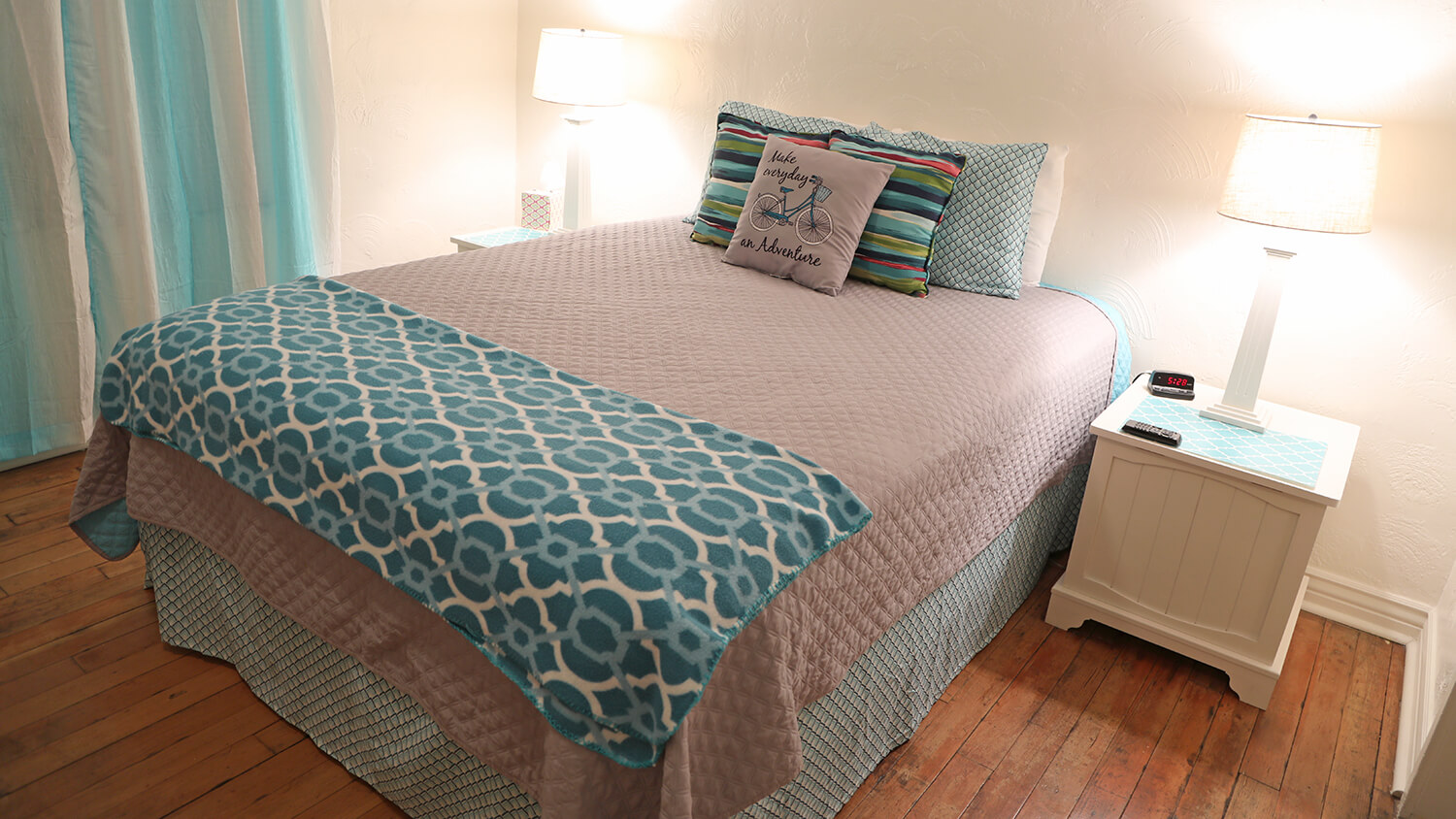 The multi-dimensional history in this neck of Nevada is enough to center any road trip around, but now we're talkin' sprangs? The best part is this: those saucy springs the area was indeed named after are still around, and still soakable, baby. When cruising through Caliente, keep an eye peeled for what looks like a creek, but don't be fooled—it's all the stuff you're searching for, and leads right to the source at Caliente Hot Springs Motel & Spa. Hit up the surrounding largest pocket of Nevada State Parks to dial in even more history, or cap off a day rippin' 'round the Barnes Canyon Mountain Bike Trails with a restorative soak in your very own private motel room and tub at this mountain bike-themed, historically propelled sweet spot. Does it get better?
---
Bailey's Hot Springs – Beatty
PROPERTY TEMPORARILY CLOSED
We've all thought it: it's far too easy to get cooped up in the car while traveling the Free Range Art Highway from Reno to Vegas. The remedy, dear friends, lies at one unsuspecting oasis otherwise known as Bailey's Hot Springs, just north of the charming community of Beatty. Springing to life in 1906, Bailey's has been a go to for Death Valley explorers and off-grid relaxation seekers alike for decades on decades, and makes for an energizing pit stop, if not overnight break. With tent camping and 14 RV hookups, consider Bailey's the perfect launch pad for your Nevada backcountry excursion, as it's in direct proximity to the coolest pocket of ghost towns in the entire dang state.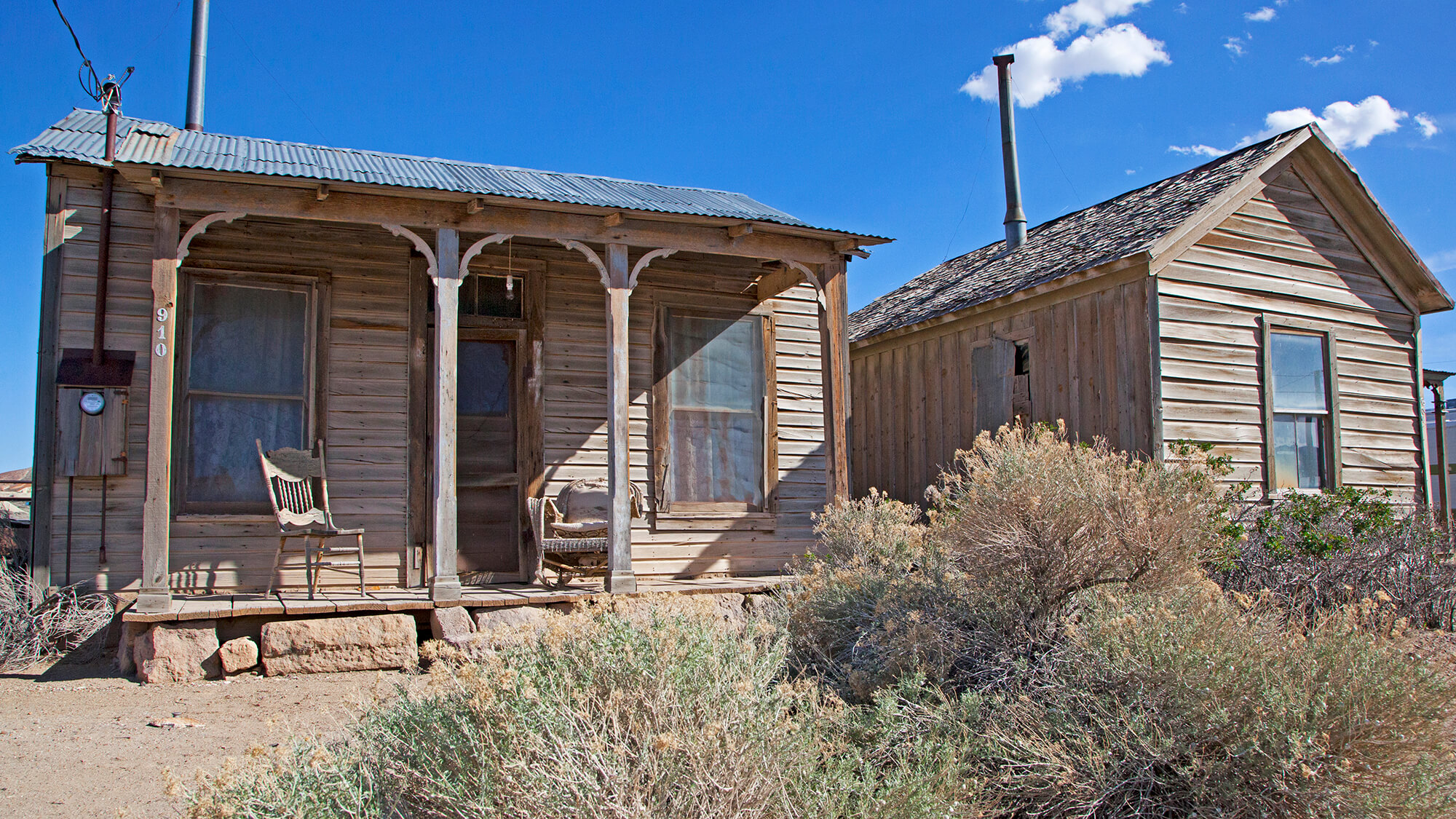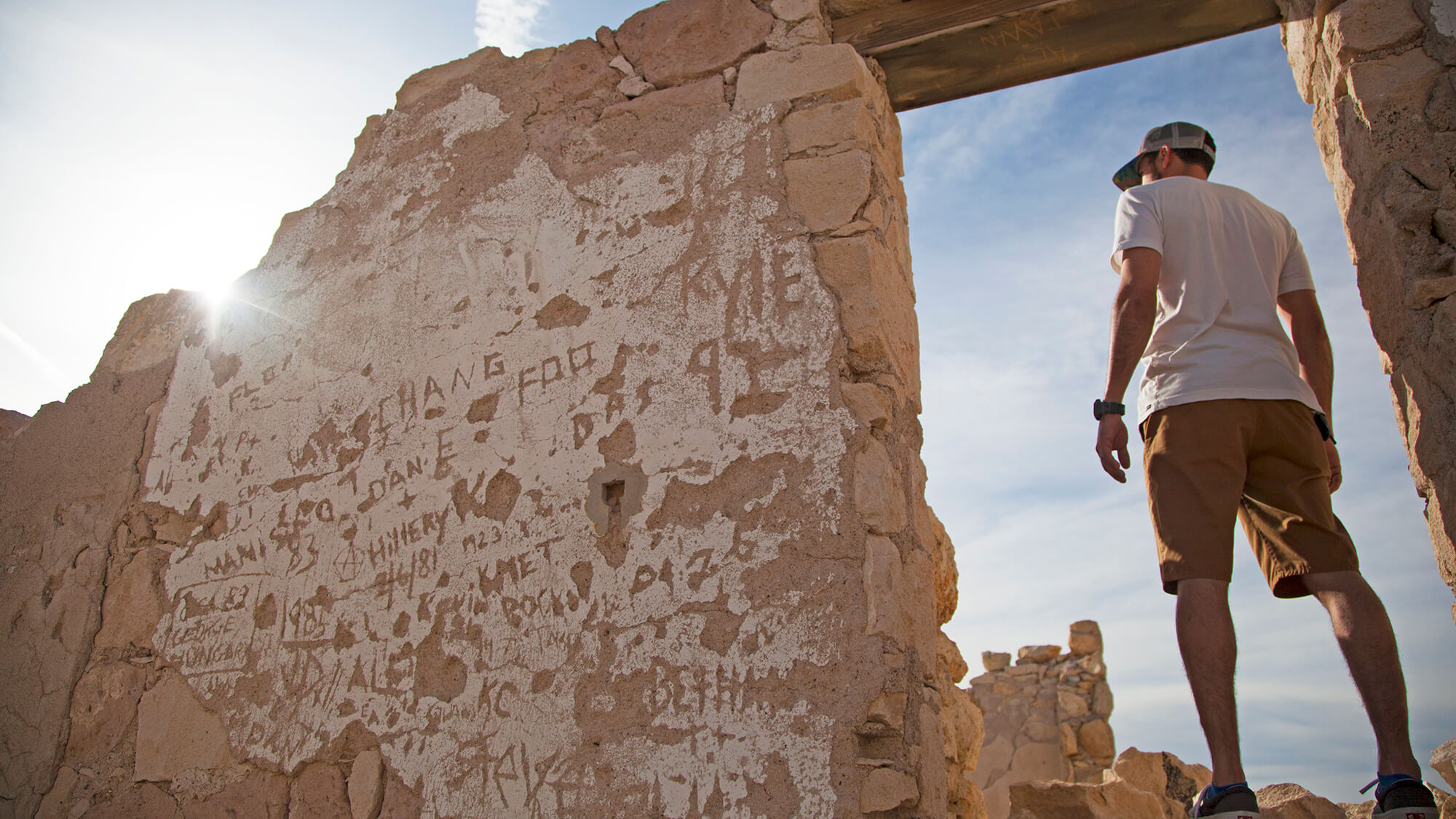 Thanks to the fruitful and always-fascinating Bullfrog Mining District, it's no secret that Beatty had quite the alluring, rough and tumble past. By 1904, so much wealth came out of Goldfield (which lies directly to the north of Baileys Hot Springs,) Beatty (straight south) and everywhere in between, it drew thousands of people from all over the nation who wanted to get in on the action. While you don't think anything of jumping in your car and driving from Goldfield to Beatty in modern times, scheduled transportation along this stretch in the early 1900s was a hard to imagine luxury. Sure, it seems remote today, but 100ish years ago? Wayyyyy out there. BUT, so much flipping gold was being extracted from the surrounding hills that not only one, but four daily stagecoaches connected Goldfield all 97 miles to Rhyolite.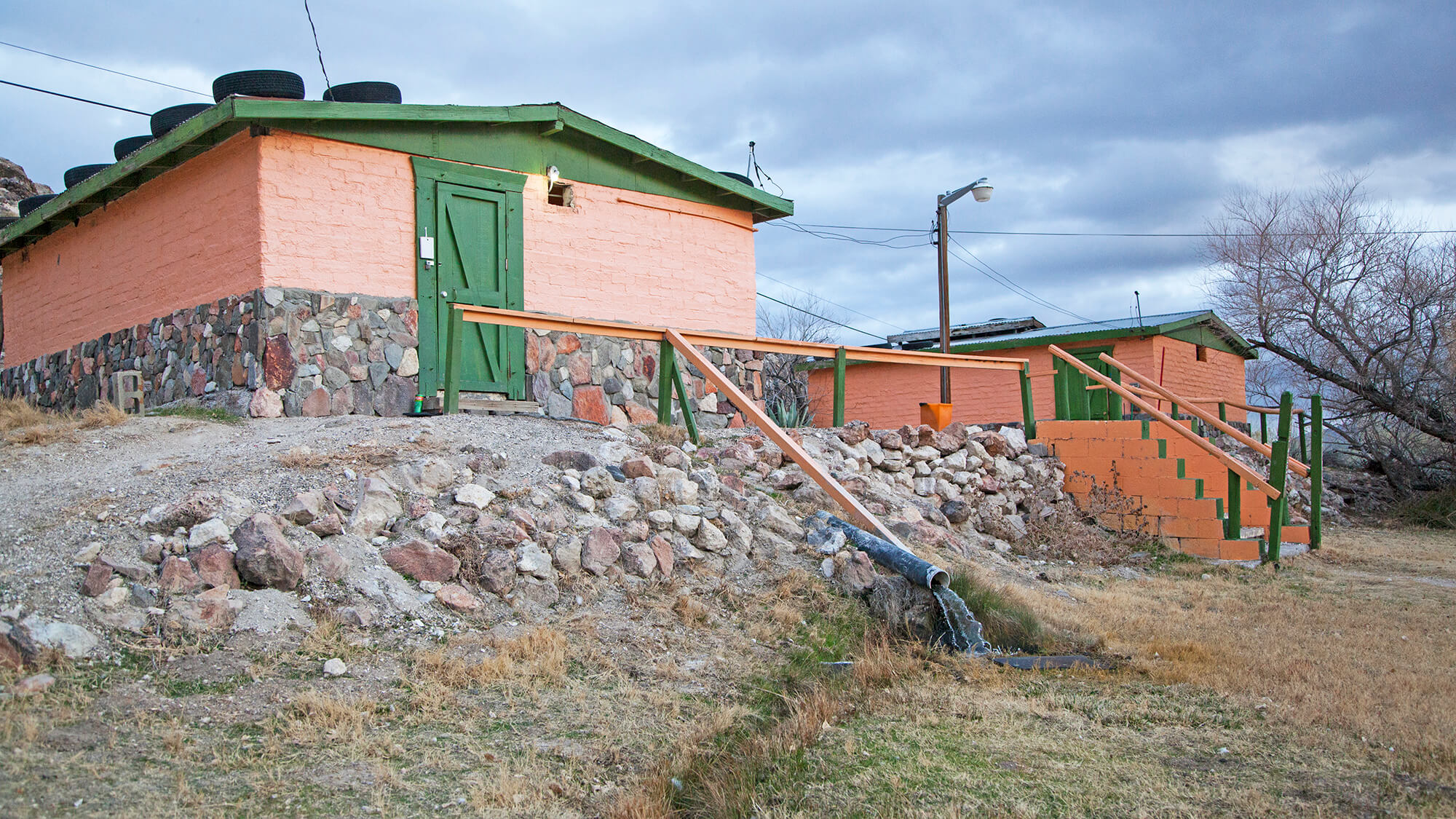 So, it's no mystery that a whole boatload of people were in this very specific section of Nevada during the early 1900s… most of whom, were connected to the mining situation. And what goes along with an exorbitant discovery of gold or silver? A railroad of course, as you'd need to cart the stuff in and out in order to make a profit. Interestingly enough, Bailey's Hot Springs was a former railroad depot, and while specific history on the spring is hard to uncover, we at Travel Nevada can't help but imagine it had something to do with the fact that there were a multitude of natural bathing opportunities in the area, warm ones to boot.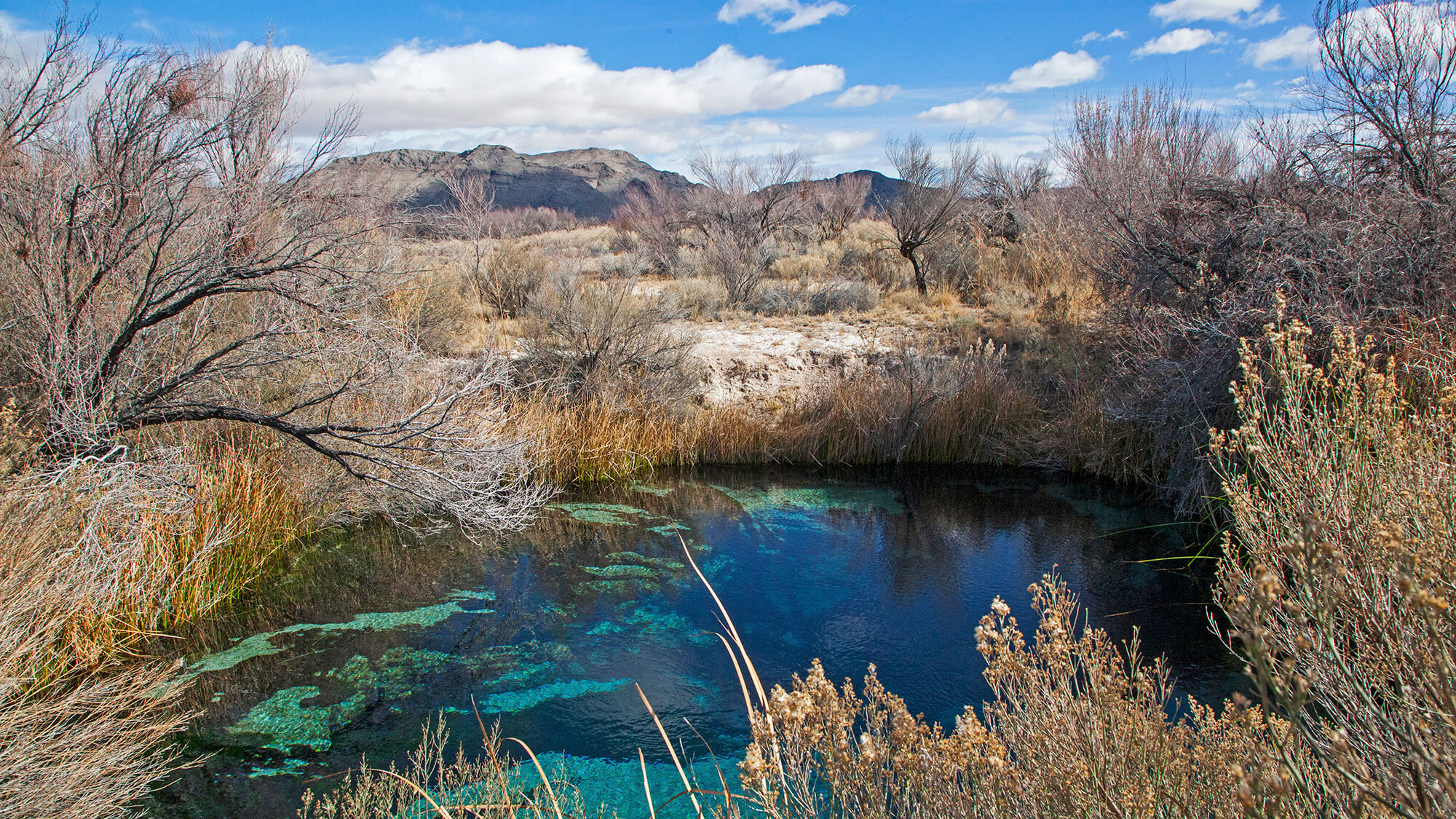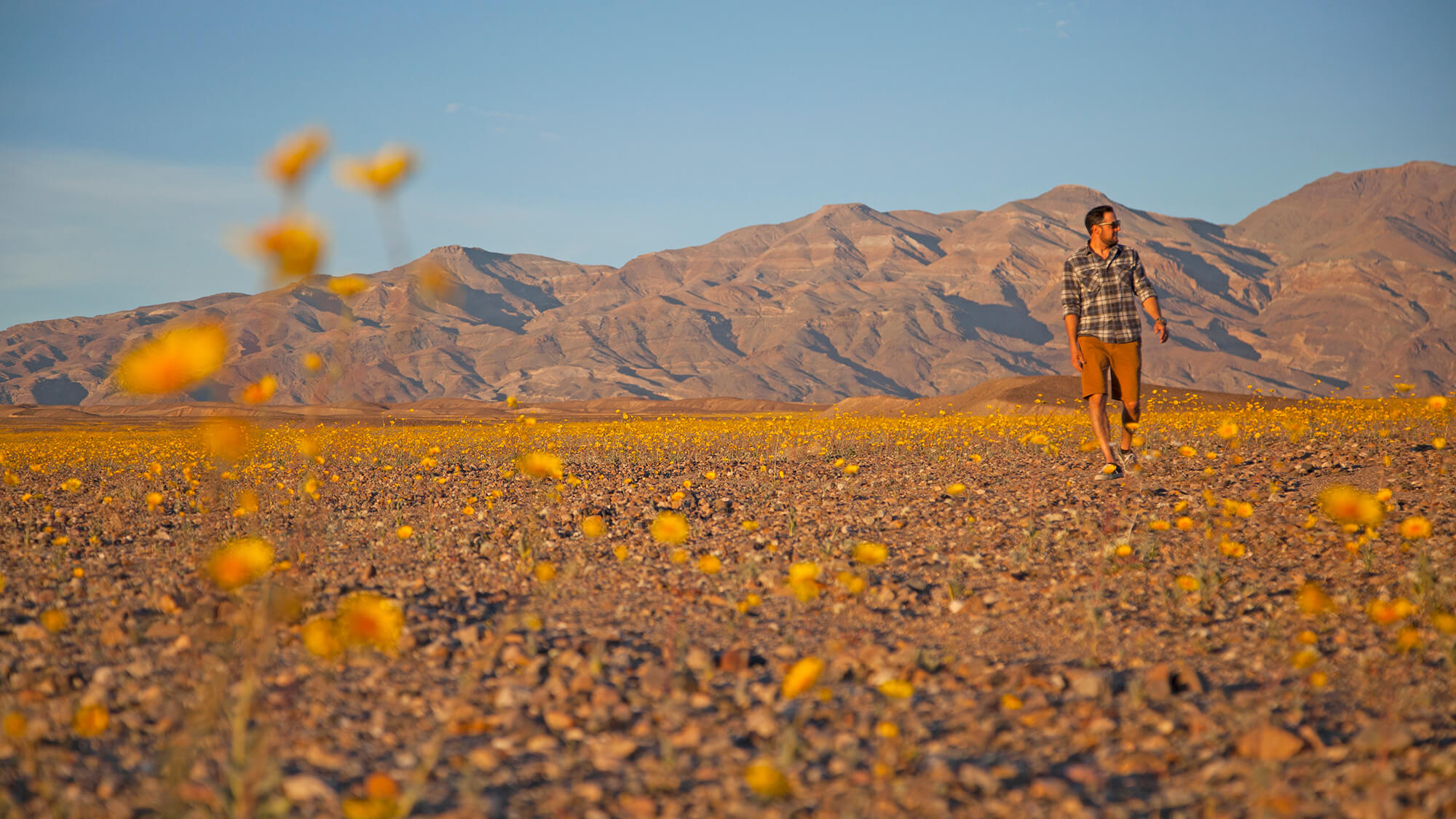 By 1906, two historic bathhouses were constructed, which remain at Bailey's Hot Springs today. Cool, right?! The antique bathhouses, along with a third, more recently constructed venue, offer restorative bathing opportunities in a private setting with gravel-bottom pools. Depending on the season, temperatures tend to range in the magical springing sweet spot, from 98-105 degrees. Whether you're bouncing from one Nevada ghost town to the next, tearing up Amargosa Big Dune, exploring Death Valley, seeing the endangered Desert Pupfish with your own two eyes, or are just in need of a solid roadside stop, get Bailey's front and center. You'll be glad you did. Oh, and did we mention this place is home to a half-dozen peacocks? #NVHotSprings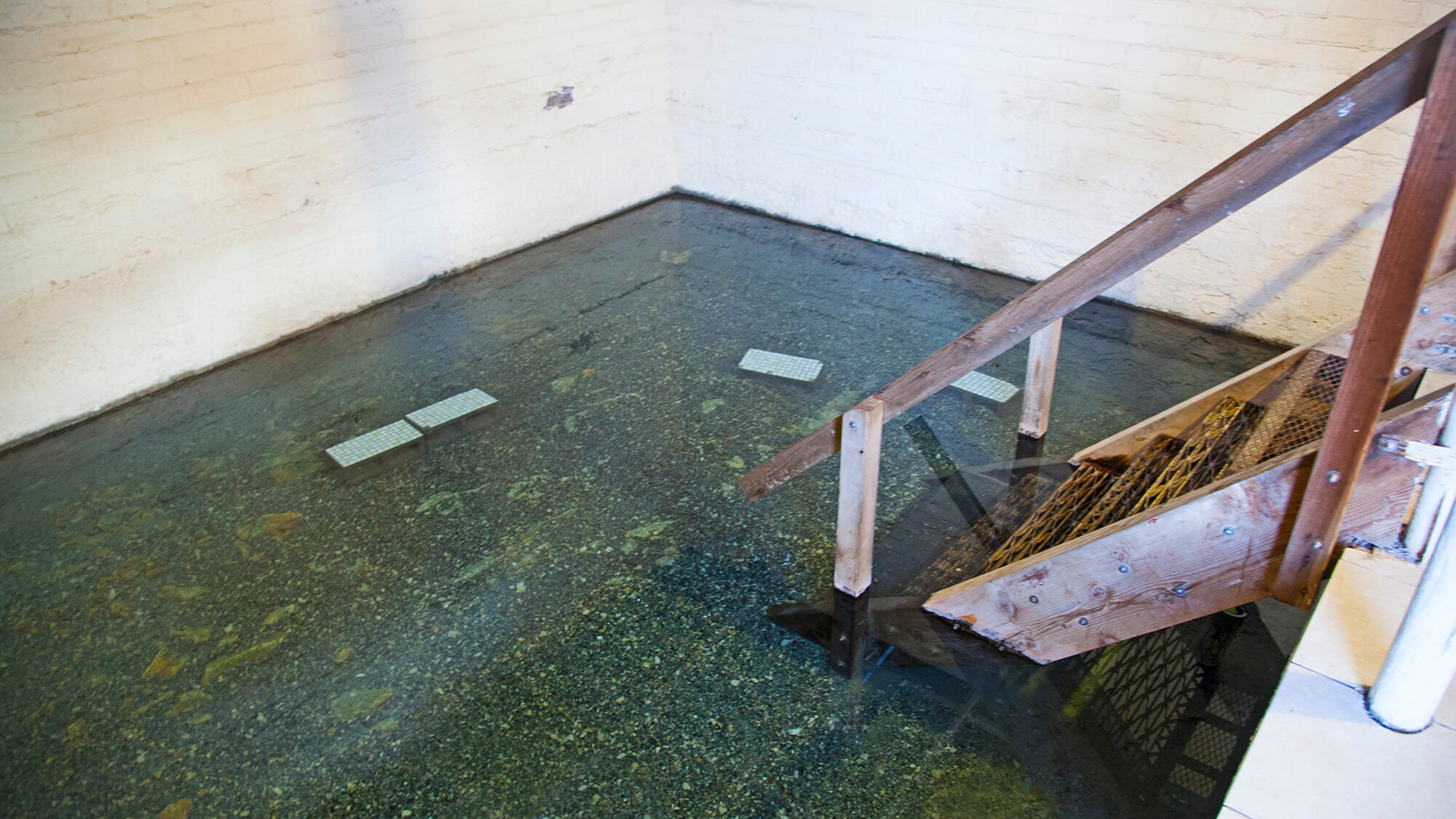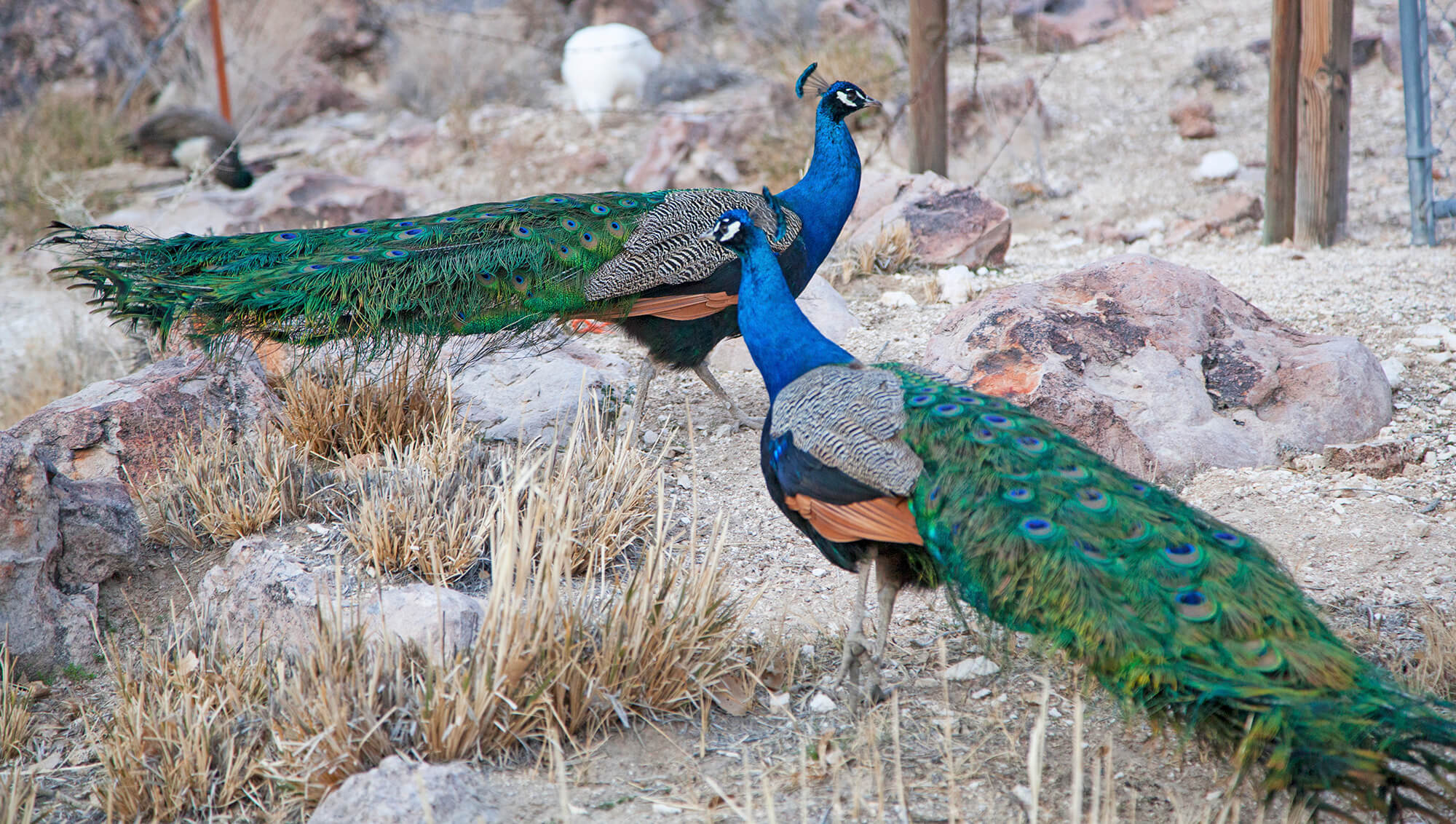 Looking to kick up your springing game a notch? Read on for au naturel hot springs found throughout the Nevada backcountry here.
Get Inspired
Related Stories