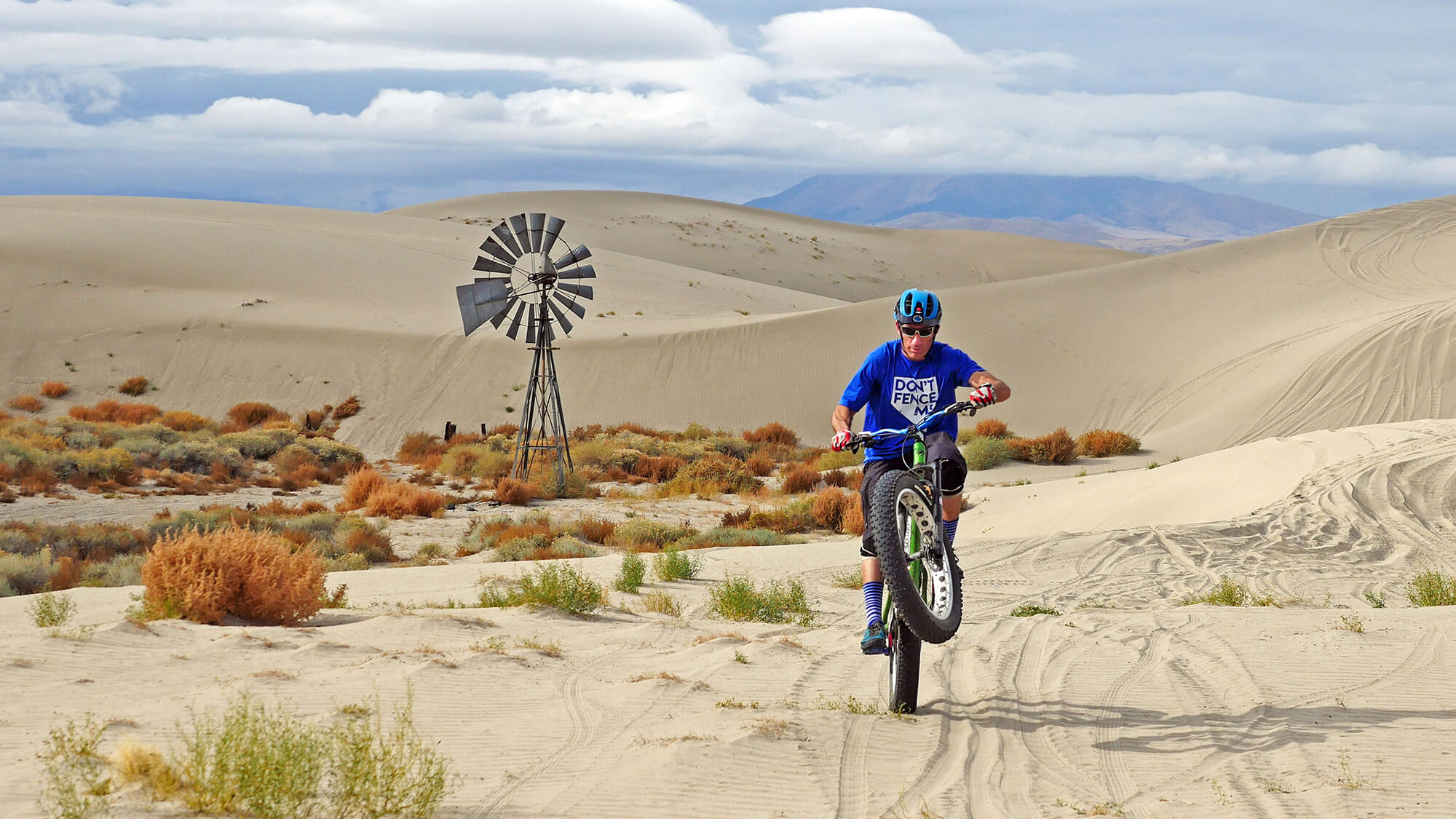 Fat-Tire Biking in Nevada
Snowboard in the winter and most of spring. Mountain bike the rest of the year. Hopefully, get some opportunities to do some cool shoots for those activities during their respective seasons. As a digital media outfit based at Lake Tahoe, that'd been the yearly plan for First Tracks Productions for a while. But, a not-so-great snow season a couple of years back changed all that…
I stopped in one of our local shops and Gary Bell, owner of the shop and mountain biking pioneer, had a fat bike. What's a fat bike? Well, picture a regular mountain bike, but with really, really wide tires. Usually 4 to 5 inches wide. I was curious (and sick of couch surfing) so I borrowed it for a couple of days. Bringing it back was the hardest part. I was hooked. The first turn I made on a snow-packed trail brought out the kid in me and I had perma-grin.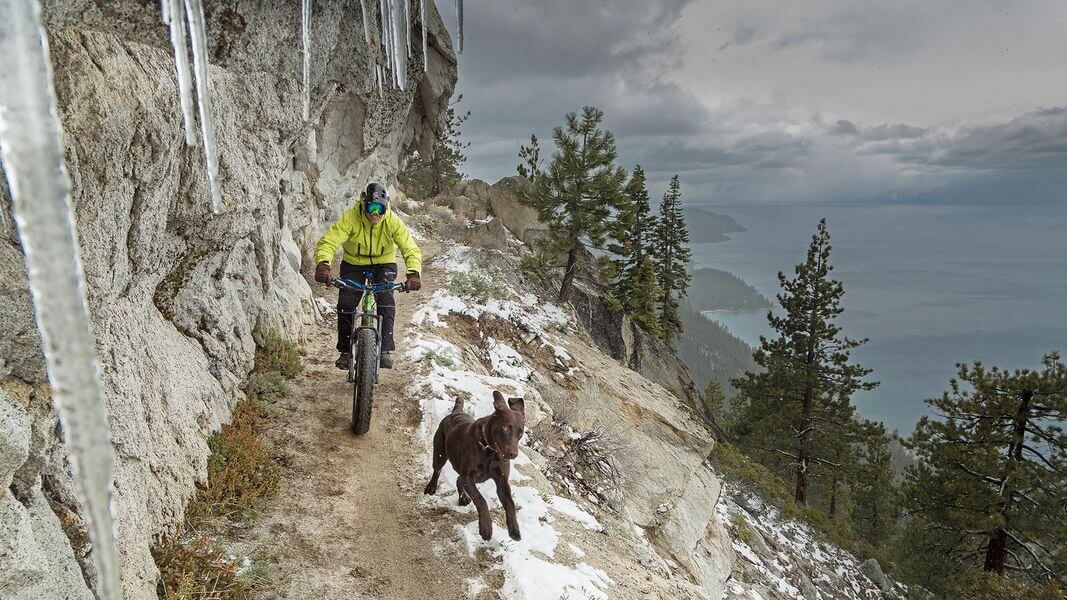 It wasn't long after that I got my first fat bike and slowly began to appreciate more and more of its capabilities. Well, that got us thinking. What could these bikes really do? And, where could they take us? Could we really ride them on terrain we've never ridden before? Would they still ride ok on more traditional trails?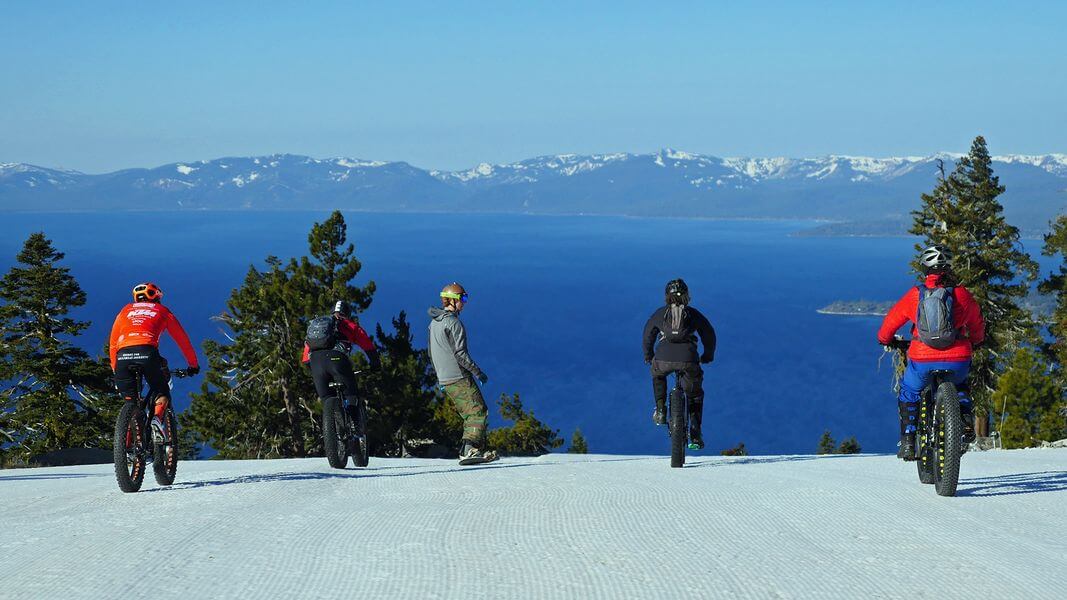 What started as a series of questions steamrolled in to an adventure cycling film project, "Off the Beaten Path". My goal was to showcase the capabilities of fat bikes as being beyond something that's just good for groomed snow trails and occasional beach riding. The story though, isn't really about the bikes and what they can do—it's about how different individuals are using these bikes to do things they otherwise couldn't.
This project started off about as small as you can get. A lot of the early shoots were me going out solo with just my dog, Emmie and a camera and tripod. Actually, there were a lot of shoots like that throughout the project. One of the things I needed to figure out early on was where were we going to ride? With a limited budget, staying somewhat nearby made a lot of sense. But, as we quickly figured out, it made a lot of sense for another really important reason – the terrain and the views.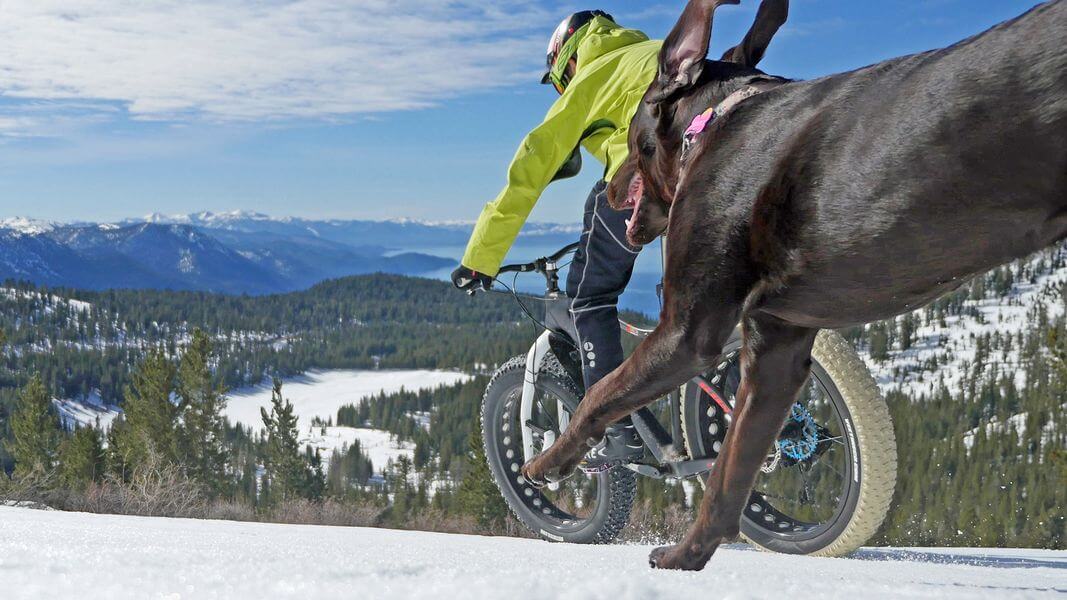 Our shooting started out over the winter and we explored a few different areas locally, but one of the areas that worked out the best was the snowmobile zone near Mt. Rose. Once you get a couple of miles in on the road, the zone opens up in to some amazing terrain. When conditions are right (either firm or a few inches of fresh snow on top of firm) you could ride down just about anything. Of course, there were days we thought conditions would be good but the overnight freeze wasn't quite hard enough or more new snow fell than anticipated and things were less than ideal. But, I don't think there was ever a day I didn't have fun. Just being out in the backcountry and taking in the views is amazing.
The last 6 months have found us traversing back and forth across Nevada. We've been to Sand Mountain and the Winnemucca Dunes for sand riding. Sand Mountain is awesome, but it's mostly a few very tall dunes. They're great for riding down, but too steep to ride up so there was a lot of "hike-a-bike". Winnemucca Dunes, on the other hand, have a great flow to them. If there's been any recent precipitation, you can basically ride up and down everything. And the dunes go on "forever". There are 40-mile rides you can do staying on sand the whole time. And, just being out there is special. It feels like you've been transported to the desert in Tatooine (for you Star Wars nerds like me).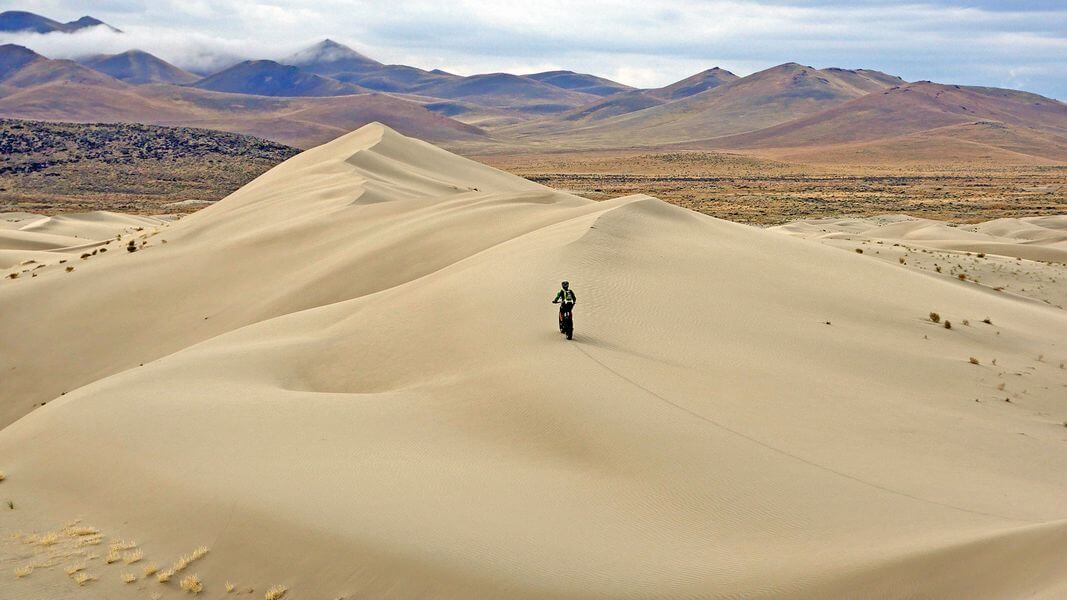 Winnemucca is really cool town too. We hooked up with Chuck Austin, owner of Bikes and More and he guided us on the dunes and also guided us to Winnemucca Pizzeria – a fantastic post-ride spot for beers and really good and really unique pizzas (I think I had a BLT pizza there).
We were in Las Vegas for Interbike (a large cycling convention) and while there, we got to ride Bootleg Canyon in Boulder City as well as trails near Red Rock Canyon. What a blast. Even though I've lived on just the other side of the state I had no idea how much (awesome) cycling there is near Vegas. A couple of professional athletes we're working with, Pat Smage and Liz Sampey, made it out there and they were of the same mindset. When it comes to Vegas, sometimes it's hard to think beyond The Strip. But, we got to see how much more there is around there.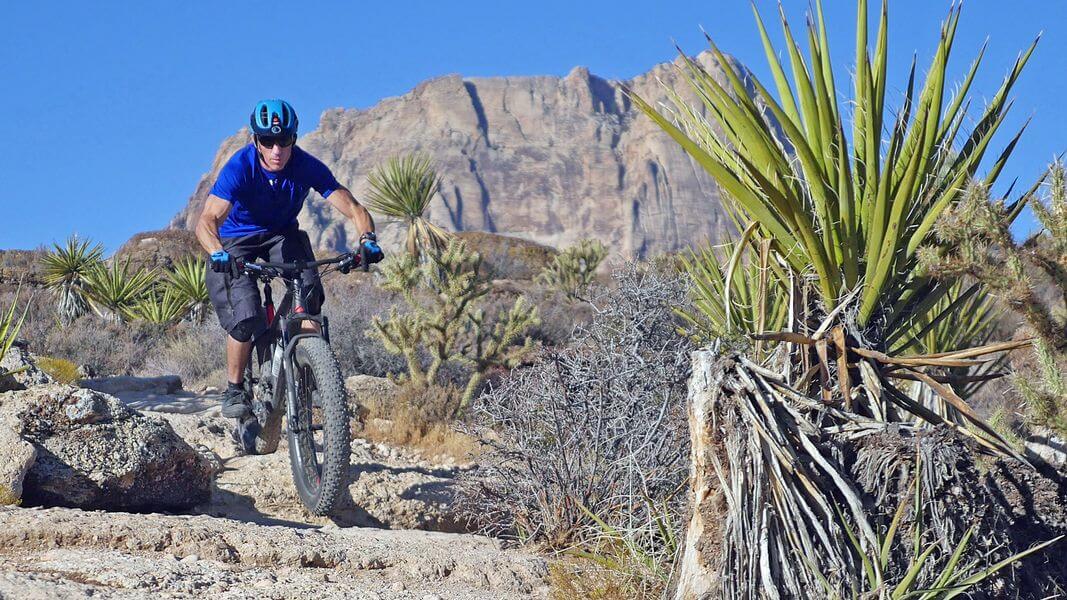 We decided to take a roundabout way back to Tahoe and heard Cathedral Gorge was a cool place to check out. We heard right. There's a loop trail to ride that's mostly flat but includes some sandy washes (where the fat tires did great) and a new single-track that comes down a ridge with some nice vertical. But, beyond the riding, the landscape is stunning. There are slot canyons we walked around in unlike anything I've ever seen. And, we basically had the place to ourselves there.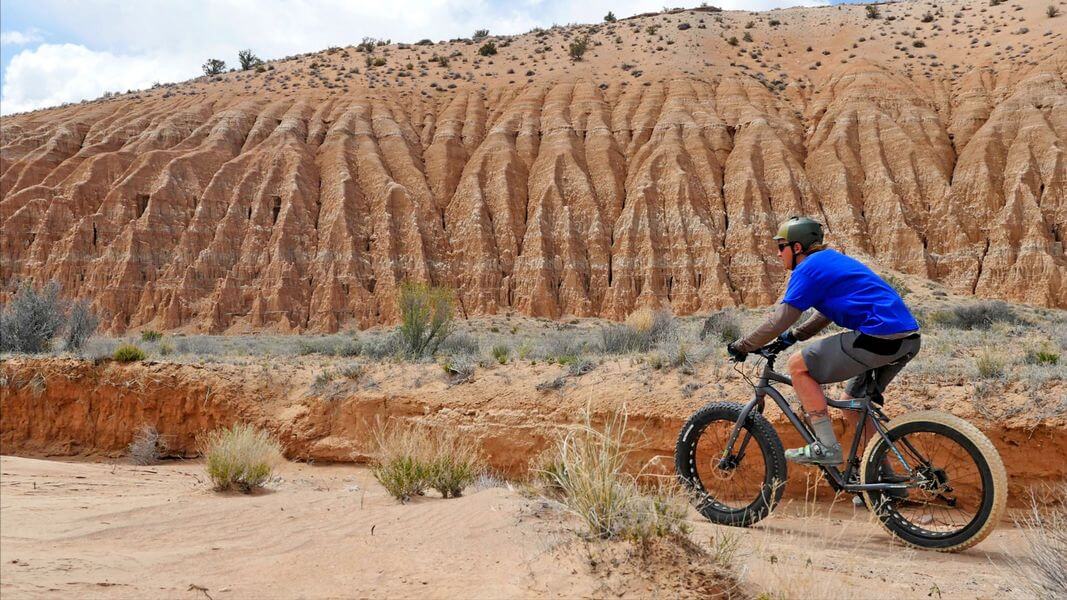 Most recently, we've been checking out Wilson Canyon – a moto zone used mostly by dirt bikes. I scoped it out from the road on the way back from Las Vegas and it looked "rideable" for the fat bikes. After going there twice now, I can say it's far more than rideable. It's a big playground. And I can't wait to get back there.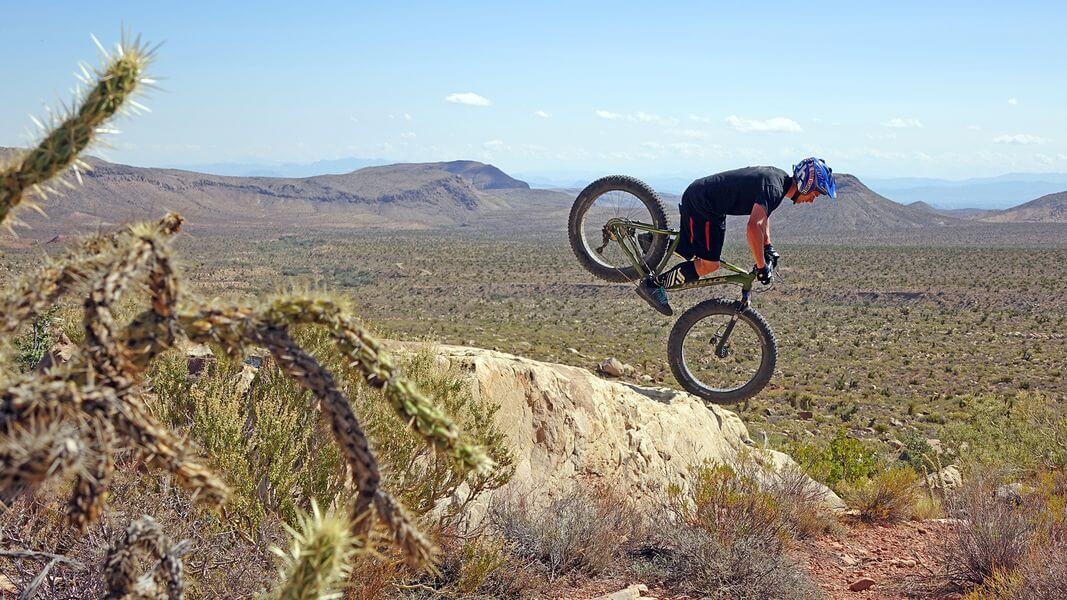 All in all, we've been stoked on how everything came together. And, particularly stoked we were able to do so much riding in our own backyard. We're hoping "Off the Beaten Path" is more than a one-off film and becomes episodic content. And, if it does, we have a few more places in mind in Nevada we want to hit up. Even if things don't work out on that front, I think it's safe to say we'll be doing a lot more riding in Nevada soon. We just may not have to have heavy camera bags and tripods with us. I guess that wouldn't be too bad either.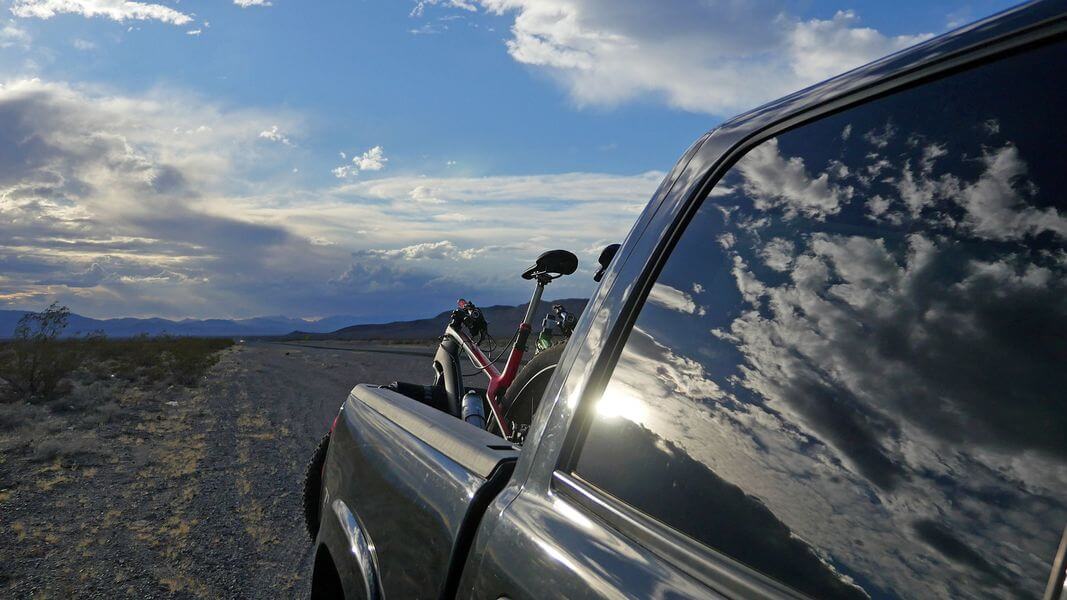 Editor's Note: Anthony Cupaiuolo is the owner of First Tracks Productions and Director of "Off the Beaten Path." He lives at Lake Tahoe with his wife Karen, daughter Olivia and dog, Emmie. You can see more about "Off the Beaten Path" and First Tracks Productions by clicking HERE. Many of the photos for "Off the Beaten Path" and additional videography for the project have been provided by one of First Tracks Productions partners, David Braun Photography.
Get Inspired
Related Stories