Gems, Jewelry & Nevada Bling
Everyone loves gifts that come in little boxes. Luckily, as one of the mining capitals of the entire planet, the Silver State is spoiled with things that sparkle. Our many handmade jewelry masters offer incredible choices, from Nevada stones set in Nevada-mined silver to all varieties of turquoise and everything in between. If you're looking to serve up some memories on the rocks, whisk them off on a rockhounding expedition, where visitors can hunt or mine for garnets, quartz, turquoise, and even Virgin Valley black fire opals—Nevada's official state gem. Some experiences are seasonal and may not be available at a given moment, but it never hurts to think—and gift— ahead.
When it comes to bling-worthy baubles, Nevada is literally full of gems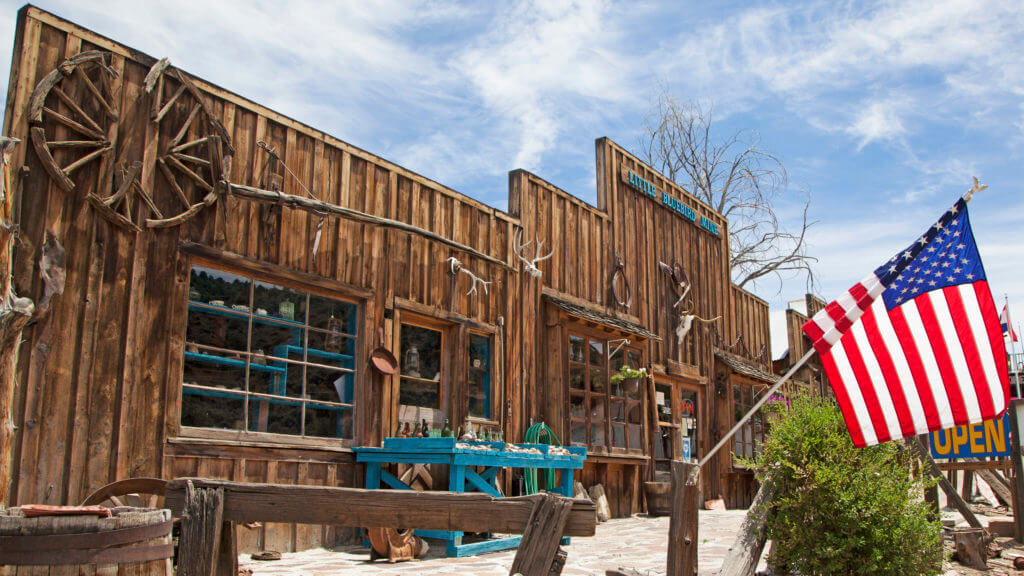 Jewelers & Gem Shops
Austin, Boulder City, Goldfield, Reno, Gardnerville, Laughlin, Elko, Sparks & Tonopah
Jason's Art Gallery
Next time you're cruising the Loneliest Road in America, pull over for a pit stop in Austin at Jason's Art Gallery, also known as Little Bluebird Turquoise. With turquoise mined from the surrounding area, an incredibly impassioned local jewelry maker, and shockingly affordable pricing, you'll have no trouble finding an authentic Nevada souvenir.
Austin
Erick Begay Native American Jewelry
Featuring the finest in Native American art, you'll find bolo ties, belt buckles, watches, sandpaintings, and a wide range of jewelry, including pieces crafted by master silversmith and goldsmith Erick Begay.
Boulder City
Rusty Cove & Dented Designs
It's not just a clever suggestion. Do indeed stop at the Goldfield Stop to peruse the Rusty Cove boutique, home to women and kids clothing, fashion accessories, and hammered brass jewelry by Dented Designs.
Goldfield
Silver State Jewelry Studio
Upgrade your style with a truly one-of-a-kind piece of jewelry made with your own two hands. Silver State Jewelry Studio offers workshops for crafting your own rings, necklaces, and earrings, as well as ready-made baubles and permanent jewelry.
Reno
NV-US Silver Works
Sterling silver and vibrant turquoise are a match made in heaven with NV-US (eNVioUS) Silver Works. Shop a gorgeous variety of unique pendant necklaces, stamped bracelets, and dangling earrings made in the heart of Carson Valley.
Gardnerville
Wuve Handmade
Put some cheer in your ear with a pair of glittery saguaro cacti, smoky crescent moons, dangly rainbows, or even sparkly hot dog earrings made by hand in Laughlin.
Laughlin
KH Designs
Elko-based KH Designs is your go-to for one-of-a-kind pieces of jewelry. Shop sterling silver baubles made with elk ivory and turquoise, or work directly with a master metalsmith to fashion custom earrings, bangles, necklaces, and rings.
Elko
Enigmata Esoterica
From stones and bones to art and jewelry, Enigmata Esoterica brings those desert magic vibes to life in Goldfield. Visit in person to explore all the gems within.
Goldfield
Honey & Goldies
Drawing inspiration from western design, you can shop floral wreath bands, turquoise rings, sterling silver cuffs, and gemstone baubles, or craft custom necklaces, engagement rings, and stacking bands—sourced from right here in Nevada, whenever possible, by a proprietor whose personal pastime is perusing old abandoned mines with her partner.
Reno
Sierra Sage Designs
Inspired by the Nevada high desert she "love[s] to pieces," Sierra Sage Designs crafts beautiful pieces of jewelry. Silver State icons like Lake Tahoe and wild horses are accented by gems and beads.
Reno
OSO Design Lab
Laser-cut wood and acrylic goodies come to life inside this Sparks workshop. Intricately designed earrings and necklaces, along with other delights, will have everyone asking where you got your jewelry.
Sparks
Tonopah Trading Company
Locally sourced turquoise and silver shine at the Tonopah Trading Company, which also stocks artisan gifts and home goods.
Tonopah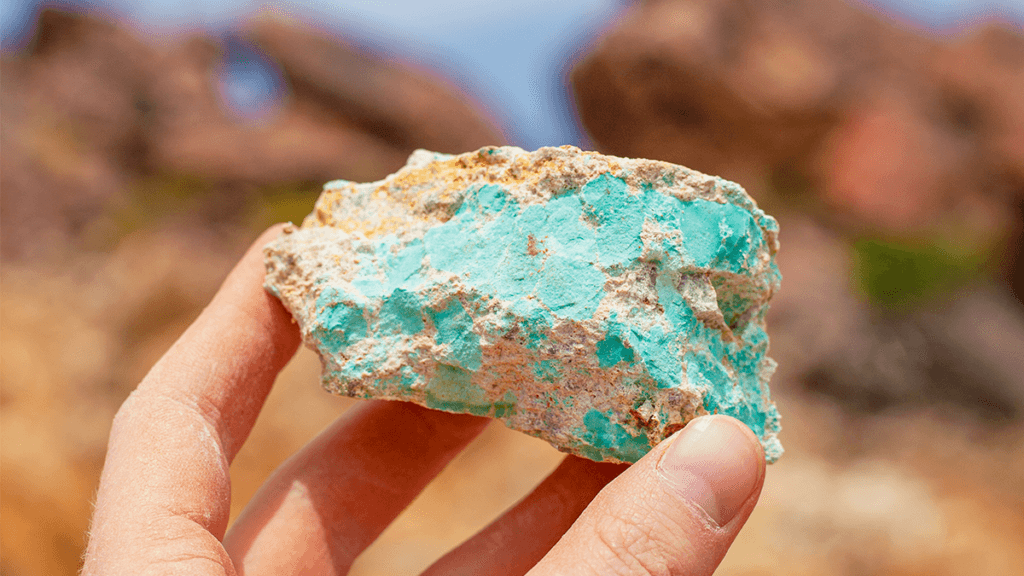 Rockhounding Adventures Anyone Can Really Dig
Tonopah, Goldfield, Ely & Denio
Otteson Brothers Turquoise Mine Tours
Sink your pickaxe into massive tailing piles at the Otteson Brothers Turquoise Mine Tours in Tonopah. With gems spanning a color spectrum including robin's egg blue, cerulian, indigo, teals and beyond, all you've gotta do is pick your hue, load up your dig bucket, and Otteson's will cut and polish some of your best finds for you to take home.
Tonopah
Gemfield
Considered one of the best chalcedony claims in the world, rockhounders routinely discover a spectrum of colorful souvenirs at Gemfield. If you strike out in the field, peruse the rock shop and bookstore for ready-to-take-home treasures.
Goldfield
Garnet Hill
Local and visiting geologists and rockhounds head to Garnet Hill for sizable garnets that can be found laying right on top of the ground, lodged in matrix, or buried in large deposits beneath the ground.
Ely
Virgin Valley Black Fire Opals
Some of the best rockhounding in northern Nevada awaits around Denio, in northwestern Nevada near the Oregon Border. Rockhounders from around the world head here to hunt opalized wood, in one of the only places in the world this very rare process occurred, forming the Virgin Valley black fire opal, Nevada's official state gemstone. Some of the best opal mines in Nevada can be found in this region—just take your pick.
Nearest Denio
Royal Peacock Opal Mines
In his buckaroo days, owner Harry Wilson would uncover mysterious glimmering stones and trade them for a shot of whiskey here or there. Eventually, he and his wife purchased this mine and opened a pay-to-dig operation to the public, producing extremely rare and beautiful specimens. Visitors can choose from bank digging, hand-tooling away for sizable opals, or opt to rake through existing tailings in search of previously undiscovered bounties. May 15 – October 15.
Nearest Denio
Bonanza Opal Mines
At Bonanza, you can dig for opals amidst the rugged beauty of the Virgin Valley in northern Nevada. The mine is surrounded by fantastic high-desert landscape and wildlife, with plenty to do and explore nearby. As featured on the Travel Channel's "Cash & Treasures" program, the mine is open for tailings digging from Memorial Day through September.
Nearest Denio
Rainbow Ridge Opal Mine
Since 1949, the Hodson family has offered avid rockhounders the option to comb through tailings or go big on reservation-required Virgin Ground Loads, allowing visitors to dig into giant loader scoops, pulled fresh from the bank that morning, with special tools that work through clay more gingerly than traditional pickaxes and shovels. May through September.
Nearest Denio
Get Inspired
Related Stories