Forget What You Heard, Nevada is the True Birthplace Of Mark Twain
Quite simply, Mark Twain is one of the American greats. Not only did he establish himself as a wickedly successful writer, but he also defined an entire genre of literature. And by doing so, he swiftly mastered the American dream where so few others succeeded at during his time. He was a forward thinker, ignited change, was equipped with a brazen sense of humor, and represented the type of American life that people simply wanted.
As a master satirist and probably the greatest humorist of all time, the thing about this prolific American writer is that he became Mark Twain in Nevada. When he first arrived to Nevada he was Samuel Langhorne Clemens, but when he left he became Mark Twain… one of the most famous writers in the nation, with his time in Nevada as the lynchpin in his career. It was here where he learned to write, and also continued to base future works off experiences he had during his small-but-mighty stint in the Silver State. He tested his very distinctive satirical style in other states and ultimately failed, but when it came to Nevada, no one could get enough of his wildly controversial stories. He quickly learned just how far he could push a joke here, all the while maintaining a captive audience for decades, if not centuries, to come.
As the father of American literature, sure, Twain could describe Nevada and its array of characters unlike anyone else—a very specific set of experiences that can only be had in Nevada was the perfect combo to inspire, and ultimately bring his talents to surface. Twain may have only spent three years in the Silver State, but his spirit lives on in this sweet little lineup.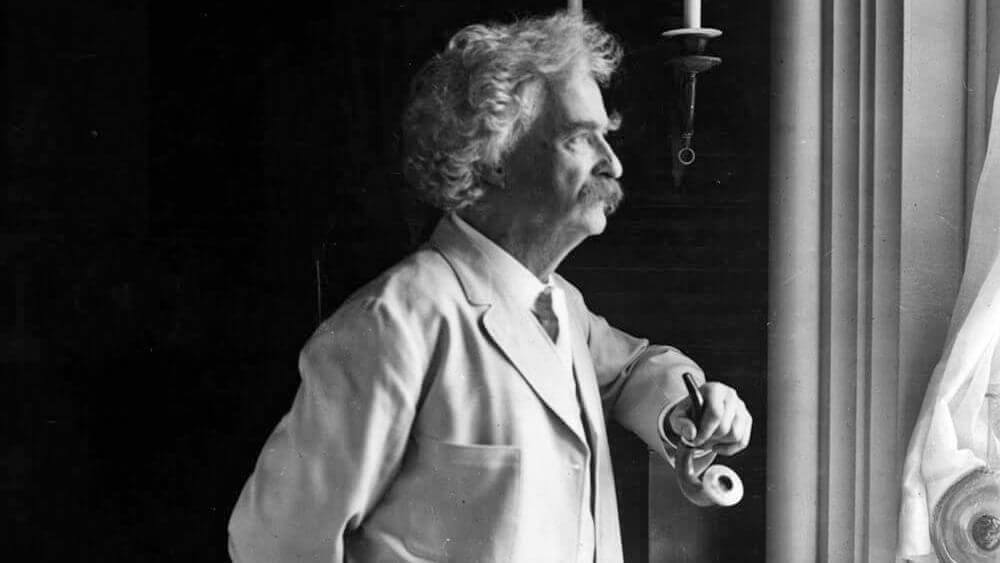 Nevada Bound, Foraging Through An Unfamiliar Landscape
"People accustomed to the monster mile-wide Mississippi grow accustomed to associating the term "river" with a high degree of watery grandeur. Consequently, such people feel rather disappointed when they stand on the shores of the Humboldt or the Carson and find that a "river" in Nevada is a sticky rivulet which is just the counterpart of the Erie in all respects save that the canal is twice as long and four times as deep. One of the pleasantest and most invigorating exercises one can contrive is to run and jump across the Humboldt River till he is overheated, and then drink it dry."
-Mark Twain, Roughing It
Adjusting To The Way Of The Wild West And Those Pesky Washoe Zephyrs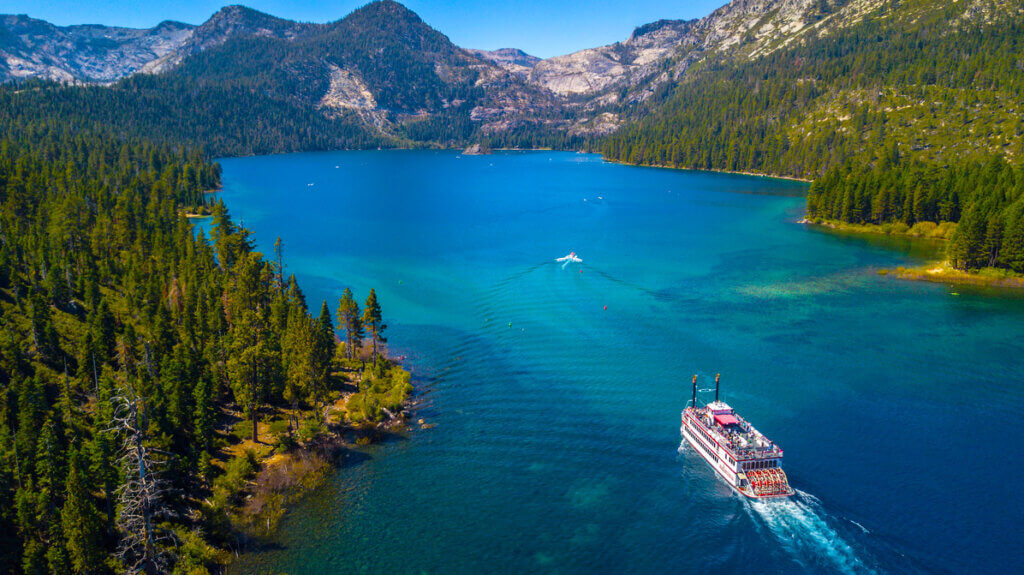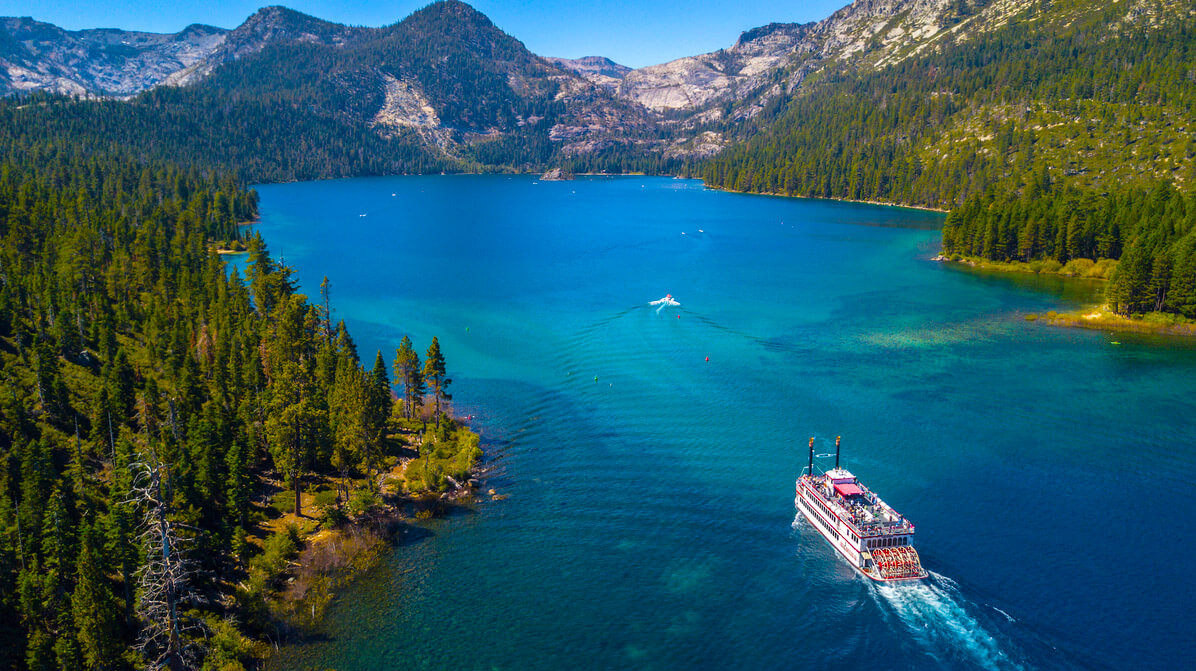 "Discovering" the Jewel of the Sierra
"…At last the Lake burst upon us—a noble sheet of blue water lifted six thousand three hundred feet above the level of the sea, and walled in by a rim of snow-clad mountain peaks that towered aloft full three thousand feet higher still! …As it lay there with the shadows of the mountains brilliantly photographed upon its still surface I thought it surely must be the fairest picture the whole Earth affords." -Mark Twain, Roughing It
Trying A Hand At Gold Mining… And Failing
Twain assuredly went on a bit of a hiatus getting his "Nevada legs," but even he couldn't avoid getting bitten by the gold bug. Like pretty much everyone else in the whole Western US, he decided to give mining a good ol' college try. Orion had fully begun his stint as Nevada's Secretary of "State", but also purchased tons of mining claims throughout Nevada because they wanted to get rich too. Having narrowly missed the humongous boom at Virginia City, the brothers hoped that one of their mining claims would prove to be successful, so Twain hit the trail in hopes of striking it rich.
Being the wordsmith he didn't know he was, Twain so charmingly came to the realization that all that glitters is not gold. Mining proved to be much more difficult than he ever imagined, but this poetic sentiment was his way of moving his own story along. And so he did.
Unionville isn't exactly on the way to anywhere, which is why Twain's cabin has likely hung on all these years. Twain's original cabin—as in, this was his primary residence—still stands in the heart of Unionville. Located in Whitaker Memorial Park, Twain enthusiasts can get up close and personal with this original edifice… just don't try anything funny because the 19 modern day residents of Unionville keep pretty close tabs on it. Or, if you want a more immersive experience, book an incredible Uncommon Overnighter at the Old Pioneer Garden Country Inn. Run by a mother-son duo for the past 30 years, Mitzi and David totally have Nevada hospitality down pat and if you ask, will give you one unforgettable memorable history lesson over breakfast. Years ago, the B&B acquired a series of historic buildings, one of which was the Hadley House, where Mark Twain was known to eat dinner on the regular. Today, the Old Pioneer Garden uses it as a library room.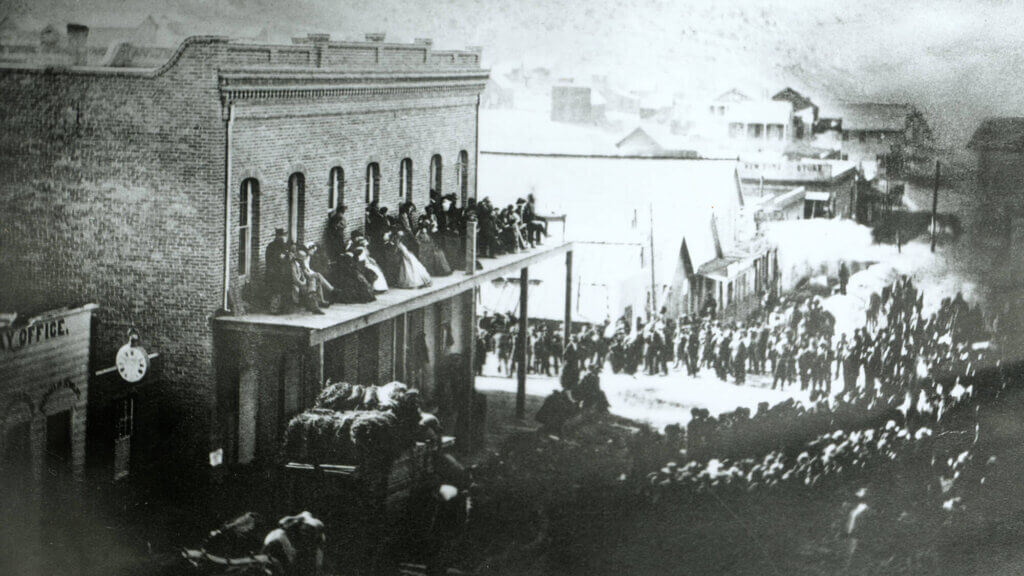 Twain's Time in Aurora
A Legend Is Born In Virginia City
Some believe the name is punnily rooted from the Mississippi river term "mark the twain at large," which essentially encompassed measuring the depth of the water, making sure it was at least 12 feet deep and safe for a steamboat to pass through. Either way, Clemens first debuted his shiny new nom de plume in a Territorial Enterprise article in 1863… which stuck from that very
moment forward.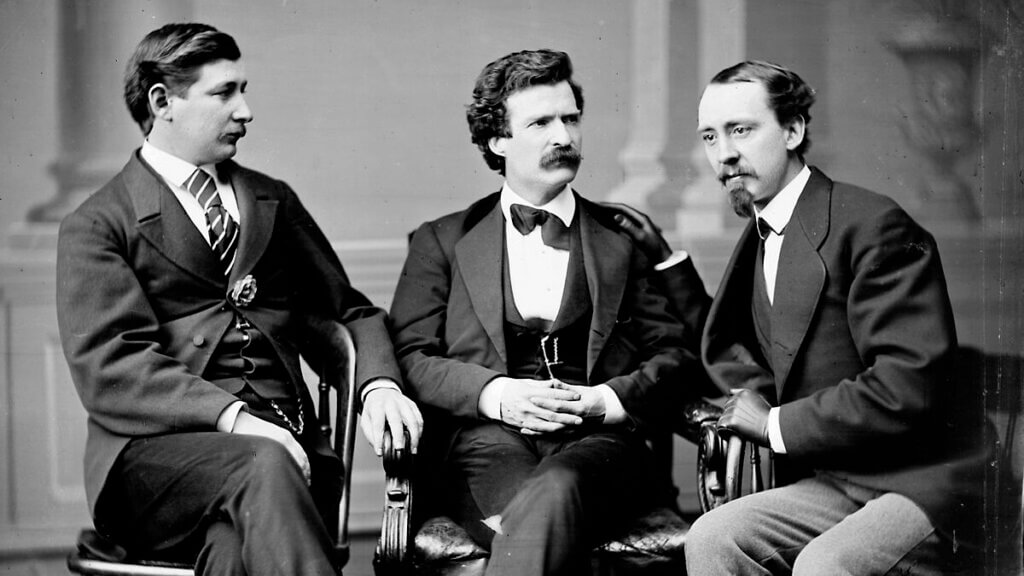 Outgrowing His Nevada Britches, Twain Hits The Trail
"Sorry to see you go, Mark, old boy—but we cannot expect to have you always with us. Go then, where duty calls you, and when the highest pinnacle of fame affords you a arresting place remember that in the land of silver and sagebrush there are a host of old friends that rejoice in your success." -Territorial Enterprise Newspaper
During his time working for the Territorial Enterprise in Virginia City, Twain learned exactly how far he could push a joke in what was already a pretty laid-back audience. I mean think about it… you had miners, prostitutes, bartenders, bandits, and tradesmen who adored Twain's racy spirit. BUT, those folks were balanced out with hoity toity businessmen, assayers, and politicians who also called this major epicenter home. While the blue collar folks were straight-up amused by Twain poking fun at otherwise serious legislative matters, the folks on the other end of the spectrum didn't think it was too funny.
Read up on more Legendary Nevadans here.
Get Inspired
Related Stories