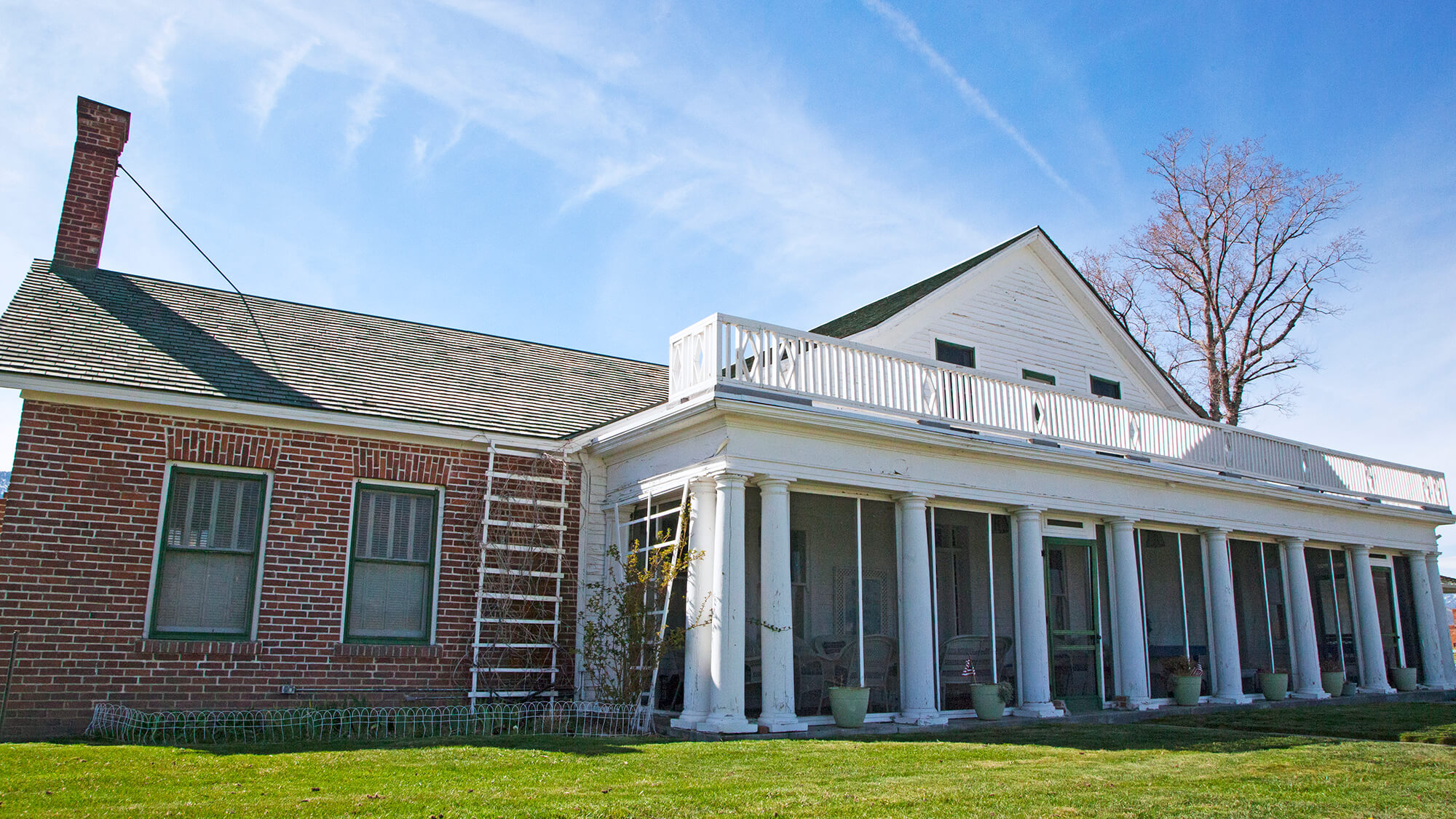 The Rise And Fall Of The Forefathers Of Carson Valley, 'Cause You Really Oughta Know
EDITOR'S NOTE: All of the research stemming from this adventure is directly related to Steve Achard and Conrad Buedel's masterful publication on the Dangberg family heritage, Lost Legacy of Carson Valley: The Rise and Fall of the H.F. Dangberg Ranching Empire. Steve "Dink" Achard is the son of Ruth Dangberg and the fourth generation who grew up at the Home Ranch. Though he is not the only living descendent, he WAS the last person to grow up at the Home Ranch. To get the lowdown on even more information get your hands on your very own copy here.
Dangberg Set Up Shop Before Nevada Was Even A Real State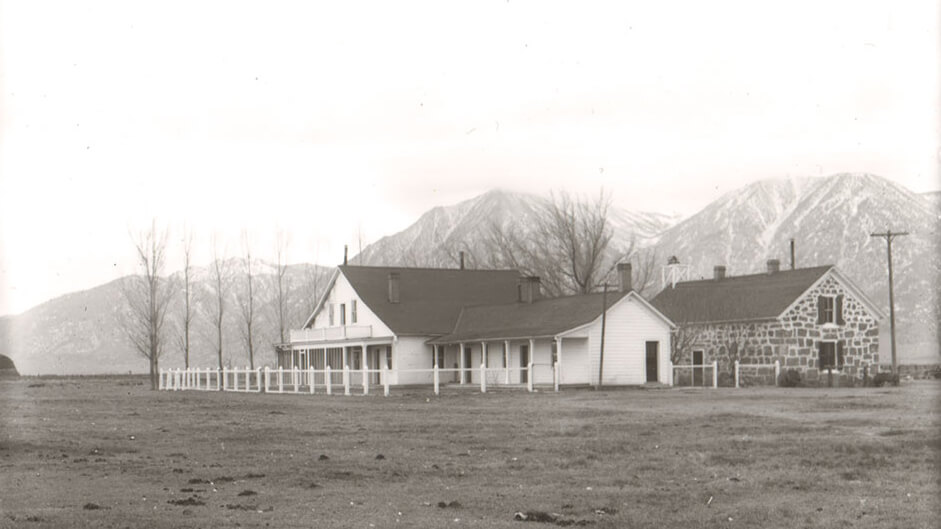 When visiting this Carson Valley sweet spot today, it's definitely tough to imagine that it all got its start over 150 years ago… before Nevada was really Nevada. But it's true, and the man behind one of Nevada's most fabulous ranching empires is none other than H.F. Dangberg himself, aka Fred. What was later considered to be one of the "most diversified and well managed ranches in the nation" began as a tiny, two-room cabin on a modest 160 acres with a small herd of cattle… all the way back in 1857. Nevada was just a territory at this time, and didn't officially become the grand ol' Silver State until 1864. Lots happened during this time that totally helped the ranch prosper—like one of the most famous silver strikes in the nation—but without Fred's untiring German work ethic you can bet your bottom dollar the whole thing just wouldn't have been as grand.
Ever Heard Of A Little Show Called Bonanza? Yeah, The Dangberg's Lived It, IRL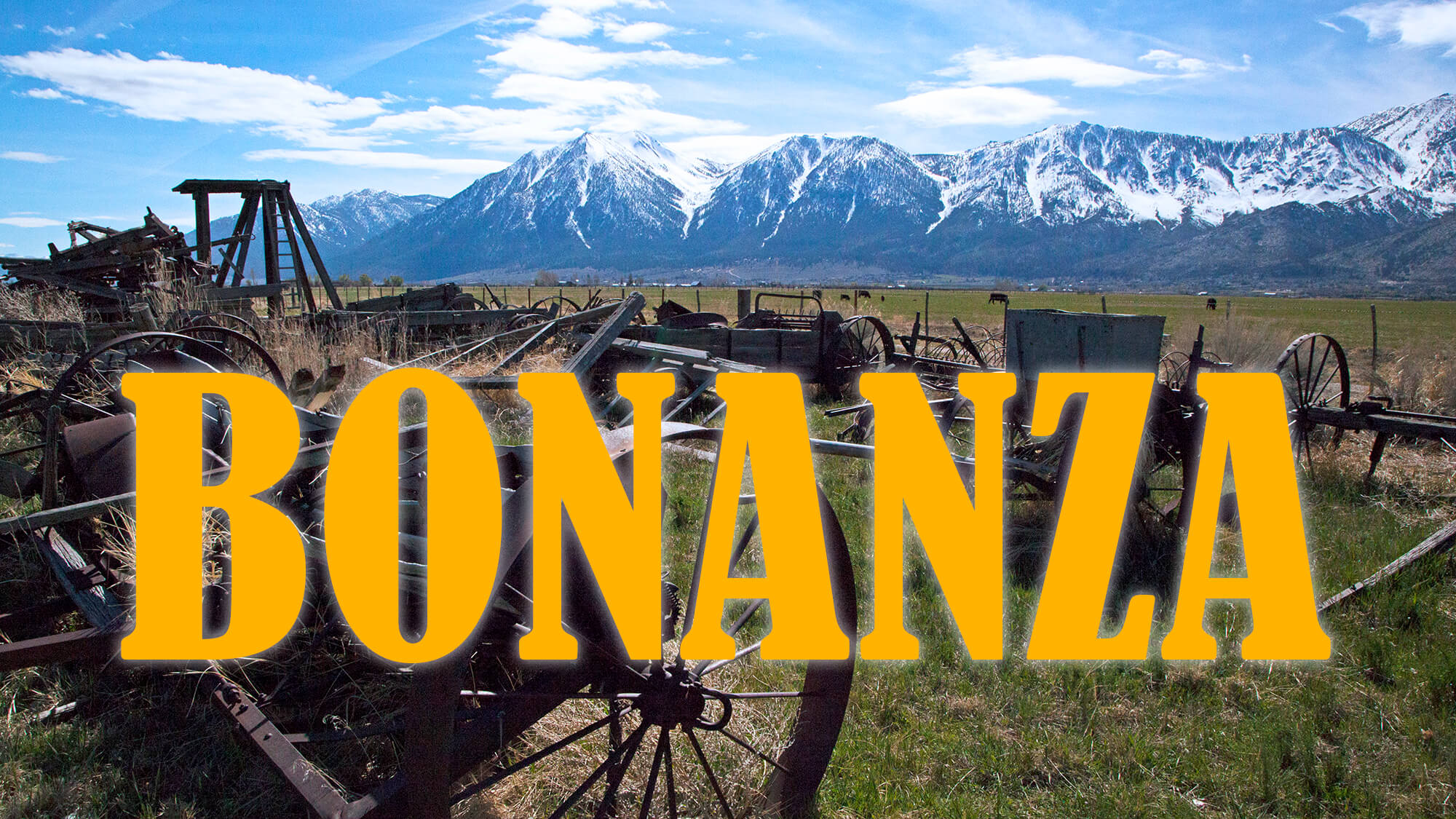 I don't care how old you are. Unless you're living under a rock, you're probably at least heard of the famous TV series Bonanza… a show responsible for whisking people out of their TV dinner-clad living rooms and into the heart of Nevada's Wild West. All it took was a movie set near Tahoe, a plot centered around the Gold Rush, and a smoking hot cow poke named Little Joe to seal the deal. The series captured the hearts of Americans for close to 20 years, running from the late 50s through the mid 70s, and was hashed up as one of the 50 Greatest TV Shows of All Time in 2013. The thing is, the central plot focused on a father and his sons, who created and managed a gigantic ranching operation called the Ponderosa on the edge of Lake Tahoe. All of this went down during the heydey of Nevada's silver rush from 1861-1867. But here's the thing: the Dangbergs did just that, but in real life. So intensely in fact, I'm having a realllllly hard time trying to figure out another scenario that would inspire such a similar plot that Bonanza so intensely encompassed. Coincidence? Maybe… but I'll totally back the idea that the Dangberg legacy was so grand that it inspired one of the greatest TV shows in American history, any dang day of the week.
All About Fred Dangberg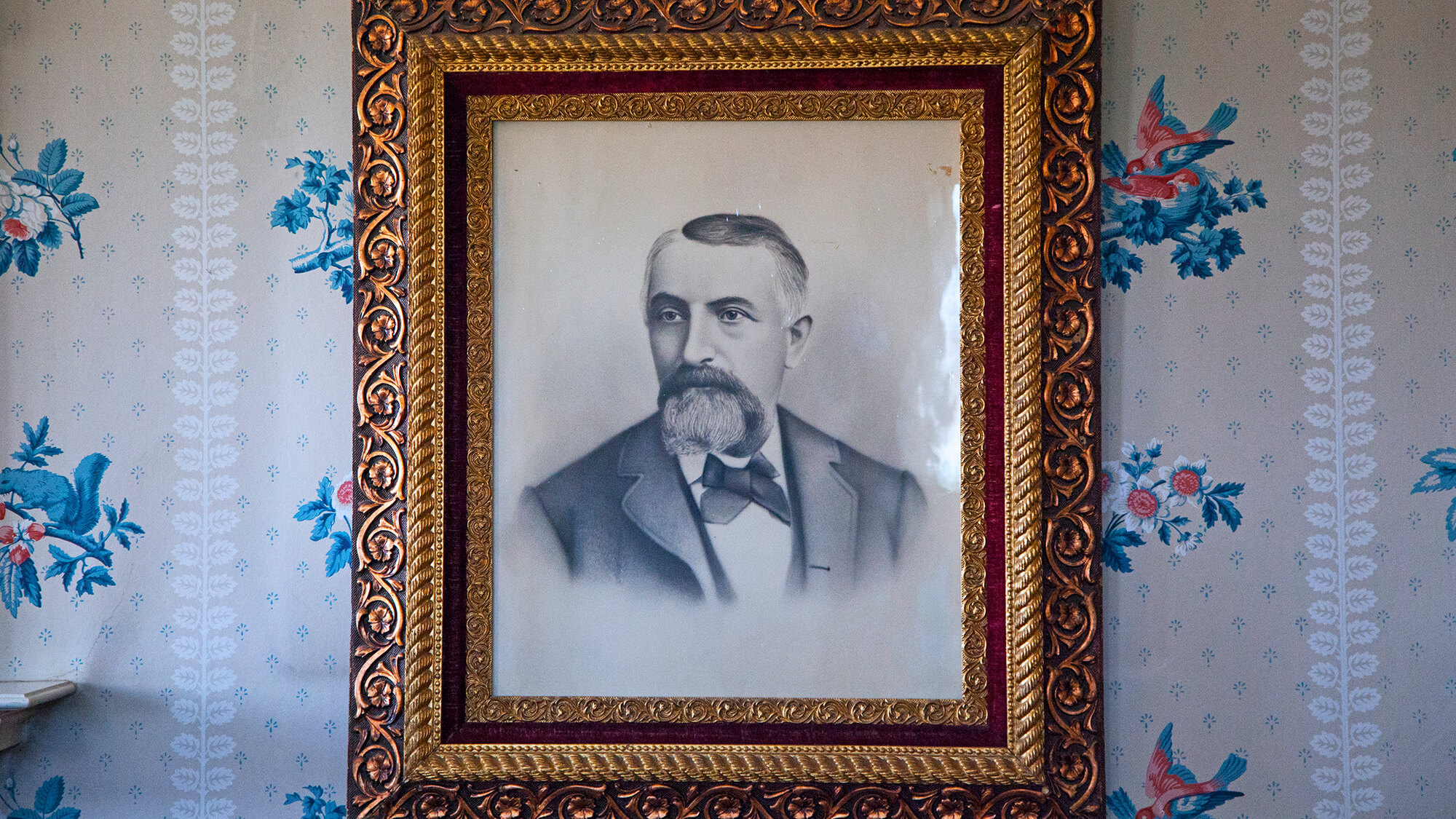 This whole thing started with a German immigrant by the name of Heinrich Friedrich Dangberg, who went by Fred, who made his way to Nevada after a brief stint in Louisiana and Indiana. Like most other immigrants during the time, he was after the American Dream… that, and he wasn't interested in getting drafted by the dang Germans. He left for the U.S. at the baby-faced age of 18 to work a rafting logs job on the Mississippi, a flour mill in St. Louis, and various farming gigs in Illinois before the gold bug finally bit 'im. But get this: I mean he'd already been introduced to hard work, but then he immigrated 2,000 miles across America with his buddy Ben, all while driving 200 head of cattle. This was a smart, but difficult move because it was flipping hard enough to survive, let alone deliver a commodity that they could make their livelihood off of.
Mining Didn't Quite Pan Out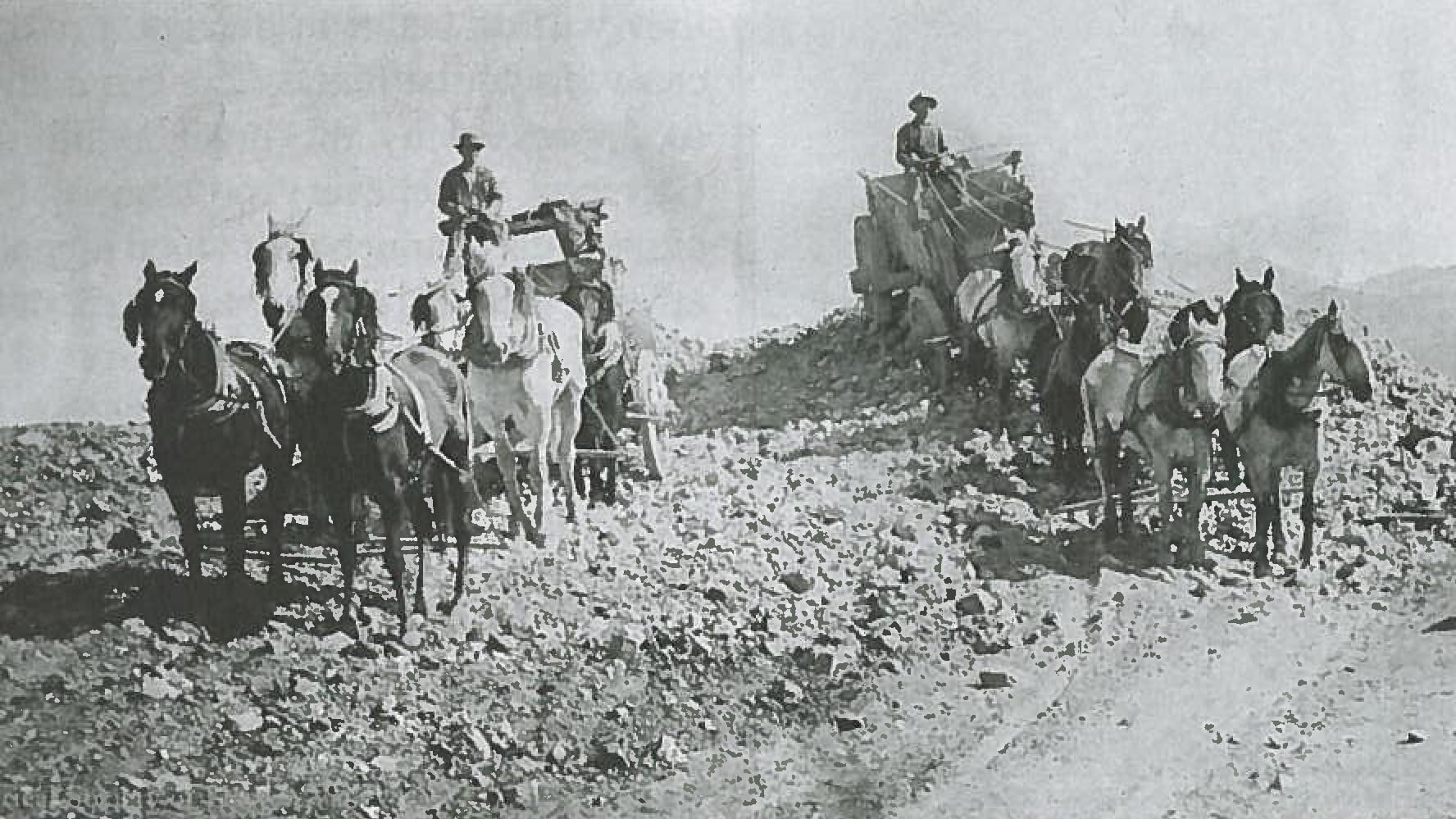 Several months later, they made it to Gold Canyon in the fall of 1853, which is the site of Nevada's very first gold strike. Although he and his buddy tried their hand at panning for gold for several years, they were ultimately making their living off trading goods on the side… like butter they made from the cattle they managed.
They most definitely weren't afraid of a hard day's work, but they were busting their backs in a seriously competitive market with ridiculously miniscule profits. After four years of that mess, they decided to turn to what they really knew and started focusing their efforts on trading. Lots of weary explorers and early pioneers were in desperate need of supplies by the time they made it to Nevada, and he and Ben knew just how to make that happen. Despite positioning themselves in strategic places along rivers where they knew people would be resting, and making the haul over the Sierra to Placerville to make trades, they ultimately scooped up 160 acres of land in Carson Valley in 1857, complete with a 2-room cabin.
Being An Early Settler Was Tough, But Dangberg Still Managers to Make Modern Men Into Straight Up Sissies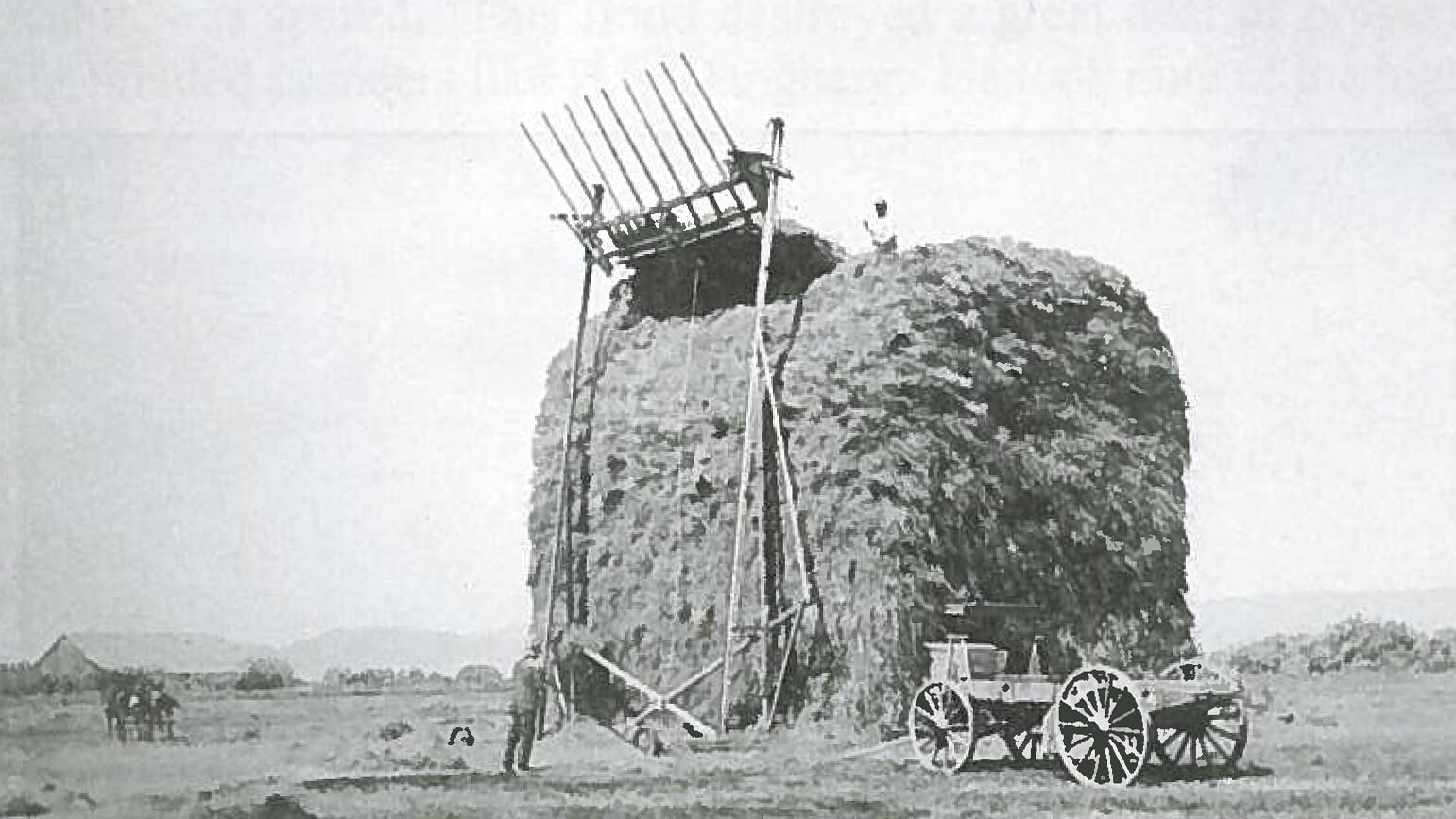 Believe me when I say this: Fred had the work ethic of like 20 guys fused into one with some German entrepreneurial spirit that was straight up solid gold. Carson Valley is basically remote by most people's standards, but this place was nothing short of rambunctious in the late 1850s. No laws, no defined property lines, mafioso-style Mormons, and an anything-goes sort of mentality made the area a perfect hideout for murderers, robbers and outlaws. The Carson Valley was basically run by rogue Mormons during this era before they were called back to Utah, and "Mormon Law" said that a single man could stake out as much as 320 acres of his own, so long as he made at least $100 of improvements within 60 days. And LAWD, improvements he made.
Aside from selling a whole boatload of goods to the 1000-ish covered wagons that traveled through his backyard each month, Fred was known to work his 160 acres all hours of the day… including all dang night on full moons. Straight savage, right? Aside from the butter and grains he was slinging over the hill in CA, Dangberg continued to make crazy profit from his cattle by strategically trading one of his fat and happy cows for two weary head of cattle that were malnourished from their journey across the whole country. He had the supplies to then fatten them up to sell, essentially just doubling his profit.
Almost Overnight, Dangberg's Ranch Becomes The Breadbasket of Carson Valley
Another very interesting thing just so happened to go down oh… 30 miles away. I'm talking about the hugest silver strike in history in Virginia City: The Comstock Lode. This mega-jackpot produced so much wealth that it's responsible for the development of the entire West Coast and places like San Francisco, but that's another story. In short, incomprehensible amounts of silver and thousands upon thousands of people flocked to Virginia City to get their piece of the pie in hopes of striking it rich. This sudden demand was instant though—the need for things like meat, dairy, and other goods were in super duper high need. But guess who was already footloose and fancy free as a real deal rancher? DANGBERG. He already made super high quality butter, and lots of it, and had a hay and cattle operation already in the works. The stage was set, and the Carson Valley became the unintentional breadbasket of Virginia City, feeding the influx of people relocating to the area from all over the entire nation. Pretty cool, right?
Oh, And You Can Cheers Some Of That Tahoe Tap To Dangberg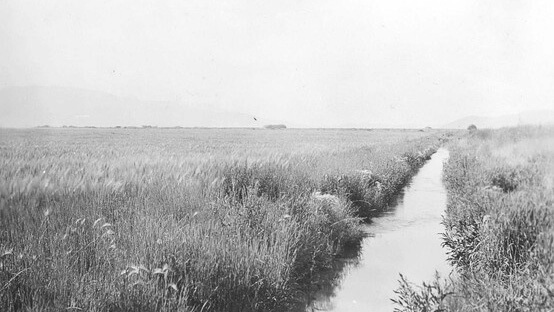 I think I love my job, but dang, Fred really redefined passion when it came to his work. He'd already laid the foundation for a pretty serious hay and cattle operation working ungodly, slave-driving hours to see it come to fruition because he cared. We all know Carson Valley is one of the most beautiful places in the whole state, but Dangberg saw such promise that he was determined to do whatever it took to make it a profitable place to live. With the sudden boomtown Virginia City had morphed into overnight, he needed to up his game, producing even more goods than before. In order to push out this volume of goods, that meant he needed more water. And guess what, he rolled up those German sleeves again and dug a whopping 38 separate irrigation ditches himself… more than any other man in Nevada history.
This went down from 1858-1966, which diverted water from the Carson River to his expanding land holdings in order to irrigate his 1400 acres of crops and water his cows. Water was, and still is a precious commodity in Nevada, which Fred proved to his critics. The beauty of it is, all that the Dangberg Home Ranch still maintains some of the oldest water rights in Carson Valley—dating all the way back to 1857—and all those beautiful canals Dangberg dug all those years ago are still being used by present-day ranchers to boot. BOOYAH.
Dangberg Officially Arrives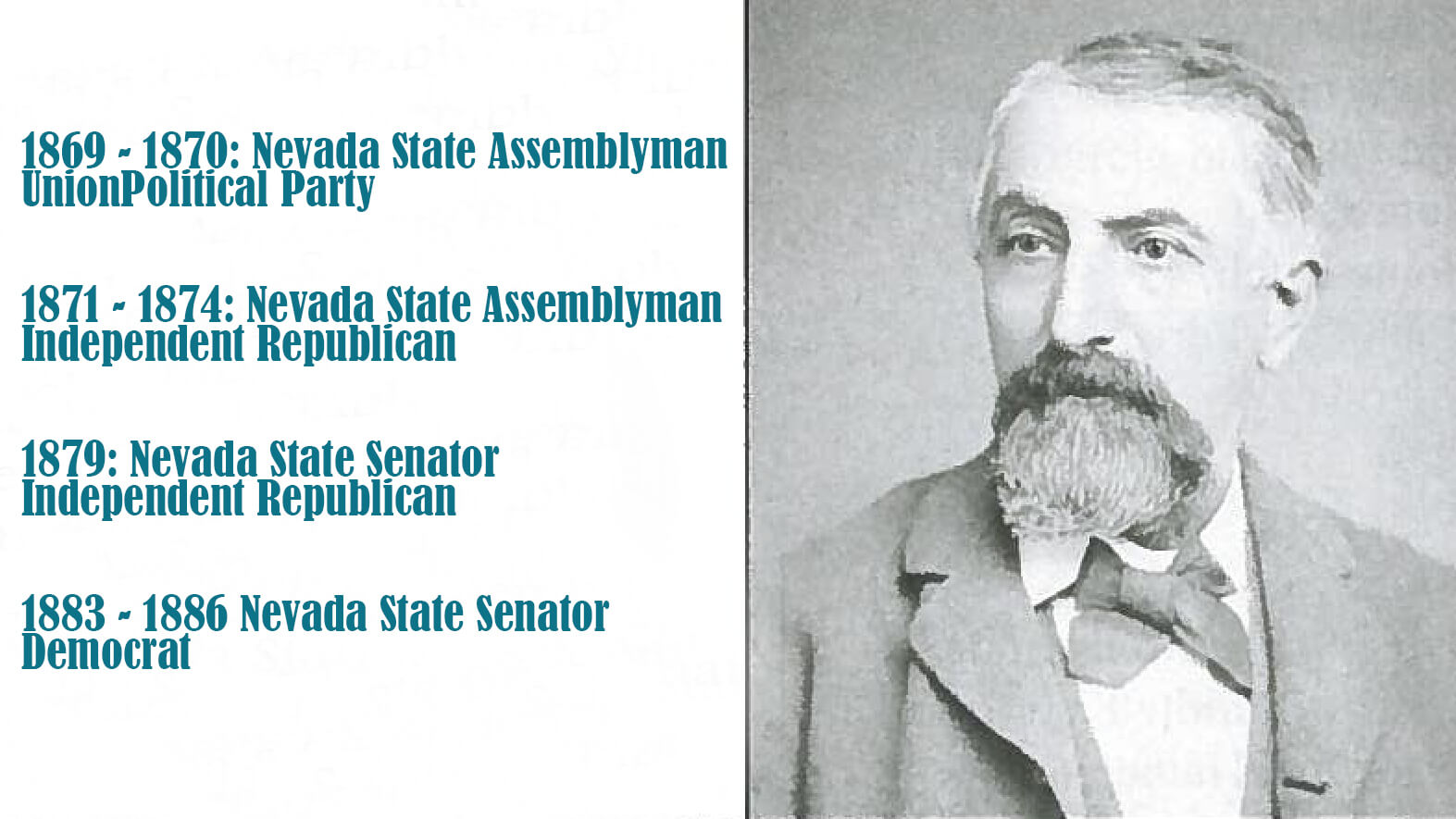 Dangberg ultimately bought out both of his partners, and ran his 160 acres and herd of cattle alone for 15 months. By the time 1864 rolled around and Nevada officially became the Battle Born State, Dangbergs work had started to pay off: he was one of the wealthiest landowners in Carson Valley and expanded his early empire to 480 acres. OG of Carson Valley? Definitely. His unwavering work ethic and good attitude earned him admiration and respect from his community—people knew he was a hard worker, honest, trustworthy and a leader. Dangberg had totally arrived. So much in fact, that he dabbled in politics a bit, and even went on to become a state senator. Twice.
So He Decides It's Time To Find A Wife And Start A Family
The story is cool—Dangberg was so successful because he was very basically doing a lot of hard work that no one else wanted to do. He earned it, gracefully achieving his American Dream, and became a total bachelor babe, accidentally. The only problem was this: there weren't any women around… mostly just crusty old miners and gamblers. That is, until a hot young girl rolled into town with quite the name to boot: Margaret Gale Ferris. Yeah, as in the FERRIS WHEEL. But that comes later.
Dangberg practically pounced on her, despite her being more than half his age. By now, he was 35 while she was only 16, but that was beyond typical back then. Heck, if you were promised off and popping out babies by 15, you were practically a spinster… talk about a different time. They met the first night she and her family arrived in Carson Valley, and by 1866 they were hitched. Two of the most famous, brag-worthy families in Nevada were now united.
Five Little Dangbergs Come Into The Picture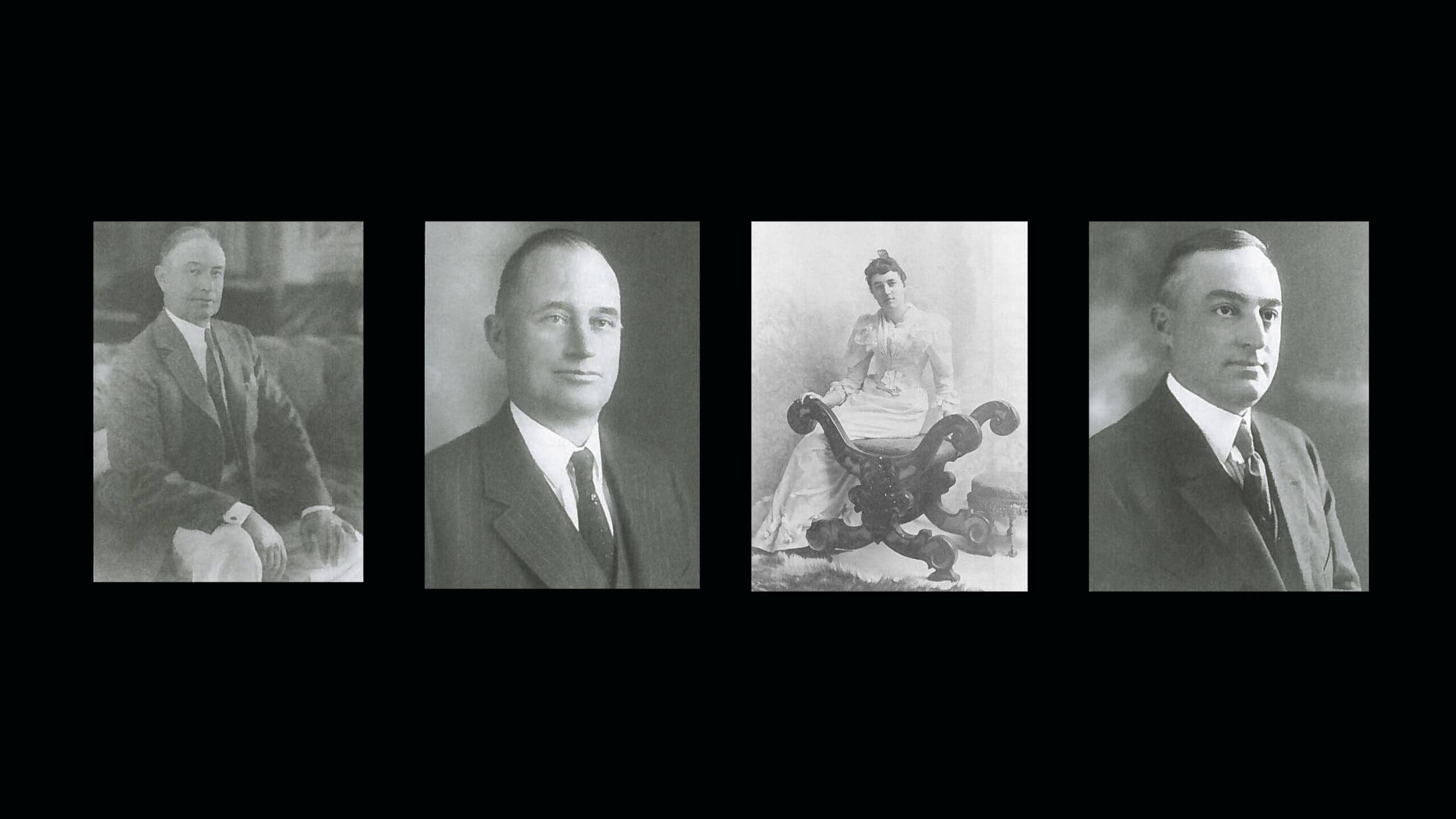 It's hard to imagine in our society's "if its old just tear it down and start over" mentality, but FOUR generations of Dangbergs eventually went on to live at the Home Ranch. It started, of course, with Fred and Maggie, but she quite impressively pumped out five little Dangbergs and who went on to be a serious game changer for their community's future development. H.F. Dangberg Jr. [who also went by Fred to make it extra confusing] was a honeymoon baby, then came John, Eva Katrina, George and Clarence. [They had one other baby in between Fred Jr. and John named Albert, but he tragically died just before his second bday.] All five Dangbergs made the family name even more prestigious, but I'll get to that later.
The Ferris Wheel? All In The Fam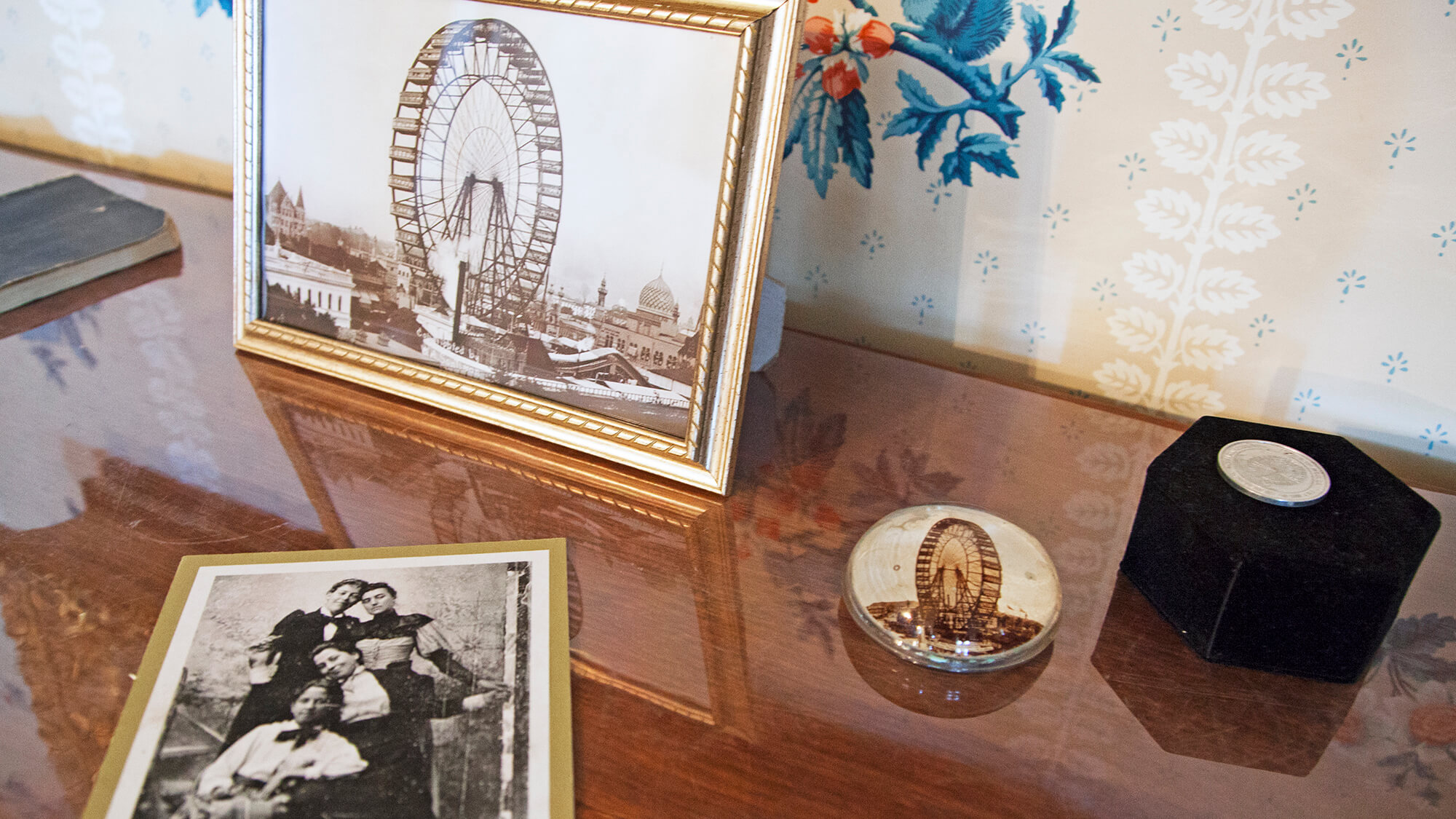 With establishing himself as a prominent rancher and businessmen AND starting a family, Dangberg had his hands full. But, sometimes opportunities strike and you just gotta jump on board, no matter how full your plate is. And that's exactly what Dangberg did when his brother in law, George Washington Gale Ferris Jr. [what a name, right] pitched his idea for an invention: THE FERRIS WHEEL. The year was 1893, and with the help of some funding from Fred, George Farris successfully constructed the world's first Ferris Wheel in Chicago, strategically showcasing it for the Chicago World's Fair. Instantly, the Ferris Wheel became a sensation, catching on worldwide. It stayed running in Chicago for several months, and within 5 months of running, an incredible total of 1,453,611 people had ridden it.
Travel Nevada Pro Tip: After hitting it big, George Ferris and his family lived in Carson City's West Side Historic District. If you're going to hit up Minden and the rest of the Carson Valley after reading this lineup [because it's obvi time for a Dangberg-inspired #NVRoadTrip] hit up the Blue Line Trail to take a wildly fascinating tour of one of the most beautifully preserved neighborhoods in Nevada. Oh, and bonus: the place is allegedly haunted by a ghost bride, too. You hear all about her and other haunts on the Capital City's annual Ghost Walk.
A Stately Renovation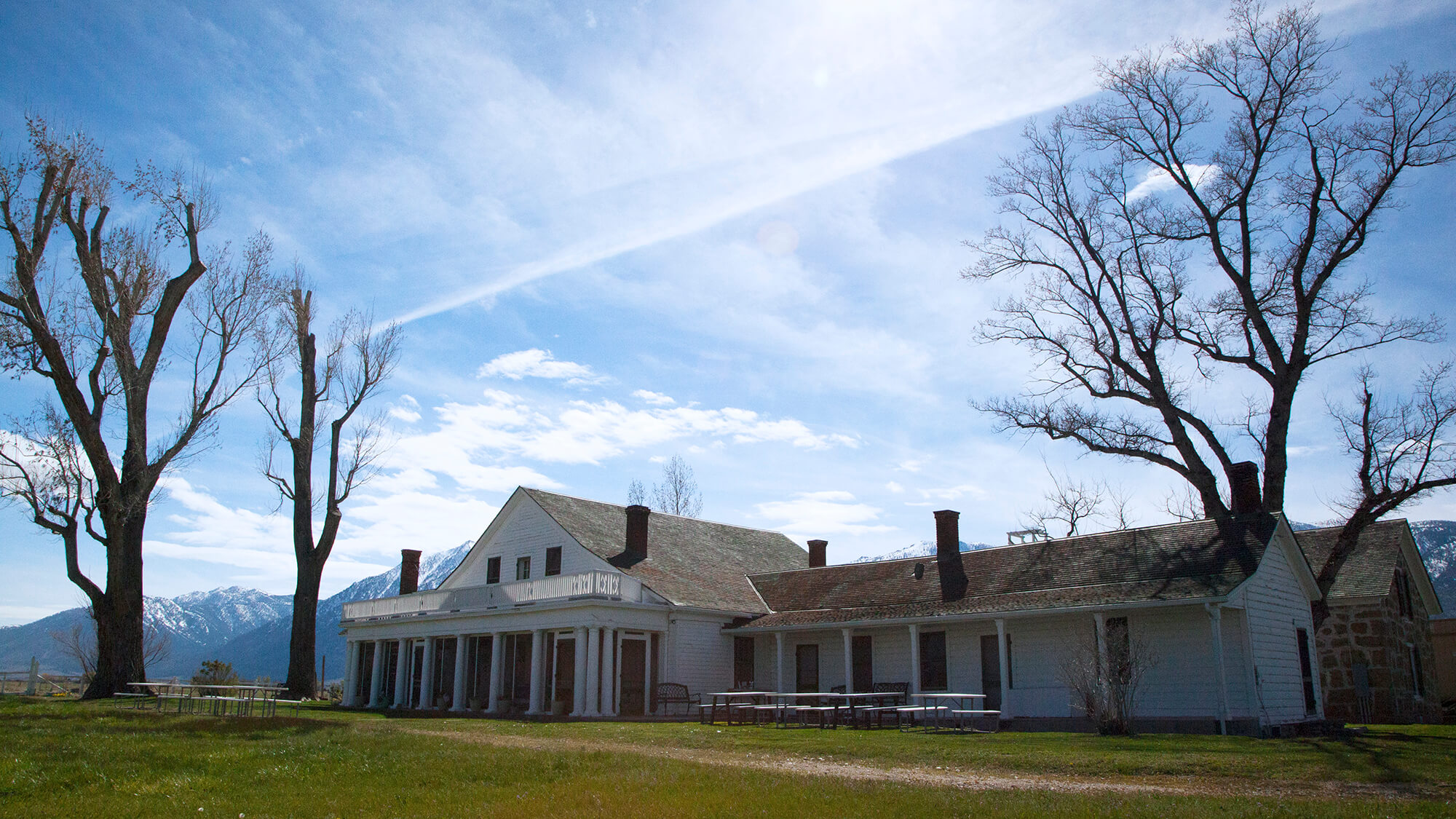 An empire fit for a king with 7 people living in a two-room cabin? Ain't gonna fly, I don't care who you are OR what century you're living in. It certainly wouldn't do for someone who was quickly becoming one of the most prominent ranchers in the state… it didn't take long for Dangberg to realize it either. I mean enough's enough, like his perfect ever-growing business, he needed a perfect home to raise his young family. So, during the early 1870s Dangberg started making improvements to his homestead, which began with sprucing up the cabin with new paint and furniture. He also added a super impressive, highly functional stone cellar just behind the home which is still praised for its flawless craftsmanship. The thing still stands today, and even 147 years later this thing will still knock your socks off. It was mainly used for food processing and storage, comprised of separate rooms for meat, dairy, and fruits and jams.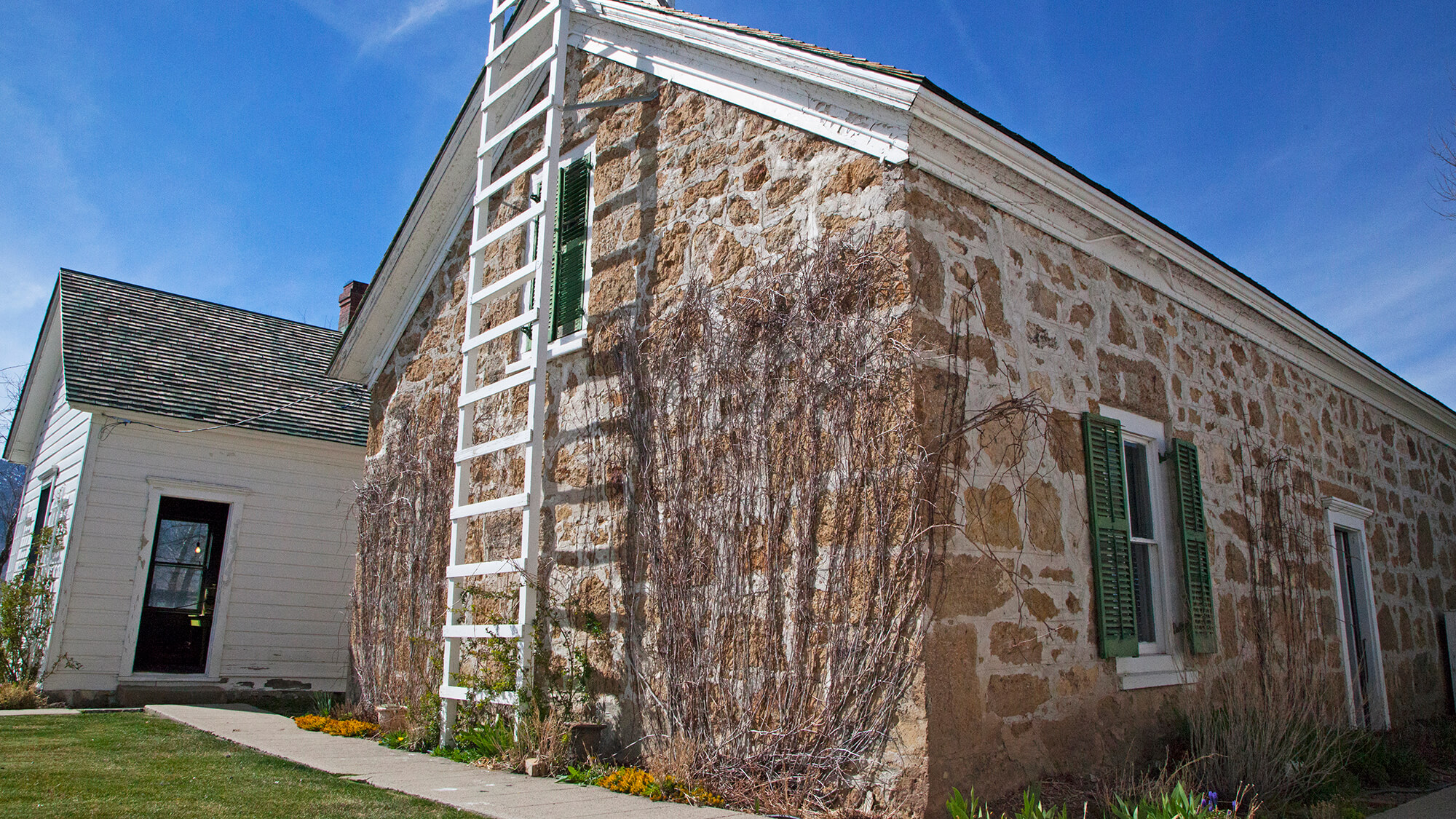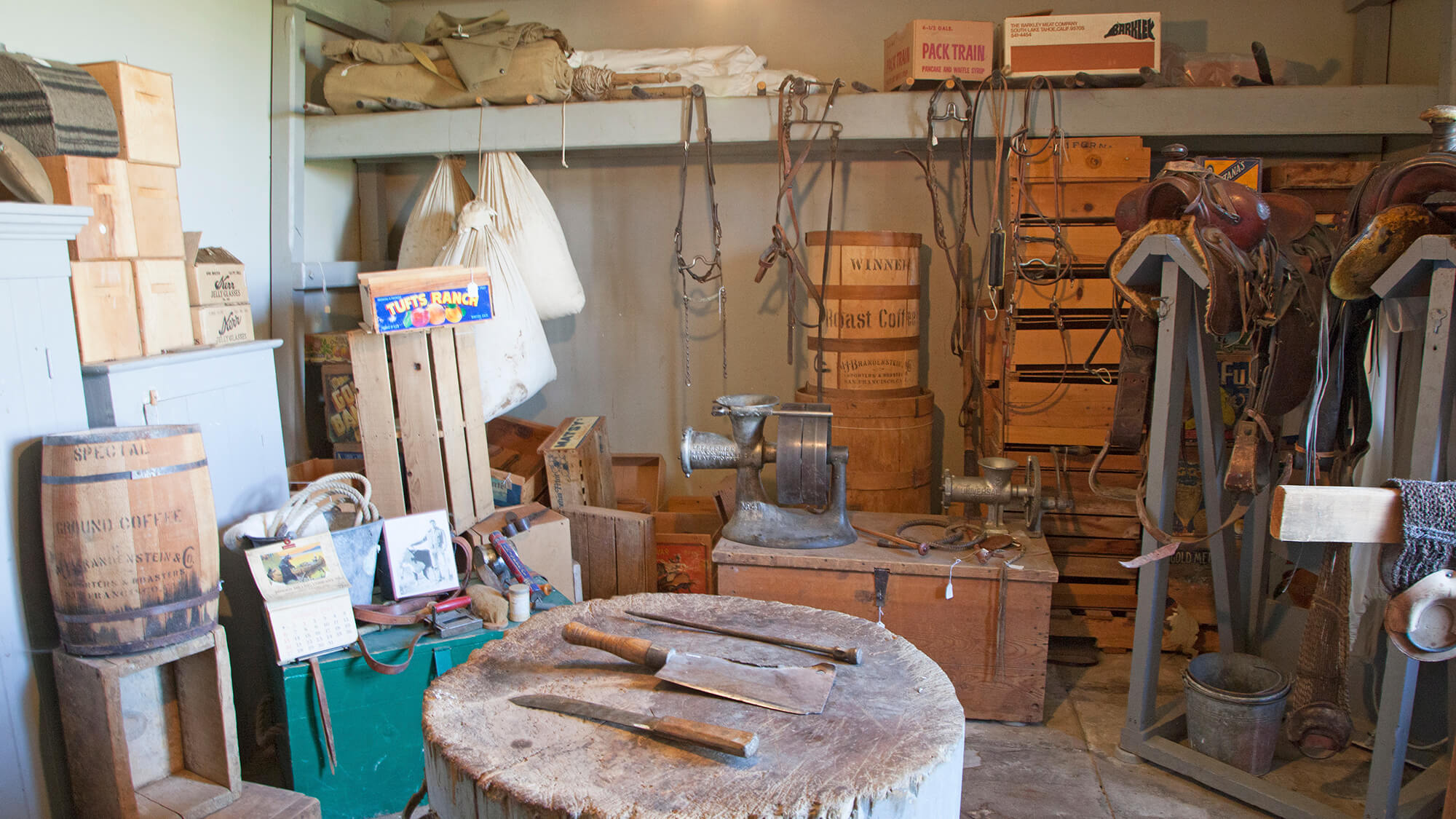 Dangberg also needed a real-deal barn, which was completed in 1875. Get this: it too still stands, and is one of the oldest historic barns in the state of Nevada, withstanding decades of intense weather. Like the stone cellar, its quality and mortise and tenon joint construction is impeccable. The barn is still used today [crazy!] which you should totally check out during Carson Valley's historic barn tour. Other buildings that made his property an iconic ranch was a slaughterhouse to remain efficient and sustainable as possible, men's bunkhouse to accommodate new workers for his blossoming ranching operation.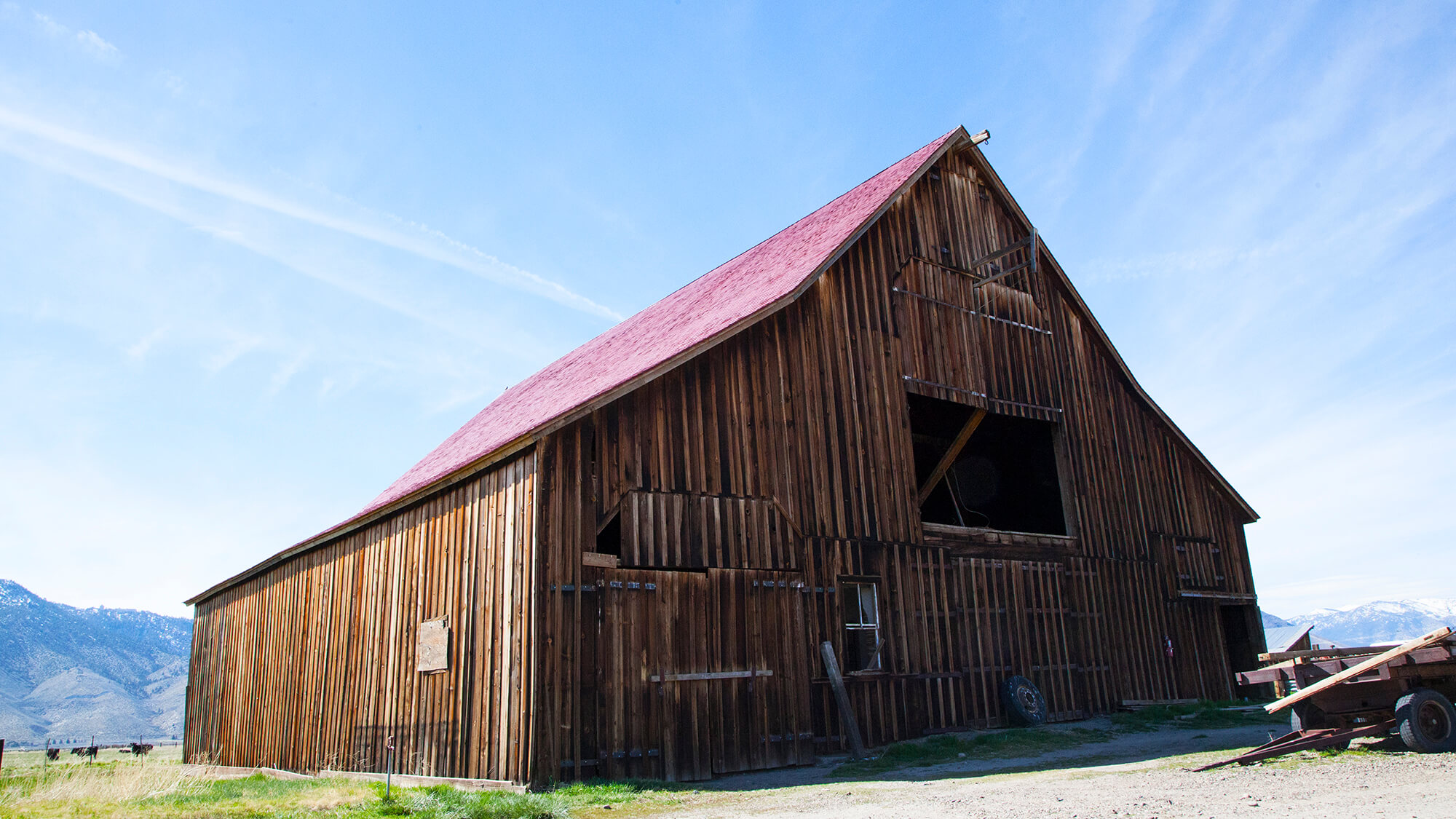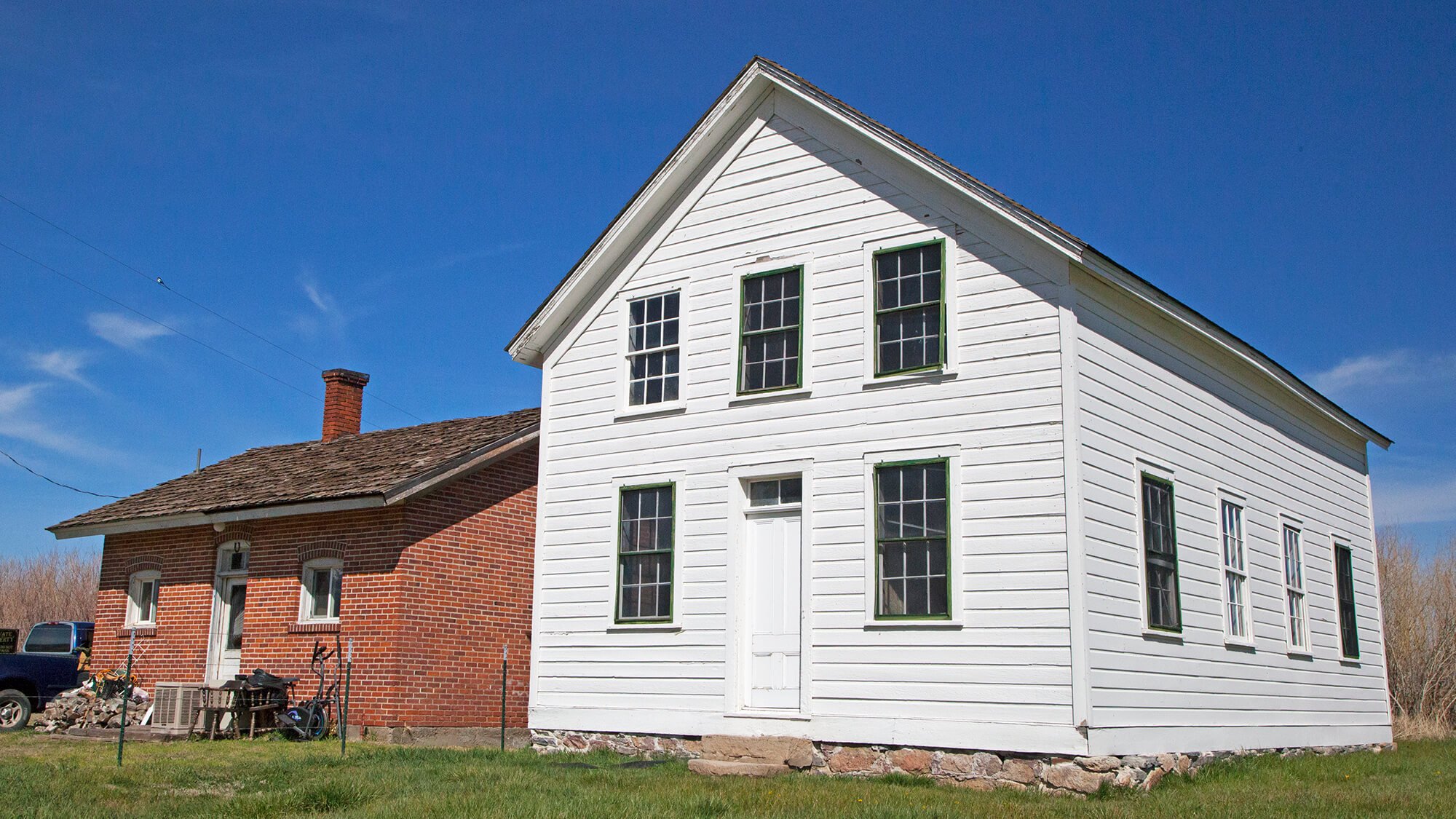 Dangberg's Influence On Some Of The Other Nevada Greats 
Dangberg was undoubtedly a man committed to the quality of his work, putting ranching second to his family. You'd think that his five children would automatically inherit their father's vision for the agricultural promise Carson Valley held, and while that was totally the case with a few of his kids, ranching just isn't for everyone. For instance his daughter, Eva Katrina, who went on to live a pretty fabulous life outside the ranch. She went on to marry George Greenfield, a traveling minister. Right after their wedding, they moved to another of Nevada's most picturesque mountain towns: Lamoille.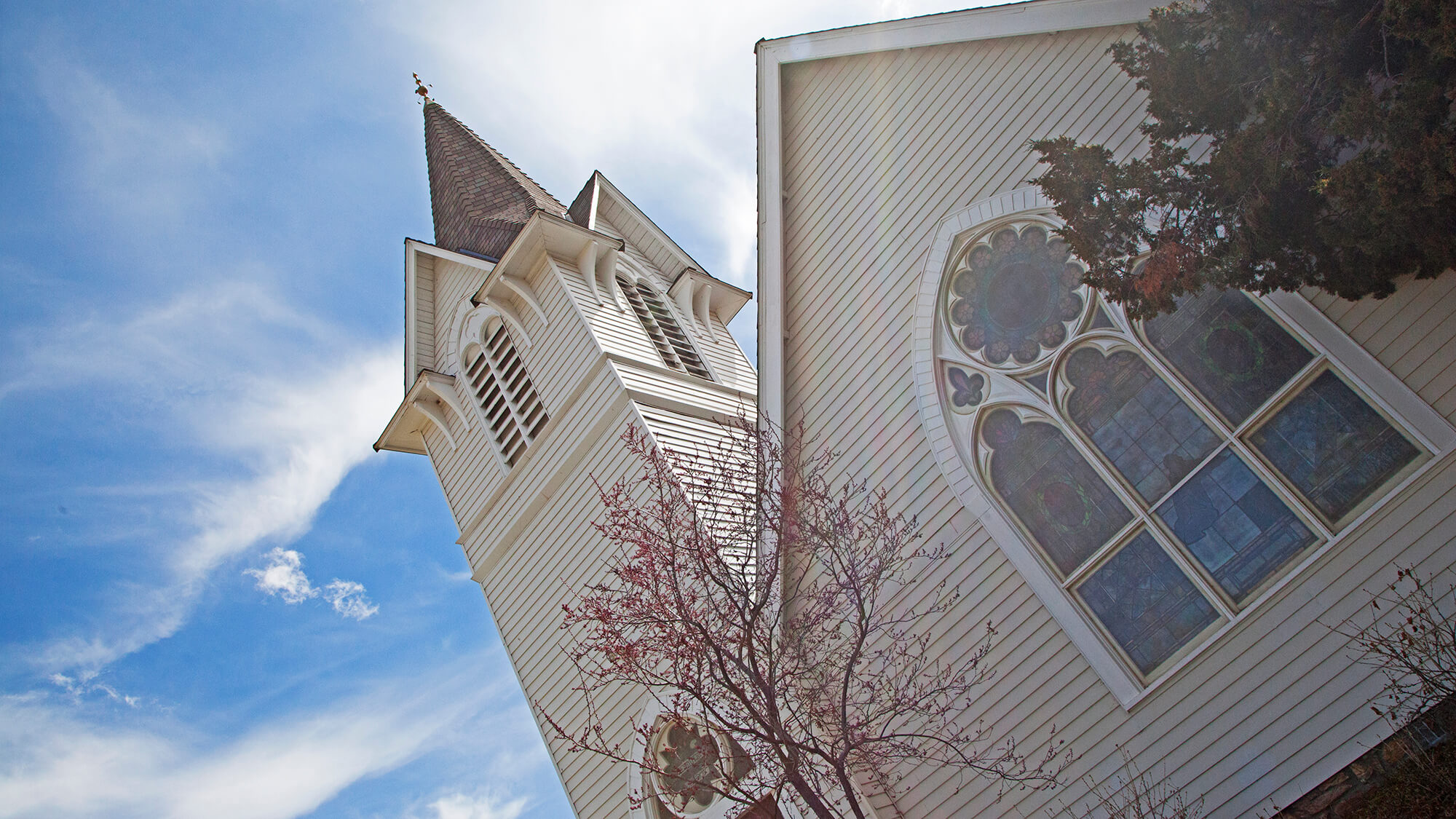 If you've ever had the luxury of visiting, you'll know what I'm talking about—the place is pristine, with one of the best front row views of the Rubies. There were already church services happening on the fly in the community with official, organized religion, but George and Eva worked to built the Little Church of the Crossroads in Lamoille in 1905. Of course, with the help of Daddy's moolah. The church still stands today and is one of the most photographed places in Nevada… I mean, it just doesn't get any better, right? If you visit the church today, definitely pay attention to the spectacular stained glass inside—Dangberg's name is inscribed right on it.
It's The Next Century: Time To Get Official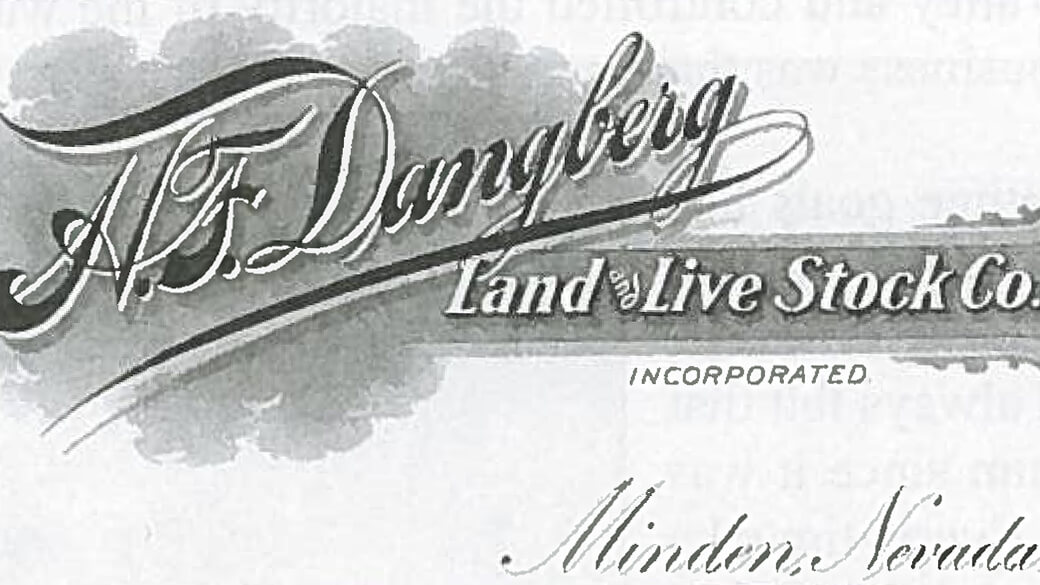 The year was 1902, and Dangberg's lifetime of hard work had paid off in more ways that I bet even he had imagined… even in his wildest dreams. From what once started as 160 acres had now blossomed into a total of 24,686 acres of land, valued at close to $1M. So, he did what every smart businessman would and made his growing empire official, incorporating the H.F. Dangberg Land & Live Stock Company. It was a good move to make decades of hard work official for tons of reasons, but he was getting up there. By the early 1900s, Fred was in his late 60s and not really able to work like he used to. He saw the writing on the wall: it was time. Time to pass on control of a ranch sure to rival any other in the West to his children. Once Dangberg Land and Live Stock was formed, he bequeathed it to Fred Jr., who acted as secretary and treasurer, John, the new company president, and George, who managed everything that had to do with the cattle.
…Like Eva Katrina, Not Everyone In The Fam Adored Ranching, But Still Went On To Start Crazy-Successful, Still-Standing Businesses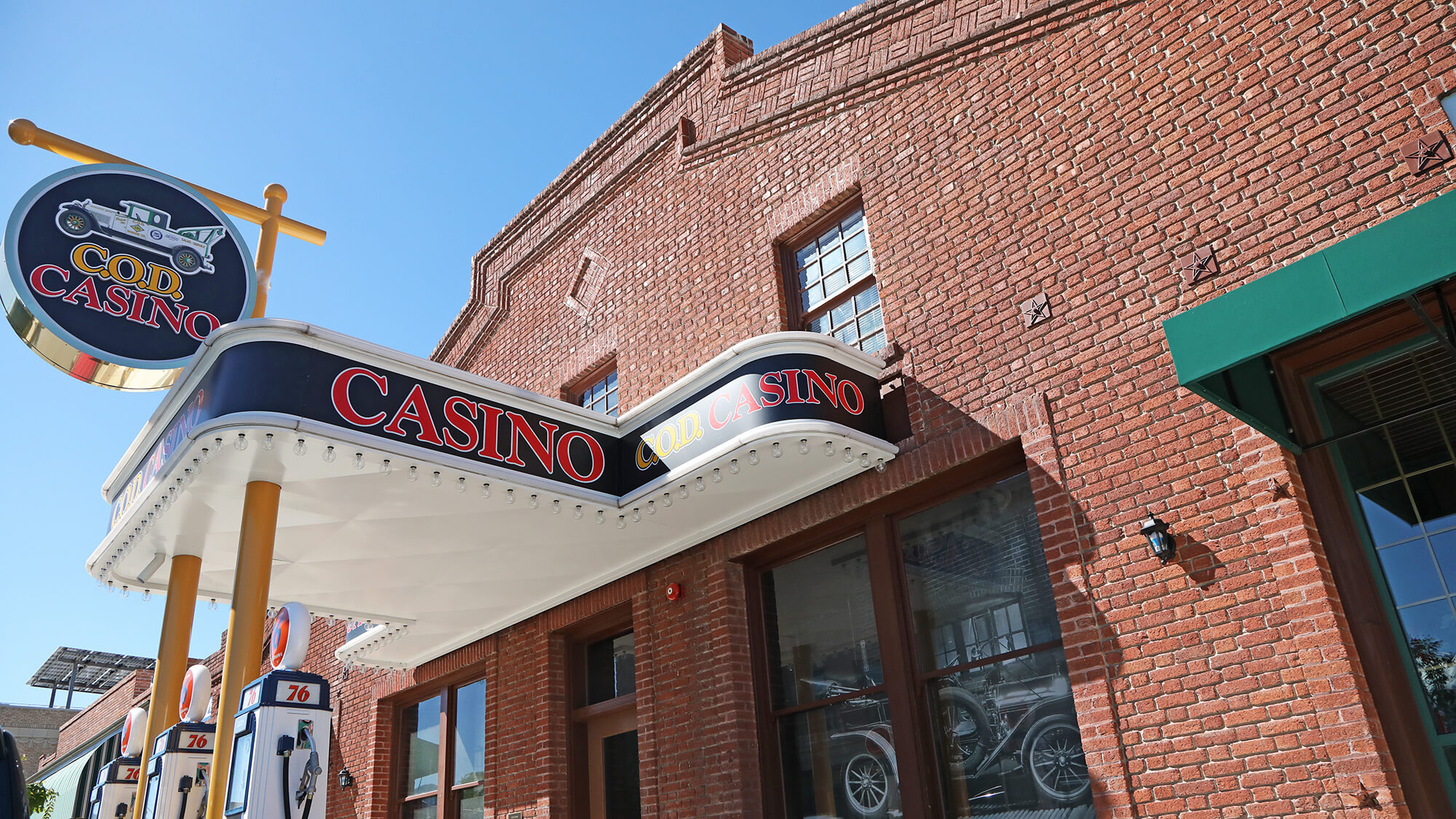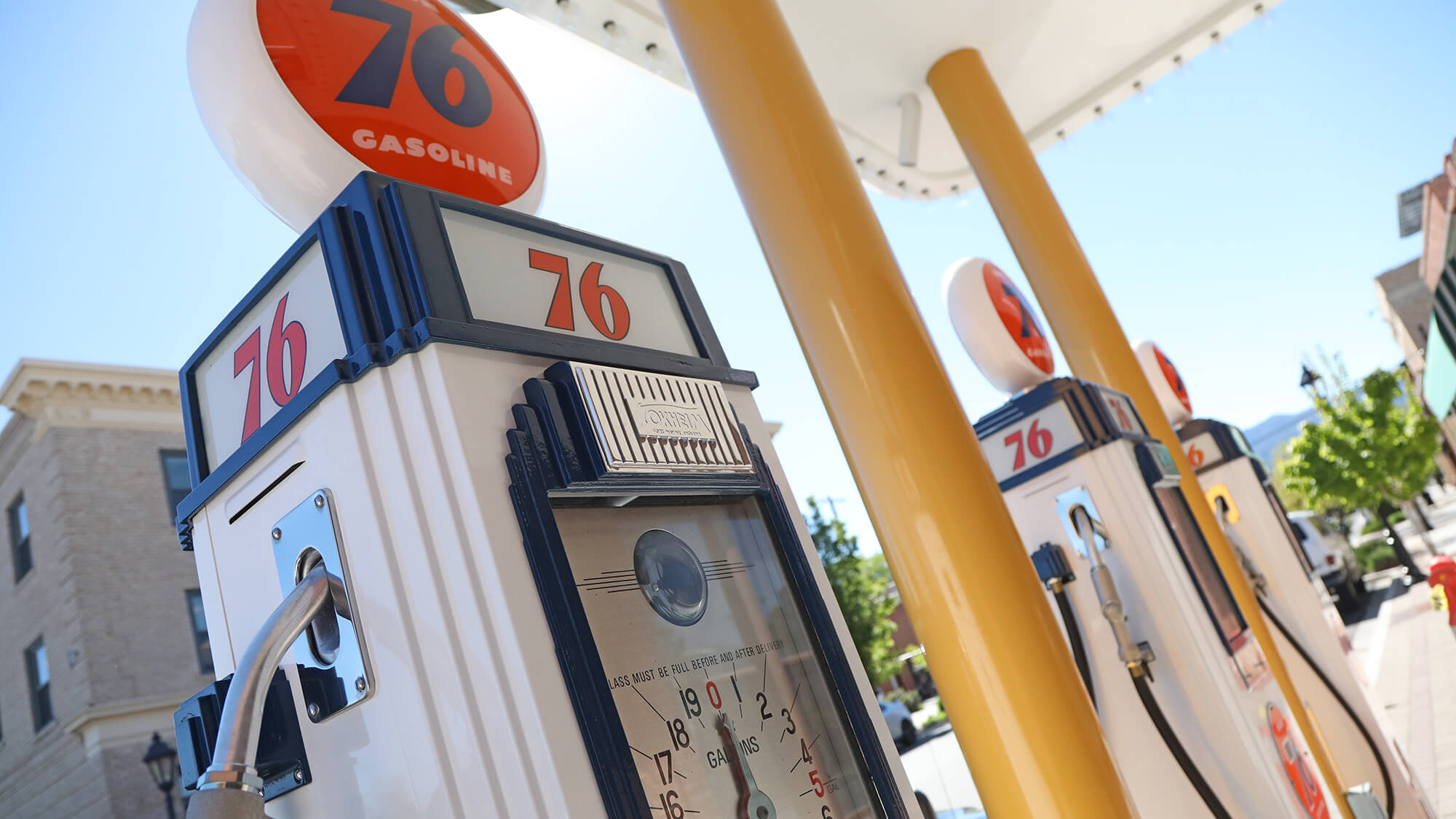 Eva Katrina kinda got out of the ranching schtick by gender default. While sooooome of her bros were a shoo-in for this family ranching biz, the youngest in his brood just wasn't into it. Fred Sr.'s first three sons—Fred Jr., John and George—would eventually totally take over the business, but Clarence worked as a salesman in San Francisco before Carson Valley won him over and he opened the area's first auto repair shop and Buick dealership. The name? The C.O.D. Garage, short for Clarence Oliver Dangberg. Today, the original location and building still stands, and is still named after Fred Sr.'s youngest child, but serves as a local casino, restaurant and bar.
Fred Junior Takes The Reins
Fred Sr. was getting up there in his years, and once H. F. Dangberg Land and Live Stock Company was made official in 1902, it was game on for Junior. Together with his brothers John and George, that German heritage kicked into high gear. When Virginia City was in his heydey, they needed what every other boomtown in the world: a railroad to haul freight in and out of their community. So, by the late 1860s, the Virginia & Truckee Railroad was in full swing, hauling goods in and out of one of the most famous mining communities of all time. The V&T had talked about extending the Railway south of Carson City a few different times, and the Dangberg bros decided to strike while the iron was hot. The only real-deal town in the area was Gardnerville, and they were not exactly quiet about wanting a V&T terminal built in their downtown. The Dangberg bros realized that the closer this depot was to their land and growing ranching operation, the more money they had in their pocket.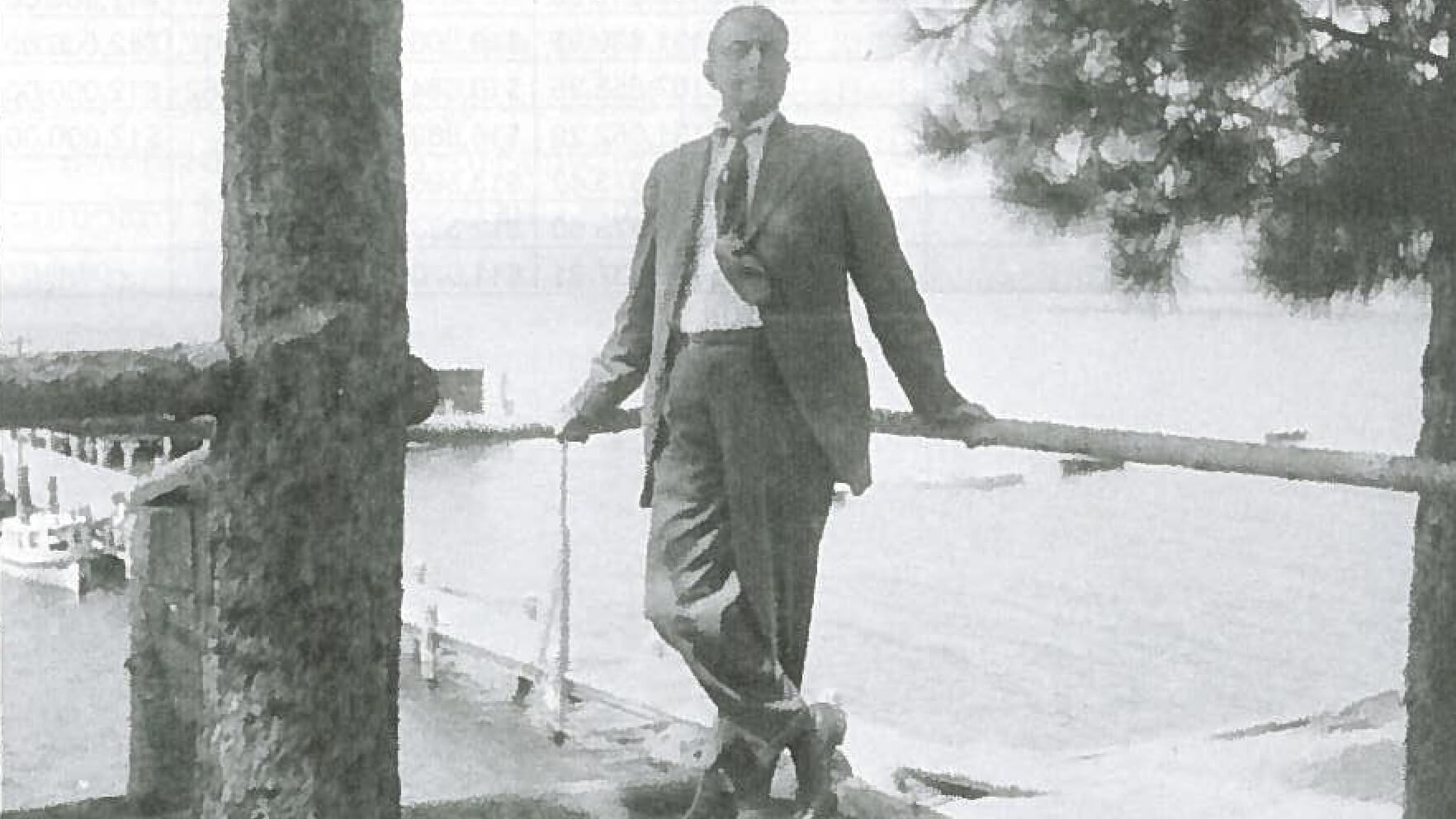 Gardnerville suggested a site for their already-existing town infrastructure, but the Dangberg boys shot them down pretty swiftly. The reason? Gardnerville suggested a site and a price for the land, but they needed a right of way to lay the railroad track on the land from Carson City to Gardnerville. And guess who owned that land? THE DANGBERGS. In turn, the Dangbergs very wisely offered the right of way to the V&T for free, but only if the terminal was built on their property. So, in 1903, H.F. Dangberg Land & Live Stock Company gifted 158 acres like it was nothing, and the very first train arrived in 1906.
…And Starts Off With A Bang By Starting The Entire Town Of Minden 
Despite introducing a train—something that made everyone's lives a whole heck of a lot easier on the most basic of levels—Fred Jr. was about to hit a serious winning streak that makes even the most bougie, modern-day entrepreneurs look like jokers. Although his brother was president of the company, Fred was no fool—everyone knows the person who deals with the money is really the one in control. He brought the V&T to the area, and just when he started to get a feel for his new schtick, his Dad died in 1904. This was a quite the blow, but it seems like Fred Jr. may have worked through his grief by creating an entire flipping town. No, seriously.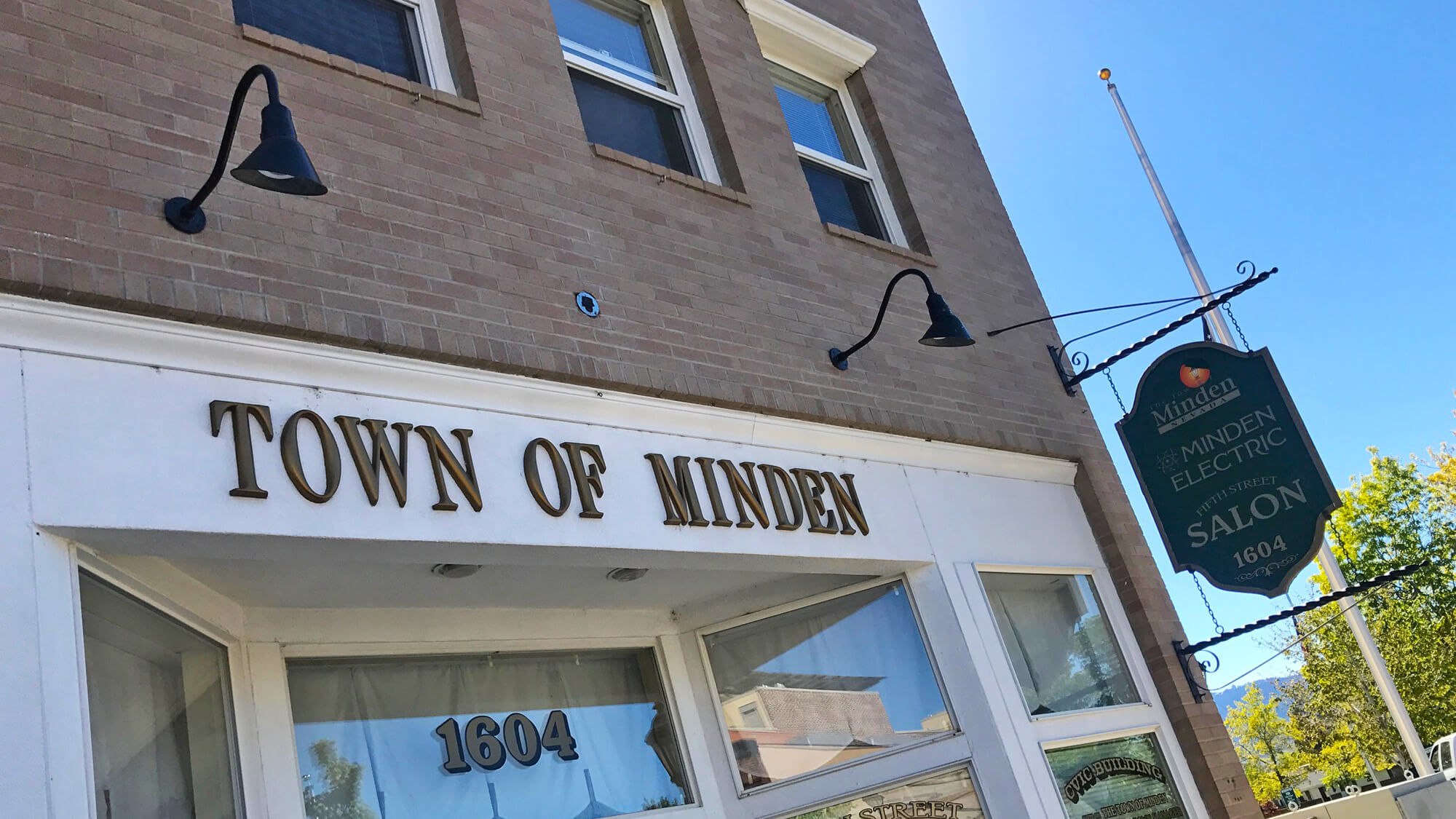 When you think about it, what good is a railroad depot if there isn't a town surrounding it? That was exactly Fred Jr.'s question, so he went on to create one of the very first planned communities in the nation: the town of Minden. During the early 1900s, Fred Jr. and his two brothers very specifically laid out streets with sidewalks and planted trees, that you can still visit today…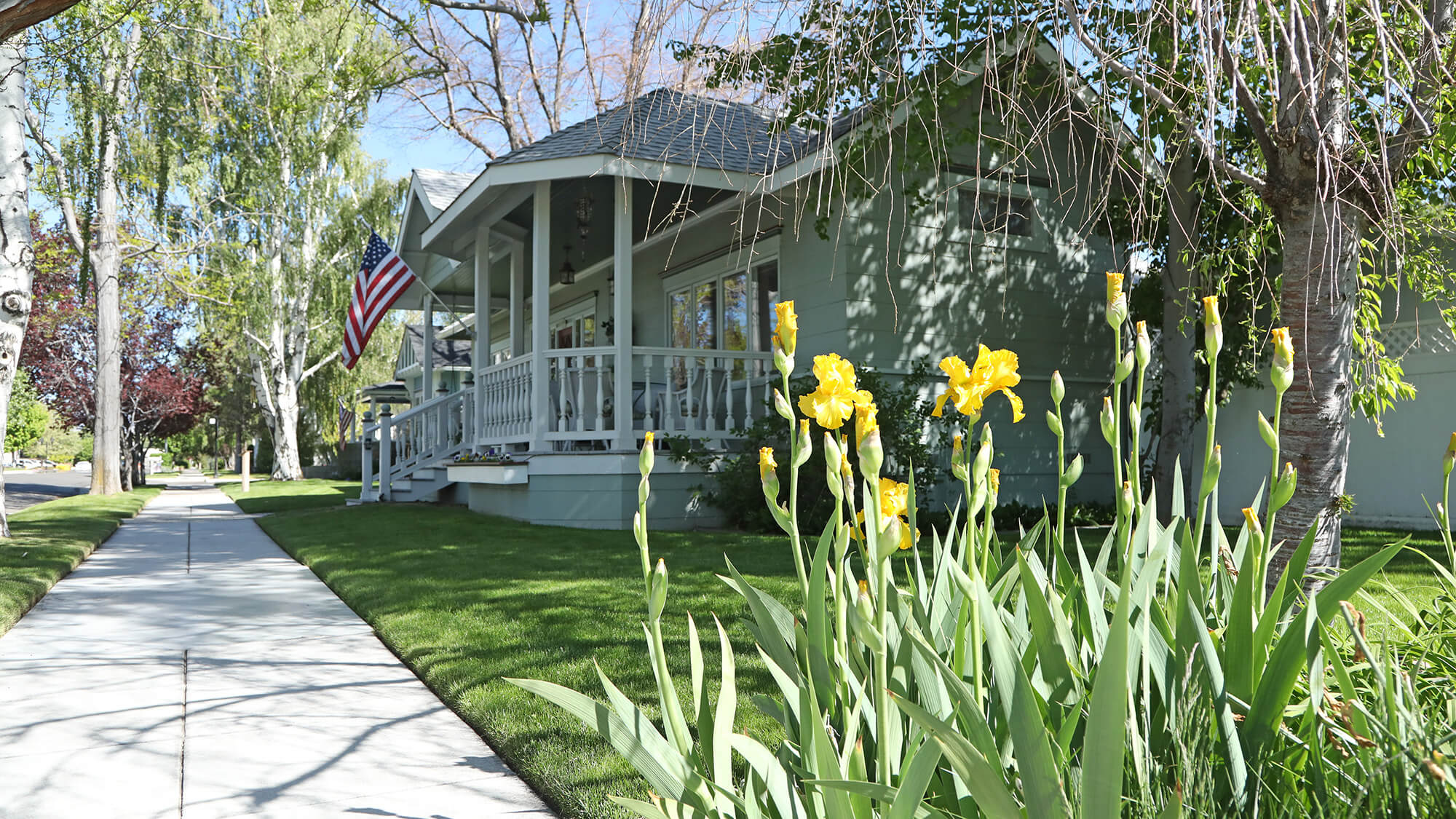 The town was up and running by 1906, which included the Minden Butter Manufacturing Company, Carson Valley Hay and Produce, and the Minden Flour Mill…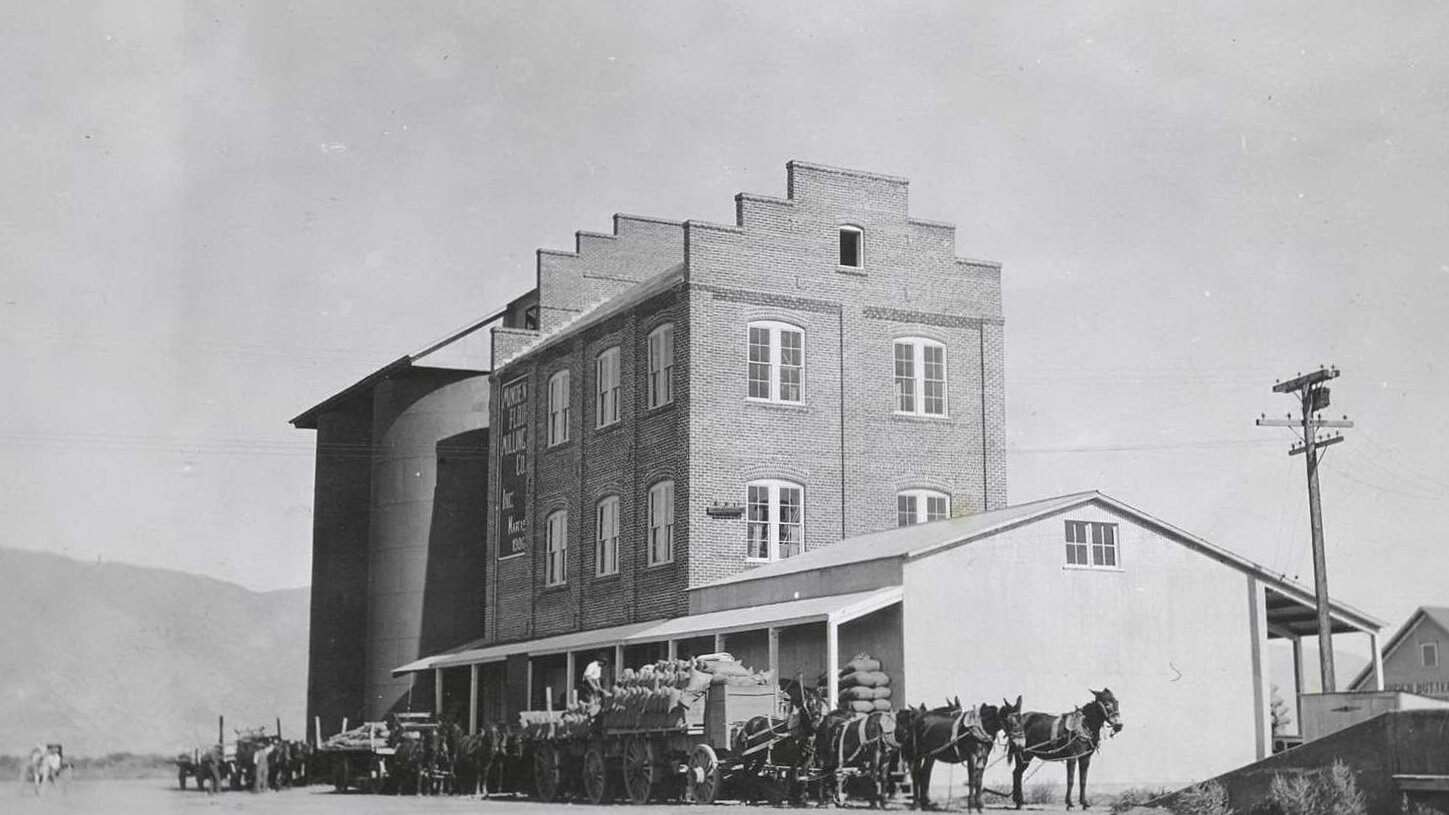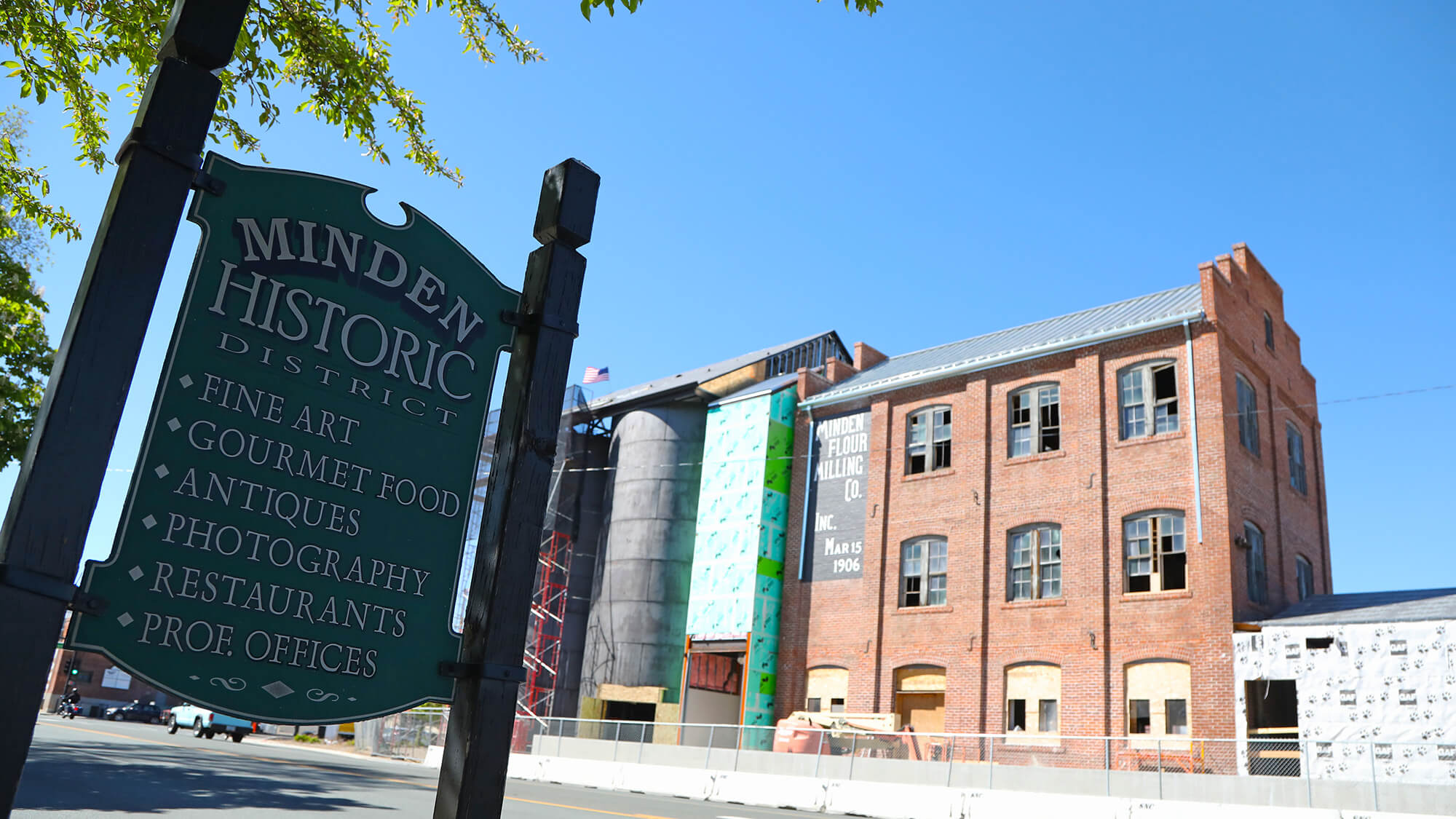 The Carson Valley Improvement Club [C.V.I.C.], which had a movie theater, gymnasium, reading room and even offered church services…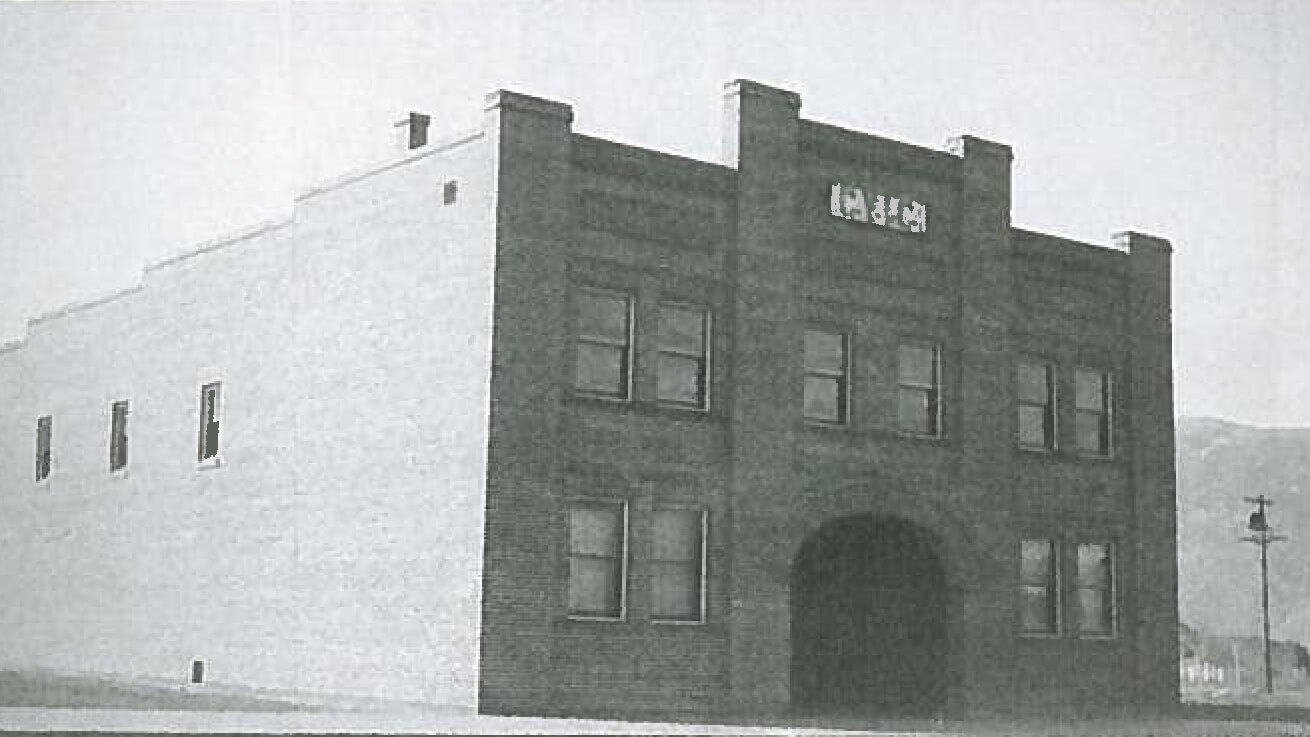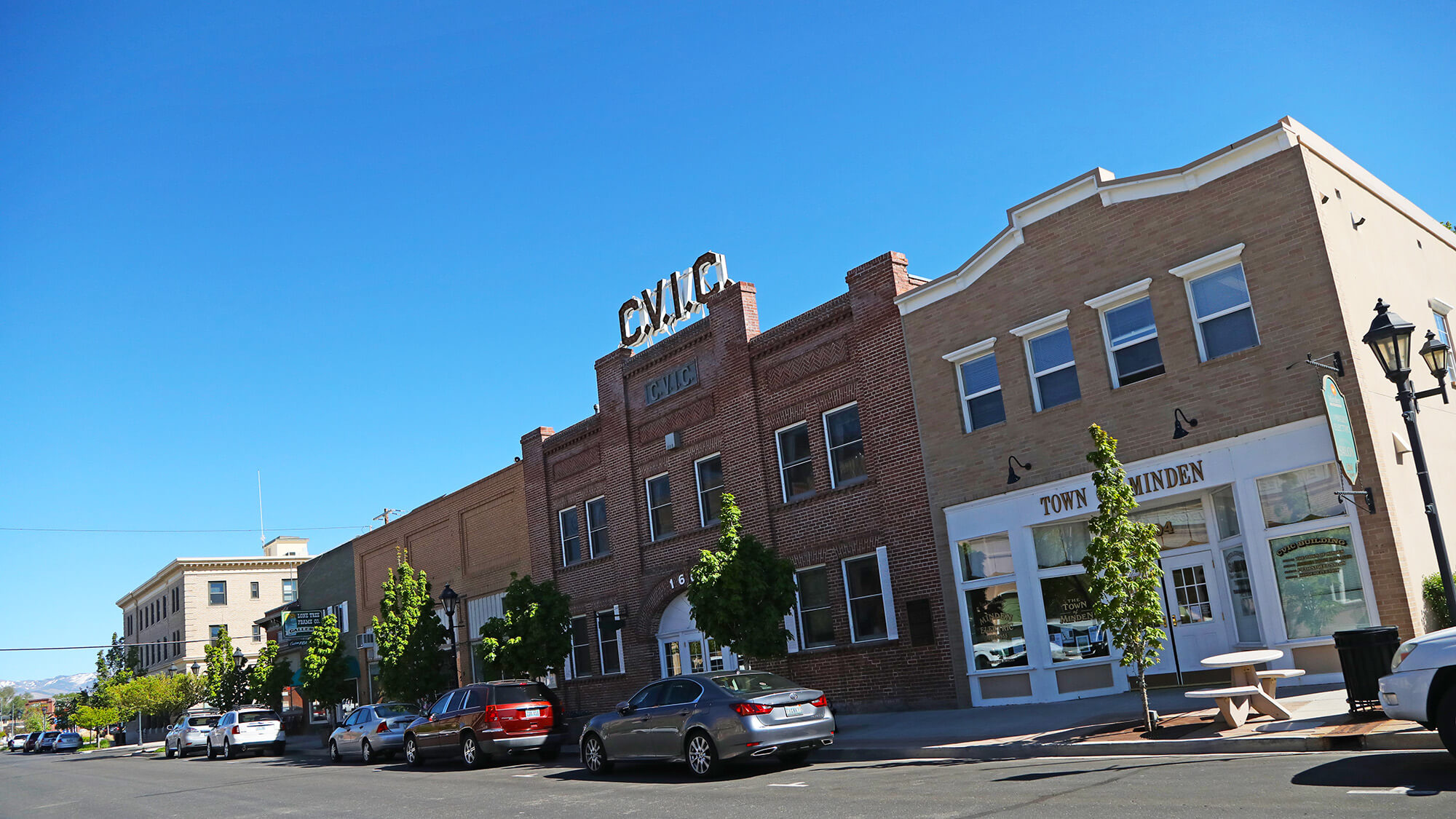 Dangberg and his brothers even enlisted one of the most famous architects of their time—Frederic DeLongchamps—who happened to be a Nevada boy, too. He ended up being responsible for dozens of Nevada courthouses and a whole ton of other important Nevada edifices during his lifetime, and with his help, they created several banks….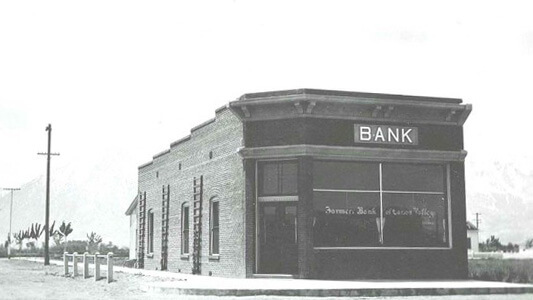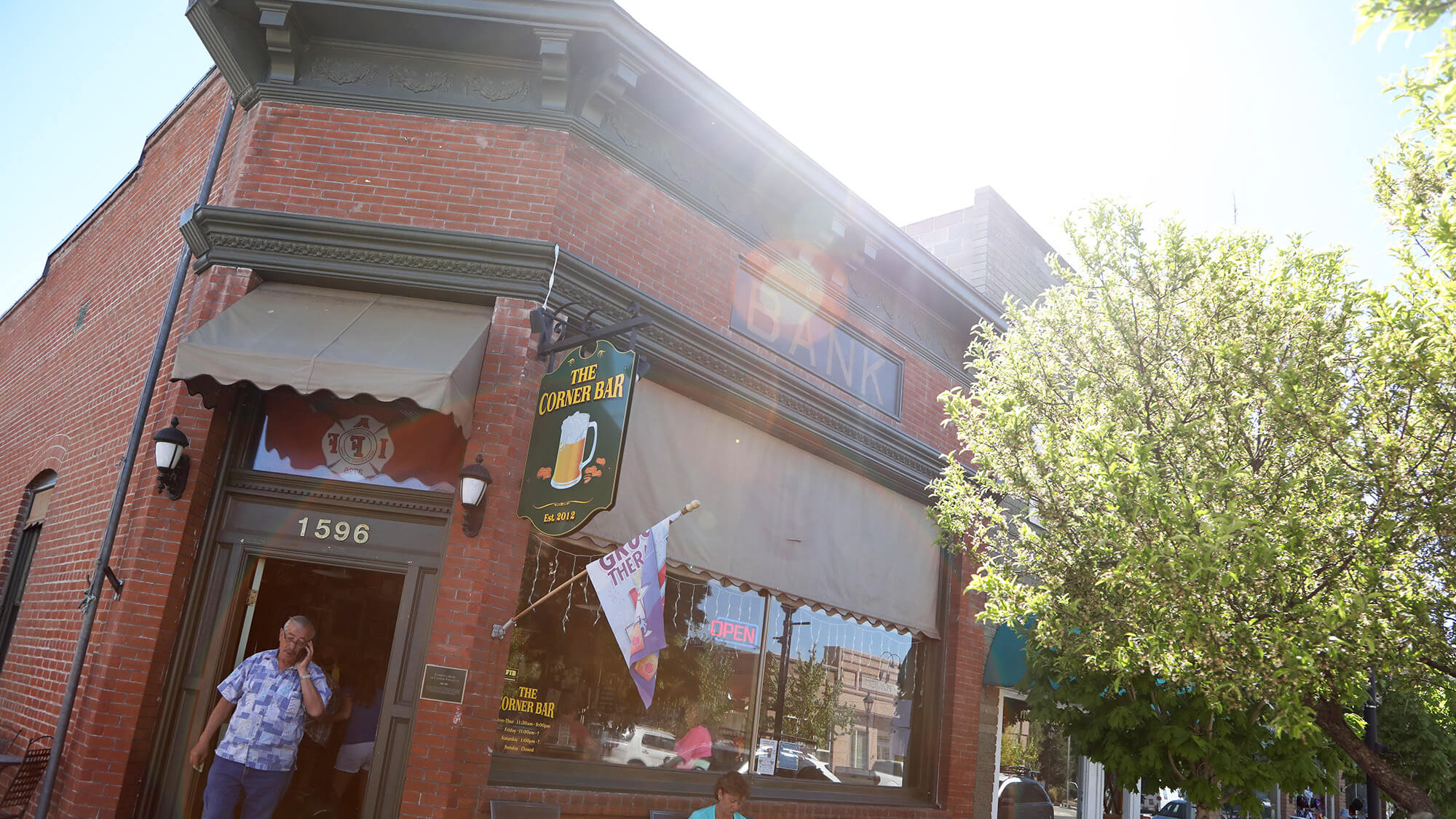 And the hoity-toity Minden Inn—which swiftly earned its reputation as "one of the finest motels on the West Coast." This 44-room model hosted the upper crust who were likely visiting Tahoe, after Twain put it on the map. Yeah, super cool, right? People like celebrities, those in search of a divorce in Nevada's loose-lawed state, and folks who simply wanted a fancy gambling experience in the Inn's elegant casino. Today, the Inn, along with the rest of this fine community, stands in the heart of Minden's historic downtown.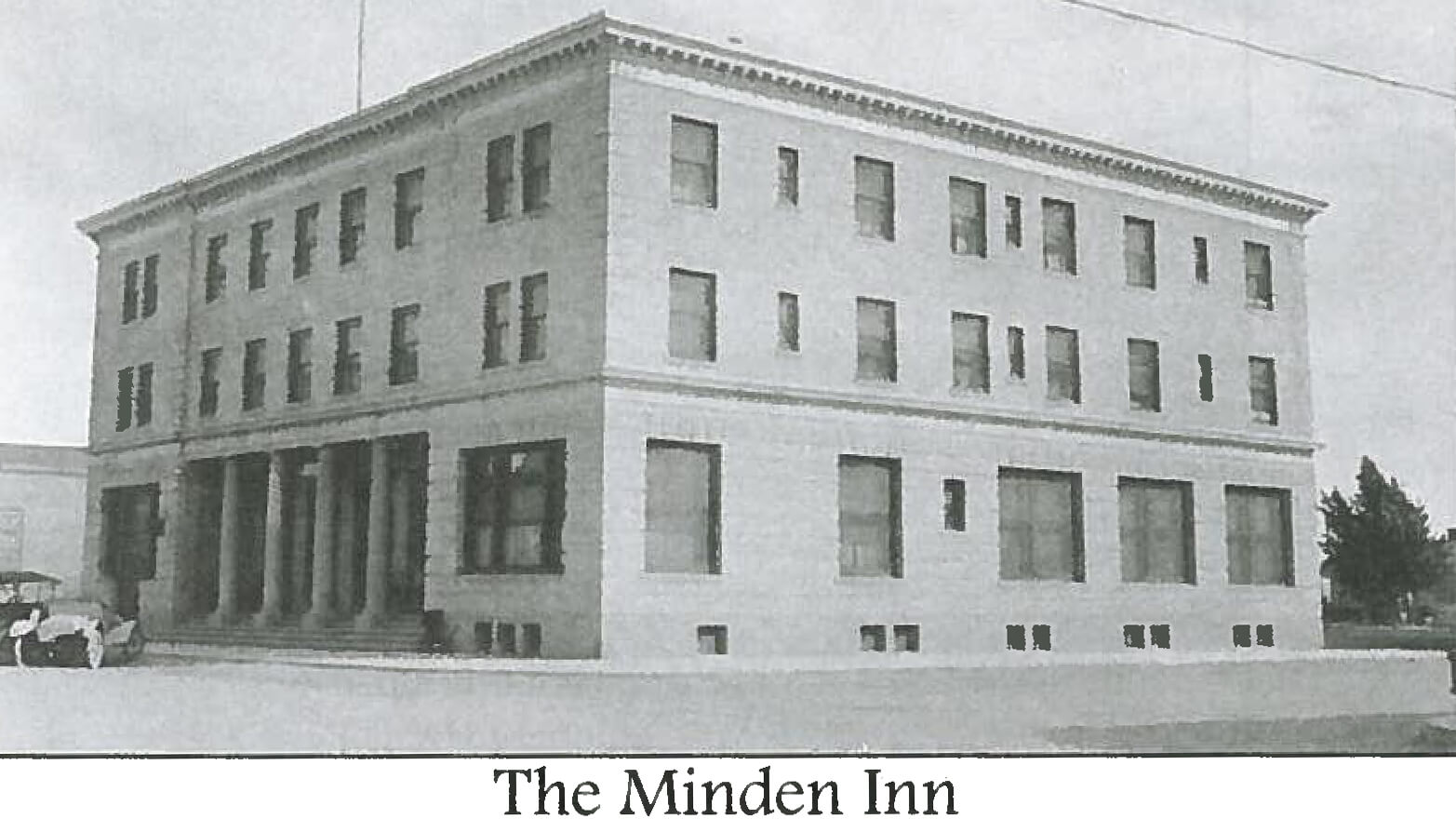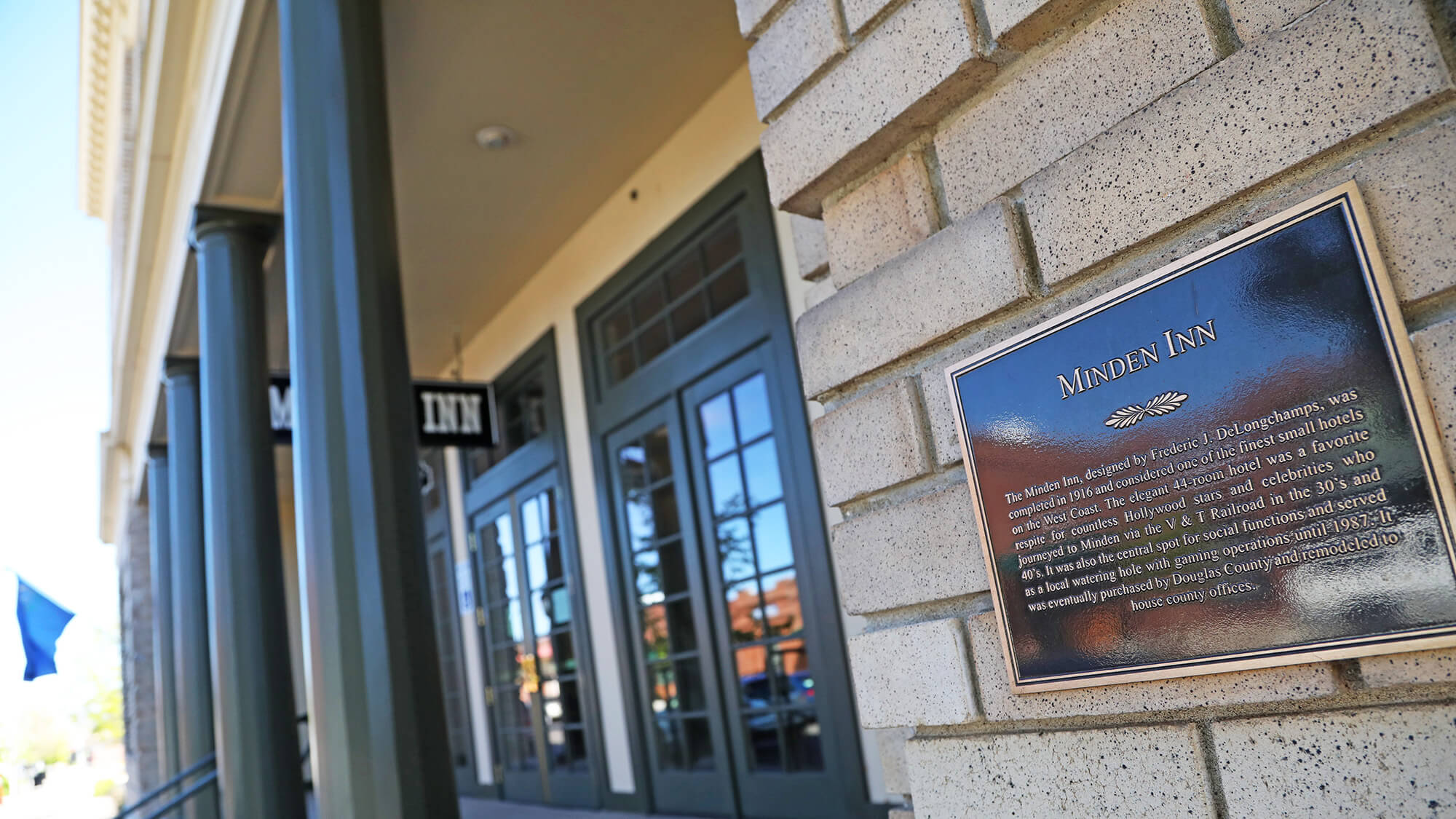 But Where Does The Name Minden Come From? 
By 1915, Minden was a happening place. The county seat was even moved from Genoa—Nevada's first establishment—to Minden. The Dangberg brothers wanted the community they'd so carefully planned to have meaning—something directly rooted to their recently deceased father would be just the ticket. They wanted to name it Halle, after the German town their dad was from, but an engineer from the V&T said the name sounded too close to "Hell," and there was no way he would run a train into Hell. So, the bros settled on Minden, which was the county seat located on the Weser River near Halle. Something that turned out to be super fitting, as their own county seat was moved from Genoa—Nevada's oldest establishment—to Minden not long after the community grew legs.
Junior Earns Even More Credibility With His Ownership of David Walley's Hot Springs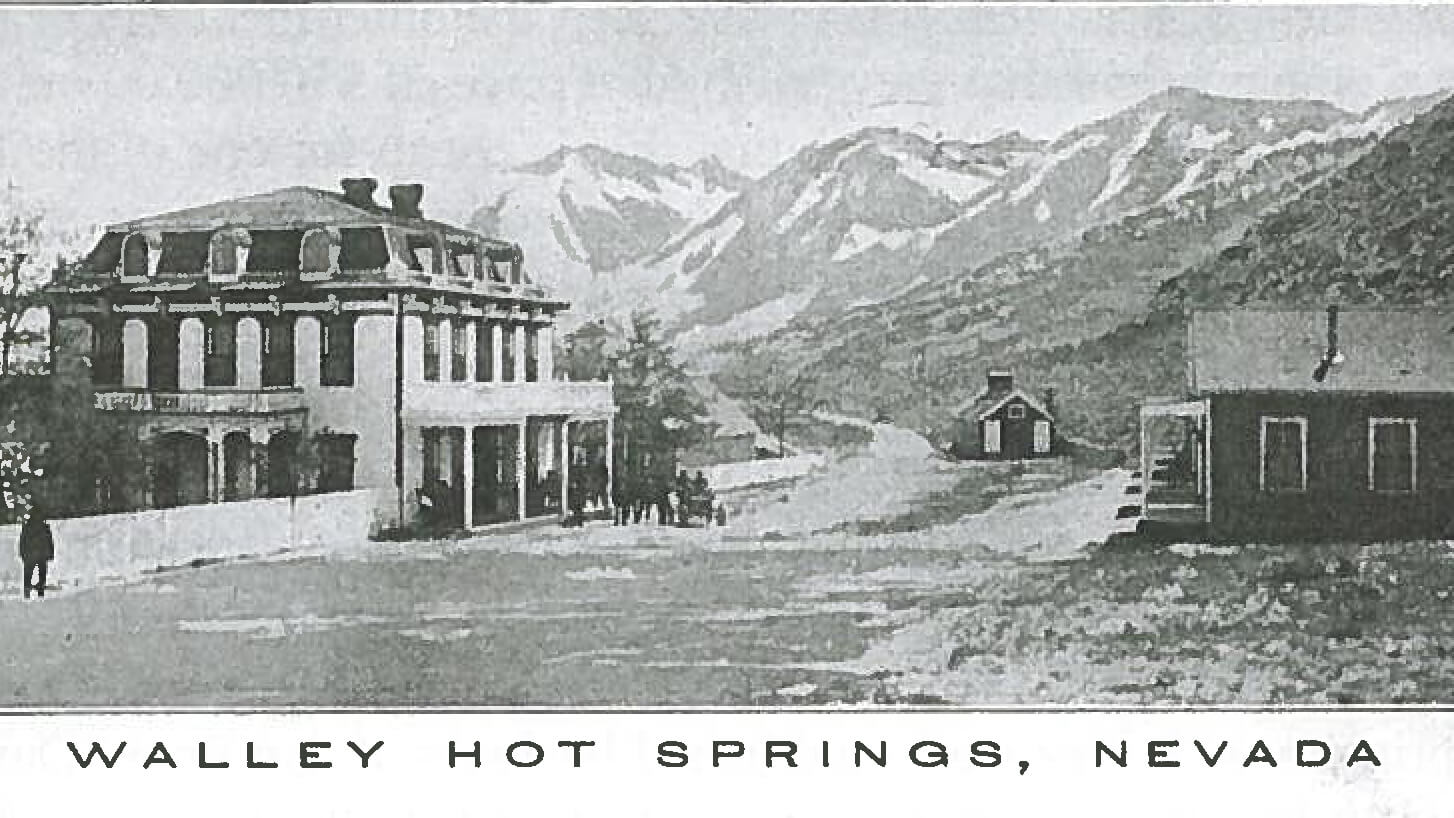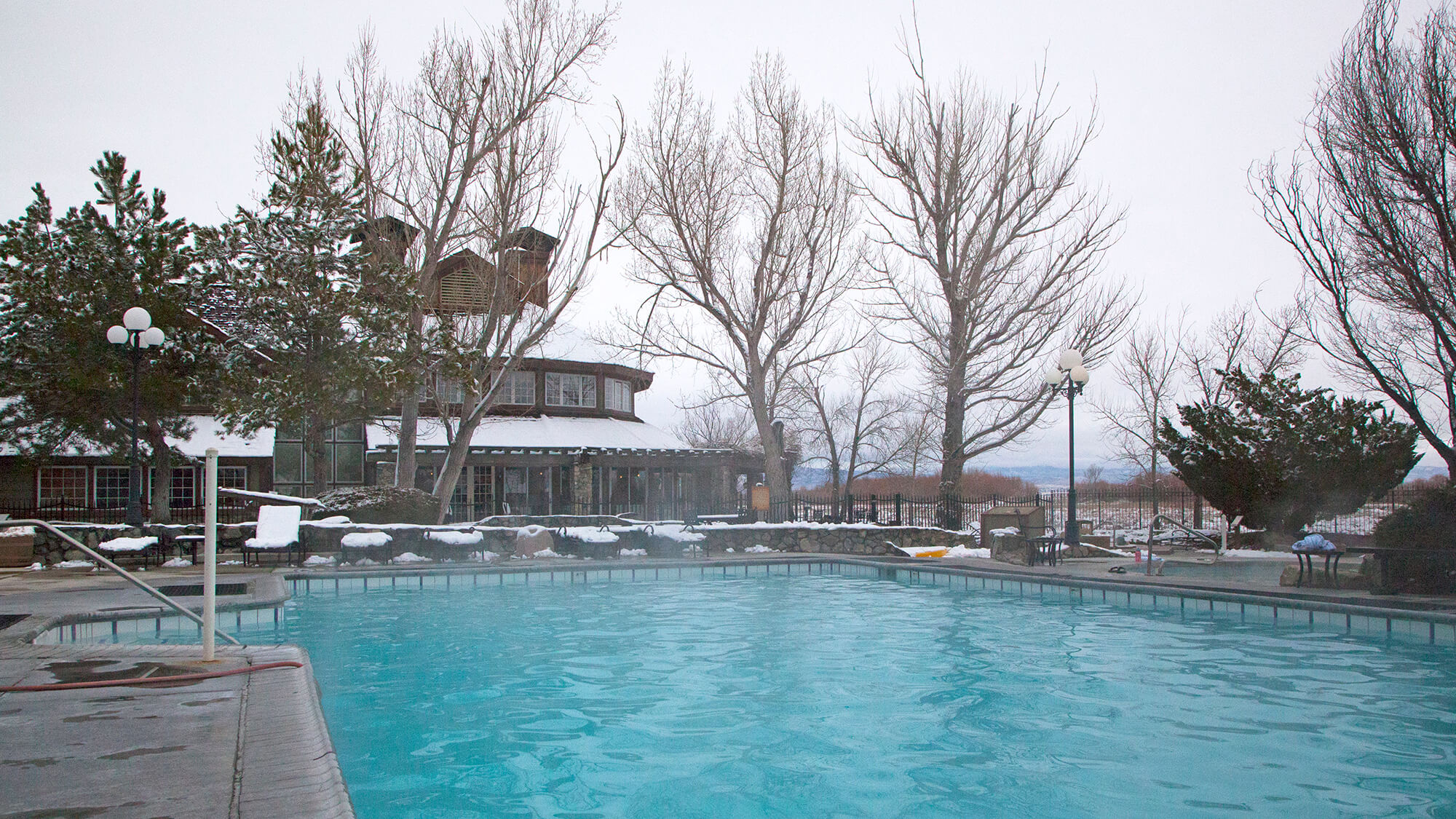 If you're geeking out as much as me on a couple of brothers creating a whole dang town [one of the cutest in NV to boot], wrap your mind around this: the Dangberg bros were only just beginning. During the early 1900s, this unstoppable trio was basically on a cashing-checks-and-snapping-necks sorta warpath—I mean, it's going to get crazy here. The bros became involved in a colorful variety of booming businesses with Nevada greats like George Wingfield—the richest and most powerful man in Nevada during this time. Businesses like the Goldfield Consolidated Mines—one of the most lucrative businesses in the Silver State, and David Walley's Resort… a place with such restorative waters that it still hosts a slew of celebs and explorers alike. 'Tis true, Dangberg and his brothers were part owners in this famous hot springs establishment from 1905 right up until they sold their shares in 1915.
Fred Junior Starts A Family Of His Very Own & Moves Into The Family Estate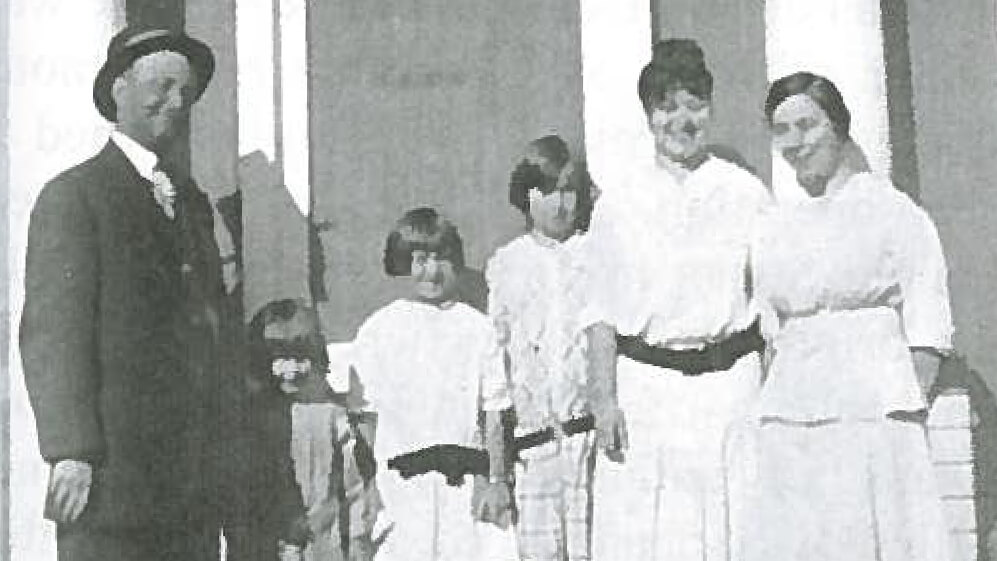 Within a few short years, Fred Junior was living the life of a man that should be taught in every Business 101 course. His life had wildly changed within five years, and like his dad, he put in some serious man hours; now it was time to have a family of his own. He had been married to Gertrude Hironymous in 1898 and continued to have babies for over 10 years, up until 1911. First came Dwight, who sadly didn't make it much longer than 5 years after passing away from scarlet fever. All just a little bit of history repeating, right? He would turn out to be the only boy in Fred Jr.'s brood… and all four girls had some seriously entertaining personalities. Margaret was the oldest and a true tomboy, Ruth was quite the girly girl, Fritzi was a total knock-out who was kind of a combo of her two older sisters, and Katrina was a true outdoorsman. Dangberg was proud of his young family—they always came first outweighing any of his burgeoning biz.
Outfits His Kid In The Oldest Pair of Levi's In Nevada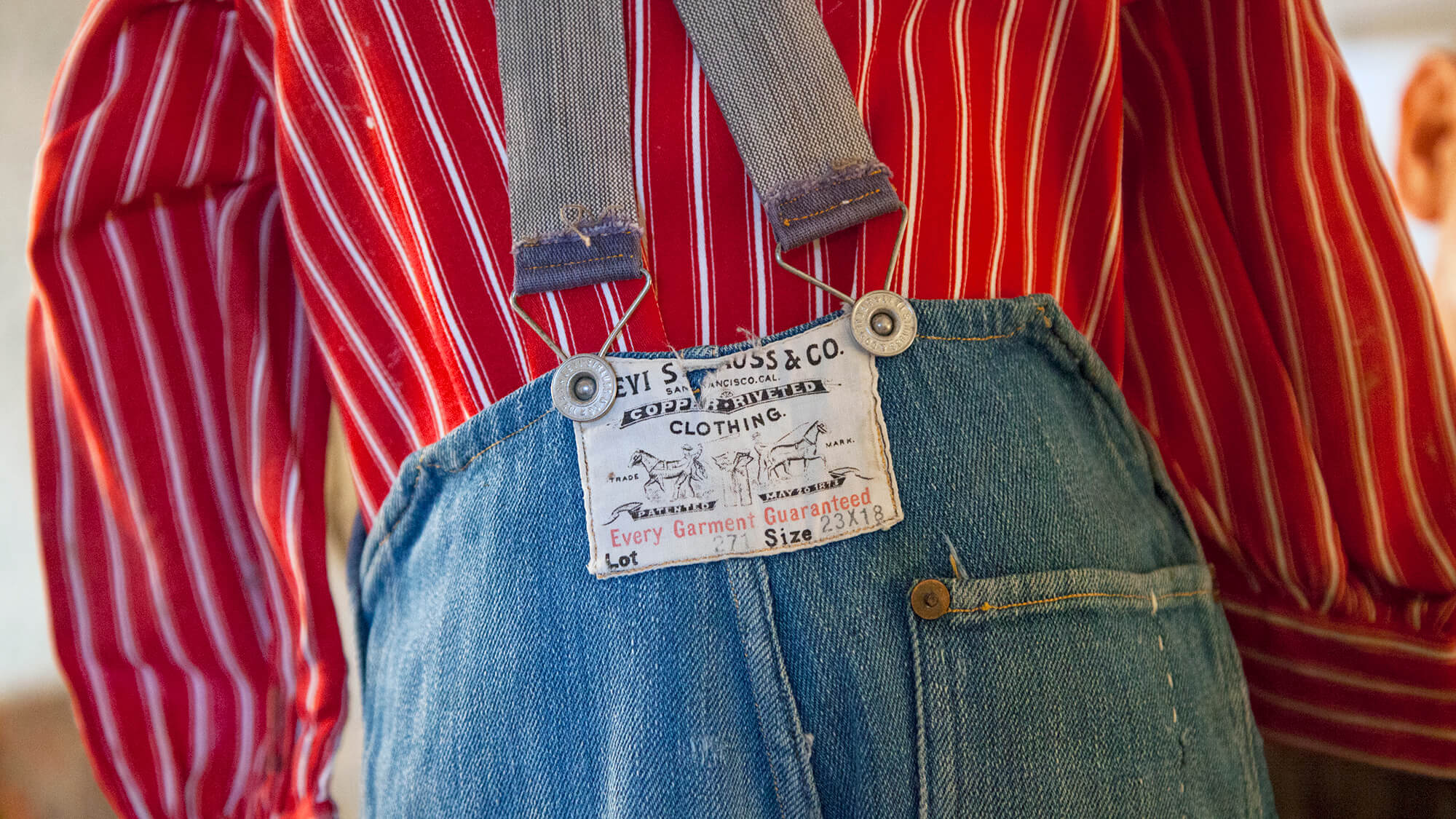 You know the one son Dwight who didn't make it? If I had to choose just one and only thread of Dangbergs wildly interesting heritage, it might be this, guys: Dwight Dangberg was the young owner of the oldest pair of Levi's coveralls in the entire state of Nevada. I mean, I guess it makes sense when you realize that the rivets Levi's jeans are so famous for came out of Reno, but there are a string of details that made the preservation of these super special pants possible.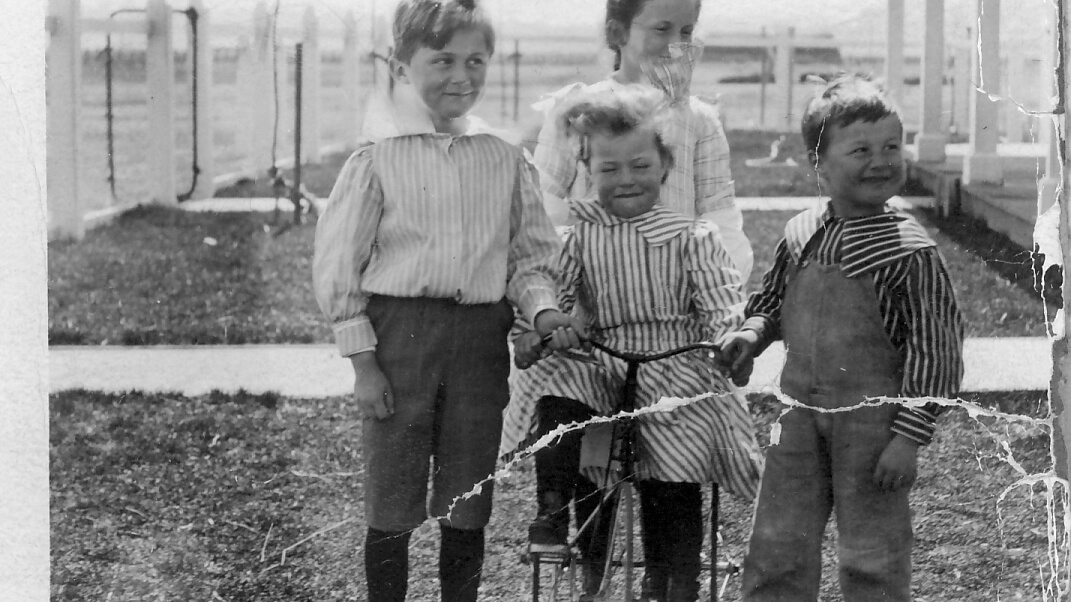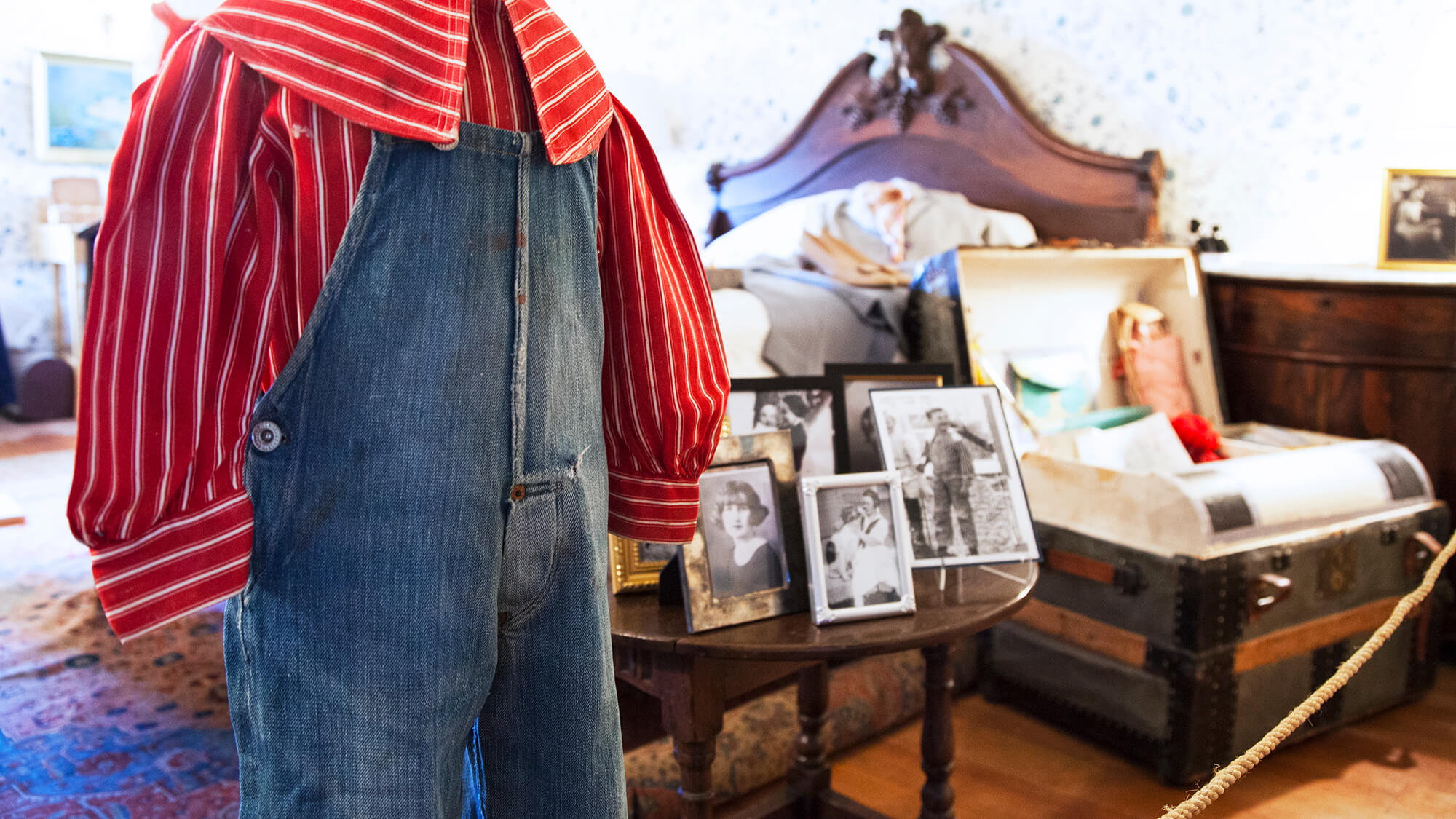 Dwight was a honeymoon baby, born almost nine months to the day after Fred Jr. and Gertrude were hitched. After he died just a few months after his fifth birthday, any reminder of a lost child was clearly, incomprehensibly heartbreaking. So his uncle George packed all of Dwight's toys and clothes into his trunk that he stuffed into an unnoticed corner of the attic. It was so well hidden that no one opened this thing for more than 100 years. This thing had tons of really fascinating things inside, like a poem Fred Jr. wrote Dwight for his fifth birthday, vintage toys, and impressively intact outfits… like the red shirt and Levi's coveralls you see in the shot above. Mind. Melted.
A Second, Even More Elaborate Renovation Takes Place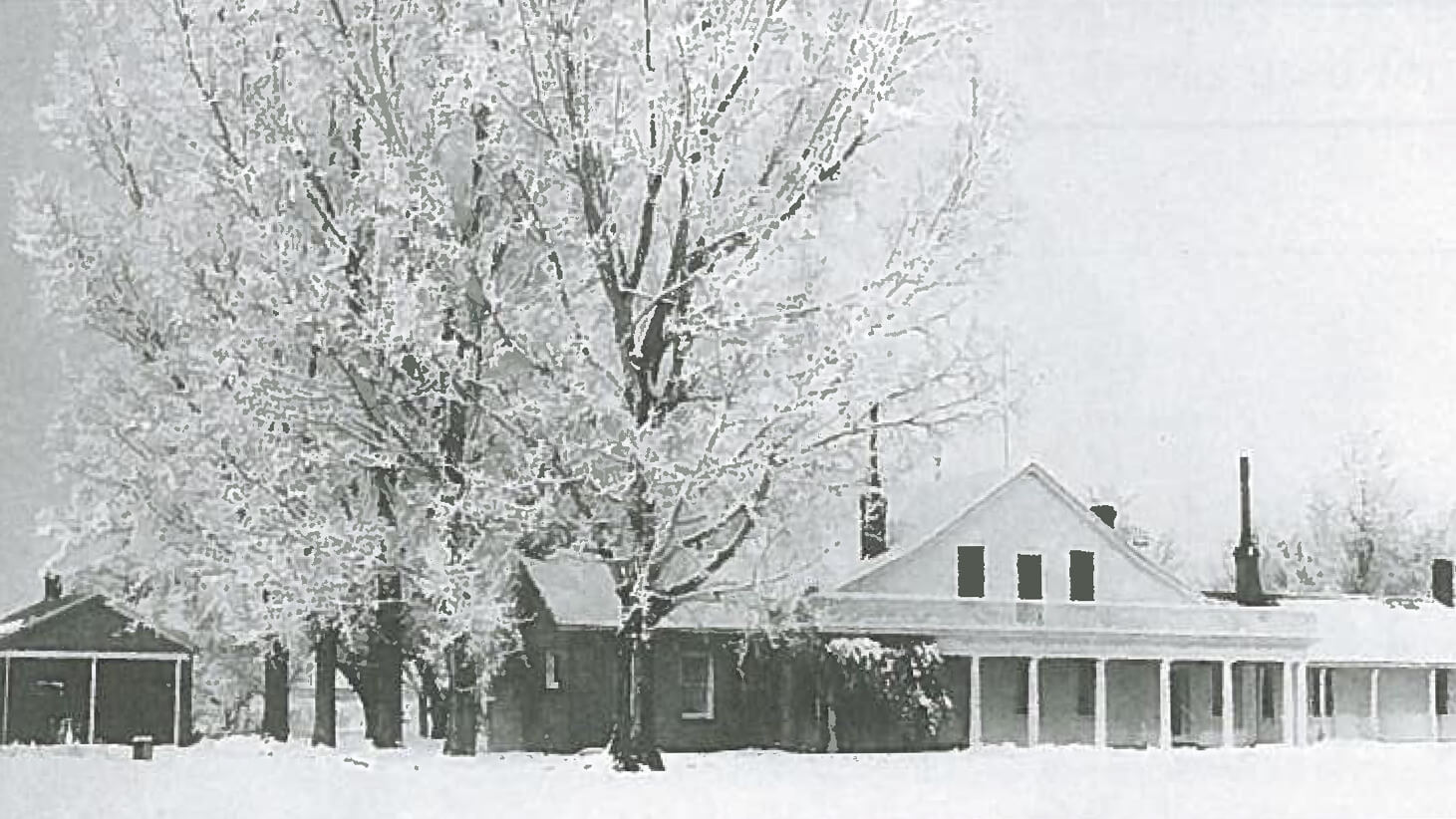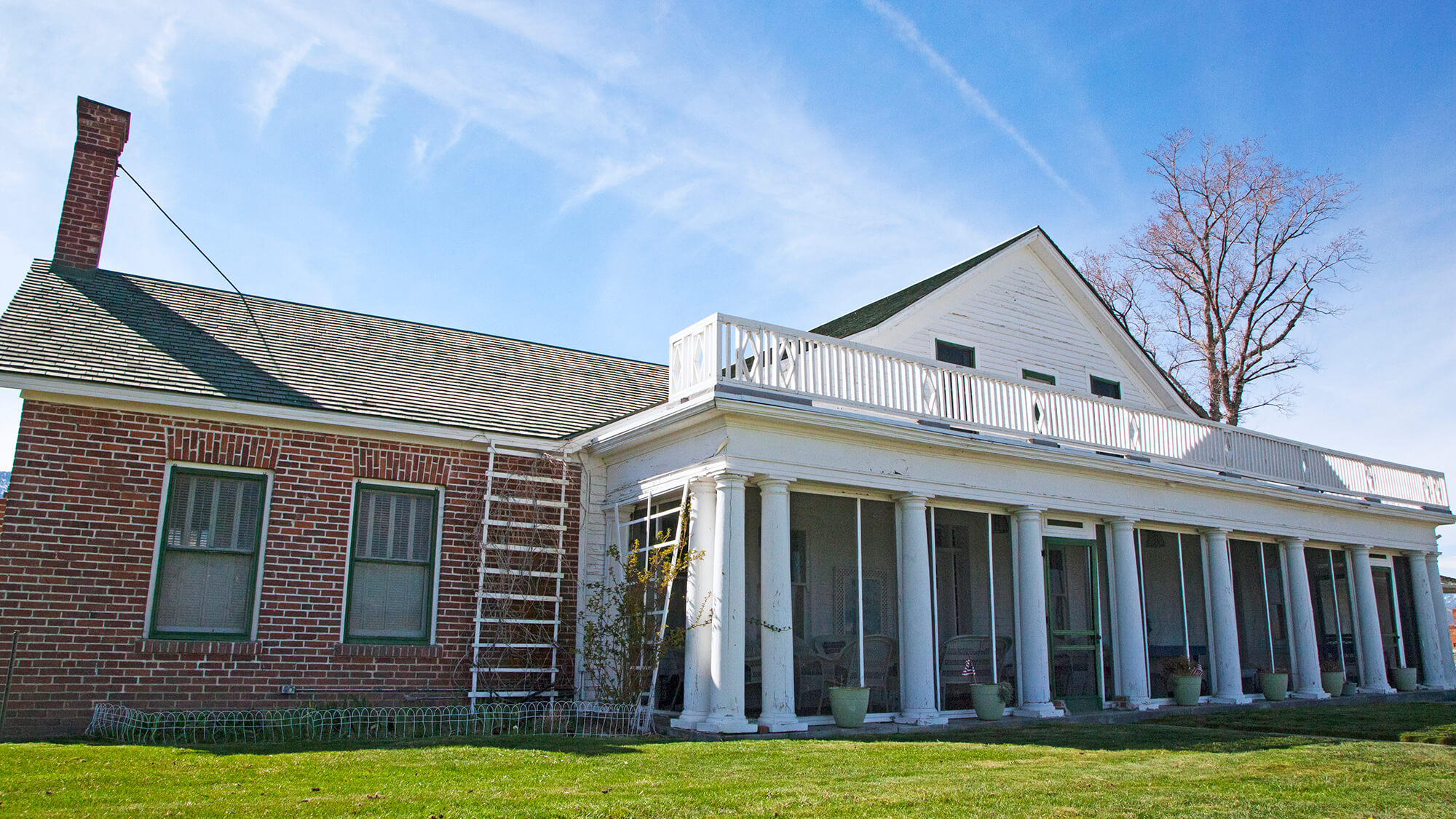 Fred Sr. had transformed their homestead into a serious ranching operation, perfectly balancing luxuries they could afford with straight-up functionality. Sure, the expansion that their Dad had completed was pretty serious, but everything that he introduced—a barn, slaughterhouse, men's bunkhouse, cellar—were all crucial to daily operation around there. They were pretty and made the whole place pretty flipping picturesque, but they all served a purpose.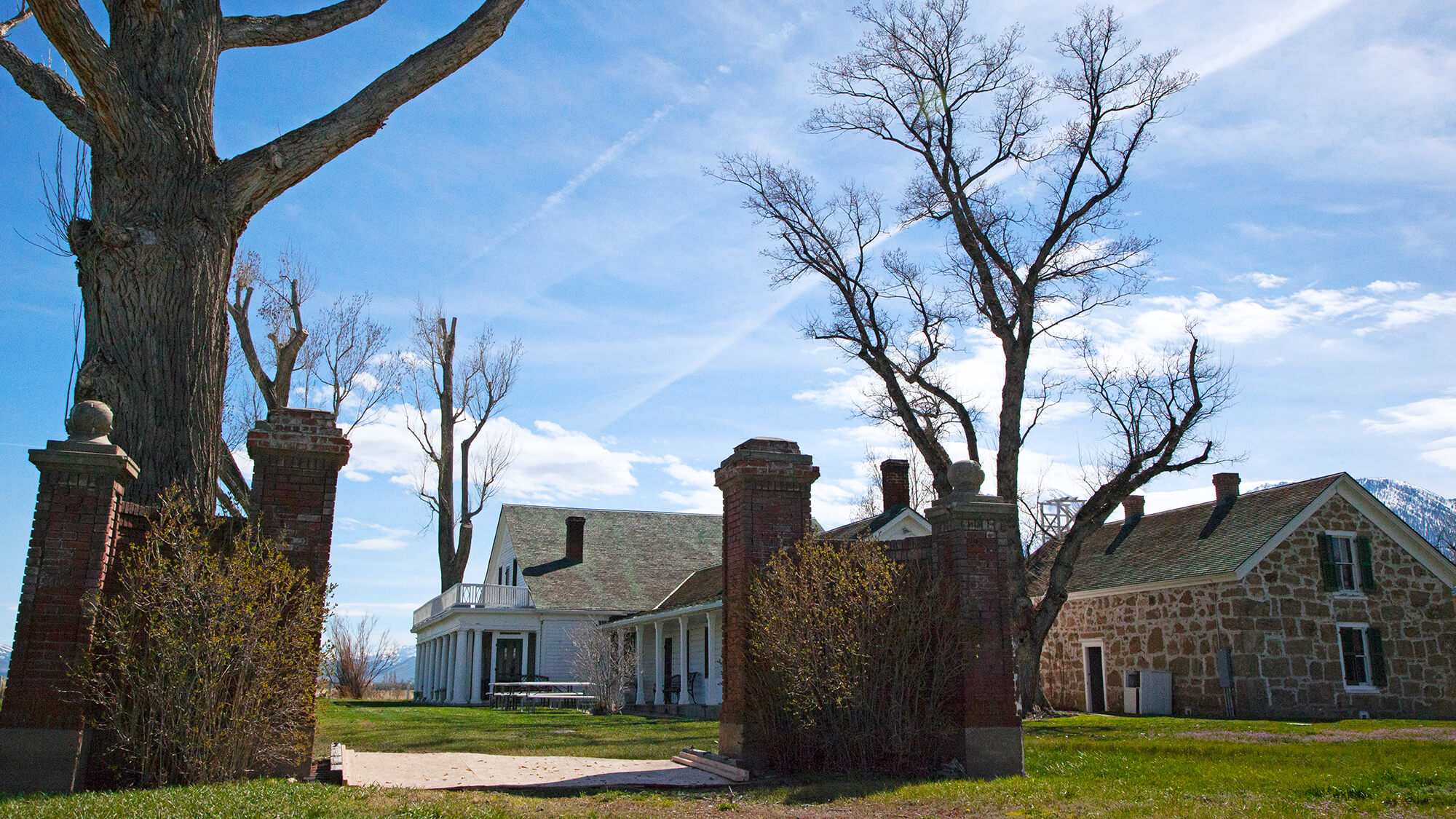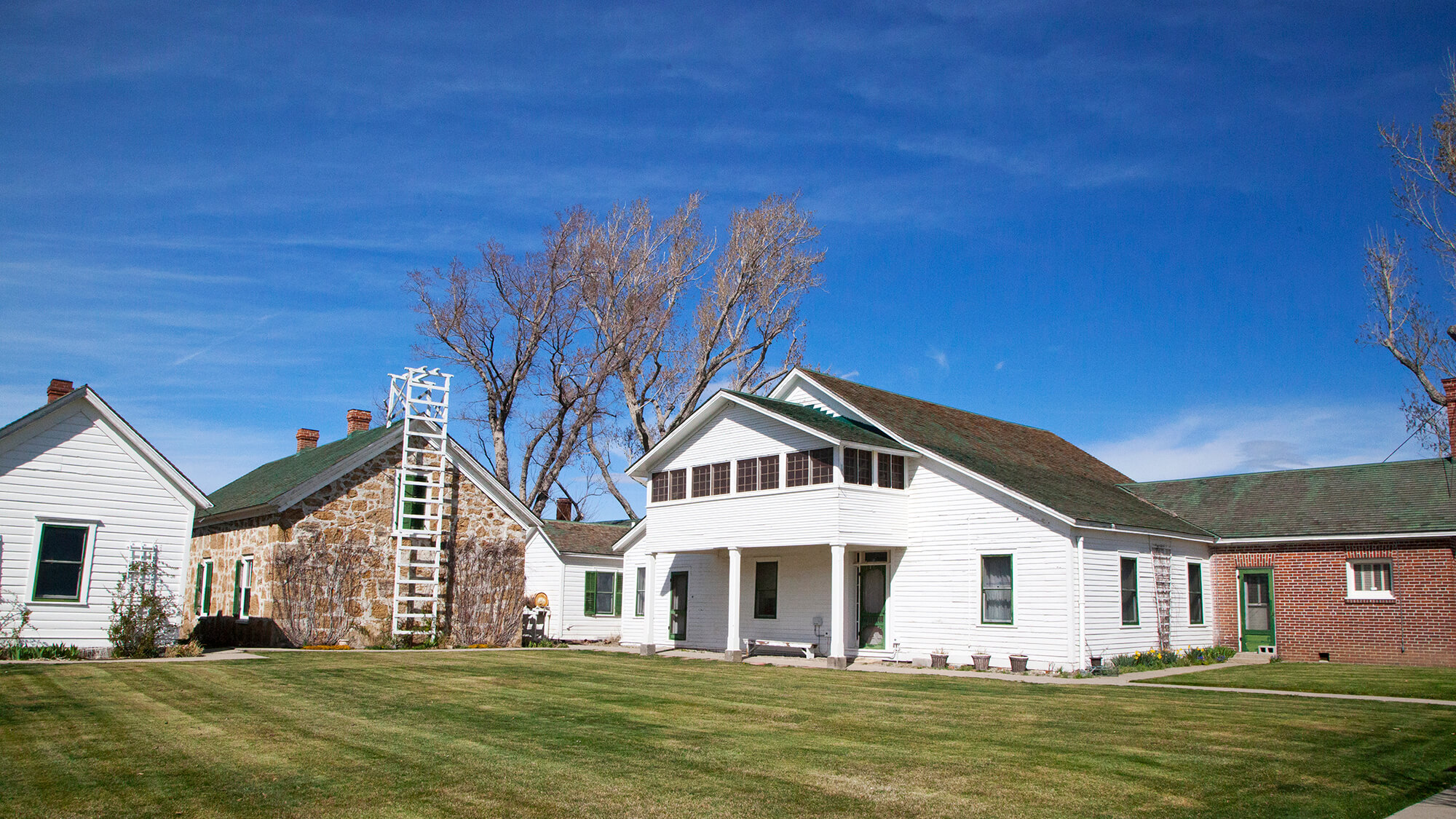 Fred Jr. was about to give dear ol' Dad a run for his greenbacks. What started as a two-room cabin had been expanded, but now Junior added on a huge one-story brick great room on the southern end of the home. This was the main hangout space for the rest of their days, and duh, wouldn't it be yours, too, if you could kick back in a room packed with Persian rugs, plush furniture and sleek wallpaper? He also recruited his new pal Delongchamps to help with some of the flashy new improvements, like a grand entryway one of the most famous ranches in Nevada basically begged for.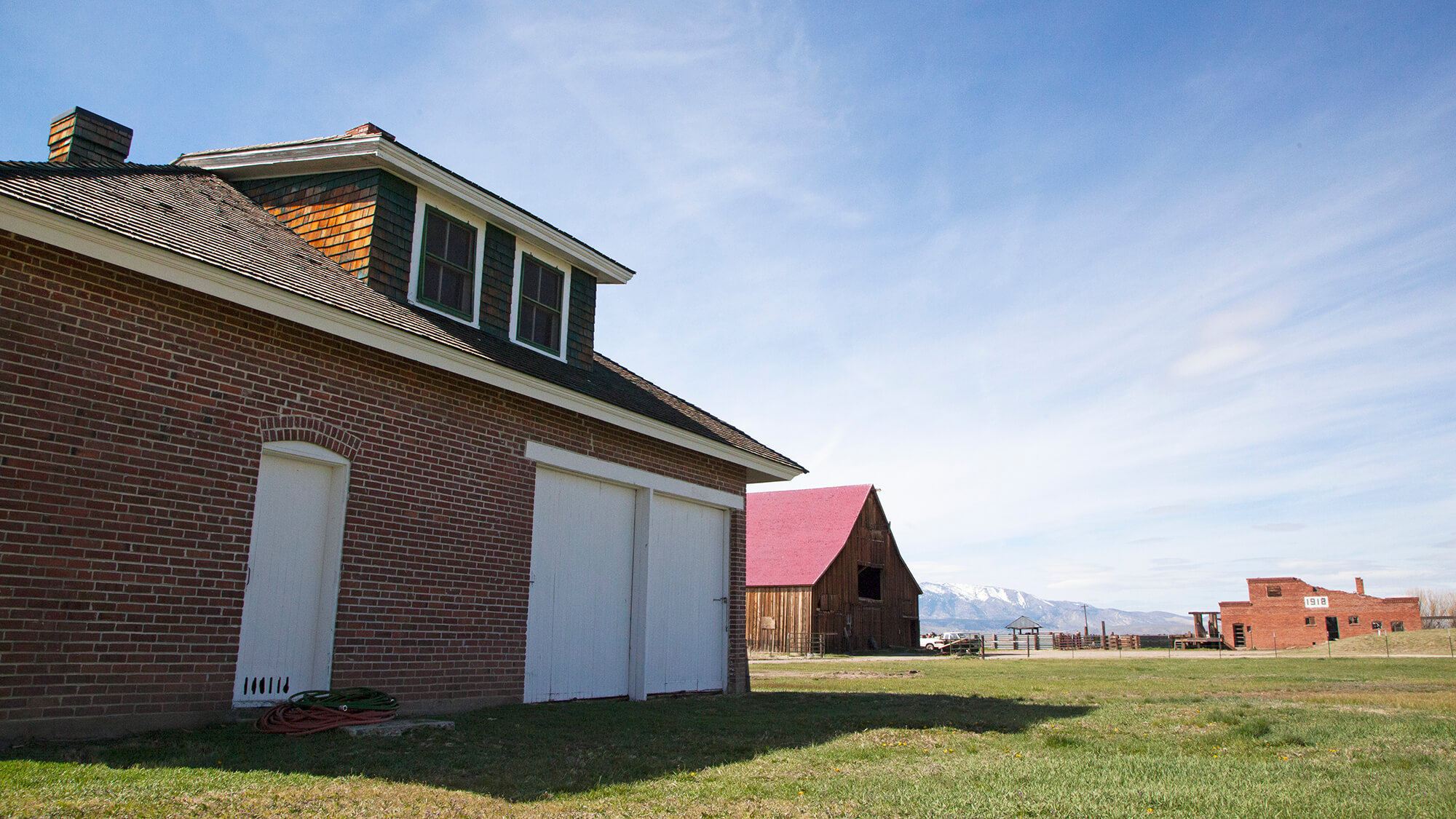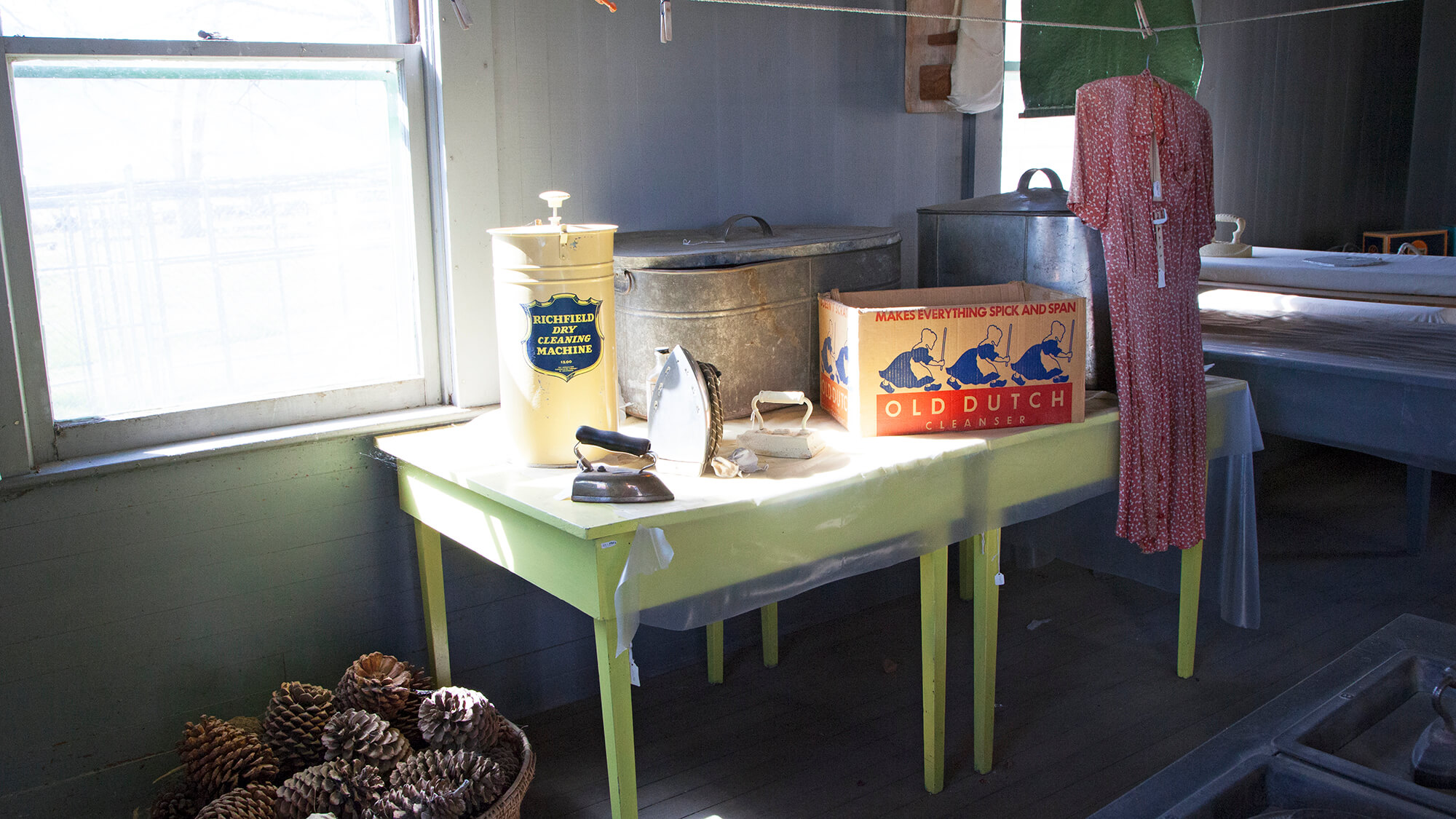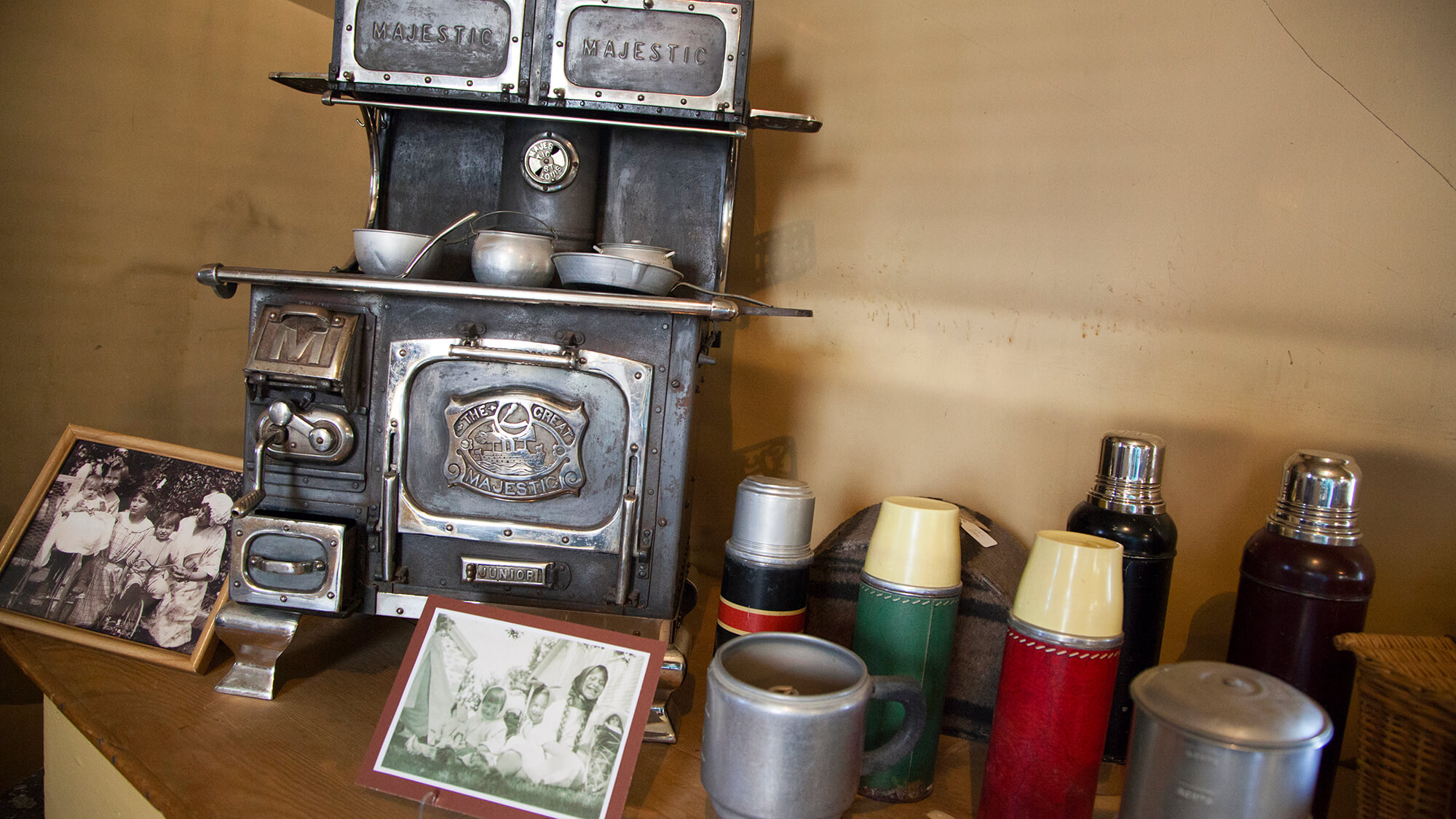 Fred Jr. also added a laundry building behind the stone cellar his Dad added, as well as a new kitchen, vegetable storage building and garage. The family built a pretty serious garden that Gertrude loved tending to, also. All of these improvements went down in the early 1900s right around when most of his kids were born, and attracted some pretty high profile friends, like Clark Gable and Will Rogers. What started as a tiny little farm became one of the largest homes in Carson Valley in 1904, thanks to the flashy facelift from this father-son duo. The Dangberg family was a big deal, and this dang estate was just the thing to prove it.
Redefining Sustainability…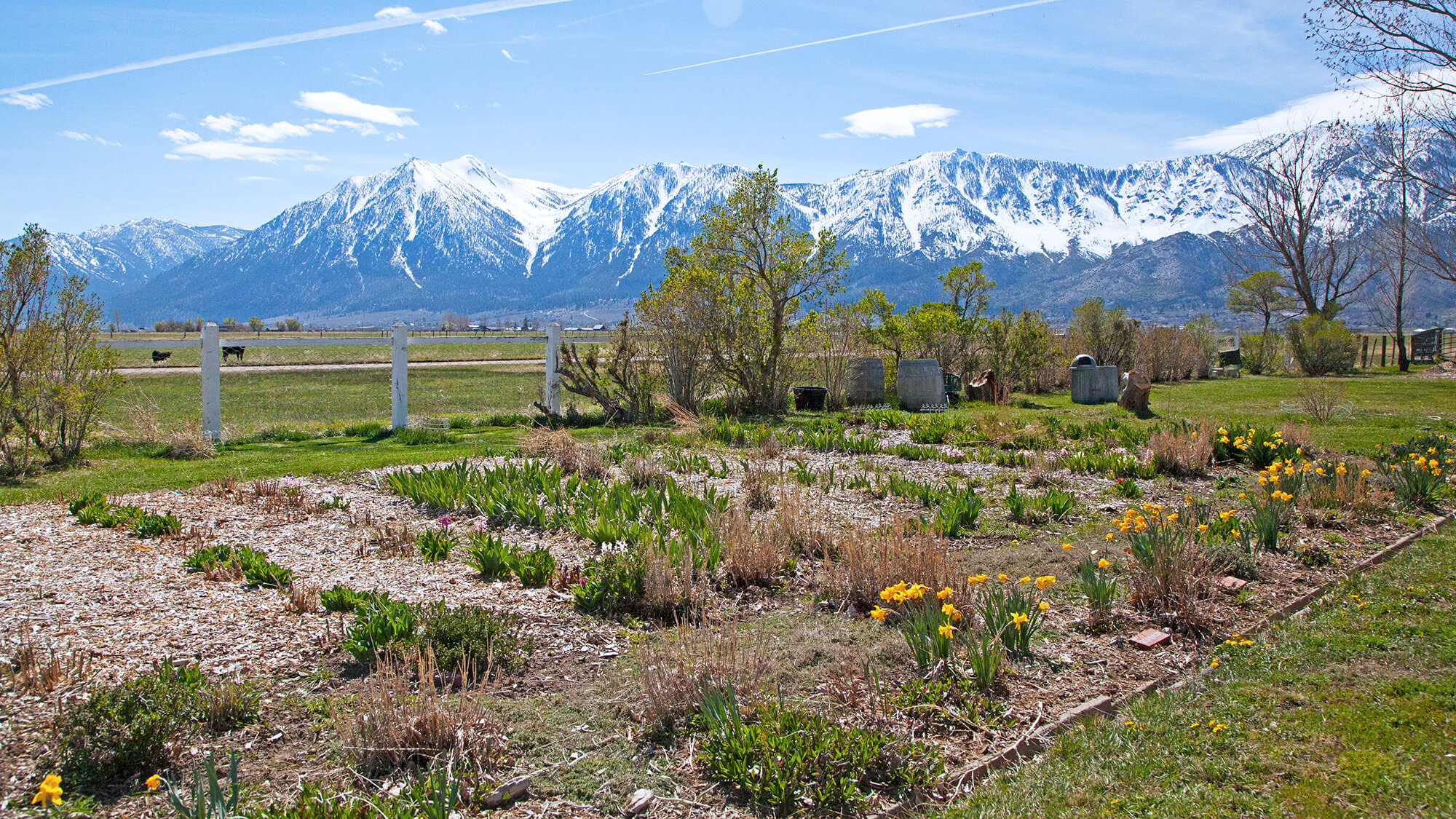 The Home Ranch already had a barn and slaughterhouse on site; with the mega-efficient stone cellar, the Dangberg's pretty much had the whole setup. That, and when Fred Jr. built an entire building for the sole purpose of storing fruits and vegetables that they grew on site, it made them a fully sustainable operation… everything served in the Dangberg home was entirely grown or raised on their land. Back then, it wasn't the trend it is today—you needed this stuff to actually live. BUT, I'd like to think that the Dangbergs were pretty forward thinkers to create an operation that didn't leave much of a footprint during the era they lived in, so I will.
…And Charming Eccentricities To Boot 
Remember how I told you that each of Fred Jr.'s daughters had very distinctive but very whimsical personalities? One was the tomboy, another a total girly girl, a third Carson Valley's most desired bachelorette and the fourth a total outdoorsman? These four daughters were like the Kardashian's of the 20s and 30s… if this reality show featured chicks who could ride horses, hunt and fish. They may have been able to tie a fly, but they were also rumored to live such an extravagant lifestyle that they "kept the San Francisco department stores in business." For a time anyway, but that comes later.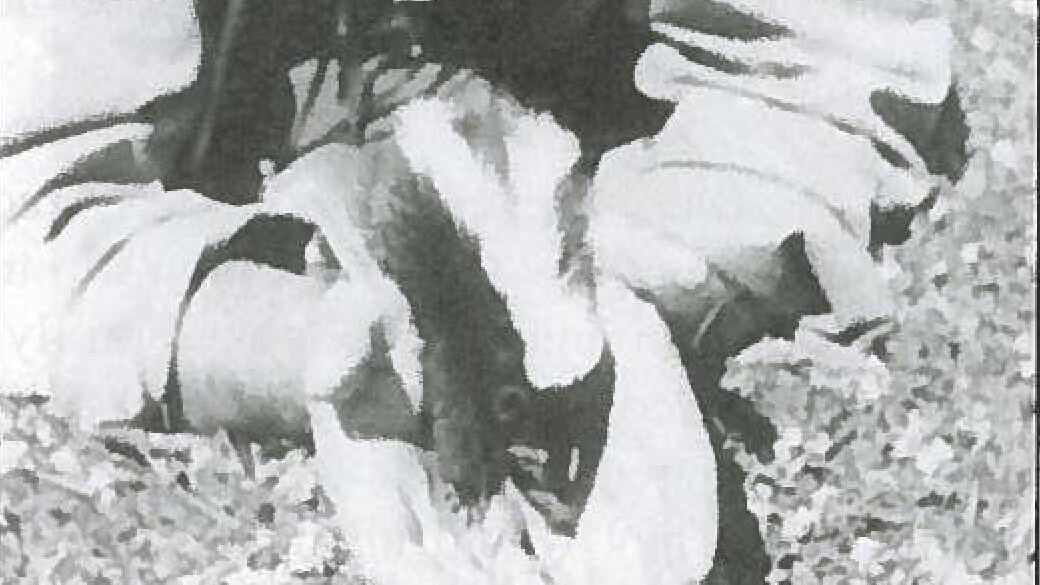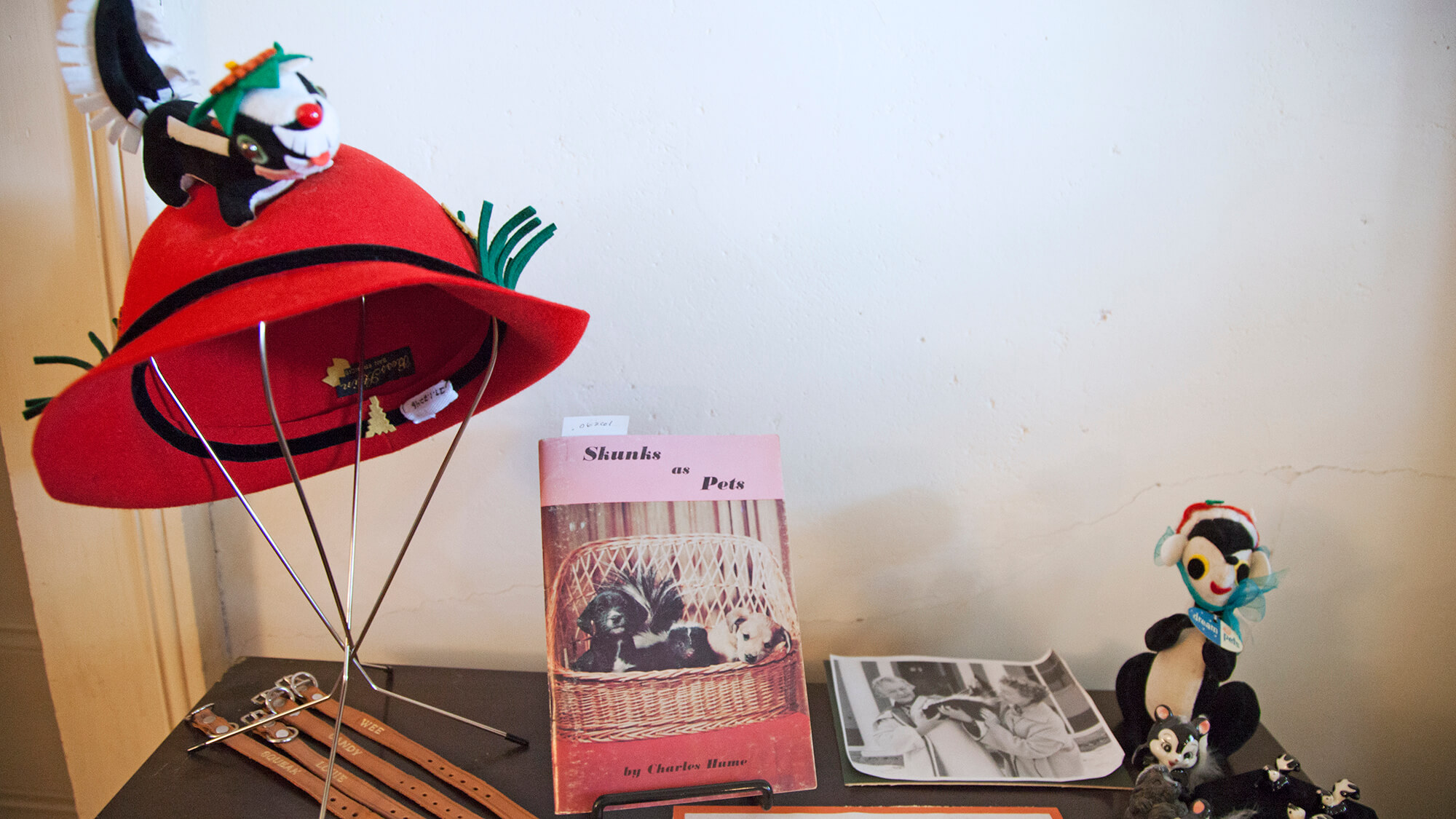 Later in life, Katrina had such bizarre pets that I triple dog dare you to try to forget about them. The whole thing is weird, but there's something so super endearing about all of it that's too good to believe. Give up? She had skunks, PET SKUNKS. Katrina started caring for four orphaned skunks when they were babies, naming them Wee, Candy, Louie and Squeak… with matching collars to boot. Maybe a bit of a Grey Gardens moment, but hey, it's just too sweet to forget about an old lady with four pet skunks running around. When visiting the Home Ranch today, do yourself a favor and keep a running tally in your head of how many skunks you can spot throughout the home… whether you spot a skunk painted on a toilet lid, an embroidered patch on a hat, or even those cute little skunk collars themselves, they're present and highly entertaining.
Drinking And Gambling Get The Best Of Fred
It's true, all good things must come to an end… even if it's a multi-generationally managed ranching empire that seems invincible. By the early 1920s, Fred Jr. and his brothers were basically untouchable. Young, good looking, they each had families, owned one of the most prominent businesses in their entire region and were friends with the flashiest celebrities and mining tycoons. Just crushing life. But, one of the very businesses he helped start ended up exposing a dirty and very dangerous habit for Fred Jr… gambling. Yep, it was he who built the opulent Minden Inn, which featured a swanky and LEGAL casino. By the time his kids were grown and either married or globetrotting, Fred Jr. wasn't home a whole heck of a lot. Instead, he was gambling all hours of the night on the roof of the Minden Inn, or perhaps more mysterious spots like Whittell's notorious opium den at the Lake.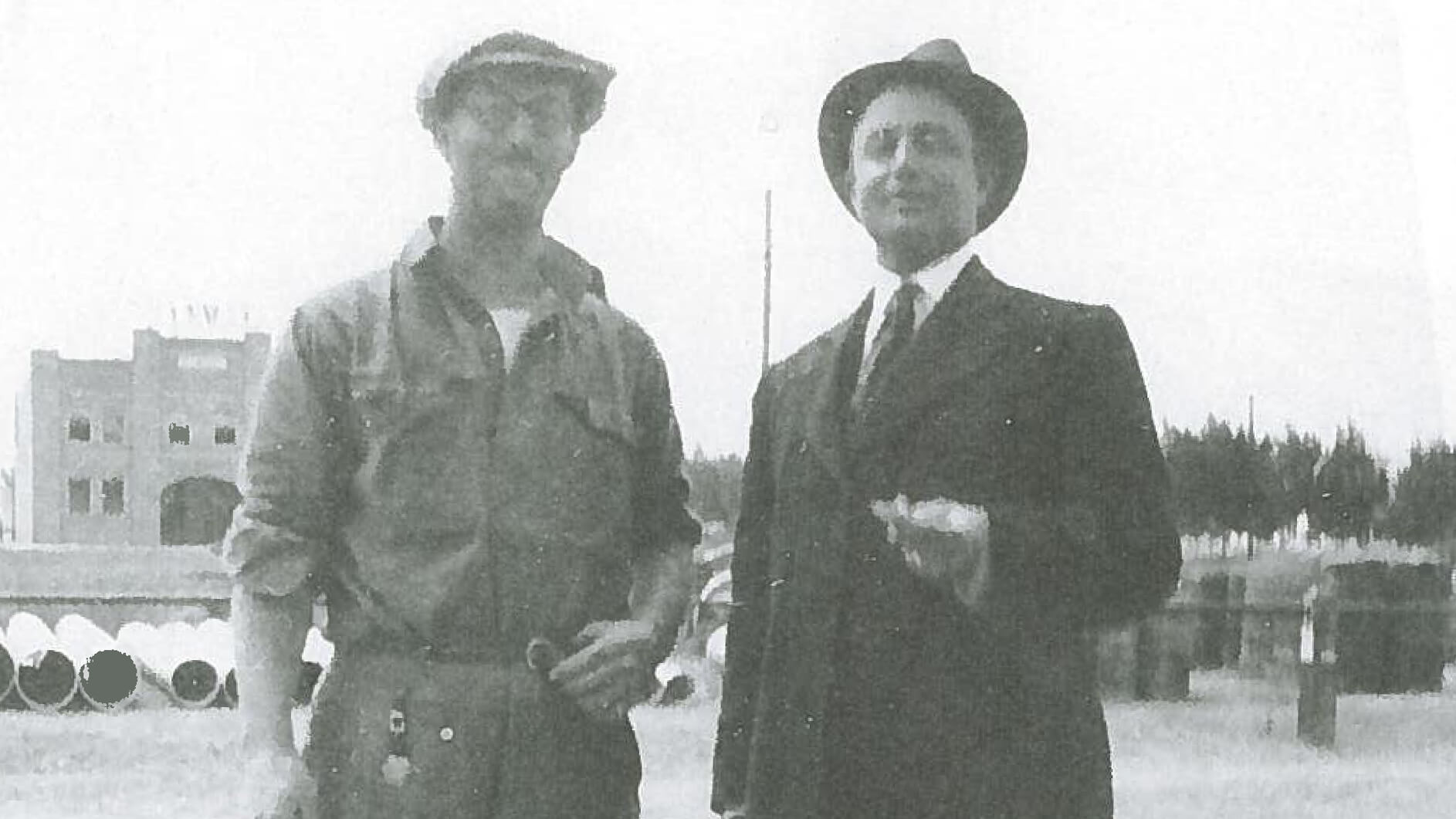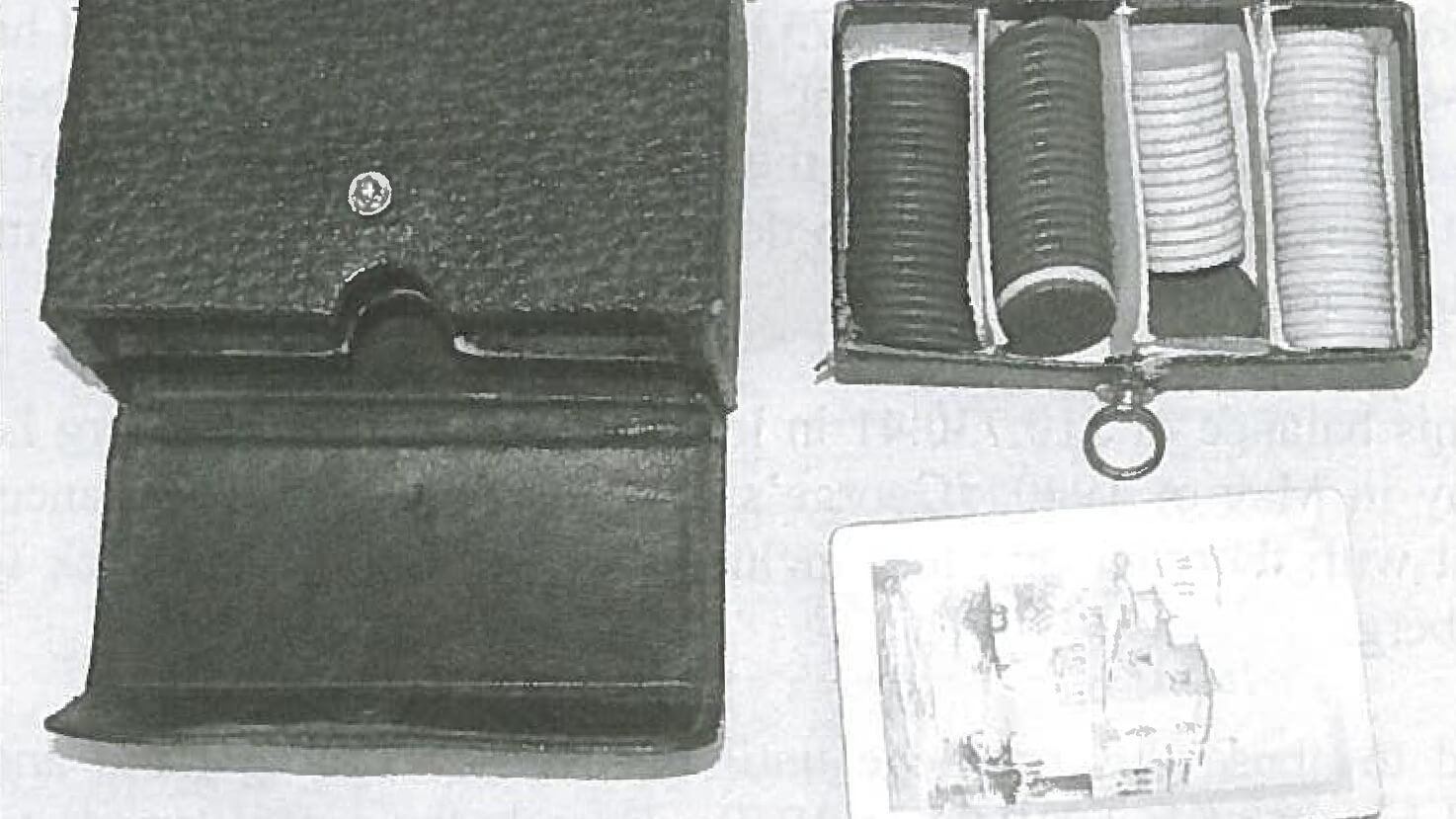 Specifically, he was all over a German card game named Solo to such an extent that he even carried his own pocket-sized kit… pictured up top. It's a slippery slope, and Fred made the ultimate biff when he started borrowing money against the family company. Cringe. He even went to such extravagant measures to cover up his habits like starting fictitious cattle and land companies in order to hide it from his accountants. At first, Fred Jr. could keep up with his debt, but it didn't take very long for his losses to exceed his income. Some of his big time losses were 2,000 head of sheep, lakeshore property on Tahoe, and of course lots and lots of money.
…And The Family Goes Totally Broke 
Fred Jr. went from sneaking money to fuel his gambling habit, to out-and-out writing checks from the business to himself in just a matter of years. Once you start making bold moves like that, it doesn't take long for your other two business partners and BROTHERS to notice. Their Dad had told them it was alright to borrow from the company, so long as you pay it back in a normal amount of time, but ol' Junior had certainly blown that one. By the time John and George figured out exactly how much money was missing, and how much land had been traded in their big brother's gambling losses, their family business was starting to go down a grim path. By 1940, John and George, with H.F. Land and Live Stock Company, sued Fred Jr. for $162,219.04. In a few short decades, H. F. Dangberg Junior had gone from the richest rancher in the state to flat broke.
The Ultimate Family Feud Ignites
This whole thing goes from bad to worse when John decides to not only sue his brother, but to take total ownership of the company and cut him out altogether. Yeah, yikes is right. To add insult to injury, George suddenly dies, the guy who was basically the only thing holding Fred Jr. and John together to begin with.
In his final years, Fred Jr. and family's lifestyle of the rich and famous screeched to a stop. They let all of their help go, his daughters moved home and [gasp!] had to get jobs, his wife started raising and selling turkeys for income, and they even began taking boarders at the home for another stream of income. They had a tiny bit of money, but were mostly totally broke, counting on their daughter's income to make it.
Fred Is Cut Out Of The Family Biz Before He Knows What Hit Him
The year 1946 was a rough one for the fam for tons of reasons, one of them being Fred Jr.'s death in April. His mom had just died a month before and he ended up passing from a heart attack that he had in reaction to his daughter Fritzi succumbing to breast cancer. Things didn't end on a particularly good note between the brothers, and now the rest of Junior's family was in a super bad place because their future redefined uncertainty.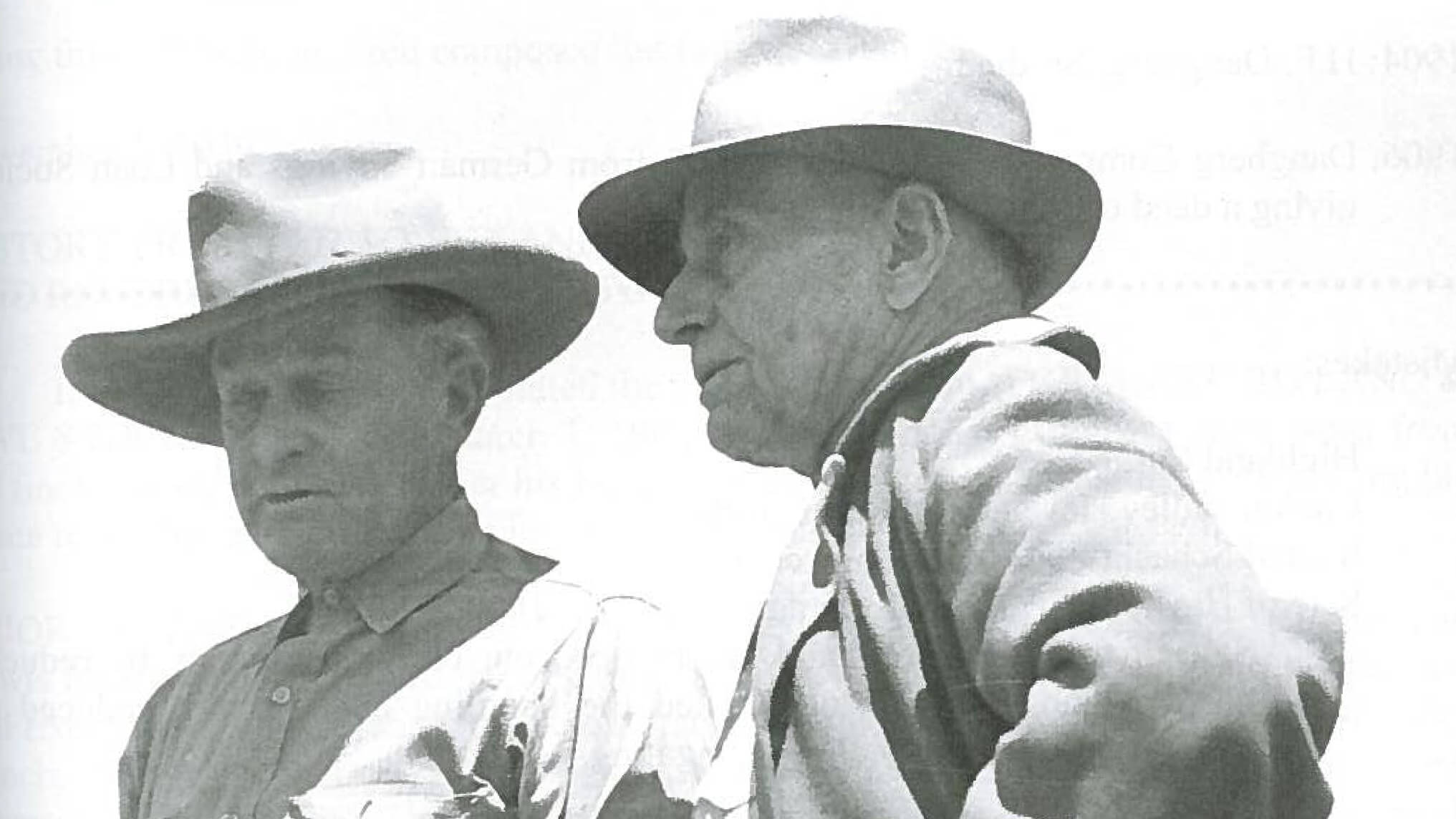 John had secretly been super mad all these years that Fred Jr. and his clan got to live at the family estate, when he had actually married and had kids first. On top of everything else with the suing and cutting his brother out of the biz, John really went in for blood when he and his daughter Grace served Margaret and his daughters an eviction notice… on the day after Christmas. Diss. In John's eyes, his brother had been given the keys to the castle and totally blew it, compromising everything for all branches of the family… After all, everyone depended on the H.F. Dangberg Land and Live Stock Company to survive, and now it was getting jerked around by a bad habit. Luckily, a family friend stopped the wife and daughters getting kicked out, but it was certainly a close shave.
John, And His Daughter Grace Start Running The Show
John Dangberg had been the president, but he and his daughter Grace slowly stripped away all of Fred Jr.'s powers. When he died, they really had a ton of control. Each of the brothers had owned 33% of the ranch, but after George died the company stock exchange went gangbusters between family members and wasn't equally split to say the least. That made ownership hard to understand, and now that Fred Jr. and his entire family was out of the picture, it really became hard to figure out who owned what. Plus, remember how George was running the whole livestock part of the business? Yeah, well that had completely gone to hell in his absence.
The Family Loses Control Of The Company, And It Sells in 1978
With a totally vicious gambling habit, Fred Jr. left his family in a super bad place. They had a super small stream of income, were cut out of the family business, and had their home ALMOST taken away from them. Plus, the guy died in the middle of the most intense part, so of course his family is going to grieve over such a loss. Once she was able to recover from face-melting amounts of anguish, Gertrude spent the rest of her dang life paying off debts from her deceased husband and living off income from her kids. The family FINALLY rescinds on their lawsuit, but family members were so burned by just how much Fred Jr. rocked the boat that they totally insisted on collecting on petty debts from 20 years earlier. Slowly, a bunch of stock gets sold in a flurry, the board of directors is basically a revolving door, and John and Grace basically just lost control after most of the remaining stockholders entered an agreement to sell all of their stock for a sweet little payoff of $16M. As of 1978, Nevis Industries Inc. out of California were the official new owners of the H.F. Dangberg Land and Live Stock Company.
But Wait A Sec, What Happened To The Home?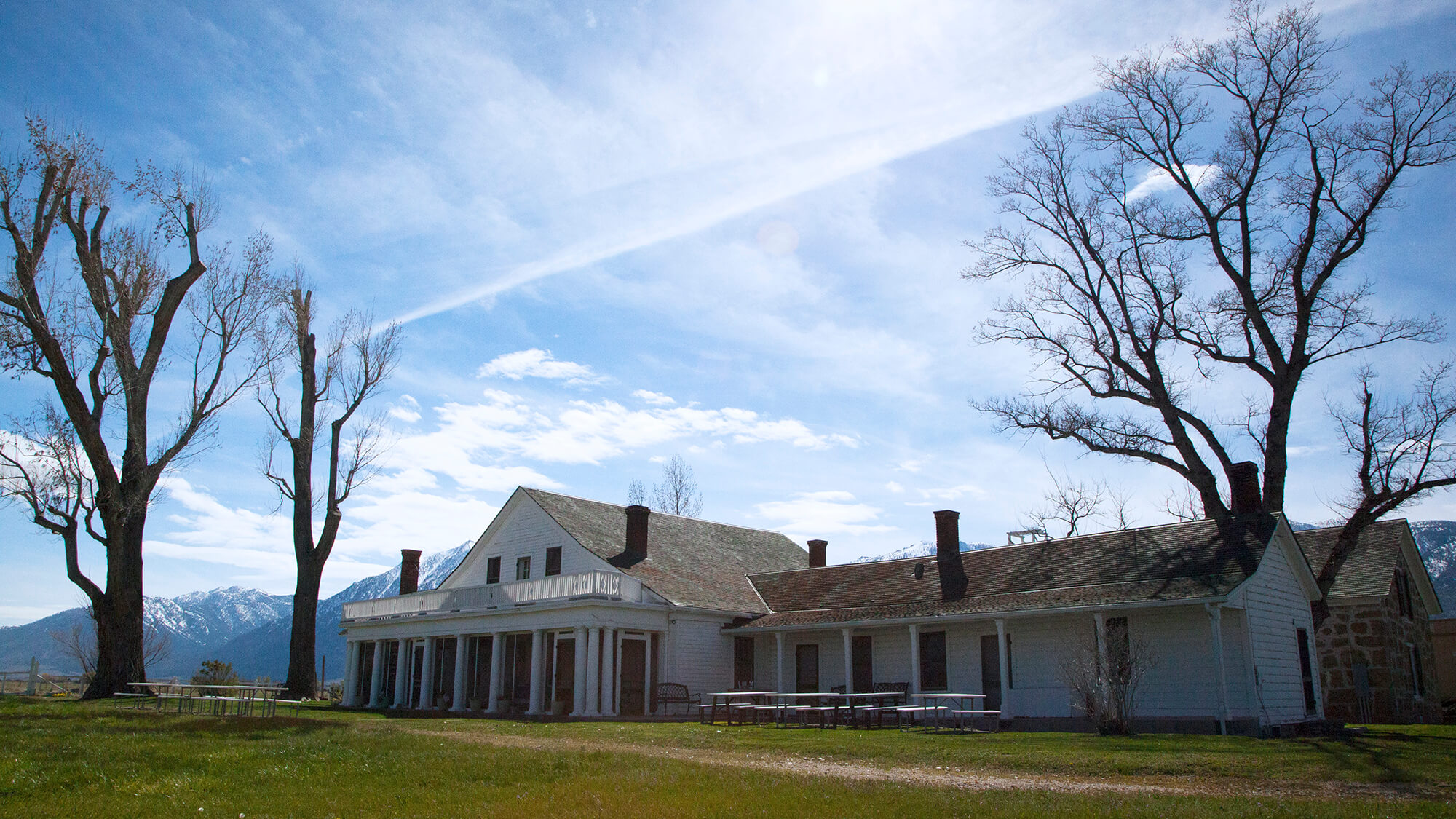 OK, so the company sells… isn't the Home Ranch itself practically the heartbeat of the entire thing? You're right… and there was controversy over this too. Luckily, after a bunch of legal brouhaha, a family friend and attorney bailed Margaret and Ruth out. Fritzi had died, and Katrina married a rich rancher in Glenbrook, but Margaret and Ruth still needed a dang place to live. So, Frank ImMasche came to their rescue and created an indentured agreement that allowed Margaret and Ruth to live the rest of their days at the home… and were covered 6 months posthumously, too. And get this: a long-term lease agreement was signed for a whopping $1 fee per year. My kinda lease!
The Dangberg Daughters Live Out Their Days, Rooting For The Niners 
One crazy thing about this family is that, with the exception of a few family members, most of the Dangbergs lived to be super old. Eva Katrina lives to be 99 and Grandma Margaret makes it to 93 to spout off a few. Same goes with Margaret, who lived in the home until her death at the age of 82 in 1987, and Ruth hangs on one full year more until she passes at age 87. Ruth died in the same exact bed in the same exact room she was born in, too. Not many people can say that one.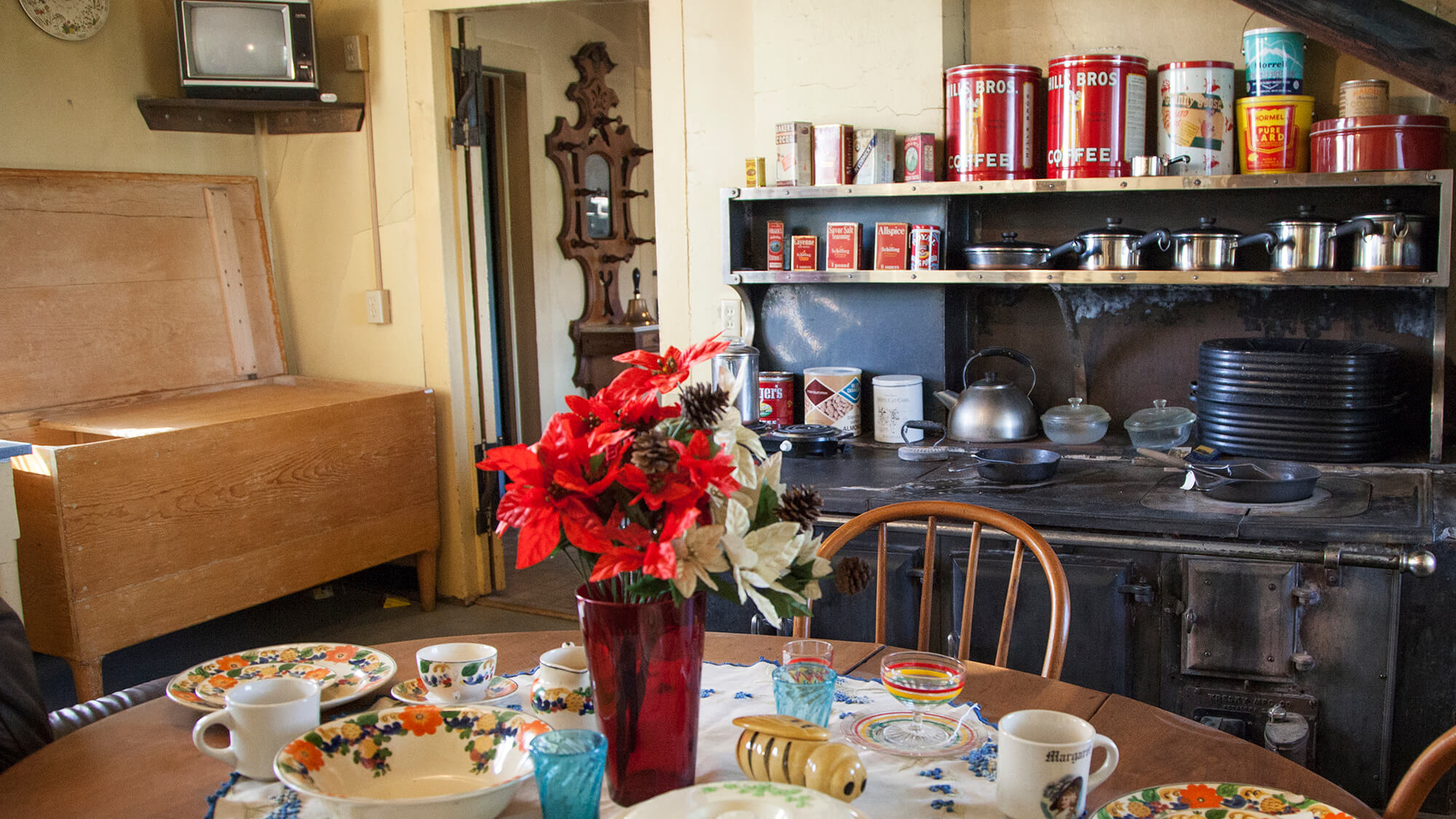 During their twilight years, the sisters both retired from their jobs at the Nevada Highway Department, tended to their mother's fabulous garden, and got down with some serious 49er fandom. Hard to imagine, but word on the street was that anyone who came to visit could count on finding the sisters posted up in the men's dining room catching a game.
Dangberg Ranch Is Protected… Indefinitely
Part of that whole legal indenture was to not only protect the remaining relatives of Fred Jr.'s family, but also to totally safeguard the Home Ranch itself. They knew that they wanted it to be protected for historical purposes… I mean after all, this thing was close to 130 years old at the time of their death. They knew what was up. Truly, it was a smart move; it protected some new owner from moving in, or it getting gobbled up by a mega corporation and destroyed. The Home Ranch became a Nevada State Park from 2004-2011, and has been under the watchful eye of the Friends of Dangberg Home Ranch since. Best yet? The property is now a county park, so all in all, this thing isn't going anywhere for a long, long time.
With All Original Artifacts Still Intact
I could sit here and tell you interesting things about one of the most fascinating families in Nevada all dang day. BUT, if you walk away with one fact about the Dangbergs and one fact alone, it's this: the Dangberg Home Ranch is cooler than all the others because everything you see inside actually belonged to the Dangbergs. After Margaret and Ruth died back in the '80s, the state and county parks argued over it a bit and it was just sorta lost in limbo, in short. Ruth was a bit of a packrat to begin with, but after they died all the way up until 2004 when Nevada State Parks took over, they basically locked the door and forgot about it.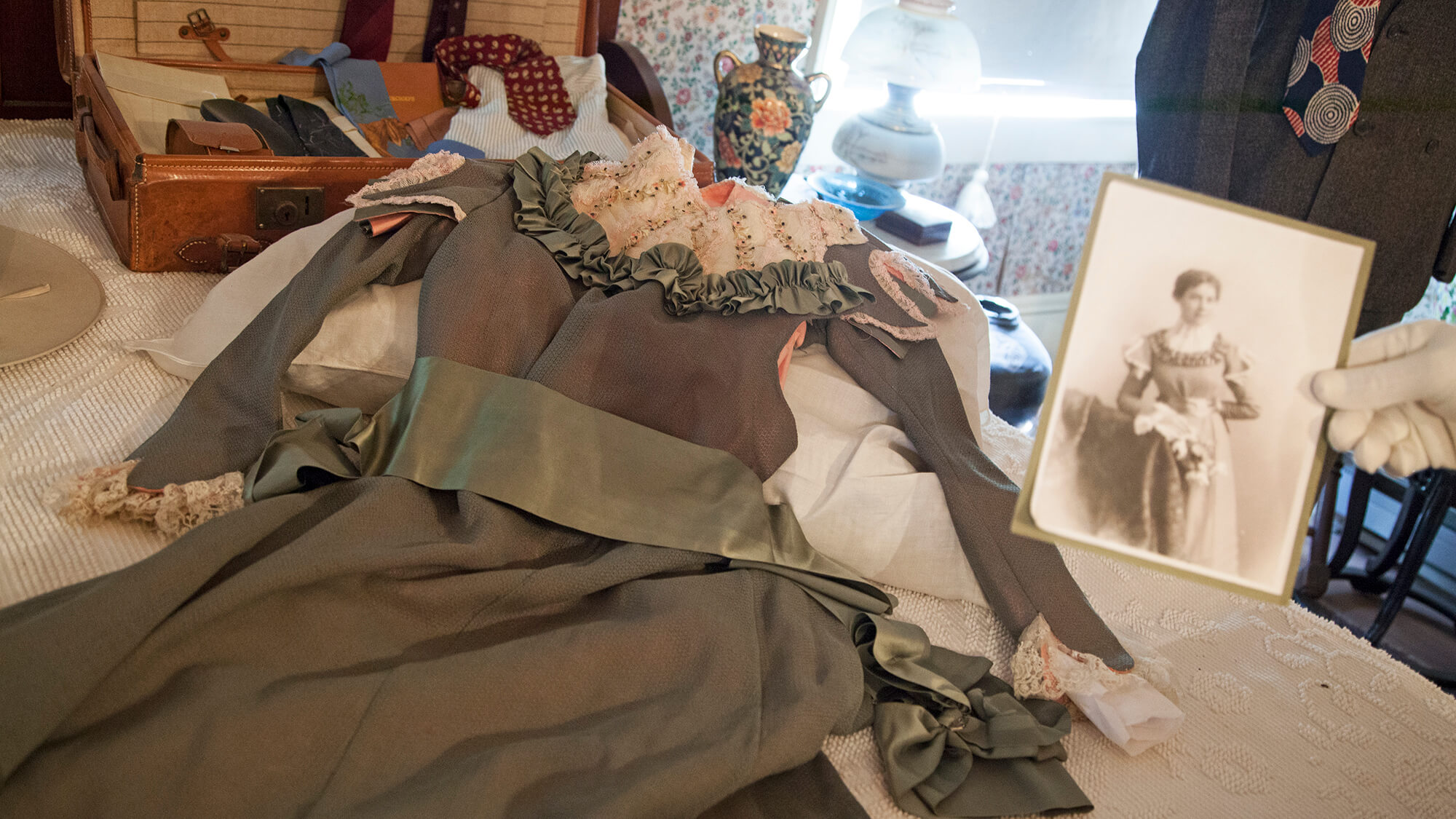 All those years leading up to their deaths, Margaret and Ruth had all the family heirlooms in check – I mean it was their home, after all. They simply inherited many of their grandparents, parents and siblings swag. They never officially left the ranch [hands up for that fancy indenture!] so by the time Nevada State Parks grabbed hold of the reins, they were faced with thousands upon thousands of artifacts to sort through. To get down to brass tacks, they catalogued 18,500 items which included close to 4,000 photos. So when you're touring the Home Ranch today it's super unique because all the stuff you see in there belonged to a Dangberg, while most other preserved homes from the era have items that came from that time, but there's no way they actually belonged to the people who lived there.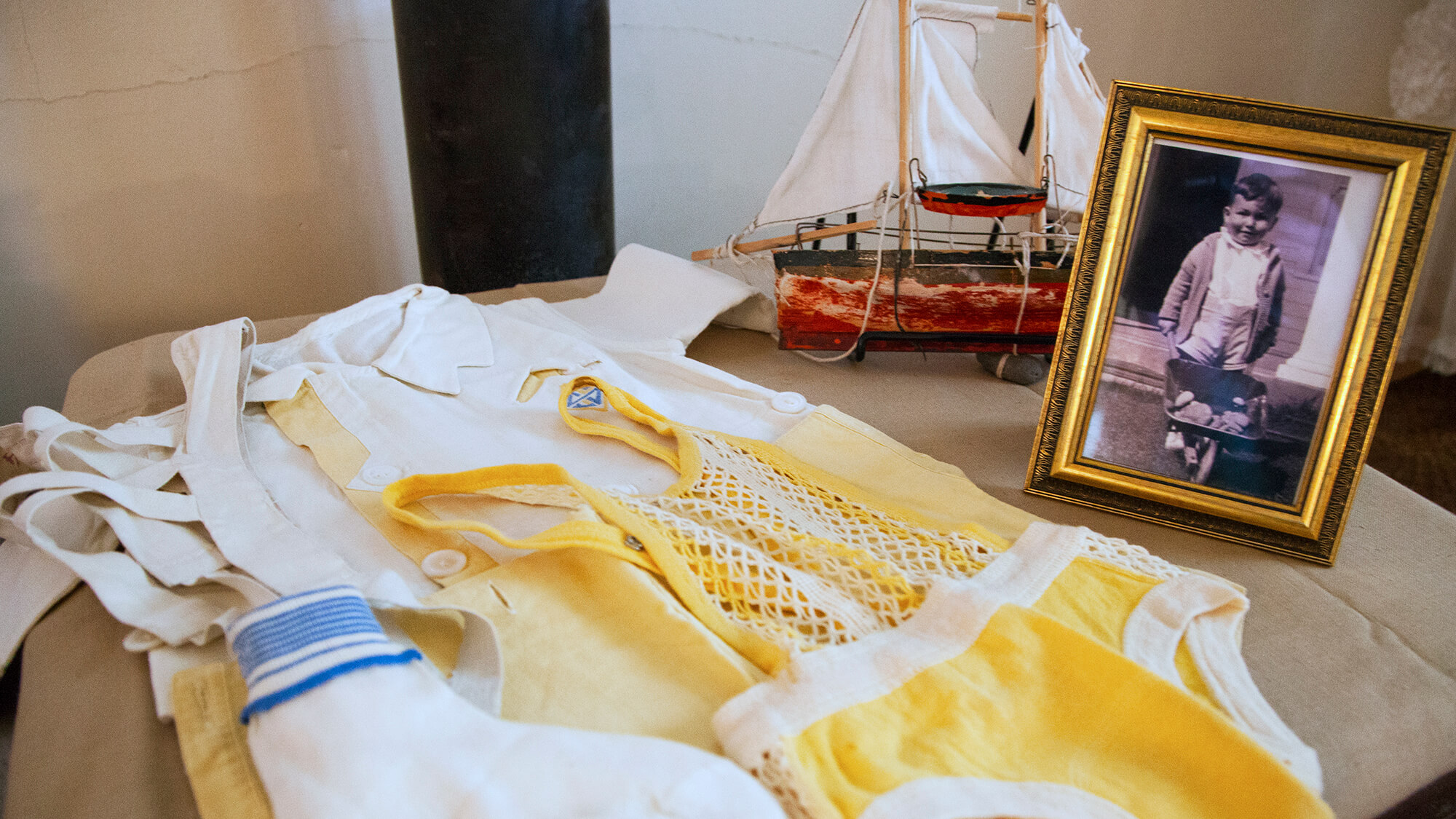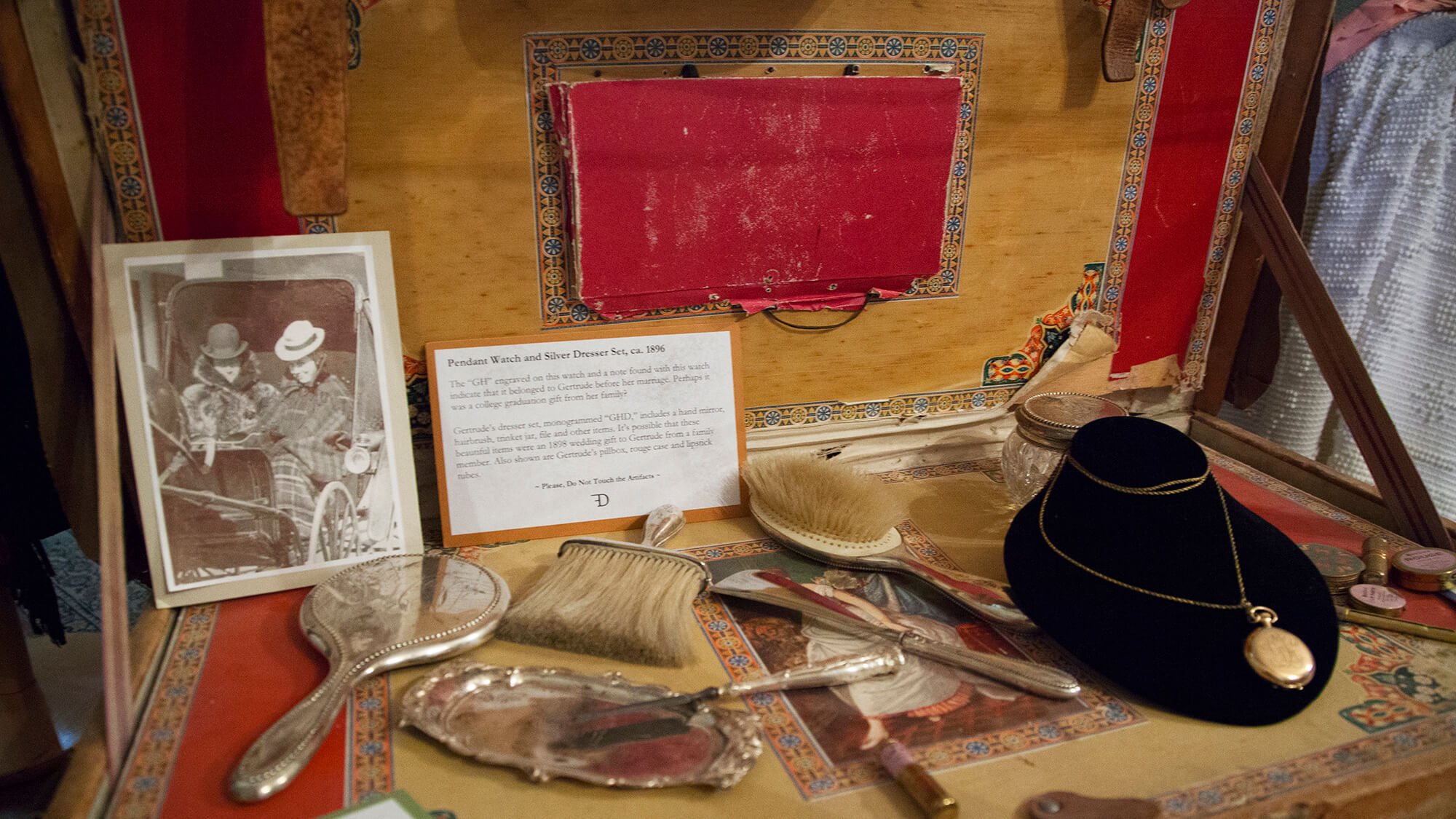 It gets better. Expect to see items that belonged to the Dangbergs, and then pictures of them with the item in it. Like clothes. Dresses were often even passed down from generation to generation, and at the Dangberg Home Ranch you'll see the dress itself, and then Gertrude in a photo wearing it. Or Dwight's famous pair of Levi's, accompanied by a picture of him wearing them. Enchanting stuff, right?
Despite Starting An Entire Town, The Dangbergs Aren't Honored In The Slightest
Among all this, I'm totally positive that there's something to pique just about everyone's interest about the Dangbergs…whether you walk through the threshold of the Home Ranch itself, or make a visit to the town of Minden. They left their mark just about everywhere. The crazy thing is, despite building and driving an entire agro mecca, and founding an entire planned community, bringing in countless vital businesses, the Dangberg family isn't credited ONCE. Not a single street, building, community space or even agricultural field that is named after Dangberg, or anyone in the entire family…besides the Home Ranch of course. Although Fred Jr. turned out to be a bit of a punk and wrecked the entire thing with a bad habit, you'd think their name would show up somewhere but it just isn't. Fred Sr. had built an entire ranching empire and died with 33,473 acres in his name, while Fred Jr. died totally broke, leaving his family in dire straits. Surely drama went down somewhere in there; small towns come with small town politics and maybe the Dangbergs burned someone in ways you and I can't begin to understand… something that's off the historical record books and is going to stay off.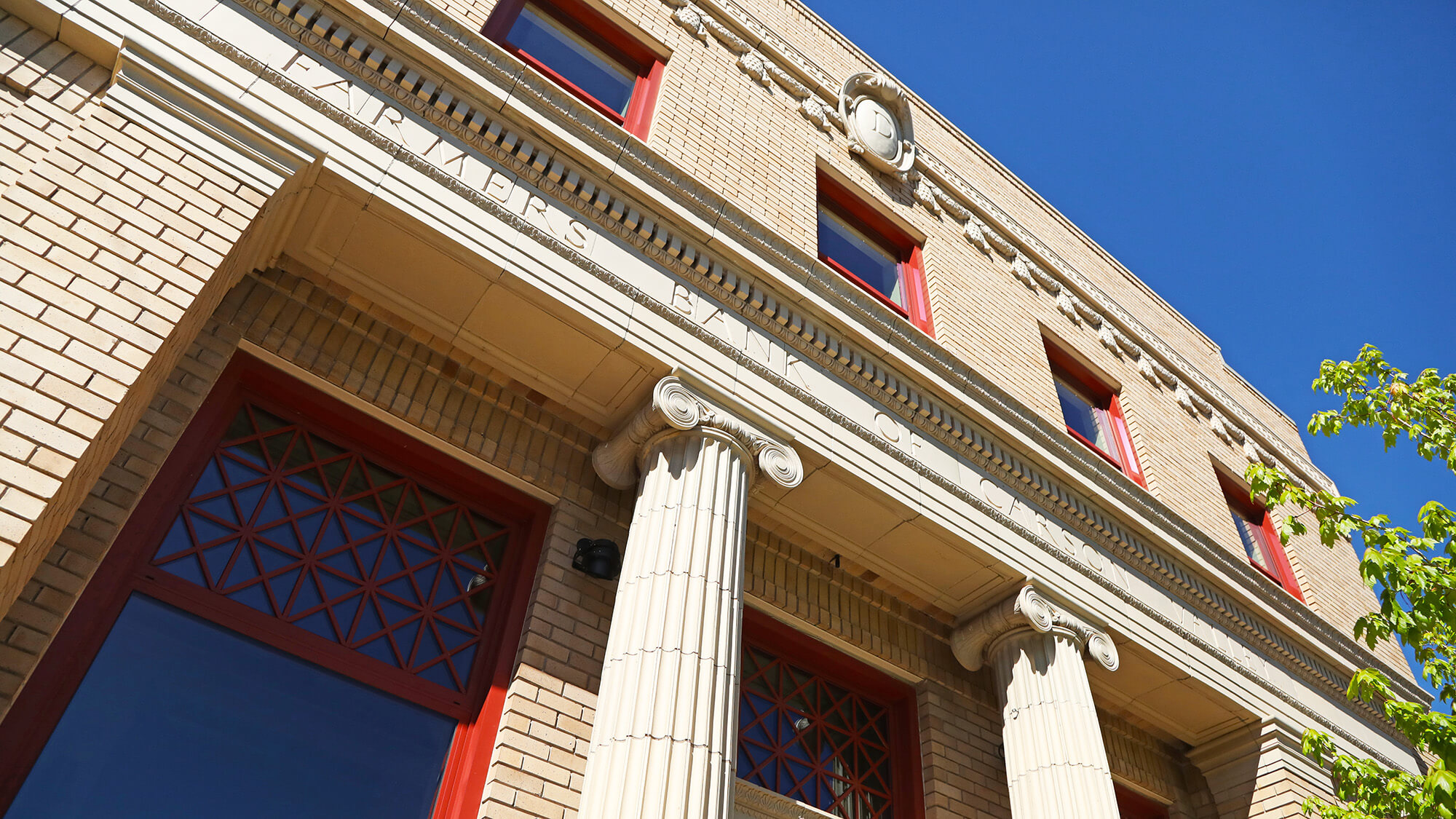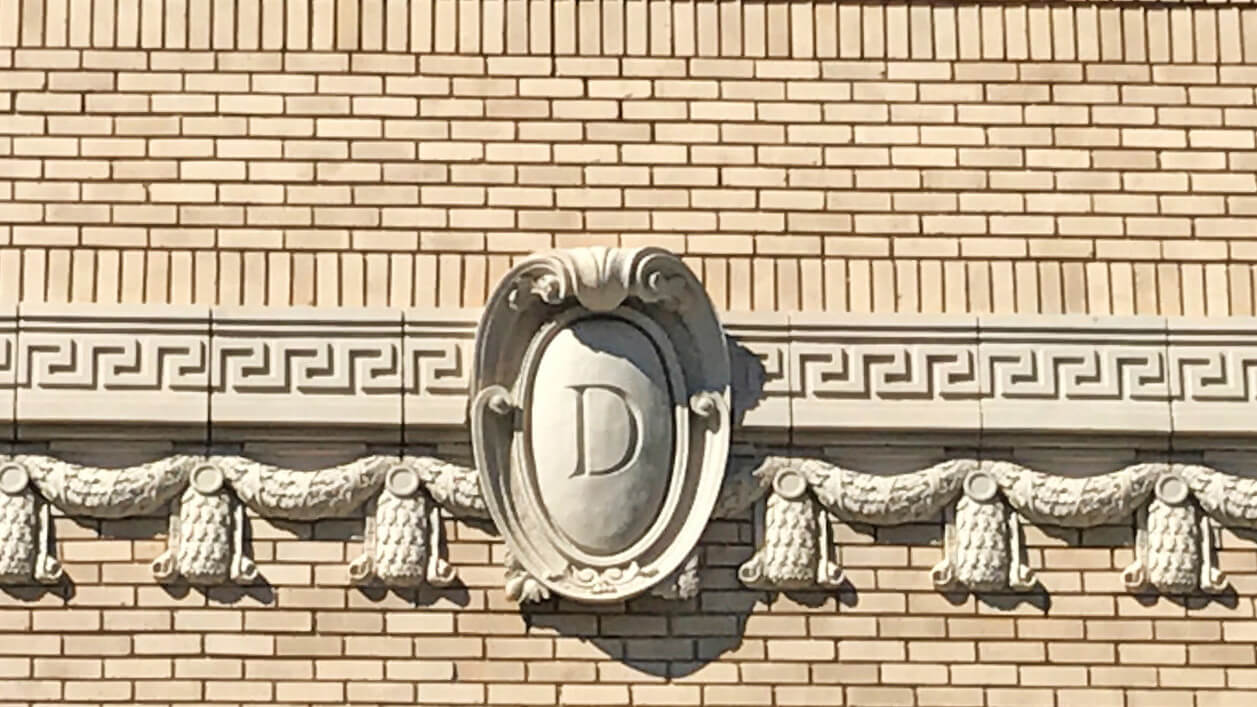 When checking out downtown Minden – the entire city this family was responsible for creating – pay attention to the historical placards on places like the Minden Inn, and C.V.I.C. building. Their name isn't mentioned anywhere. In fact, the only place you will see evidence of the Dangberg name is the Farmers Bank of Carson Valley. When you get to the front, look up: there's a graceful "D" in the middle of the building, not far from the roof line. But, you'd probably never even see it and even if you did, you wouldn't know what it stood for. But the beauty of it all is, now you do. #NVHistory
Get Inspired
Related Stories