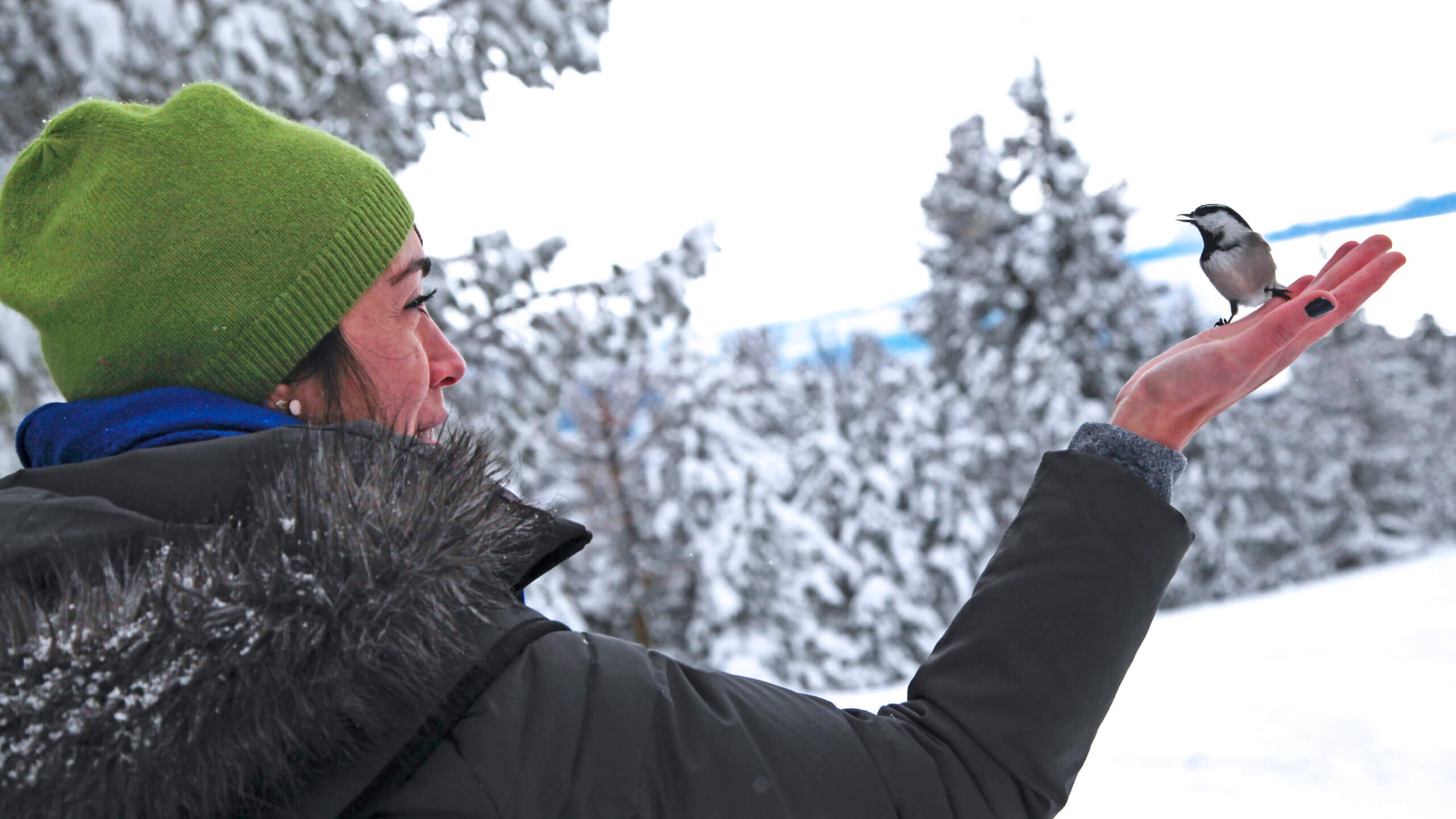 9 REASONS TO STOP EVERYTHING AND SNOWSHOE CHICKADEE RIDGE
Ever had a wildlife experience so endearing that you can't stop thinking about it? This is exactly the type of impressionable experience that went down during a brisk January morning snowshoeing the unblemished Mt. Rose Meadows. It was in the thick of the holidays and I was sick of being stuck inside doing nothing but non-stop eating for a month straight. So, I recruited some friends, loaded up the gear and hit the road for an uncomplicated 45 minutes from Reno. And truthfully, outside one incident that went down in the Snake Range, this is one of the coolest wildlife experiences I've ever had in Nevada. It's a bold statement, but I'm so totally standing by it in all its deserving glory.
You should take our word for it: wild chickadees landing on an outstretched hand will happen and is worth the trek.  Here are 9 reasons you shouldn't be missing out on Chickadee Ridge, no matter the season.
Travel Nevada Pro Tip
But first, hold up! Feeding the chickadees or any wildlife of any kind is not only extremely uncool, it's also illegal. Human food is not healthy for wild animals, and they do not need food from humans to survive. Wild animals have specialized diets, and they can become malnourished or die if fed or become dependent on human food. The good news at Chickadee Ridge is this: the birds are so used to people in the area that they will naturally land on your hand, even without the allure of snacks. In short, be a good human and don't feed the birds.
---
1. MT. ROSE MEADOWS MAKES FOR DREAMWORTHY ACCESS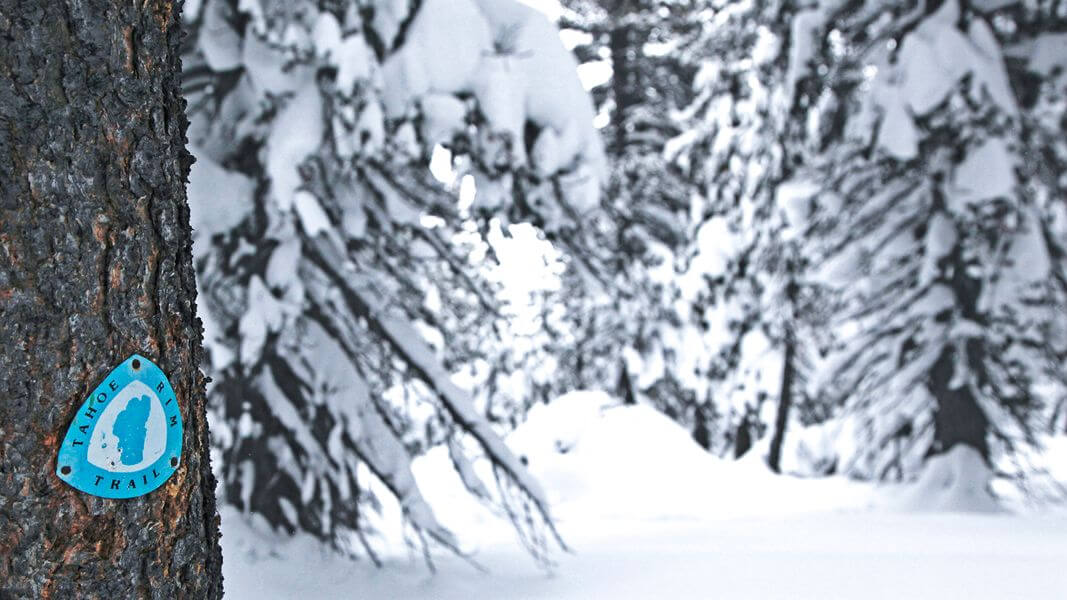 When, praytell, in your adventure-slaying life, have you ever been able to pull off of the road, park basically anywhere with ease, and get into some untouched nature experiences within less than an hour? I'm talking no lift tickets, no permits, not a ton of gear, and not even that much physical endurance to aim toward? Oh and it's free. At the Mt. Rose Meadows this kind of fantastical situation abounds. After passing Mount Rose proper, wind your way down into the meadows and park next to a thousand other hooligans. It looks crowded, but don't worry; most of these peeps aren't headed to where you are. They're probably either 1) going sledding directly adjacent to the road, or 2) hiking deep into the woods for backcountry splitboarding. Not many will snowshoe into the valley, and fewer still will hike their booties up the enchanted ridge you're after. Easy parking and dodging the crowds for a secretive situation? The stuff recreational dreams are made of.
2. FORGE YOUR OWN PATH IN THE MOST SATISFYING OF WAYS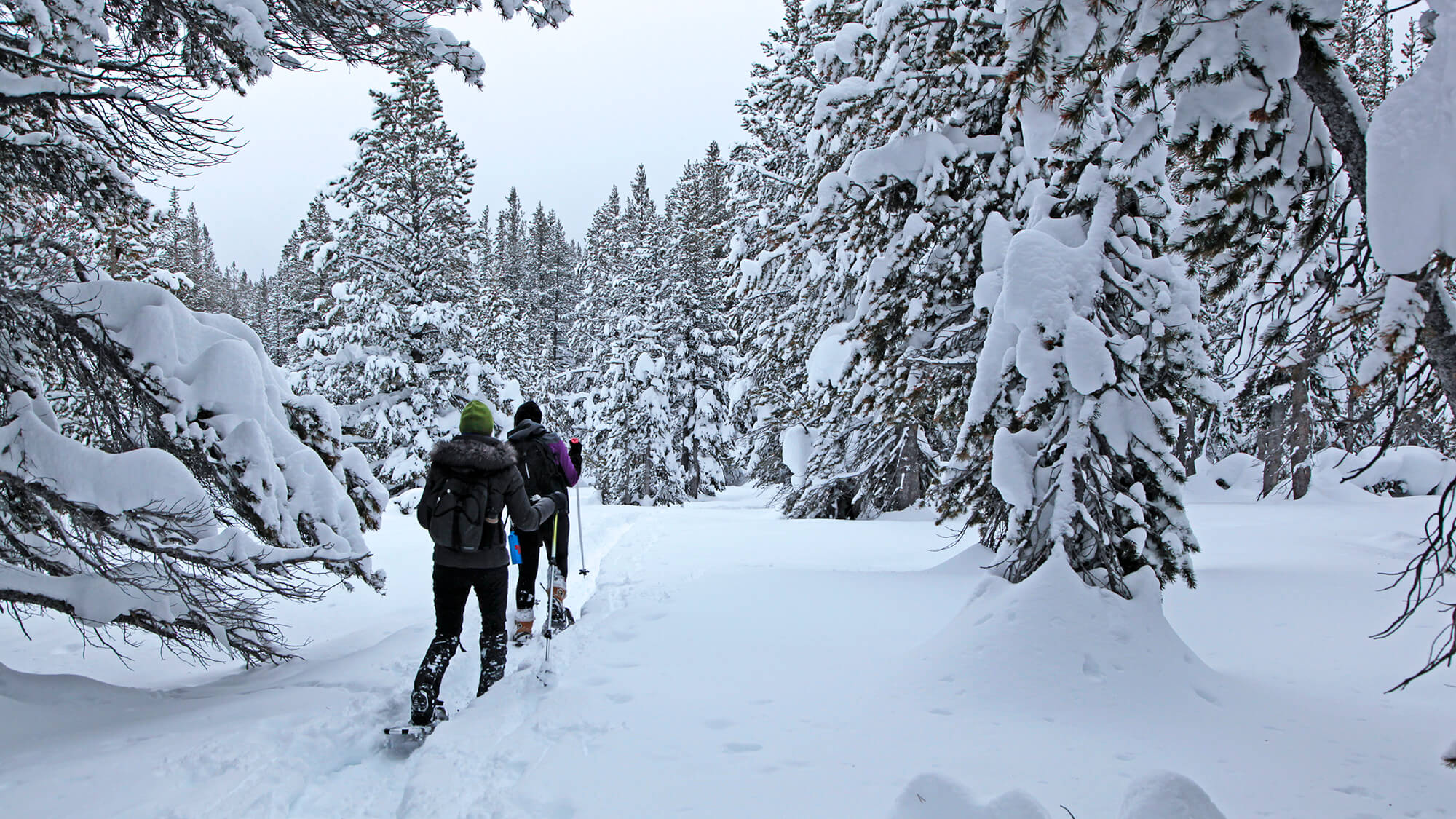 If a remote recharge is what you crave, Nevada runneth over. Being the only person on an entire mountain has some sort of magic that's hard to articulate, and blazing your own trail might just be the cherry on top. Anytime at Chickadee Ridge is euphoric, but especially after it's cloaked in fresh pow. If you're into an alone-in-nature experience, but aren't quite ready for the ultra-remote variety you can get it that here—with maybe just the right amount of a safety net. If the thought of beating your own track pings some stress receptors in that noggin, relax with the fact that you're ultimately surrounded by the masses just round the bend. Embrace this uncommon remote-meets-populated dynamic; it doesn't happen in a whole lot of places and at Chickadee Ridge, it's working. No matter the season, you'll be blazing your own trail up the ridge. In the wintertime, it's just more literal…and it's oh so delightful.
3. BECAUSE THERE'S NOTHING BETTER THAN SIPPING A HOT BEVERAGE IN THE MIDDLE OF A WINTER WONDERLAND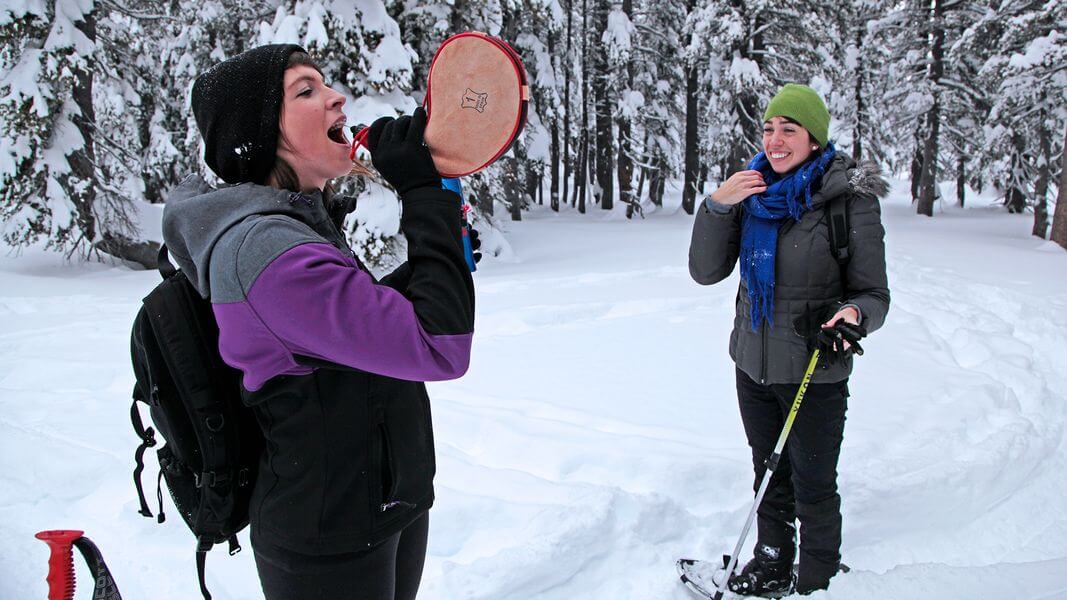 Don't even try to pretend: you alllllll know what I'm talking about with this one. Whether you're getting into some sledding, ice skating, snowman building or just gotten off the mountain, there is a certain vibe that just ain't right until you have a hot beverage of some kind in your mitt. And I'll tell you this: there are few scenarios better than standing in the middle of a perfectly quiet, snow-laden forest with no one else but your two besties, passing around some hot libations.
Travel Nevada Pro Tip
Do it like a real Nevadan and bring your hot or cold beverage in a bota bag. With a cross-body strap, it's not only easier to actually tote up the hill, but is what those legendary Bascos used (and still use) while herding sheep in the Nevada backcountry.
4. TOTAL SENSORY OVERLOAD KICKS IN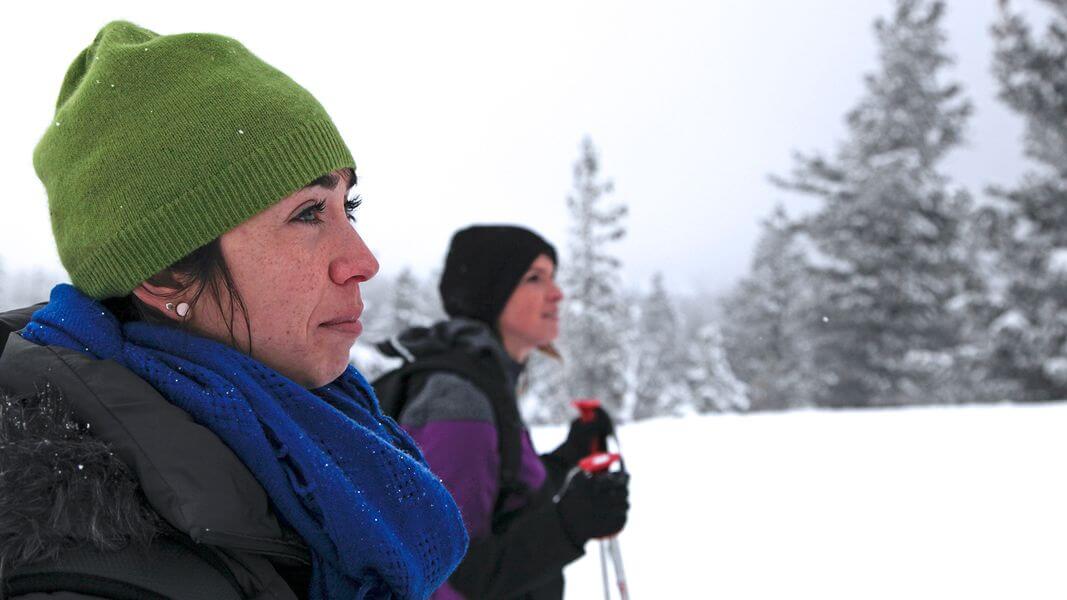 As you work your way up the ridge, you'll find out that the forest has a way of consuming you—a quality that's probably the most rewarding component of any mountain expedition. Before you even realize it, you've gained elevation, are completely isolated from crowds, and everything just kind of creeps to a stop. The silence of it all is completely deafening in a way that hits all the right spots in a way that seems to enhance all the rest of your senses. If you're anything like me, your mind will already be blown with the visuals going on around the Meadows, especially after a serious snowstorm. The crunching of the snow compacting beneath your snowshoes seems to roar, and the way the brisk alpine air washes over you is some kind of reinvigorating cocktail I need to figure out how to bottle and distribute. On this specific trek, as soon as you've gained some elevation, be sure to be quiet, and listen for chipring birdies in the trees surrounding you. The second you hear one, that means the chickadees have arrived.
Travel Nevada Pro Tip
The instant you hear one of these guys fluttering in the trees or calling out, simply just extend an arm with your palm facing up. They're so used to people in the area that, as soon as you outstretch a hand, they will be on you like white on rice. Welcome to Chickadee Ridge!
5. INSTIGATE SOME IMMEDIATE INSTAGRAM FOMO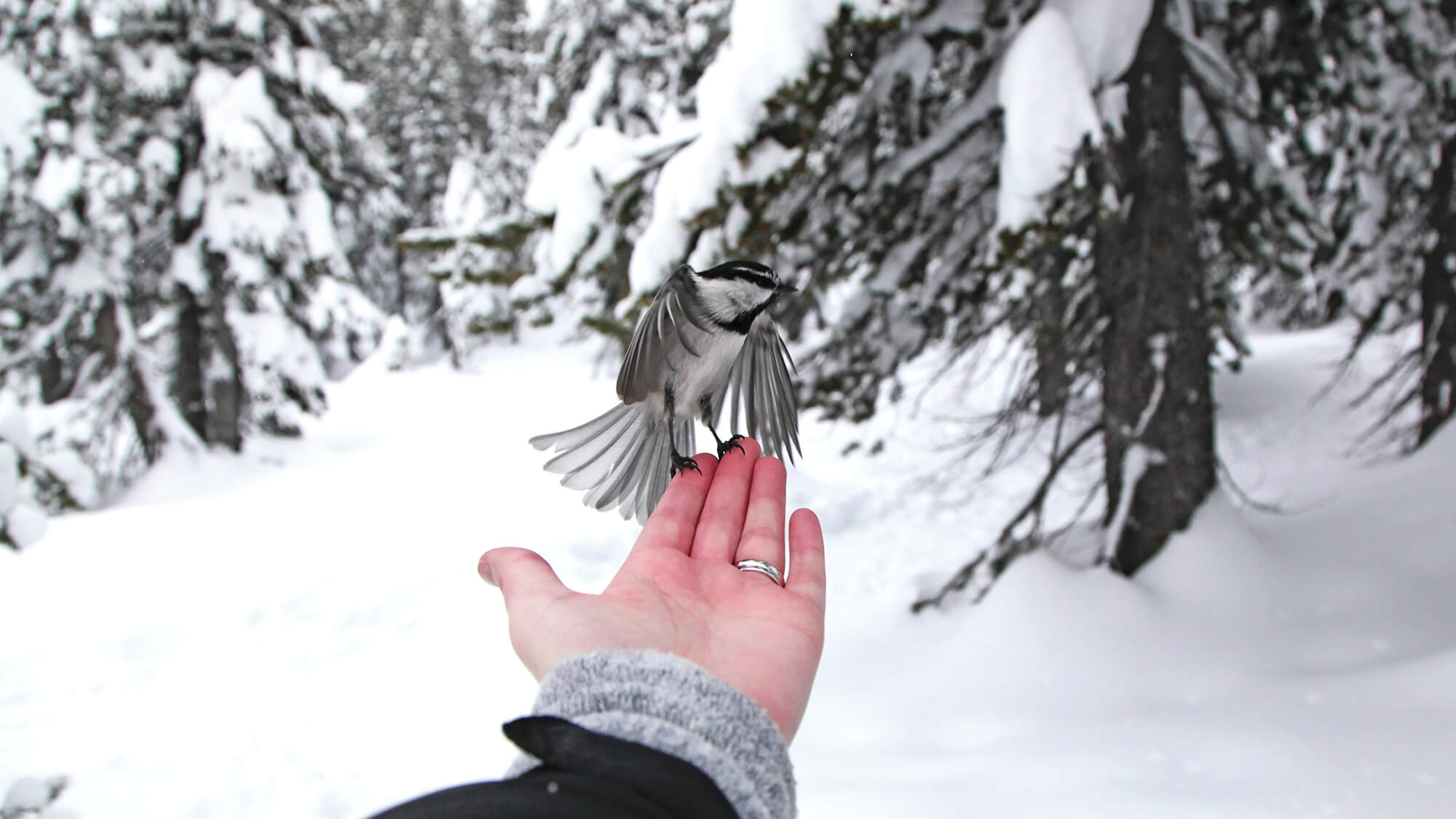 I hope you brought your DSLR because guess what, photos of this place are about to break the internet—it's amazing that this even happens, but even more incredible that you can so easily capture it on camera, even with a phone. Bust out the timelapse, slow-mo videos and selfie sticks because it's about to go down for real on Chickadee Ridge. There have been some glorious views leading up to the top, but once these birds start coming outta the woodwork and swirling all around you, some straight up movie magic oozes out of every second.
6. IT'S A PLACE WHERE YOU CAN BE SNOW WHITE, FOR REAL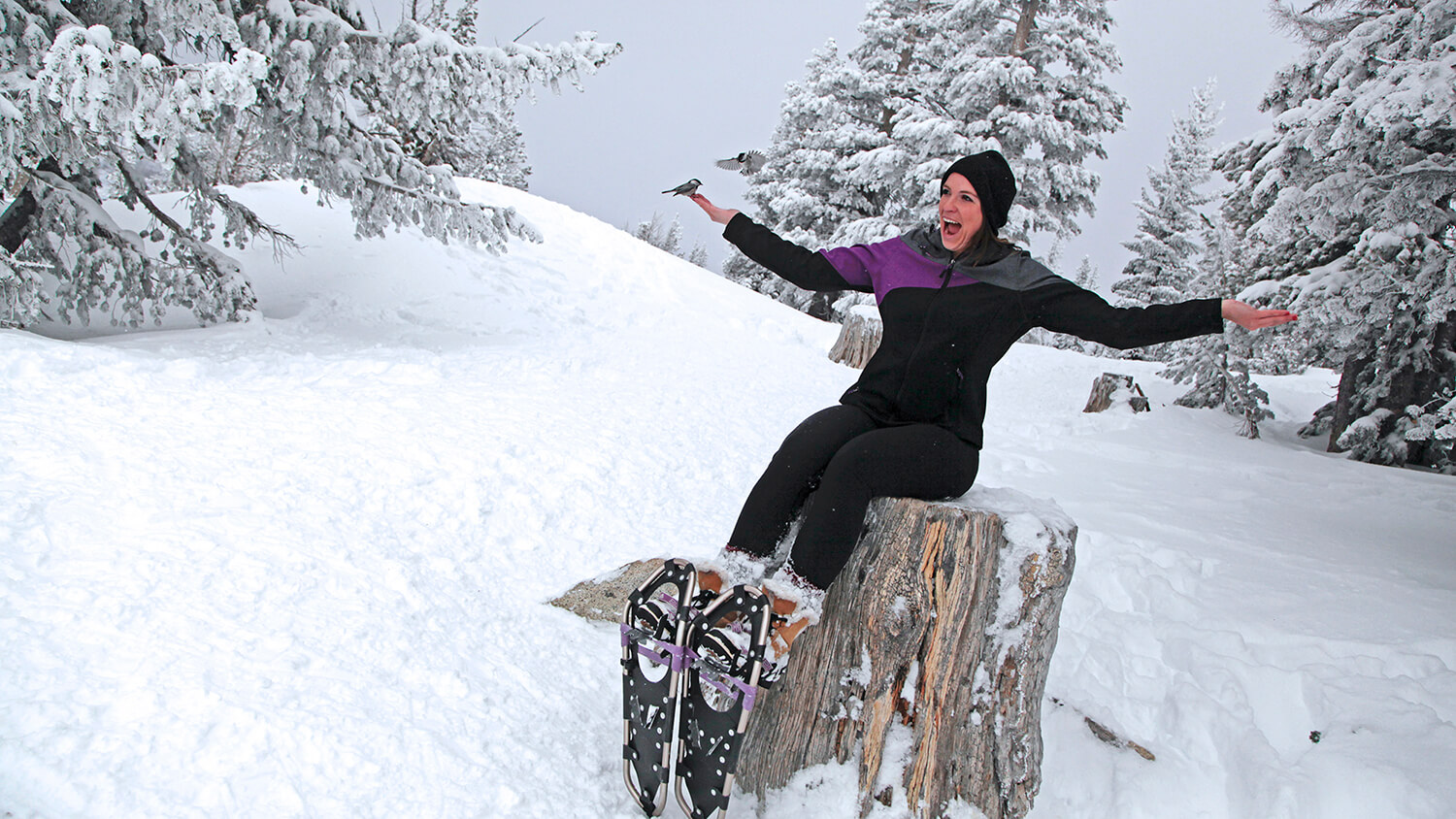 You've made it to the top, you've figured out exactly how to hit the sweet spot in terms of inviting the chickadees over to perch on your hand. I don't care if you're a man, woman, boy or girl – you can start living some real Mary Poppins, Snow White sorts of dreams—because they do exist at Chickadee ridge. It's never ok to engage in feeding wildlife of any kind, anywhere, no matter the circumstance, which is why what's happening at Chickadee Ridge is that much more special. These birds are so used to people being in the area that they will land on an outstretched hand without food, or attempting to feed them. The chickadee population will become more and more intense as you make your way to the top of the ridge, and all seemed to hang out around this old stump. With outstretched hands, perched at the top of Chickadee Ridge, having dozens of chickadees swirl around us, landing on both arms and our heads made for an experience we won't be forgetting anytime soon.
7. …OVER, AND OVER, AND OVER AGAIN
And the beauty of it all? These types of moments—the type you think will only happen once, or was a lucky moment—will happen as many times as you want up here. The birds are so friendly as a result of people stomping through there that they just stop by and say hi. If you have a pulse, there's no way you won't enjoy this crazy-good little slice of real-life Disney heaven, right in the core of North Lake Tahoe.
8. AND THEN BIG BLUE MAKES A STUNNING APPEARANCE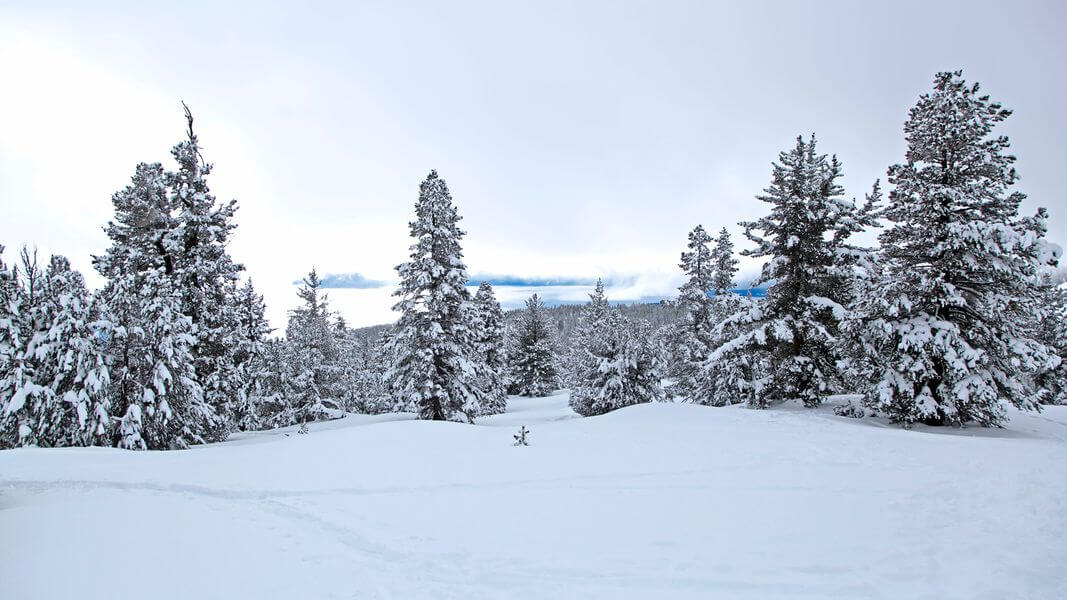 You're going to get swept away in all this sexy chickadee madness swirling around you—its unimaginable until you're up there living it, and also unavoidable in all the best ways. Though the birds are enough to satisfy, don't forget that one of the most gorgeous alpine lakes in the world can be seen from Chickadee Ridge, too. The day we charged up there, it was truly dumping snow – we were in the middle of a giant gray cloud. But whatever, who even cares about the lake when you've got a bajillion wild birds landing on your every limb anyway? Then, out of nowhere, the sun burned its way through the storm and made for one of the most striking views of Tahoe, ever. Though you may be socked in at first, the fast moving weather systems surrounding Lake Tahoe come and go so quickly, you're likely to be rewarded with an amazing vantage point of Tahoe. If you don't see Big Blue at first glance, hang around for a second—it'll make it's grand debut in one way or another.
9. WARM UP BY TOASTING A SCHMANCY FIRESIDE COCKTAIL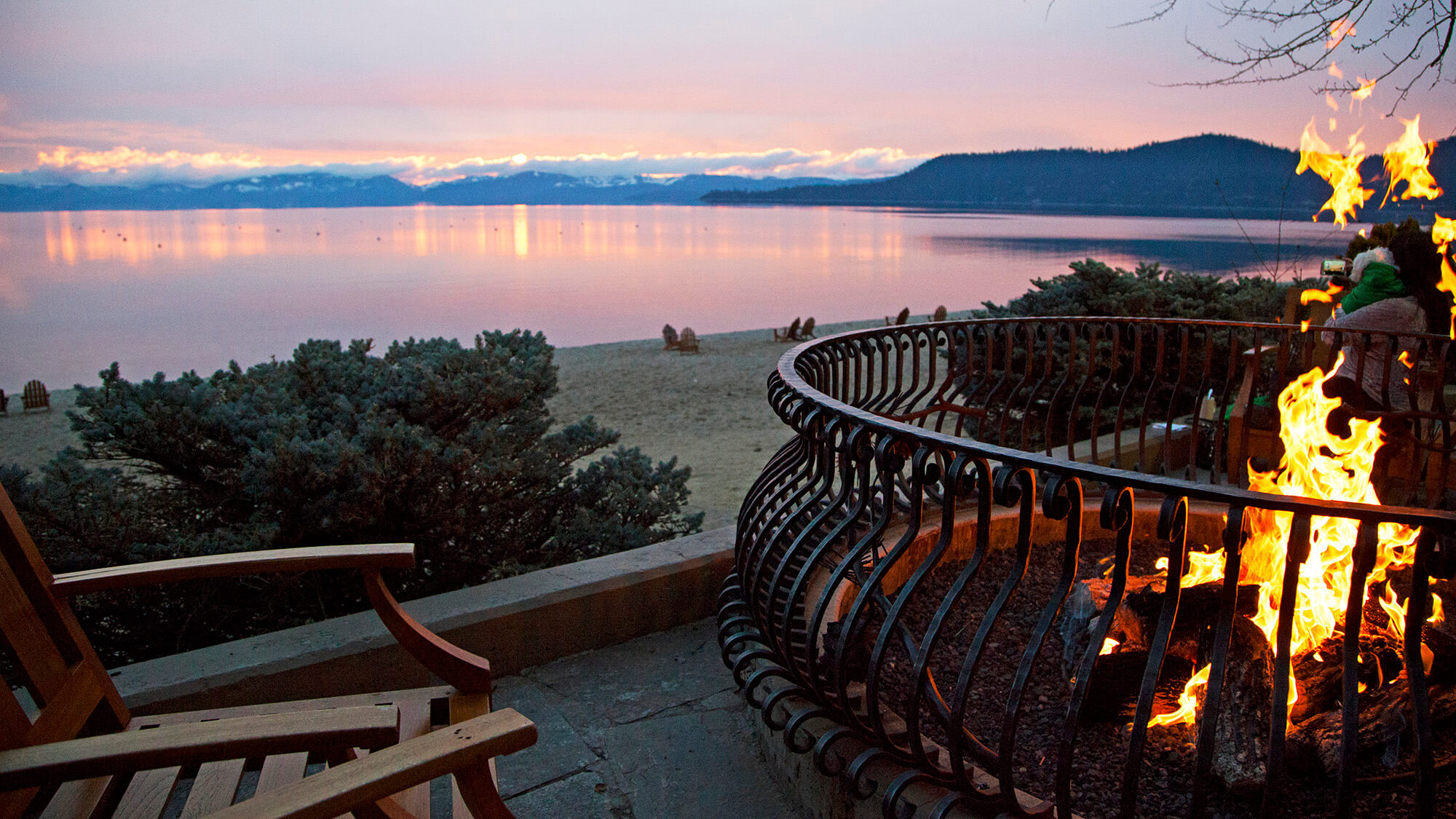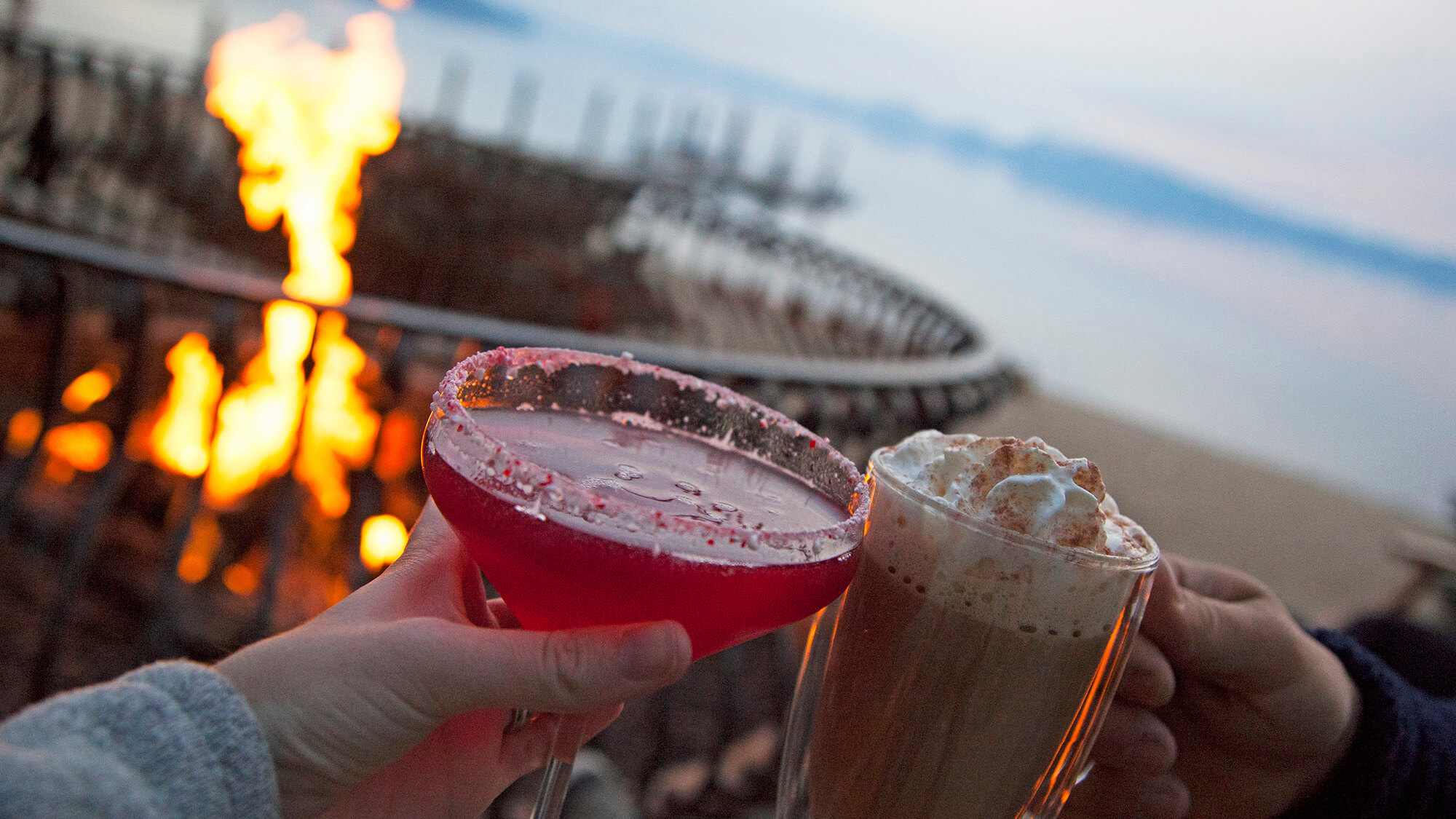 Today was a good day! You snuck in some fitness, hung out with friends, and snatched some can't-believe-it's real-photos. Now the only thing missing from this beautiful equation is a fancy cocktail and maybe an appetizer or two…next to a gigantic fire…on the Lake. You're probably ready to warm up, plus you've gotta toast to this epic adventure anyway, right? If I'm speaking your lingo (and you know I so am) head the 15-ish minutes down the mountain to Incline Village. The Lone Eagle Grille, which is part of the Hyatt Lake Tahoe property, as one of the best lakeside restaurants in all 72 miles of shoreline. The beverages are downright decadent…plus, you already know the company is on the money. Clink those glasses, guys—this amazing wintry adventure that can only go down in Nevada. #NVAdventure
Get Inspired
Related Stories