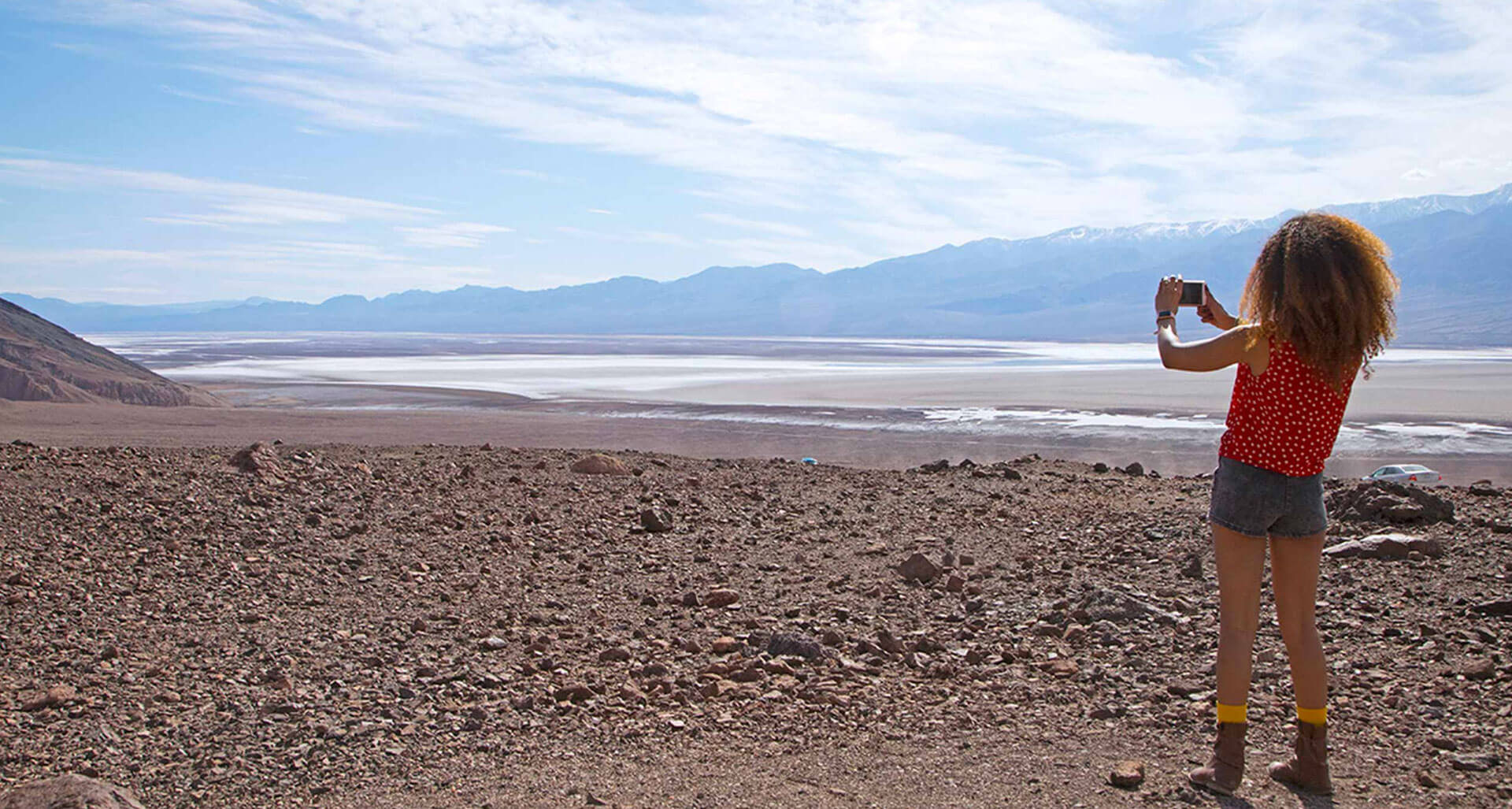 ON-YOUR-WAY SURPRISES ON THE DRIVE TO LAS VEGAS
Las Vegas to Death Valley
From one extreme to another and back again.
With its stark desertscapes, thermometer-shattering climate, and all-around extreme reputation, Death Valley National Park is a natural centerpiece for a road trip that visits ghost towns, rugged biker bars, and a charming little family-run coffin shop (nope, not a typo).
However, as the region's tenacious landscapes have known for millennia, life out here is all about balance. That's why this route is also flush with plenty of life-affirming pleasures, from Pahrump's elegant vineyards to the natural splendor of Desert National Wildlife Refuge and the montane wilderness of nearly 12,000-foot (3,660 m) Mount Charleston—one of Nevada's tallest peaks. And as a bonus, it's also a stone's throw from the lowest point in North America (Death Valley's Badwater Basin), just one more of the many mesmerizing contrasts you'll try and wrap your head around on this one.
Where to Begin
Most road trippers will fly or drive to Las Vegas and make a loop. However, if you are visiting the park first, follow our tips on how to take the (extremely) scenic route from Death Valley to Las Vegas.
The distance from Las Vegas to Death Valley is only about 120 miles and can technically be blasted through in a couple hours or less… but where's the fun in that? Read on and discover how to turn your drive to Death Valley into a proper road trip, and make the Death Valley Rally (formerly known as the Death Drive) one you'll remember for life.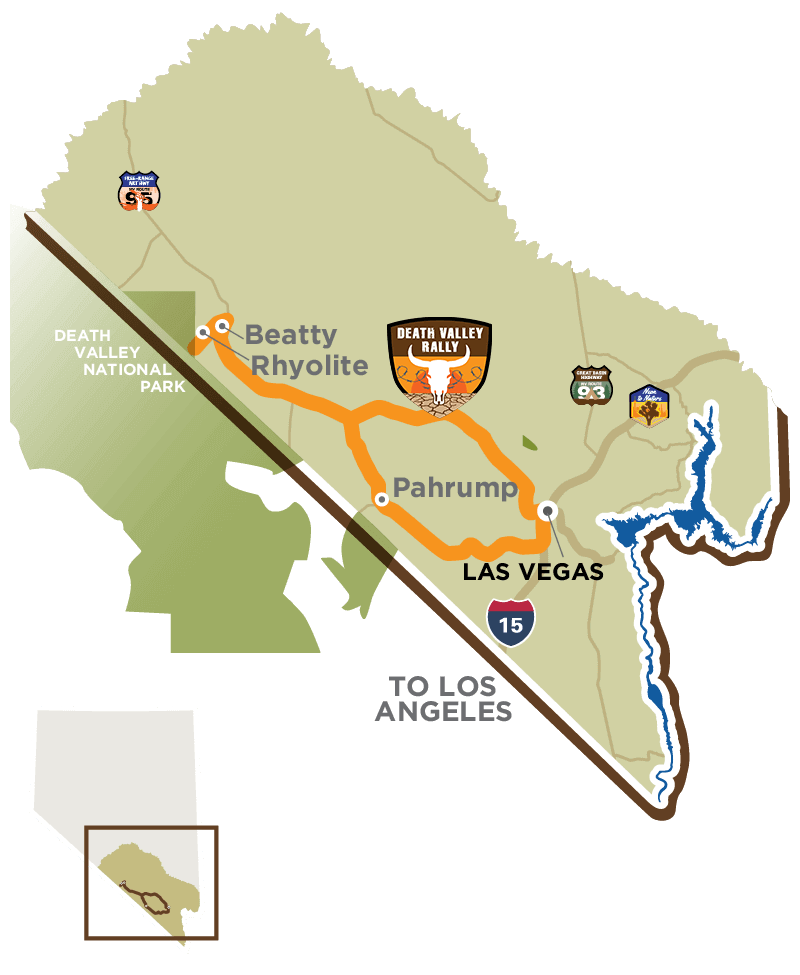 Show us how you're livin' life on the #DeathValleyRally
Las Vegas to Pahrump
The portion of the Death Valley Rally from Las Vegas to Death Valley is only about a two-hour straight shot, but jetting through only guarantees you'll miss all the fantastic stops that have made this road trip so iconic, starting with one just a mere half hour off the Strip.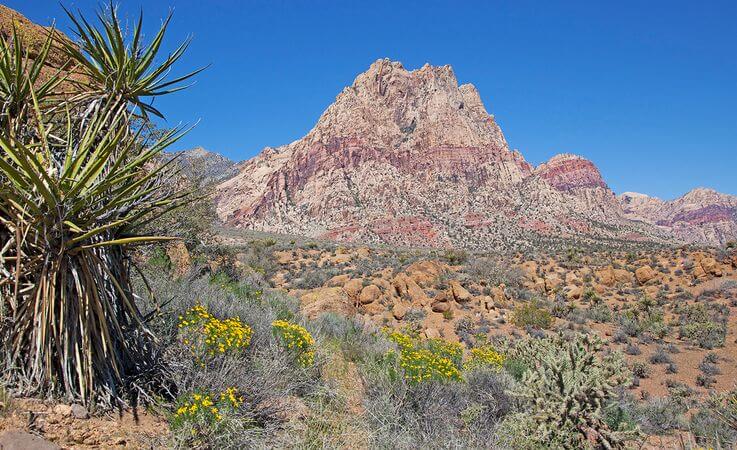 First stop: Spring Mountain Ranch State Park, where the same babbling springs that drew pioneers and celebrity owners still captivates visitors and locals alike today. Bust some yoga poses on the lush lawn, explore historic buildings, or find a ranger to tell you tales, teach you to paint, or take you hiking. Spring Mountain Ranch State Park is a gem within a gem, located within Red Rock Canyon National Conservation Area—one of the most breathtaking places in the Silver State, thanks to red-banded canyons, towering sandstone peaks, ancient petroglyphs and intriguing wildlife like yucca plants, desert tortoise, and wild burros.
Get Pumped on Pahrump
If you find yourself hungry (or thirsty) as you crest Mountain Springs Summit, you're in luck. It's easy to delay your drive from Las Vegas by visiting one of the state's best biker bars, Mountain Springs Saloon. It's a suds-slinging pitstop known for its towering burgers, toothsome quesadillas, and ice cold beers. Travel Nevada PRO TIP: If you pull in here on the last Saturday of the month, March through October, you'll be able to dive right into the regularly scheduled pig roast.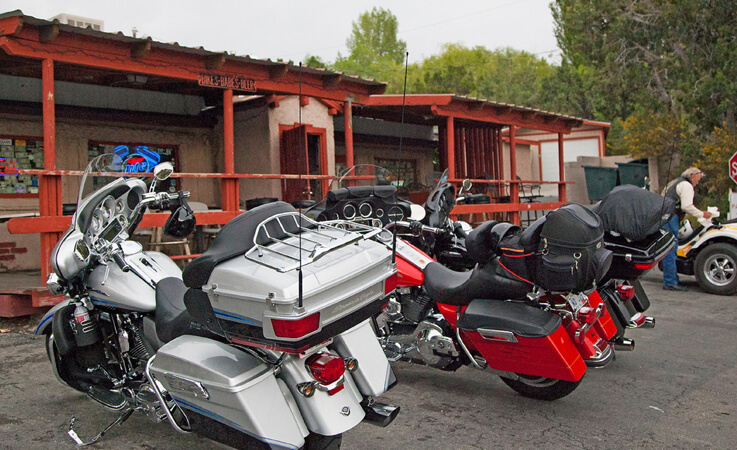 From here, it's just another 30 minutes down the hill to Pahrump, a community of nearly 40,000 with all the road trip amenities you could need, including award-winning and Sanders Family Winery (which hosts tastings and tours on their scenic grounds); two golf courses—Mountain Falls Golf Club and Lake View Executive Golf Course, and a lake where you can "fly" with Jetpack America at the Spring Mountain Motor Resort and Country Club.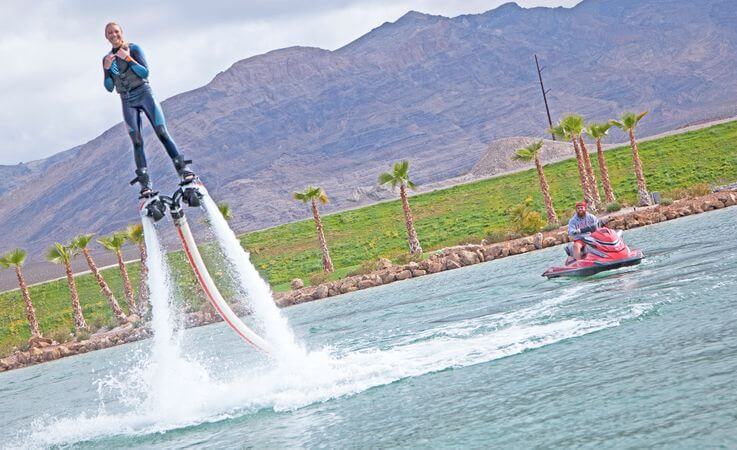 Coffin It Up on the Death Valley Rally
If you're into coffin-shaped furniture, jewelry, purses, ping-pong tables, or really anything else (including actual coffins), this is your joint. Even if you're not, we highly recommend that you make an appointment to tour the owners' coffin-themed home and workshop, or even exchange vows in their wedding chapel—all of which make for some undying memories. Although there is no gift shop (yet), you can have just about anything custom-made… as long as it's coffin-related, of course.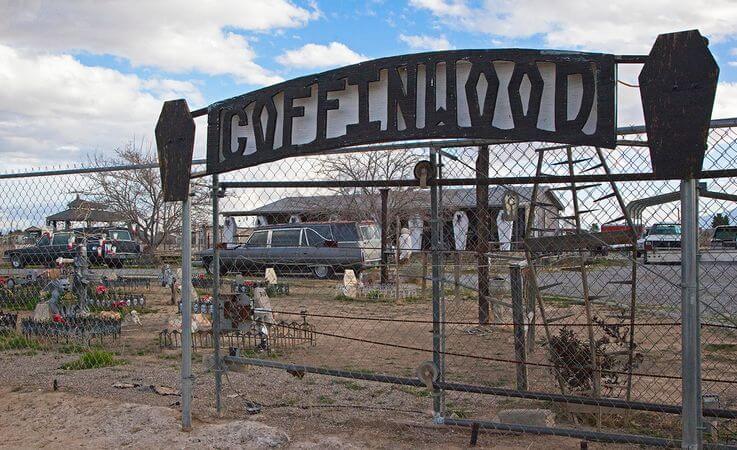 Resorts for the Weary
If you're sleepy from the wine (and processing Coffinwood), head to one of Pahrump's resorts to rest up for the next day. If you're hauling a trailer or driving an RV, Pahrump has some stellar RV Parks like Lakeside Casino & RV Resort, Pahrump RV Park and Pahrump Station RV Park are all also great spots to check out if you're around for Fireworks Over Pahrump.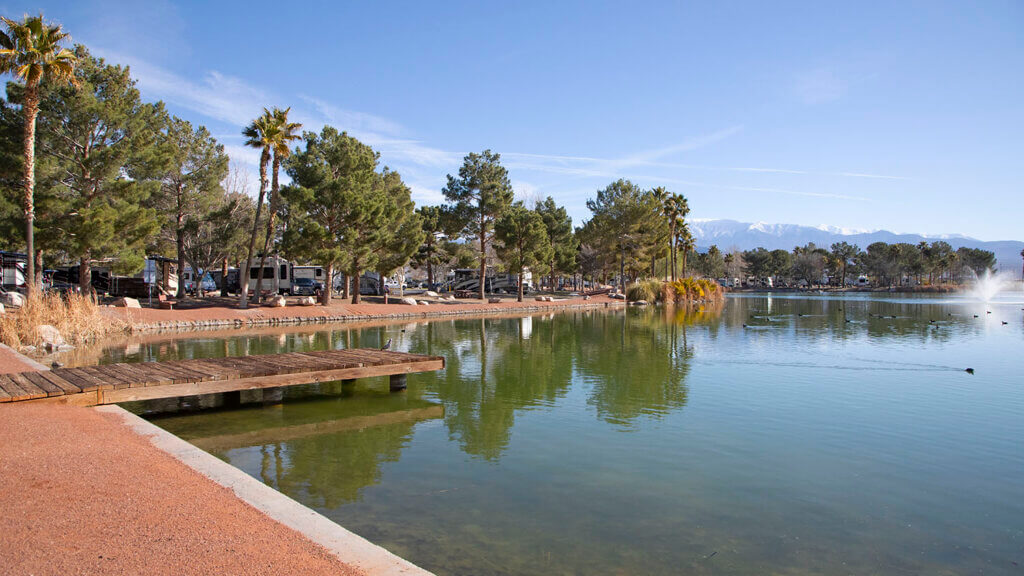 Amazing Amargosa
If you want to cover a little more of the drive to Death Valley, head to Amargosa Valley. This small-but-mighty community holds down the "Nevada side" of the border with its "Big Bovine" sculpture and the equally unmissable Longstreet's Inn, Casino & RV Resort. This massive and modern 60-room (and 51-site) oasis is home to 24-hour action at its casino, bar, two cafes, mini-mart, laundry, and year-round swimming pool. It's also across the street from the lively Stateline Saloon & Cafe and a short drive from an all-things-alien-themed truck stop.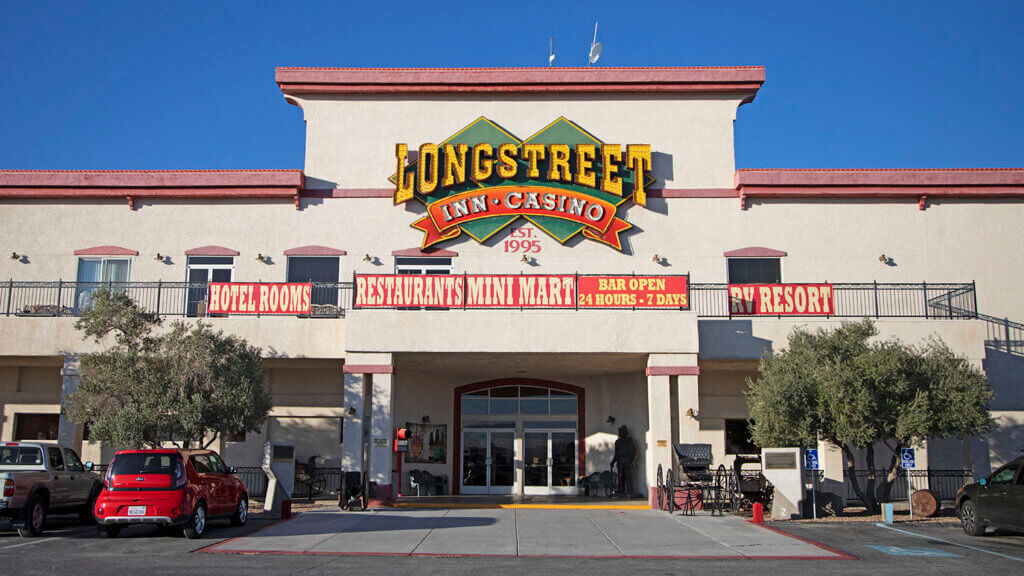 Ash Meadows National Wildlife Refuge
Boardwalks wind among exotic desert landscapes, crystal blue ponds, some Wild West history (including some background on the outlaw for which the Longstreet's Inn is named), and the first-ever critter listed on the endangered species list. Although you might say Ash Meadows exudes both qualities, the distinction between rare and unusual is front of mind at this backyard desert—and with a quarter of the visitors as its complex-mate, Death Valley, you're likely to have a little more peace and quiet when you visit around these parts.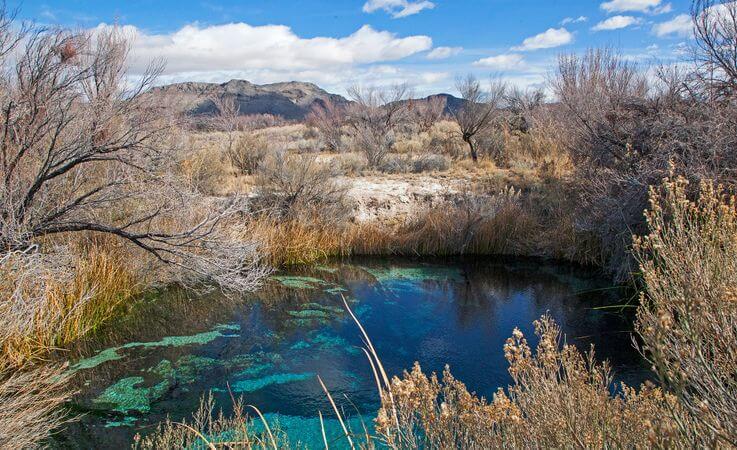 Amargosa Opera House
The show must go on? Of course it must. Marta Becket, the late proprietress of the Amargosa Opera House certainly thought so, too. Performing opera for over 40 years to whoever turned up to this far-flung auditorium in minuscule Death Valley Junction (just across the border of California), she even painted a permanent audience on its walls you won't likely miss when you visit.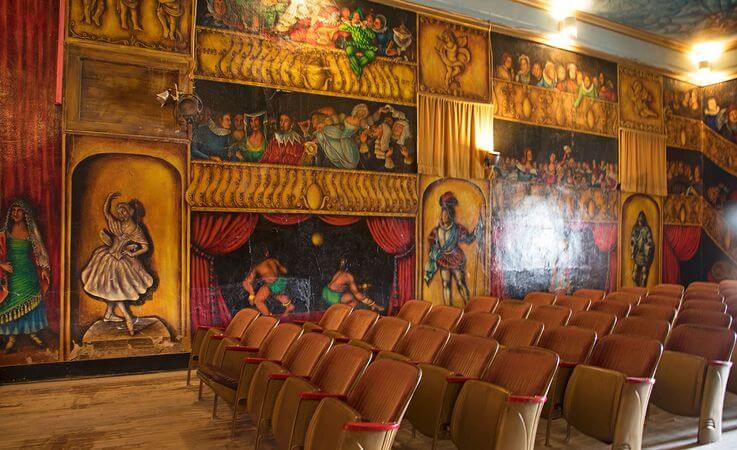 Where to Stay Near this Pahrump
Welcome to Death Valley National Park
Despite its ominous name, Death Valley National Park is a landscape alive with incredible beauty, characterized by miles of deep sand dunes, technicolor rocks and canyons, rare and endemic wildlife, and jaw-dropping peaks that rise 11,000 feet above neighboring valleys.
If you come in from Pahrump or Amargosa Valley, stop at Zabriskie Point and prepare to have your breath stolen by the colors and formations unfolding all over the valley. Or, for a wider angle (and a viewpoint the tour buses can't make it to), take the 26-mile round trip up to Dante's View and gaze 5,760 feet (1,755 m) down into Badwater Basin, across Death Valley to Telescope Peak. And, on a good day, maybe even all the way to Mount Whitney—meaning your eyeballs are trained on both the highest and lowest points in the Lower 48. That whole "land of extremes" thing sounds a little less cliche now, doesn't it?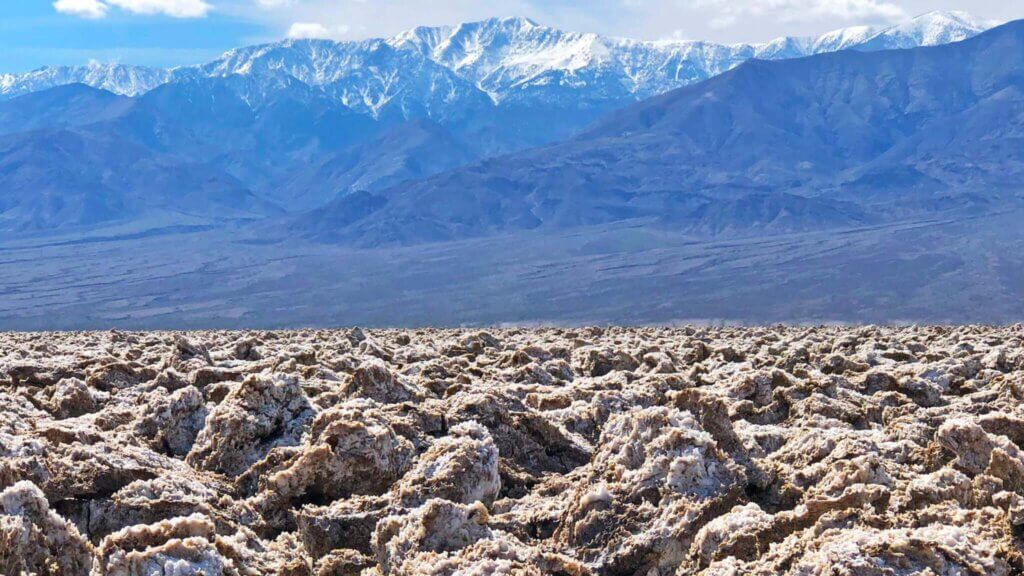 Before venturing too far into Death Valley National Park, get yourself to Furnace Creek Visitor Center. Here, you can skip the kiosk lines and pay park admission, then check out museum exhibits on the area's geology and natural history. Or, watch a 20-minute film about the area before exploring the 3.4 million acre park, the largest national park in the Lower 48 of the United States.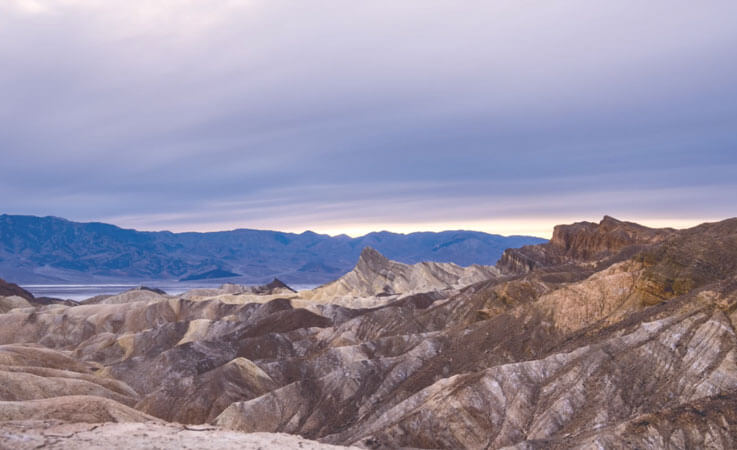 Even if you're short on time (or heat tolerance), must-stops include the kaleidoscopic Artist's Drive, a search for lost droids at Mesquite Flat Sand Dunes and Golden Canyon, and experiencing the feeling of going as low as you can go (in North America) at Badwater Basin—at 282 ft (86m) below sea level. This is the lowest, hottest and driest place in North America. Get the full scoop on where to go and what to see in this massive park from our pals at the National Park Service.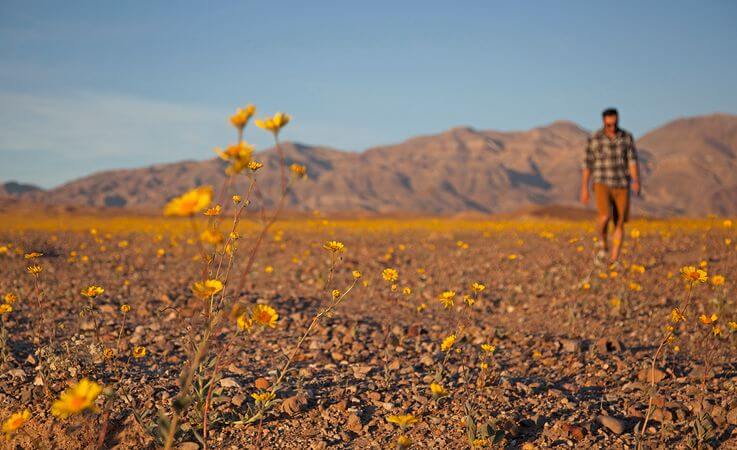 Weather or Not
Make the most of your trip to Death Valley during the spring months before temperatures creep into the 100s (F). If you time it just right, there may be a seriously spectacular wildflower bloom—AKA a "super bloom"—throughout the area (based on the amount of precipitation received throughout the year). Plus, lower 80 to 90-degree temps make exploring this vast National Park more doable, safe and enjoyable.
Whoa! Stay Cool, Buddy…
Seriously though, the heat here is no joke. While it's been a century since Furnace Creek thermometers hit Earth's hottest verified temperature ever—134℉ (56.7℃)—Death Valley has topped the "hottest monthly temperature" in the world for two years in a row–and records scientists predict it will continue to take and break. Visitors in the summer months should take extreme precautions to protect their bodies and even their vehicles.
Bound for Beatty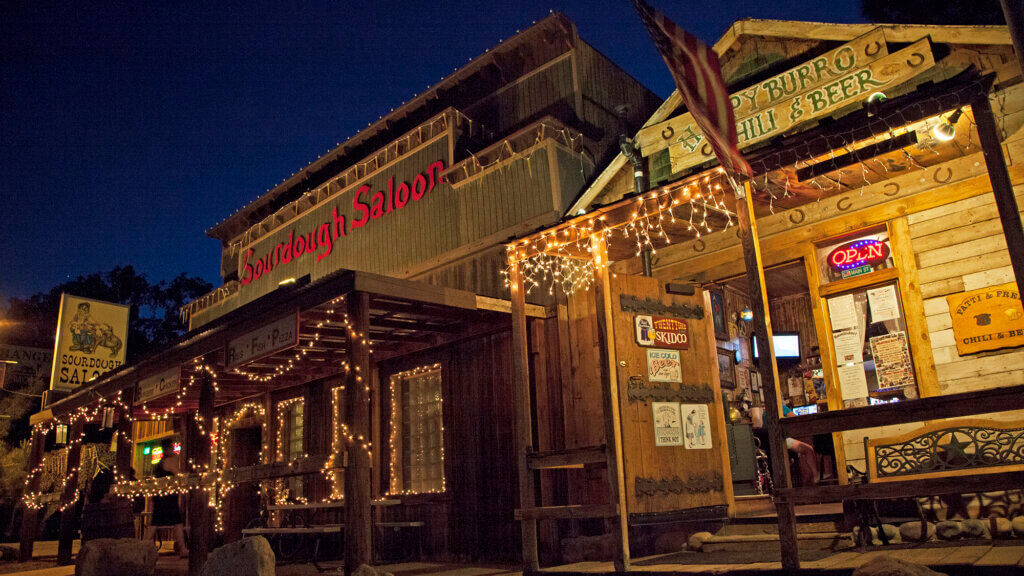 After your long day in the park, head the hour-ish northeast to Beatty, Nevada, a friendly gold rush-era town that greets sunbaked Death Valley visitors (and Free-Range Art Highway road trippers) with several motels and comforting cafes, a top-notch coffee shop, and a few classic saloons serving frosty, hard-earned libations. See the next leg for tips on where to stop and what to see in Beatty and beyond.
Mines, Museums & Millions of Acres of Wilderness
This leg of the Death Valley Rally begins in the old mining town of Beatty, Nevada, where you can start the day with hearty servings of food, history, and even art before you blast off into a very different kind of wilderness than what you've just experienced.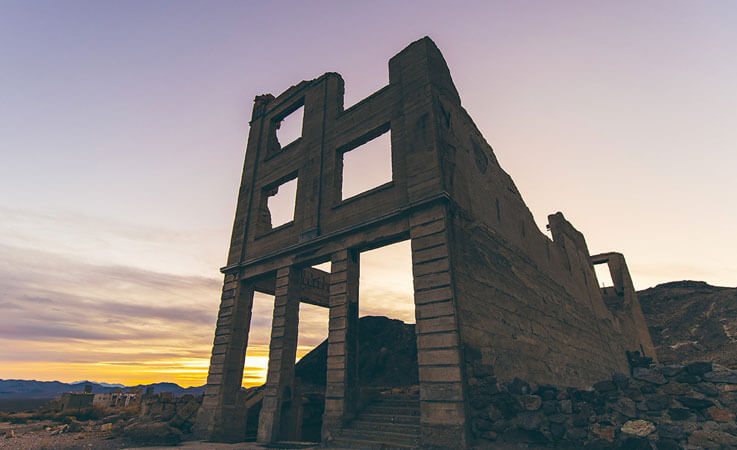 Beatty, Nevada
Beatty was founded at the turn of the century as the central supply hub of the Bullfrog Mining District. The mines eventually played out; but, while other mining towns became ghost towns, Beatty survived. Today, it's a perfect getaway to Death Valley National Park and a great place to poke around as you gear up for another day of Nevada road tripping.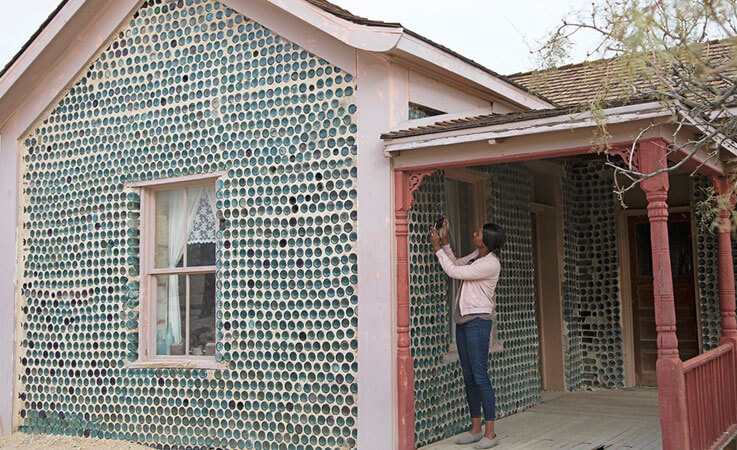 Learn more about area's history at the Beatty Museum and Historical Society, then dive right into it at Rhyolite Ghost Town, just ten minutes back towards Death Valley. Once home to 5,000 fortune-seekers, Rhyolite was abandoned 100 years ago, but its iconic buildings still dazzle film crews, more photographers than any other Nevada ghost town, and anyone craving one of the state's best lasting glimpses of the boomtown era. Photo ops abound, especially at the old Cook Bank and the Tom Kelly Bottle House—which, when it comes to houses built entirely from medicine, beer and whisky bottles, is the oldest and largest in the USA.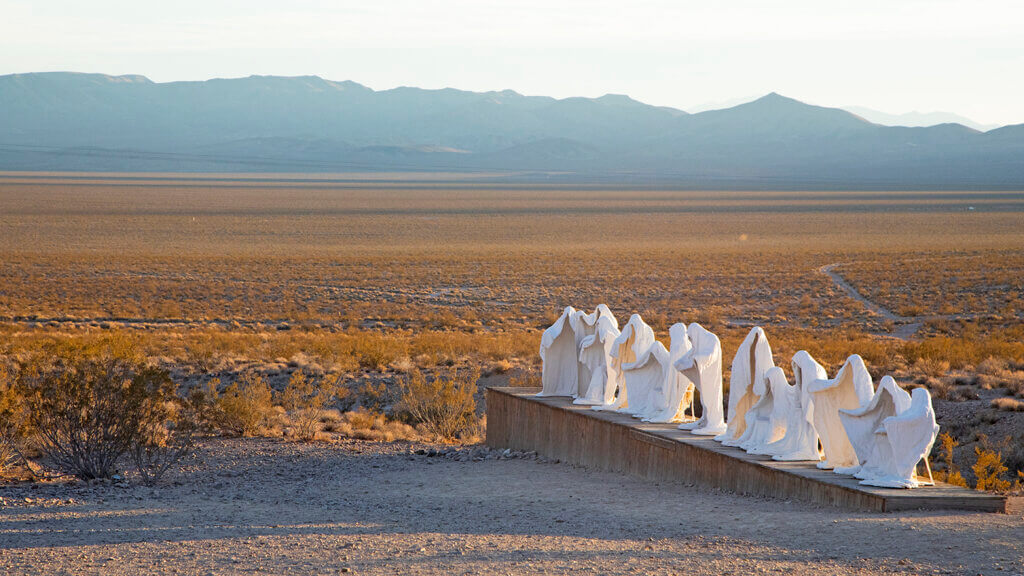 But, wait a minute, you know this a ghost town? Right? On the way in, however, did you just see actual ghosts? That, dear road tripper, was the one-and-only Goldwell Open Air Museum. Just before Rhyolite, here's your chance to wander among a spooky life-sized Last Supper, a 24-foot-tall miner (and his trusty penguin), a towering cinder block lady, and even more offbeat art at one of Earth's most unique galleries, created by Belgian artists in the 1980s.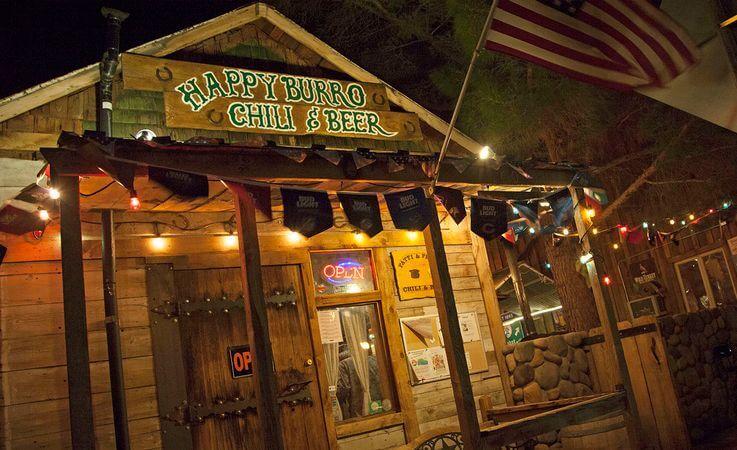 Beatty Bites
In a town where burros (wild donkeys) happily roam the streets, Beatty's human visitors chase their own pleasures at Happy Burro Chili and Beer, a rustic old family-run wooden shack serving, well, homemade chili and ice-cold beer (and damn good chili burgers, too). Be sure to watch your elbows for the Beatty Cowboys, who you just might find posted up on a nearby stool. You'll find classic breakfast fare at Gema's Wagon Wheel, and dinner-time pizza, ribs, and beer at the Sourdough Saloon. If it's snacks and road munchies you're after, load up (and fuel up) at the abundantly stocked Death Valley Nut & Candy Co. before hitting the road.
Where to Get Wild… Before You Even Hit The Strip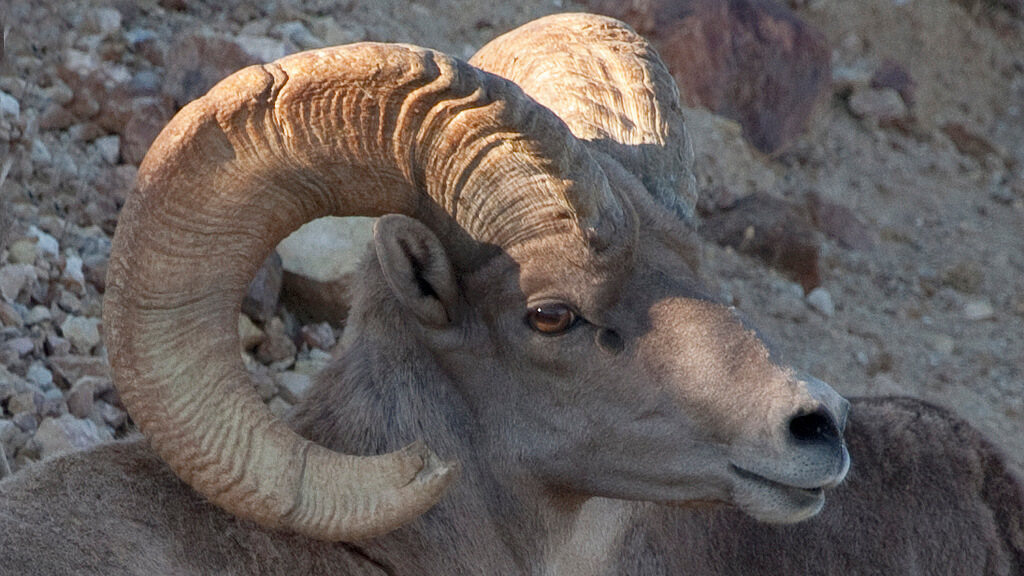 From Beatty, it's about an hour and a half drive to the Desert National Wildlife Refuge's Corn Creek Visitor Center. At 1.5 million acres (i.e. 250,000 football fields… or twice the size of Rhode Island), the Desert National Wildlife Refuge is the largest national wildlife refuge in the United States outside of Alaska and one of the largest intact blocks of desert bighorn sheep habitats in the American Southwest. While most of the roads here are primitive, a paved one takes you from US-95 right to the Corn Creek Visitor Center, where you can peruse exhibits about the region's unique flora and fauna, as well as walk trails to stunning Carribean-esque pools home to endemic fish and a number of intriguing historic structures.
After experiencing one extreme at Desert National Wildlife Refuge, balance it out with another by visiting Spring Mountains National Recreation Area. About an hour and 45-minute drive from Beatty, this section of the Humboldt-Toiyabe National Forest offers 316,000 acres of diverse landscape. The hallmark of the forest is Mount Charleston and, at 11,916 feet, Mount Charleston comes in as the fifth tallest peak in Nevada. It is also the home of one of the largest concentrations of bristlecone pine trees (the oldest tree on Earth) in the Intermountain West.
Travel Nevada PRO TIP: Even in summertime, keep in mind you are about to gain significant elevation, climbing out of the desert into much, much cooler climate. As crazy as a sweater might seem at Badwater Basin, you'll be glad you packed it for this leg.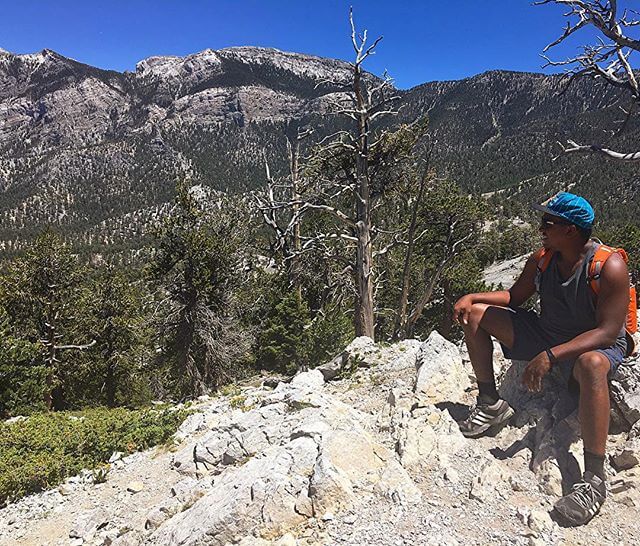 The Spring Mountains Visitor Gateway, open from 9 a.m. to 4 p.m. daily, offers a visitors center and access to 40 miles of hiking trails. If you're tackling them in winter, pack your snowshoes or, hit the slopes at one of southern Nevada's best-kept secrets—Lee Canyon, a 27-run ski resort. Interested in extending your time in the Spring Mountains? We don't blame you. There are several great campgrounds up this way, but it's not all roughing it up here, don't worry. Especially at the Retreat on Charleston Peak, a lodge-style accommodation with close proximity to this incredible forest landscape.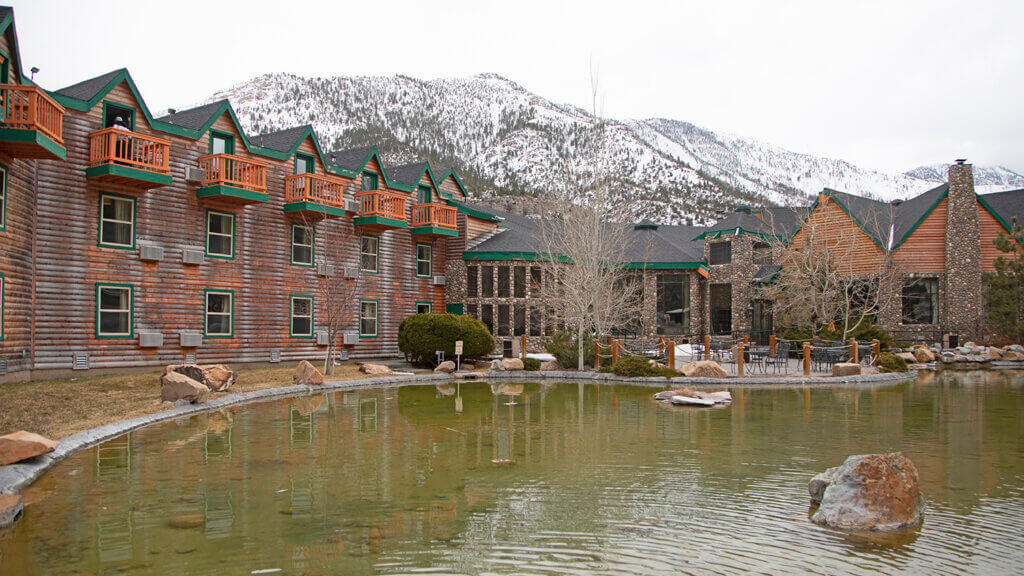 As you descend back to US-95, pay attention to the change in landscape as you make your way through spectacular roadscapes over the span of a 10,000 foot elevation change. There are seven climate zones on the Spring Mountains, a change in habitat that is similar to traveling from Mexico to the Canadian Arctic.
At this point, roadtrippers are out of the woods, literally, and can add completing the Death Valley Rally from Las Vegas to Death Valley and back again as another storied accomplishment. The question is, what's next? Head back to civilization (and maybe a spa appointment) in Las Vegas… or embark on another classic Nevada road trip?