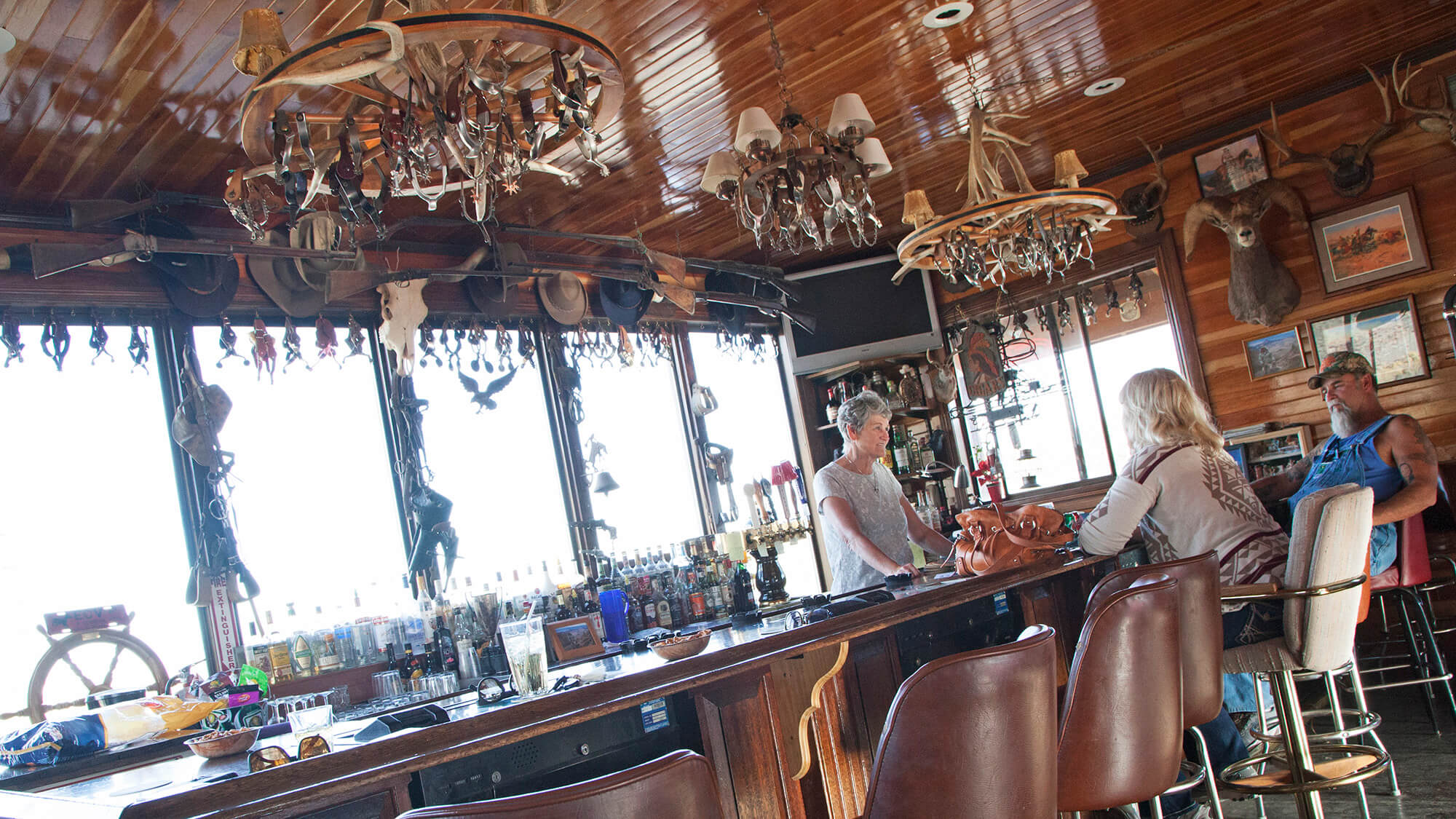 16 Sagebrush Saloons Worth Drinking In… And What To Order
Don't get me wrong. When it comes to fine dining, Nevada's metro areas can sure divvy up some incredibly decadent dishes, leaving you nothing short of wholly satisfied. But let me ask you this: have you ever married food and drink with an unavoidable sense of freedom and history that's just too dang good to be true? I'm talking about Nevada-style off-grid bar hopping… an afternoon [or series of afternoons] sure to deliver just that, complete with animated banter with some mouthy locals you'll have to work at to forget about. Trust me, the moment you're out in the thick of the real Nevada, you'll belly up to a whole new set of moments you'll center every weekend outing around from here on out. The best part? This lineup isn't just a roadmap of which places to hit up, oooooh no! I'll do you one better: this package includes the experience to go for, which part of the state you can find these babes, and the very drink you should be sippin' on while you're there. And hey, I might even bait you into filing away some talking points that'll win you some cred with the locals. So go on with your bad self and figure out which one you need to check off first… those temps keep on climbin', but that frosty cold one is going to stay the same satisfying temperature. Is that another #NVRoadTrip I sense coming on?
1. Middlegate Station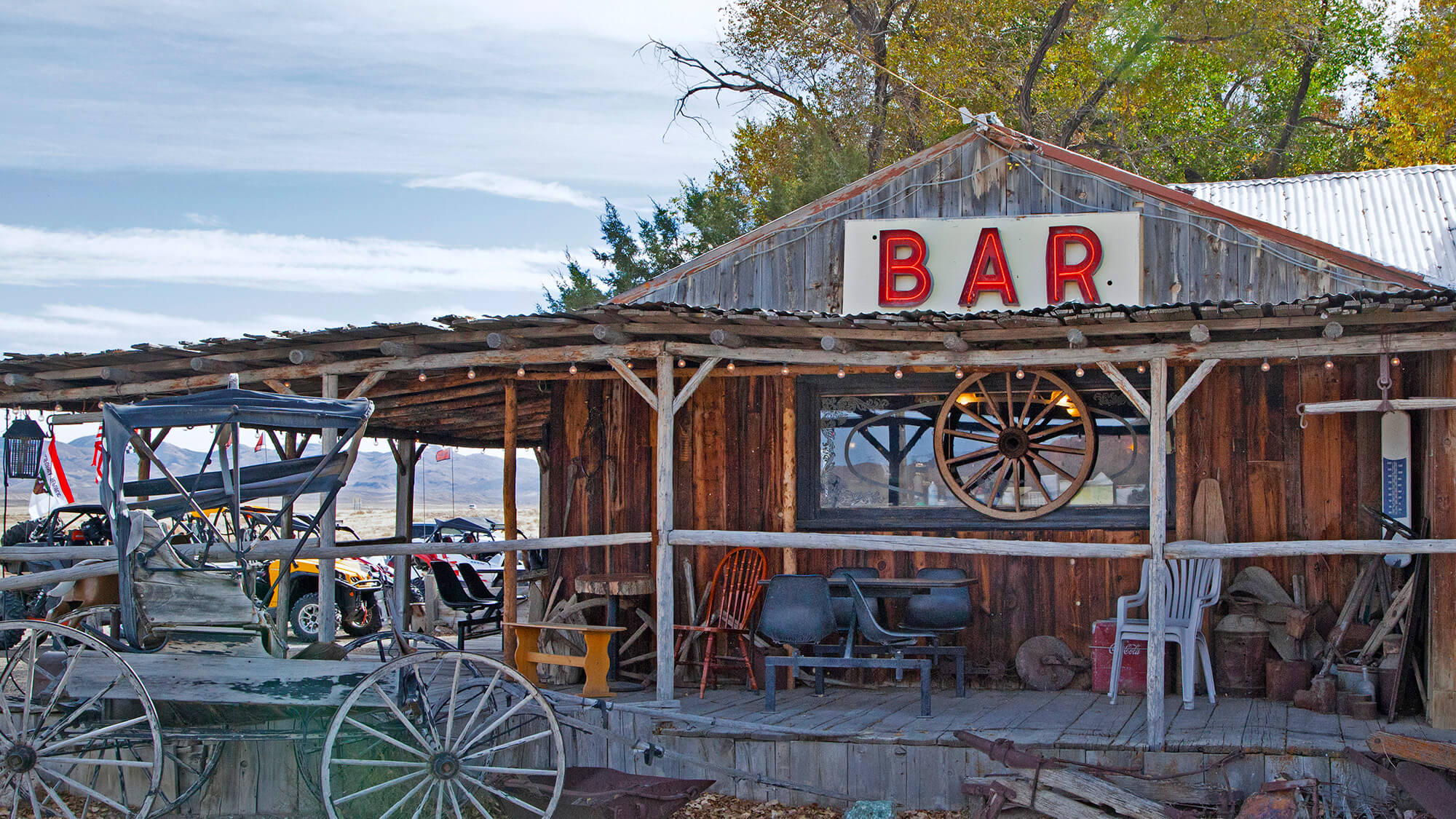 Posted up on the Loneliest Road in America lies one of Nevada's truly iconic bars: Middlegate Station. Considered to be one of the last great roadhouses in the nation, the joint originally draws its roots back to the 1860s when it served as a horse changing station for Pony Express riders, later becoming a refueling station weary pioneers depended on as they made their way west. It became the Middlegate Station that we know and dig today in the 1940s, when it found itself to be an ideal stop for folks traveling Highway 50, the first transcontinental highway in the U.S.. Today, it remains a reliable place for travelers to stop and grab a frosty mug and even take a whack at the truly formidable Middlegate Monster burger challenge.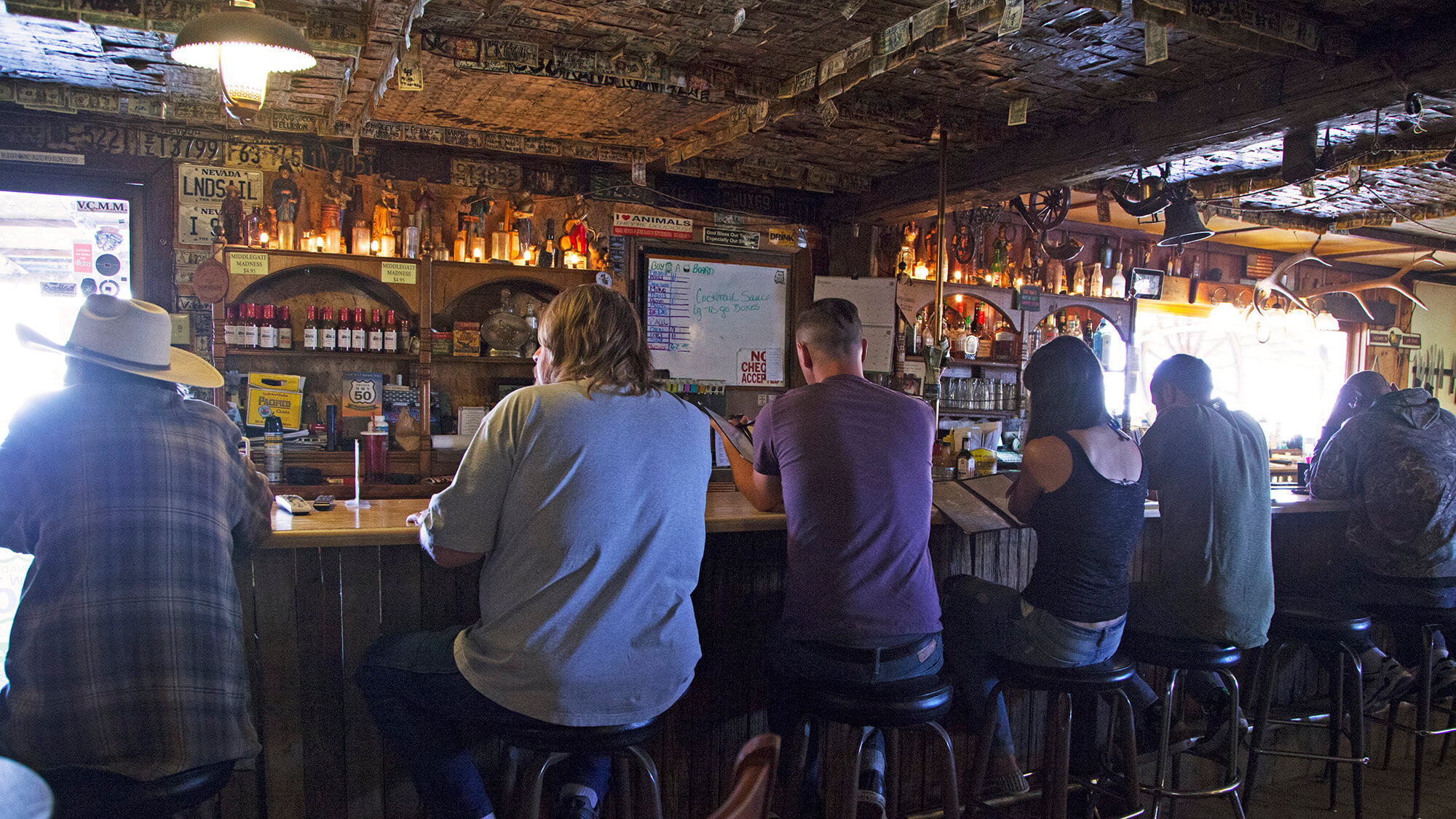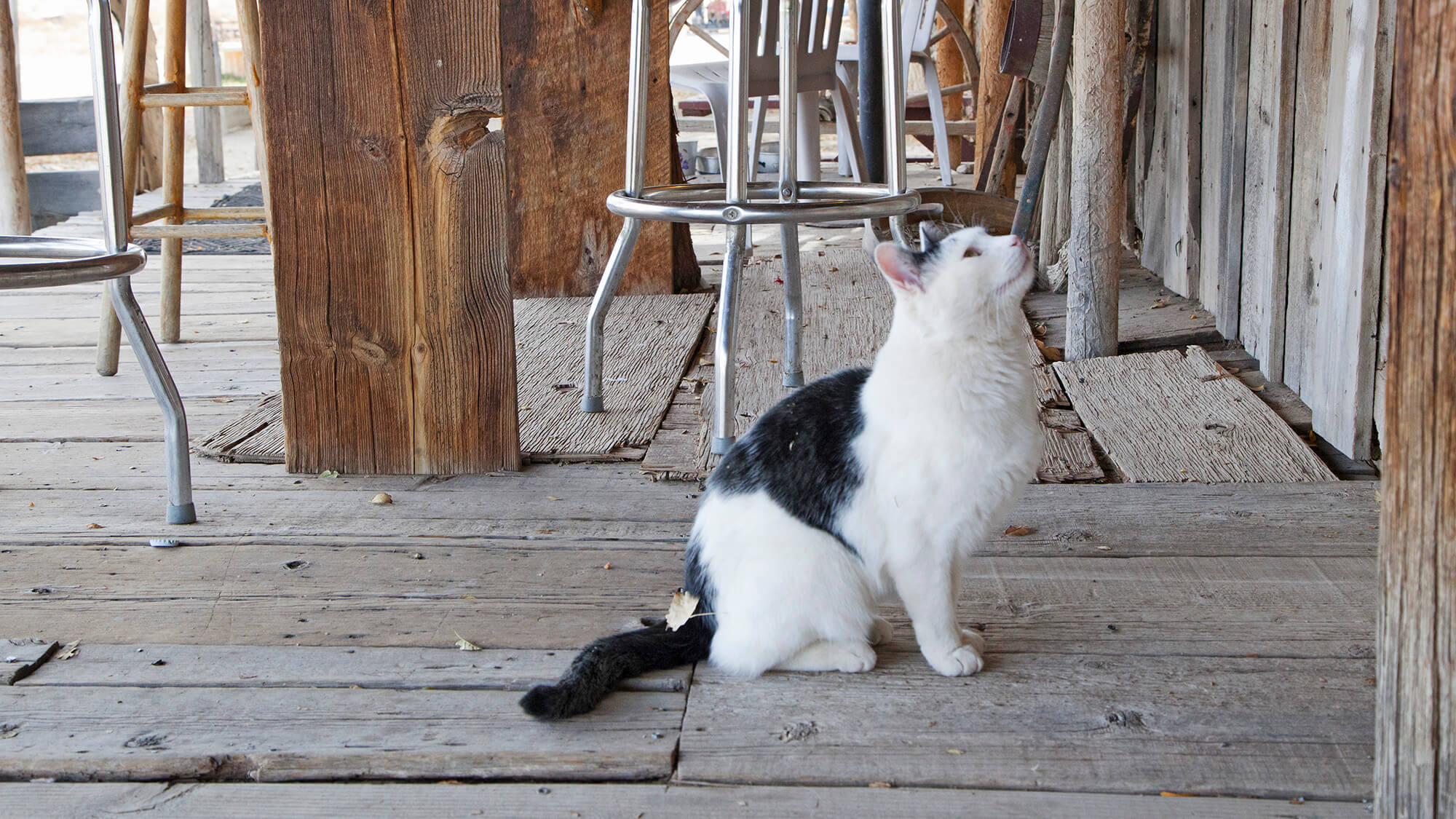 Throughout all this time, it seems the Middlegate Station that has one guiding principle: to deliver some damned good drinks in a no-frills sort of atmosphere. Don't be surprised to find dollar bill-lined ceilings and walls chock full of armed forces patches, along with some mighty-fine conversation with the locals. When it comes to "specialty" drinks at Middlegate Station, take solace in the basics and order up a High Life draft with a whiskey back and brace for the 156 years of history going down for real in this storied pit stop.
WHAT YOU'RE SIPPIN' ON: Miller High Life with a Crown Royal back
DISTANCE FROM RENO: 110 miles, 1.75 hours travel time
MOST ACCESSIBLE SEASON: Any time of year is good for Middlegate. The reason? It's front and center on the Lincoln Highway. The nation's first transcontinental highway, US-50 remains classified as an American Defense Highway, meaning it must always be ploughed and accessible in case emergency strikes. Perfect for round-the-calendar road trippin'!
2. Gold Hill Hotel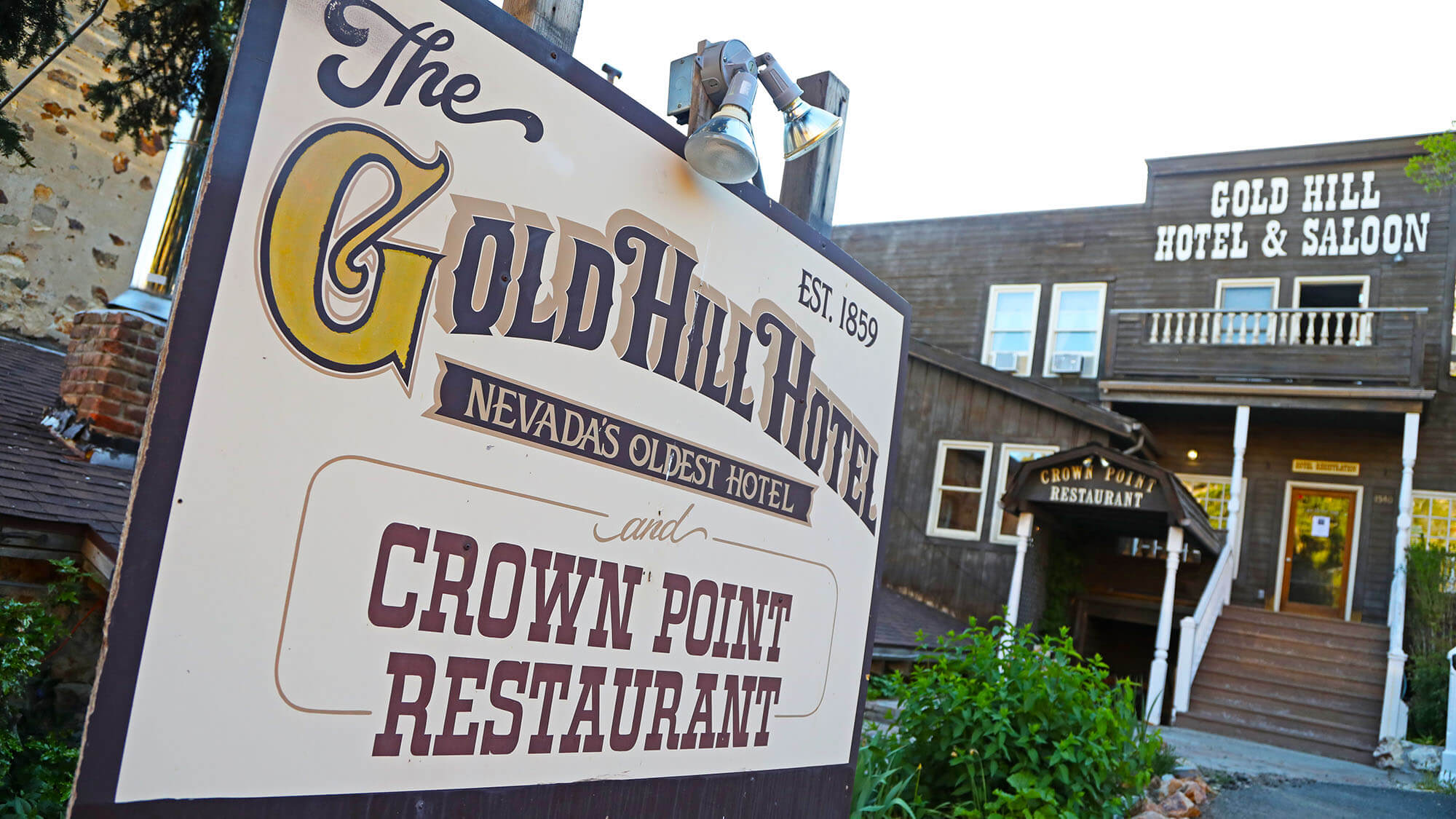 A nod to the oldest hotel in the state with a super tasty cocktail to boot? Don't mind if I do. The Gold Hill Hotel & Saloon is five seconds away from one of the largest and most legendary silver strikes in American history… pay attention to the history and ask questions while you're here. If you have a pulse, you can't miss it. It can't take the cake for oldest saloon in the state, but cannnn boast that badge for oldest hotel in Nevada, considering it was founded 5 years before Nevada officially became a state, all the way back in 1859. The original part of the hotel is, quite impressively, still intact—original wood floors and all—and can even be reserved for your snoozing pleasure… that is, if you're not spooked by the alleged ghosts that haunt the hallways. Mere feet behind the historic property was where the tragic Yellowjacket Mine disaster went down… one of the most deadly mining accidents in history. Spirits of those perished prospectors are said to roam the halls of the Gold Hill Hotel, but we'll let you be the judge of that.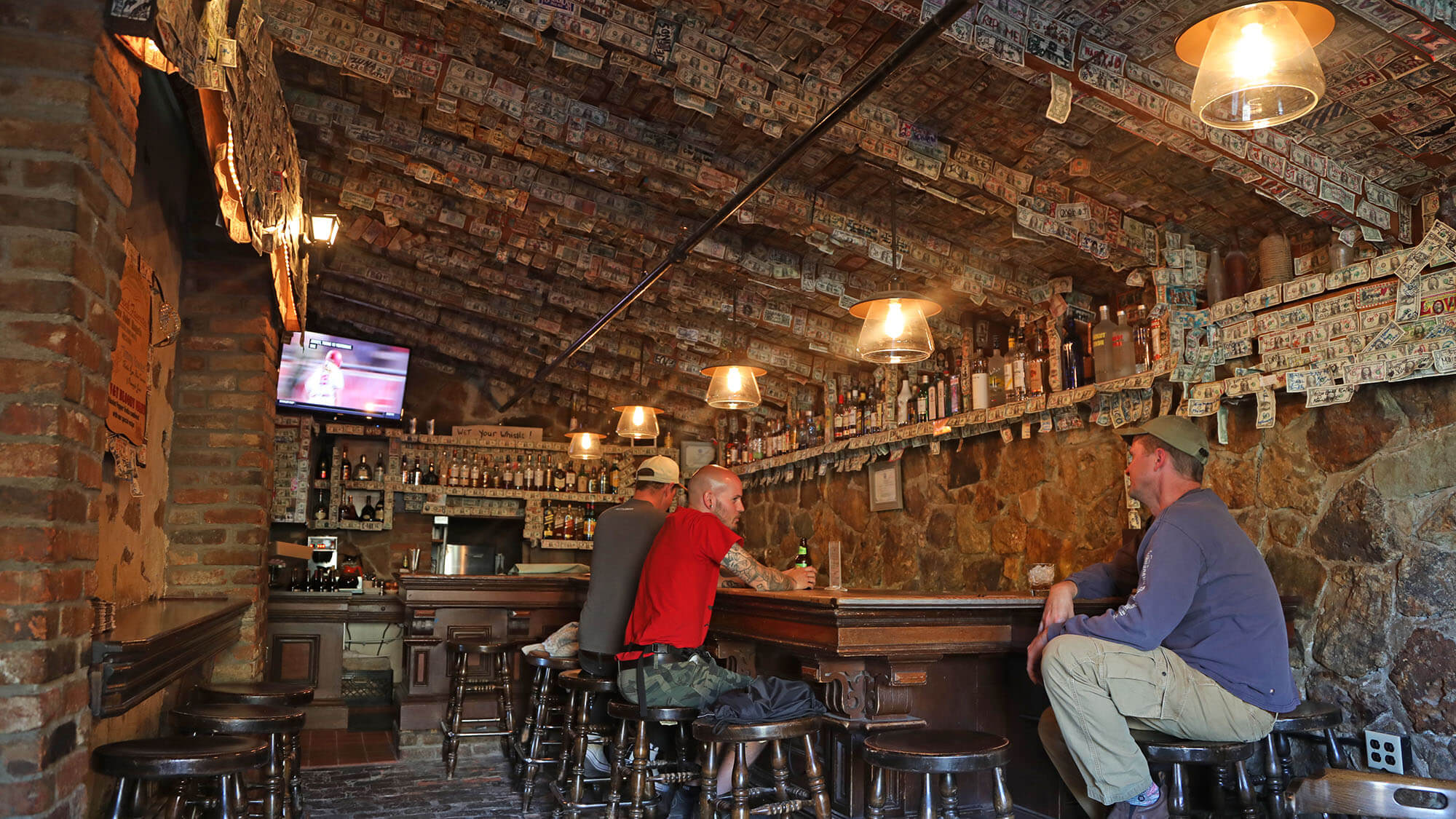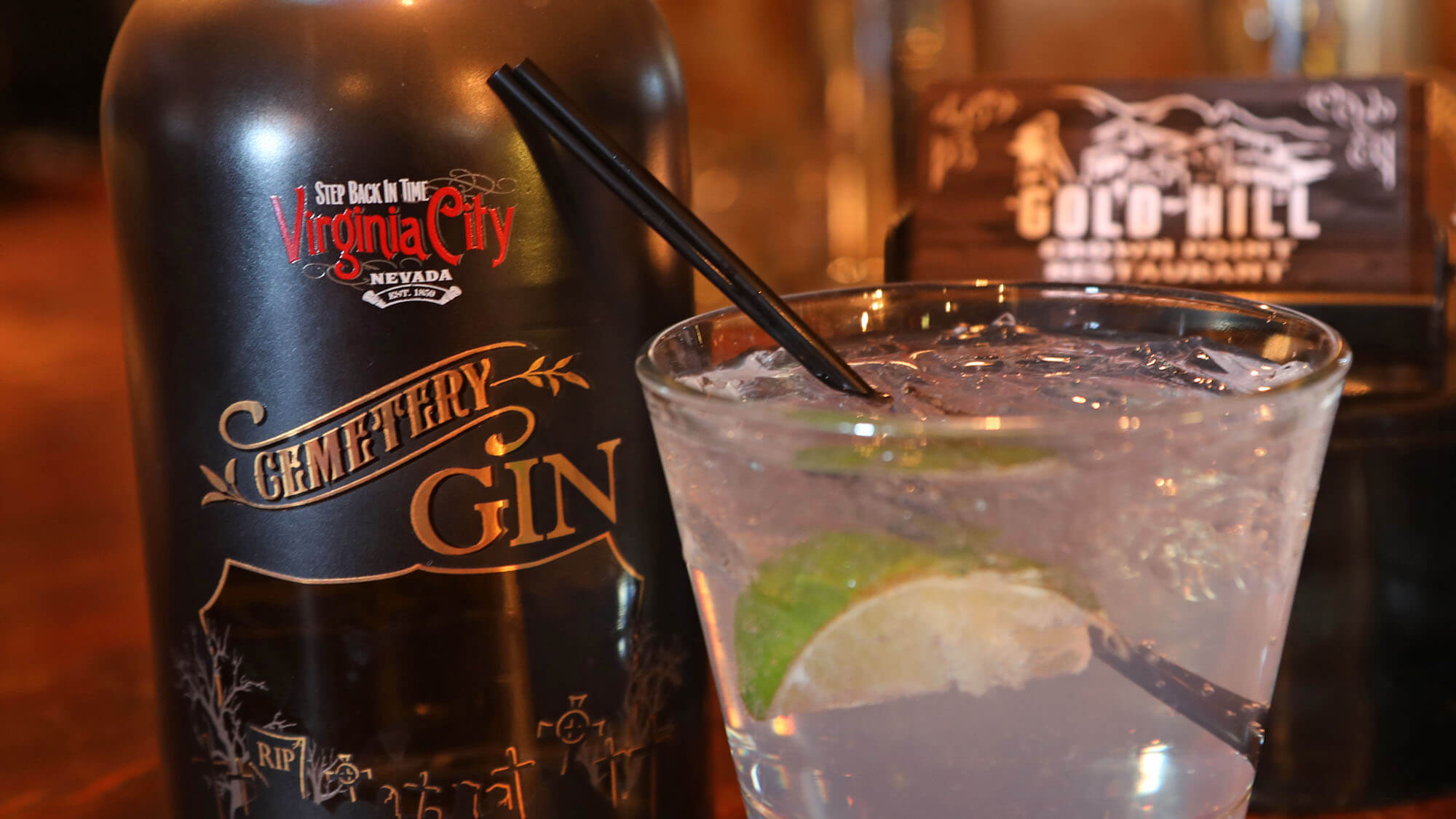 All of this is amazing in ways that are hard to describe, but the real gem here is none other than the Saloon. It was formerly the property's horse stable, but became an official on-site saloon in the 1960s. And I'll tell you this: one leg alley-ooped over that bar stool and you won't know [or care] if it's the 1860s or 1960s—it's that cool. Be sure to snag a Cemetery Gin and Tonic while you're at it… after all, it is a local spirit and I'm not talking 'bout the kind you can't sip anymore. In 1859 gin was the only way to safely drink the water in these parts… one part water with 2 parts gin, of course.
WHAT YOU'RE SIPPIN' ON: Cemetery Gin & Tonic
DISTANCE FROM RENO: 28 miles, 45 minutes travel time
MOST ACCESSIBLE SEASON: Spring, summer and fall. Winter is still doable, but might be a slippery slope if snow is on the roads.
3. Outdoor Inn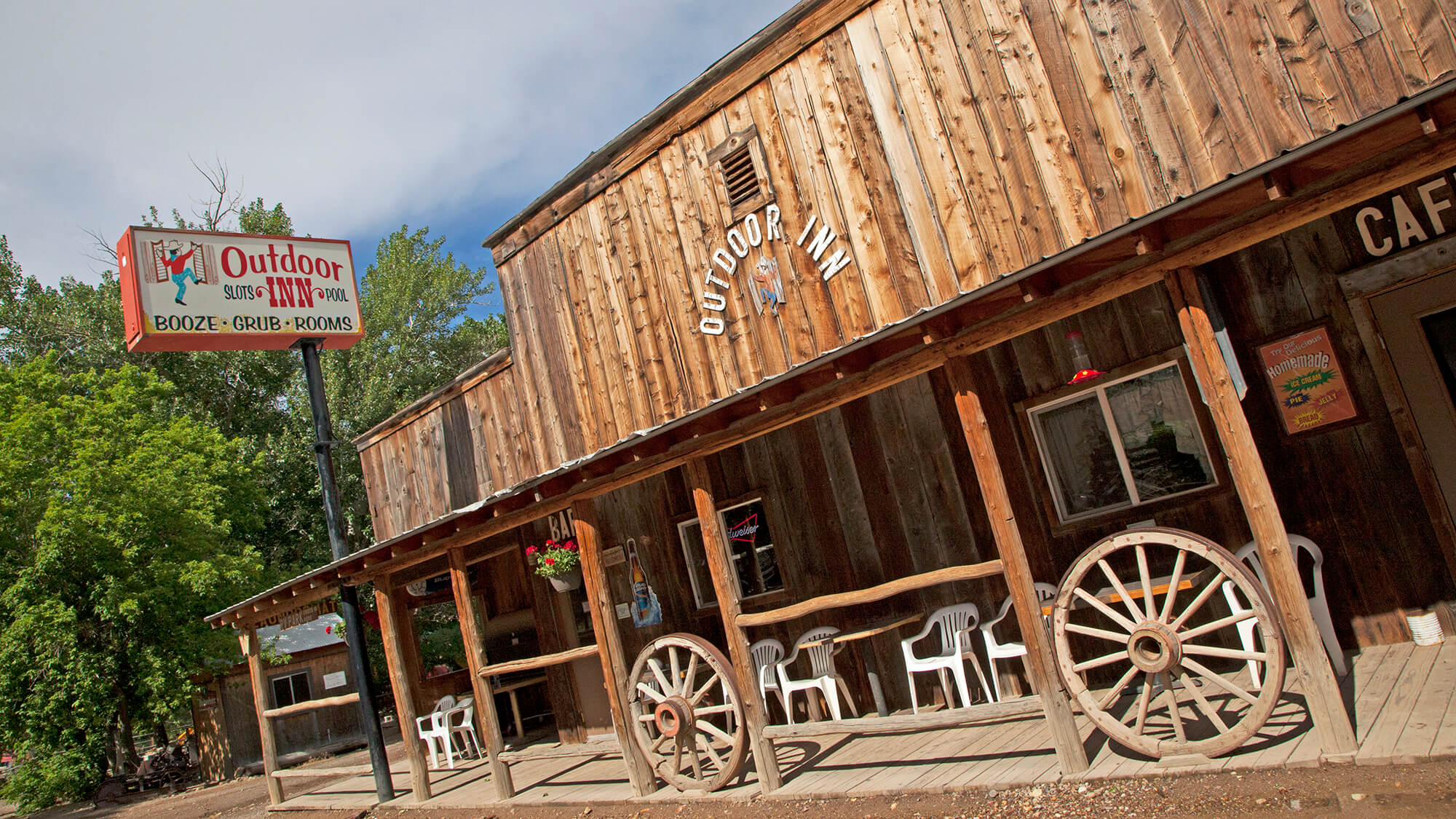 If you've never had the chance to rip through one of the most beautiful, big-sky regions of Nevada I hate to say you're missing out, but you're missing out. It's true, if you can make it up to the super remote northeastern Nevada historic townsite of Jarbidge, you should be stoked because not very many people are this committed. But hey, if you're up for chasing some picture-perfect history, the only place in Nevada where you can get your hands on a Bull Trout, a solid afternoon on a dirtbike in the Jarbidge Wilderness, or maybe even a heart-to-heart with a local over a 7 and 7 then there is no comparison. You've just gotta buckle down, embrace the drive, and hightail it to the Outdoor Inn. For starters, this is prime time territory for some of the state's biggest game. Keep those lookin' balls peeled for elk, mule deer, and even that dang fabled Jarbidge Moose. Then, when you get to town, bust out that DSLR, because the place is so perfect, it's basically straight out of a movie set. Jarbidge's claim to fame is it was home to the last great gold rush annnnd [perhaps not so coincidentally] stagecoach robbery of the American West.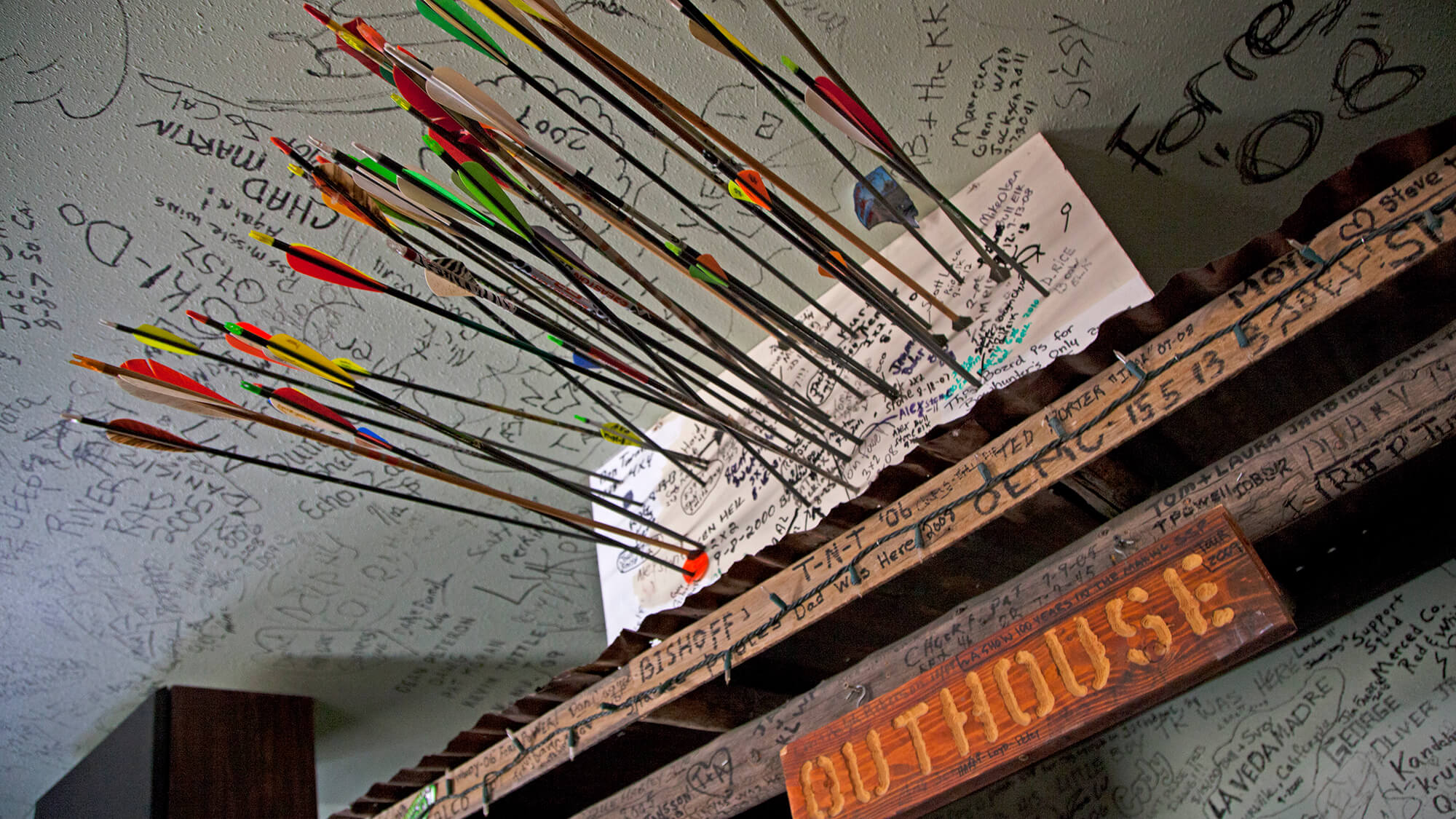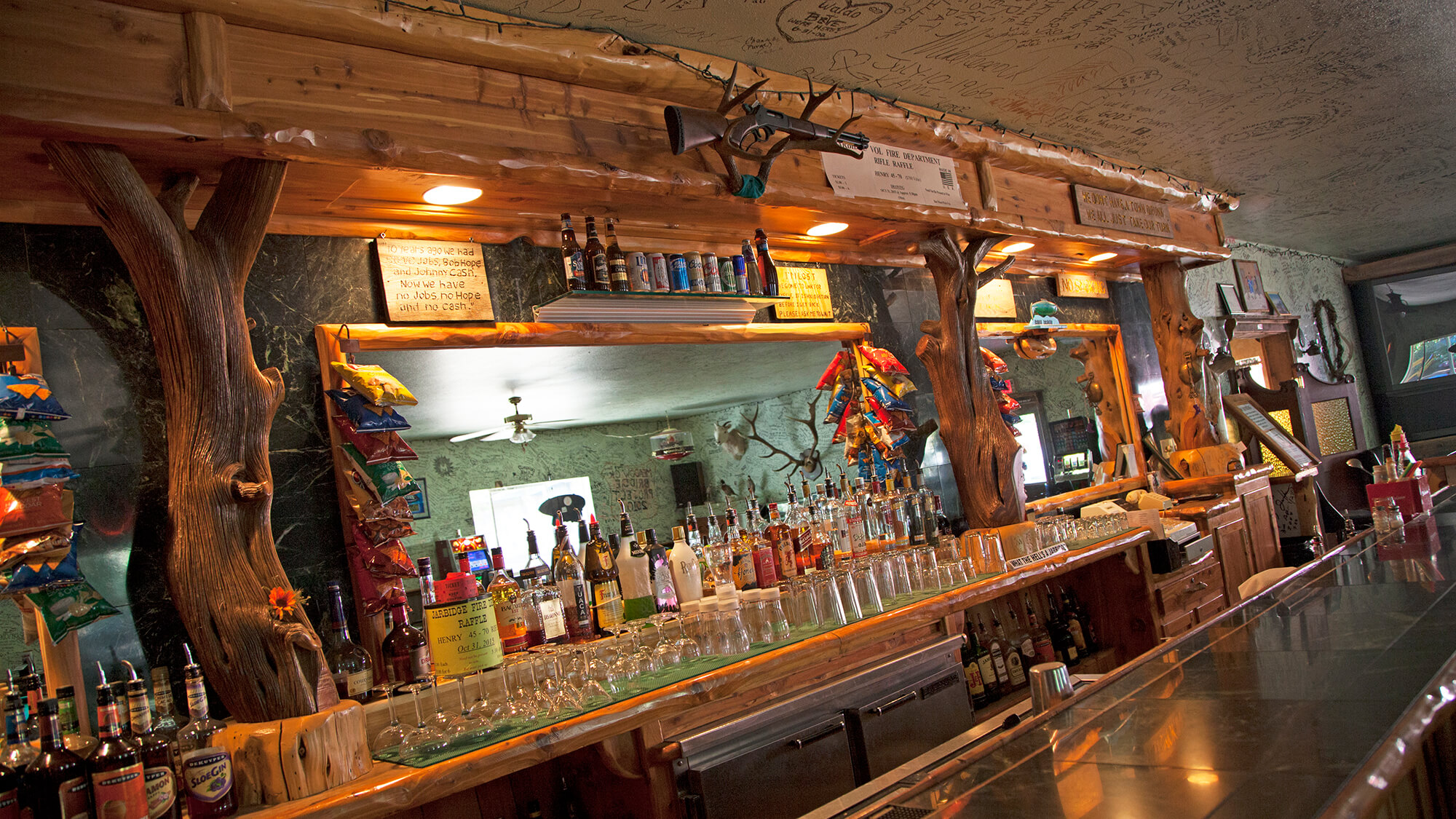 Today around 20-ish people post up for the entire year. More show up when the snow is gone, allowing you to actually drive there from Nevada (most of the time). The heartbeat of town, of course, is the bar… the one inside the Outdoor Inn to be specific. There are no frills to be found here, which to me is the best thing about it. Don't be afraid to order a Seagram's Seven and 7-Up and get candid with the locals… you might even hear some proud hunting tales behind those arrows sticking out of the wall above the restrooms.
WHAT YOU'RE SIPPIN' ON: 7 and 7 on the rocks
DISTANCE FROM ELKO: 104 miles, 3.5 hour travel time
MOST ACCESSIBLE SEASON: Summer only. And I mean it. Even then, most roads are ploughed for access in JULY. The longer, mostly paved route drops down from the ID side, but coming from within NV (the fun way), you're strictly limited to summer months!
4. Santa Fe Saloon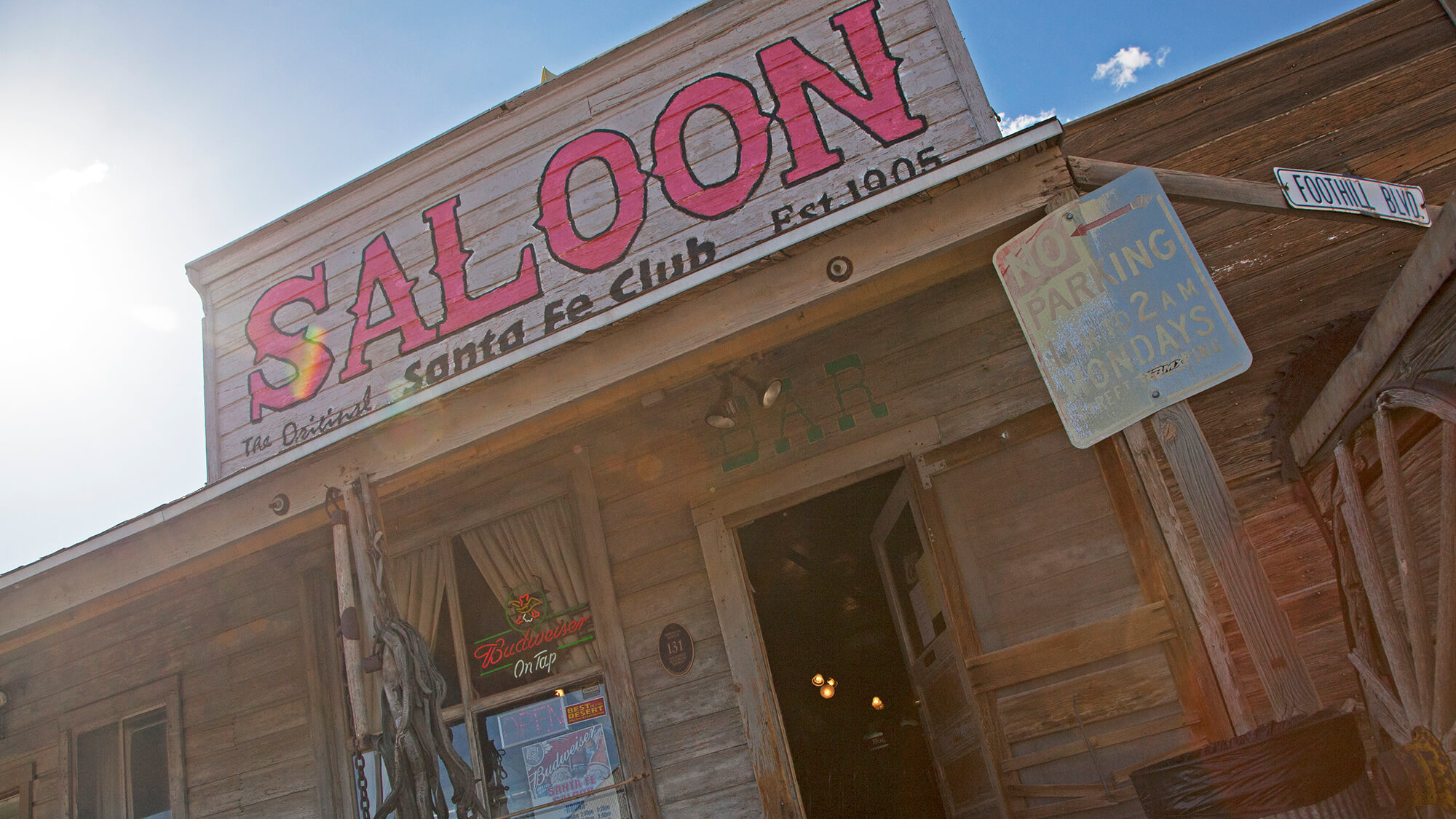 If you haven't been picking up when I'm putting down so far, let me tee it up for ya loud and clear: most of the places on this lineup are definitely into carving out their own claim to fame, and Goldfield's Santa Fe Saloon is no different. It may not look it today, but Goldfield was once on the same caliber of badassery as some of the other still-lasting Nevada greats. At one time, there were thousands and thousands of people—I mean super famous people, like Wyatt Earp and Jack Dempsey—creeping around Goldfield. An deluge of lavish opulence and wealth came flooding through the streets all at once and so fast that most Americans wouldn't even have been able to picture it: paved sidewalks, electricity, drinking fountains, you name it… all right there, in Goldfield. There were a few famous bars here, like the longest bar in Nevada that once required 80 bartenders to staff it, and the Santa Fe Saloon, the oldest continually operating business in the Silver State. Amazing? I think yes. Imagine dozens of miners lining the counter in these digs, miners who became unintentionally famous for hollowing out boot heels and pick axes, snaking some of their prospects of a hard day's work.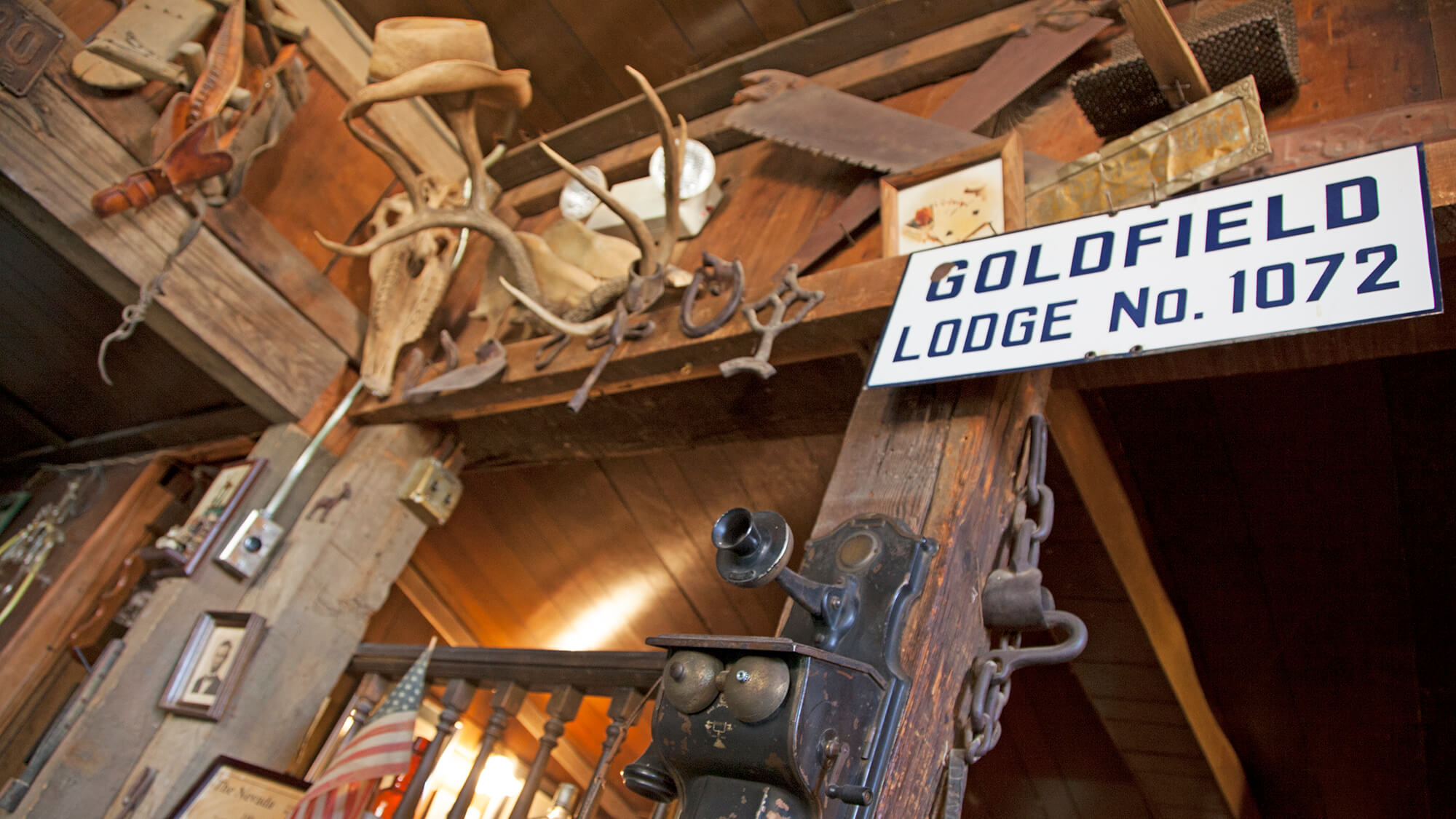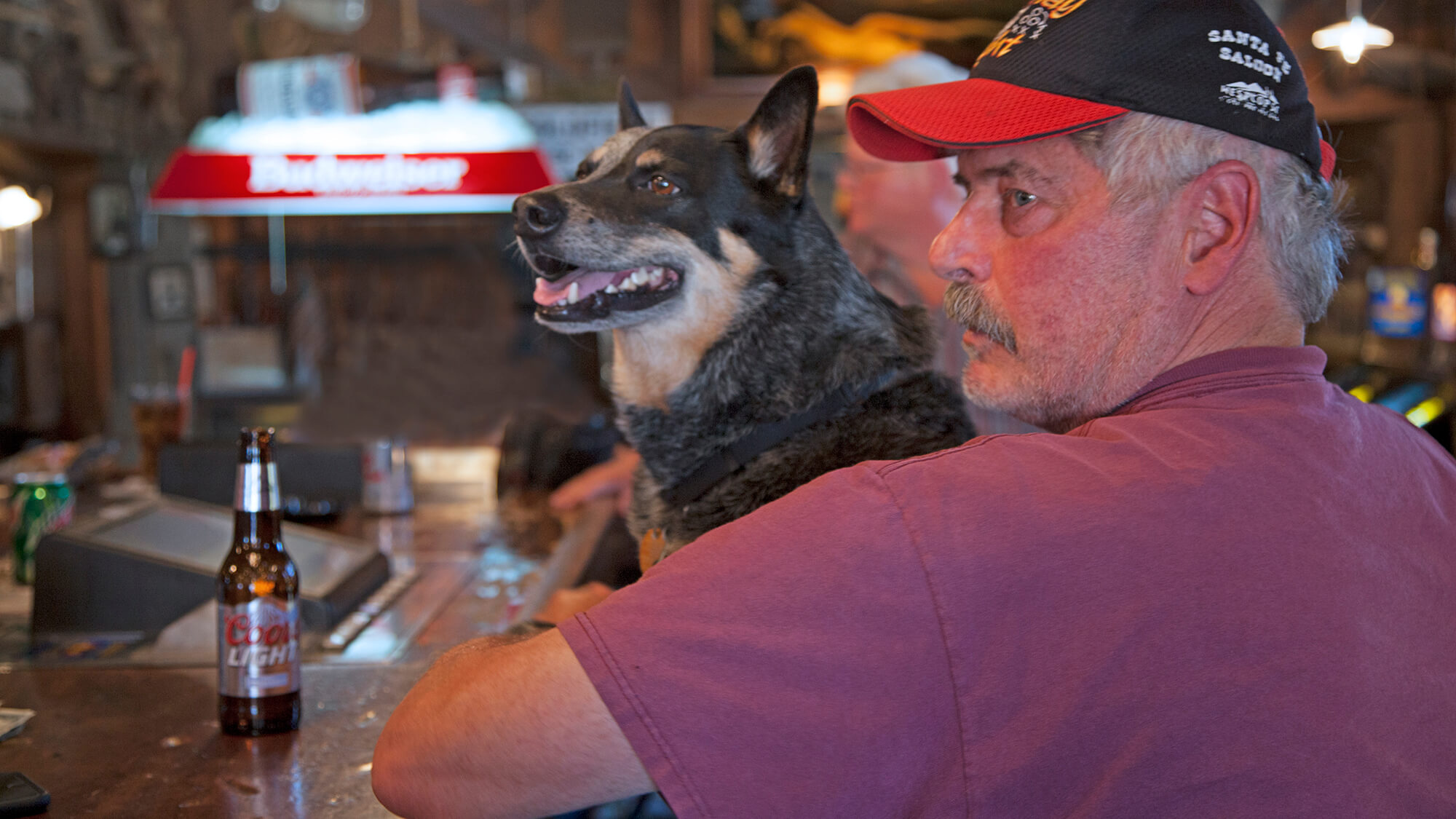 Not a whole heckuva lot has changed 112 years later… everything you see here is just about the same. That is, except the recent self-proclaimed "Meanest Bartender in NV" coming from everyone but the bartender herself. Don't be surprised to see cattle dogs relaxing at the feet of their owners, and don't be shy about snagging a Wild Turkey neat as Goldfield's best bend your ear back on the town's  glory days. After all, this is certainly the type of locale where you can bet your bottom dollar you'll be going home with more stories than souvenirs.
WHAT YOU'RE SIPPIN' ON: Wild Turkey neat, because the West wasn't won guzzling Martinis
DISTANCE FROM VEGAS: 184 miles, 3-ish hour travel time… but it's almost the exact middle ground between Reno and Vegas.
MOST ACCESSIBLE SEASON: Any time of year, really. US-95 is rarely closed, and we already know there's no way this place will be closed…
5. Paradise Valley Saloon & Bar G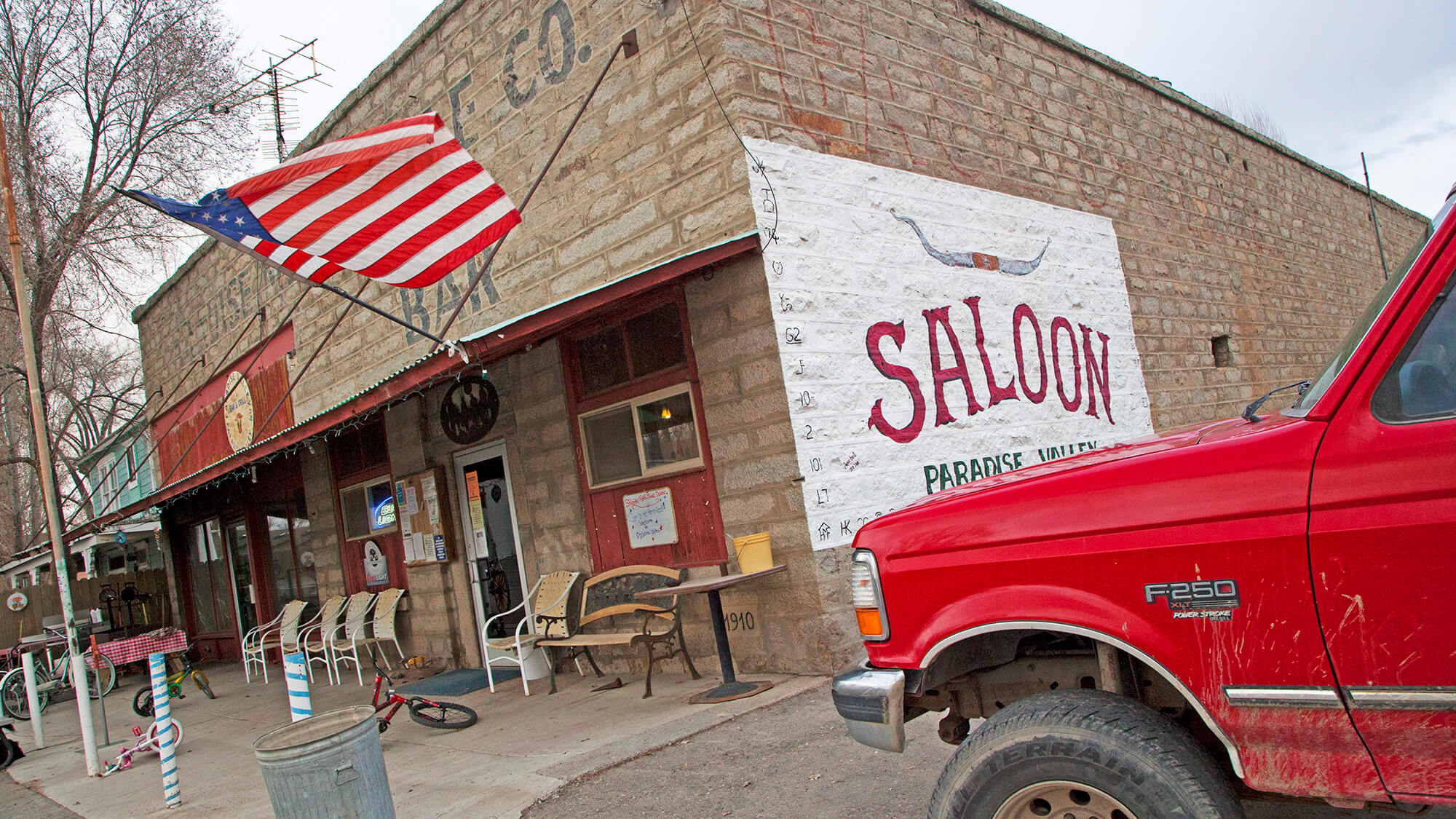 Of all the backcountry bars in Nevada, the Paradise Valley Saloon & Bar G may just be the friendliest with the most multi-faceted history as the perfect little cherry on top. It's a well-worth-it hour north of the 'Mucc and like many of the others mentioned on this rundown, the social center of the small community it's in. The reason? There aren't any regular restaurants or grocery stores that lend itself to a good community bulletin of sorts, so the locals come here to get the latest news, quench their thirst, and get their hands on a ribeye that's rumored to be one of the best in the West. If you're new to Nevada, it's safe to say you're going to be spurs deep in cowboys if you're hanging anywhere around the northern part of the state. Up here, it's buckaroo territory, and Paradise Valley is no exception. Plan on grabbing a barstool next to some real-deal working ranch hands, many of which you'll find to be 5th and 6th generation Paradise Valley-ites. Ask them about their heritage; they'll tell you all about it with the warmest cadence these parts have to offer.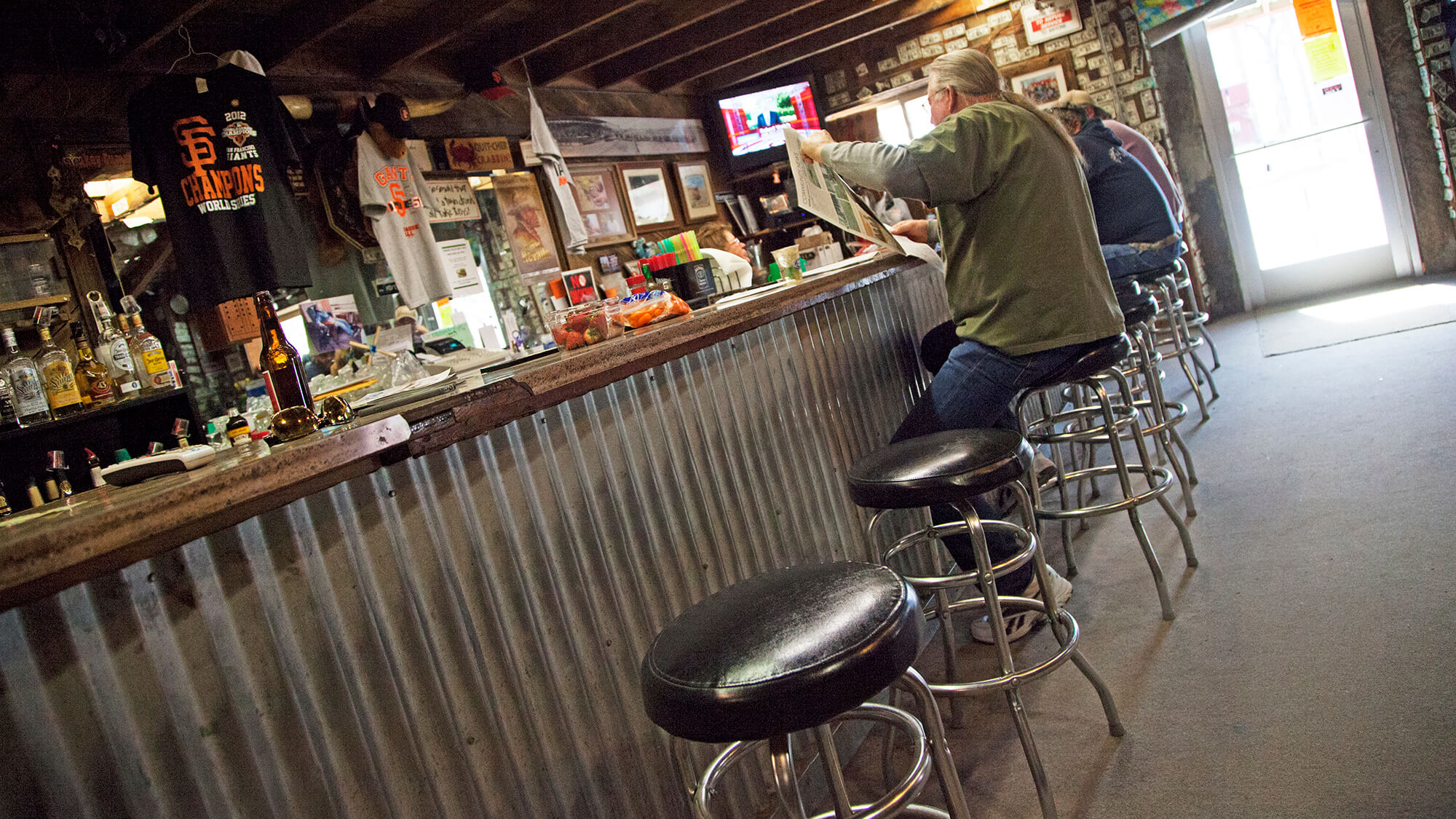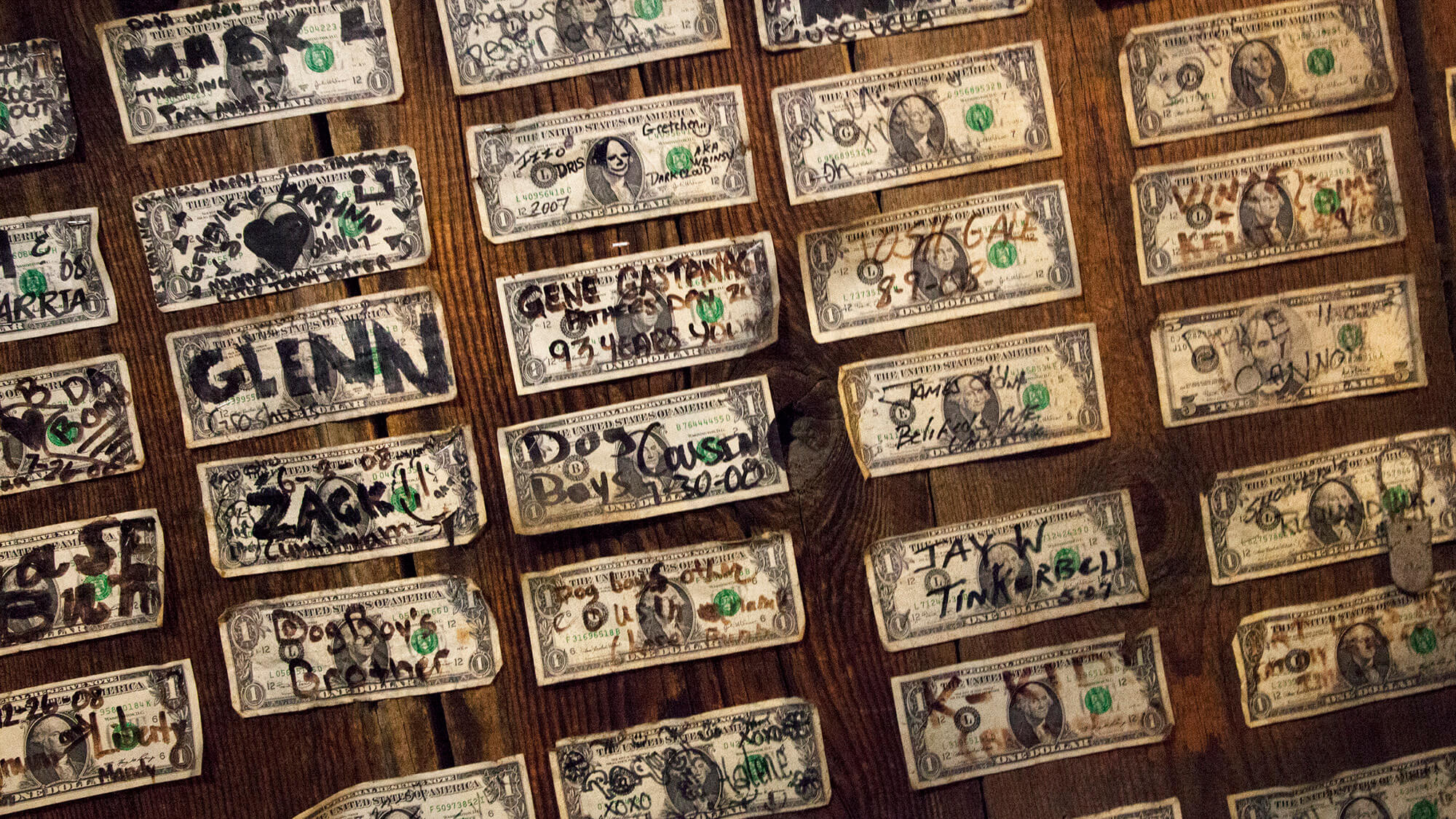 The Saloon itself happens to be over 100 years old, so that right there ticks a serious box, plus you've got the cowboy thing nailed. What else is missing to make it legit Nevada hideout? That Basque culture that's just so hard to fight. And lucky you, Dennis, the proprietor of Paradise Valley Saloon & Bar G, just so happens to be of Basque heritage himself. If you can't get your hands on the Saturday-night-only ribeye, do yourself a favor and order up a chorizo sandwich… and be sure to wash it down with a Pendleton and water on the rocks. MMMMM, I can honestly almost taste it now.
WHAT YOU'RE SIPPIN' ON: Pendleton and Water
DISTANCE FROM RENO: 205 miles, 2 hour 45 minute travel time
MOST ACCESSIBLE SEASON: Spring, summer or fall… but winter isn't totally out of the question. It's paved the entire way, but you may run into snow during winter months… AWD recommended!
6. Iggy & Squiggy's Junction Bar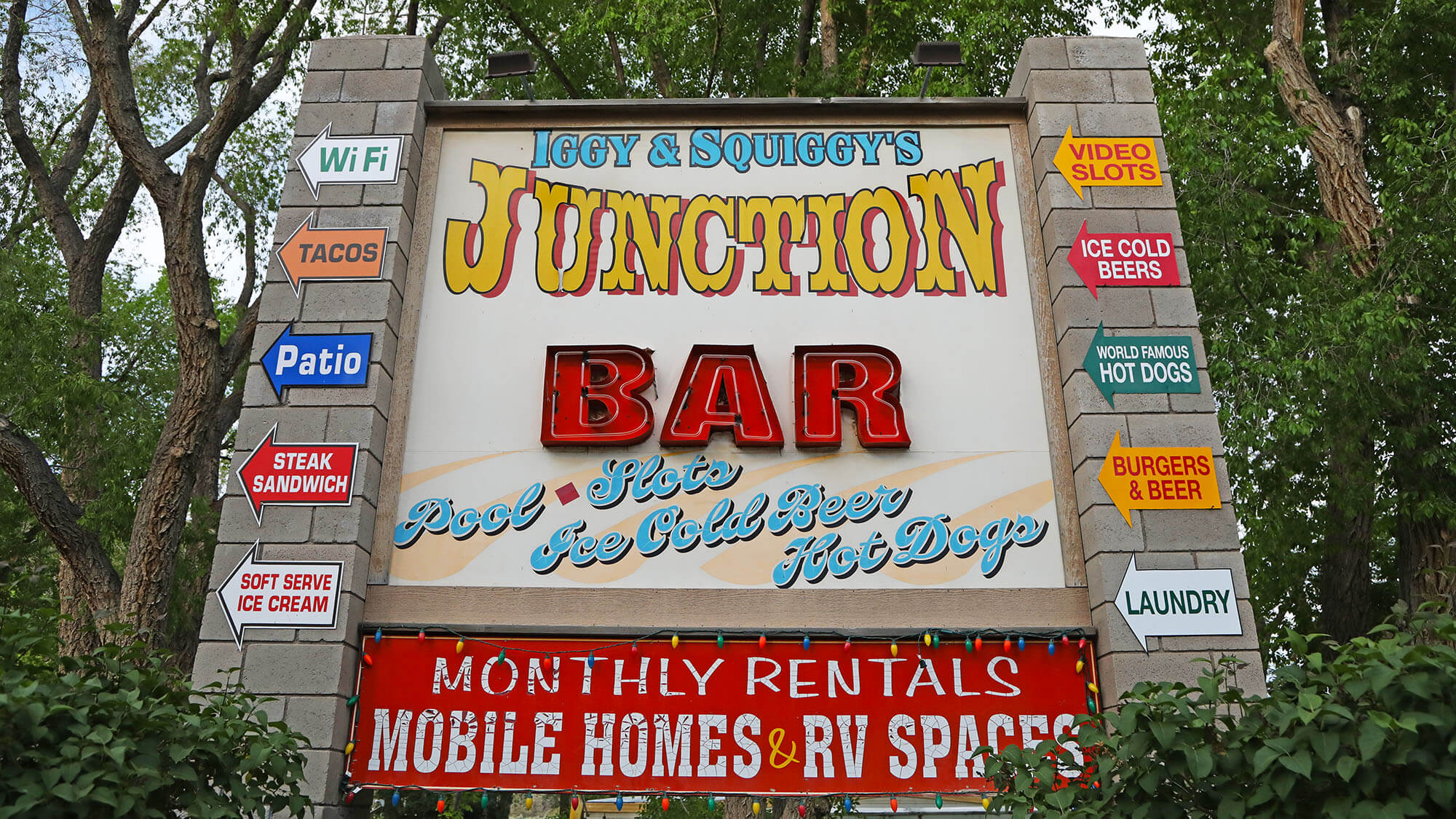 Two words: NEVADA. MARTINI. If you haven't heard of it, or worse, drank one yourself, drop the hammer down and head for Iggy & Squiggy's… about 20-ish minutes south of Gardnerville. This place is dang near impossible to spot—unless you're looking for it, that is. But after your first visit, it will take everything you've got in you to not swing through when you're road trippin' 395 North. To the untrained eye, Holbrook Junction may just look like, well, a junction… but a few hundred yards off the road sits another Nevada institution. There's no mistaking it. To me, I am always so satisfied in discovering "new" places, only to find that they've been around for decades, all the while redefining backroad utopia. Iggy and Squiggy are real people—brothers, in fact—who have been slinging the most savory of tacos and cheeseburger specials for over 35 years… all of which are delightfully combo'ed with your choice of a draft beer.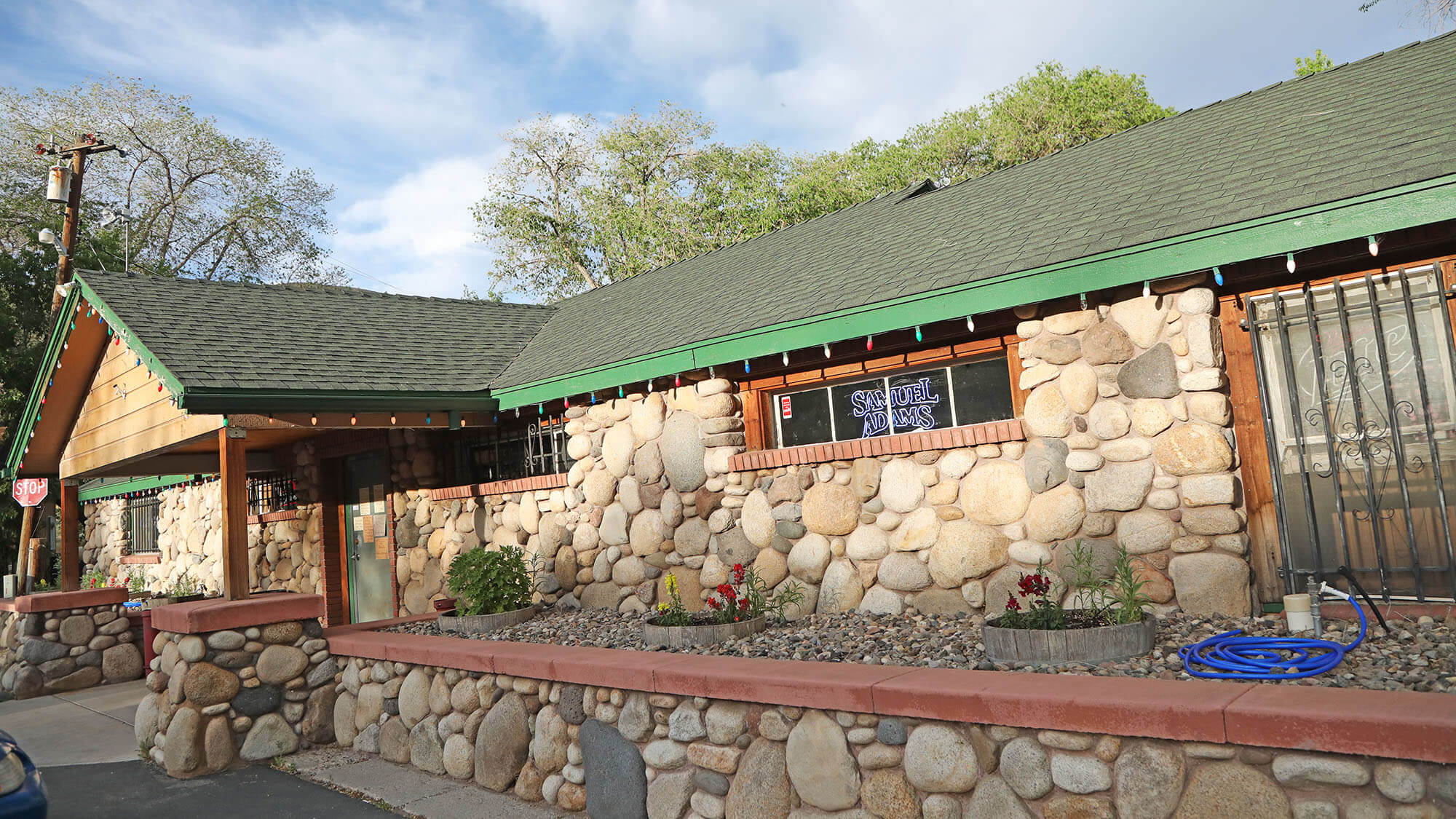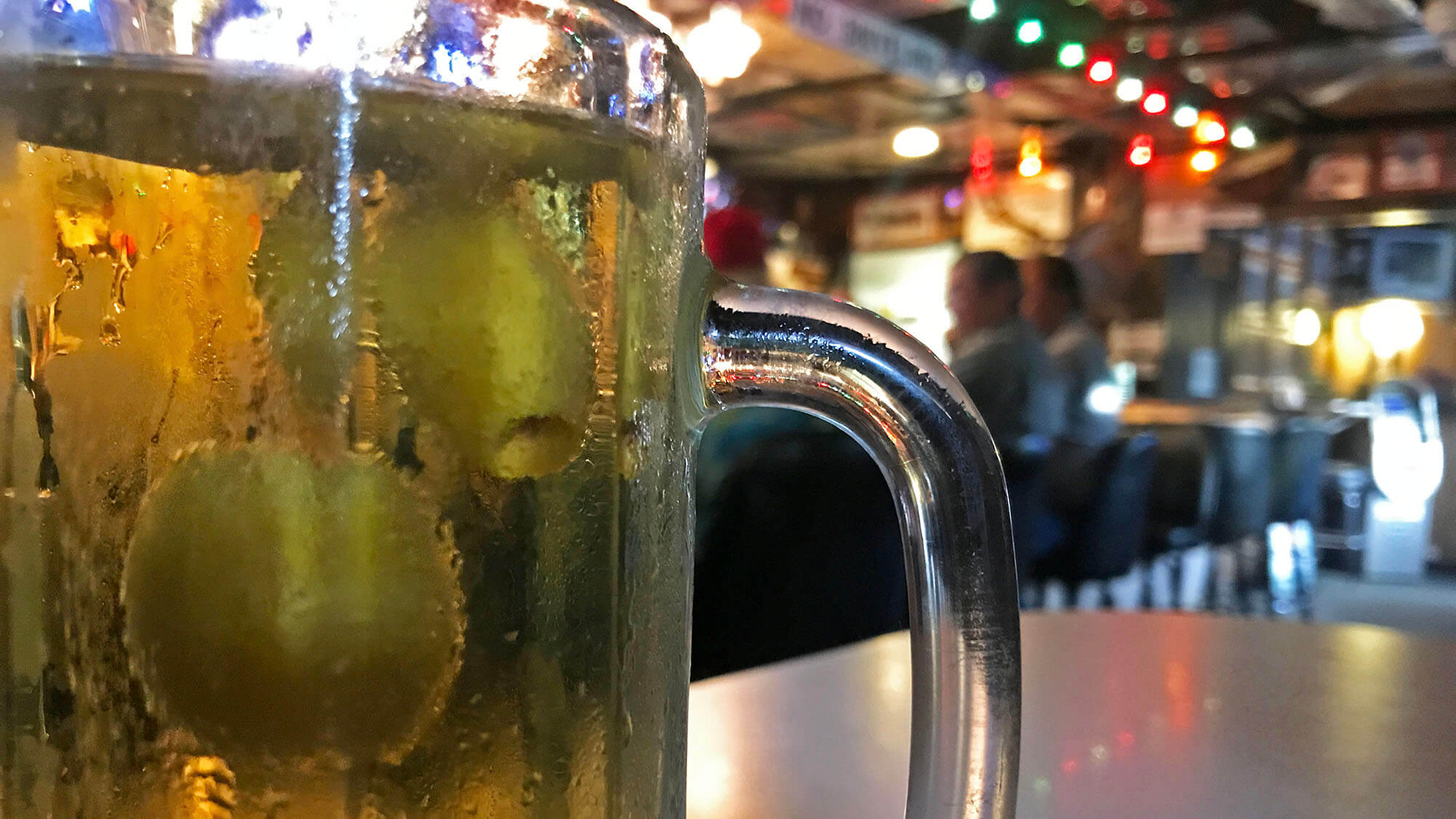 If you know what's up, you'll order a "Nevada Martini"—what the place is famous for. You'll find no shakers or vermouth here, but you can bet your sweet bippy that it's going to come with some deluxe olives. All this unusual 'cocktail' consists of is this: your favorite draft beer with olives in it. Trust me, this thing is just as refreshing as any other frosty mugged beer, but packs that heavenly salty punch you didn't know you'd been missing out on all these years. Any time of year is a good time to check this place out, but especially if you're on two wheels… this place has quite the biker following and is all the more fun if you show up with some sexy americana rumbling between your gams. A cheeseburger basket, Nevada Martini, and motorcycles? What more could you possibly want?
Travel Nevada PRO TIP: Order a Bud heavy with jalapeno olives… just enough kick in all the best ways. Oh, and did I tell you they have Butterscotch Ice Cream sandos for desert? Acessssss.
WHAT YOU'RE SIPPIN' ON: Nevada Martini
DISTANCE FROM RENO: 69 miles, 1 hour 20 minutes
MOST ACCESSIBLE SEASON: Really, any time of year is a good time to swing through
7. Happy Burro Chili & Beer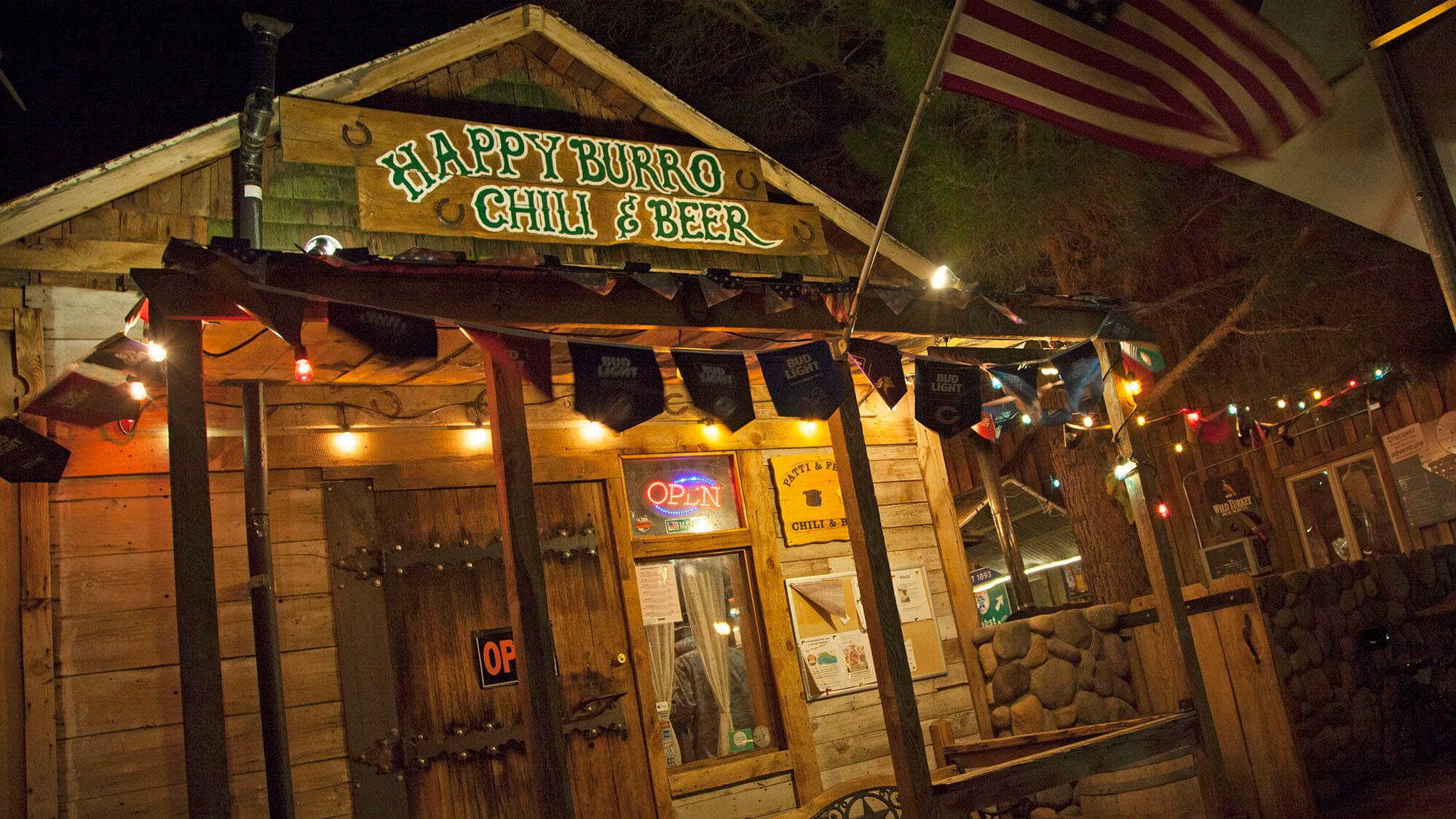 Coming to Nevada without spotting a wild burro is like showing up for a night on the town and ordering up a non-alcoholic beer. It just ain't right. The saving grace? Visit the formerly bustling, now-living ghost town of Beatty and I vow you'll get to experience both… except I'm not talking about near-beer here. The PBR is flowing and ice cold at Happy Burro Chili and Beer, and comes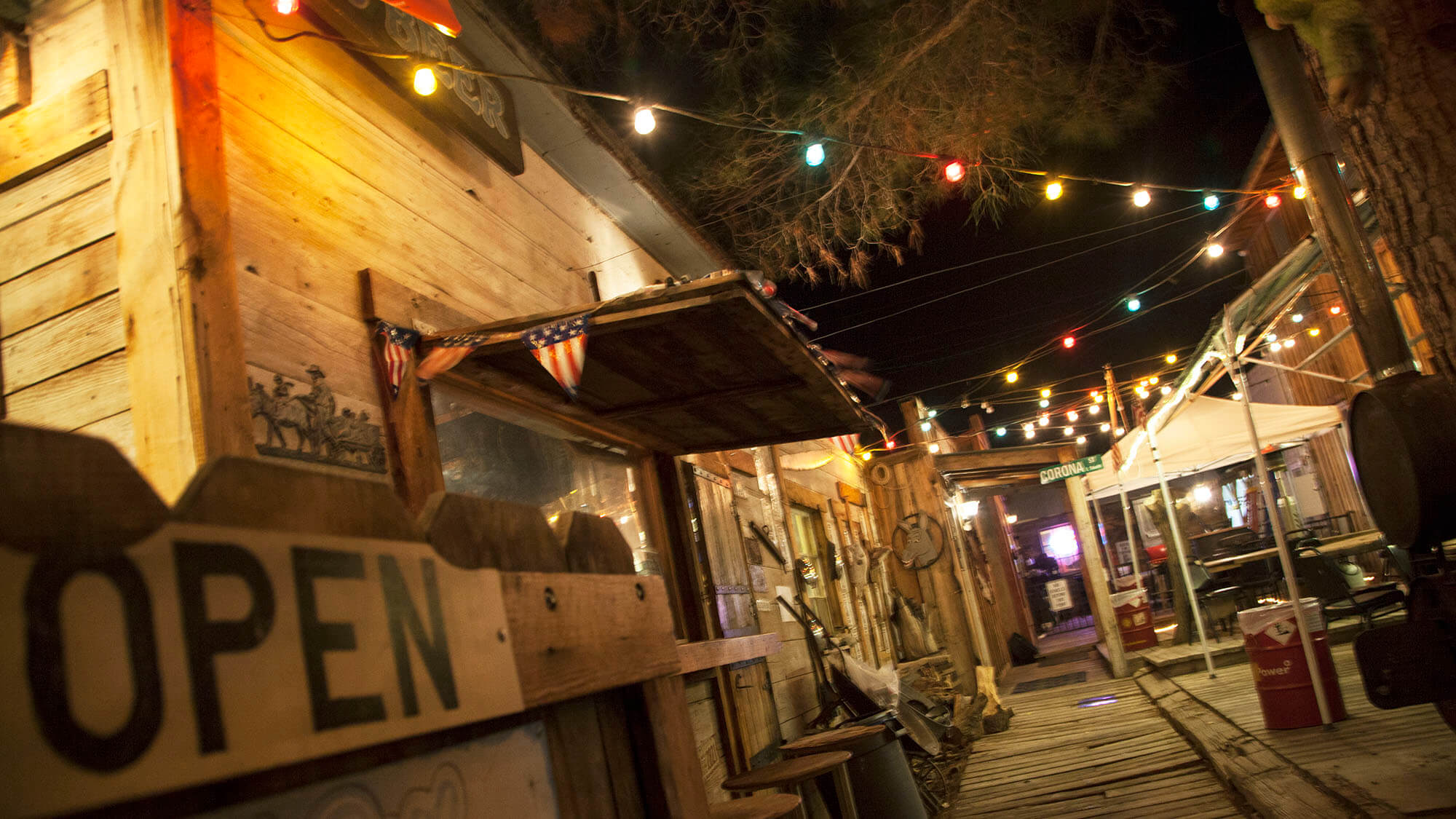 with a heaping side of—you guessed it—chilli. Beatty was once the HQ to my favorite mining burb in Nevada: the Bullfrog Mining District [yes, yes I am a history nerd, and I DID just admit I have a favorite mining district]. Though hard to imagine today, Beatty was flooded by thousands and thousands of gold-hungry miners in the early 1900s. And what do miners have? BURROS. I'm sure one thing led to another and before long, renegade burros started roaming southern Nevada. Despite all these years, they haven't strayed too far from Beatty or Death Valley… probably because they can survive here year round, unlike the bitter cold winters in Northern Nevada.
To really kick it up a notch, Beatty comes with its own incredible bar scene worth traveling to, and it's all centered around the Burro. WINNING. While you're here, be sure to snag a spot in the outdoor picnic area [unless it's the middle of summer, that is], grab a draft PBR, and order up an award-winning chili dog the place is famous for. [And NO, it's not burro meat that's the secret ingredient.]
WHAT YOU'RE SIPPIN' ON:  Ice Cold Draft PBR
DISTANCE FROM VEGAS: 118 miles, 1 hour 45 minute travel time
MOST ACCESSIBLE SEASON: Fall, winter or spring is the most delightful, if it's patio drinkin' you're after
8. The Lucky Spur Saloon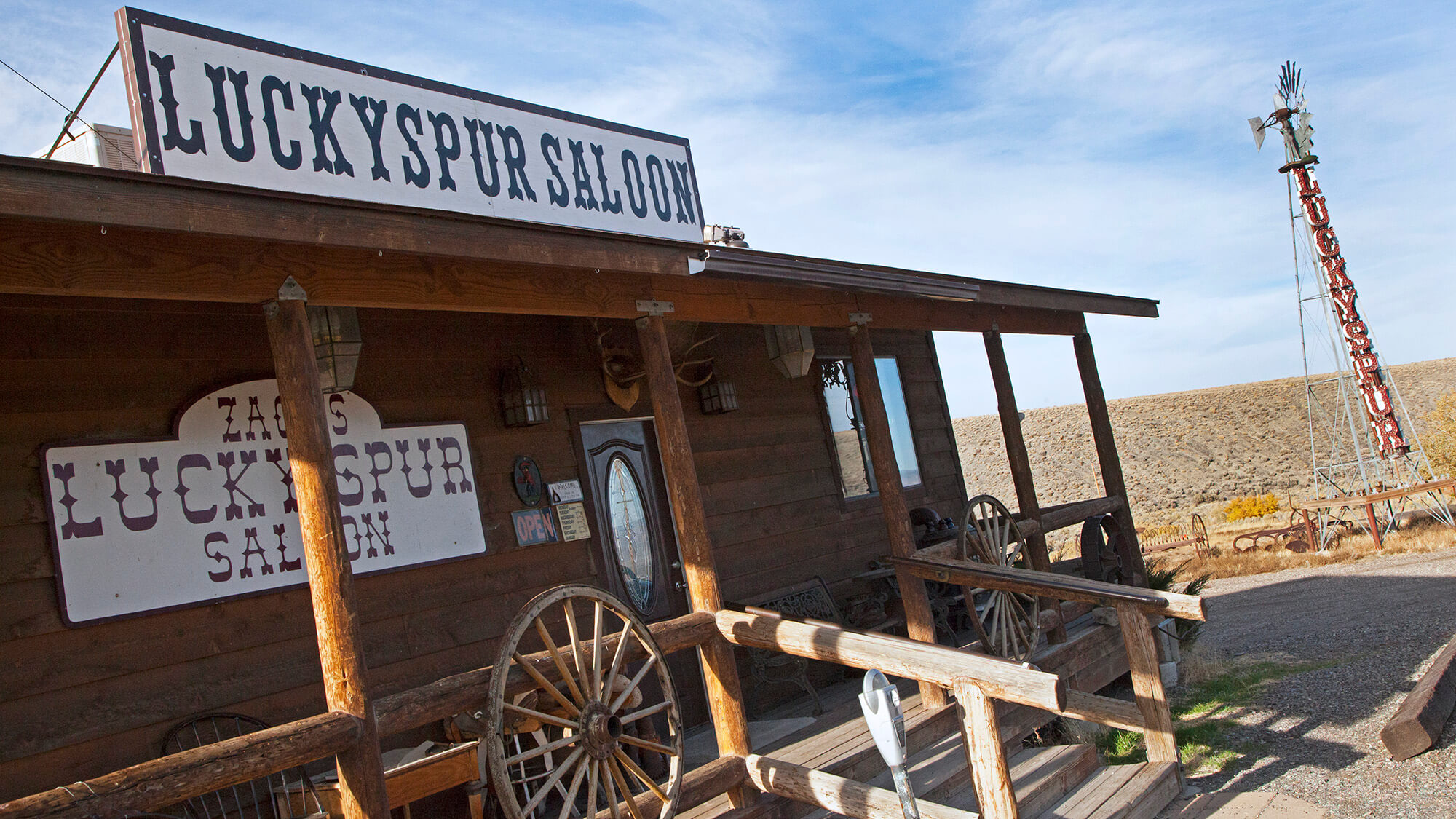 Life in Kingston slows to a most satisfying roll and The Lucky Spur Saloon couldn't be a more qualified establishment to set the pace. Posted up just about a half hour south of Austin and Highway 50, a mere 100-ish folks call Kingston home, which is one of the reasons the entire Big Smoky Valley is so utterly fabulous. Everything about it—the hot springs, Miles End B&B, the stunning canyon, reservoir, and backcountry skiing—collectively casts a backcountry spell over visitors but what particularly seals the deal is what Men's Health considers to be the "Best Bar In The Middle Of Nowhere": The Lucky Spur Saloon. And you better believe this place is actually as good as it sounds.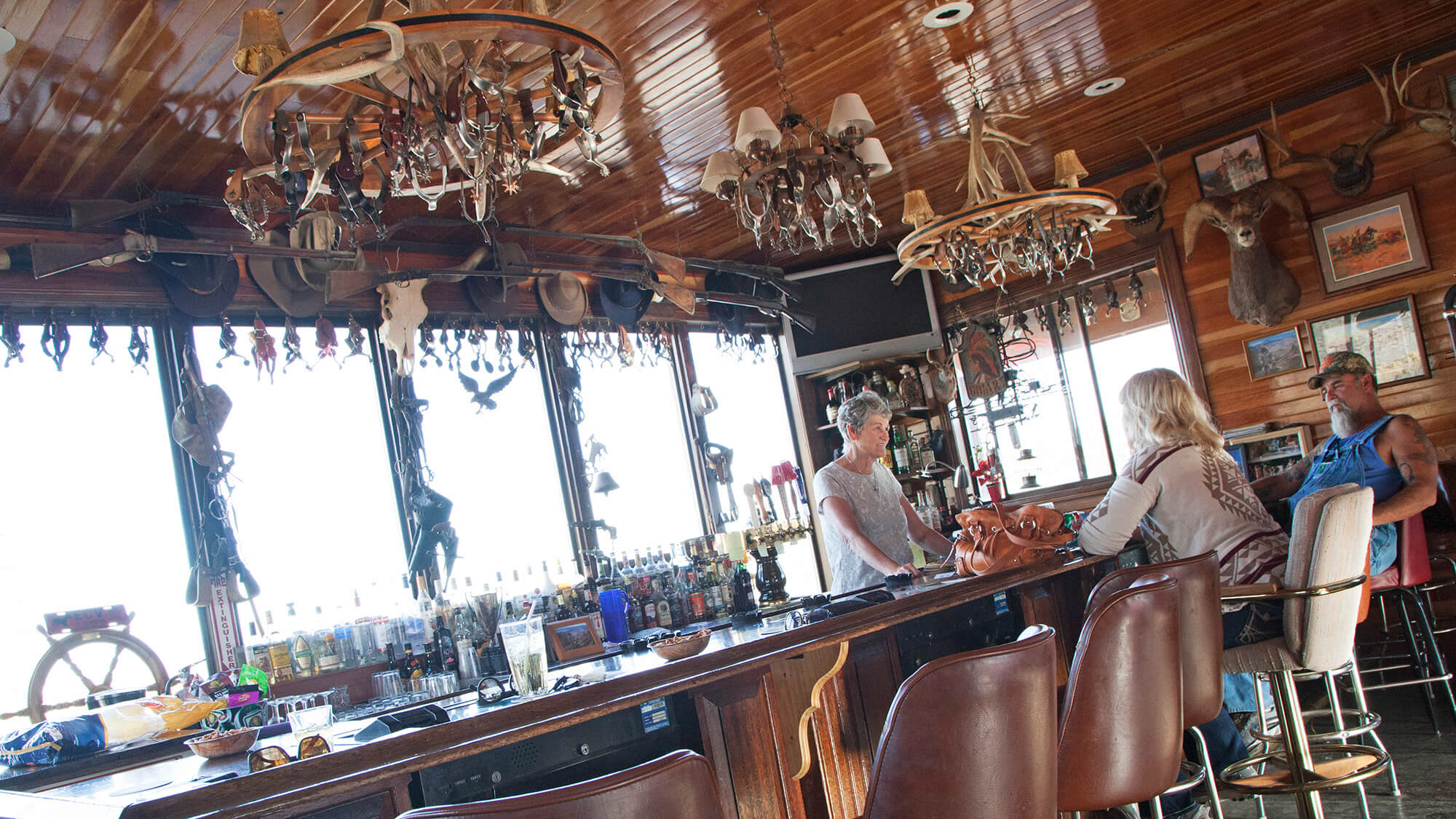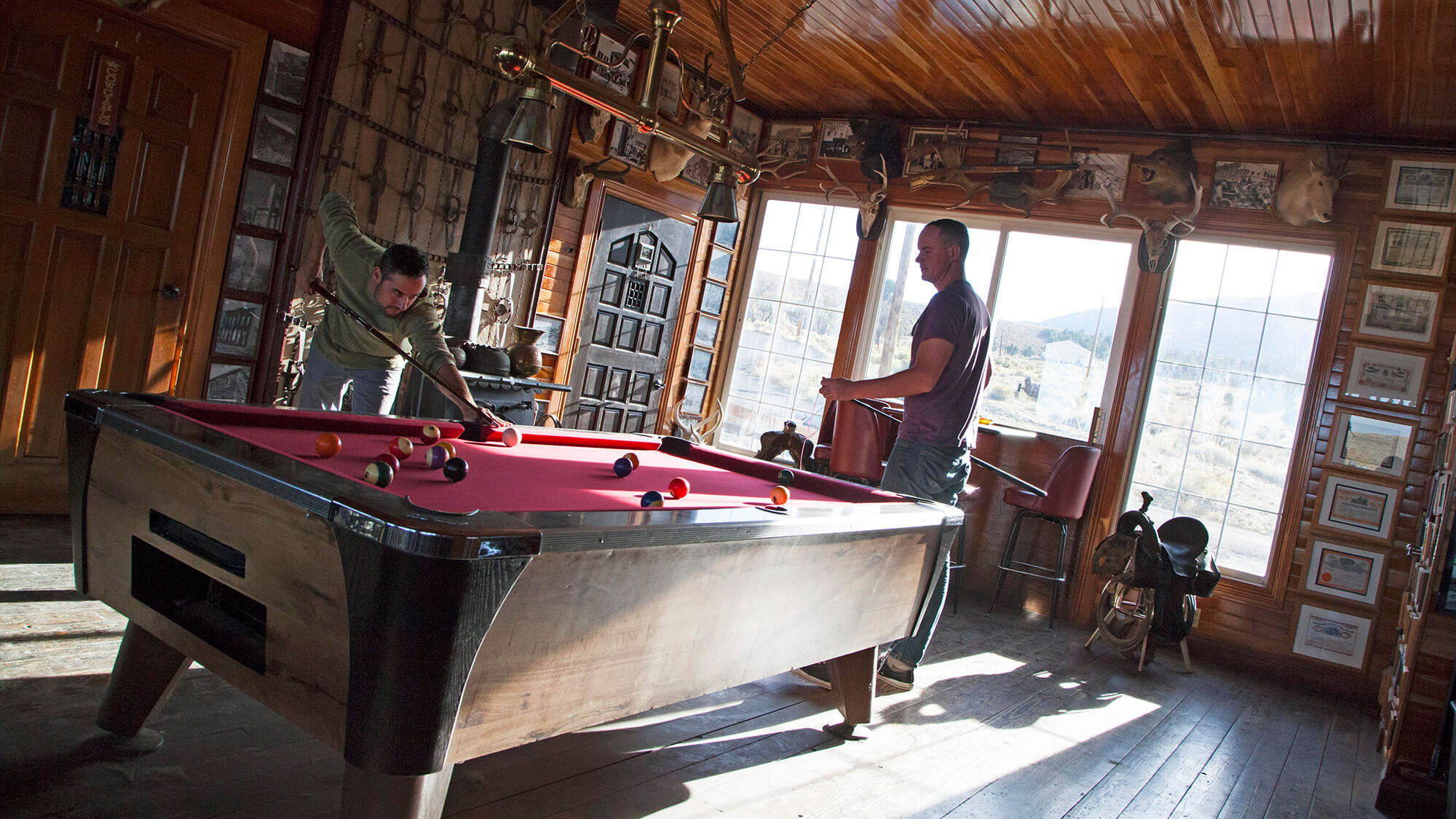 Here, you can drink in some of the most dynamic views of the sweeping Big Smoky Valley below as the bartender himself roosts behind the bar, ushering in guests and slinging drinks till the wee hours. He's not afraid to pour a stiff drink, but a usual local favorite here is Buckaroo Brew. The reason? It's made by Ruby Mountain Brewing Company, the longest standing microbrewery in the Silver State, and Battle Born is a way of life around these parts. The owners here prides their saloon as a gallery of sorts, which the entire thing impressively lives up to being. Count on seeing walls lined with antique traps, taxidermied trophy animals bagged in the surrounding Alta Toquimas and, of course, spurs.. At The Lucky Spur Saloon, a minute lasts every bit of 60 seconds in the most gratifying ways, so remember it's not just about the libation you should be sippin' on; it's those panoramic views and unmatched company, too.
WHAT YOU'RE SIPPIN' ON: Ruby Mountain Buckaroo Brew
DISTANCE FROM RENO: 203 miles, 3.25 hour travel time
MOST ACCESSIBLE SEASON: Really, any time of year is a good time to swing through, but be leery of snow in the winter months
9. Jiggs Bar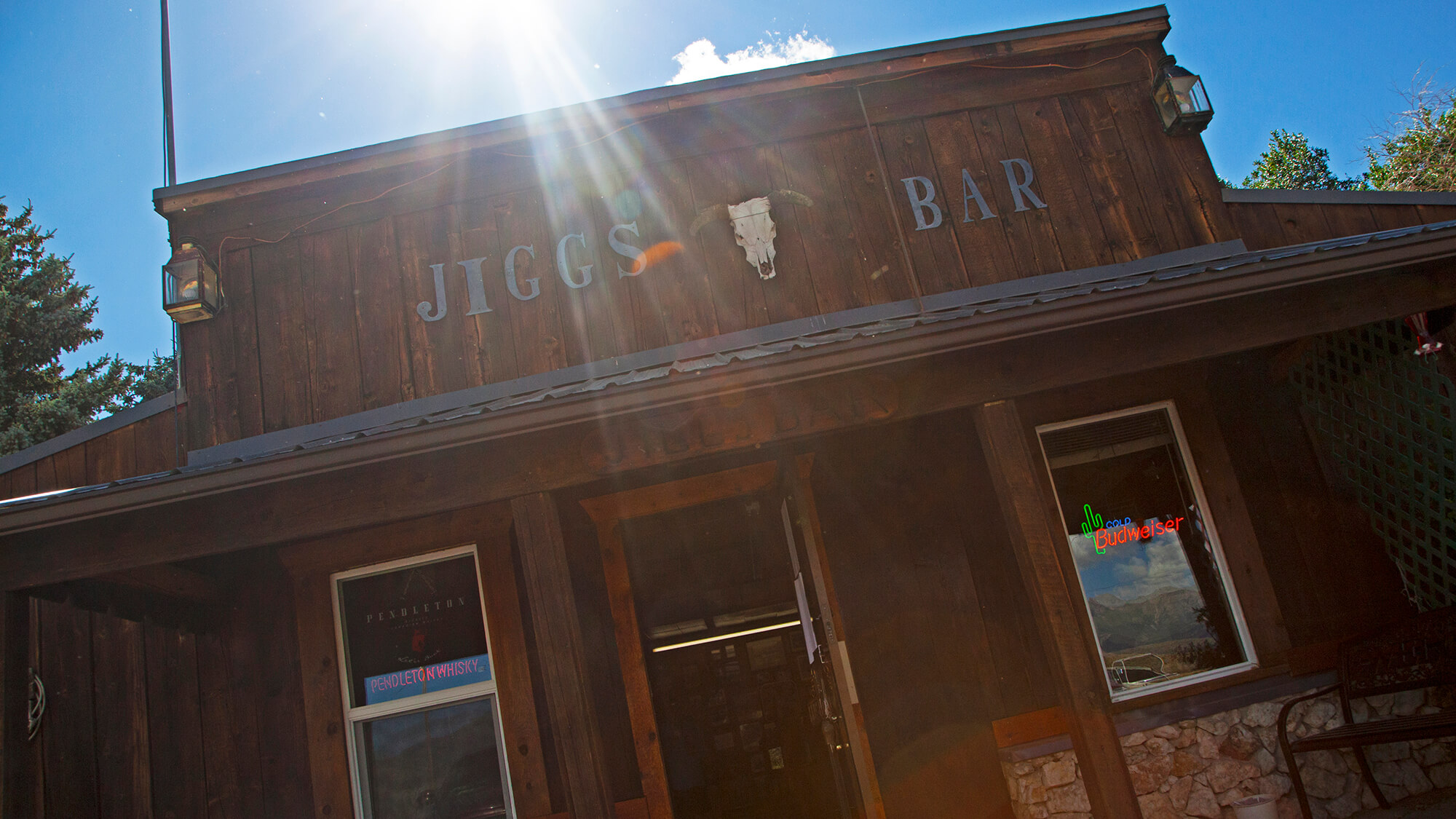 Sometimes you travel miles on end for stellar company, other times it's all for the barkeep who pours your drink just the way you like it, and still others it's all fueled by the pursuit of a totally perfect vibe. In this case, Jiggs Bar is equipped with all three. BOOYAH. Situated in the foothills of the Rubies, not much is left of the town of Jiggs besides, you guessed it, the bar. [Seeing a pattern here?] Jiggs has quite some history; ask the bartender to show you the little history book they've got back there. A couple spoilers include the town being renamed six times, and it being the stomping grounds for famed cowboy poets like Waddie Mitchell. Its tasty remoteness attracted a slew of bandits, and even a handful of famous explorers, but it is probably most known for a Volkswagen Bus print ad campaign (just a few years back in 1965) that featured the town's entire population—9 people… 1 dog—sitting inside the latest model.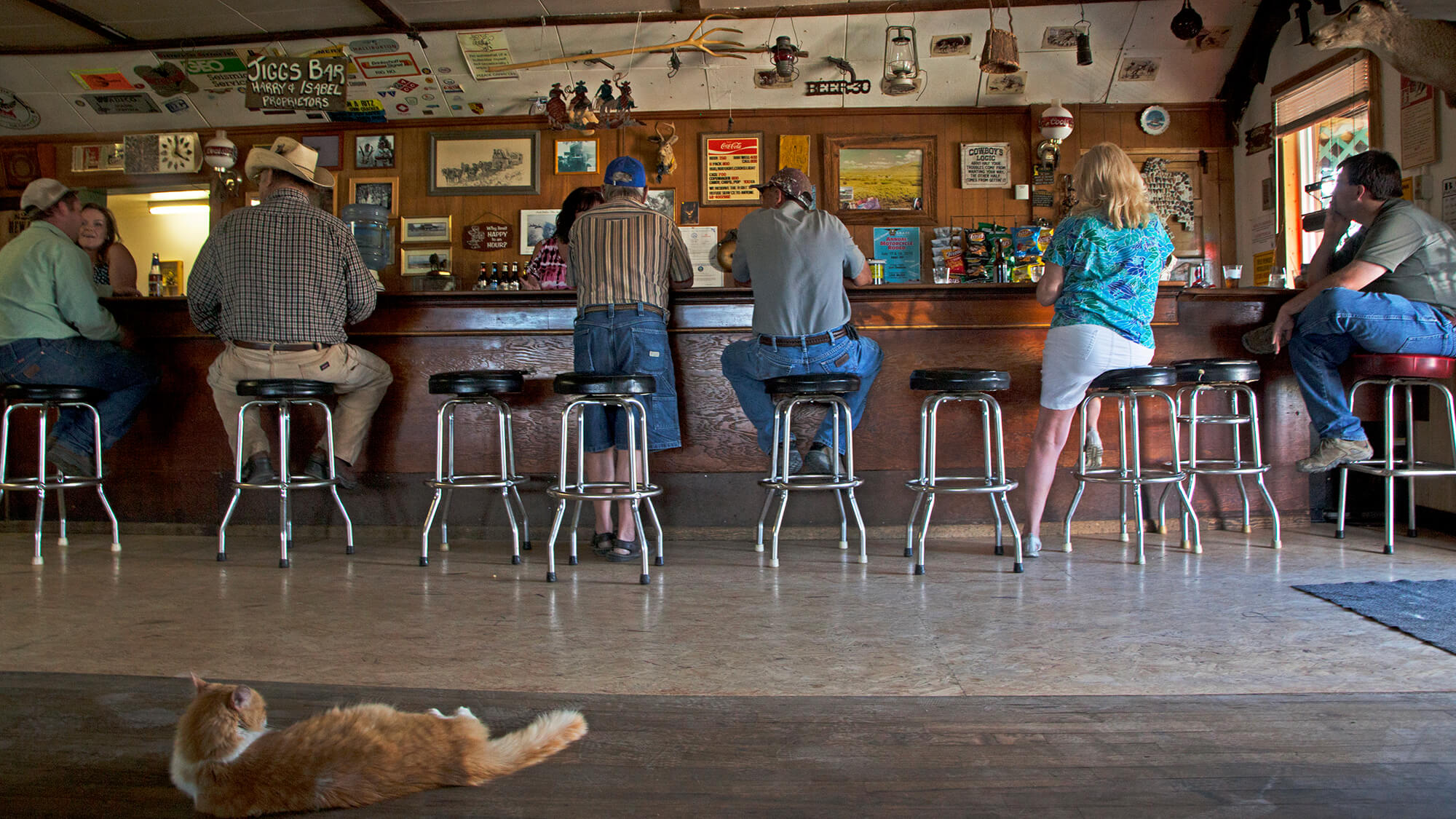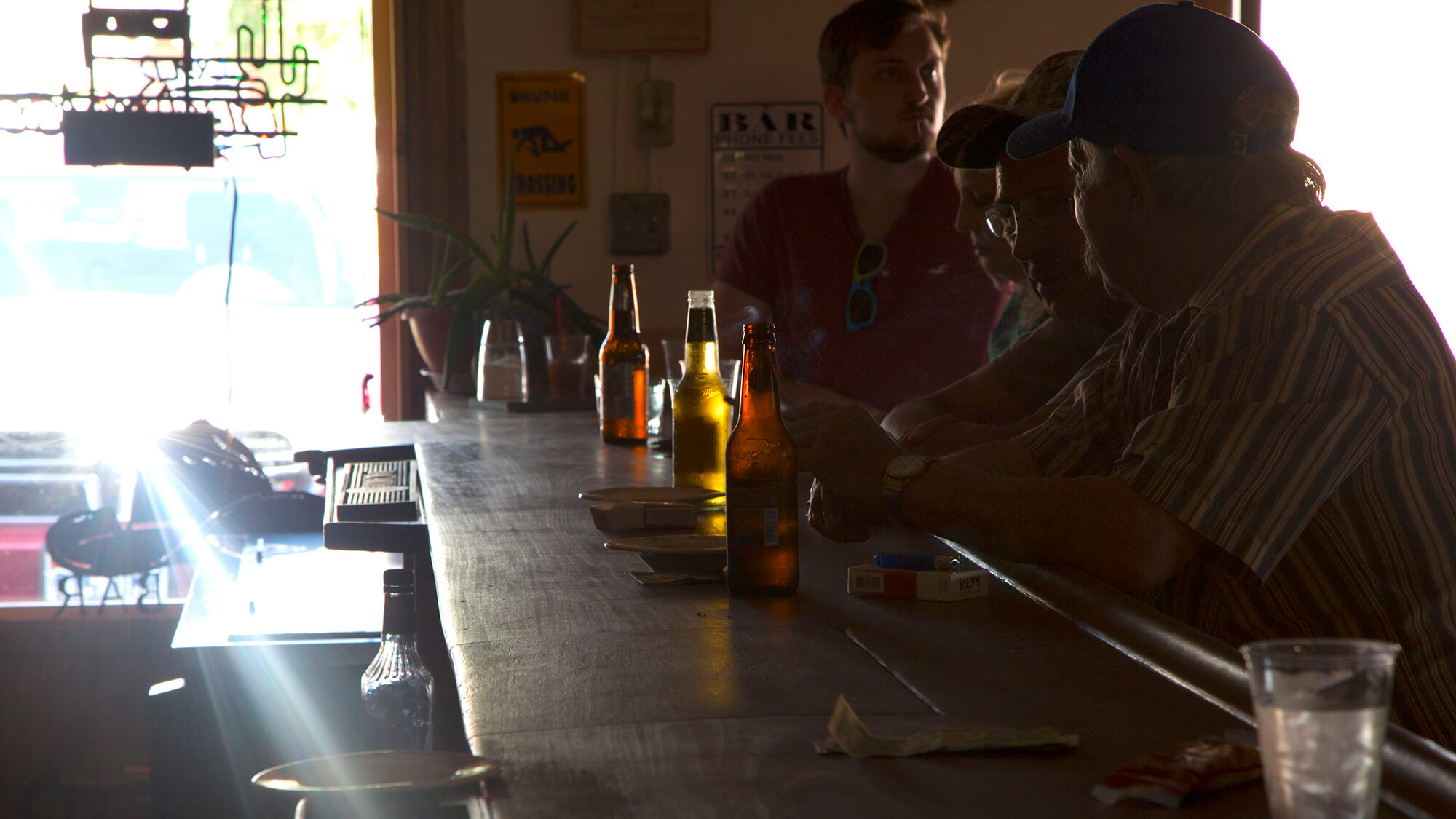 Currently, Jiggs Bar is about the only thing left aside from a dilapidated one-room school house, and serves as the rendezvous point for local ranchers because, duh, it's the only open biz for mile and miles. Before you get too committed to nursing that Twisted Tea and delving into that history book behind the bar, snap a pic of the two-headed calf above the entrance and give the resident kitty, Tigg, a good scratch under his chin. You can't really say you've experienced Jiggs Bar till you've got both under your belt.
WHAT YOU'RE SIPPIN ON: Twisted Tea
DISTANCE FROM ELKO: 33 miles, 36 minute travel time
MOST ACCESSIBLE SEASON: Summer or fall is best.… it might be a bit snow packed [and stressful to reach] during chillier months
10. Gold Point Saloon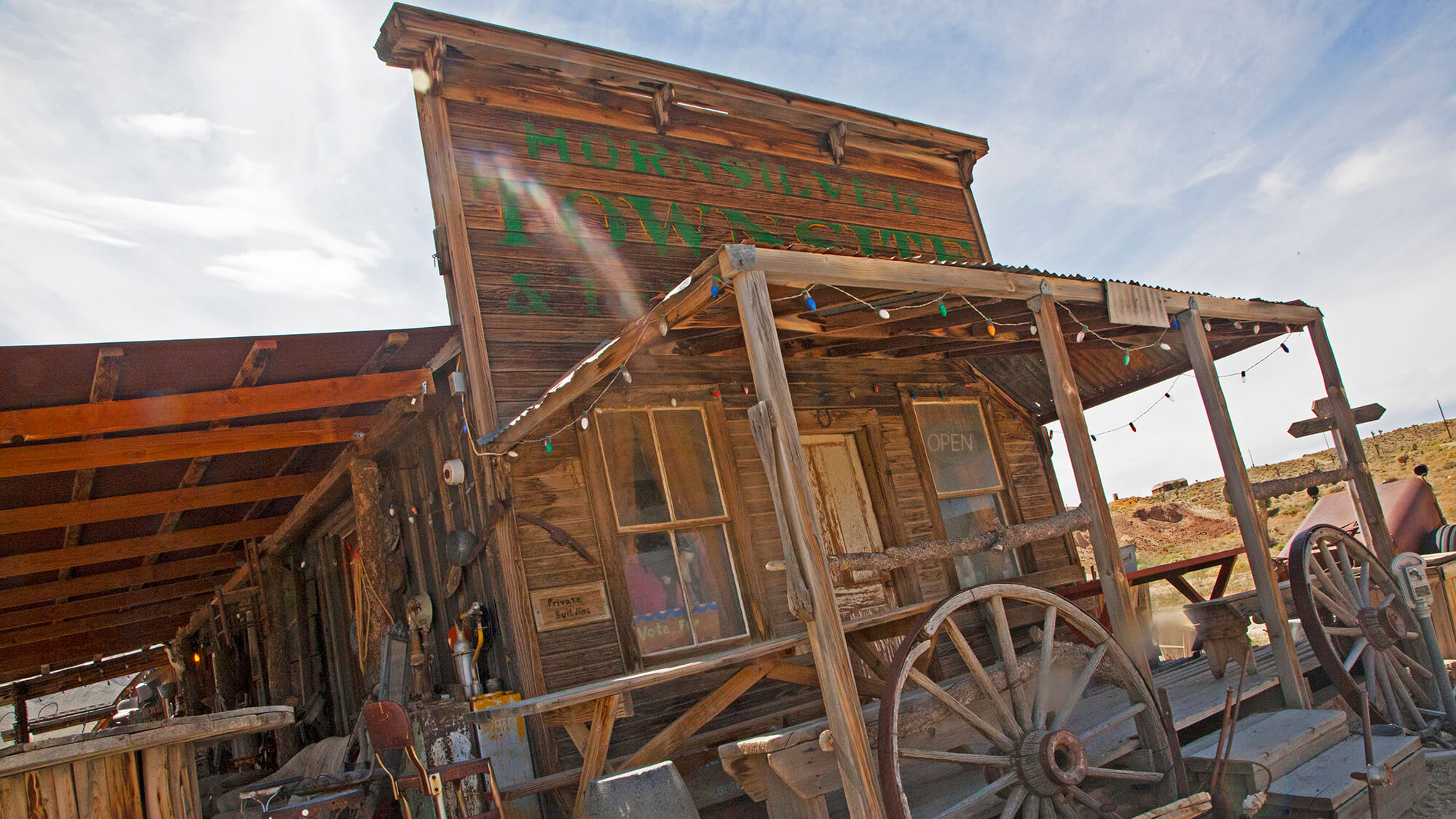 Ever had one of those travel experiences that leaves you thinking, "well, that was weird" while fighting back a toothy grin? If you've experienced it, well then you know what I'm talking about—the type of travel experience that you start to crave once you've sipped from its sacred cup. The type of moments you can't recreate or purchase, so to speak, but those that just sorta bloom in their own beautiful way. Gold Point, as an entire collective town, delivers just that and it's all thanks to a dude named Herb Robbins. And get this, there couldn't be any more "Nevada" of a story. Totally captivated by the Nevada desert, Herb spent all his spare time straying from his CA home base exploring Nevada's ghost towns. He moved to Nevada as a professional wallpaper installer in all the big casinos in downtown Vegas, naturally playing a few slots after work. Eventually, he hit triple 7's. What did he do with his winnings? BOUGHT AN ENTIRE GHOST TOWN, of course. Yeah, you read right… taking casino winnings to purchase some legit Nevada history? Couldn't have written it better myself.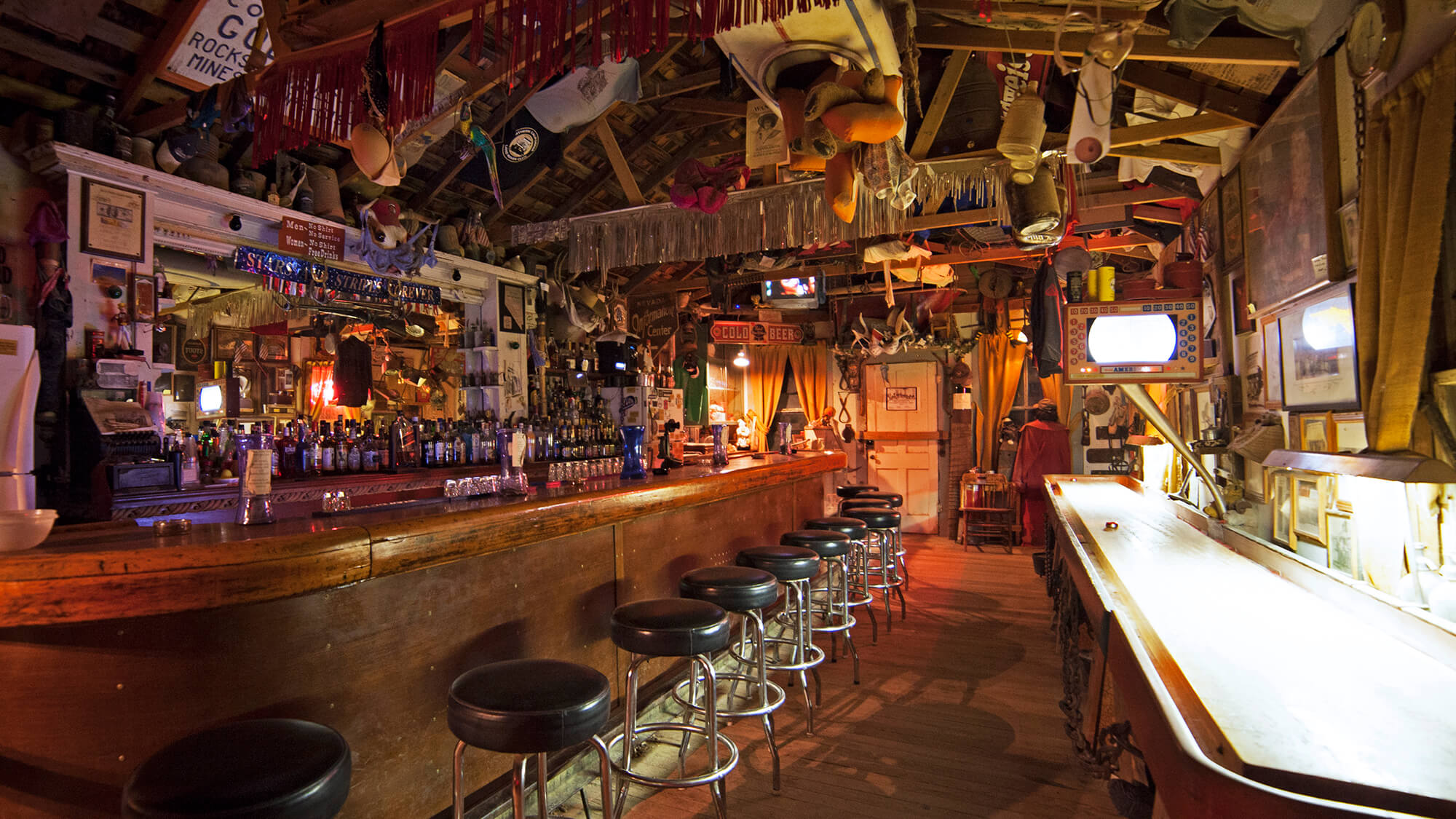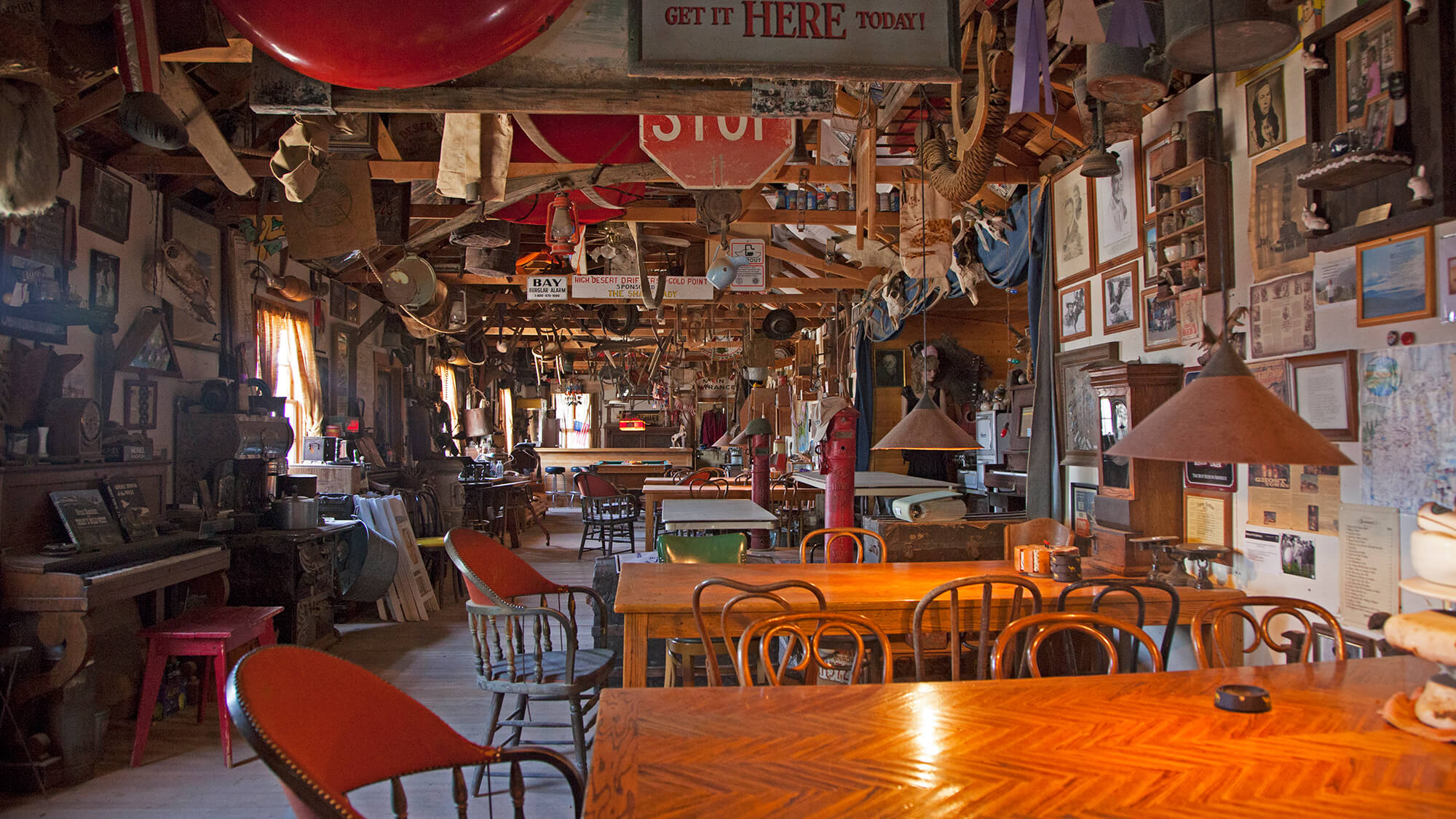 Some of the buildings have been relocated from their original spot, but have been articulated with one specific reason in mind: to create a bed and breakfast [yes, that means you can stay in allegedly haunted, 1880s miner cabins], which created more of a town-like feel, with a main drag and everything. As the doctor, lawyer and Indian Chief of Gold Point, Herb keeps super close tabs on his very skillfully created, movie-magic ghost town. Buildings are locked, unless of course you ask for permission to enter. But boy howdy, once he turns the lock to that bar you'll be wondering why you haven't made Gold Point more of a pressing pit stop. This place is trippy enough, but one sip of that Frey Absynth will really send you into another delightful dimension.
WHAT YOU'RE SIPPIN ON: Frey Absynth
DISTANCE FROM VEGAS: 184 miles, 2 hours 45 minute travel time
MOST ACCESSIBLE SEASON: Really any time of year is ideal to visit Gold Point, but is most enjoyable in spring or fall when it's not too blazingly hot or bitterly cold but juuuust right.
11. Dirty Dick's Belmont Saloon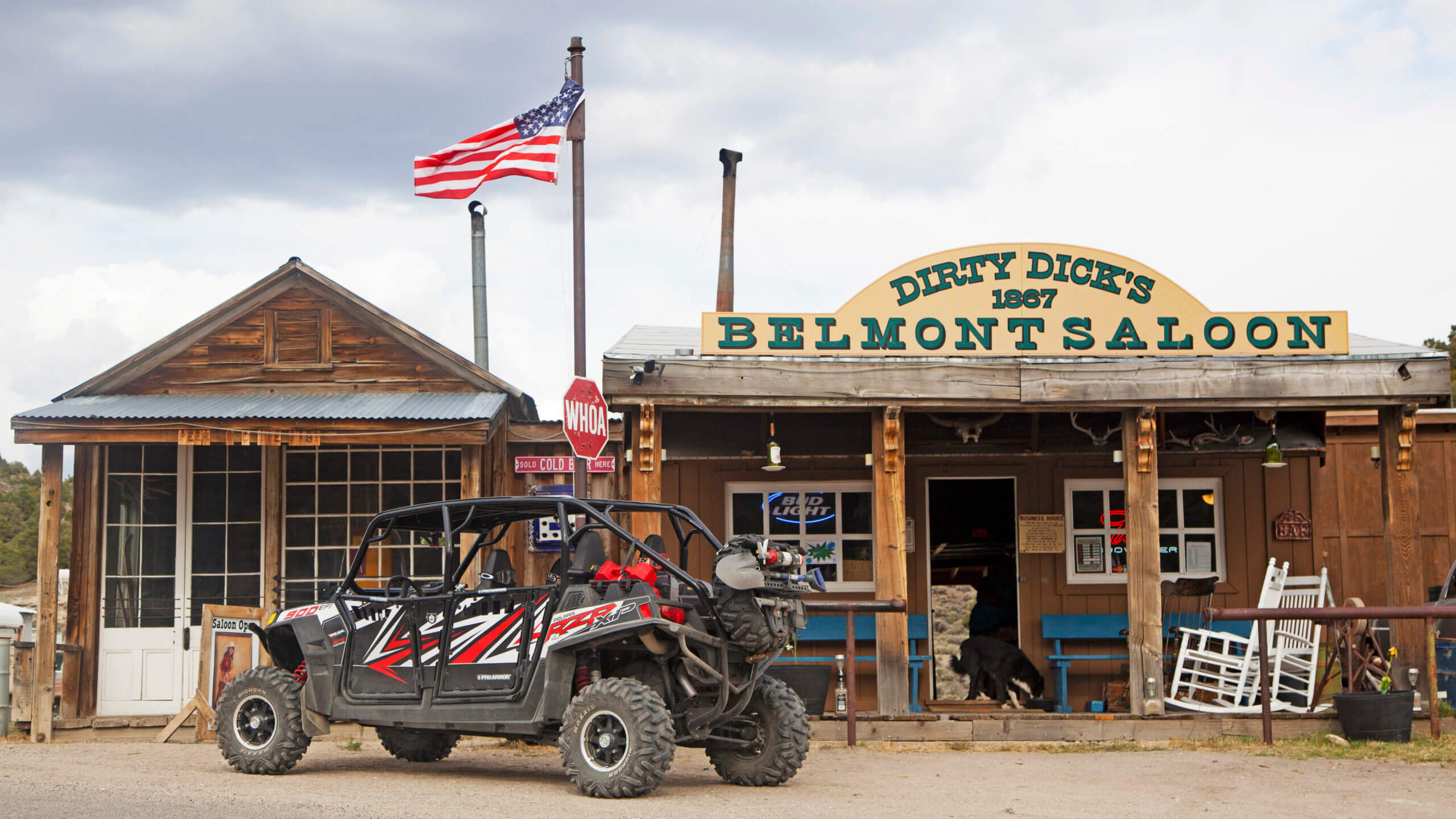 Honestly, with a name like that do I need to go any further? Probably not, but I will. IMO, if you were to travel to just one of these off grid delights, Belmont should be number one, and here's why. All that are mentioned on this list ooze history, great conversation, and one amazing hard-to-find backcountry saloon, but there is some kind of magic happening in Belmont that's a bit tough to articulate. Like lots of other Nevada ghost town greats, Belmont was a former county seat, which should give you an idea about the insurmountable wealth that flowed through the streets. Today, it's totally off-grid, so it's current population mostly consists of generator and solar-powered hunting cabins, equally balanced by immaculate homes. Still, only about two-dozen folks call Belmont home, which is why it's such a satisfying escape.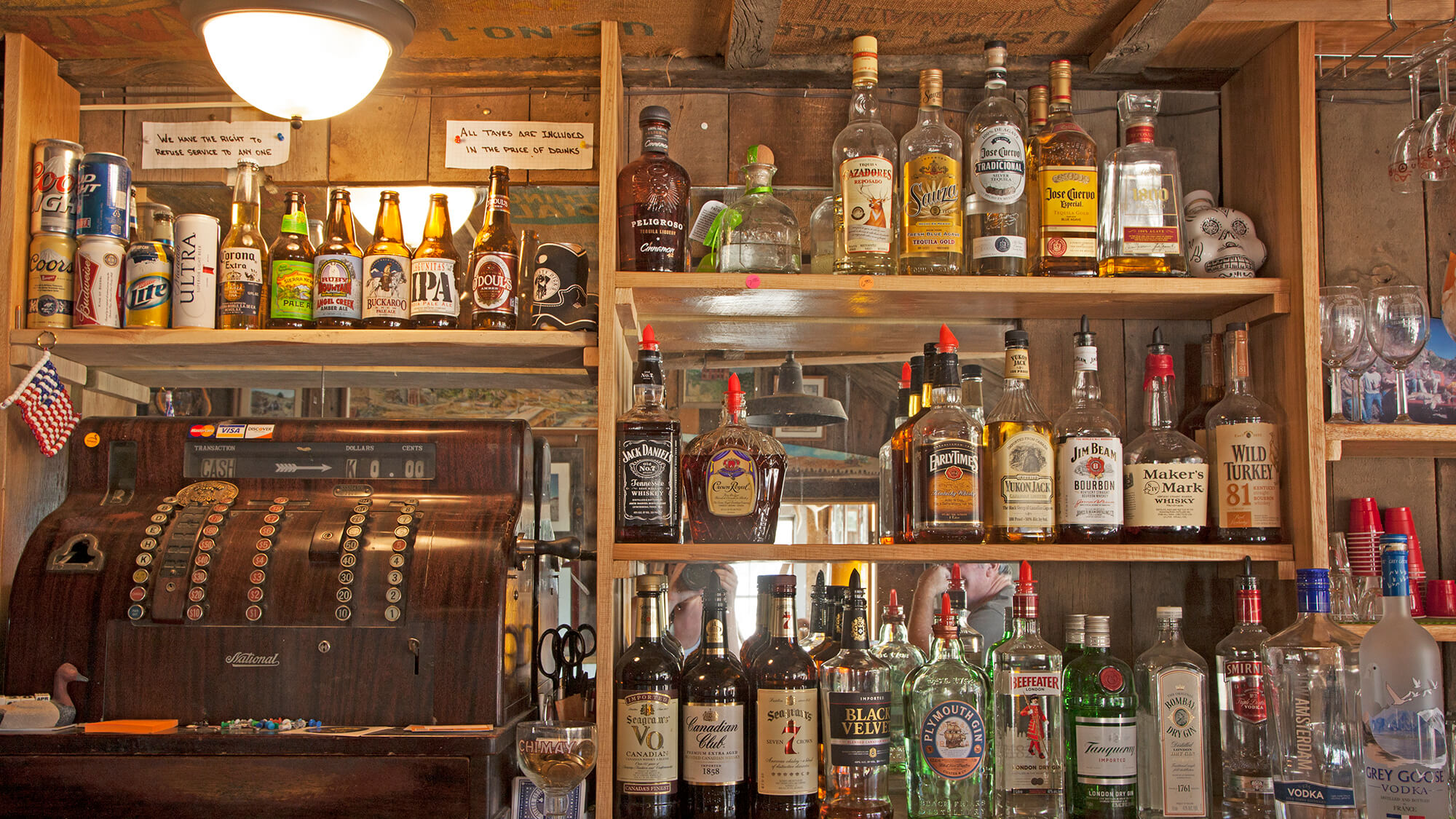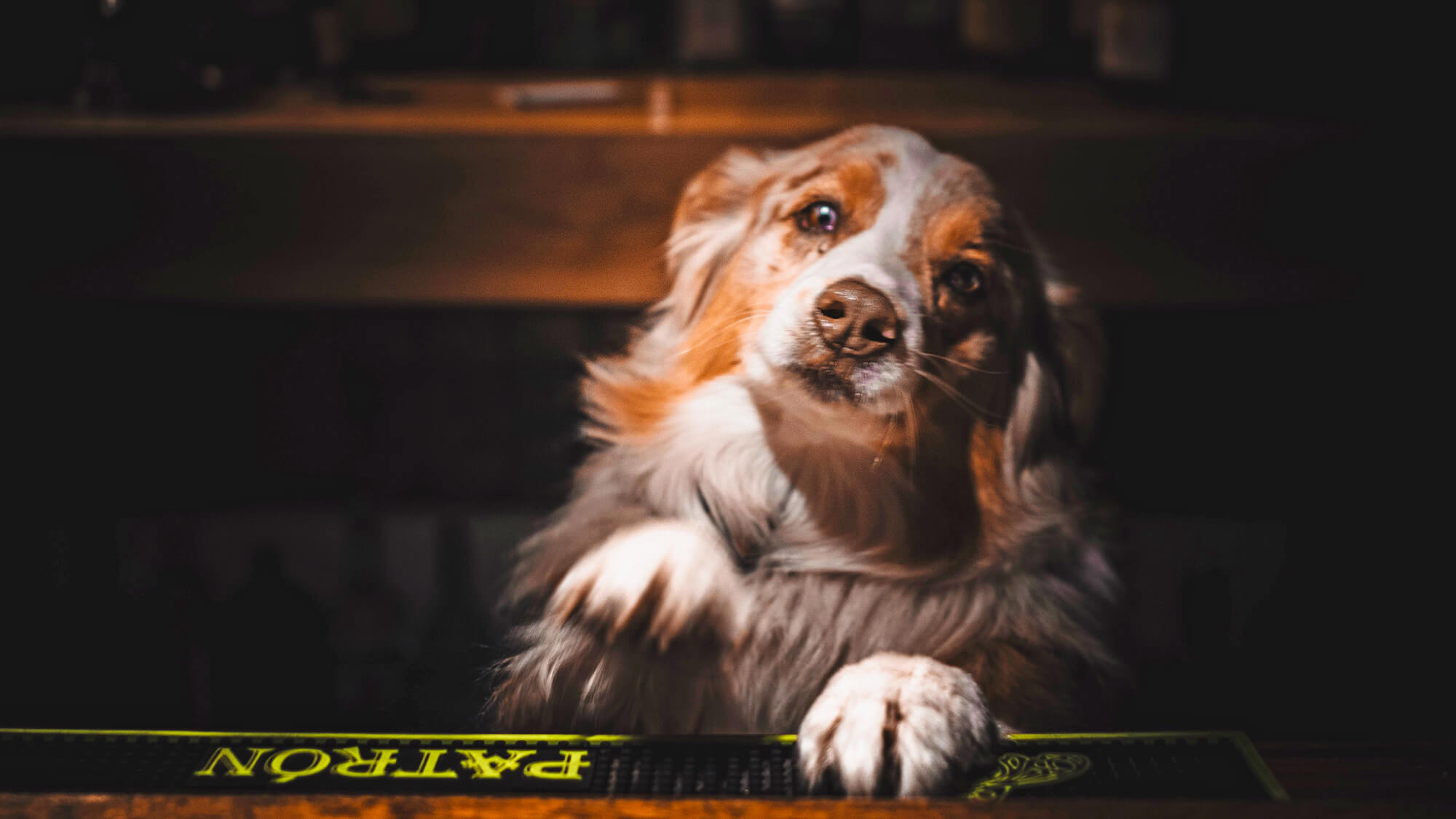 The fact that it's a multi-hour drive, no matter your approach is another caliber of achievement in itself, and then you're confronted with some of the state's best ghost town ruins to boot. Miner cabins, the glorious Belmont Courthouse [ask for a tour, it's well worth your time] and 100-foot chimneys from milling ruins used as airplane target practice in the 1940s are just a few drool worthy finds in Belmont. And then, there's Dirty Dicks… The type of place where sure, everyone inside might stop what they're doing and give you the once-over when you step through that threshold. Worry not: they're just as friendly as all get out, and will be begging to hear of your Nevada backroads travels that bottle top pops. And if you're in luck, Cutty the resident bar dog might even make a guest bartender appearance just for you.
WHAT YOU'RE SIPPIN' ON: Coors Original—Banquet in a Bottle
DISTANCE FROM RENO: 272 miles, 4.5 hour travel time
MOST ACCESSIBLE SEASON: Whether you're posted up next to that wood burning stove in the winter months, or enjoying a beer on the rocking chair's out front, any dang day of the year is a good time to visit Dirty Dicks. If traveling during the winter, be sure to call ahead and make sure they'll be open… nothing soils a much anticipated backroad barley pop than a closed sign out front!
12. Bruno's Country Club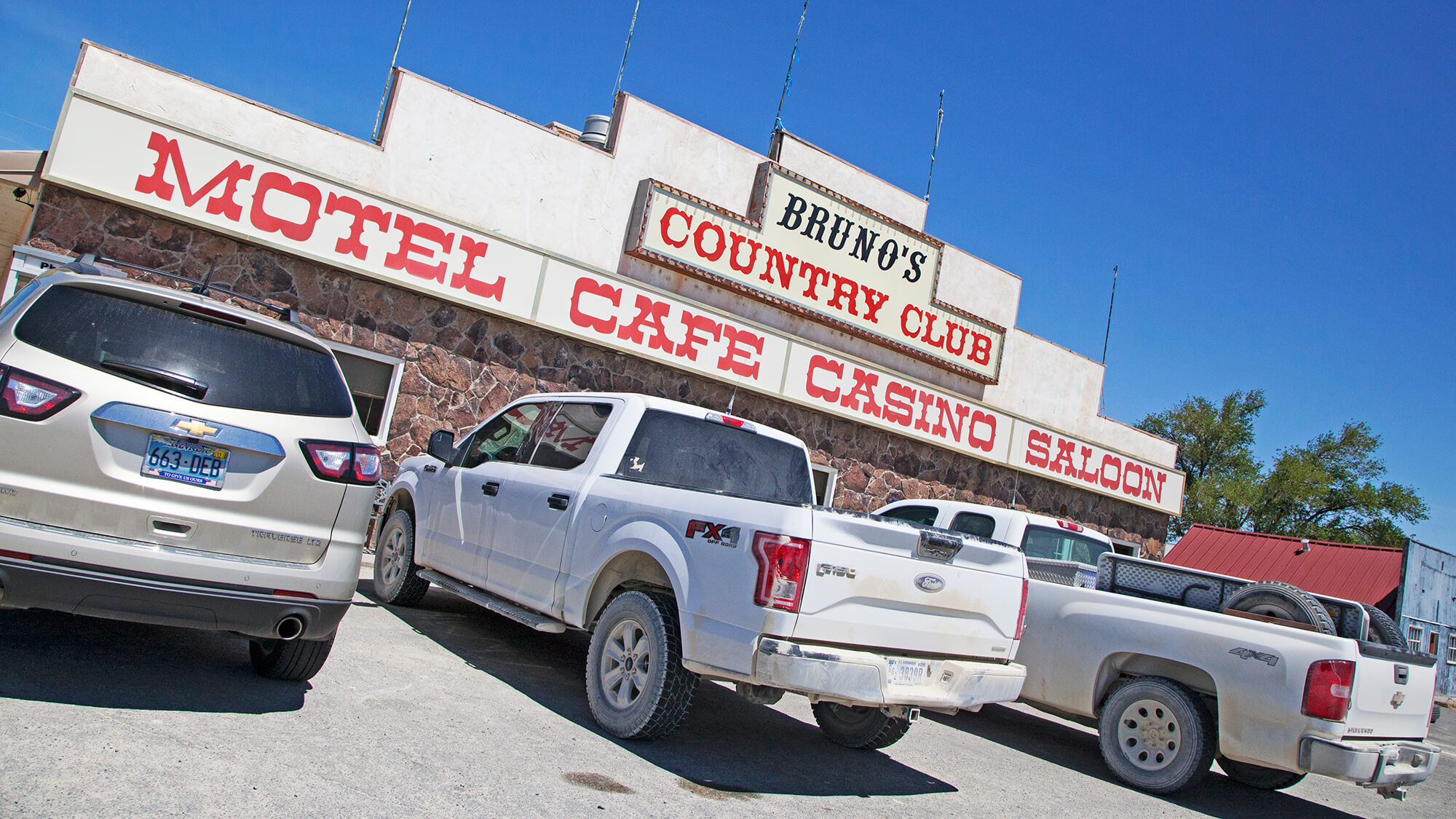 Just as crucial as backcountry bars are to properly traveling Nevada, where would we be if we didn't have an unofficial state drink to lean on? I'm talking about the legendary Picon Punch, friends, and there's no better place to enjoy one than Bruno's… right on the outskirts of the famed Black Rock Desert. The French and Spanish Basques have a long, super compelling history in the American West—especially in the SIlver State—and you can still experience feel its impact today. Basques originally came to the U.S. chasing their American Dream, working as sheepherders along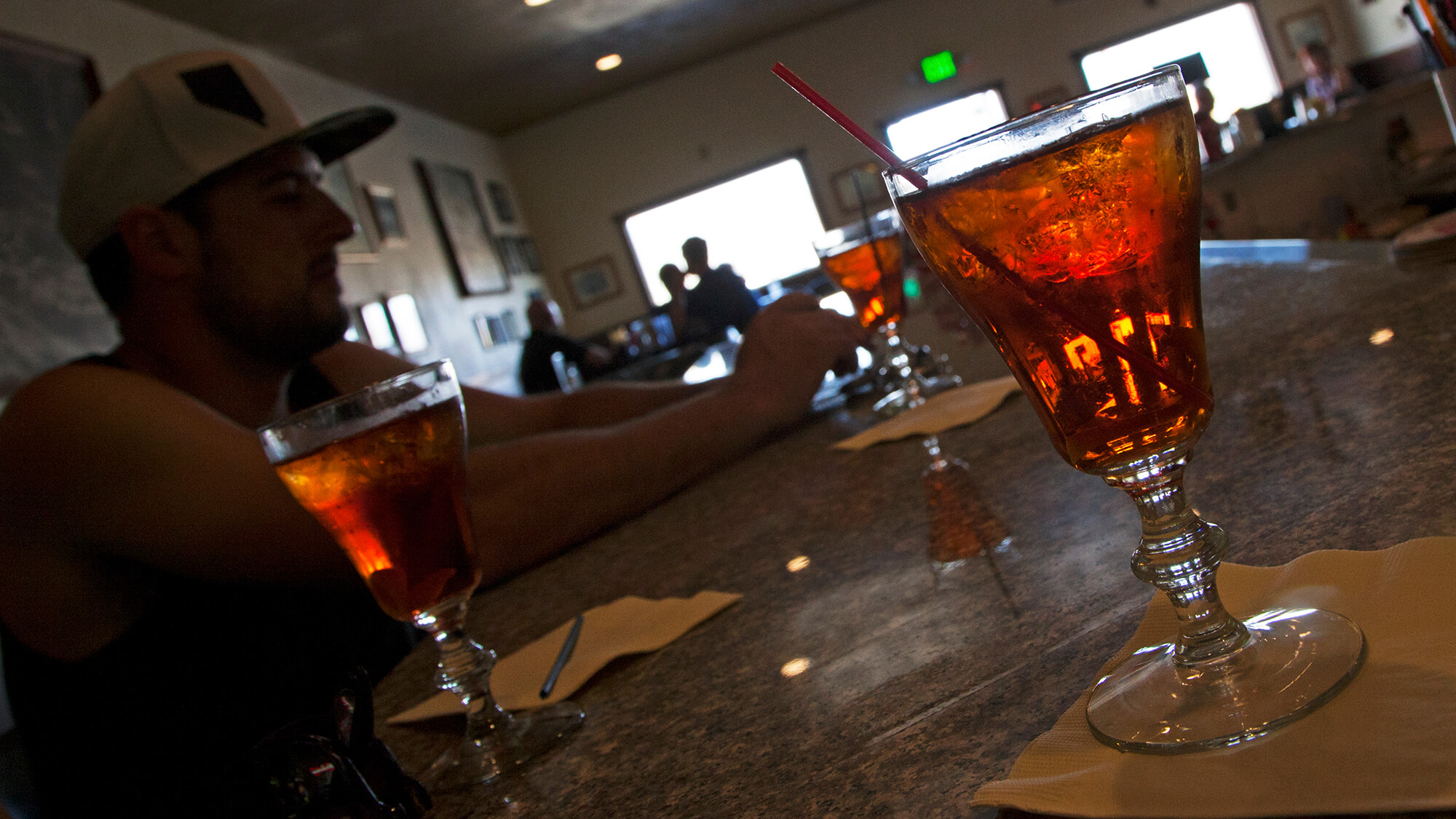 the Sierra and Rockies. Most were young bachelors who, when they came to town for supplies or took a breather in between herding sheep for months at a time, would live and dine communally at overland hotels. The bonus? Many of them are still in operation throughout the state, like The Martin, Star Hotel or J.T. Basque. Besides gargantuan portions of family-style dining, you can bet your bottom dollar you'll be guzzling the Basque's signature drink, too… where "one is not enough, but three is too many." The reason behind that motto? Well, they're pretty much made of straight liquor, just what the doctor ordered to put a little hair on your chest [or maybe just help you digest a colossal meal or two].
Most bars and restaurants slinging Picons claim their way is the best—whether that's from being stirred an odd number of times, rimming the glass with a lemon, or loading a specific number of ice cubes in the glass—but what it comes down to is that picon liqueur that has no match. You can order a Picon Punch in most bars in Nevada, but there's something about these concoctions that just taste better in a place with a little Basque flare. Bruno's, my friends, certainly doesn't disappoint, especially after working up a powerful thirst on that otherworldly playa.
WHAT YOU'RE SIPPIN' ON: Picon Punch
DISTANCE FROM RENO: 107 miles, 2 hour travel time
MOST ACCESSIBLE SEASON: If you want to access the playa [which you definitely should] fall is an ideal time, right after Burning Man wraps. Winter months make the dry lake bed impassible, and summer is super duper hot. Fall is your prime time season for a jaunt to Bruno's. Hungry, too? Try the homemade ravioli..another resident specialty.
13. Overland Saloon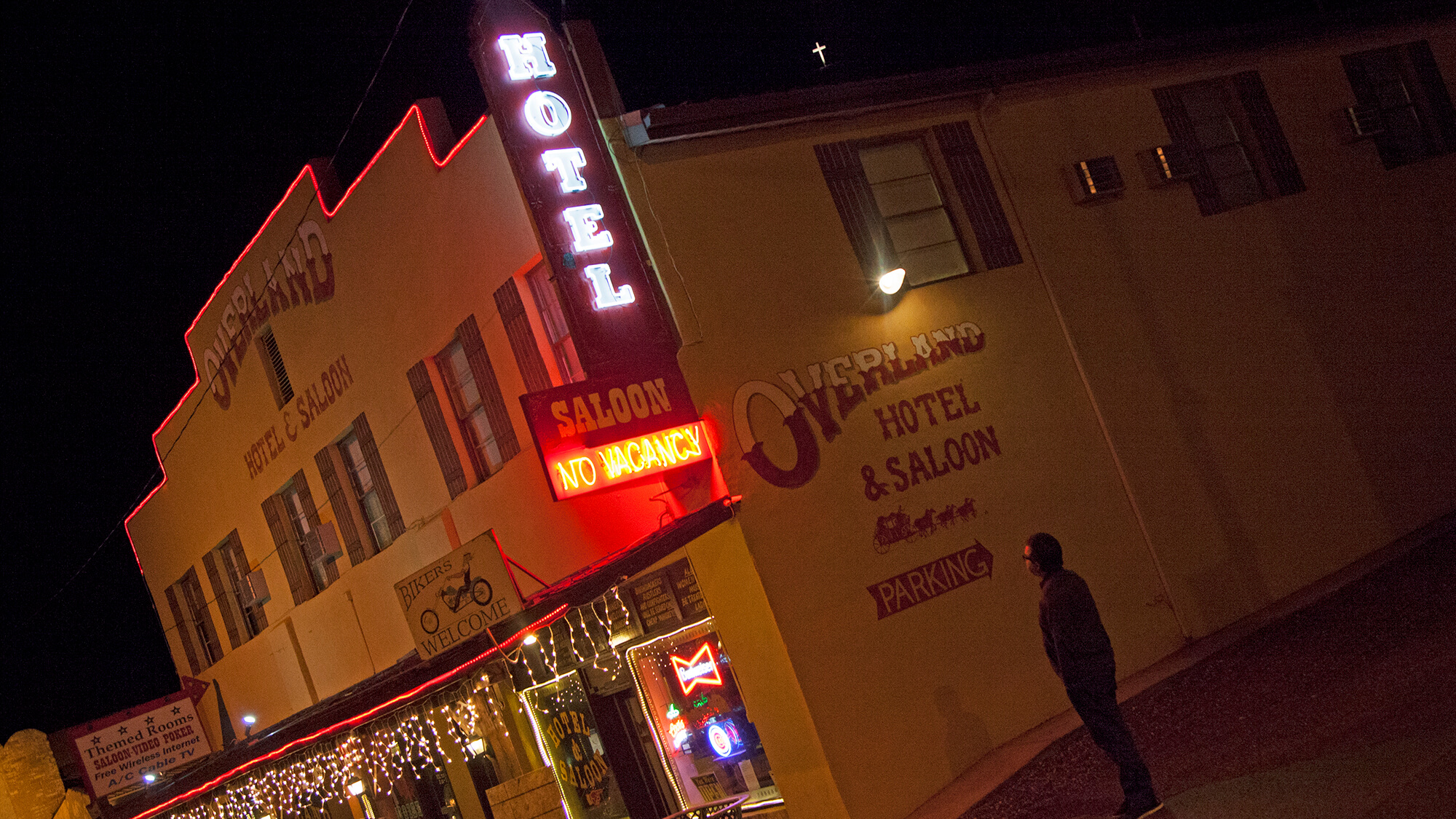 Anyone up for some paranormal activity with their nightcap? Head for Pioche's Overland Hotel & Saloon… a place known for its spirits and I'm not just talking about the booze. Pioche was once one of the wildest towns in the West… more rambunctious than more reputable places like Dodge City or Tombstone. While those places were depicted as the benchmark for lawlessness, Pioche soared past it tout suite, entombing 70 people in the now-famous Boot HIll Cemetery before one bit the bullet from natural causes. With some seriously rowdy history, you can bet there is some paranormal activity in Pioche… at least enough to catch the attention of ghost hunting shows like Ghost Adventures. Many employees have claimed to have had a ghostly encounter, mostly in the upstairs hotel, but the saloon is a good way to back ease into the whole situation. If you're not into an encounter with Casper, worry not. Ask for an "activity free" room and they'll accommodate you, orrrrr hang with Pioche's best downstairs in the gorgeous saloon.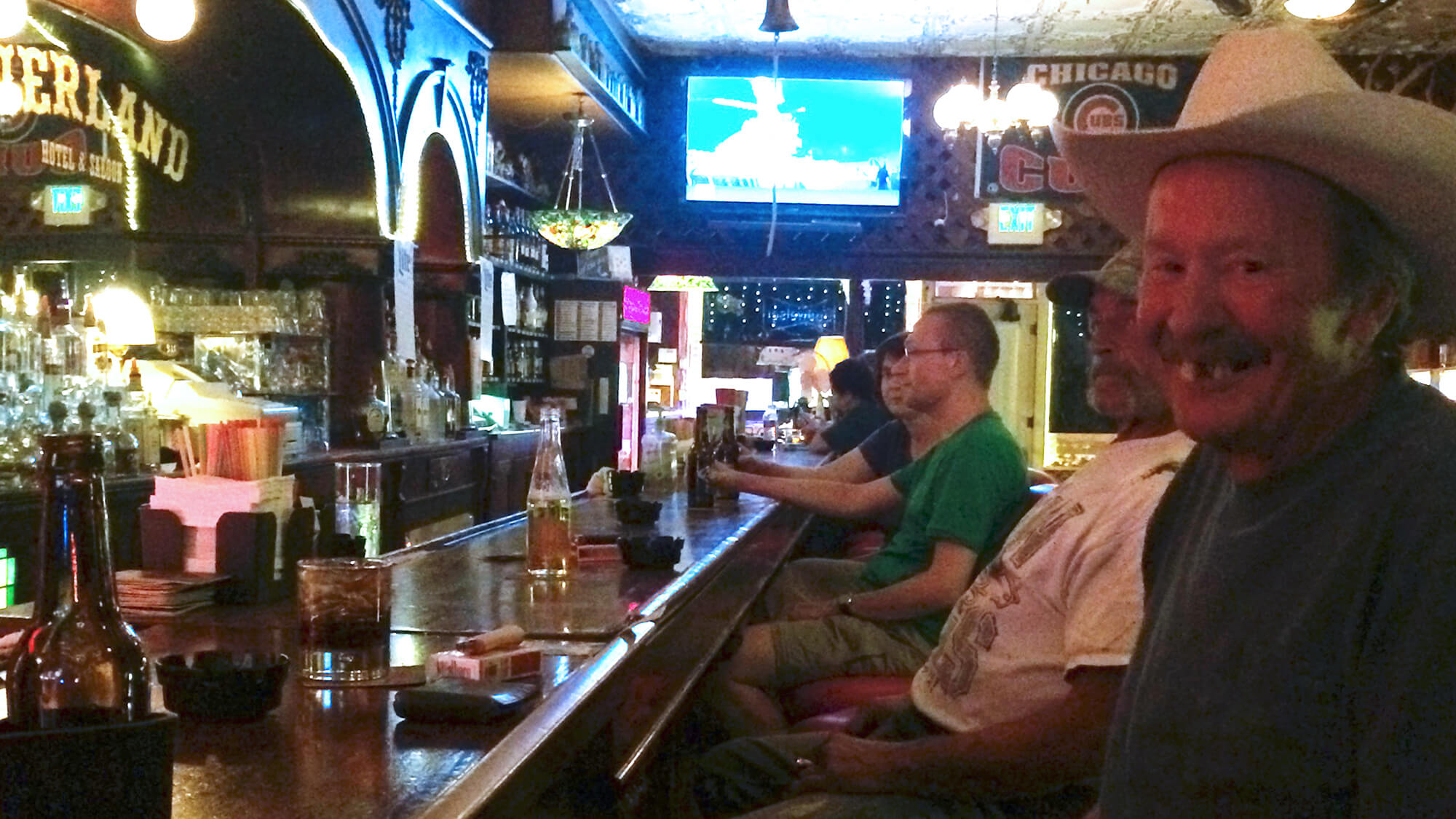 Equipped with an original Brunswick bar counter, employees and locals alike will have no problem spinnin' a yarn about their experiences with the other side. Grab a double Jack Daniels on the rocks with a Bud back [because what's more fitting than American-made whiskey and beer in a community that thrived on Wild West tendencies] and prepare to have your ear bent back by some devotedly friendly natives for some of the best backcountry bar hopping you've ever been privy to.
WHAT YOU'RE SIPPIN' ON: Jack on the rocks with a Bud back
DISTANCE FROM VEGAS: 176 miles, 3ish hour travel time
MOST ACCESSIBLE SEASON: Pioche's jaw-dropping history can be enjoyed any time of year, even in the dead of winter.
14. Eureka Owl Club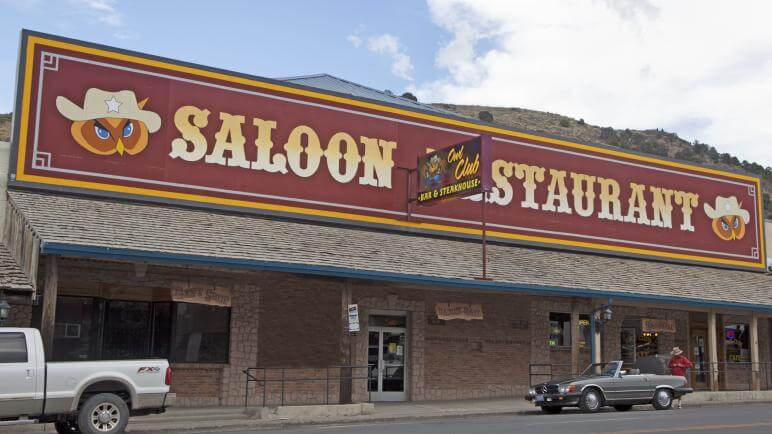 If you're making your way through Nevada, it doesn't take rocket surgery to figure out there are a whole heck of a lot of Owl Clubs. You ain't just road weary. Each one offers a bit of a different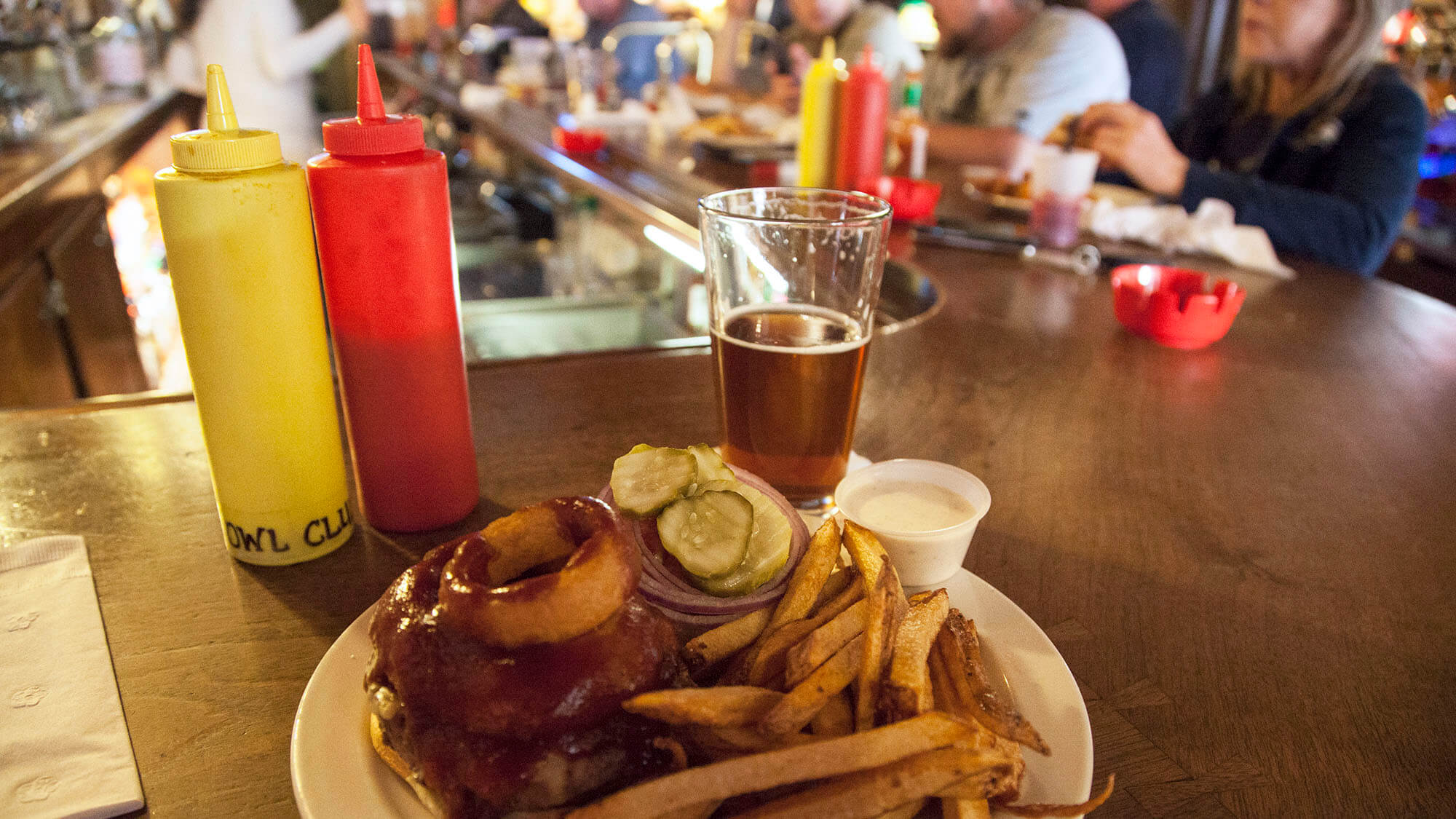 experience, and Eureka's Owl Club is tough to beat. Nestled in the core of Eureka, the bar and restaurant is a great stopping point when traveling along the Loneliest Road in America [snag your passport stamp in just about every single open business in town]. It's safe to say you haven't truly experienced Highway 50 unless you've patronized the Owl. They make a mean biscuits and gravy, as well as a wickedly satisfying meatloaf and mashed potatoes, but the unsung hero here is the Western Bacon Burger and tater tots… complimented by a frothy Ruby Mountain Amber Ale of course. The place is and has been family owned and operated for decades and you can feel it. It's the type of place where you can roll in alone and feel like you just dropped into a longtime friend's place. That, and every dang thing you order feels like it's made with a little Eureka love. Whether it's a stack of sourdough flapjacks and a Bloody Mary, or a burger and beer, make sure you whittle out some time for a meal [and convo] that's sure to hit all the right spots.
WHAT YOU'RE SIPPIN' ON: Ruby Mountain Amber Ale
DISTANCE FROM RENO: 242 miles, 4 hour travel time
MOST ACCESSIBLE SEASON: Any time of year is good for Eureka. The reason? It's front and center on the Lincoln Highway. The nation's first transcontinental highway, US-50 remains classified as an American Defense Highway, meaning it must always be ploughed and accessible in case emergency strikes. Perfect for round-the-calendar road trippin'!
15. Midas Saloon & Dinner House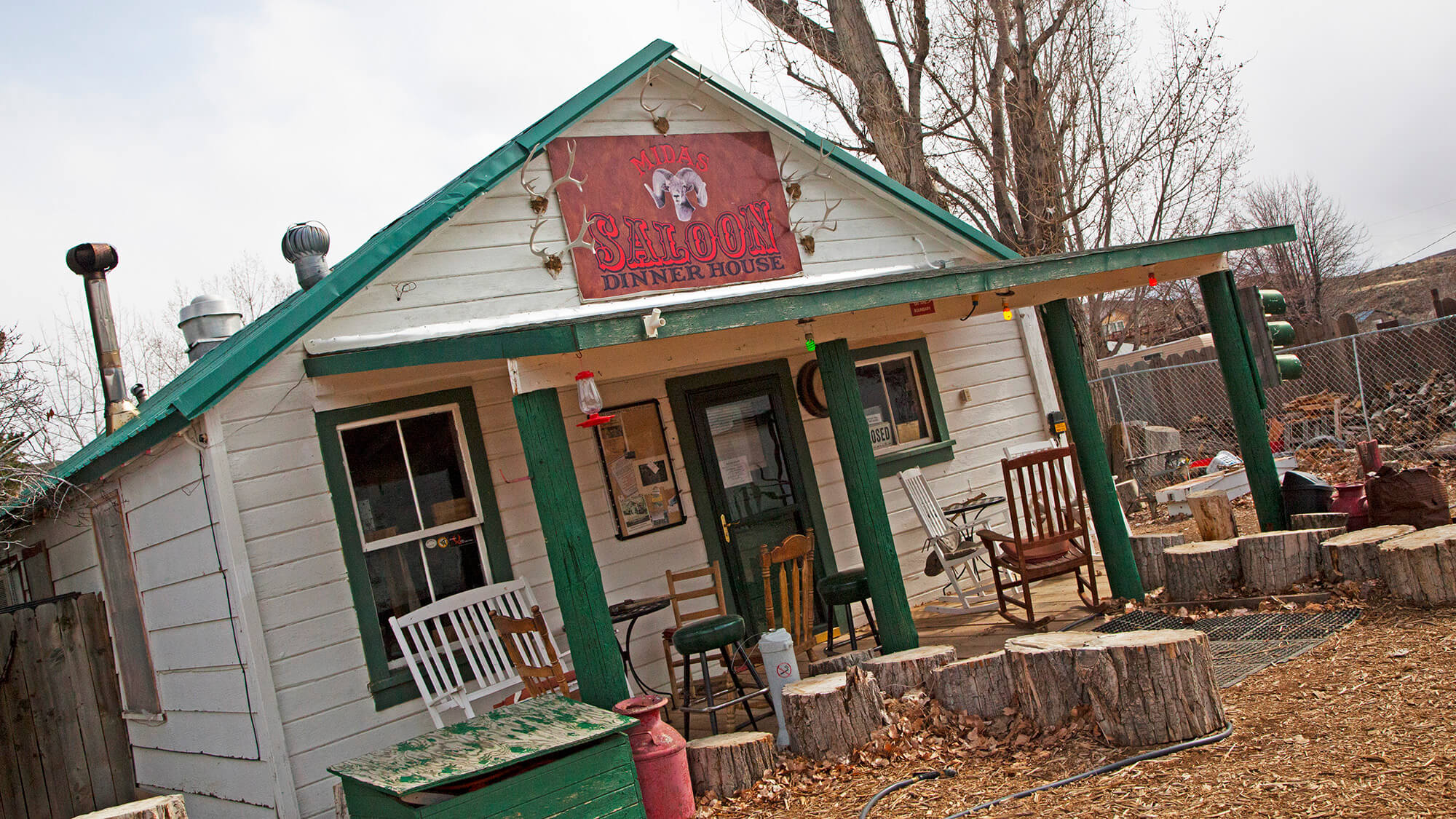 The Silver State definitely has its share of hard-to-reach yet super satisfying locations. Even if you're the most well-traveled weekender chasing your next bout of #dirtroadtherapy, I'd be willing to stake a bet that you haven't checked out the north-central chunk of Nevada. A saucy fishing trip may have lured you into Jarbidge, and maybe you've even hit up the alluringly remote High Rock Canyon after a week at Burning Man, if you've really earned your Nevada stripes… but not north central. Maybe you just haven't had any good reasons to head up there. That is, until now. Your newfound, handy-dandy new excuse? Aside from checking out a whole new pocket of ghost towns, the star of this slice of the Silver State is none other than the Midas Saloon. A wave of satisfaction will likely hit you when you cross paths with a sign I know IIIIIIII personally light up when seeing: "MINIMAL MAINTENANCE, TRAVEL AT YOUR OWN RISK." If that doesn't do it, the impressively preserved relics on the main drag will.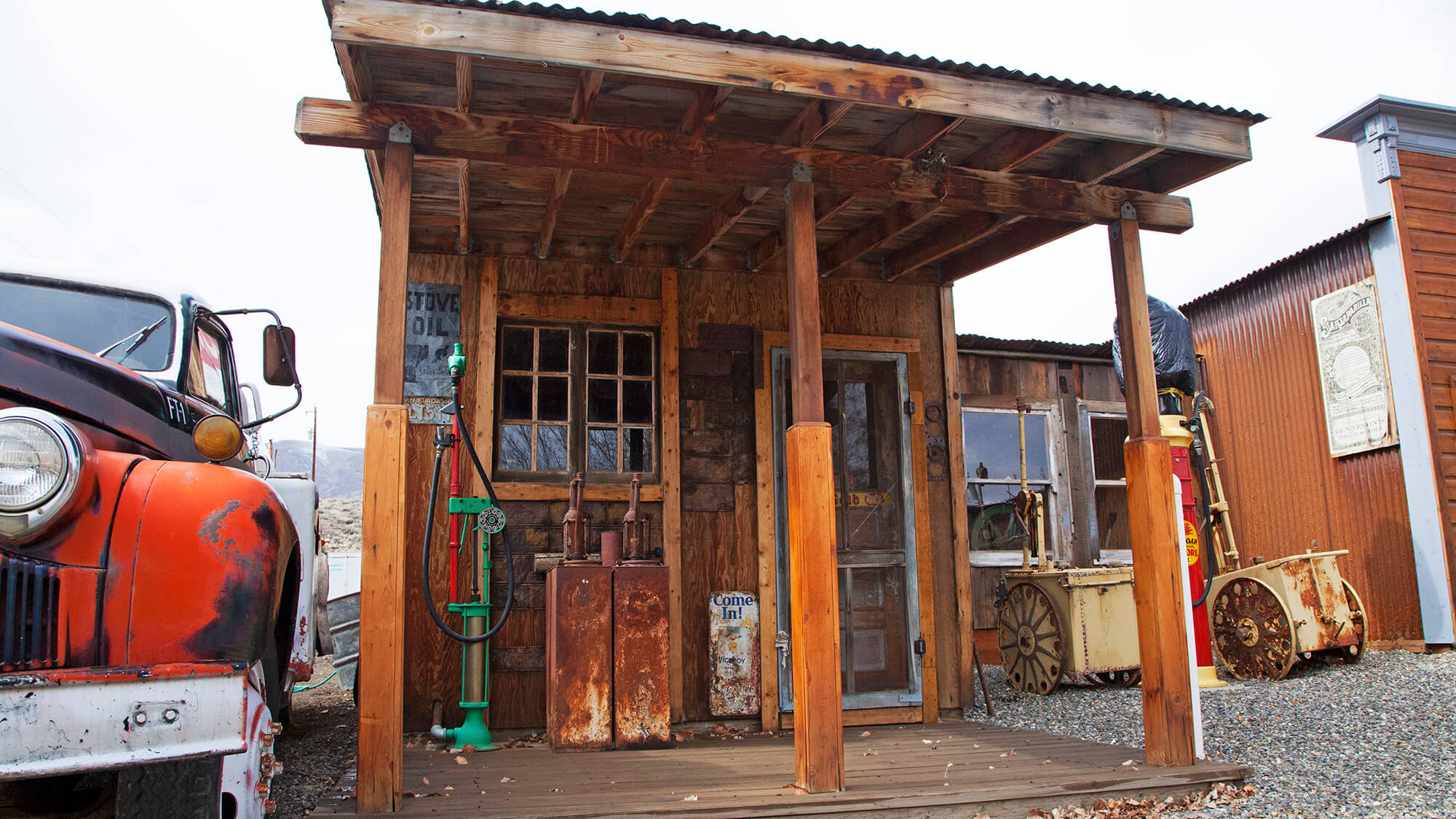 Even during its gold rush, Midas never exceeded 5,000 residents. It was always small, and continues to be with only a dozen or so residents. Somehow, it's never been completely abandoned, and you'll start to get a feel for exactly why the second you roll into town. The route from Golconda to Midas follows an old stagecoach route (yassssss) and if you stay on this hot route, will deliver you to another gem: Tuscarora. But, you'd be a fool to pass up Midas for at least a few minutes spent ponied up to the bar. Along with a whiskey-based drink [think whiskey sour at this mighty fine establishment] plan on swinging through on a weekend so you can snag a steak, too.
WHAT YOU'RE SIPPIN' ON: Whiskey Anything
DISTANCE FROM RENO: 226 miles, 3.5 hour travel time
MOST ACCESSIBLE SEASON: Summer, definitely summer. Roads will definitely be a bit sketchy [and probably downright impassible] during wintertime.
16. Goodsprings' Pioneer Saloon 
The oldest bar in southern Nevada, evidence of Clark Gable's cigars permanently burned into the bar counter, the last known Sears & Roebuck original stamped tin building in existence, a bullet holed walls from a card game gone awry, a few colorful paranormal experiences, Food Network-worthy fare, and a vibe that attracts everyone from classic car collectors to full-on biker gangs? There IS no other place that could handle this kind of swag other than the Official Pioneer Saloon. So yessiree Bob, I did save the best for last. If your Vegas trip includes one beyond-Strip outing—and one only—you best believe me when I say it: find a way of getting to the Pioneer Saloon. I don't care if you have to sell an organ to swindle a car rental or Uber ride… the place is quite simply worth it. Hundreds of movies have been filmed here and it's easy to see why: it's completely perfect. The best part about it? None of it has been curated; it's just there, begging to be enjoyed by you.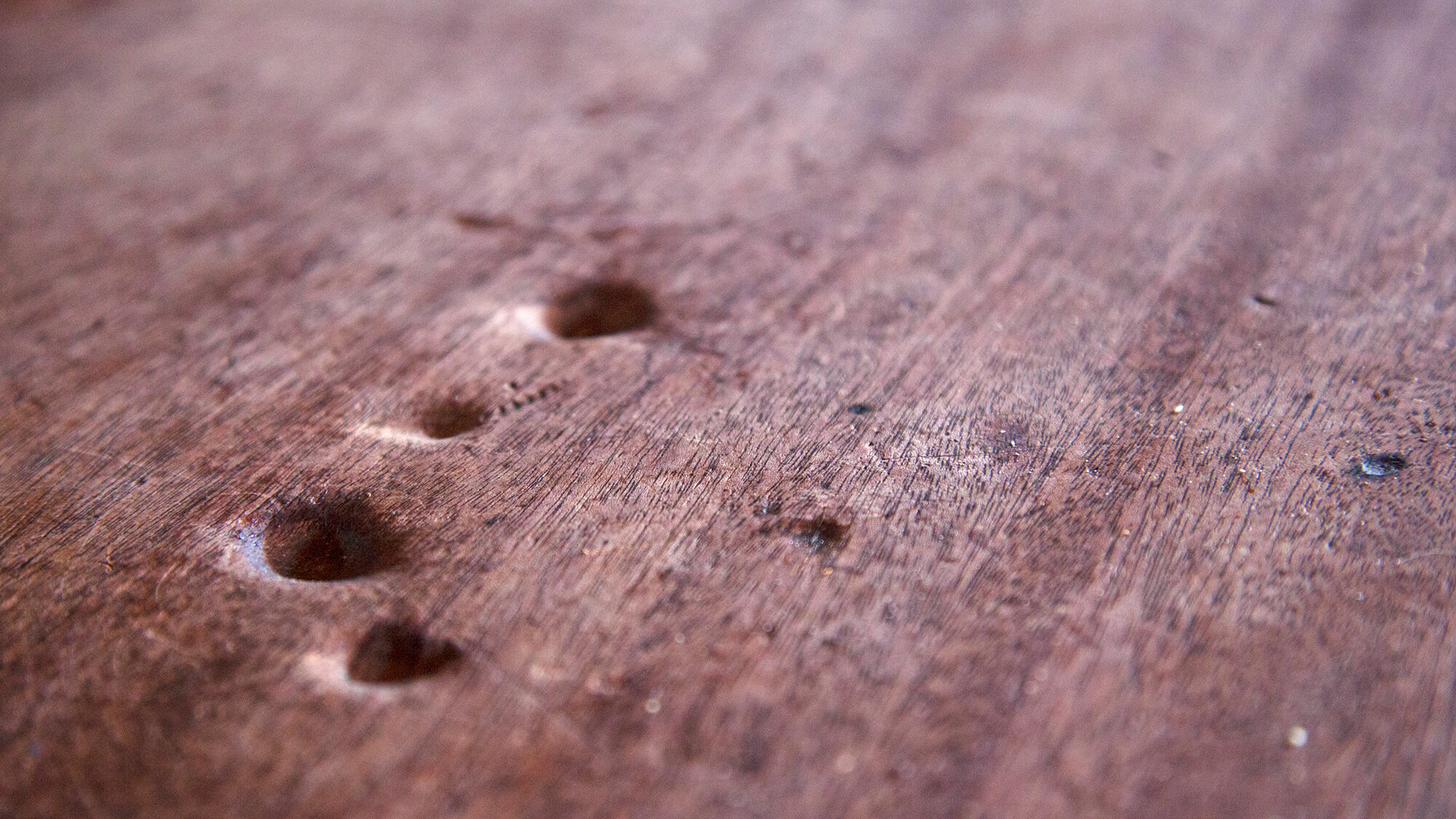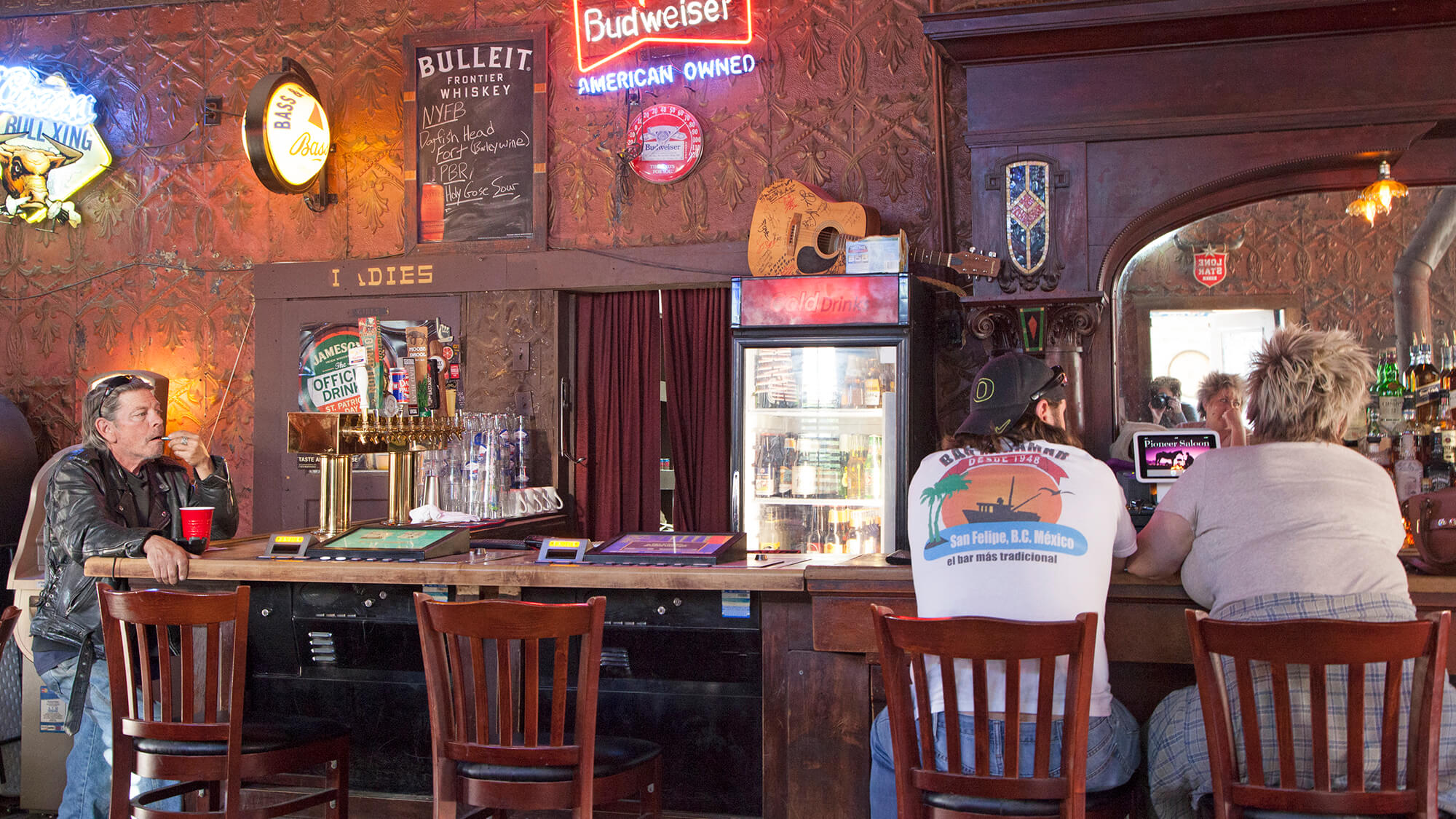 For a fully historical rundown, ask. All of the bartenders essentially double as tour guides, and will give you a full walking tour of the property and the 104 years of history here if you just go ahead and ask about it. But, once you get back to your bar stool, you've gotta get your hands on their signature Kentucky Mule. This Bulleit Bourbon-based drink comes in a swanky copper mug and that ginger beer and lime combo makes for an ideal refreshment for southern Nevada's "always sweltering" temps. If that's not your style, ask about their exhaustive selection of bourbons and whiskeys… it's profound. Then order up a Ghost Burger, let Tom do the talkin' and let the magic of the Goodsprings Pioneer Saloon do the heavy lifting… a combo that I assure will end up delivering one of those Nevada afternoons you can't plan out, but instead just let happen.
WHAT YOU'RE SIPPIN' ON: Kentucky Mule
DISTANCE FROM VEGAS: 38 miles, 45 minute travel time
MOST ACCESSIBLE SEASON: Any dang time of year
Editor's Note: A small portion of this story was featured in a past edition of edible Reno-Tahoe. For more tips on stellar food and drink finds in the Silver State, get your hands on a subscription here. You'll be glad you did.
Get Inspired
Related Stories