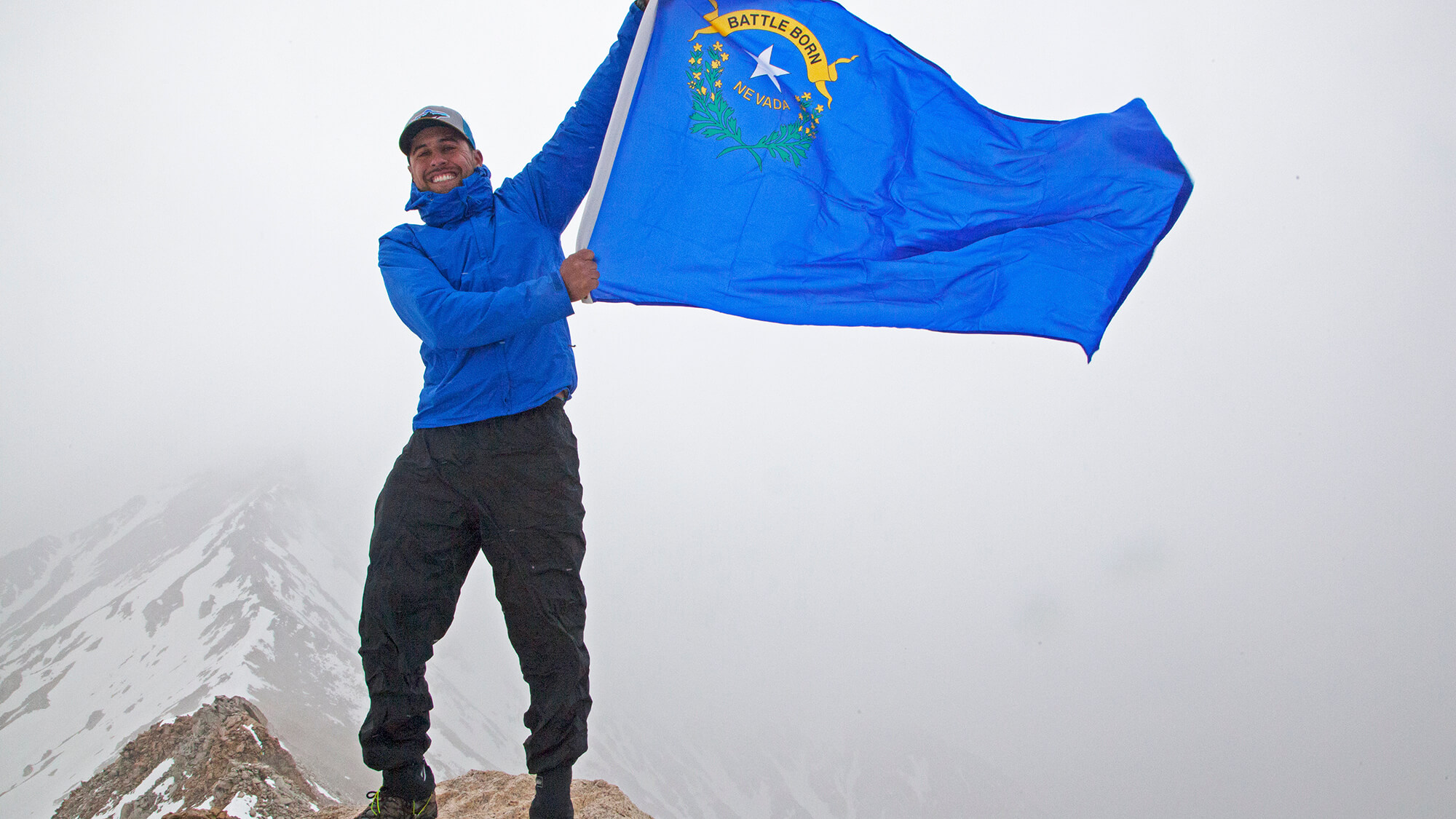 PLAYING YOUR CARDS RIGHT IN THE MOST MOUNTAINOUS STATE IN THE LOWER 48
They say that the best things in life are free… and if that's the case, there are more than 320 of freebies begging to be snatched up in Nevada. To me, there is hardly anything under the sun that knocks standing on the tippy top of a mountain out of the running, and I have a sneaky suspicion that I might not be alone in this revelation. But face it! There are more than 320 named mountain ranges and more than 172 summits in the Silver State, which makes little ol' Nevada is the most mountainous state in the lower 48, babes. Maybe the best part about it is the fact that a handful of Nevada's mountains are considered to be ultra prominent peaks, which means the mountain pretty drastically juts out of the earth and is super tall compared to the surrounding valley floors, and is a mountain summit with a prominence of 4,921 feet or more. There are close to 130 ultra prominent peaks in the United States…Alaska of course has 65, California has nine and Nevada comes in third with eight ultra prominent peaks. If you're after Nevada's five tallest peaks, your goal snatching doesn't have to stop there, guys: three of Nevada's five tallest peaks just so happen to be ultras.
So peak bagging fanatic or not, hop outside your comfort zone and take a gamble that doesn't have anything to do with the casino floor. Bragging that you got to stand on the top of the highest peak in the most mountainous state in the continental U.S. is the type of adventure swag I know we could all get used to. Read on for a rundown of everything you need to know about bagging Nevada's five tallest peaks and get to planning. #NVAdventure
#5: MOUNT CHARLESTON – 11,916'
BEST BRISTLECONES IN THE WEST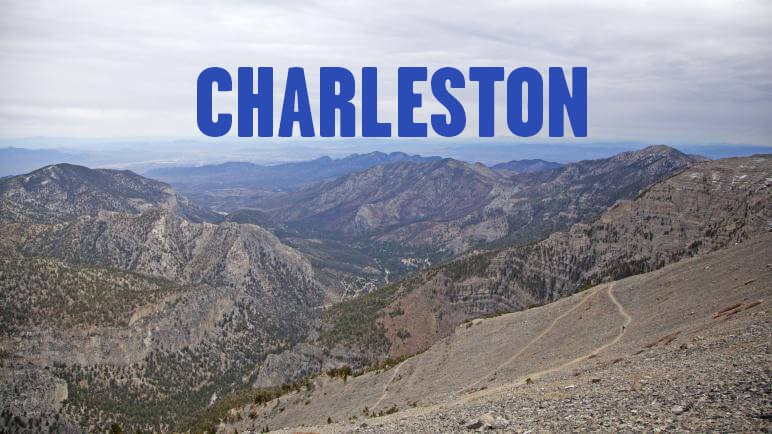 HOW DO I GET HERE? GPS Coordinates: 36.276133, -115.697636
DISTANCE: 17.2 miles round trip
ELEVATION GAIN: The trailhead begins around 4,600', ultimately climbing to 11,916'. Total elevation gain: 7,316 over the course of around eight miles.
TIME ON TRAIL: A long day, 8 to 12 hours of trail time
DIFFICULTY: Strenuous
BEST SEASON: Fall
ULTRA PROMINENT PEAK? Yep! Actually, Charleston is Nevada's MOST ultra prominent peak, with a hard to believe 8,258 feet of prominence.
NEAREST CITY? North Las Vegas
TRAILHEAD ACCESS: There are a few ways to go about this, but the best [IMHO] is the North Loop Trail, adjacent to the Mary Jane Falls Access. BUT, to make it a little easier, access the Trail Canyon trail, which intersects the North Loop Trail and takes you to the top. There is also a South Loop Trail which is shorter in length but a much more difficult climb, elevation gain wise. Trailhead GPS coordinates: 36.267682, -115.662657.
TRAIL CONDITION: Of the top five peaks, Charleston has the best-defined trail that's easiest overall to use. The trail is so wide that it allows for several people to hike next to each other, versus single file line style. Plus, the trailhead is easy to spot and follow—at no point on the hike will you question which way to go. In general, the best defined trail of Nevada's top five peaks.
WHAT ABOUT PERMITS? Nope. Not required for a day hike, anyway.
WHERE TO STAY: Honestly, what makes Charleston a strenuous hike is the distance. Seventeen miles makes for a long day of hiking, but it IS doable. You could split it in half and camp somewhere along the way, although there are no backpacker-established campsites that I could spot. Your best bet? Retreat on Charleston Peak. It's cushy, right down the road and will get you on the trailhead early in the morning without the Vegas commute interferance.
Everything going on at Charleston is one spectacular daylong experience. While the other peaks are more of a fierce elevation gain over a short distance, Charlie has a looooong overall climb, but the intensity is more spread out distance wise than the others. Be prepared to knock out a pretty huge chunk of elevation gain in the first couple miles—trust me, it will feel like you're going straight up, and you are. Once Trail Canyon hooks up with the North Canyon Trail it's easy peasy for 6ish miles until the final series of switchbacks to the tippy top.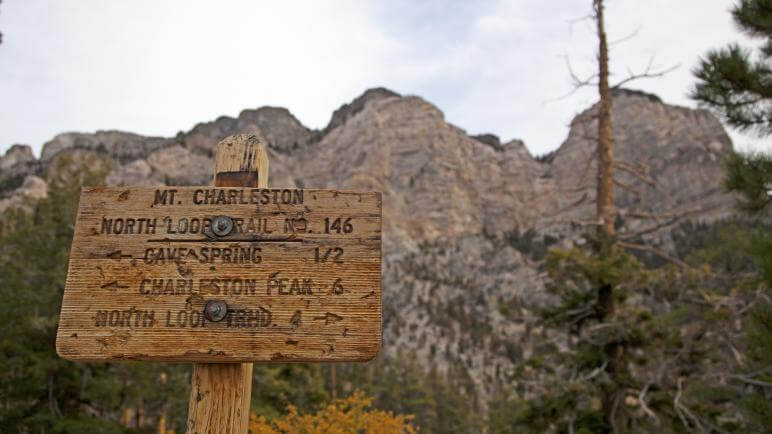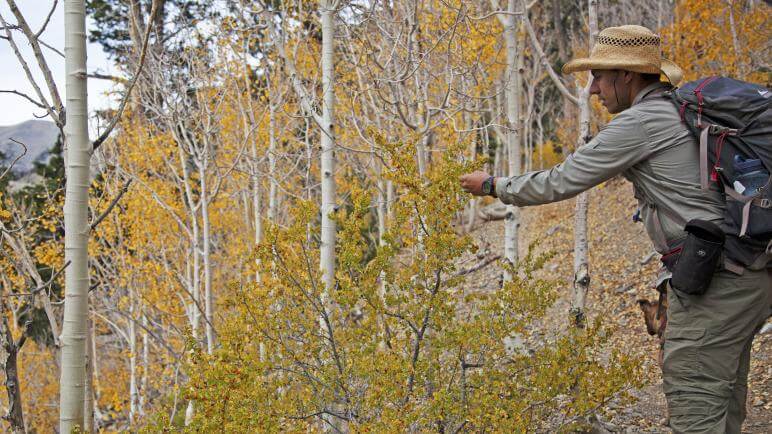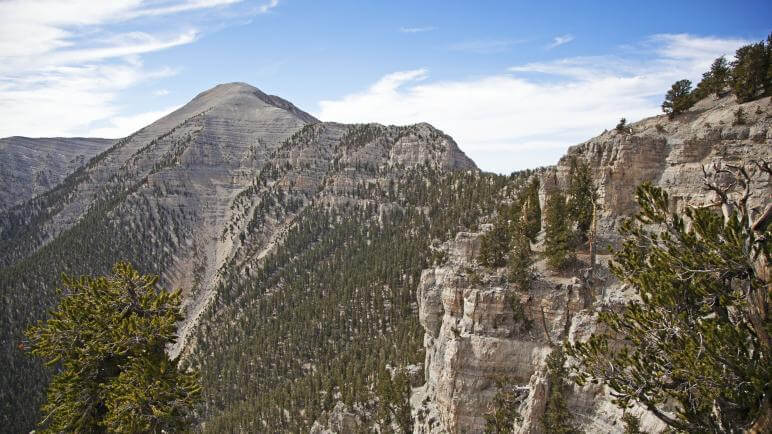 This is the most prominent mountain in Nevada, and just so happens to be right outside the internationally iconic Las Vegas Strip. It's a totally perfect way to escape the scorching summer heat, with temps at a solid 30 degrees cooler than the valley floors below. You're in a killer position once you've summited: you are on the back side of Red Rock Canyon, can see Pahrump in one direction, you've got a perfect view of Mummy Mountain (keep an eye out for an actual outline of a sarchophogus and you'll know you've spotted it), and can zero in on the glimmering lights of the Strip. There's a funky little man made shelter at the summit where you can unwind and take in the sights, and the summit register is pretty dang special too.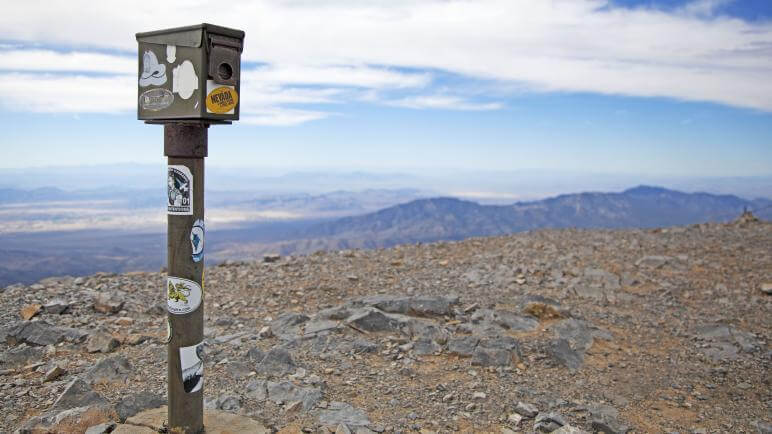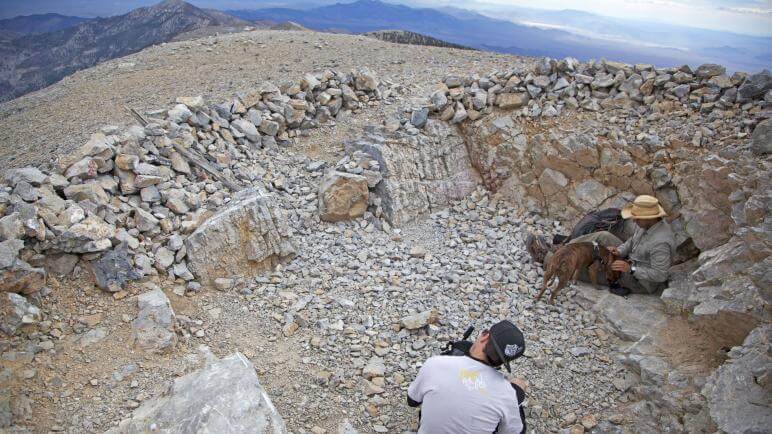 Charlie is in the heart of the truly spectacular Spring Mountains and home to an unbelievable 27ish endemic species. Right?! That means that Charlie is the only place in the world that a whole handful of plants and insects are found and native to. For me, the biggest revelation was this: though you might have Wheeler pegged as the most primo Bristlecone experience, a visit to Charlie will prove you to be dead wrong. It was totally impossible to NOT spot these ancient beauties on Charlie, they were just about everywhere as you make your way to the summit. The reason? There are over 18,000 acres of bristlecone pines in this wilderness area, which is the most extensive stand of these ancient beauties in the entire Intermountain West.
#4: MOUNT JEFFERSON – 11,949'
COOLEST DOSE OF HISTORY ALL AROUND IMPRESSIVE BIODIVERSITY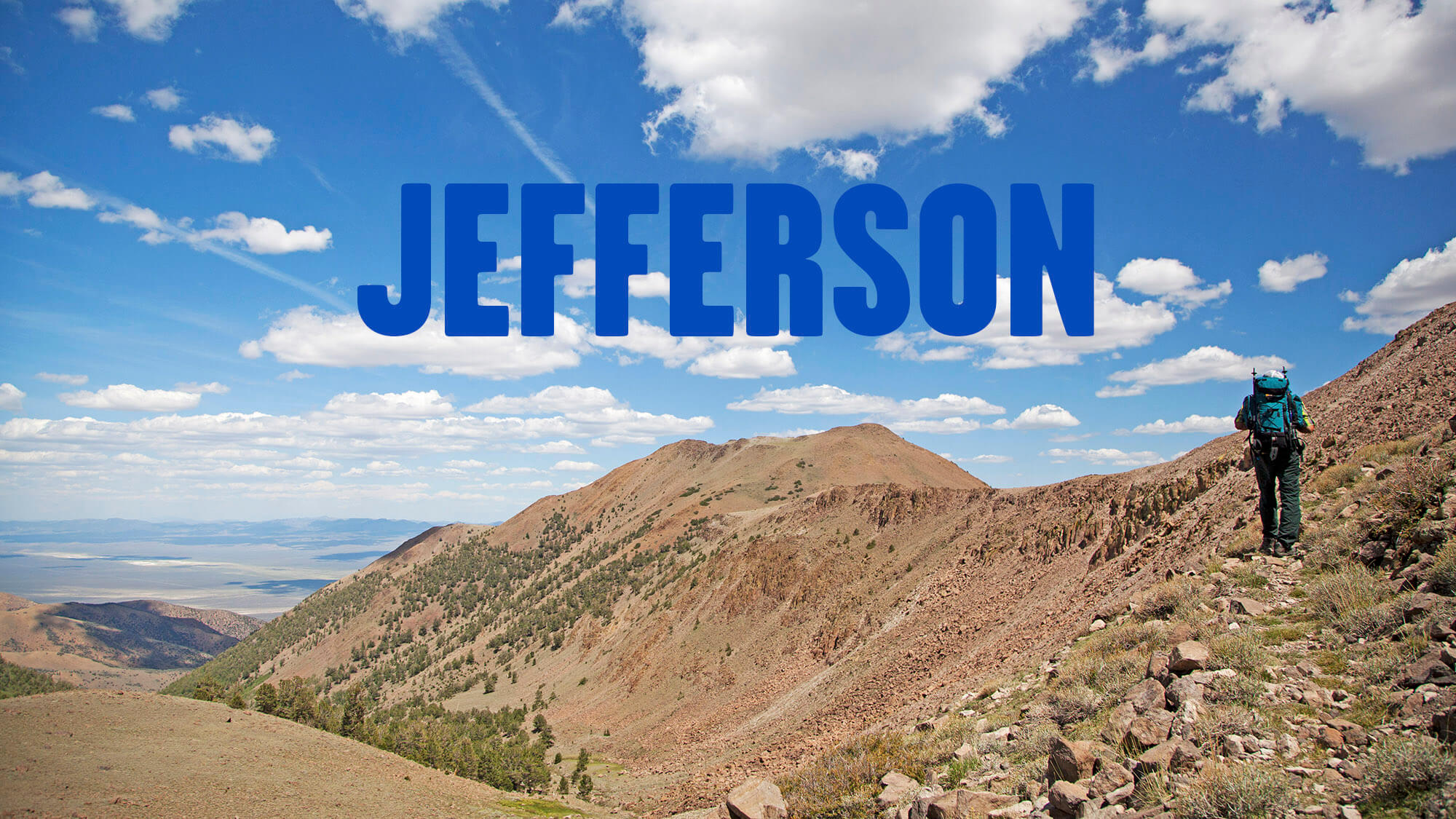 HOW DO I GET HERE? GPS Coordinates: 38.756235, -116.926607
DISTANCE: 11.6 miles round trip
ELEVATION GAIN: The trailhead begins around 7,525', ultimately climbing to 11,949'. Total elevation gain: 4,424 over the course of around six miles.
TIME ON TRAIL: A solid 5-7 hours of trail time
DIFFICULTY: Strenuous
BEST SEASON: Summer or Fall
ULTRA PROMINENT PEAK? Yes indeedy it is! Jefferson is Nevada's 3rd most ultra prominent peak, with 5,871' of prominence.
NEAREST CITY? Austin or Tonopah
TRAILHEAD ACCESS: The only way to directly access all three Jefferson peaks is via Pine Creek in Monitor Valley. To get here, drop south off of Highway 50 and take Belmont Road. This will go right by the geographic center of Nevada (photo op!) and take 80ish miles of dirt road driving to reach the Pine Creek Campground. Travel Nevada PRO TIP: Plan on camping at Pine Creek the night before you summit—there is basically no other way to go about this, in terms of efficiency. Jefferson is so remote that you'll lose too much time commuting to the trailhead, so plan on staking out the night before for an early morning departure.
TRAIL CONDITION: This one is rough, guys. Out of the top five peaks, Jefferson's trail is the most rustic, with little maintenance which makes for a difficult trail to distinguish, let alone follow. Count on crossing about a half dozen creeks at the bottom, debris scattered throughout the trail, and an almost non-existent trail to the peak.
WHAT ABOUT PERMITS? Nope. Not required for a day hike, anyway.
WHERE TO STAY: Because Jefferson is so intensely remote and the only way to access the trailhead is by a few hours of dirt road driving, the best way to bag this beast in a day is to set up shop at the Pine Creek Campground in the mouth of the canyon. It's a doable, but is a super long day of hiking. If you're looking to prolong your Jefferson experience, plan on camping at the Sawmill site, which can be found about halfway through your trek right off the trail. Camp on the mountain a night, and reward yourself with a night in the Lady in Red room at the Mizpah—'cause is there a more perfect way to celebrate?!
If you're searching for a side of some face-melting history to go along with a serious recreational feat, Jefferson is where it's at, guys. The region Jefferson sits in is called the Alta Toquima Wilderness and was once pretty densely populated with ancient Shoshone. To the north lies what are considered to be the best examples of pictographs in North America, along with some pretty impressive petroglyphs. Jefferson isn't too far off, as the table near the top is said to be the highest prehistoric American Indian hunting ground in North America. Aside from feeling like you can touch the sky, prehistoric hunting blinds can be seen from the saddle as well.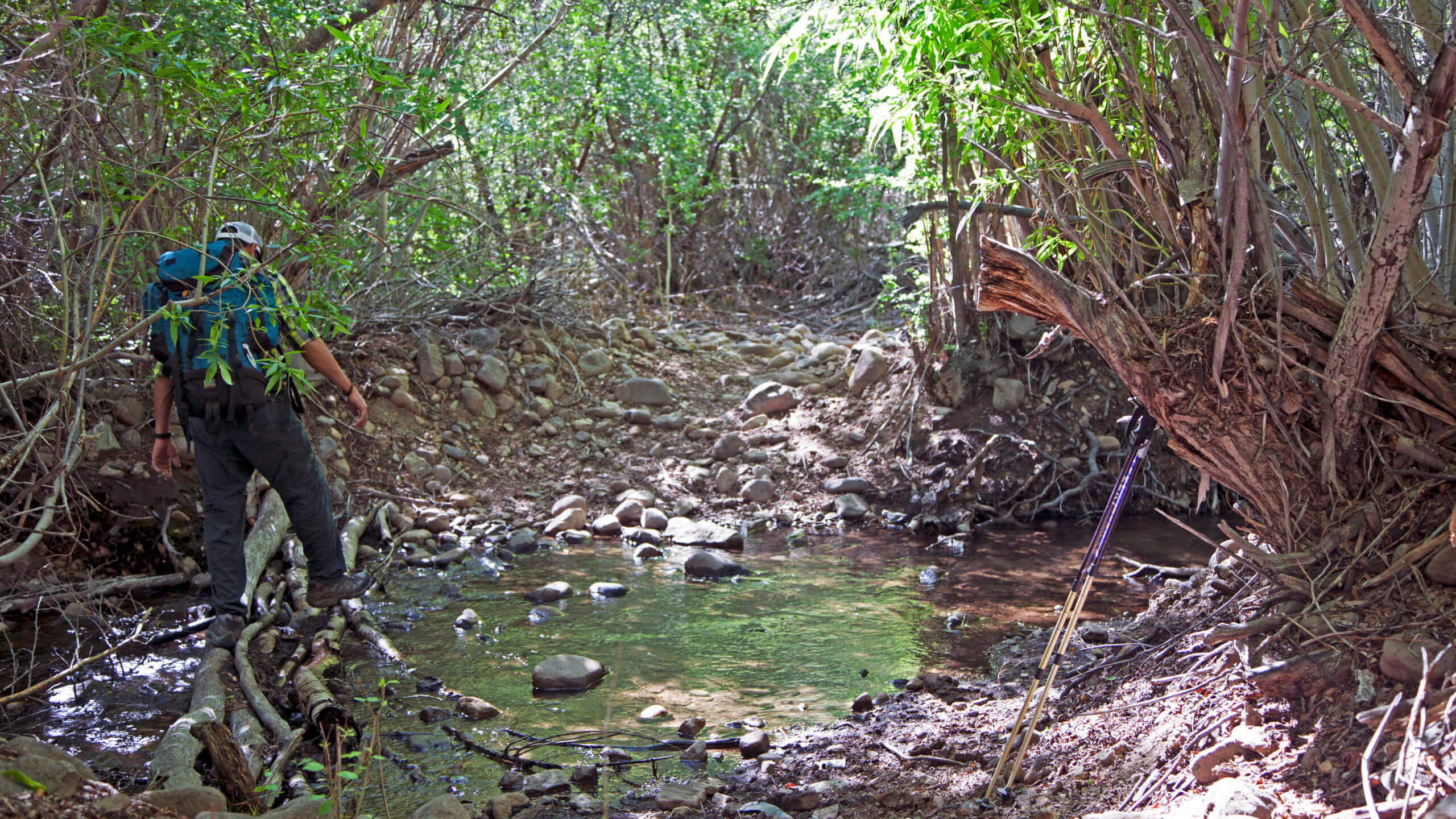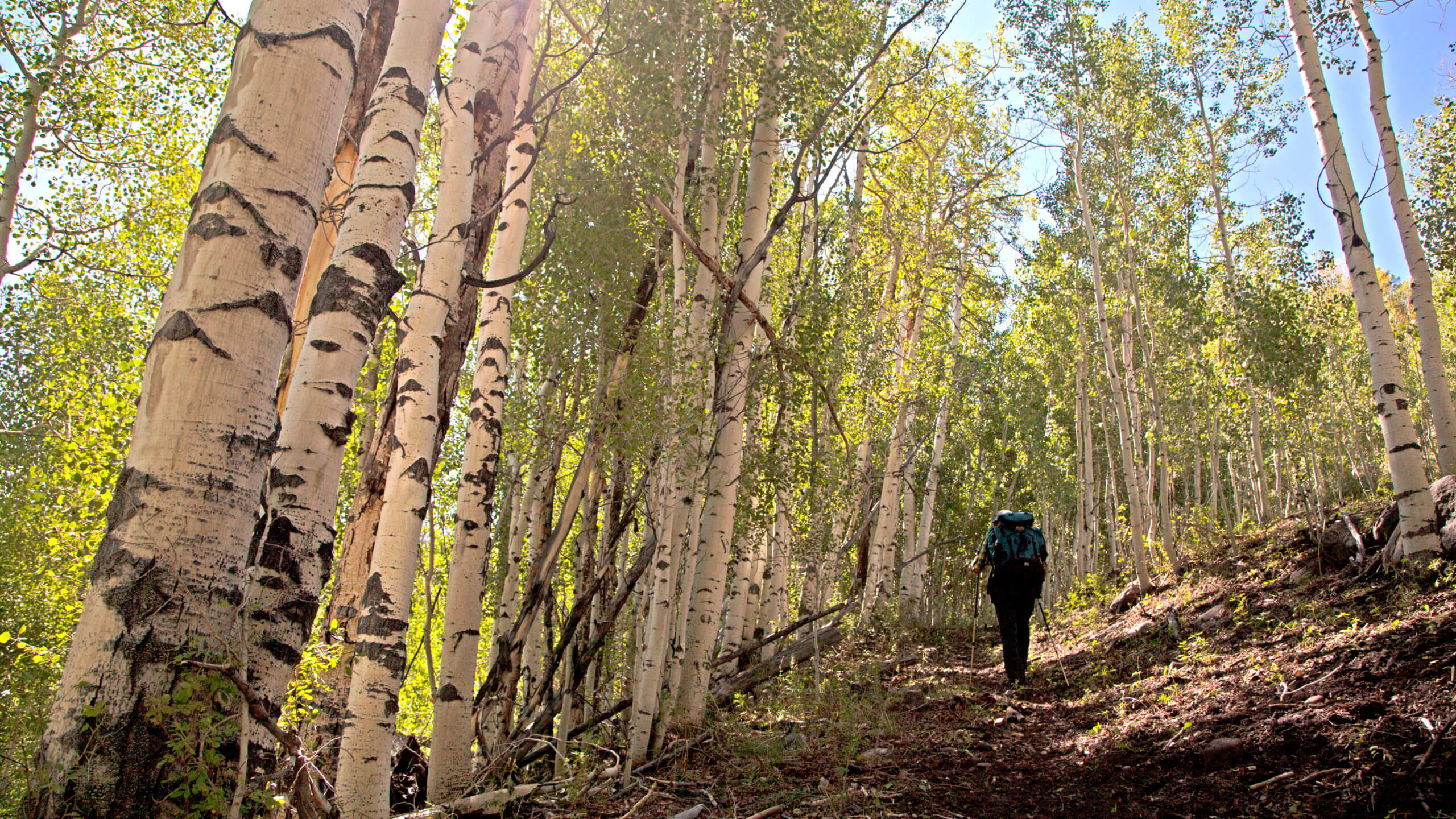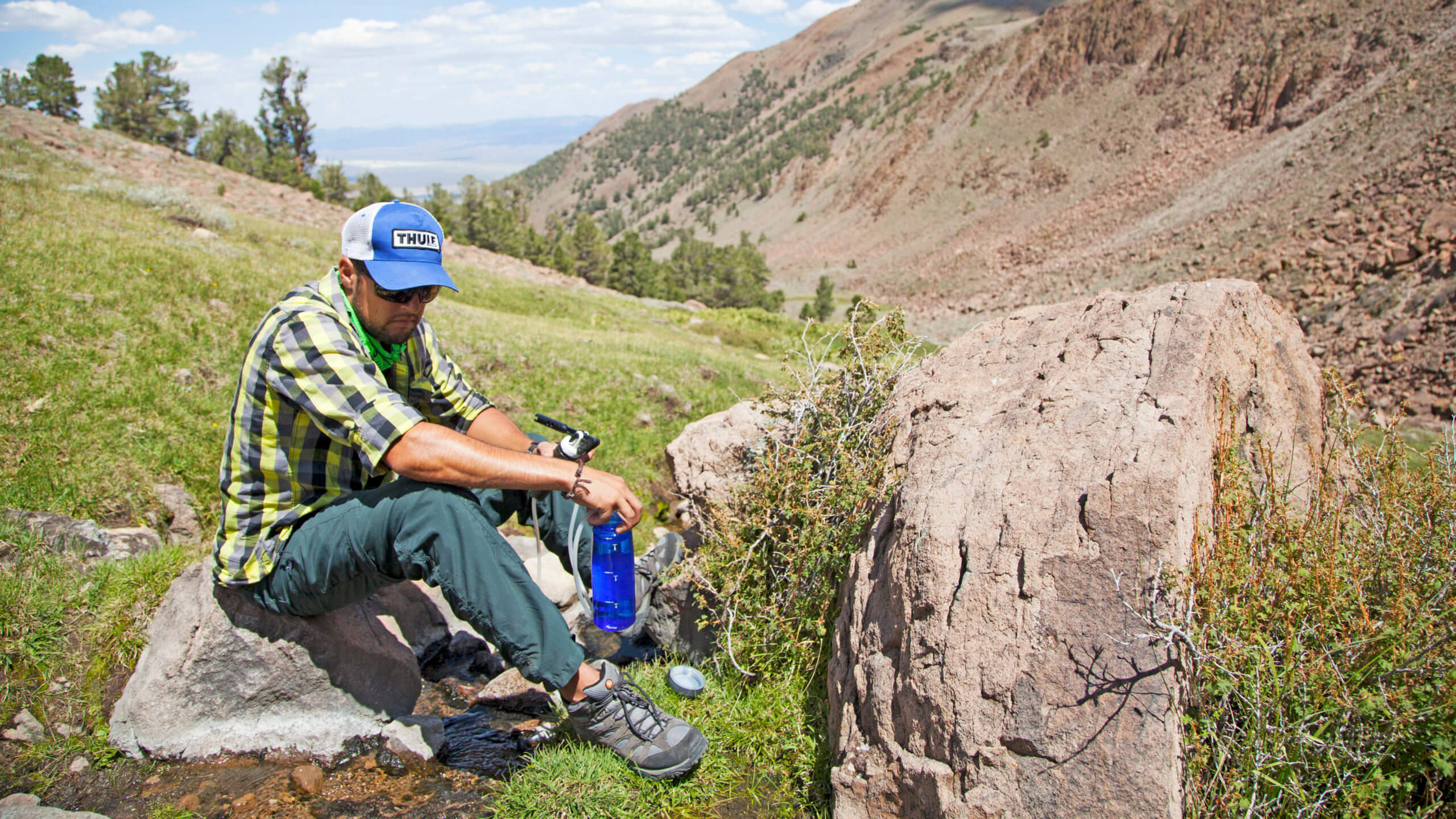 It makes sense—the Alta Toquima Wilderness has been studied around the world for it's extreme alpine conditions and massive big horn sheep habitat. Such a large herd thrive at this altitude that wildlife biologists snatch up pairs of them and relocate them to other high altitude places around the country, in hopes of reestablishing dwindling populations. BUT, the bighorn sheep aren't the only kind of sheep running through the canyon. This is primetime Basque sheepherding territory; the aspens will tell you so. Some of the best examples arbogrlyphs in Nevada—or tree carvings left by sheepherders—are up in these woods, carved by bored and lonely Bascos chasing sheep through the canyon. Travel Nevada PRO TIP: be sure to look up—the coolest carvings are about 10 feet overhead, with some dating all the way back to the 1930s.
The hike at Jefferson starts at Pine Creek and almost immediately climbs straight up…and continues to climb as you work your way through the canyon, up to Sawmill Camp, and eventually up to the saddle. You'll need to be prepared to cross about six or so creeks—I don't usually carry trekking poles, but this was the exception. Crucial for balance! Jefferson is the third most prominent of Nevada's five tallest peaks and I promise you you're gonna feel the climb on this one. It also has the more surprising biodiversity of all five (and possibly any mountain I've ever bagged)—so plan on seeing cactus thriving right next to mushrooms. It's nuts. Bring a solid water supply, too. Of the top five, this is the only mountain where I drank all three liters of my water supply before summiting. So! be sure to pack a water filter—there are plenty of springs near the top that you can tap into and replenish your supply.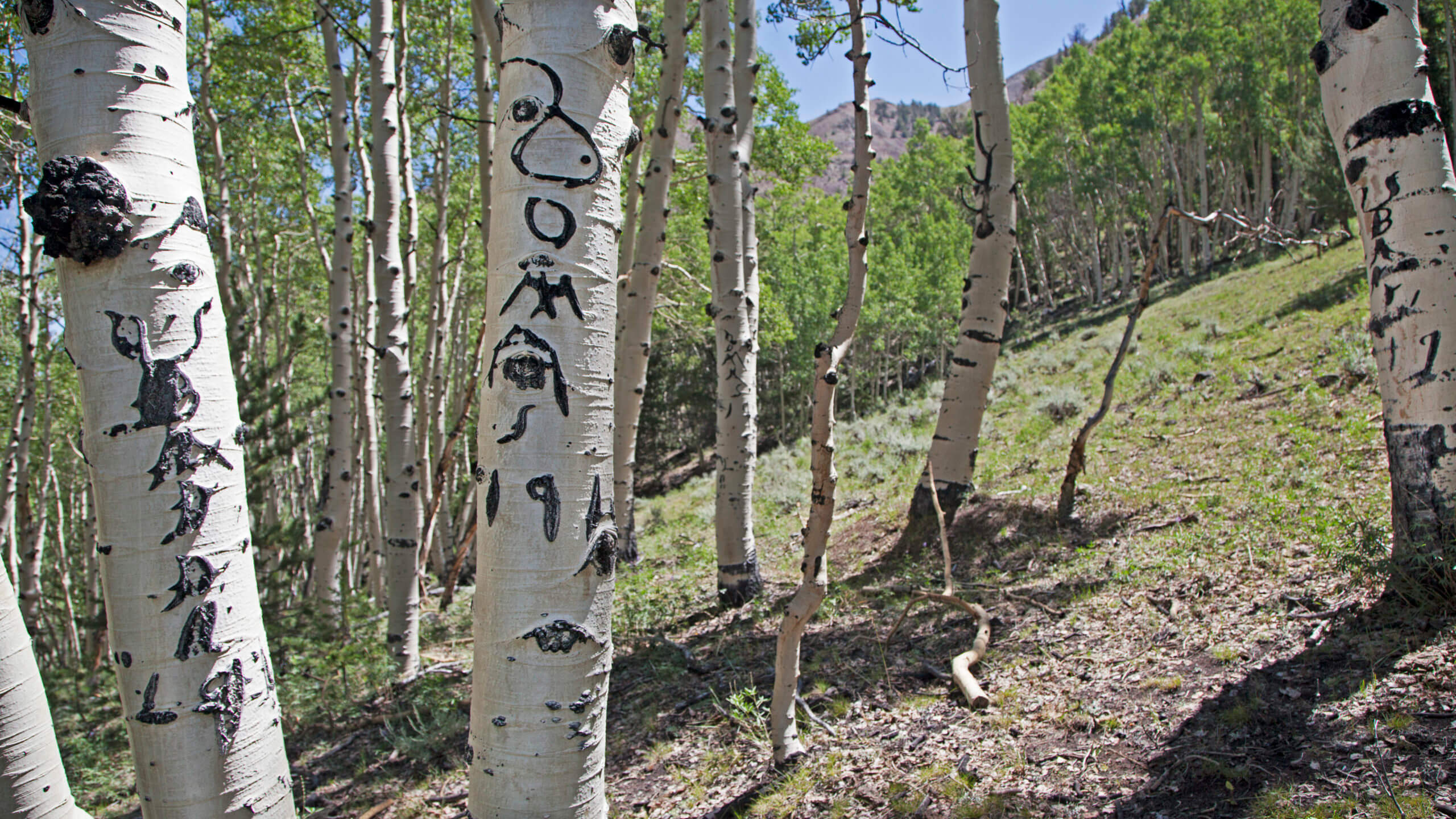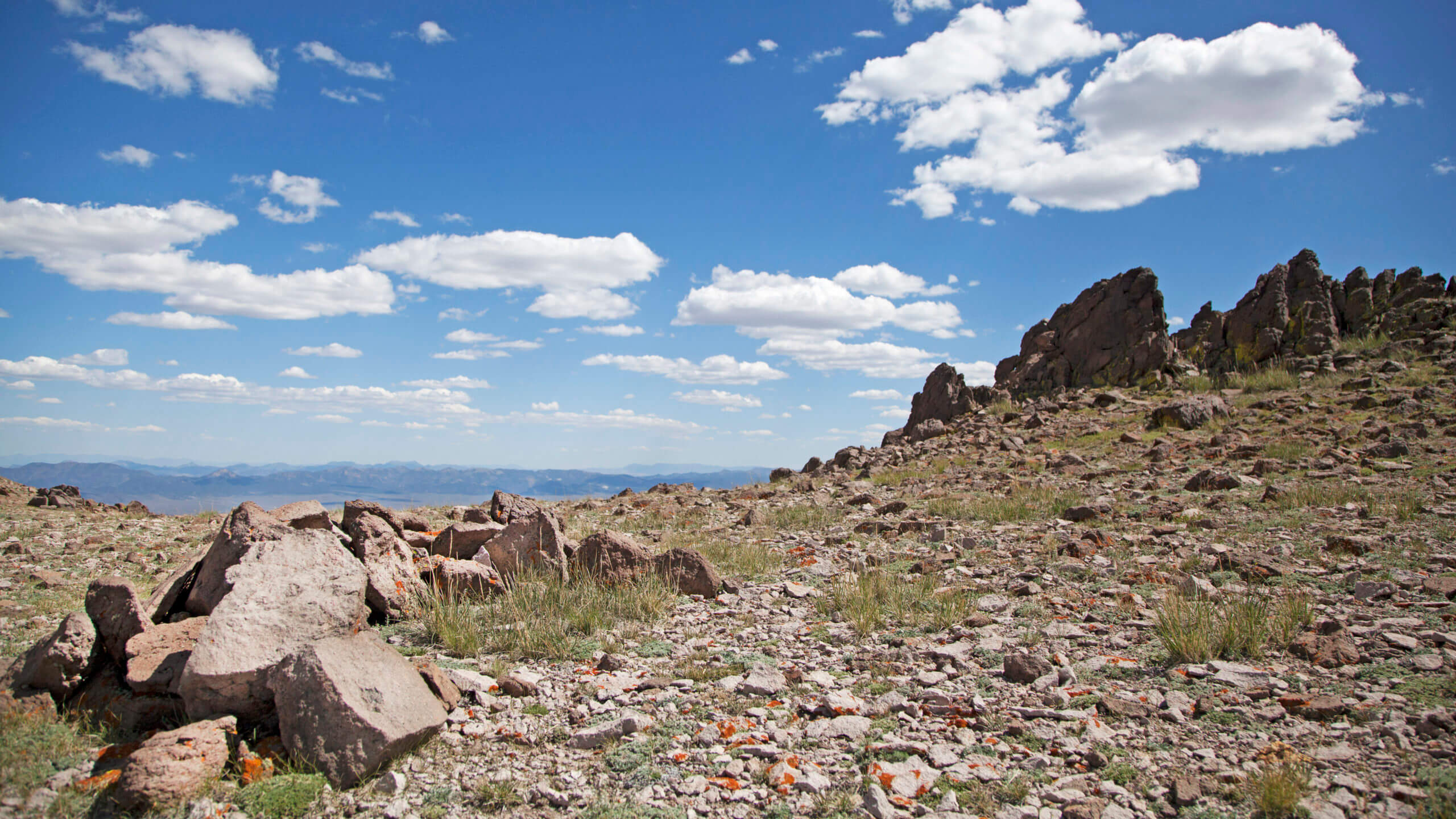 This last little detail is an important one, guys. The trail on Jefferson is in poor shape and super hard to follow, especially once you make it to the table. Jefferson has THREE peaks, but the south summit is the one you're after…it's the tallest. The trail is so non-existent that I summited the wrong peak first, had to descend onto and cross the table and scramble my way up the right peak. Imagine the defeat of climbing what you thought was the highest, only to summit and see the other peak next to you is actually taller! Travel Nevada PRO TIP: do not cross the entire table—once you make it up the canyon and switch back, the south peak is nearest you, right above. The prehistoric hunting blinds alone are worth crossing the saddle, but don't get too entranced and accidentally summit the wrong mountain! It's def easy to do.
#3: MOUNT MORIAH – 12,073'
MOST IMPRESSIVE WILDLIFE EXPERIENCE TO DATE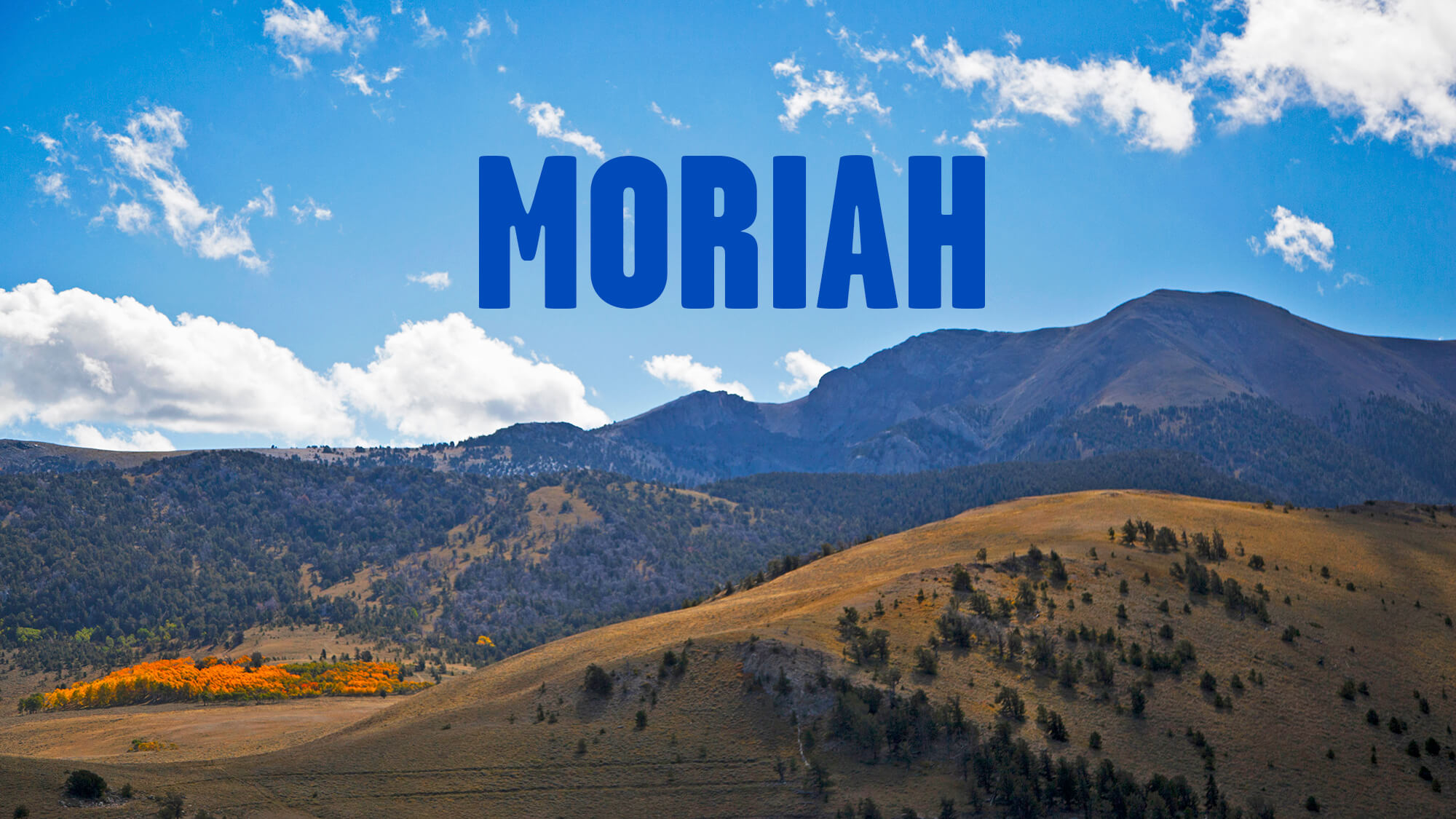 HOW DO I GET HERE? GPS Coordinates: 39.287939. -114.195018
DISTANCE: 8 miles round trip
ELEVATION GAIN: The trailhead begins at 7,225', ultimately climbing to 12,073'. Total elevation gain: 4,848 over the course of around eight miles.
TIME ON TRAIL: Plan for 6 hours of trail time
DIFFICULTY: Strenuous
BEST SEASON: Fall—the foliage is unreal!
ULTRA PROMINENT PEAK? Nope! Moriah is not an ultra.
NEAREST CITY? Ely or Baker
TRAILHEAD ACCESS: If you're into a legit adventure Moriah might be the one for you because this one is a little sticky, guys. The reason? finding the trailhead itself is a whole separate adventure. Moriah is directly north of Great Basin National Park, and even lies in the same mountain range—the Snake Range—that's within park boundaries. From GBNP, head west on Highway 50 until reaching White Pine County Road 37, where you should see a sign that says "Hendrys Creek." Head north for a couple of miles before seeing another sign directing you into the range (so you're headed east). Buckle down for about an hour of windy mountain driving—I'd be surprised if you see another soul out there, too. The road will fork, stay to the left. You'll wind around what feels like 2,384,092,385 turns, pass a few hunters camps, and eventually the road will dead end. Throw it in park, and hit the trail: you've arrived. GPS Coordinates: 39.301587, -114.211580.
TRAIL CONDITION: Narrow, but the trail is in good condition until the last scramble to the top. Easy to identify, easy to follow up until the table. From here, it's easy to get turned around, but the summit is to your right. Head up instead of dropping down into the valley. Sounds silly, but it's easy to get mixed up back there, and the trail sort of peters out. You'll have to work a pretty crazy scree trail, just be careful. It's a long way down.
WHAT ABOUT PERMITS? Nope. Not required for a day hike, anyway.
WHERE TO STAY: You can get in and out of this one in a good six hours, no problem. The only kicker is the commute time—allow for 2ish hours in and 2ish hours out. This makes it a full day, so it's a good idea to camp at Great Basin National Park or pack it into Ely and stay at the Prospector or Hotel Nevada.
I know I'm not supposed to say the F word, but I'm going to do it. This is my FAVORITE hike in Nevada, not just the top five peaks. Everything about it is totally amazing and completely worth the time and effort. And it will take time and effort. Great Basin National Park is basically the redheaded stepchild of the National Parks system and crowded isn't a word I'd use to describe the place. It's easy to be here, and satisfying in all the best ways. Moriah is in the same mountain range—the Snake Range—just directly north of NP boundaries and I promise you, if you see another soul throughout the entire endeavor, call Guinness. It's super remote, you'll have the entire place to yourself and it's altogether euphoric.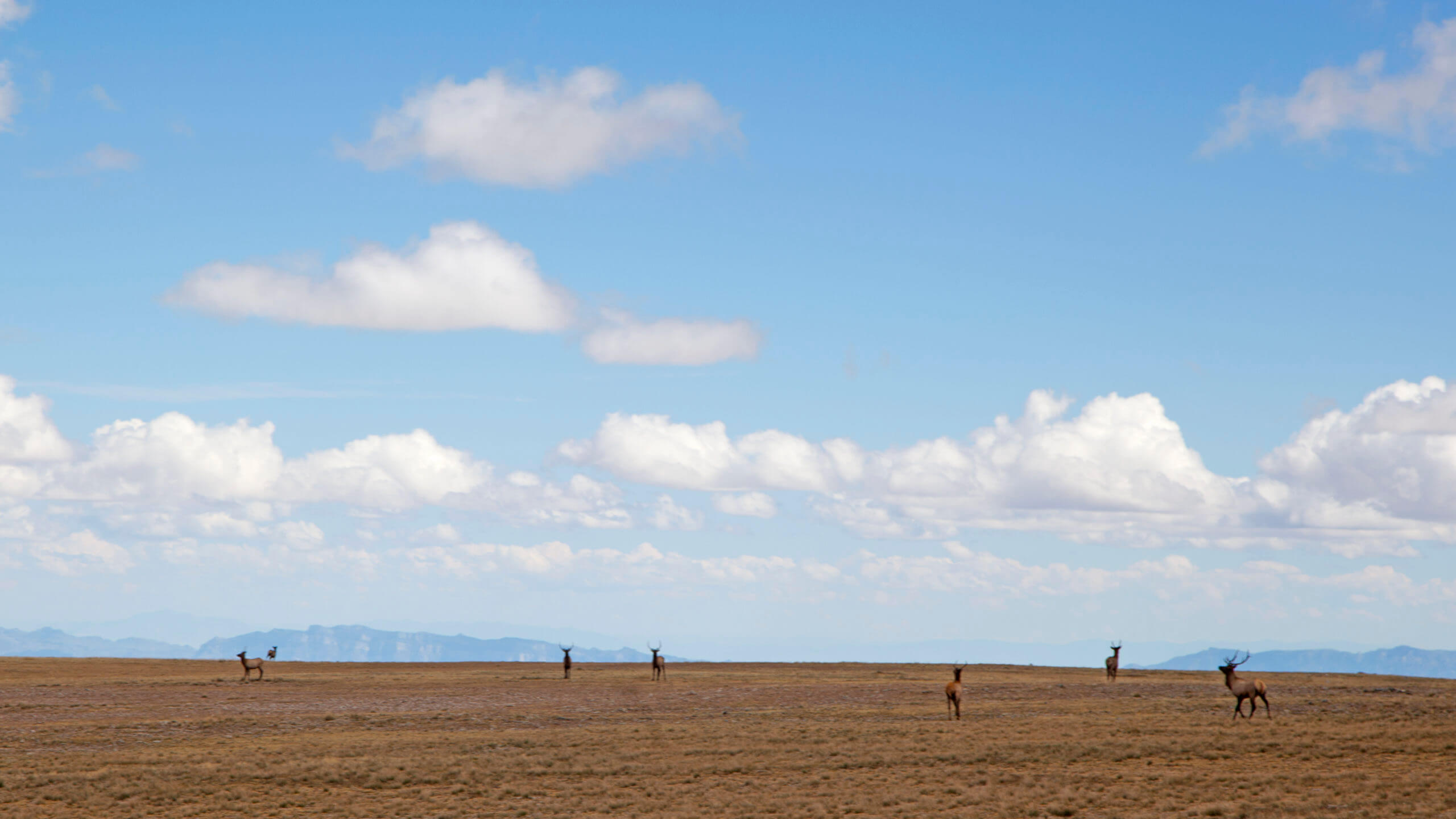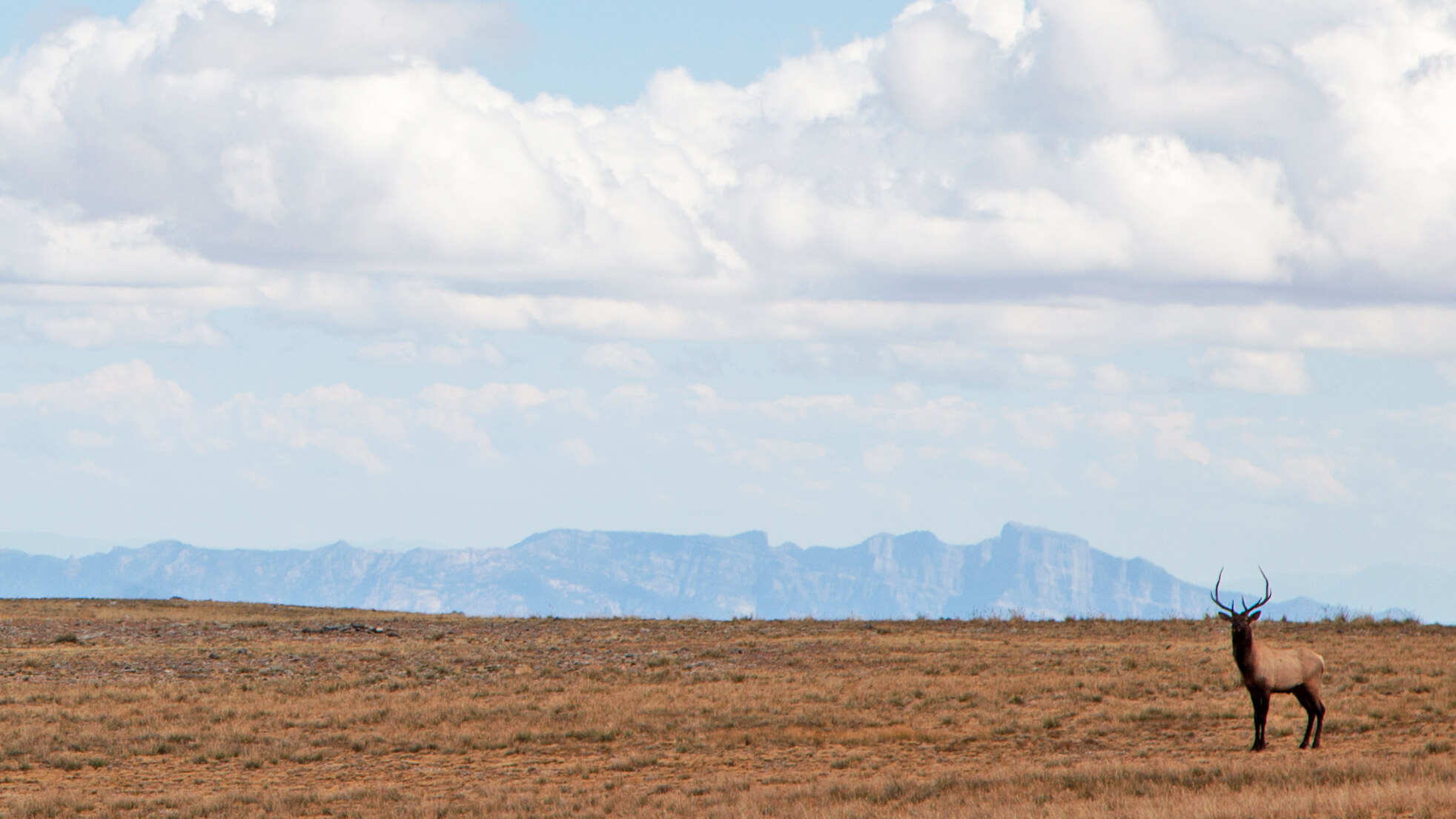 I can't stop telling everyone I know about the most incredible wildlife experience of all time. Accessing the trailhead was an adventure in itself—we were super deep in some backcountry—just the way I like it. All of the other top five peaks are remote, but Moriah has some kind of magic that makes you feel truly isolated and disconnected from civilization more than the others. It takes a while to get to the trailhead, and once you do, you'll descend into a canyon and climb back up to the table. The day we bagged this peak it was autumn, right before hunting season opened up. We kept seeing fresh scat and hearing elk bugling through the canyon—I thought for sure we'd pop up over that ridge and see a couple of hunters posted up on quads with a call. But instead, we were rewarded with 16 enormous bull elk lounging in the sun on an unblemished October afternoon. Unreal.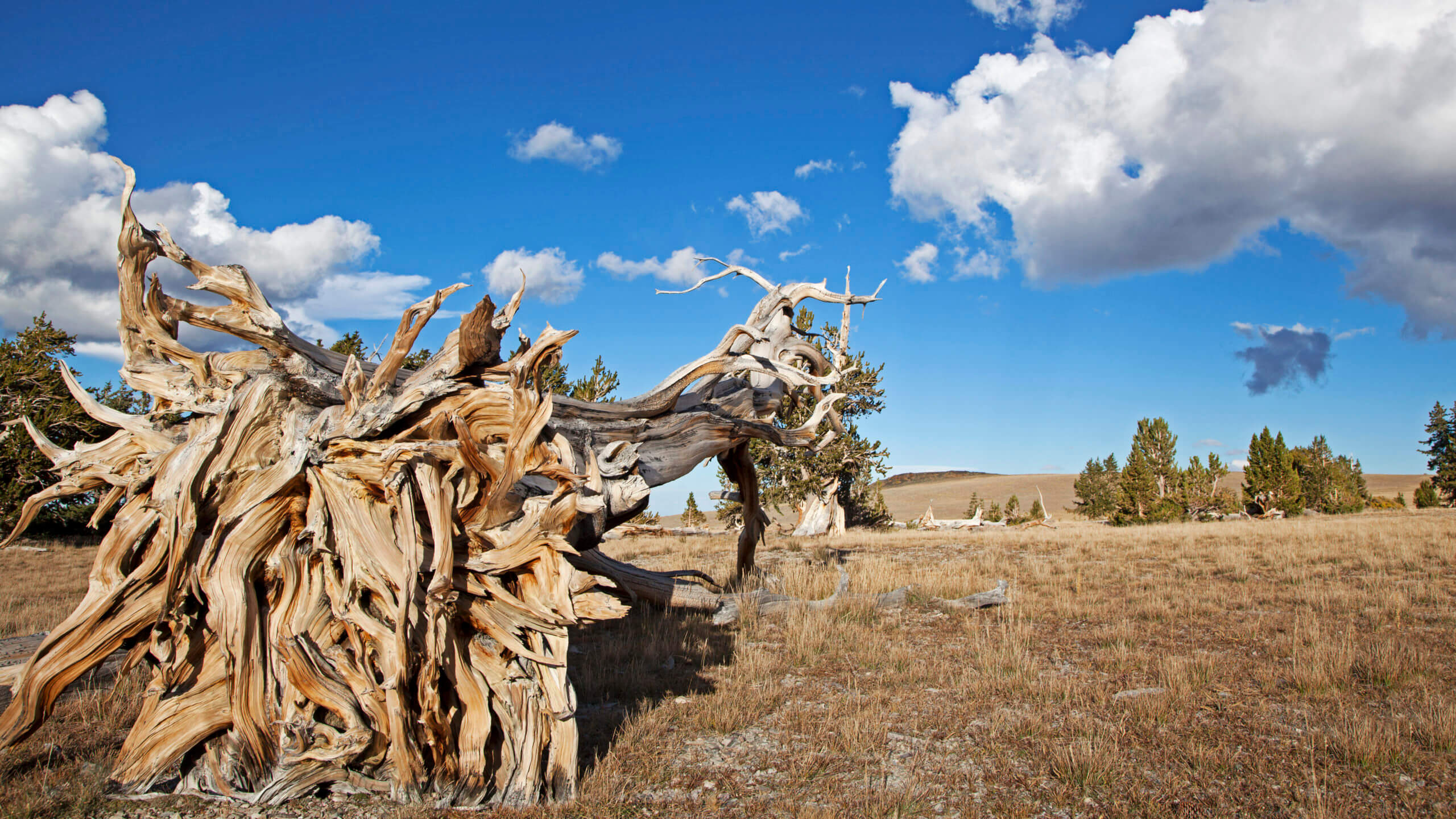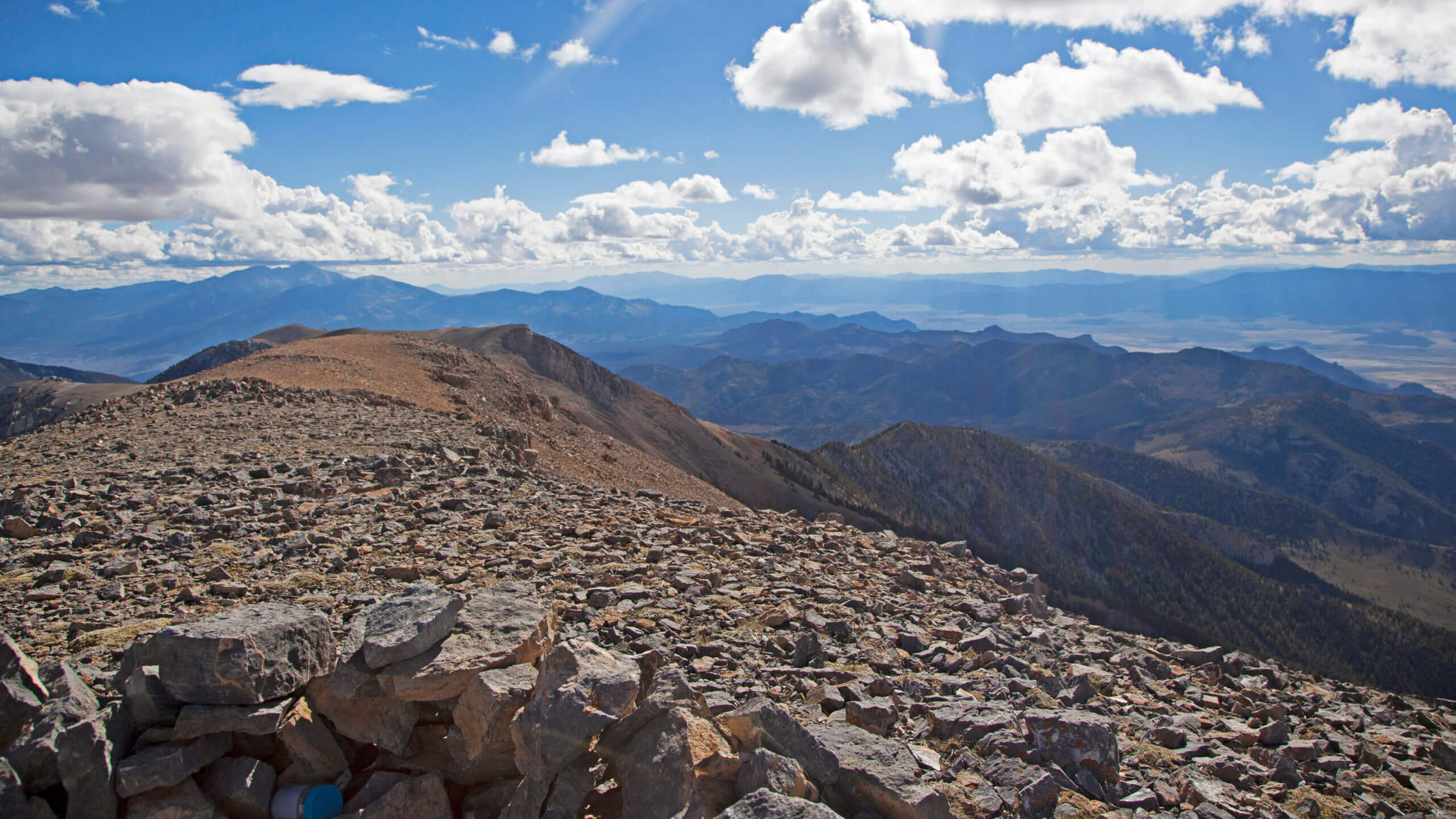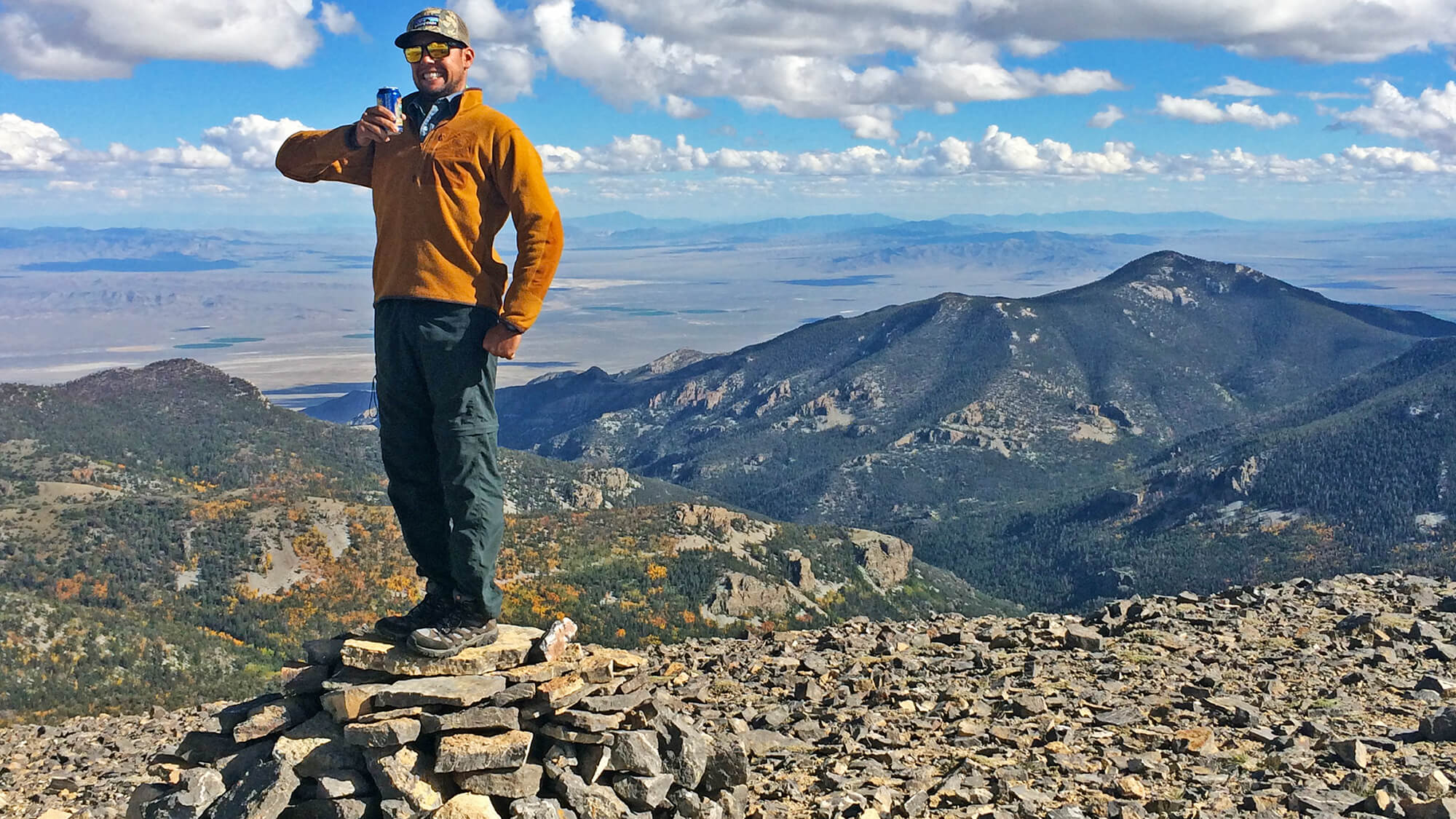 The bristlecone population isn't as dense as Charleston, but you will see more on while summiting Moriah than on Wheeler. Plus, there are some super cool old stumps worthy of posing next to for a pic. The final ascent to the top is probably the sketchiest of all five—a poorly defined trail that's comprised of super loose scree. Take a step, slide a foot, take a step, slide a foot sort of pattern. It's a long way down a super steep mountainside, so watch your footing. But, IMHO, in addition to the complete and total remoteness and unrivaled wildlife experience, Moriah divies up the some pretty danged good views. A perfect place to relish that well-earned summit beer, and an all-around untouchable fav.
#2: WHEELER PEAK – 13,064'
INCOMPARABLE SUMMIT VIEWS AND BEST PACKAGE DEAL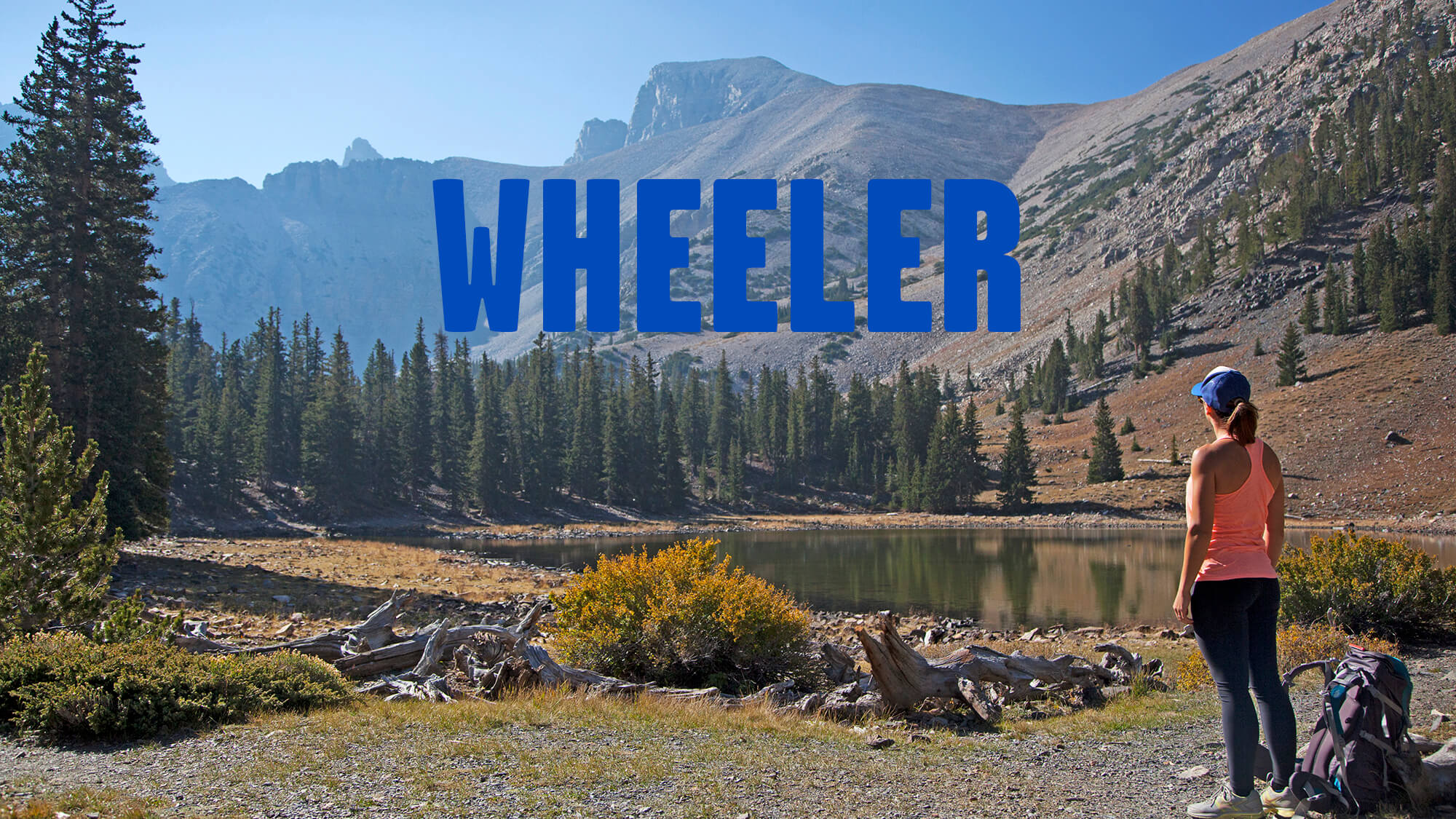 HOW DO I GET HERE? GPS Coordinates: 38.989331, -114.314278
DISTANCE: 8.2 miles round trip
ELEVATION GAIN: The trailhead begins around 10,161', ultimately climbing to 13,064.' Total elevation gain: 2,902 over the course of eight-ish miles.
TIME ON TRAIL: Plan for 6 hours of trail time
DIFFICULTY: Strenuous
BEST SEASON: Fall, for sure. The foliage looks like green screen movie magic.
ULTRA PROMINENT PEAK? Yep! Wheeler is Nevada's second most prominent peak, after Charleston.
NEAREST WHAT CITY? Baker or Ely
TRAILHEAD ACCESS: This one is relatively easy to access, as it falls within the Great Basin National Park boundaries. Take Highway 50 to GBNP, and make your way up the mountain. You'll pass one set of campgrounds and a scenic overlook before coming up on a parking lot with trailhead access to the Bristlecone Trail [not the one you want] and Wheeler Peak.
TRAIL CONDITION: Super well-defined trail. Easy to access, easy to use, easy to navigate throughout the entirety of the hike.
WHAT ABOUT PERMITS? Nope. Not required, just make sure you pay your National Park fee at the visitor center or pay station before entering.
WHERE TO STAY: In the park, of course! The camping here is insanely gorgeous. Camp anywhere from 8,000-10,000' at some cushy campsites. But, if you insist on a hotel, there are some options in Baker, like the Stargazer Inn.
Let me just say this—this place is a National Park for a reason. but many think they've "seen it" from the lower part of the park, which couldn't be further from the truth. It's one of the most seldom visited parks in the National Parks system, something I would suppose is associated to its remoteness. But that's the beauty of it…imagine going to a Yellowstone or Yosemite without the crowds. Ok, so you'll definitely cross paths with other folks when you're here, but in the grand scheme of things it's most likely the least crowded National Park you can dig into.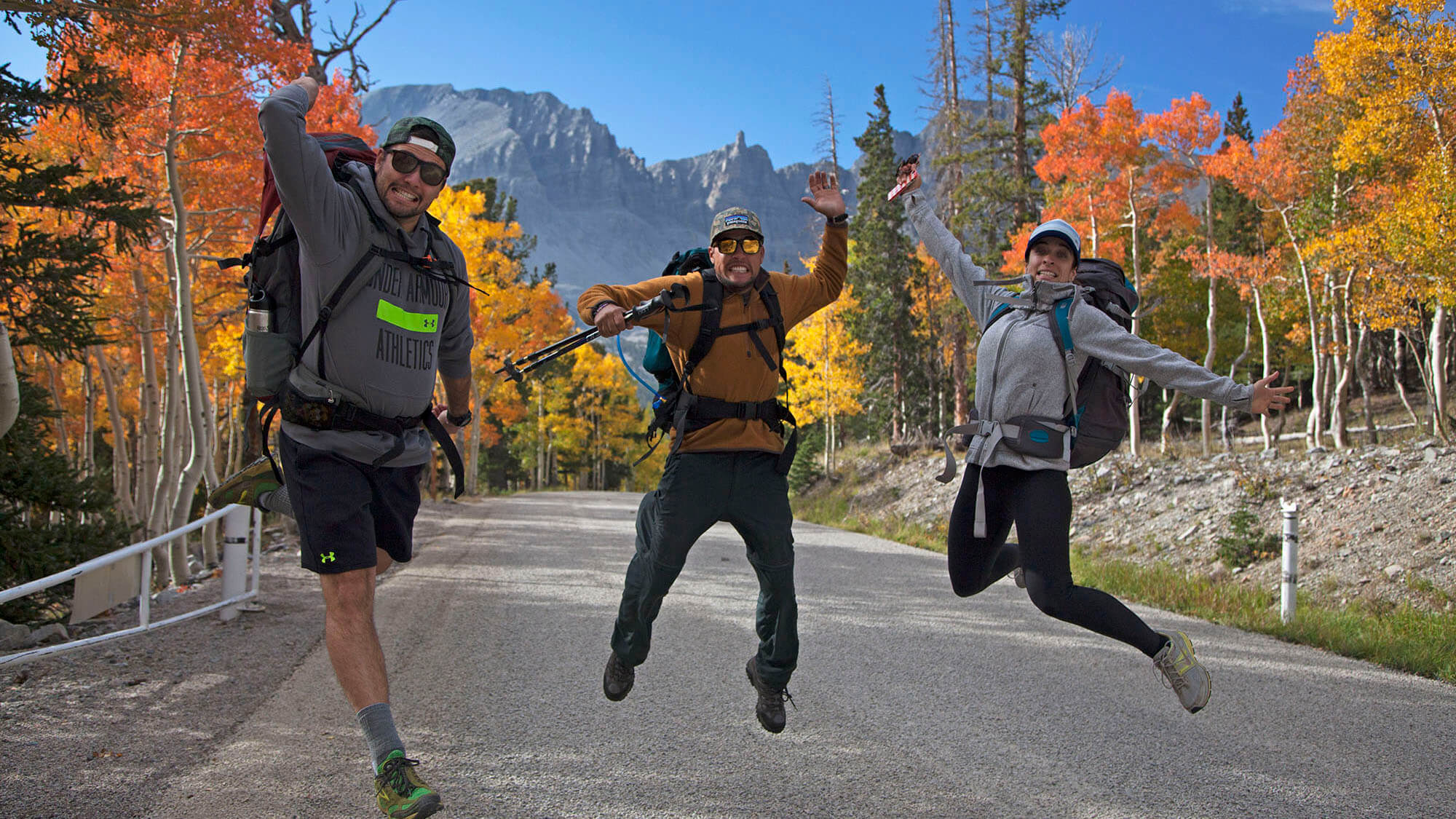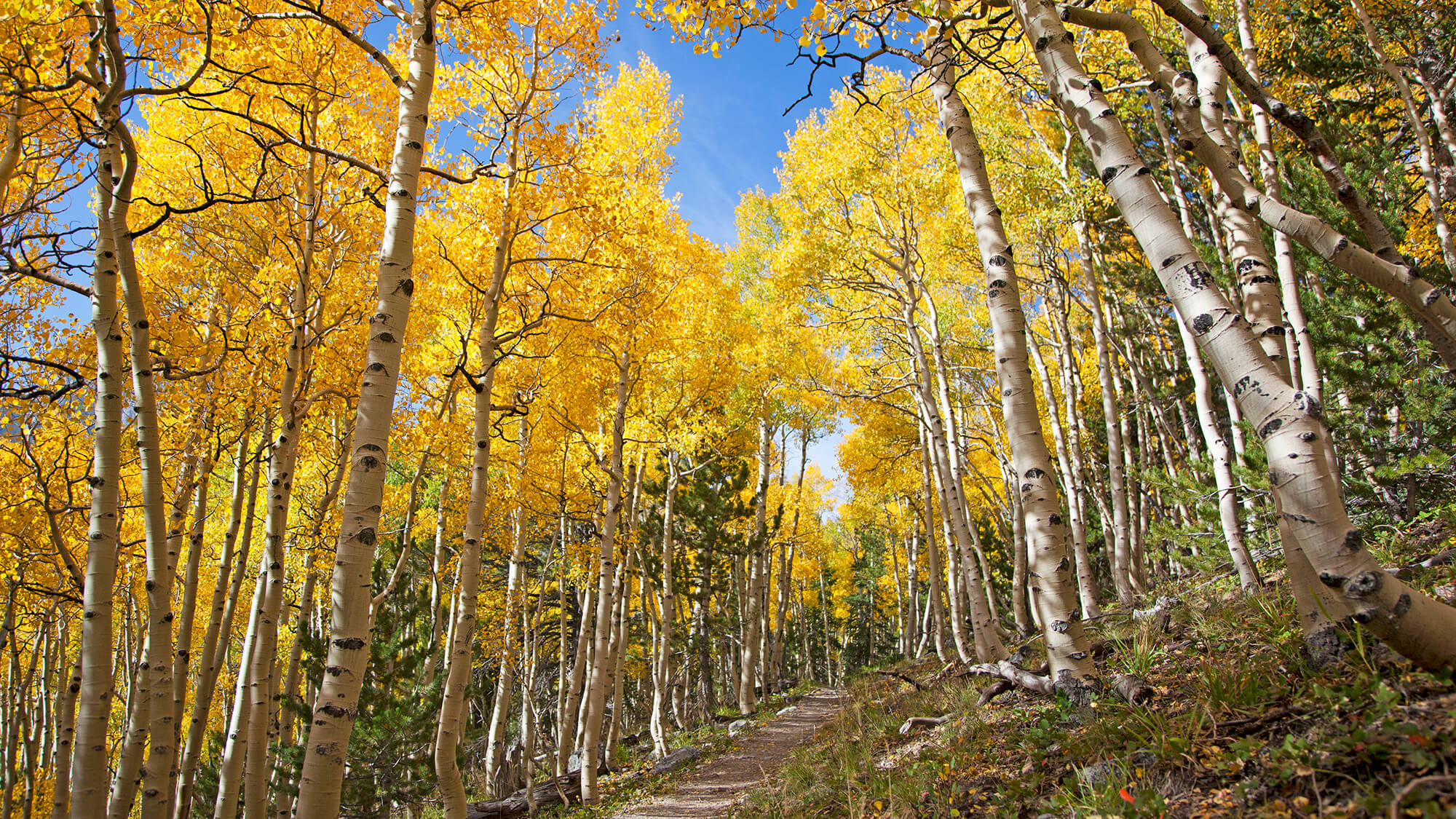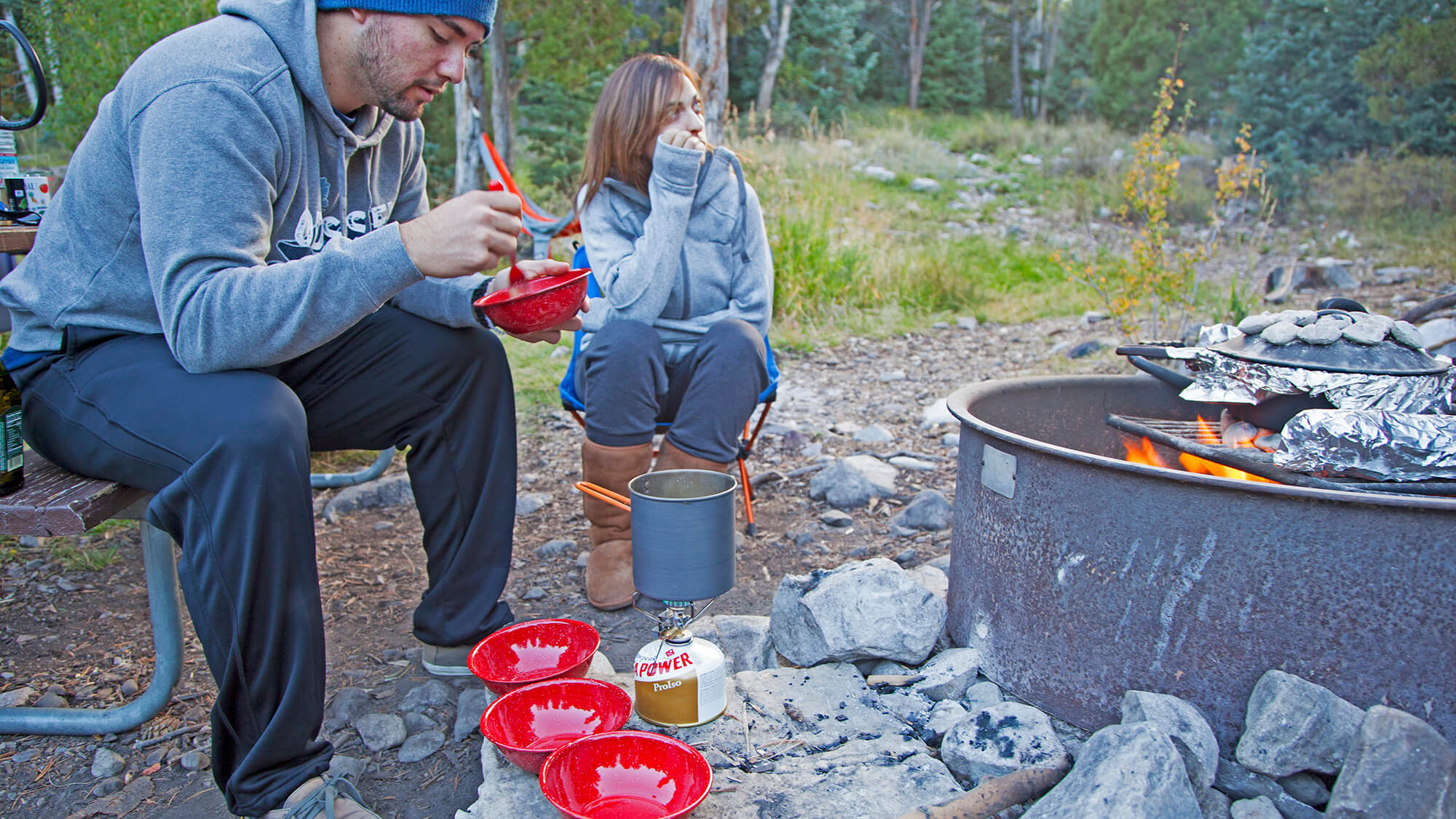 A trip to Great Basin National Park is the total package experience for the outdoor aficionado, hands down. Not only does it include a mountain peak that falls within the top five tallest in the state (and over 13k feet to boot), but there are a series of caves—Lehman Caves—to explore, you can camp next to babbling creeks at 10,000 feet, and the area is known to have some of the darkest skies in America. So dark, that you cant see your hand in front of your face without your headlamp on kind of dark, too. The camping is amazing to begin with, but is special because GBNP is one of the only parks to have campsites specifically made to enhance your stargazing experience—meaning there's enough room for a telescope at most campgrounds. Plus, it's the only National Park with an actual observatory. One night here and it will be come clear why the Park's motto is "half the park is after dark."
While you're waiting for that Milky Way to pop, you should totally be bagging that beast of a mountain. Plan to swing through during the fall—the foliage is so vibrant it looks like a Hollywood green screen…totally too good to be true. The trail begins at 10,000', which puts you in a realistic position to bag this 13k foot peak. Compared to the other five peaks, you will gain the least amount of elevation at Wheeler, but I promise you that the final ascent is rugged. The trail continues to be well-maintained and very easy to follow, but turns into a bit of a scramble the closer you get to summiting. Don't forget that altitude sickness is a real thing, guys. Travel Nevada PRO TIP: If you're coming from lower elevations (like the Bay Area,) plan on heading to Great Basin and spend a day or so in the caves and campsites acclimating to the elevation before attempting to slay Wheeler. That, and also this: I am not one to back down based on a weather forecast, especially in Nevada, but weather at GBNP is a legit concern due fast moving weather systems and the severity within. Study them and take caution. Weather systems move in and out of the area so quickly that things can go zero to a hundred pretty quickly, especially lightening storms. If it looks like it's going to rain, postpone a day to reevaluate.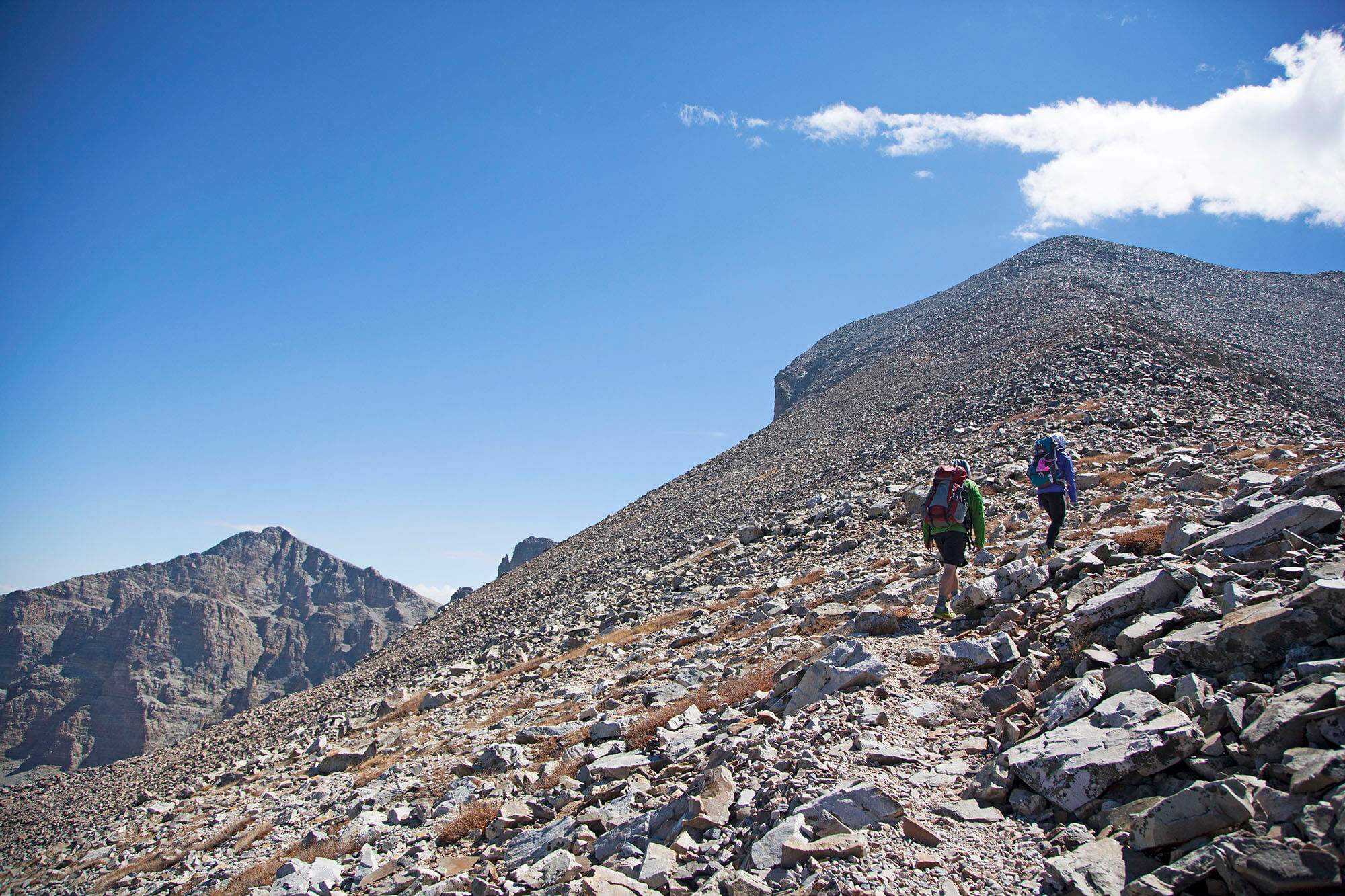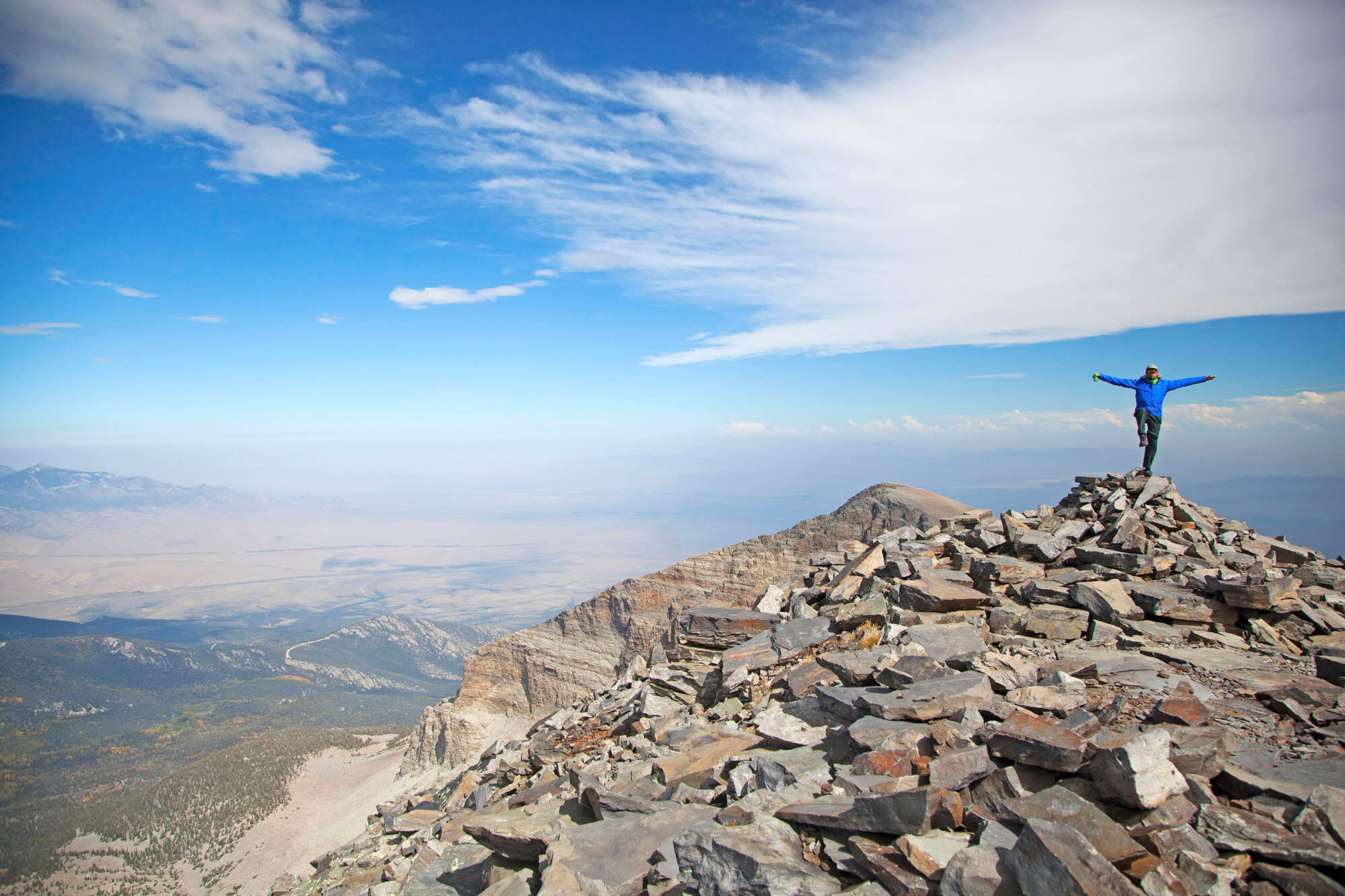 I wont spoil it, but Wheeler for sure, has the the most amazing register! Best of all five, for certain. Plus, there are some seriously well-built windbreaks to recharge in, and the view the from the top is tough to beat. With more than 100-mile vantage points in every direction, it's safe to say Wheeler's 360 views just can't be beat.
#1: BOUNDARY PEAK – 13, 147'
A LEGIT ON T"OP OF THE WORLD AND FEELIN' SO ALIVE" KIND OF ENTERPRISE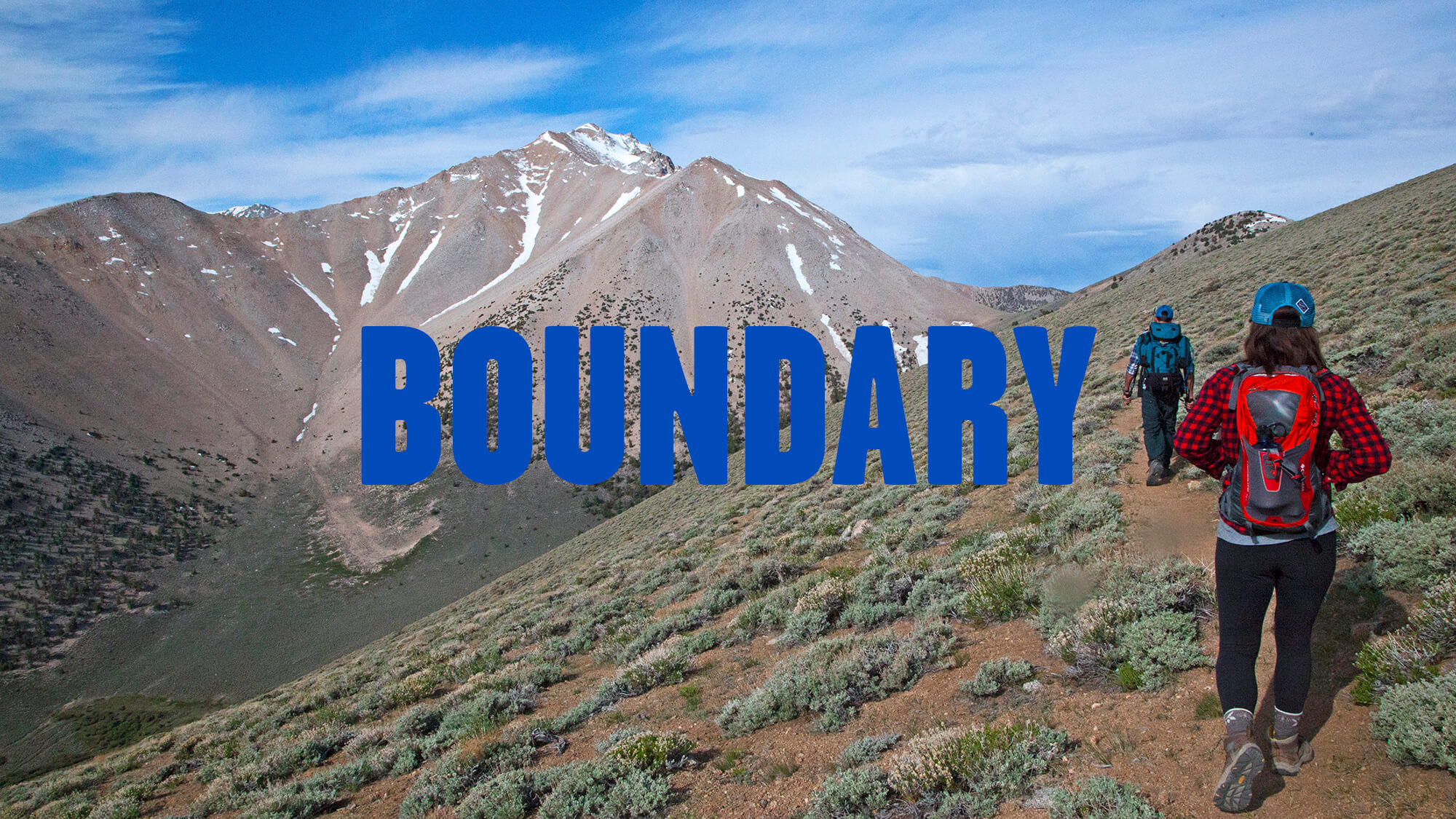 HOW DO I GET HERE? GPS Coordinates: 37.855994, -118.349953
DISTANCE: 8 miles round trip
ELEVATION GAIN: The trailhead begins around 9,800', ultimately climbing to 13,147'. Total elevation gain: 3,347' over the course of around 4 miles.
TIME ON TRAIL: Plan for a long, long day of hiking if you choose to bag this beast in one day, setting aside 7-8 hours depending on physical fitness.
DIFFICULTY: Strenuous
BEST SEASON: Summer, and by summer I mean July or August if you don't want to be hiking in a snowstorm!
ULTRA PROMINENT PEAK? Nope! Boundary is not one of Nevada's 8 ultras.
NEAREST WHAT CITY? Dyer
TRAILHEAD ACCESS: From Dyer, head north on State Route 264 for 45 miles before making a left on Queen Mine Road. Heed caution: this road is in pretty poor shape and you'll NEED four wheel drive and high clearance to proceed. The beginning starts out slow, but gets intense quickly. If you have 4WD, you can make it all the way to the trailhead, otherwise, you'll have to park and hike a few extra unnecessary miles. PRO TIP: other resources are going to try to tell you to take Trail Canyon Saddle. Do not! It's much longer and way more elevation gain. Queen Mine Road access is where it's at.
TRAIL CONDITION: The trail is super easy to spot and follow from the start of the trail, to the saddle and up to a subsidiary point. From the saddle to the subsidiary peak I will warn you: it's straight up. And I mean STRAIGHT. UP. Once you make it to the subsidiary peak, you'll need to traverse the ridge. It gets kind of sketchy here: there's a pretty substantial amount of scree. Gaiters are crucial.
WHAT ABOUT PERMITS? Nope. Not required for a day hike, anyway
WHERE TO STAY: People have been known to backpack into the White Mountains and set up camp at the Trail Canyon saddle so they can not only bag Boundary, but it's twin peak, Montgomery (which is slightly taller, but lies in California.) If you plan on summiting both, camp on the saddle for sure. Otherwise, plan to basecamp at the Esmeralda Cabins or the Queensland Vineyard B&B in Dyer. And even if you do backpack in, the B&B is a killer post-summit treat.
If you too, are determined to snatch Nevada's five tallest peaks—and I'd strongly urge that you do, definitely a life changer—hear me on this: SAVE BOUNDARY FOR LAST. Sounds whack, but hear me out. Yeah, you might want to slay this beast right outta the gate and work your way down the list. This one is a crazy adrenaline rush on its own, but makes it so much more satisfying in ways I can't even articulate if you ramp up to it and hoard it for your grand finale.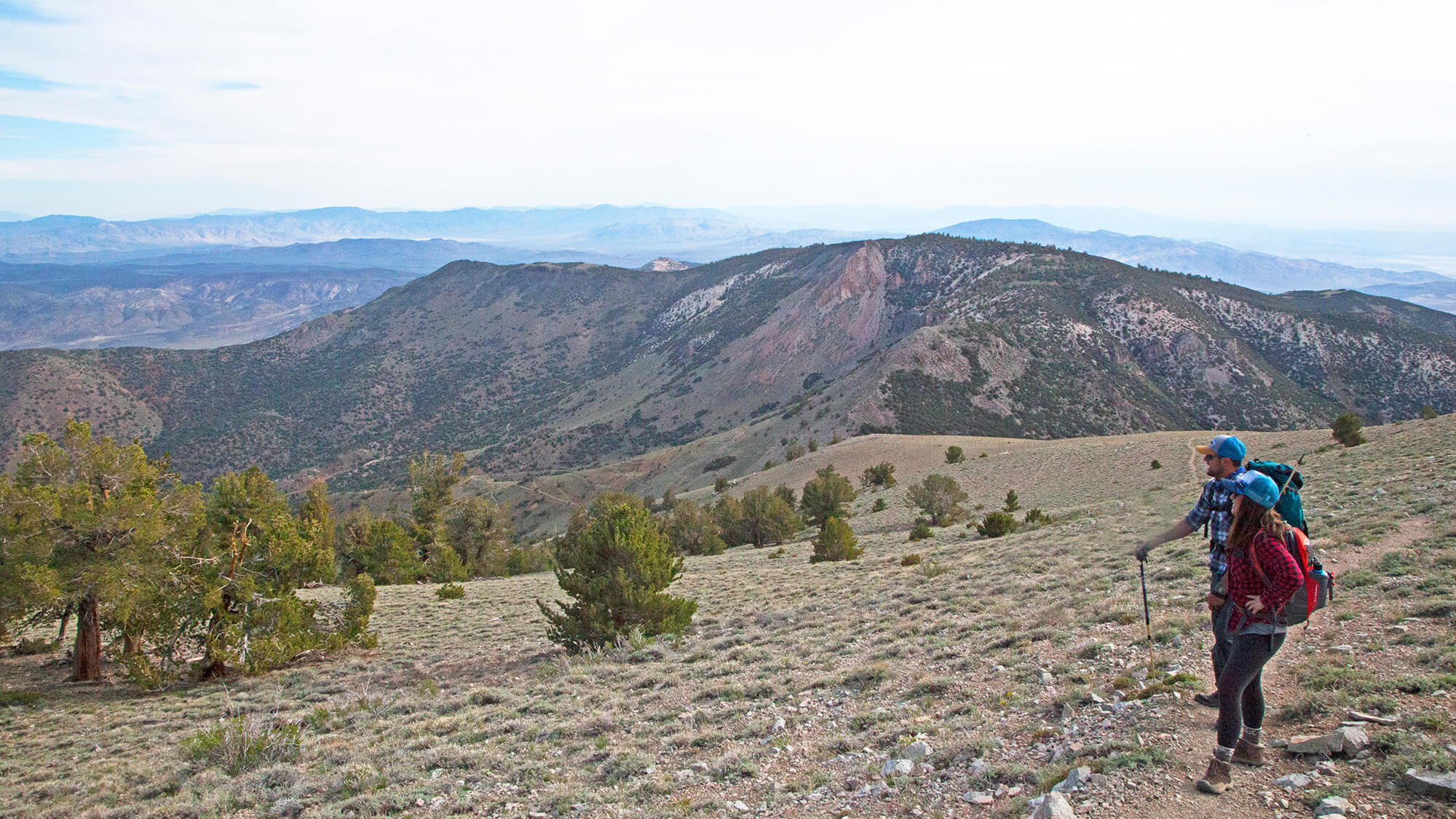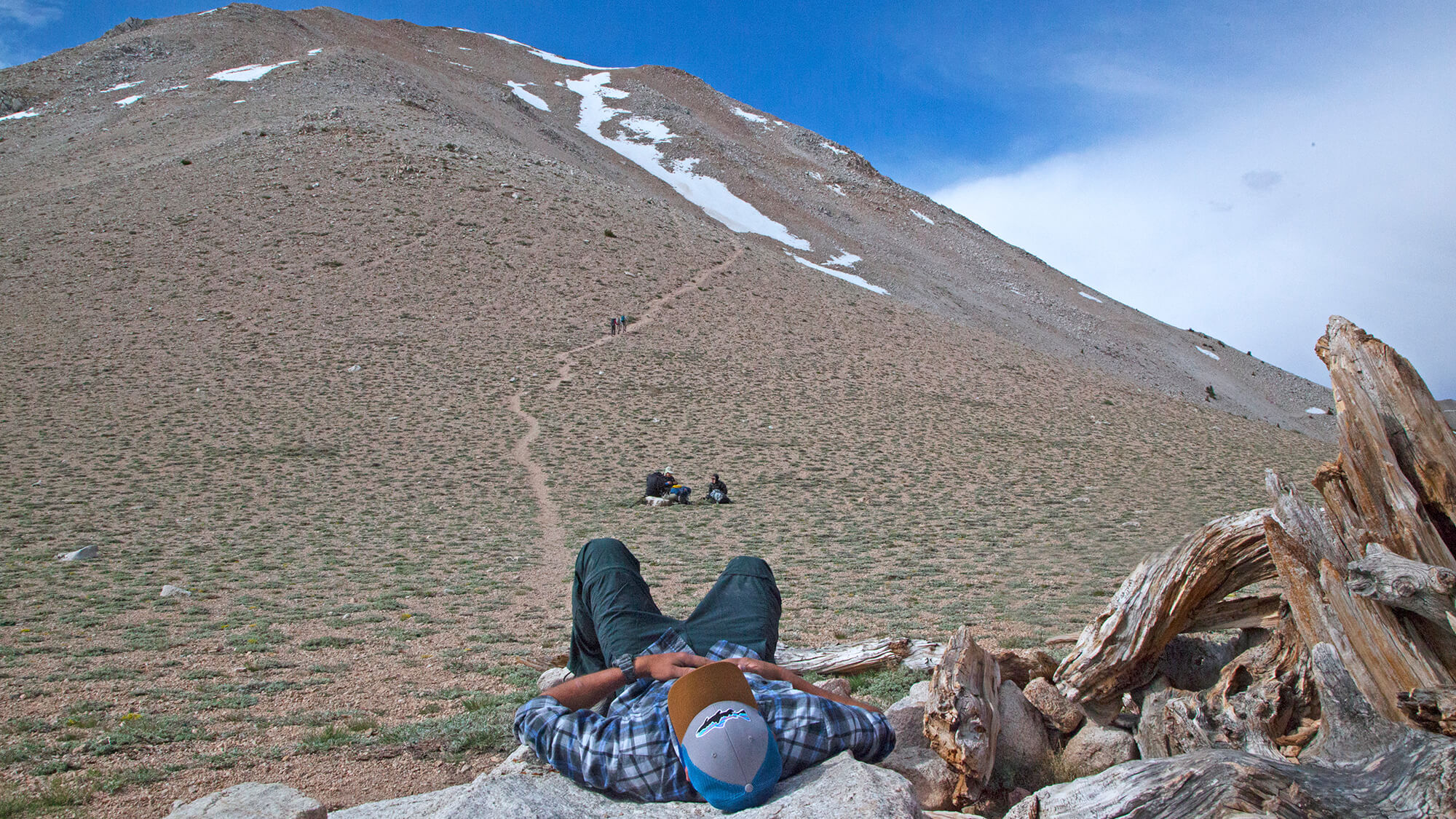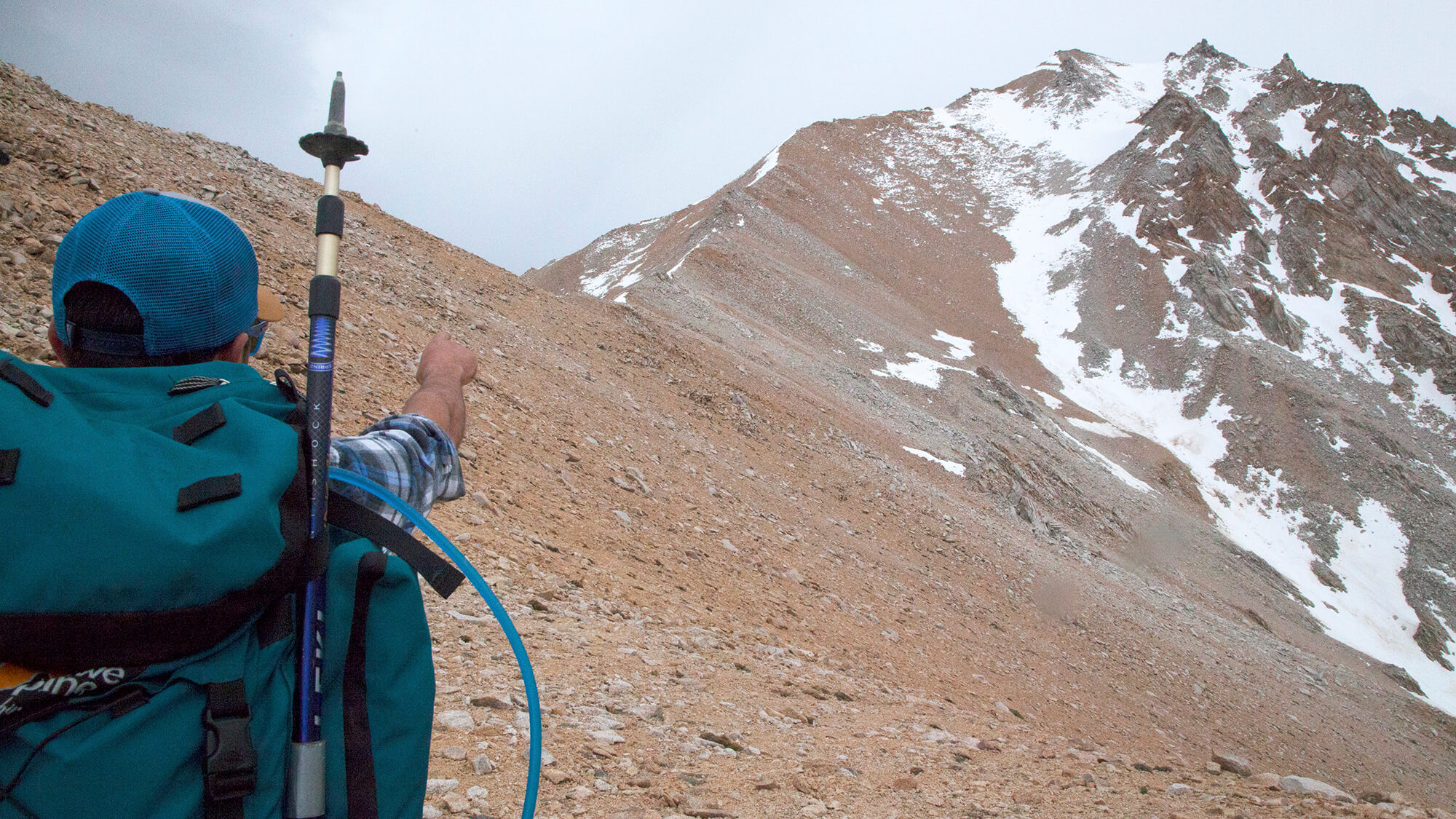 Plan on bringing a rig that can make it into Queen Mile Canyon road—it's not only a shorter hike and less elevation gain if you take this route, but it will also present some super cool historic mining ruins as you make your way to the trailhead. Knowing this is Nevada's tallest peak, I decided to save this monstrosity for the summertime, thinking all the remaining snow would be gone or at least minimal at best. I targeted my attack for June, mapping out a strategy for a handful of months—this one took the longest amount of planning due to remoteness and new, unexplored territory for me. With the other four under my belt (I did them totally out of order, #4, #3, #2 then #5) I had some spring in my step, ready for the main event.
So, we showed up on a perfect, early June morning to find a little bit of visible snow on the top and called it good. We set off into the White Mountains and were totally shocked to find a pretty decent little bristlecone forest. That whole thing about them only thriving at Wheeler? Now we know that's completely untrue. The first two of the four miles are relatively flat, and eventually descend down to the Trail Canyon Saddle. If you're going to try to backpack in, this is where you'd def want to set up shop for the night.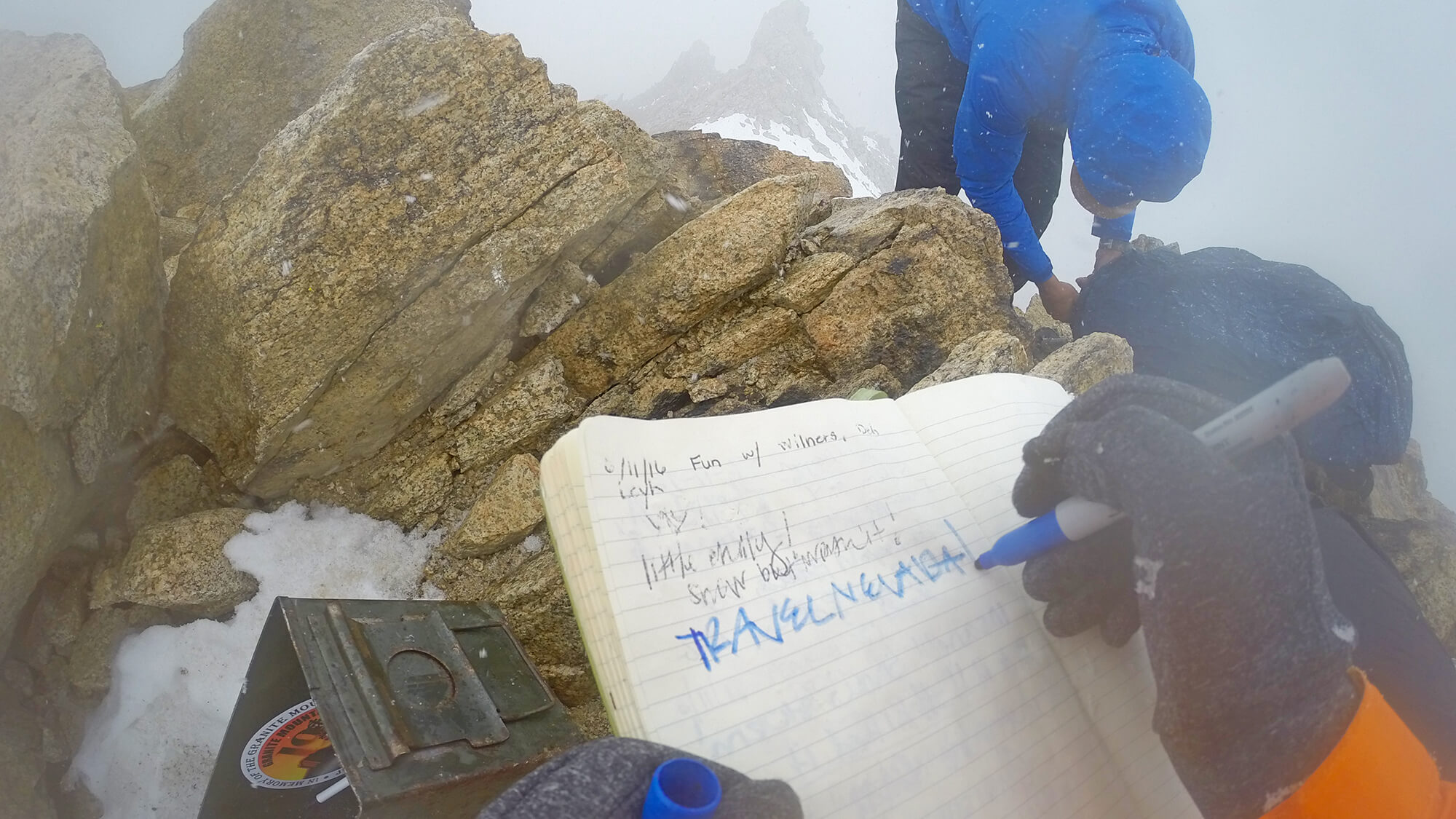 You might be fooled—like me—and asuume that the trail you see petering out before you surely switchbacks around the first subsidiary point and is out of sight. Welp, once you're standing on that saddle and looking at it with your own two eyes, you'll see that it goes STRAIGHT. UP. And I mean straight up. You're going to gain a LOT of elevation as you slug up the first down-to-business portion.
Once you're at the top of this practice peak, that beast Boundary is in sight again and you can scope out the final mile to the top, aka the ridgeline. This is without a doubt, the most intense and exposed ridge of the top 5, especially when a rando blizzard decides to roll in. Throw on those gaiters, you're going to need them. That first chunk is hit and miss with the scree, but you're really going to start sliding on the final ascent to the top. Plus, even though you think you might have a snow-less trek in the middle of summer, Mother Nature may just surprise you like she did for us, and the gaiters help keep snow outta your boots, too.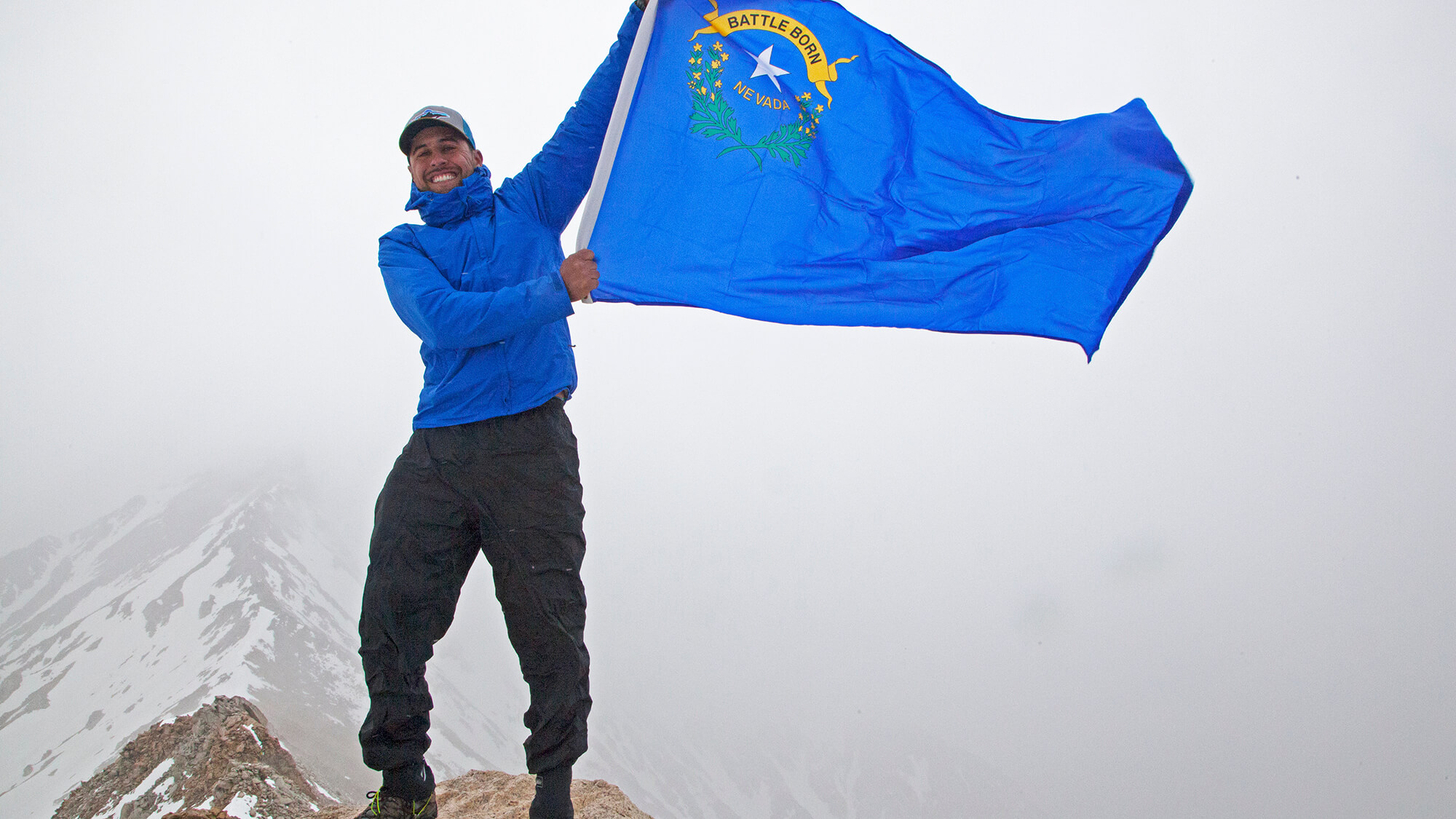 It's a slow, steady chug during your final ascent. Whether you're in the best shape of your life or not, that 13,000' altitude will hit you. BUT, when you make it to the top of the highest peak in the most mountainous state in the U.S., you'll be drinking in a new kind of satisfaction you've never quite experienced, and I'm not just talking about that summit beer. This summit experience is one that really feels like you're at the most prominent, pointy peak and its so, SO overwhelming. If you didn't have summit fever before, this one's sure to do it for ya. #NVAdventure
DIAL IN YOUR GEAR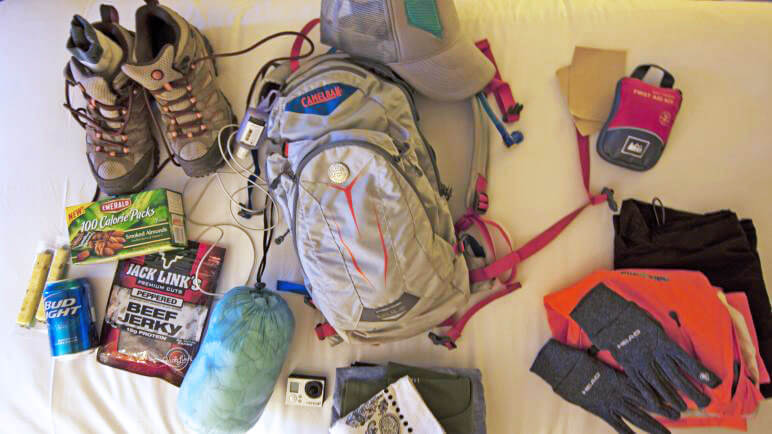 I completed all five of these attempts on one-day attempts, so a full backpacking setup was not necessary in my personal situation. If you do decide to make it an overnighter, you'll need more gear…but this is what I carried on all five and it got me through just fine.
DAY PACK WITH WATER RESERVOIR:

I like the Camelbak Mule because it's the perfect size for enough layers to get you through the day, has extra room for snacks, and has a three-liter water capacity. Plus, it's designed for a bike helmet, which as it turns out, is the perfect pouch for my DSLR.

SNACKS: My go-to is beef jerky, an apple, string cheese, maybe a hard boiled egg, nuts/trail mix, and of course…a celebratory refreshment to crack open at the top.
CLOTHES: there are longstanding jokes in Nevada about the weather. If you don't like it, wait 10 minutes. This, my friends, is surprisingly true. Plus, you throw in several feet of elevation change and a couple of fast moving weather systems and it gets really crazy, really quick. That being said, I'm not sure what's really worse…carrying a bunch of gear you don't ultimately use, or carrying a bunch of gear and you MUST use all of it. Either way, it's good to be prepared. I usually have this on my person at all times:

Tank top or base layer
Leggings or long pants [shorts work, but I have a real fear of ticks…]
Long sleeved shirt
Flannel or light jacket
Heavier but packable down jacket
RAIN GEAR: this is extremely crucial. I got smoked on Jefferson on my first attempt [it rained 2 inches in 45 minutes] and needed all of my gortex on Boundary after an unforeseen blizzard moved in. Super duper important!
Hiking boots and socks

FIRST AID KIT: You can get your hands on beefier first aid kits, but if you're just doing a day hike, you'll be totally covered with one like this. It's small and lightweight, but is equipped with enough stuff to get you by if something goes down. Prep care for wounds, ibuprofen, band aids, moleskin, and antiseptic towlettes
Not Crucial, But A Good Idea to Have:
WATER PURIFICATION: like I mentioned, there has only been one instance where I totally ran out of water. The elevation smoked me. But, I was prepared and had a water purification system in tow and tapped into a natural spring.
CAMERA EQUIPMENT: I always carry my GoPro when out! If you don't want to pack a big DSLR, the GoPro is a total bang for your buck, divvying up some high quality photos for a super low price point, and the thing is apocalyptic durable.
Get Inspired
Related Stories