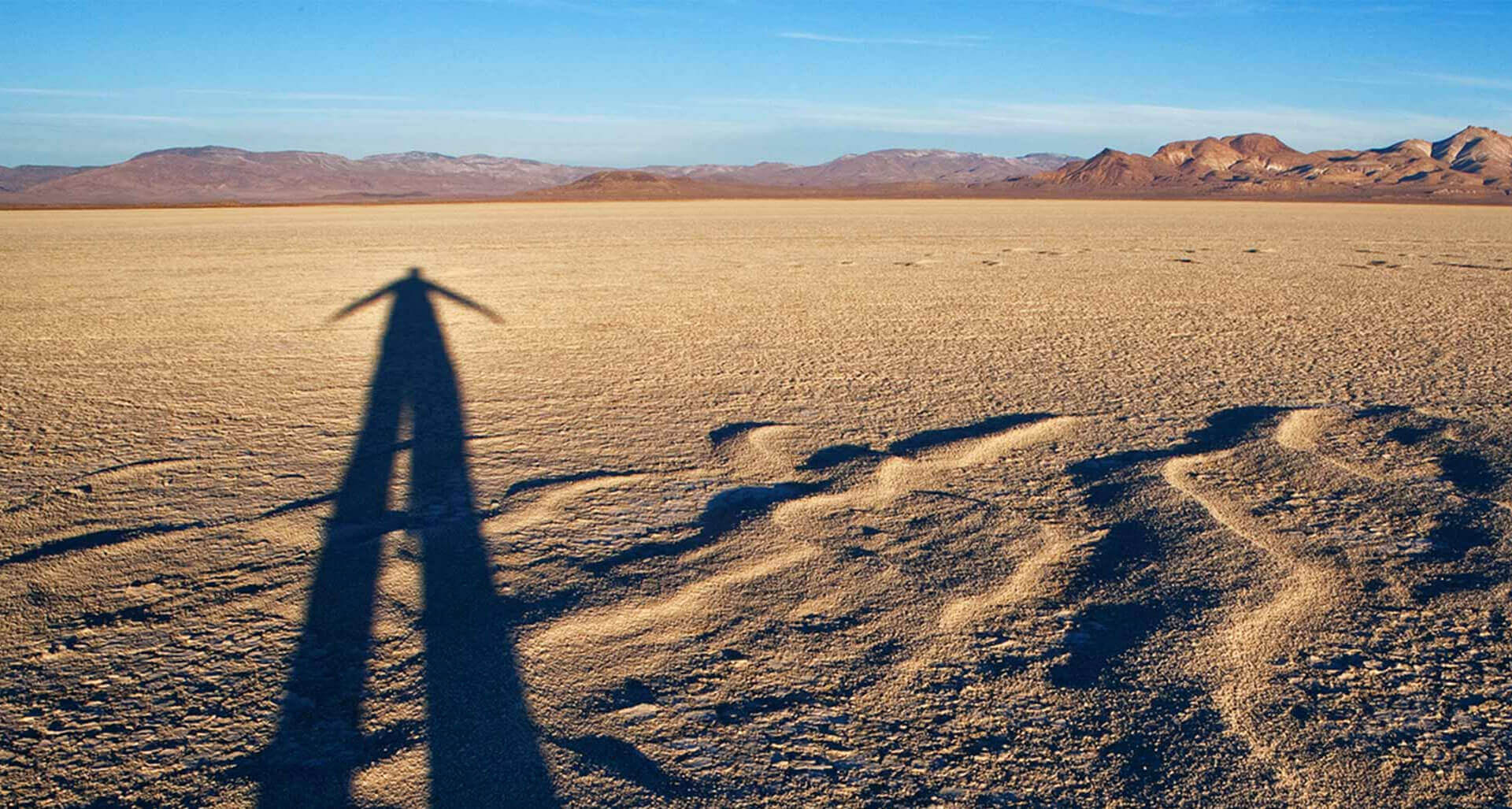 NOT THAT KIND OF TRIPPIN'. WELL, SORT OF.
Reno to Black Rock Desert: Find Your Freedom
Discover what freedom feels like in the Black Rock Desert.
The spirit of Burning Man can be found year-round in northern Nevada. Trace the route Burners take every August on their annual pilgrimage "home" to Burning Man from Reno, out to the Black Rock Desert and beyond.
Start in Reno, home to a Burner-friendly, art-fueled renaissance, then explore the sunset-splashing shores of Pyramid Lake, visit lovably off-beat Gerlach, and, finally, blast off into the magnificent Black Rock Desert Wilderness — home to the fabled "Playa," where Black Rock City rises, but also far more.
In fact, whether or not you plan on making the journey out to Black Rock City during its annual one-week existence, follow the footsteps of those who do almost any time of year, and you'll discover how Nevada's do-it-yourself-spirit, splendorous wide-open natural spaces, spunky "why not" attitude, and unmatched freedom energizes people to come out here and create something magical.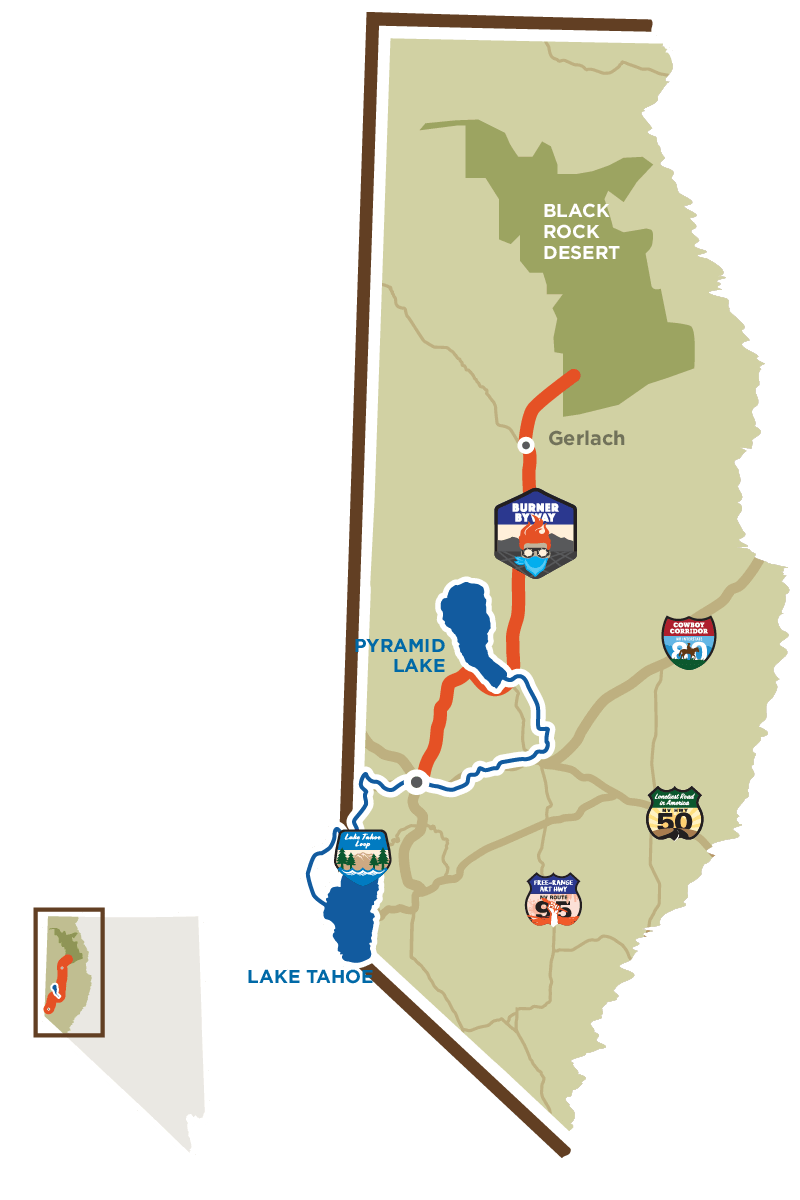 Share your journey along the #BurnerByway
A Word on Driving to Burning Man and the Black Rock Desert
Each year, the remote, empty Black Rock Desert quickly gives rise to Black Rock City, where more than 70,000 people will travel from Interstate-80 East onto rural, two-lane highways and county roads. And as beautiful as the scenery is, driving to Burning Man isn't exactly every Burner's favorite part of the trip. Luckily—just like the event that draws them—crowded roads, long lines at local shops, and traffic jams "pulsing" their way into (or out of) Black Rock City only really happen for a week or so each year.
Whether you roll in with the masses to Black Rock City, Nevada from Reno or you have these classic roads all to yourself, be prepared to ogle incredible landscapes, sunsets (or sunrises), and maybe even some wildlife on your way. If this territory starts to feel like something out of a car commercial, you're not far off; many car companies test their new models along NV-447.
But first, prepare for a taste of the year-round Burning Man spirit all over the Biggest Little City.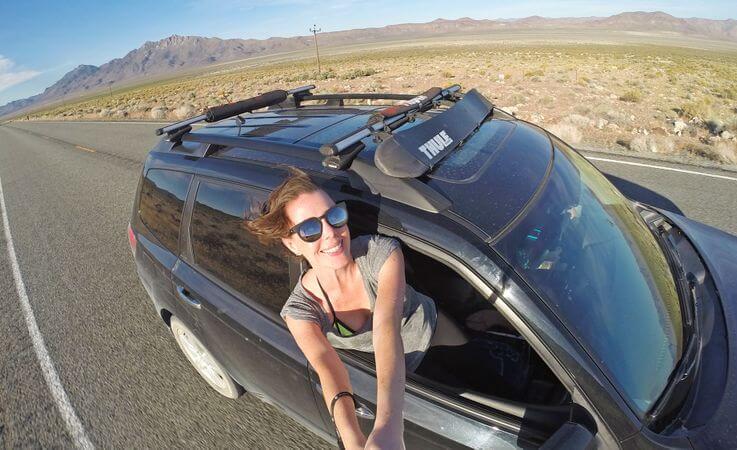 Burner Boutiques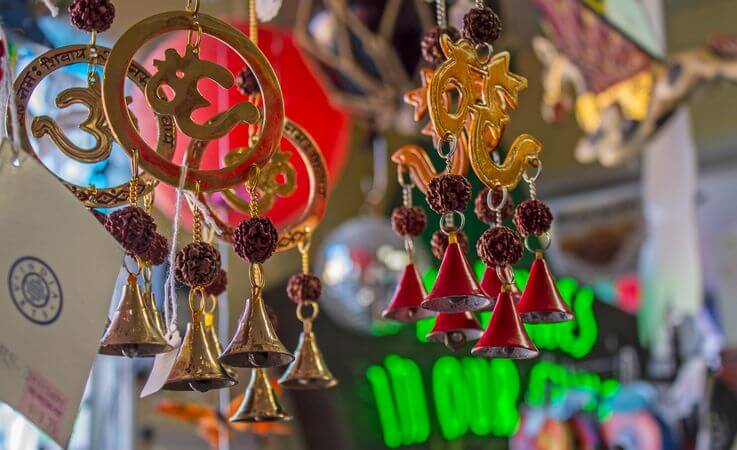 Reno is home to many local businesses that have a little extra Burner flair. Pop into these shops while exploring the MidTown District, Reno's hippest and most up-and-coming neighborhood. The Melting Pot World Emporium, Junkee Clothing Exchange, and Culture are great places to let your imagination run wild while finding vintage duds, elaborate costumes, and unique "Playa-ready" apparel. Natural Selection and Sundance Bookstore are some of the best places in town to find funky gifts for you and your loved ones, and the counterculture vibe of Black Hole Body Piercing is a great place to spark up your Burning Man spirit, even in the winter.
The Morris Burner Hostel and Reno Brewery District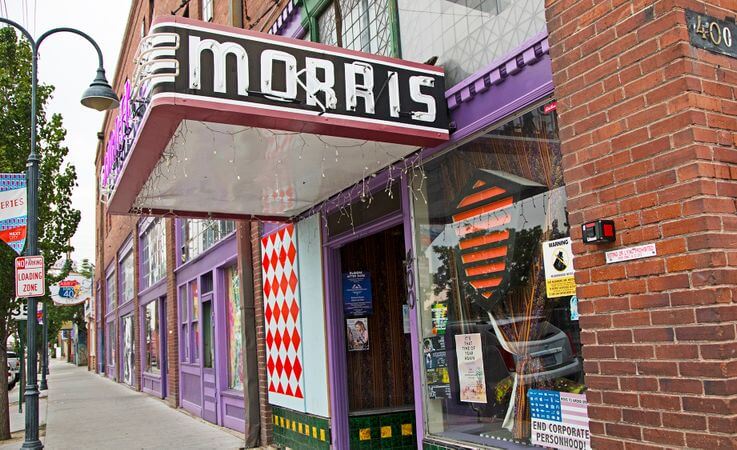 The Morris Burner Hostel is part hostel, part art gallery. It is open to everyone, but you must become a member to rest your head here. An annual membership is $50 and a monthly membership is $20. If you've made other hotel arrangements, this place is still worth checking out. They give free guided tours and no reservation is required. Just stop by and they'll be happy to show you around and answer any questions you may have.
In the past, the Morris Burner Hostel has been a hub for pre-Burn activity, including ridesharing, and more. Give the place a call to see what's going on when you're in town. If you're looking for more information on travel and how to get to BRC and back, make sure to check out Burning Man's official website.
While in the area, follow your thirst along Fourth Street and check out the new craft breweries—we recommend Lead Dog, Record Street, and older mainstay Pigeonhead—and even distilleries, including Ferino and The Depot (who also make great beer).
Post-Playa Art Tour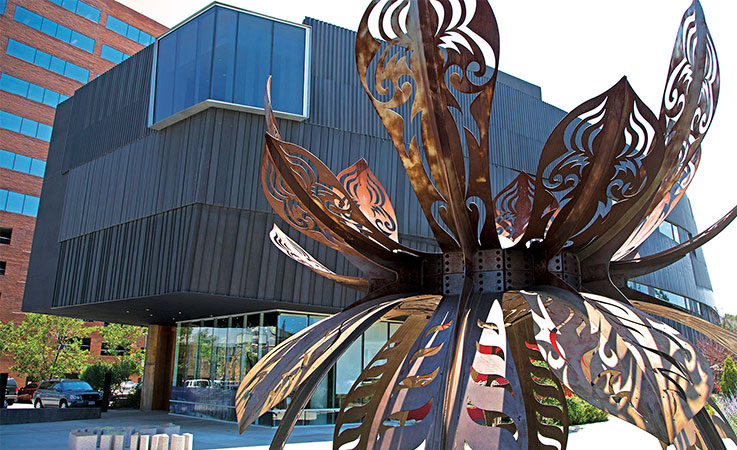 Some of the art from Burning Man finds a permanent home in Reno. You'll find sculptures from the playa, but also fantastical murals and other creative pieces while strolling along the Reno Riverwalk, or at the plaza outside of the Nevada Museum of Art.
Jub Jub's Thirst Parlor
Considering its origins on the actual Playa at Burning Man, it's safe to say Jub Jub's Thirst Parlor is a Burner-friendly joint to wet your whistle. The owners—as well as many employees and patrons—are very much still Burners themselves and even have their own Jub Jub's theme camp and art car at Burning Man. Now a friendly confluence for Burners, bicycle nerds, Clampers, and fans of loud, heavy music, we can pretty much guarantee you'll meet some characters in this beloved Wells Avenue dive bar and show space.
Pyramid Lake
You'll need more than your camera to take in this crowd-free, underrated scenic jewel. The short drive to Pyramid Lake from Reno pays off with Tahoe-sized vistas, surprising colors, and remarkable silence. Throw in some top-notch outdoor recreation and you'll see why this spot earns a stop along the Burner Byway.
Nevada state Route 445 (NV-445) leads directly to a handful of magnificent viewpoints and overlooks, many with vistas of some of the Earth's most spectacular tufa deposits visible, as well as the lake's namesake.
Highway Viewpoint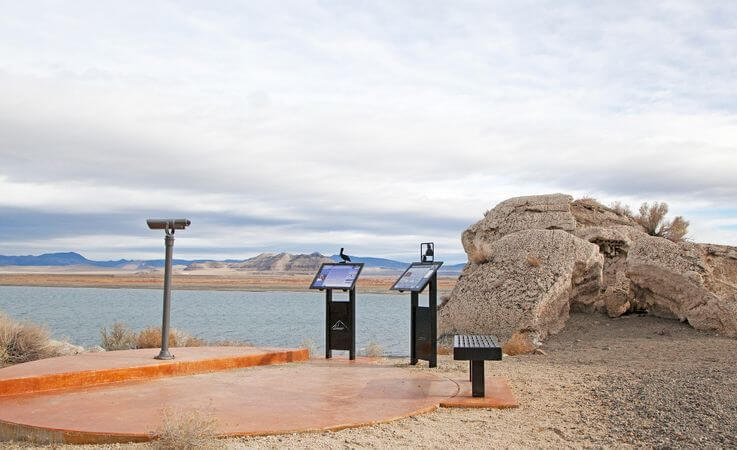 Explorer John C. Fremont named the lake after the pyramid-shaped island that lies along the eastern shore in 1845. However, the locals had long beaten him to it—the Paiute name for the island is 'Wono', meaning cone-shaped basket. Also, if you spot a bunch of pelicans, don't be surprised. Anaho Island National Wildlife Refuge, located in Pyramid Lake, is one of the two largest American white pelican colonies in the United States.
Travel Nevada PRO TIP: Pyramid Lake is situated entirely on tribal land; visitors can only access Pyramid Lake via the town of Sutcliffe, on the west shore. If you head straight there, stop by Crosby's Lodge to purchase a permit for fishing, boating or camping; hire a tour guide; get the local lowdown; stock up on supplies; and grab a bite to eat.
Pyramid Lake Paiute Tribe Museum and Visitor Center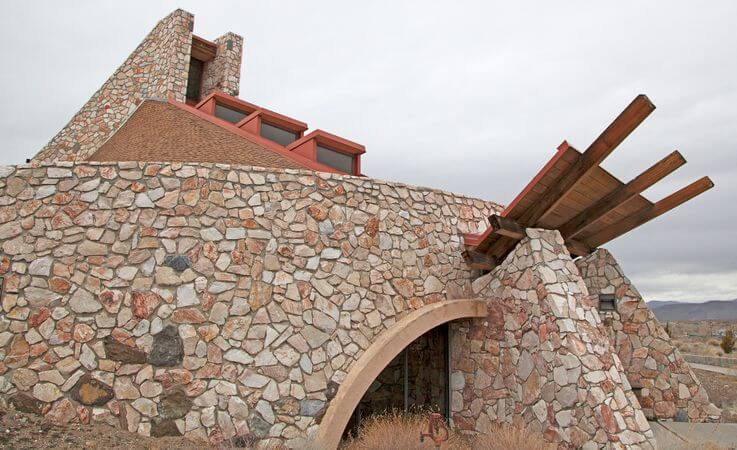 The Pyramid Lake Paiute Tribe Museum and Visitor Center features exhibits on the Pyramid Lake Paiute Tribe's history and culture. Here, visitors will learn just how very sacred this place is and why the Paiute people continue to hold this entire area so close to their hearts. This also the only other place you can purchase permits for recreational activities. Hours of operation are from 8 a.m. to 4:30 p.m., Monday through Friday. During summer, add Saturdays from 10 a.m. to 4:30 p.m.
Reely Good Fishing in Pyramid Lake, Nevada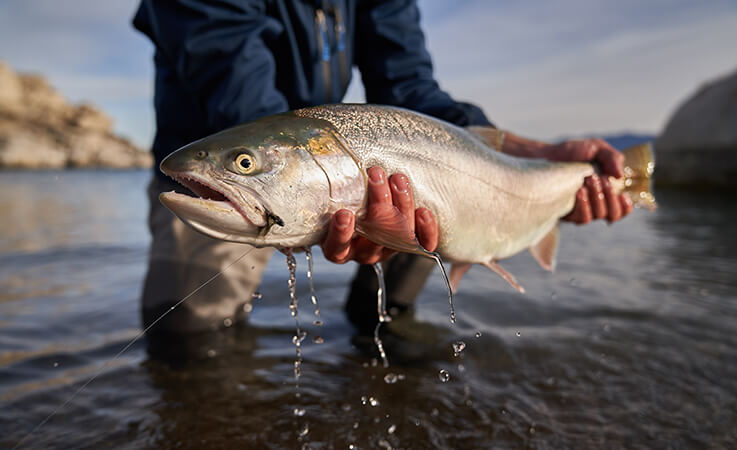 The Pyramid Lake Fisheries near Sutcliffe on Nevada State Route 445 is a great place to learn about fish husbandry. Spawning season can run from March through May.
If you're an avid angler, give Pyramid Lake fishing a try. The lake has five different species of fish, including a few that are endemic.
The Cui-ui, a large sucker fish endemic to Pyramid Lake
Tahoe Sucker, similar to cui-ui, but thicker lower lip
Tui Chub (two kinds that are an important indicator of the health of the lake), Lahontan Creek Tui Chub, S.b. obesa and the Lahontan Lake tui chub S.b. petinifer. (Endemic)
Lahontan Cutthroat Trout, an over 2 million year old fish (endemic)
Sacramento Perch, the only non-native species that resides in Pyramid Lake
But the big draw around here? The salmon-sized ancient holdout known as the Lahontan Cutthroat Trout. If you're ready to beat the world record catch of this prehistoric lunker, which was 41 pounds, be sure to bring your high-test fishing gear. That said, you're more likely to reel in a plenty-large 20-pounder any given day of the week during high season.
For great fishing tips, fisheries program information, or to schedule a tour, call the administration office at (775) 476-0500. For seasons and species info, visit https://pyramidlake.us/fishing.
There's plenty of places to camp along the west shore of Pyramid Lake (be sure to get a permit first at the museum), or if you don't feel like roughing it, you can stay in cabins or travel trailers at Crosby Lodge.
Camping
There's plenty of places to camp along the west shore of Pyramid Lake, including spots that are right on the beach. Be sure to get a permit first at the Pyramid Lake Paiute Tribe Museum and Visitor Center or Crosby's Lodge. If you don't feel like roughing it, Crosby's Lodge offers cabins and travel trailers.
Where to Stay, Pyramid Lake Camping
Welcome to Gerlach, NV – Center of the Known Universe
The town's slogan is "CENTER OF THE KNOWN UNIVERSE," and we don't think that it could be any more fitting. Gerlach is the last place to get gas before heading into the Black Rock Desert, but there are a few other reasons to hang around Main Street.
Depending on what time of year you're in town—whether you're making the trek for the Burn or you're taking this road trip as a fun, off-the-cuff adventure, you can never be too prepared for the weather. Upon leaving Gerlach (and even in some central parts of Gerlach), the weather is often unpredictable. Black Rock City weather can go from dust storms to rain and sunshine to freezing temperatures in an instant. Make sure you pack appropriately!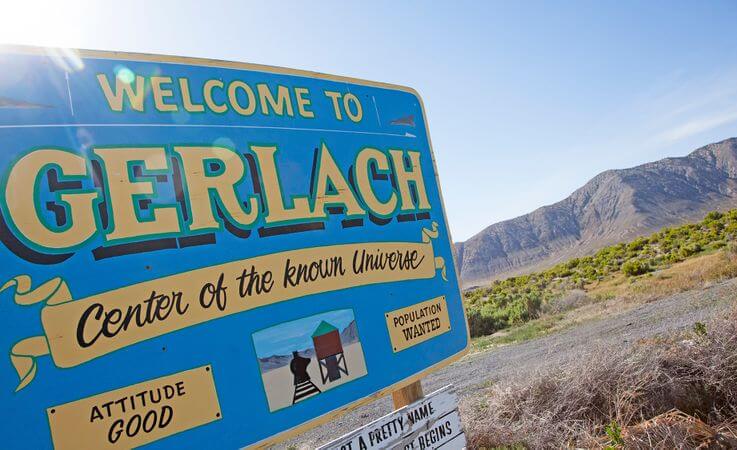 Everyone Goes to Bruno's Country Club
Stop at Bruno's Country Club for the famous ravioli. The restaurant also has homemade pies and an ice cream machine, which makes for a perfect treat on hot days. Bruno's has a bar (known for one seriously mean picon punch) and mini-casino. This is also where you'll find the locals. The staff is very friendly and a great resource on things to see and do in the area.
Friends of Black Rock High Rock
The Friends of Black Rock/High Rock office is the best place to learn about the area and pick up last-minute supplies. (Better yet: show up prepared.) The staff can provide tips to exploring the Black Rock High Rock Emigrant Trails National Conservation Area, plus it's a great place to stop and check out a detailed map of Guru Road.
Find a Dose of Inspiration on Dooby Lane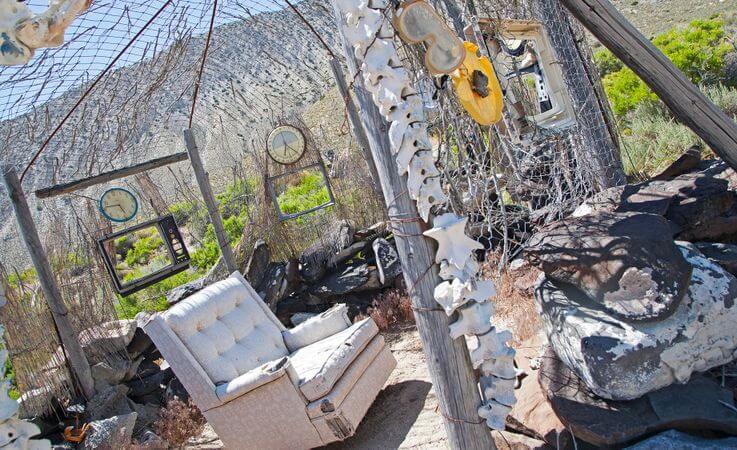 No trip to Gerlach is complete without a visit to Guru Road. Words of wisdom and hand-carved whimsy line this mile-long road to reflection, along with several larger art pieces including a "weather station," Aphrodite, a tribute to Elvis, and the far-reaching Desert Broadcast System—all the legacy of Gerlach local, DeWayne "Doobie" Williams, who crafted these totems using local stone and other found objects between the '70s and early '90s. To clarify, "Doobie" is the guy's name, while "Dooby Lane" is the local name for what is "officially" called Guru Road. Got it? Anyhow, this mile-ish-long dirt-road open-air gallery is just left from County Road 34, about two miles north of Gerlach. Happy hunting.
The Art Studio From Another Dimension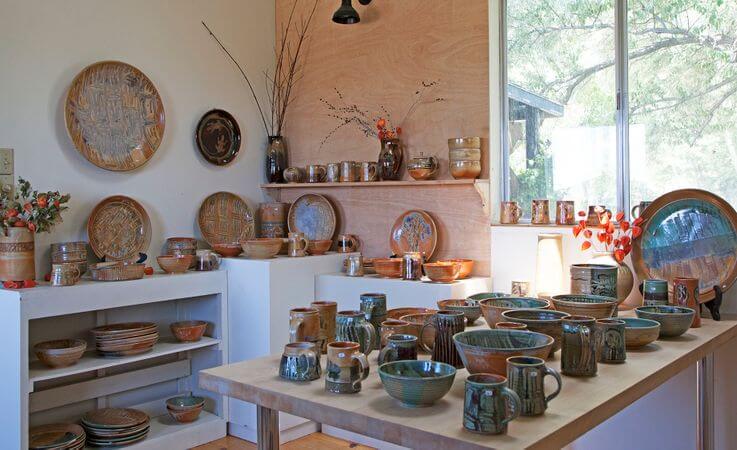 Planet X Pottery started with just the remnants of an old homestead on the Emigrant Trail. Today, it is a working pottery and art studio with four show galleries, along with an outdoor bar and picnic area, located just eight miles west of Gerlach along NV-447 towards Smoke Creek. It's 28 miles from Gerlach, but trust us—it's worth the drive.
This husband and wife team have offered exquisite ceramics and paintings in sprawling ranch home galleries since 1974, of which many are inspired by their splendiferous surroundings.
Travel Nevada PRO TIP: Swing by on Memorial Day or Thanksgiving weekend for the twice-annual, three-day Open House Show & Sale for an all-around pottery party.
Black Rock Desert-High Rock Canyon Emigrant Trails National Conservation Area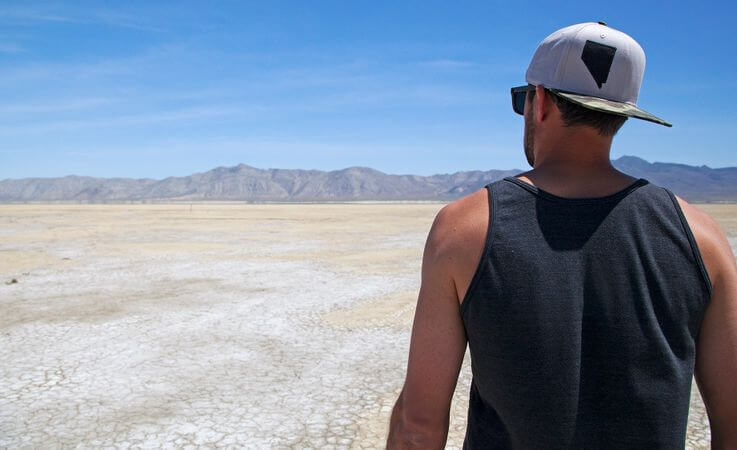 So! Ready to hit the Playa? Burning Man has made the Black Rock Desert an international icon, but much more happens in these 1.2 million acres of public land than just the ephemeral Black Rock City. While some Burners may consider their visits to Black Rock City a life-changing, extreme adventure, try coming around here when there aren't trash fences, porta-potties, and places to purchase ice and coffee!
Throughout the year, this true wilderness offers hiking trails to unearthly viewpoints, endless OHV action (Off-Highway Vehicle areas, also known as State Vehicular Recreation Areas, or SVRAs), remains from old buckaroo camps, wagon ruts from 19th-century pioneer trails, inscriptions on rocks, rocket launching competitions, land sailing and land speed challenges, and nearly nightly light shows (not of the laser-induced variety) in some of the darkest skies on Earth, all over a spectacular landscape that remains largely unchanged for millennia. Camping out here is second to none, but it's also a strictly Leave No Trace affair; know the ropes before you show up.
Need help figuring out how to spend your time exploring all that space? You probably guessed it… check out the recs from our buds at Friends of Black Rock High Rock!
Travel Nevada PRO TIP: Driving on the Playa
Watching the speedometer needle climb as you blast off to infinity on one of the flattest surfaces on Earth is certainly a thrill. Utilizing the dry lake bed is also the best way to reach certain historic sites in the region. HOWEVER, it's very important to check driving conditions before driving on the playa. Basically, if it's anything other than bone-dry, DO NOT ATTEMPT IT. Did it snow recently? Don't go. Rain? Forget about it. Both weather phenomena, we might add, can occur at any time of year.
Any bit of moisture and the playa becomes one massive quicksand pit, and vehicles have been known to be stuck out there for months on end. (Yes, even ones with four-wheel drive). As a local barkeeper once remarked, "When you get [messed] up out here, you get [MESSED] up!" Do NOT be the guy he's talking about.
Your best bet? Pick up the phone and call Friends of Black Rock, Bruno's, or the Miner's Club before you hit the Burner Byway and ask what the conditions have been like lately.
Hit That Dusty Trail
Once you've experienced the Black Rock Desert, you just get it. There's something magical out here, that's for sure. There are very few places on this planet that allow you to feel these kinds of freedoms. Freedoms to. But also freedoms from. It makes perfect sense that Burning Man would find this place. And don't get us wrong: that experimental pop-up metropolis is a one-of-a-kind event, a community, an inspiration—one whose amazing influence Nevada is fortunate to absorb…
But! Just as Louisianans say, "There's Mardi Gras, and then there's New Orleans,"… out here, we think it's safe to say, there's Burning Man, and then there's the Black Rock Desert. Happy trails, travelers!
Where to Hit The Sack in Gerlach