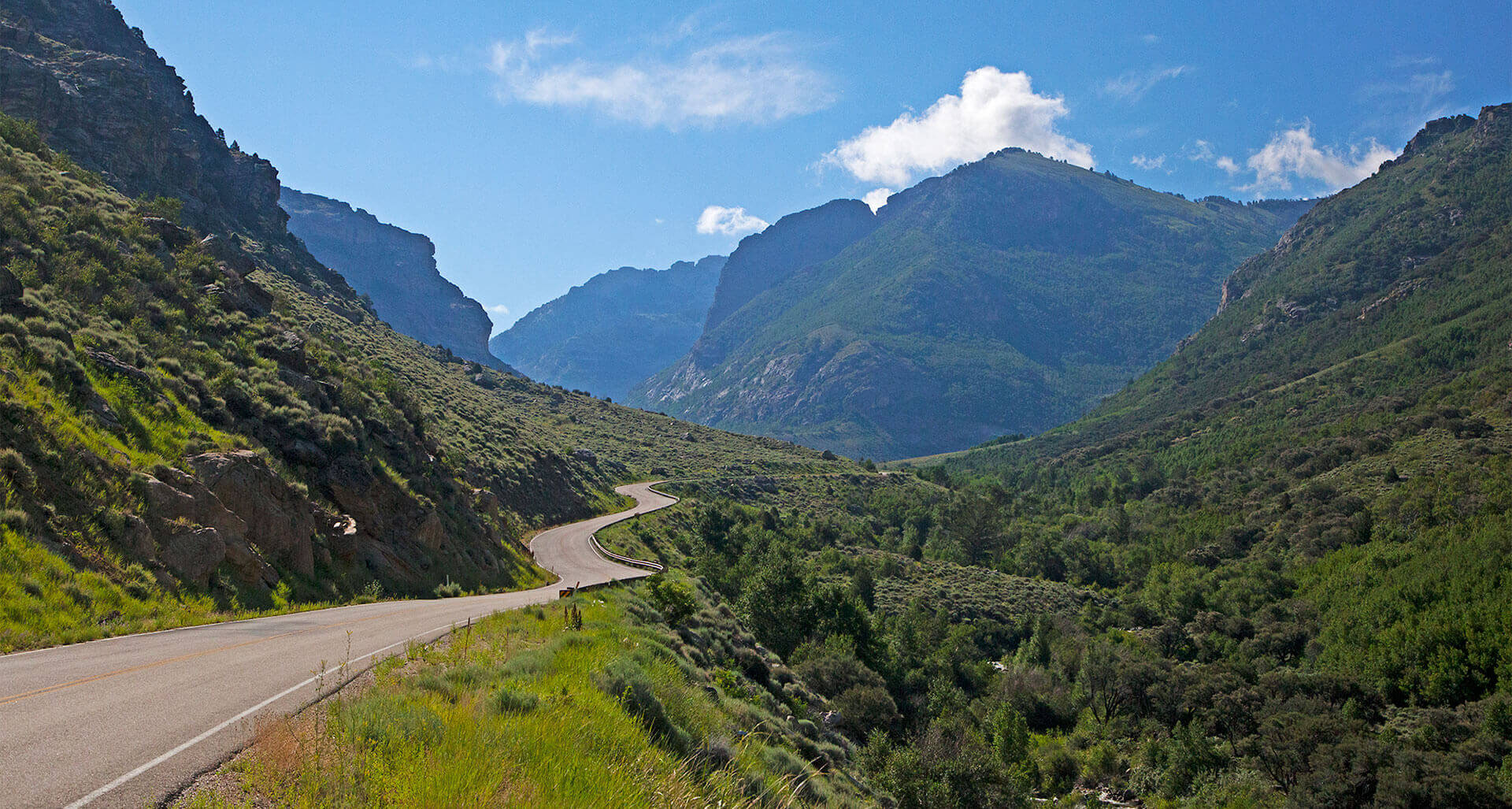 Nevada's Majestic Northeastern Corner
Let the wild spokes of this route lead you to Lamoille Canyon, the Ruby Mountains, and beyond.
On The Rubies Route, think of warm, welcoming Elko as your hub and these awesome adventures as spokes to real-deal western cultures, epic outdoor playgrounds, and all-to-yourself scenic treasures. Adorned with alpine peaks, lakes and flowing streams, tree-studded canyons and horizon-chasing, high-desert valleys, Elko County is vast and varied. Recreational opportunities abound, like hiking, cycling, fishing, and photography, along with skiing, snowshoeing, and snowmobiling in winter, Nevada's majestic northeastern corner has much to explore.
All roads lead somewhere amazing here, but the centerpiece of this region is the glacier-carved range known as the Ruby Mountains, accessed via Lamoille Scenic Byway. The Ruby Mountains, Nevada's wettest mountain range, are a steep and rugged expanse capped by 11,387-foot (3,470-meter) Ruby Dome.
Back on pavement, Elko wears its heritage on its sleeve, with Basque, American Indian, buckaroo, and other traditions on display at every turn. And be warned: people out here are damn friendly—so, forget what your parents told you and be prepared to talk to a stranger or 10.
Travel Nevada PRO TIP: Lamoille Canyon Scenic Byway and many secondary roads—especially throughout the Humboldt–Toiyabe National Forest, the Ruby Mountains, and the Jarbidge Wilderness—are unplowed in winter, so plan accordingly. If you're looking to really get out there, your best bang for your traveling buck along the Rubies Route is June through October.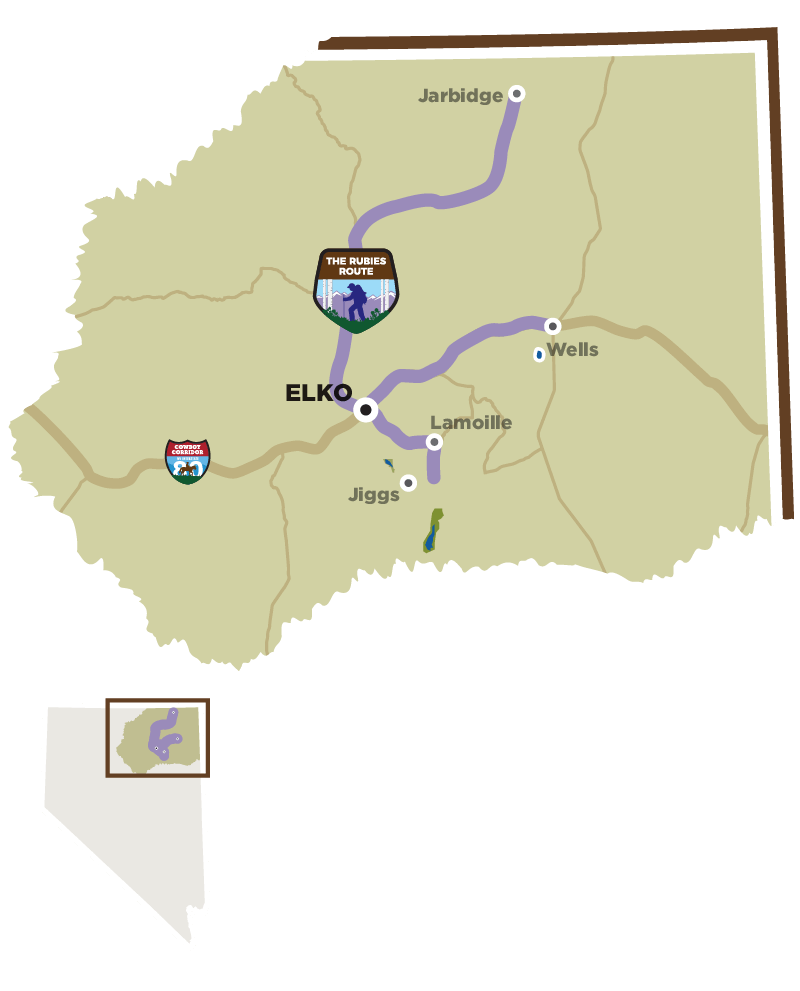 Got some elevated photo skills? Share them using #TheRubiesRoute!
Welcome to Elko!
On your way into Elko, swing by the California Trail Interpretive Center, just off Interstate 80, several miles west of town (Hunter exit). Plan your own adventure with some inspiration from the pioneers who endured the 2,000-mile trek west at this fascinating, interactive interpretive center.
Start your Elko exploration at the Western Folklife Center (WFC). Situated in the unmistakable old Pioneer Hotel. This unique institution is most famous for hosting the National Cowboy Poetry Gathering each January, but also houses a gallery exhibiting artistic works connected to horseman and ranching cultures from around the world. Make sure to check out the free 16-minute film about cowboy musical tradition, their artsy gift shop, restored saloon, and of course their slew of events ranging from dance classes to cigar box guitar building workshops.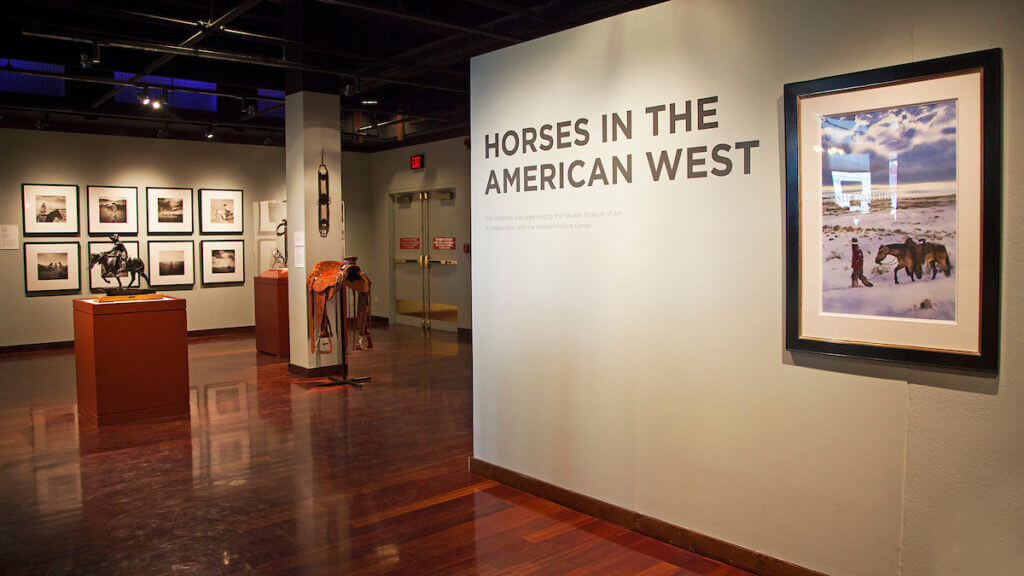 Guardians of Tradition
From the WFC, head across the street to J.M. Capriola Co., a world-famous saddle and leather tooling shop, to see saddles being made in the store's small, second-story workshop. Aching for saddles and leatherwork or not, swing into Cap's to browse Western wear—and Western wares. Then, cruise a few doors down to their brand new Cowboy Arts & Gear Museum to ogle some local history. Admire top-notch handiwork that's outfitted working buckaroos, Hollywood stars, and collectors for more than a century.
Elko to Lamoille Canyon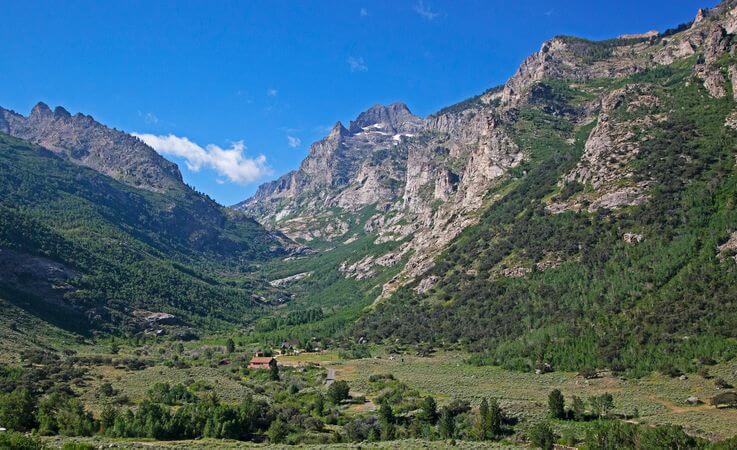 Time to make your way to the aspen-studded, creek-harboring, glacier-carved sliver of paradise that is Lamoille Canyon, Nevada. On your way out of town, take Nevada state Route 227 (Lamoille Highway). This 22-mile (35 km) drive takes you over a pass and through the residential community of Spring Creek. At the base of the Ruby Mountains, make a right onto Forest Service Road 660 (Lamoille Canyon Scenic Byway). This 12-mile (19 km) paved road works its way up past vistas straight out of a photographer's dream—from spring waterfalls and summer greenery to fall colors.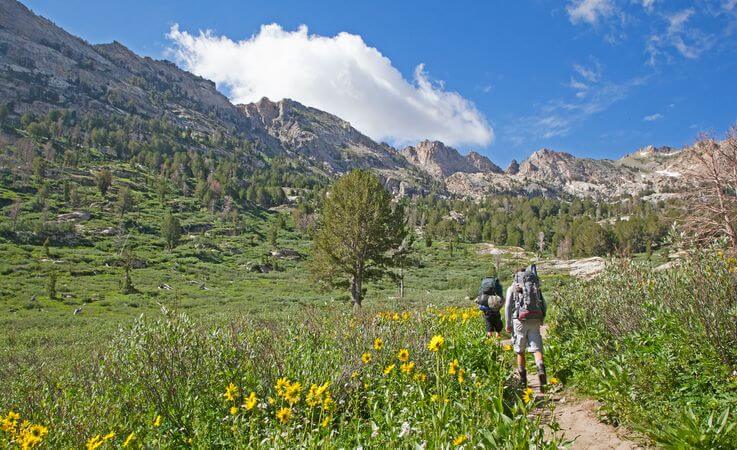 There are many places to pull over for Kodak moments, interpretive signs, trailheads, and access to the bends and beaver ponds of Lamoille Creek, home to fishing so good that it's almost unfair. (Ever heard of a tiger trout? If you're an angler, you're gonna wanna.)
This scenic drive tops out around 8,800 feet (2,438 m) at a staging area for hiking trails to alpine lakes and breathtaking viewpoints, as well as the multi-day, 35-mile (56 km) Ruby Crest National Recreation Trail thru-hike. Need a lift back to your car? Cowboy John Tours out of Elko offers a Ruby Crest Trail Shuttle Service, too.
Winter Wonderful
While winter makes this part of Lamoille Canyon Scenic Byway totally inaccessible to passenger vehicles, 300 average inches of the driest, fluffiest snow in the USA certainly seduces snowshoers, snowmobilers, and powder-hungry backcountry and heli-skiers alike.
If that last bit "peaked" your interest, you may want to take advantage of one of the only heli-skiing operations in the Lower 48 at Ruby Mountains Heli-Experience. The family business also offers multi-elevation serviced yurt accommodations up to 10,000 feet (3,048 meters), which are open year-round.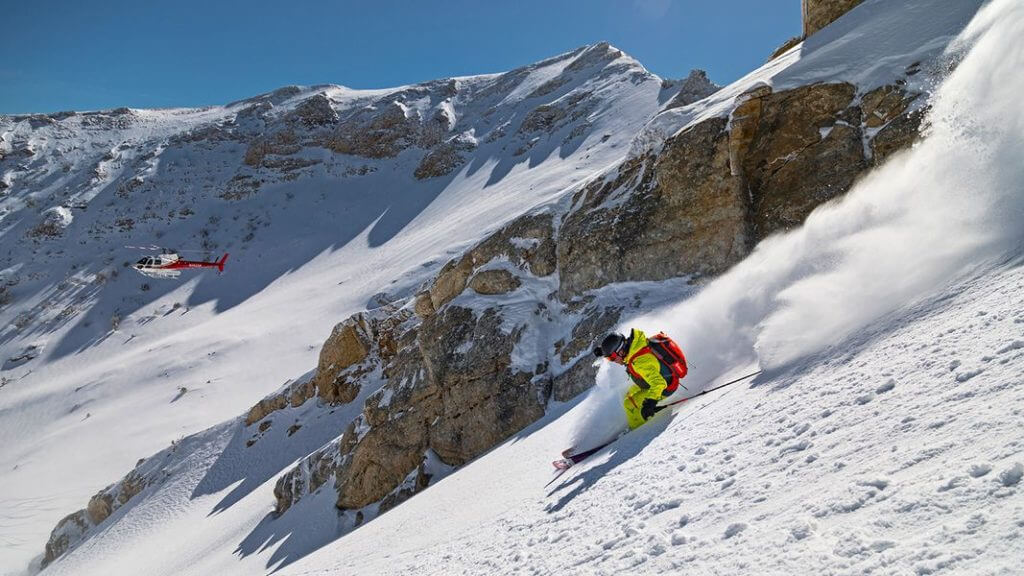 Village of Lamoille
On the drive back to Elko, hit the bottom of Lamoille Canyon Scenic Byway andhang a right into the small, charming community of Lamoille, population of around 105. Here you'll find the picturesque Lamoille Presbyterian Church, one of the most photographed locations in Elko County. Grab dinner at the Pine Lodge Dinner House for a hearty steak, some hard-earned post-adventure brews at O'Carrol's, and an eyeful of big game taxidermy at both. Lamoille is also home to historic Red's Ranch, which can be reserved for conferences, special events, or family gatherings.
Side Trip to Jiggs
About an hour south of Elko, Jiggs' entire population once fit into a Volkswagen van for an ad. Today, you'll find its few current residents and travelers alike enjoying cold libations, friendly conversation, and unusual taxidermy at the 70-year-old Jiggs Bar—the coziest (and only) gathering place in Mound Valley. To get here from Elko, take NV-227 into Spring Creek and NV-228 south to Jiggs.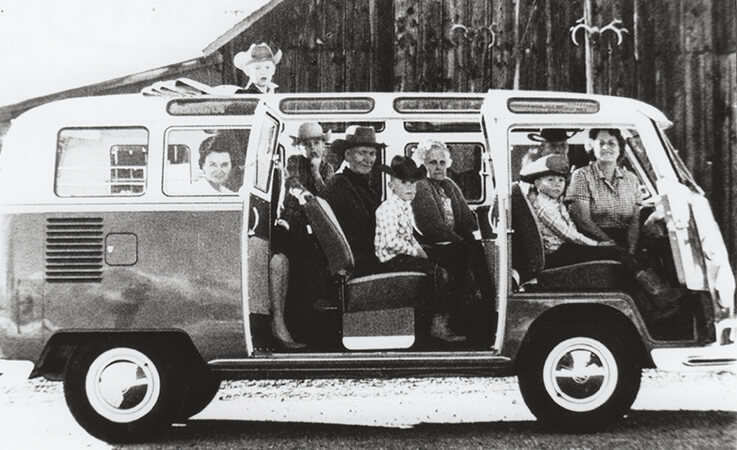 Where to Stay in Elko or Lamoille Canyon
Elko to Wells, Humboldt Toiyabe National Forest and Ruby Valley
Angel Lake and Wells
Your first goal on this spoke: Angel Lake. Perched at 8,500 feet among stunning glacial cirques, this aspen-cliffed gem—tucked up just 12 miles off Interstate 80—steals the hearts of hikers, photographers, trout bums (rainbow, brook, and tiger dwell here), and anyone lucky enough to spot bighorn sheep, mountain goats, pronghorn antelope, and other wild East Humboldt Range locals.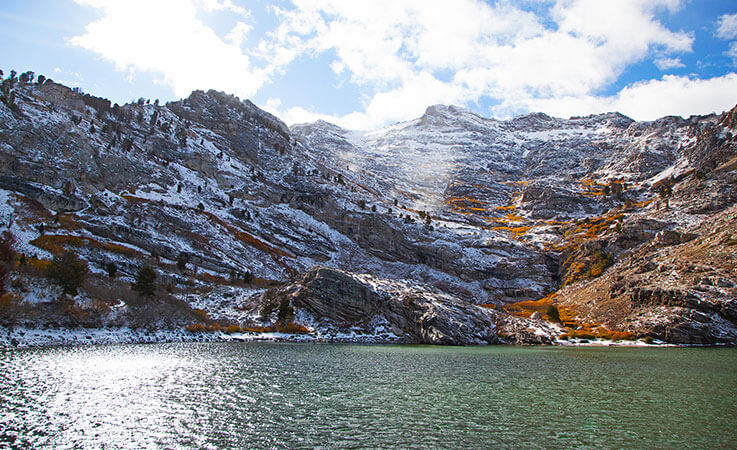 To get there from Elko, head east about 47 miles (75 km) on I-80 to Wells. Take exit 351, hang a right on Humboldt Ave, then another immediate right onto NV-231. Follow the paved road about 20 minutes right on up to paradise. As part of the Humboldt–Toiyabe National Forest, you'll find nice trails to Smith Lake and Winchell Lake, a picnic area, restrooms, and Angel Lake Campground. Although you'll probably have your pick of sites, you can always fall back to the breathtaking poplar groves shrouding Angel Creek Campground, which is just a short drive back from the way you came.
Need anything from town? Wells has you covered with lodging, a grocery store (with a surprisingly good beer selection), caffeine at Bella's Restaurant & Espresso, hot grub at Luther's Sports Bar & Grill, and some neat history at Trail of the 49ers Interpretive Center.
Ruby Mountain Brewing Company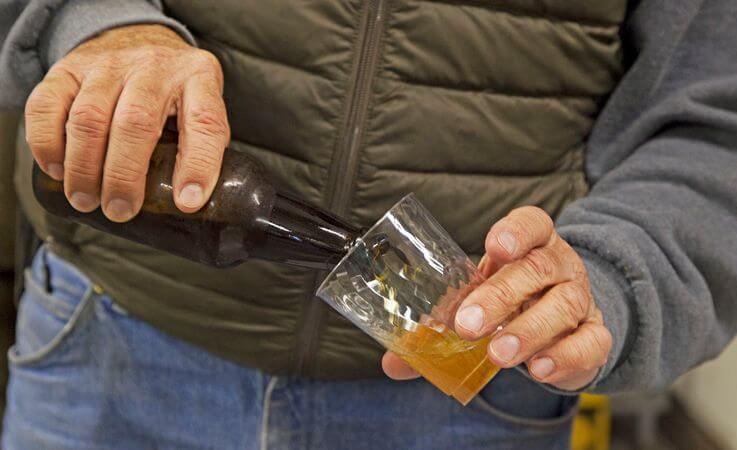 Speaking of beer… did we mention there's a brewery out here? And probably not the kind you expect. At Ruby Mountain Brewing Company, you can forget toursity tasting rooms and seen-one-seen-'em-all tours. Show up to the Saffords' working ranch—a rustic beer lover's oasis for over 20 years—and enjoy some small-batch-but-mighty, award-winning brews— possibly even till the cows literally come home. Sip what they've got or take a case of these local geography-inspired suds to go. (We recommend the Angel Creek Amber or the Bristlecone Brown Porter.)
To get there from Wells, head south on US-93 for 5.5 miles until you see a sign marked "Clover Valley." Turn right toward Clover Valley onto NV-232. Continue for 2.5 miles and hang a right at the first ranch you spot.
Travel Nevada PRO TIP: Keep in mind this is a genuine working ranch, so be sure to call ahead, as Steve may be out in the fields… or ripping around on his mountain bike. To book a tour and sip sesh, call Steve Safford at 775-752-BEER.
Ruby Lake National Wildlife Refuge
If you thought all of Nevada was a desert, this region probably has you a little shocked. We're here to keep you on your toes! So don't worry, we've still got a few more hidden oases for you, like the Ruby Lake National Wildlife Refuge. Getting here takes a commitment, but once you see this 370,000-acre panorama of watery grandeur on the backside of the Ruby Mountains, it's easy to spend a day fishing for bass and a whopping six different species of trout, or trying to spot the 220 species of birds who live or take a break from their migration treks here at one of the 500 Globally Important Bird Area, or even navigating the dozens of lakes, ponds, and labyrinthine, interconnected marshlands by canoe or kayak. Camping can be had at South Ruby Lake Campground, too. Other than that, your closest real indoor situation is back at Ruby Mountain Brewing Co. or in Wells.
Getting there from Wells: Head south on US-93 for almost 30 miles (48 km) and then take a right on NV-229 W for another 45 miles or so. From here, it's up to you how far down and around you want to go! Or, at which of the many convenient pullouts you want to nab and hang out at.
Getting there from (or back to) Elko
NV-229 between Ruby Valley and Elko (via I-80, Halleck exit) is 85 miles (137 km), paved
NV-228 between the south end of Ruby Valley and Elko is 50 miles, with the last section (Harrison Pass) unpaved and seasonally impassable. (Want to know the condition? The friendly folks at Jiggs Bar usually know!)
The Ruby Lake National Wildlife Refuge is 80 miles (129 kilometers) south of Wells. Hunting and fishing are allowed in particular areas during specific seasons on Ruby Marsh, so be sure to check with U.S. Fish & Wildlife Services prior to your visit.
Nevada's Most Isolated Town
Jarbidge is a living ghost town. Depending on what route you take, you'll quickly find that it is easily one of Nevada's, and the country's, most remote communities. It is about 104 miles (the fun way) or about 200 miles (the highway) from Elko and is located on the very edge of Nevada's border with Idaho. Jarbidge may also be one of our closest ties to the Wild West: one of the last gold rushes took place here in 1909, as well as one of (and this'll make perfect sense) the last stagecoach robberies.
Today, Jarbidge is a one-of-a-kind wilderness outpost for unbelievable fishing, big-game hunting, off-road exploration, unbeatable photography, camping, and more—either in town or in the nearby Humboldt–Toiyabe National Forest and Jarbidge Wilderness Area. Meanwhile, there's plenty of good times to be had right there in town. Depending on the season, about 11 to 100 residents live along its dirt-road main drag, right across from "Downtown's" two bars (because Nevada…). The Red Dog Saloon and the Outdoor Inn join forces to keep visitors warm, satiated, and entertained, while the latter establishment also serves up good grub and comfortable accommodations.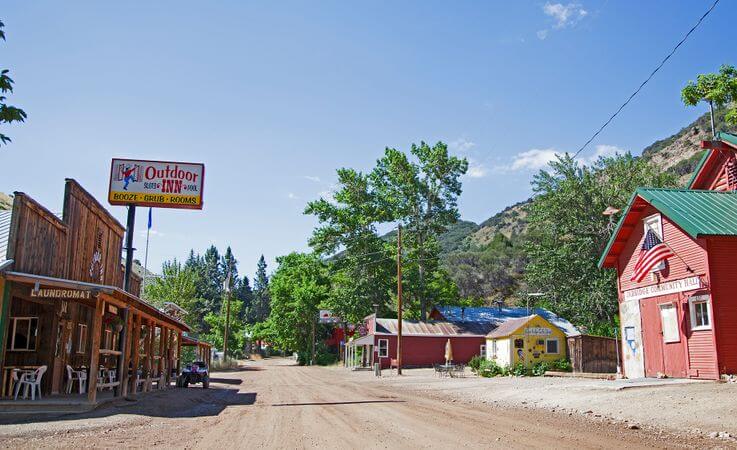 Travel Nevada PRO TIP: Taking the most direct (and breathtaking) route to Jarbidge, Nevada, means summiting unpaved passes that only get plowed once a year for the town's mighty July 4th bash, and as a heads up, it has been known to snow as early as October. So, check all travel conditions before you go. If weather, seasons, or vehicles are an issue, take the paved way around the area via Wells, Jackpot, and get the added bonus of seeing a small slice of Idaho.
Getting there from Elko:
The Classic Nevada Route: Head north from Elko up NV-225 toward Wild Horse Reservoir, take a right onto CR-748 / Charleston-Jarbidge Roadover the mountains and down into Jarbidge. 104 miles (170 km)
Seasonal Idaho Route: Head east from Elko on I-80, then north at Wells onto US-93. Continue into Idaho, take a left on 2000 E Rd, another left on 1520 N Rd, then continue on 3 Creek / Jarbidge Rd,following it all the way to Jarbidge.
Where to Stay in Jarbidge