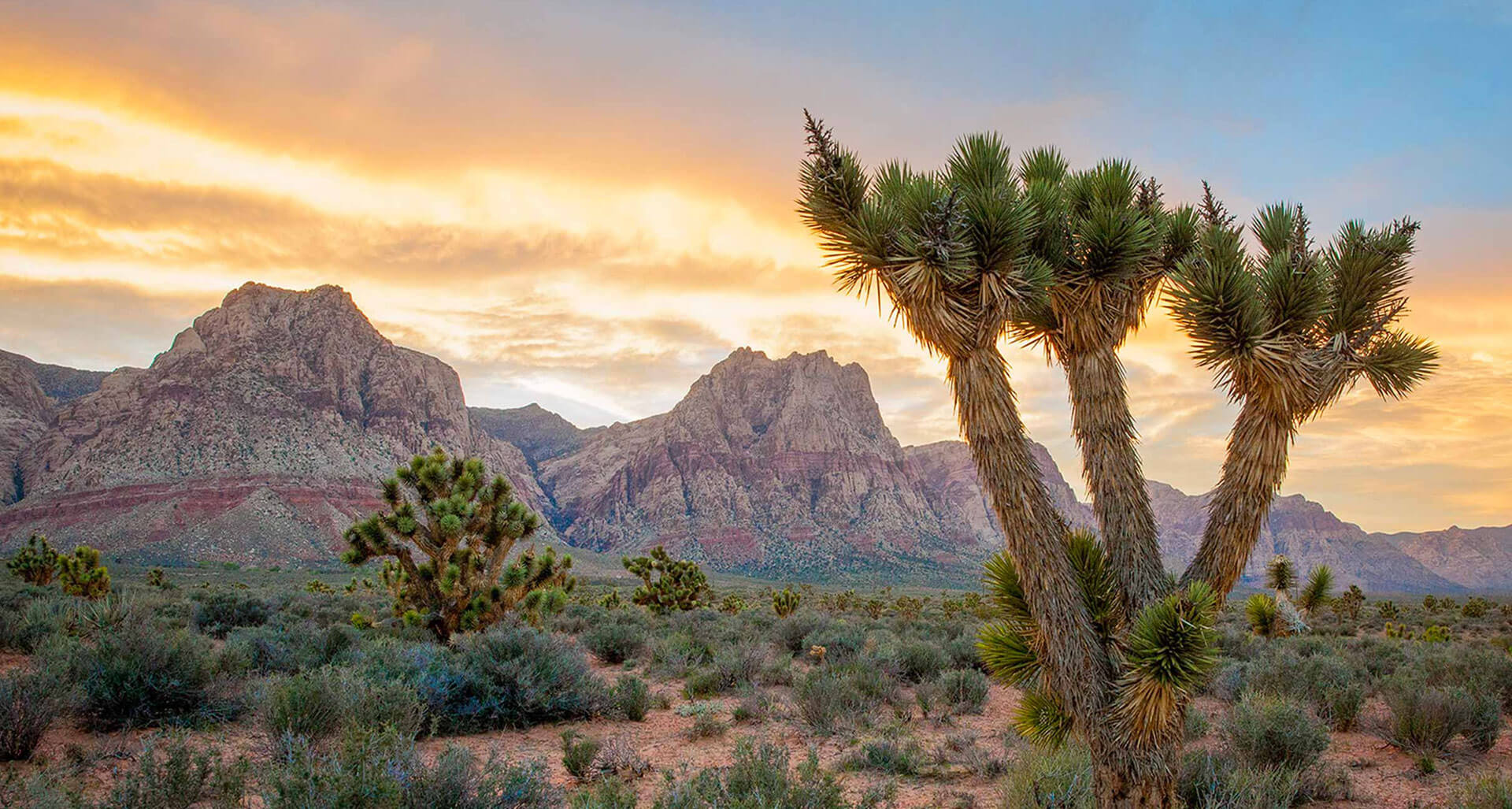 New Adventures Beckon Just Beyond the Glow of the Strip
Off-Strip Day Trips: Las Vegas Nature Destinations
Things really light up after dark.
Las Vegas reels in visitors with its glitz and glam, endless entertainment, and bustling casinos. But just an hour or two from the Strip, some of Nevada's most alluring scenery, famous landmarks, and exciting attractions beg to be explored. With day trips in every direction, there's plenty to satisfy your adventurous side without having to travel too far from the entertainment capital of the world.
These three tried-and-true loops allow you to explore the great outdoors during the day, and still get back in time for your dinner reservation, spa treatment, or Elvis-officiated wedding later on in the night. Meanwhile, travelers looking to escape the urban hustle and bustle for a night or two will find plenty to justify a rewarding getaway to southern Nevada's other burgs, each with its own unique character and charm.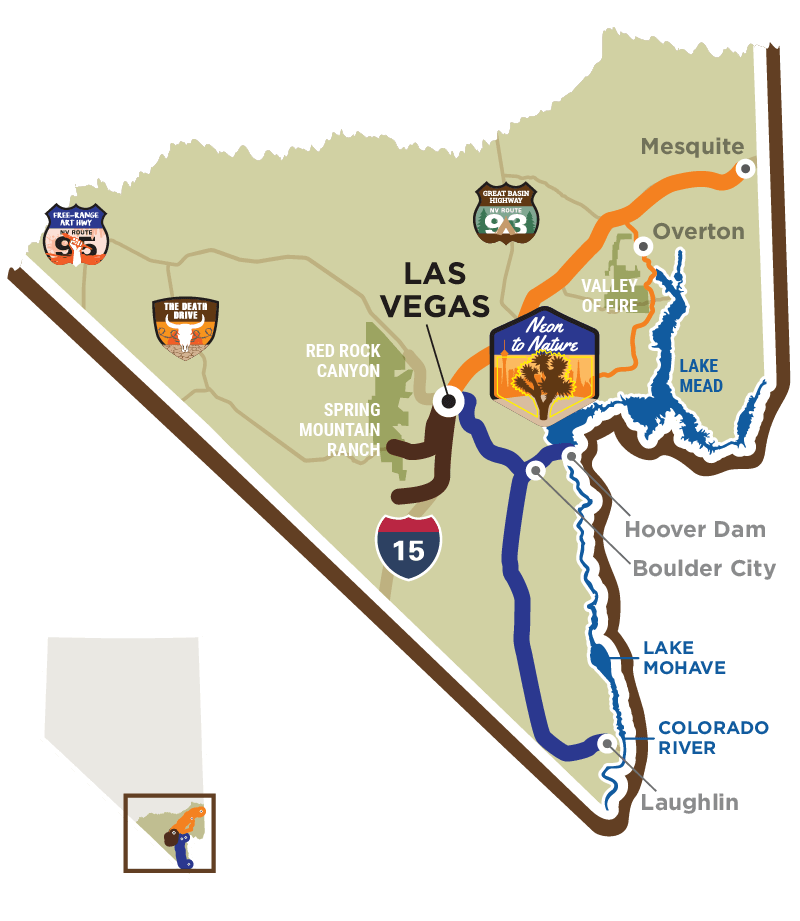 Show us how you venture from #NeonToNature
LAS VEGAS TO RED ROCK CANYON NATIONAL CONSERVATION AREA, SPRING MOUNTAIN RANCH STATE PARK, GOODSPRINGS, AND BACK
When picturing Las Vegas, plenty of people don't think about mountains and wilderness. Those people just haven't yet had the pleasure to do so. Barely 30 minutes from downtown Las Vegas lie 316,000 acres of wilderness, home to ten major canyons and dozens of mountains. (Those "Mountain View rooms" from your hotel on the Strip? Yep, they're talking about all this.)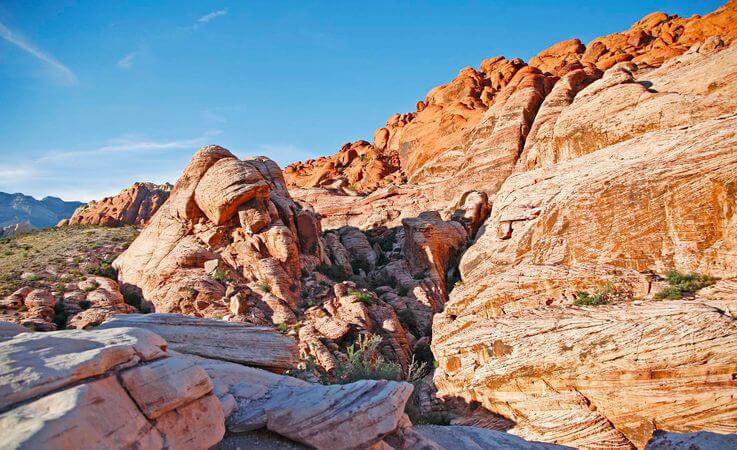 Faulty Towers – Red Rock Canyon
Why do more than two million people visit Red Rock Canyon National Conservation Area each year? Probably because it's hands-down one of the most breathtaking places in the Silver State. It's easy to fill a day exploring Red Rock's signature red-banded canyons, climbing its towering sandstone peaks, and hunting for ancient petroglyphs.
One of the best ways to appreciate the geological significance of this region is to hike the trail along the Keystone Thrust, which skirts a fault line that was created over 60 million years ago. The more air-conditioning-inclined can also take in those unmatched views from the Red Rock Canyon Backcountry Byway—a 13-mile loop that winds through the incredible public lands in and around Red Rock NCA. (Cyclists, this delightful tarmac is calling you, too.)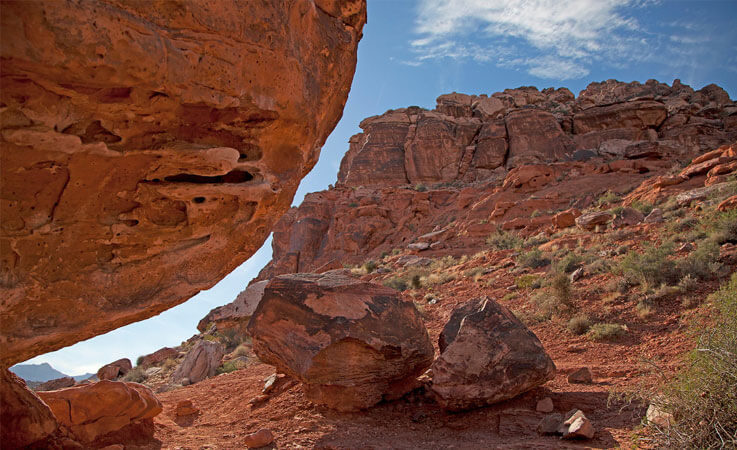 Meanwhile, if vertical is more your thing, you're not alone; Red Rock Canyon is a climber's rite paradise. With some of the best climbing routes on the continent (some call it the "best outdoor climbing gym on Earth"), Red Rock is also a (literal) natural home for Red Rock Rendezvous, the West Coast's greatest "dirtbag" celebration of all things climbing-related.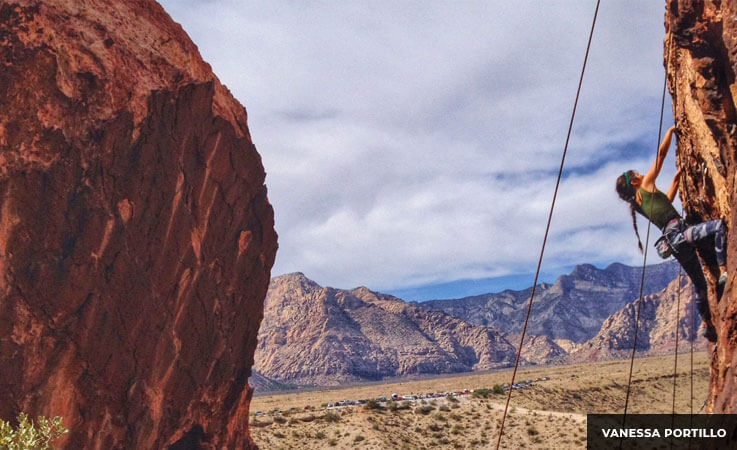 Spring Past the Crowds
Continue south for a short five-minute drive to Spring Mountain Ranch State Park. The same natural springs that attracted weary pioneers to this lush valley in the 1860s—not to mention chinchilla ranchers and a few celebrities—continue to capture the attention of modern day visitors and locals alike. Actually located within Red Rock Canyon NCA, this state park gets up close and personal with the same stunning scenery, but with a fraction of the crowd, making it at least as enjoyable (if not more) than its better-known neighbor, no matter the season.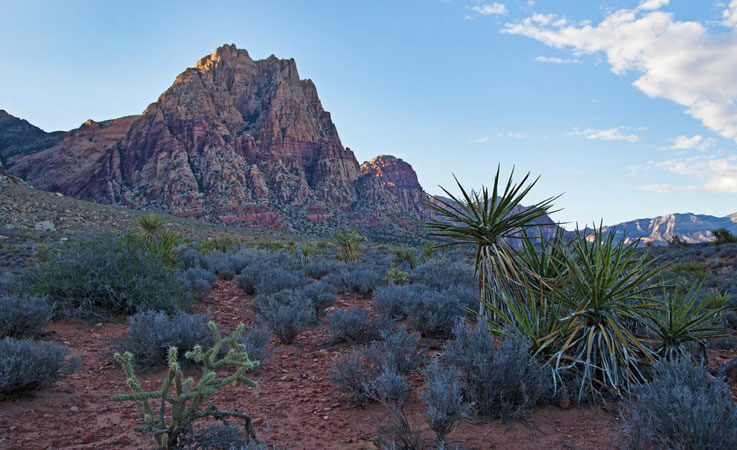 Here, kick back on the lush, expansive, spring-fed lawn (a swanky amenity in a certain nearby desert metropolis), take in one of the best views from a yoga mat in the whole region, and explore some of Nevada's oldest buildings. Structures like the Sandstone Cabin, the old blacksmith shop, and the ranch house, which now serves as the park's visitor center, have stood the test of time. Waiting for your eyes to gaze upon them. If you'd like to stick around a little longer, enroll in some of the park's signature programs, like Paint with a Ranger or embark on a ranger-led moonlight hike.
From here, continue southeast along NV-159 and catch NV-160 back to town. Or, if you feel like capping off your Red Rock experience with a well-earned sagebrush saloon visit, make your way to I-15 S for the well-worth-it 30-minute postscript side-trip to the Pioneer Saloon in Goodsprings.
Drink In Some History at Southern Nevada's Oldest Saloon
Boy, if these original stamped tin walls could talk! Built in 1913, the Pioneer Saloon has been the set of countless movies and television shows (a few bullet holes in the wall and Clark Gable's cigarette burns still grace the bar), and remains home to legends, folklore, Food Network-worthy cowboy steaks and burgers, and excellent company—all washed down with some notoriously killer Bloody Marys.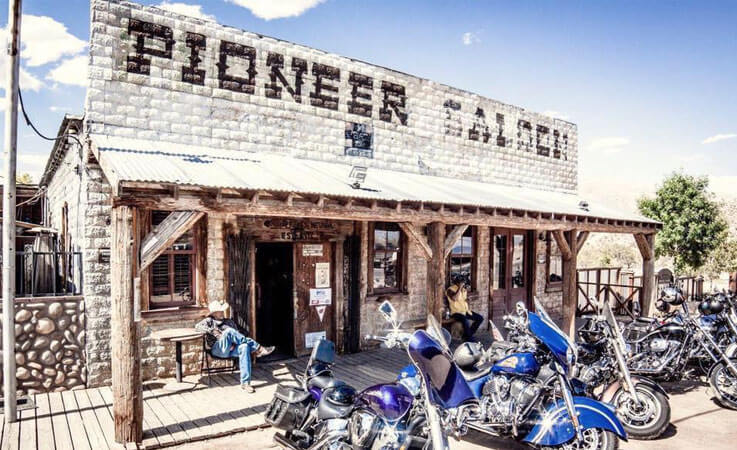 This story of the bar itself starts earlier, though. Way earlier. The bar traveled by sea from the East Coast, around Cape Horn (before the Panama Canal existed), all the way to San Francisco, before it traveled yet again via ox-pulled wagon to Rhyolite, a Nevada mining town that went bust nearly as soon as it boomed in the early 1900s. When Rhyolite went bust (now one of Nevada's most famous ghost towns), the bar was transported here, where it's propped up frosty libations ever since.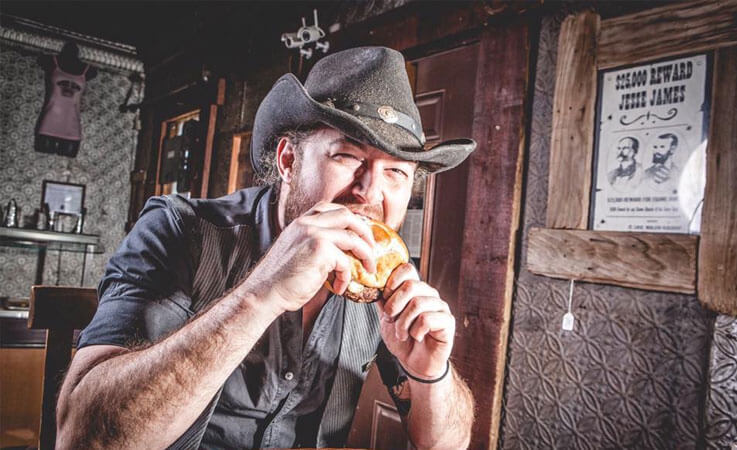 Not a bad day, spent feeling a world away from—yet all within about a 30-mile radius of—the neon capital of the planet. Speaking of which, head on back to Downtown Las Vegas. Don't you have a Neon Museum night tour to catch, or some friends to meet for dinner and drinks (and more neon appreciation) on Fremont Street?
LAS VEGAS TO VALLEY OF FIRE STATE PARK AND MESQUITE
Ready to Rock
From Las Vegas, hit the road for world-famous Valley of Fire, Nevada's oldest and most popular state park, just 55 miles northeast of the city. Las Vegas nature is otherworldly. Bust out that camera to capture iconic roadscapes that the park (and state) are so well known for. Situated in vibrant, iron-laden rock formations, the vistas here are so colorful that it often appears the valley is actually ablaze.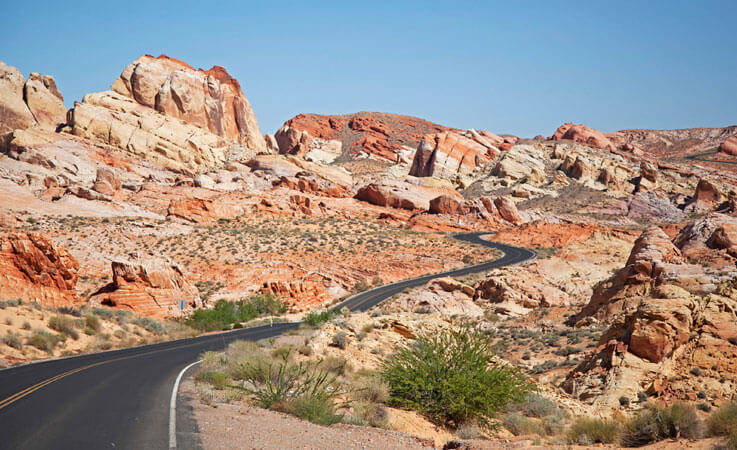 Plan on cruising through multi-colored sandstone marvels at Rainbow Vista, or hit the trail at Mouse's Tank and explore ancient petroglyphs left thousands of years ago by Moapa Valley's first inhabitants. Make sure to swing by the visitor center to learn about the park's natural history, unique geology, plants, wildlife, and much more.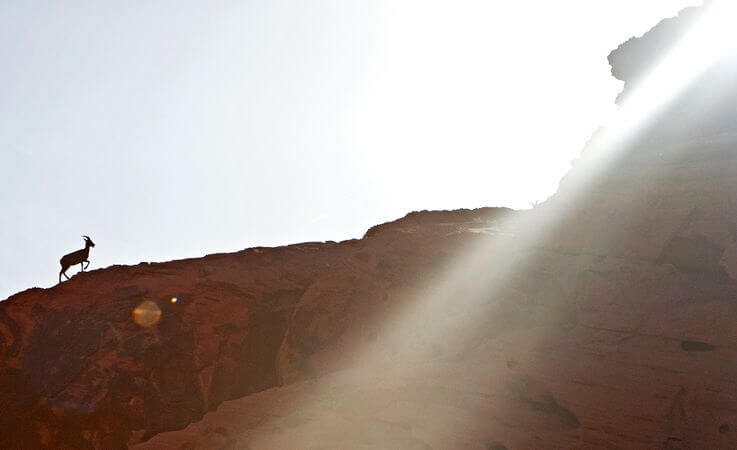 Travel Nevada PRO TIP: It's best to get out to Valley of Fire early in the morning when the sunrise illuminates the red and orange rocks and wildlife. This is also when Nevada's desert bighorn sheep are most active. But, remember that unless you've managed to score a first come, first served campground (plan ahead!), the park is closed and off limits from sunset to sunrise.
Moapa Valley
Depart Valley of Fire on the eastern side and meander on through the quiet Lake Mead community of Moapa Valley. Stop by the Lost City Museum to peel back the enriching and vast history of the Ancestral Puebloans who first inhabited the region. Although their original dwellings were flooded when Lake Mead was created in the 1930s, the Civilian Conservation Corps built the Lost City Museum and many other replica structures modeled after the pueblo dwellings they occupied nearly 12,000 years ago (not to mention Valley of Fire State Park and many other classic Nevada attractions).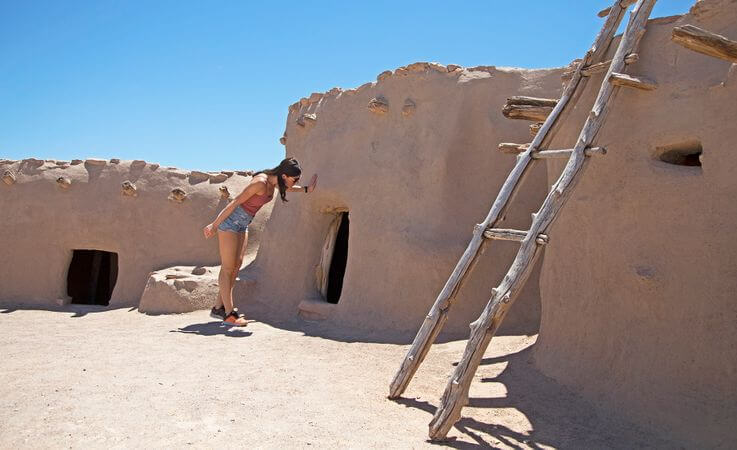 Mesquite – Find Your Flavor
Only 40 minutes up the road lies the oasis-like resort getaway town of Mesquite, Nevada, known for its art, culture, great restaurants, and recreation, all set against the paradise of the Virgin River Valley. Mesquite is also a golfer's paradise, boasting eight great courses, including Wolf Creek, a constant regular on the world's top 'Best Ofs' lists.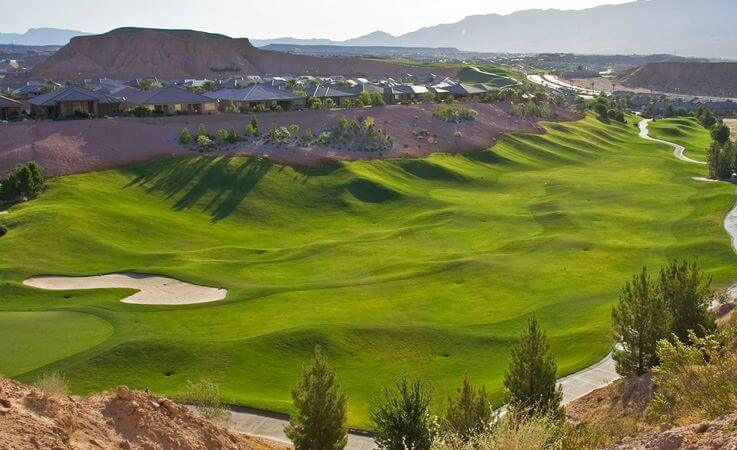 Culture vultures may indulge at a couple great destinations here, too. The Virgin Valley Heritage Museum is on the National Register of Historic Places and is one of just two known Nevada examples of Pueblo Revival buildings—more handiwork of the Civilian Conservation Corps. And then there's the Mesquite Fine Arts Center & Gallery, one of the state's proudest art institutions. Possibly the un-stuffiest fine art gallery ever, this gallery reps nearly 200 regional artists with monthly rotating exhibits, lectures, and classes.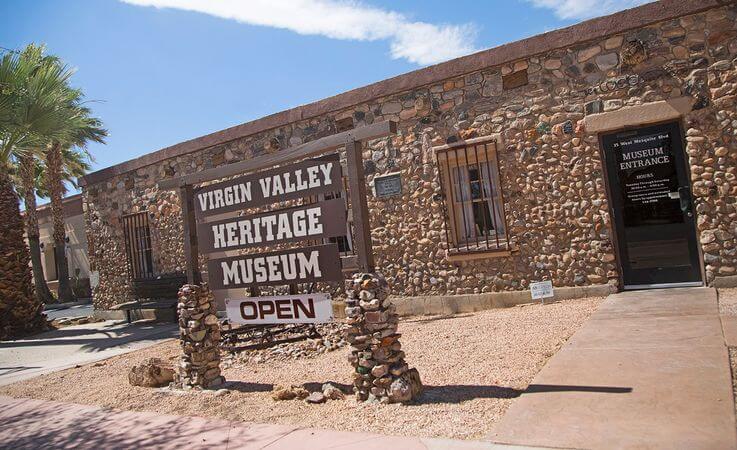 Later, head to 1880 Grille where you can get your hands on the restaurant's most famous burgers or stacked-high sandwiches. If you don't feel like heading all the way back to Vegas this evening, Mesquite's got you covered. Kick back with a mineral bath or luxury spa treatment at one of Mesquite's fine resorts. It just sounds nice, doesn't it?
Golden Opportunity For a Detour
Designated in 2016, Gold Butte National Monument is a 300,000-acre wonderland, which dazzles with striking sandstone rock formations, thousands of rock art and petroglyphs, and historic structures. It's an absolute gem and one of Nevada's most underrated, off-the-radar, unbelievable destinations.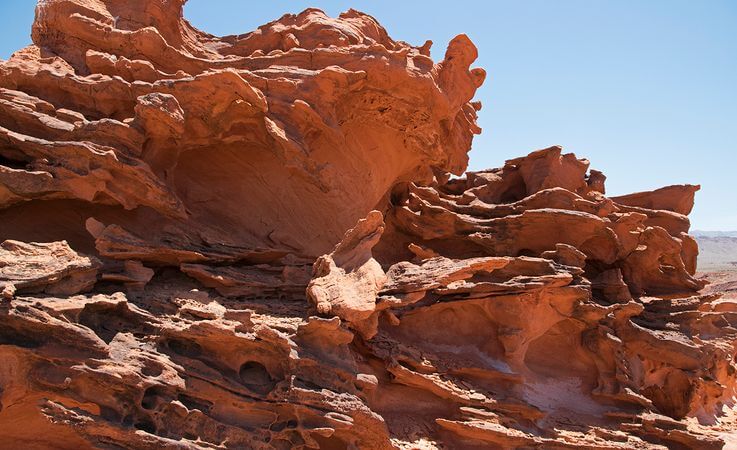 HOWEVER! This is serious backcountry. Remoteness, rugged roads, sweltering summer heat, and extreme desert elements are only fun if you are prepared to survive them. By all means, visit. But DON'T, unless you've done your homework and can show up prepared. Gold Butte Road is accessed just 10 miles southwest of Mesquite from NV-170 on the south side of the Virgin River. From there, it's about 20 miles of rough road into the heart of the monument, and dirt tracks from then on. Visit Friends of Gold Butte for all the details.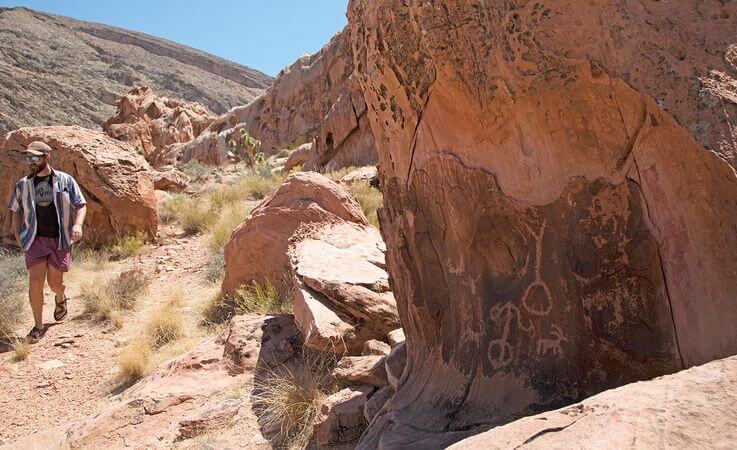 The Scenic Route Back to Las Vegas
If you have time, take it. From Mesquite, cruise back down through Moapa Valley to the junction with Valley of Fire Hwy. Continue ahead on Northshore Road—AKA state Route 167—which gently winds back towards Vegas (hugging Valley of Fire) past view after camera-lens-loving views out to Lake Mead, Gold Butte National Monument, and even peaks of Grand Canyon-Parashant National Monument. Watch for wild horses!
Travel Nevada PRO TIP: You can also take this route in reverse on your way to Valley of Fire. Just be sure you cruise past the park on Valley of Fire Hwy, so you don't miss those classic Nevada roadscapes!
Where to Stay in Mesquite
LAS VEGAS TO BOULDER CITY, HOOVER DAM, AND LAUGHLIN
Whether you're day tripping from Las Vegas to Boulder City to check out Hoover Dam or cruising via Boulder City to Las Vegas from somewhere else, you're going to be glad you knew these amazing spots you could've easily missed.
Boulder City: Small Town, Big Adventure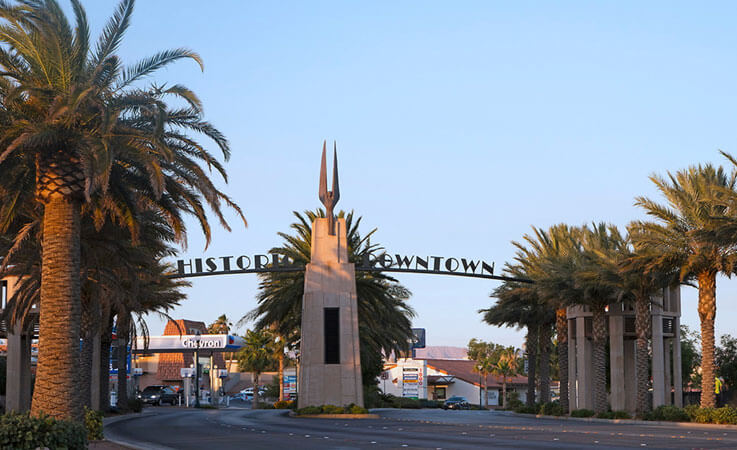 For simplicity's sake, let's assume you're heading the Las Vegas to Boulder City direction. Hop on Interstate 515 southbound for a quick 20-minute drive from Las Vegas and you'll come across the charming, Art Deco throwback community of Boulder City. Here, life slows down a bit in all of the most satisfying of ways. Some of Nevada's best restaurants, art all over the place, and unlimited recreation earn Boulder City cred as one of the state's best basecamps for urban and outdoor adventure, period.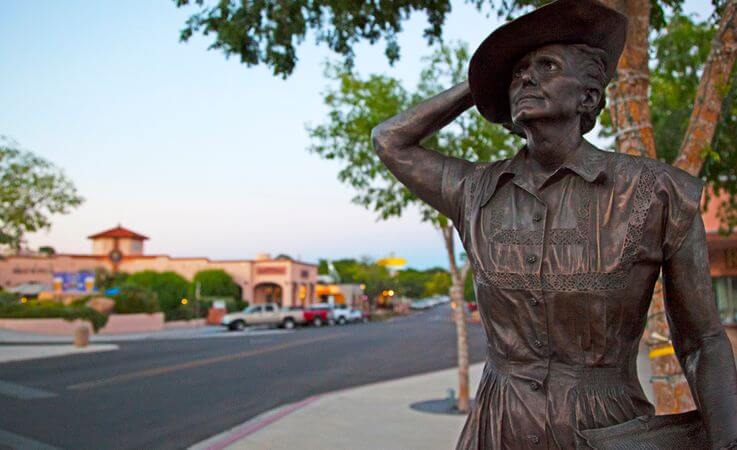 Originally established as a temporary home for workers building Hoover Dam, the area is home to only about 15,000 residents. Contrary to its neighboring mega-city, Boulder City was originally constructed with zero gaming and remains that way today as one of Nevada's only gaming-free communities. The reason? Contractors didn't want their workers distracted by liquor and casinos, or gambling away all their hard-earned money after work.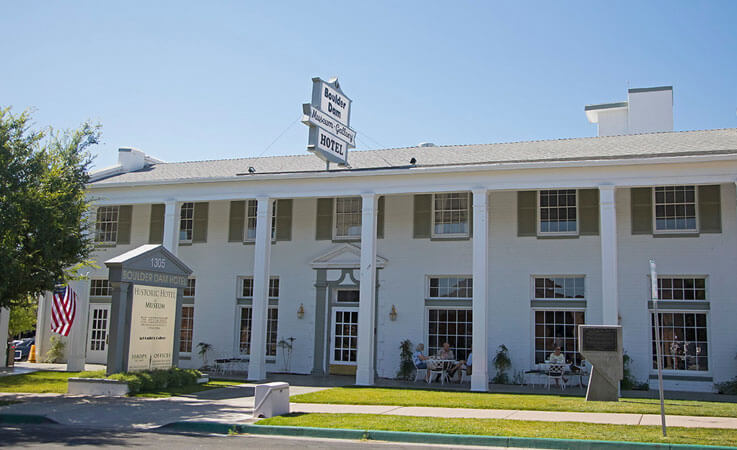 While in town, stop by (or treat yourself and stay at) the Boulder Dam Hotel, which was originally built to host the upper crust—like politicians and movie stars—while they were touring Hoover Dam. The hotel has been immaculately restored with historic integrity in mind and has landed a spot on the National Register of Historic Places. Grab breakfast at the on-site restaurant and be sure to check out the Boulder City – Hoover Dam Museum, which is devoted to telling the history of the dam and town—from all perspectives—on the first floor of the hotel. Another great museum is the Nevada State Railroad Museum – Boulder City, which has preserved the original 1930s rail lines that delivered building supplies to Hoover Dam.
Nonstop Outdoor Adventure Outside Boulder City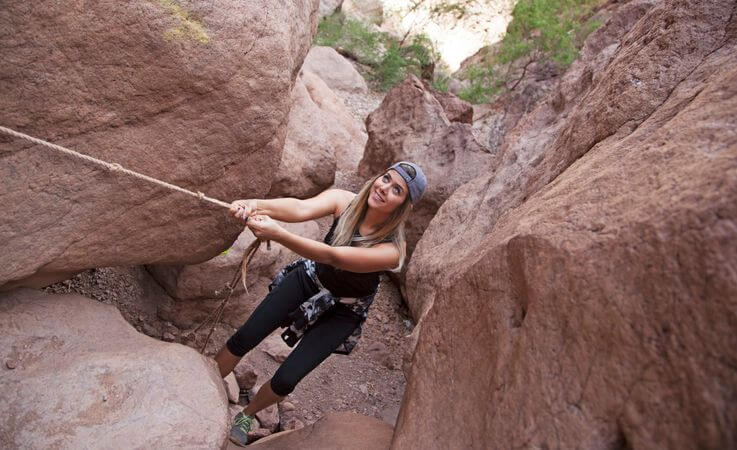 Looking for a bit of adventure that involves bouldering, climbing ropes, and of course, natural hot springs? Take U.S. 93 towards Hoover Dam to Gold Strike Hot Spring. As one of southern Nevada's only public hot springs, this 4.4-mile hike down to the springs is a great detour if you have an entire afternoon to explore. (Due to crazy-high temperatures, the Gold Strike trailhead is closed annually from May 15 to Sept. 30.)
A "cooler" way to explore this amazing canyon is to rent a kayak, or book a tour through Desert Adventures, where you can drop in at the base of Hoover Dam on the Colorado River and kayak to multiple hot springs, hidden beaches, colorful caves, and stunning coves along the 30-mile Black Canyon Water Trail.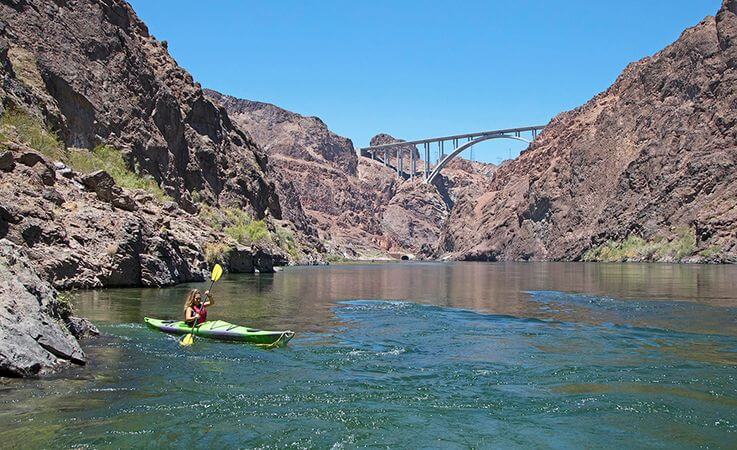 Prefer two wheels over four (or none)? Roadies and cruisers can stick to 34 miles along the River Mountains Loop Trail, including sections that shoot through old train tunnels on the Historic Railroad Trail. Meanwhile, downhill rippers can rejoice at Bootleg Canyon Mountain Bike Park, an IMBA-certified Epic expanse featuring 24 trails across over 35 miles of dusty desert singletrack, ranging from easy loops to rocky technical rollers to killer gravity-testing downhill long-bombs.
If that's not enough of a rush for you, head to Flightlinez Bootleg Canyon for a four-part zip line course that sends you soaring 8,000 feet over picturesque Bootleg Canyon at nearly 60 miles an hour.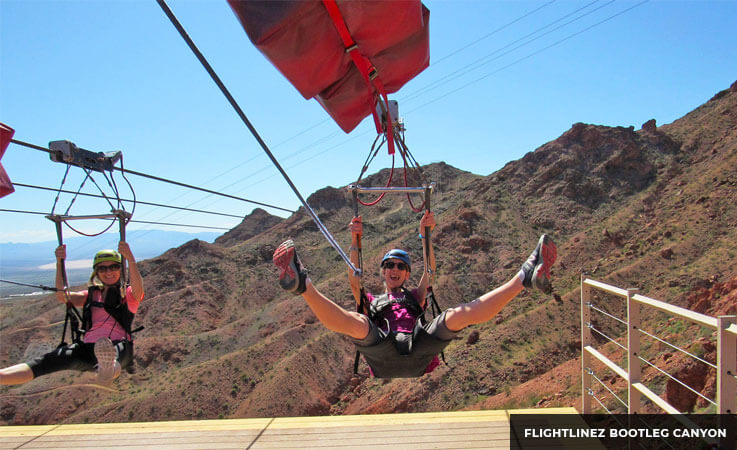 Hot Dam!
Hoover Dam is one of history's modern marvels and is just minutes away from Boulder City. Built to produce hydroelectric power and water for irrigation, the dam was completed in its entirety in 1936, two years ahead of schedule. Towering more than 726 feet high, Hoover Dam hosts 4,360,000 cubic yards of concrete in the dam… which is rumored to still be curing.
Take a guided tour of the Visitor Center and Powerplant or discover some of the dam's passageways with the Hoover Dam Tour. Before leaving, be sure to take note of the Dam's Art Deco mastery–it's truly impressive, whether you are an art aficionado or a casual visitor. Renowned designers were brought in from California to create this vibe, most notably the original terrazzo floors on the Dam tour, and the Winged Figures of the Republic. Don't forget to rub their toes, which is said to bring good luck on those casino floors.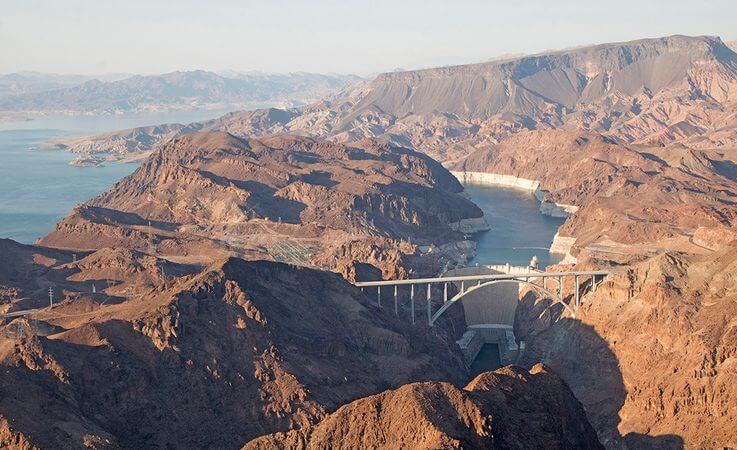 Those Boulder City Nights
Great meals call hungry visitors at the Coffee Cup or The Dillinger in Boulder City's walkable Historic Downtown area. Satisfy your sweet tooth with shaved ice or frozen yogurt at Chilly Jilly'z. If you have the bonus of being in Boulder City in the evening hours, or even choose to opt for an overnighter here, keep your eyes peeled for neon. One of the best pockets of original, vintage neon in the state has been hiding right under your nose in Boulder City's Historic District.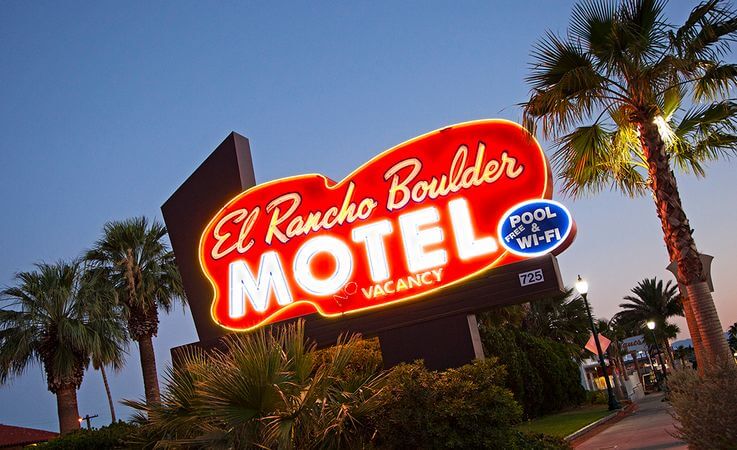 Down the River: Boulder City to Laughlin
If you're not ready to return to Las Vegas, add to the adventure by pushing on from Boulder City to Laughlin. En route to Laughlin, take a slight detour just a few miles off of I-95 to the ghost town of Nelson and the Techatticup Mine. The place looks like an unstaged movie set, with props and historic relics like classic cars and a crashed plane featured in the 2001 film, 3000 Miles to Graceland. These man-made contributions are housed in spectacular Eldorado Canyon, and together, it should come as no surprise that Techatticup does, in fact, host hundreds of commercial photo and video shoots each year.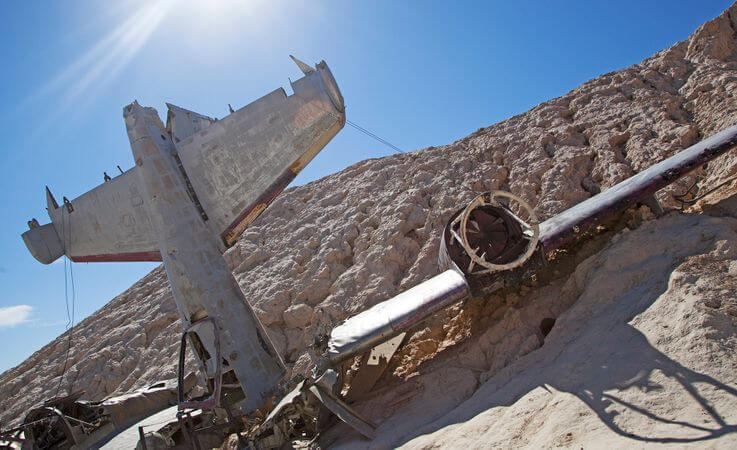 Eldorado Canyon is also home to the first major gold strike in Nevada, thanks to Spaniards that discovered gold there all the way back in the 1700s. Many of the existing mines here today were created by deserters of the Civil War, so if you've got a few extra minutes, take the Techatticup Mine Tour at Eldorado Canyon. It's worth it in more ways than one.
Laughlin All The Way To The River
Just two hours south of Las Vegas lies the sunny city of Laughlin. The town sits on a slice of the Colorado River Valley where Nevada, California, and Arizona converge. As Nevada's southernmost community, Laughlin is known for being a family-friendly outdoor destination.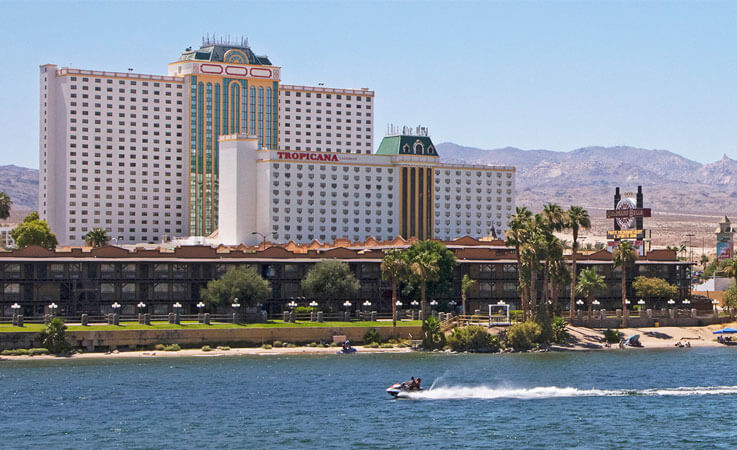 On the Water
Everyone comes to Laughlin to enjoy the mighty Colorado River—but not just from their dinner table, hotel room, or even barstool (you get it; the views are pretty great here). Visitors looking to make the most of this Mojave town's endless-summer climate can take on the current in a kayak, canoe, or rip around on jet skis. Fisherman can angle for crappie, bluegill, trout, and striper bass. Those with a need for speed can hop on a London Bridge Jet Boat Tour for an afternoon and blast down to one of the Southwest's odder landmarks: actual London Bridge, transported from England to nearby Lake Havasu City, Arizona.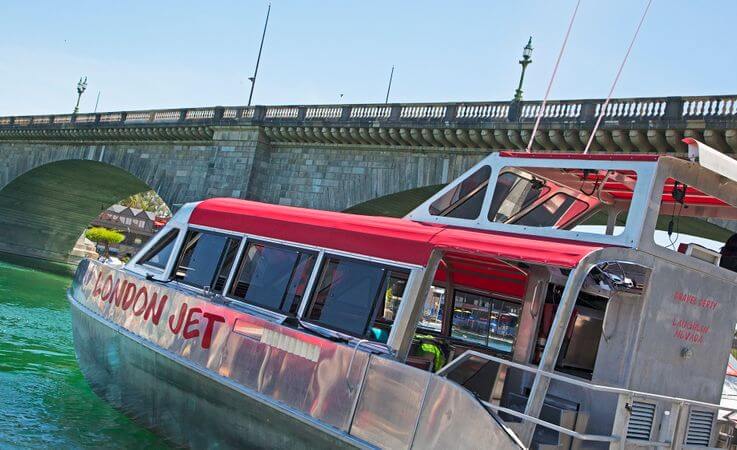 On the Land
Grab a frosty libation and wander between several riverfront casino-resort properties (just like Vegas—it's legal here), whose shops, cafes, brewpubs, and gaming floors all connect along the bank-hugging Laughlin Riverwalk. Hikers and equestrians have their pick of scenic trails and paths throughout the Colorado River Heritage Greenway Park & Trails system—each with its own spectacular perspective of the river or surrounding mountain landscapes—while beachfront picnickers find serenity at Big Bend of the Colorado State Recreation Area.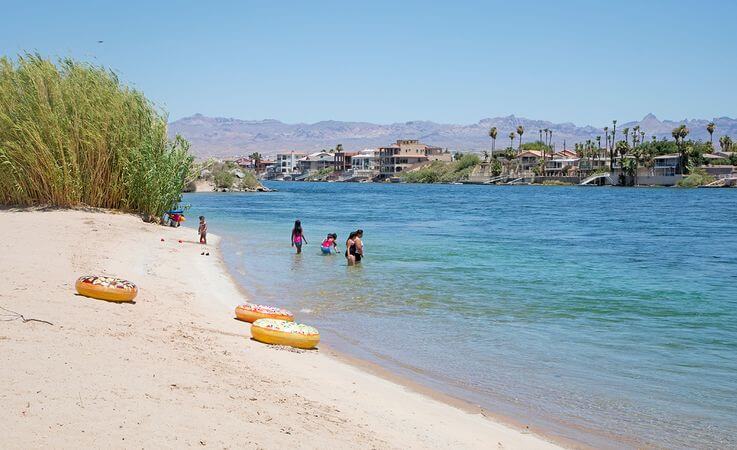 On the Calendar
There's always something big going down in Laughlin. From the Laughlin River Run (possibly the biggest, wildest celebration of motorcycle culture on the West Coast) or all the big-ticket concerts at the Laughlin Event Center, there's always something fun coming 'round the bend down here.