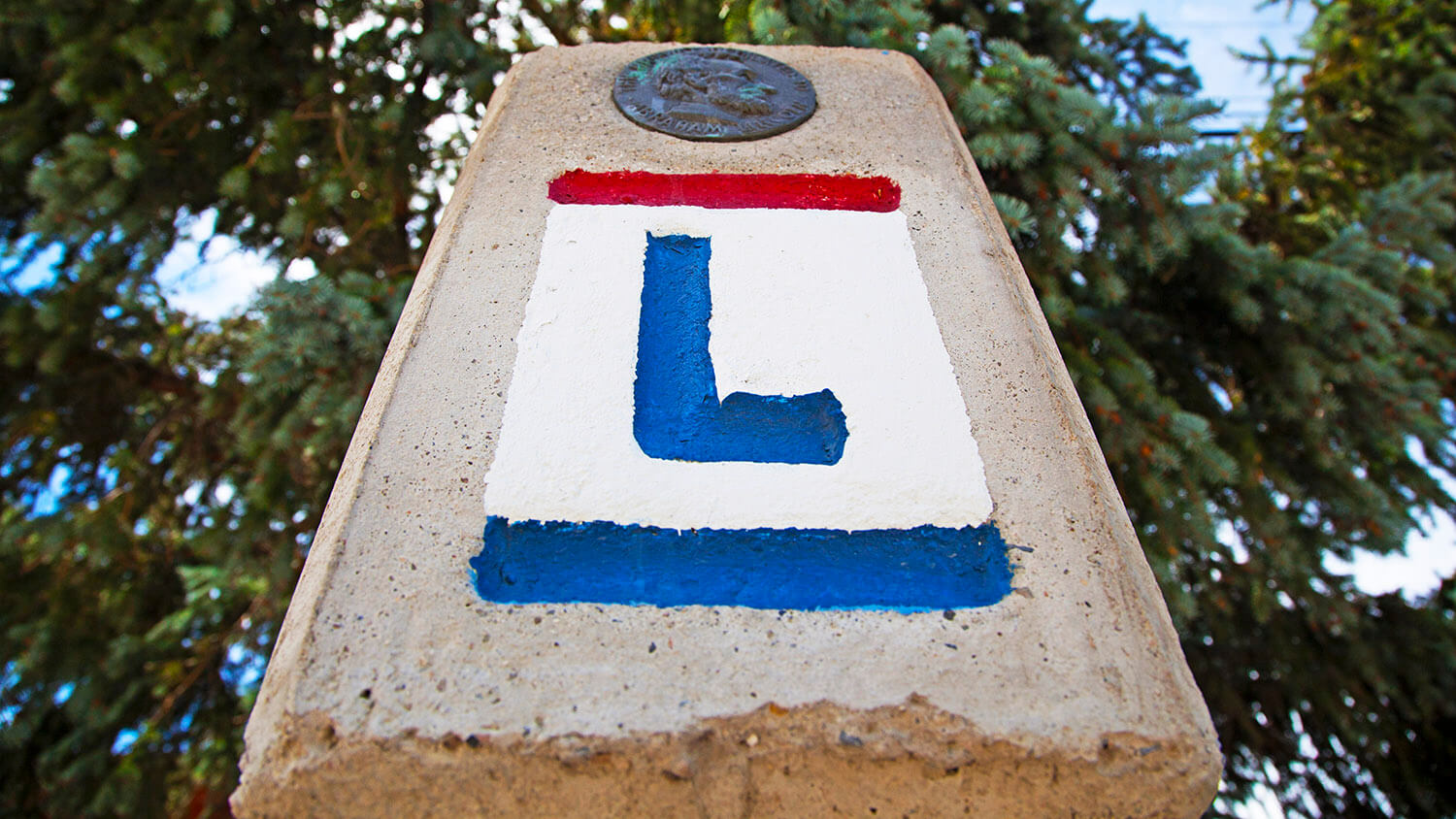 Anything But Lonely On Nevada's Highway 50
There are few things that I enjoy better than a damned good road trip. I fell in love with my husband on a terrifyingly snowy road trip to Iowa and bonded with my dad on a motorcycle tour in Arkansas. I've cultivated an obsession with the transformative American landscape, and one thing is a no-brainer: Nevada's infamous Loneliest Road in America absolutely needs to be a road trip at the very top of the "Best Road Trips in America" list.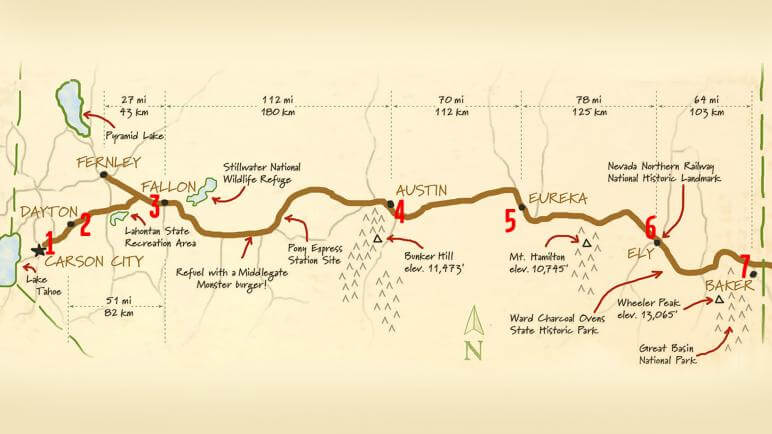 Not having done the trek since I was a kid, I was pumped to travel U.S. 50 from Carson City all the way across the state to Baker en route to the Great Basin National Park Astronomy Festival. Comprised of seven of the eight official Loneliest Road stops, our schedule was an ambitious one and included Carson City, Dayton, Fallon, Austin, Eureka, Ely and Baker…but we were up for it. A little dose of recreation and history with my 6-hour drive? Yes please. With a car full of camping equipment, my trusty gazetteer, and a fabulous little Highway 50 Survival Guide, we launched this mission on a superb September morning.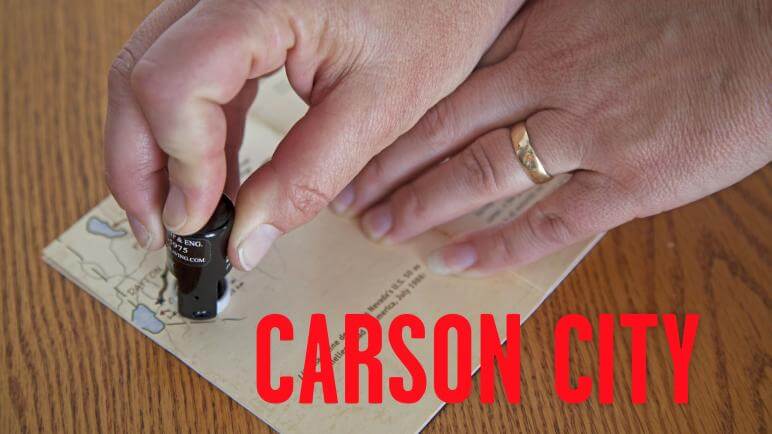 Stop No. 1 was smack-dab central Carson City at the Visitors Bureau and I must admit, we didn't really know what to expect. Would they be familiar with the Highway 50 Survival Guide? Were they going to laugh at grown-ups playing along with this passport game? To my delight, any preconceived notions about the visitors center were dead wrong. An exuberant welcome and two cha-chunks of a stamp later, we were in hot pursuit of the second on the list: Dayton.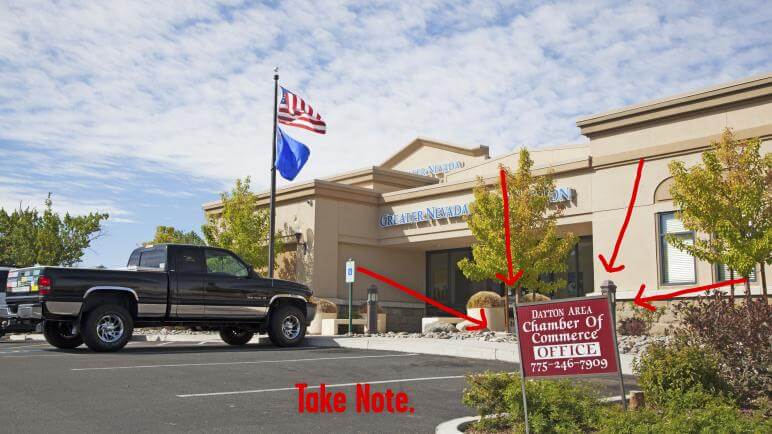 The traffic undoubtedly thinned out as we headed east, and about 20 minutes later we were screeching into Dayton's city limits. With the list of official passport-stamping locations in the back of the booklet, we scoured the main drag, unable to spot the Dayton Area Chamber of Commerce. Why are you taking me to an empty parking lot Siri?! We popped into an incontestably adorable quilt shop, asked for directions, and were shocked when we were pointed toward a bank. Take note people, this will save you time! But hey, if this semi-mysterious location is as complicated as it gets, I'd say we're in pretty good shape. With stamp 2 officially in the bag, we loaded up and headed toward Fallon.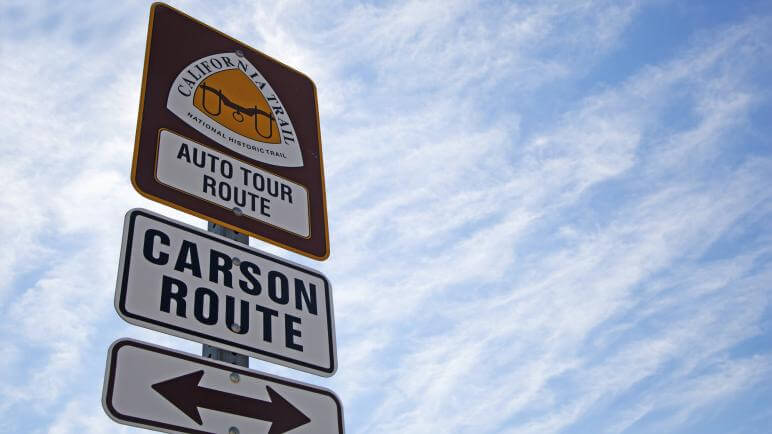 In addition to the wildly historic Lincoln Highway we were traversing, a few signs made it obvious we were also on a portion of the intensely important California Trail…double bonus. Nearing Fallon's city limits, we blew by a guy running alongside the road carrying an American flag. A full-sized American flag. Talk about something you don't see every day.
"We're going all the way to Maine!" he blurted out.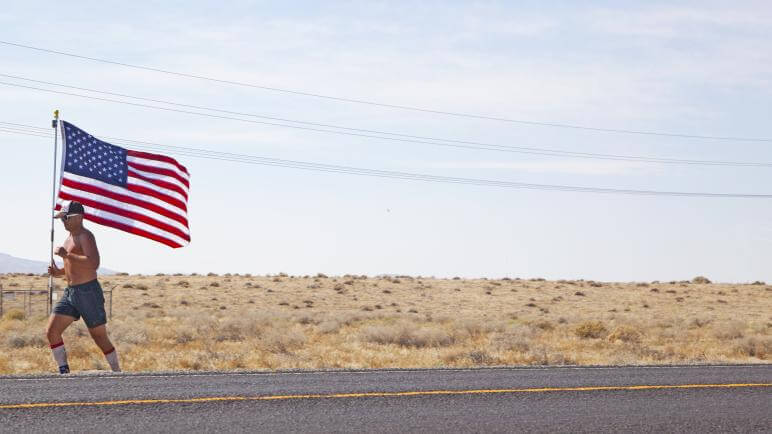 Talk about inspiring. If I could walk, bike or run Nevada's portion of U.S. 50 alone, I would call it a success. Getting to see a team of ridiculously fit mega-athletes attempting this feat was pretty amazing.
Another friendly hello and a clunk of a stamp later, we were in and out of Fallon and headed for the next destination. Building momentum on this already-incredible jaunt, we ripped by Sand Mountain…one of Nevada's geological wonders. Although hard to believe, retreating glaciers from another time eventually broke down to hunks of quartz that were washed down the Walker River and blown to the area. Sort of like a gazillion dump trucks deposited beachy, singing sand in the middle of the desert, it's just there.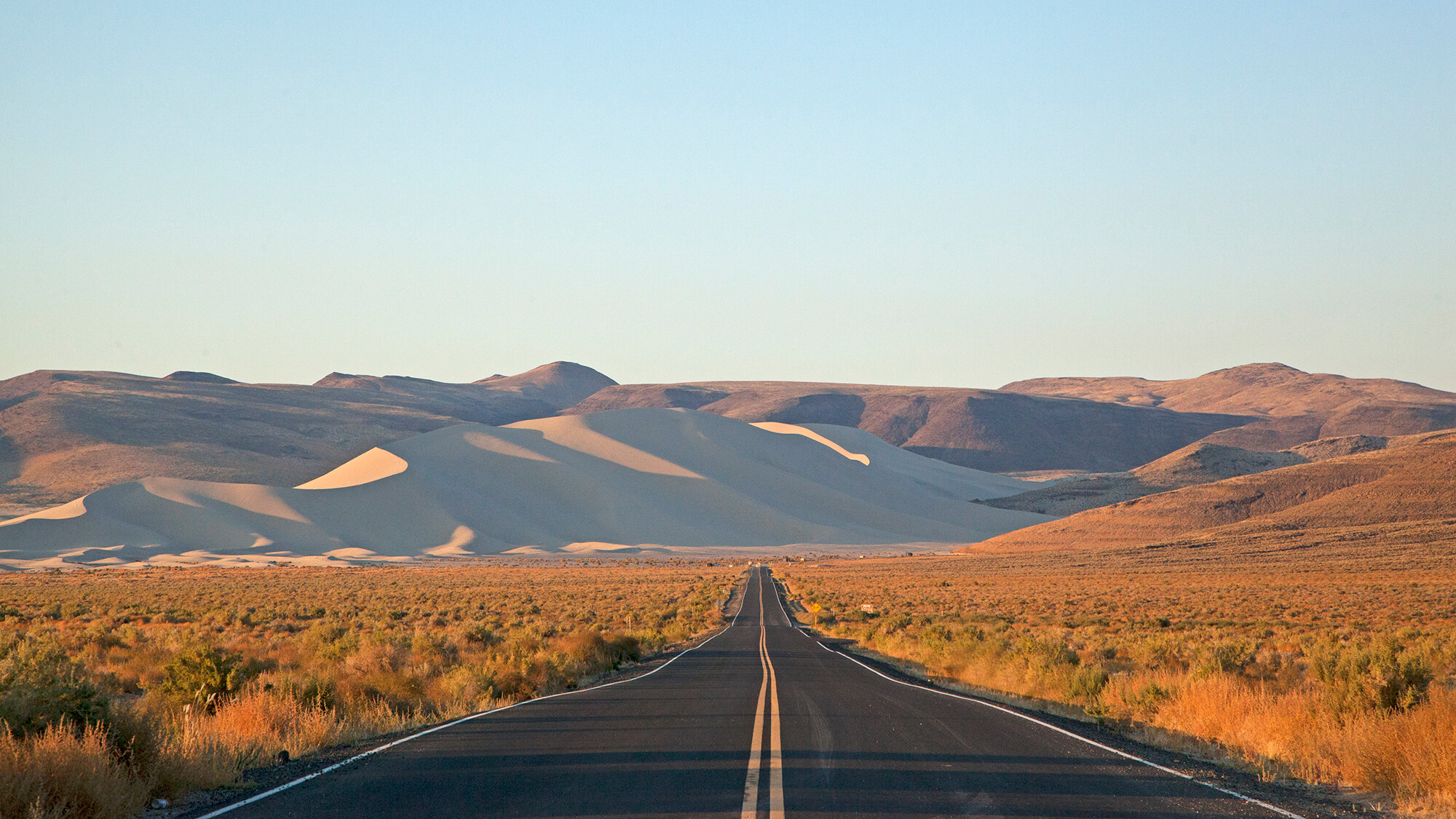 We forged on before passing by what to me, was an irresistible pit stop. A hodgepodge of rusted cars, weathered fueling stations, sun-stained signs and a wooden building that looked ready to collapse was screaming SYDNEY!!! STOP NOW! I had to get myself in that rusted 1940s vintage car, like immediately. I mean honestly, when do you have a crazy-cool photo op like this staring you in the face?
After getting that out of my system, we had to check out the building…which, contrary to appearance, was a functioning restaurant. One foot in the door and it became clear that we were about to have one of those "only in Nevada" experiences. Thousands of dollar bills stapled to the ceiling and a vibrant wall of military patches dominated my attention before I spotted a Middlegate Monster Burger T-shirt. The lady behind the counter gave us the rundown on this gargantuan mega burger and the T-shirt you could win if you ate one, and it wasn't long before my travel partner was gobbling up this beastly fare. As he gave it all he had to win that flipping t-shirt he had no time limit to finish the meal which was an awesome advantage, but he couldn't leave the building or use the restroom, and had to eat everything except the pepperoncini stem and the wooden spears holding mammoth meal together.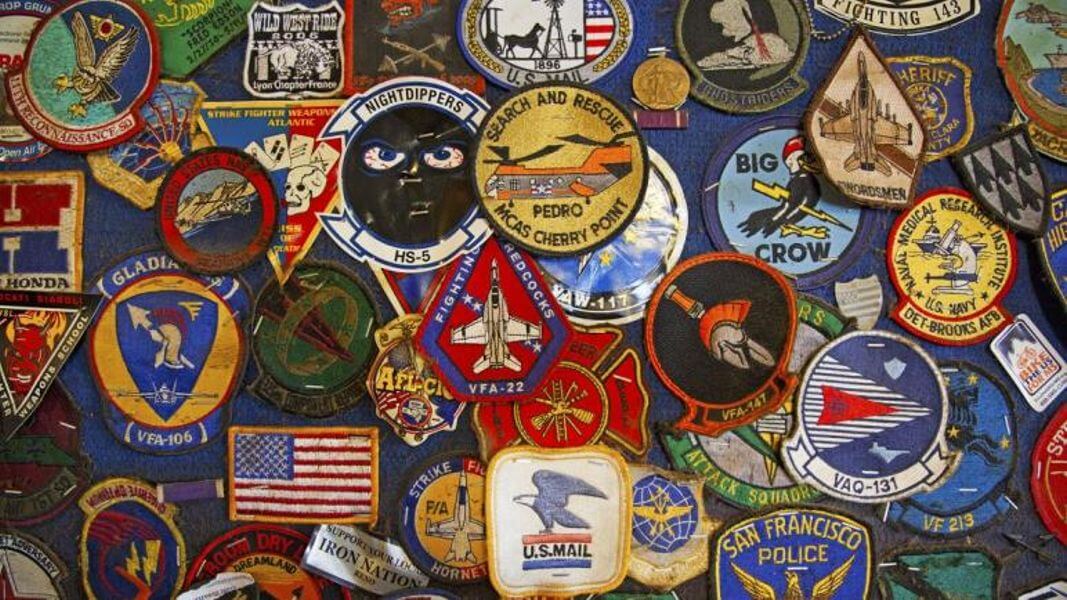 While my comrade wolfed down his colossal burger, I had a few minutes to absorb the immensely rich history of the place. I did know that we were on U.S. 50 and the Lincoln Highway, but what I didn't know the route was formerly used riders on the Pony Express, the horseback mail service in operation from 1860 to 1861…and that's how the very building I was sitting in got its start. I knew Middlegate had to be historic, but dang! A Pony Express station where riders could switch hands seemed too good to be true.
Although we hadn't eaten all day, I watched my buddy's heroic attempt to eat the Middlegate Monster Burger shrivel to a humiliating one. And if he wasn't already bitter with defeat, he had to shamefully spear his napkin in the remaining grub as the official sign of surrender!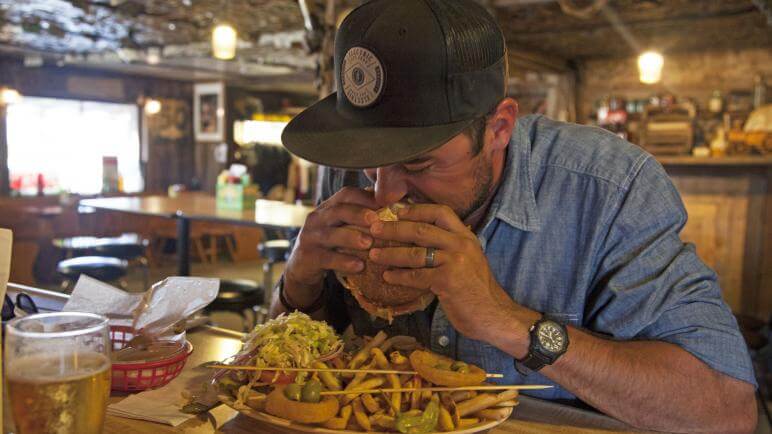 Engorged to the point of delirium, we pressed on…after all, we were only about a third of the way. Although overwhelmingly full, talk about one heck of a Nevada experience.
Not far from Middlegate, another Nevada wonder was about to slap us across the face: the iconic Shoe Tree of Middlegate. We'd heard about this before, but you just can't fully comprehend a tree full of shoes until you're standing there beneath its uncanny glory. Word on the street was the flagship pair was flung to the top decades ago after a couple of newlyweds got into a spat on their way home, with the wife so disgusted that she insisted on walking the rest of the way without her man. To beat her at her own game, the husband snatched her shoes and hurled them to the top of the tree. Rumored to have lovingly made up, the couple returned to the monumental tree each year after, commemorating their anniversary with fling of an old pair of shoes.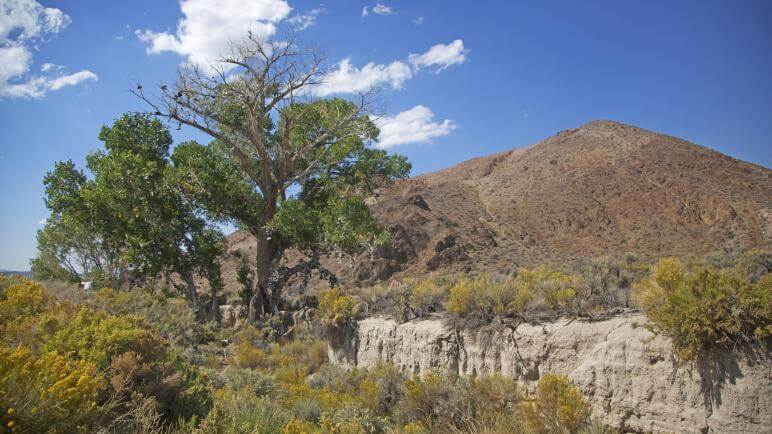 With such an outlandish tradition, thousands of others have followed suit, making the tree another zany Nevada spectacle. A fun place to get out and burn off the calories!
Now we had to get serious…we still had some major mileage to cover before Baker. With the longest stretch of seclusion in front of us, I slinked into my seat, popped in some tunes, and soon became transfixed with the long stretches of open road before me. As the landscape transformed into the Sagebrush Sea it's so well known as, it took my imagination with it. I could feel myself relaxing and getting into the zone…something I yearn for during those long days cooped up at my desk. While we were in the thick of the hubbub of society just an hour earlier, the 'loneliness' became more and more obvious with each mile traveled. Having always adored rural parts of the state far more than the metro areas, it didn't seem lonely to me. All I could absorb was delicious Nevada solitude, and secretly hoped my cell phone would soon be out of range.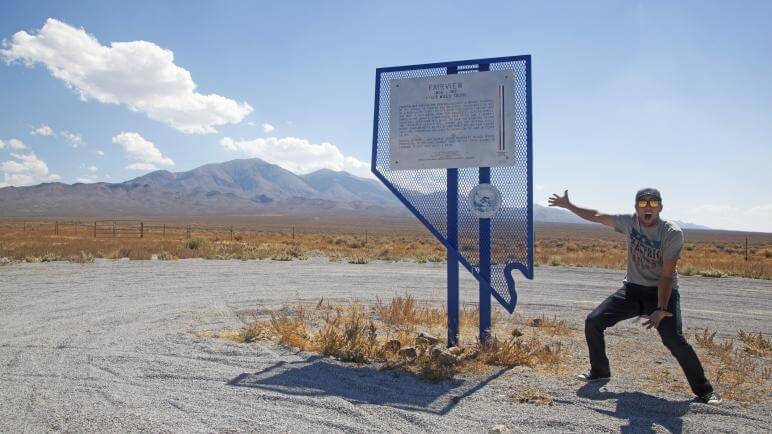 With the exception of a few cars here and there, the only other thing besides us and the open road were some historical markers. Most of them highlighting booming mining camps eons ago, they had fallen victim to time and now appeared to be vast open plains. Genuinely interested in the history behind it, we were psyched to stop…but even more happy with this killer photo op we're still laughing about…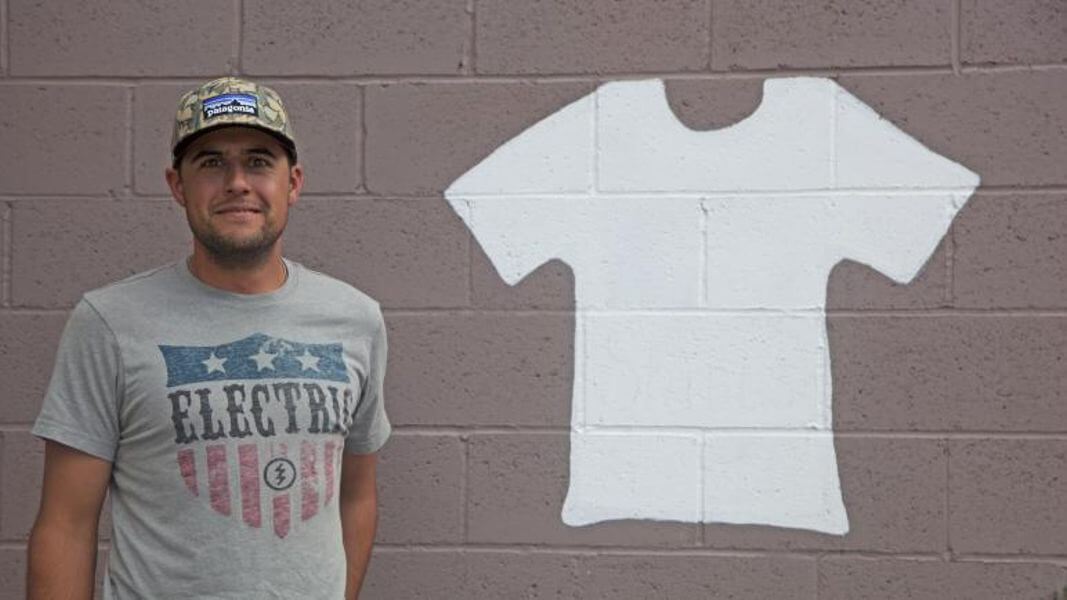 It wasn't long before we were in downtown Austin, surrounded by the magnificent church steeples the town is known. With stamp No. 4 in the bag, there was only one thing holding us back …the mystery T-shirt mural. Having passed this dozens of times on my excursions through Austin, it just always gets my goat. What the heck is this for?? Why is it here? But hey, if we're doing the Loneliest Road experience, we are most certainly taking a picture with the inexplicable T-shirt mural of Austin. Consider that one in the books!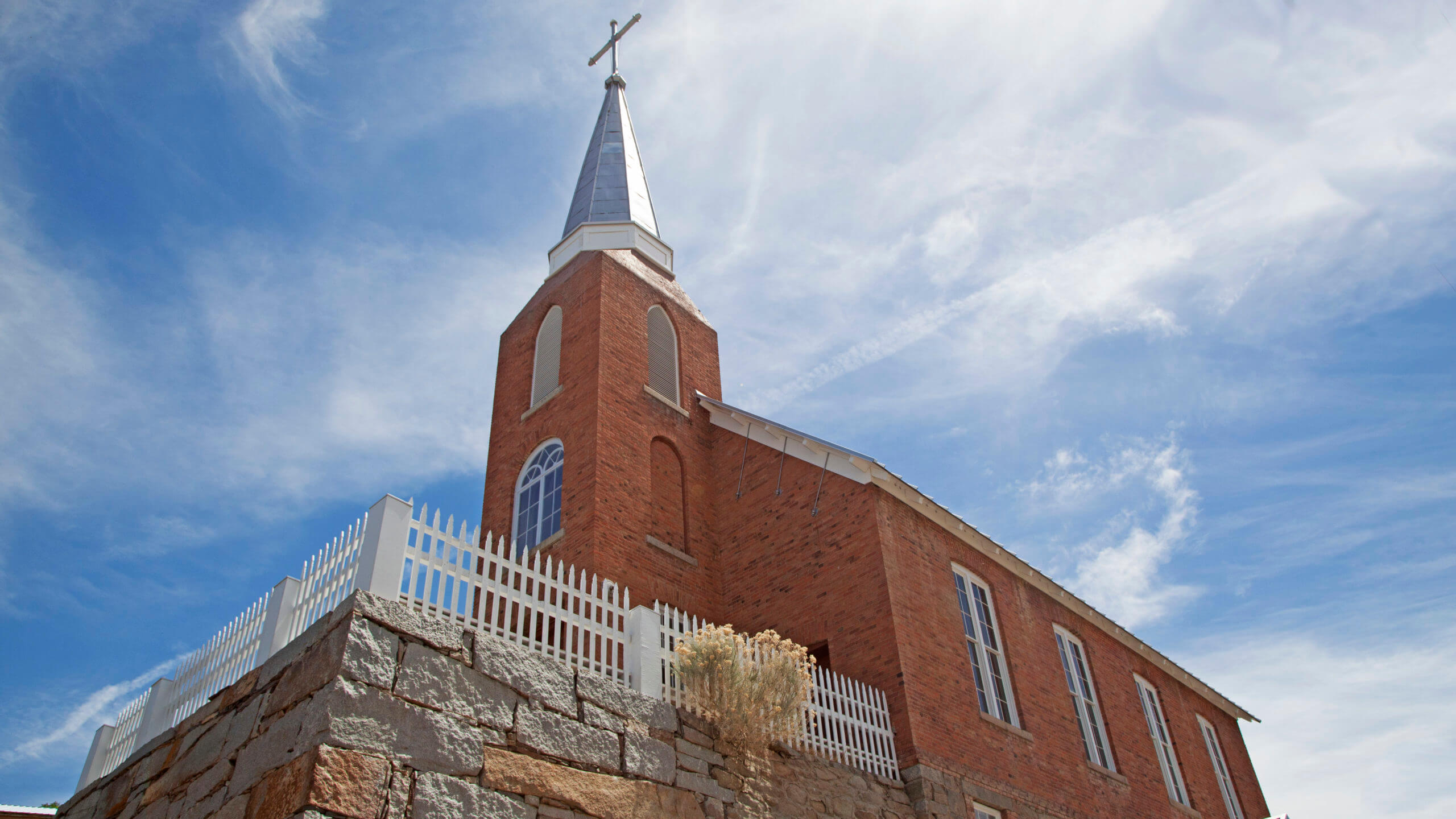 Only about an hour later, we were in the "Friendliest town on the Loneliest Road," aka Eureka. I'm not sure I can confirm or deny their motto, but I can tell you this was the coolest place on the journey to lock down a passport stamp. Our passports were stamped in the Eureka Opera House, this Nevada staple has been masterfully restored to its original 1880s glory…totally phenomenal.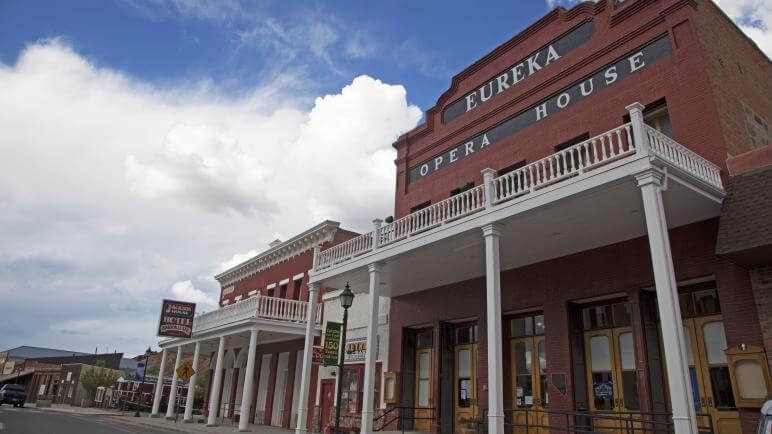 Here, I discovered that the Loneliest Road is an American Defense Highway, meaning it must always remain ploughed and clear for emergencies. This little snippet came at the perfect time…I was starting to get a little worried about what these cozy communities would do during treacherous winter months.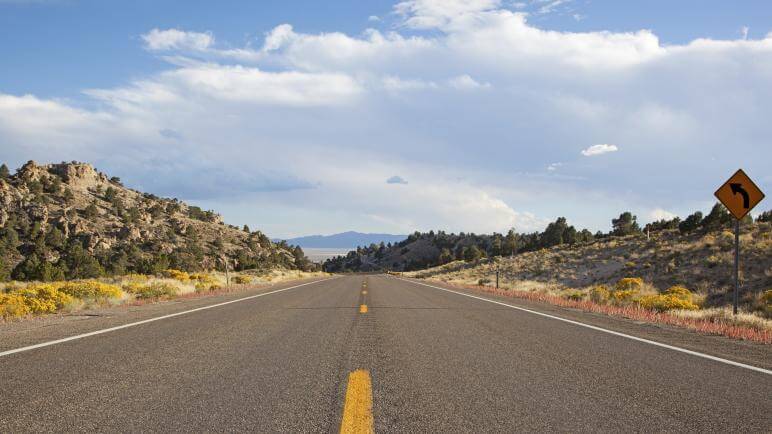 Before long we were back at it and totally crushing this drive! Long, sweeping valleys with dramatic golden light lit up the landscape and dazzled us until we snatched our sixth stamp in Ely. From here, the countryside started to get ultra dramatic…mountains seemed taller and the valleys seemed wider as we made our way into the teeny tiny township of Baker. We had successfully done the entire drive, with seven of the eight stamps in one afternoon! Every road trip comes with innumerable rewards, but it was seriously fun to have something physical like a stamped passport to commemorate it.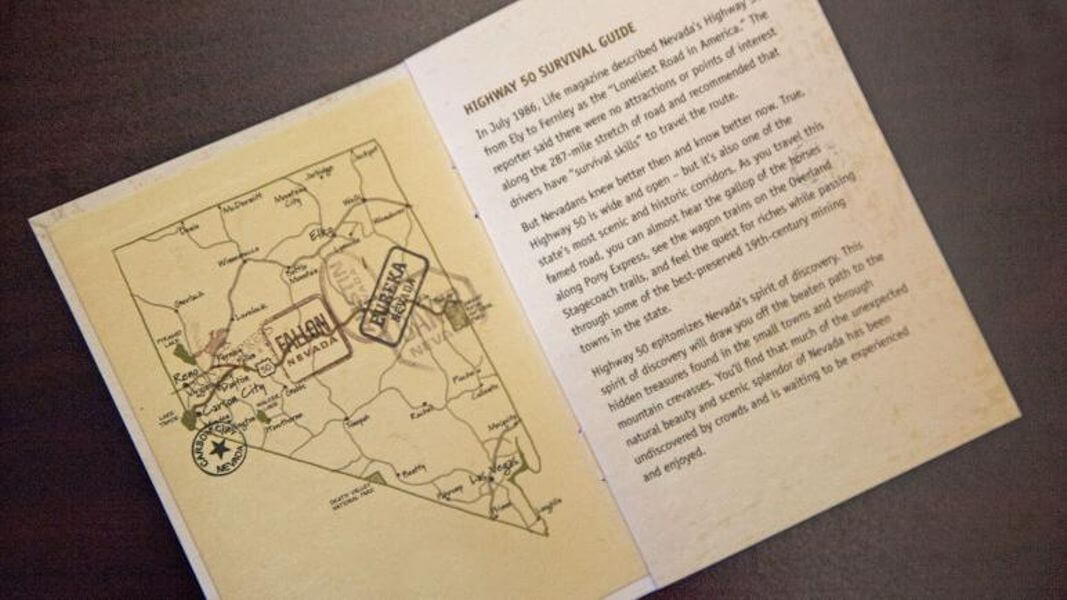 Now all that was left was mailing this bad boy in for my official certificate. After a mind-blowingly beautiful long weekend at Great Basin National Park, I was back in Reno and decided I wanted to march my survival guide passport into the office, versus mailing it. A warm welcome by the program coordinator, a customized governor signed certificate and Highway 50 pin later, I was certified!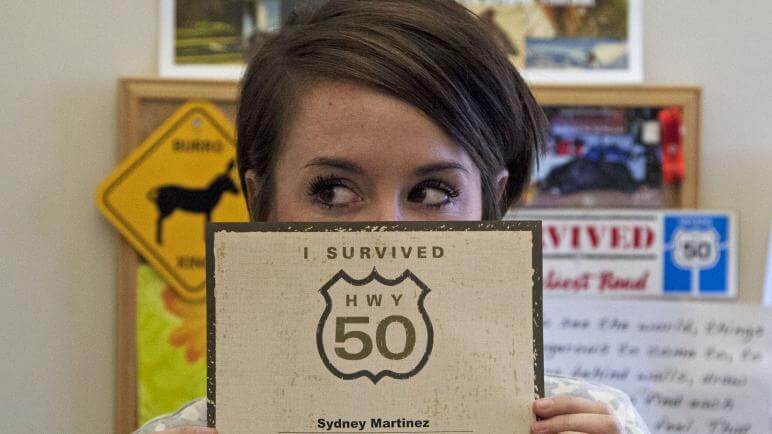 After many, many incredible American road trips, how does this one stack up? Totally amazing, and anything but lonely. Sure, road- tripping attracts a certain sort of person, but what made this trek special was its own subculture entirely. While I love an awesome roadside inn, quirky diner or bonding with a good sidekick, the Loneliest Road in America was a different animal that delivered circumstantial wonders that you just couldn't fight. A shoe tree, Monster Burger, T-shirt mural, 120-year-old opera house and a mountain of sand?? Pure excellence. As the mack daddy of all road trips, this one is just something you've got to live for yourself. #NVRoadTrip