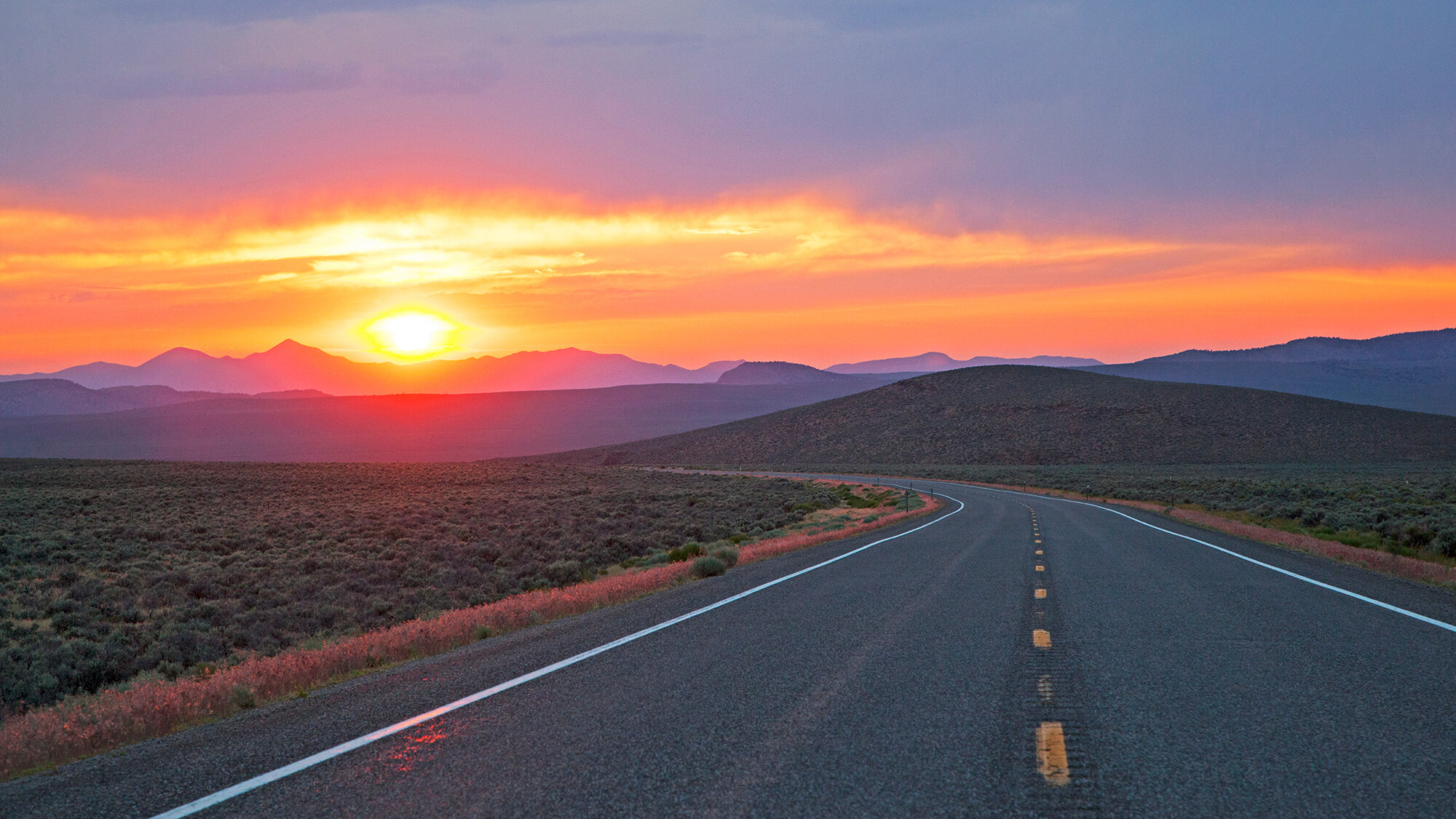 Anything But Lonely On Nevada's Highway 50
There are few things I love more than a damn good road trip.
I fell in love with my husband on a terrifyingly snowy road trip to Iowa, grew up on the back of a motorcycle touring the American West with my dad, and too many other road trips to count in between. A slow and steady obsession with being on the wide-open road means this Nevada road trip is a no-brainer: Nevada's legendary Loneliest Road in America. Otherwise known as a trek that should be at the very top of every traveler's road trippin' bucket list.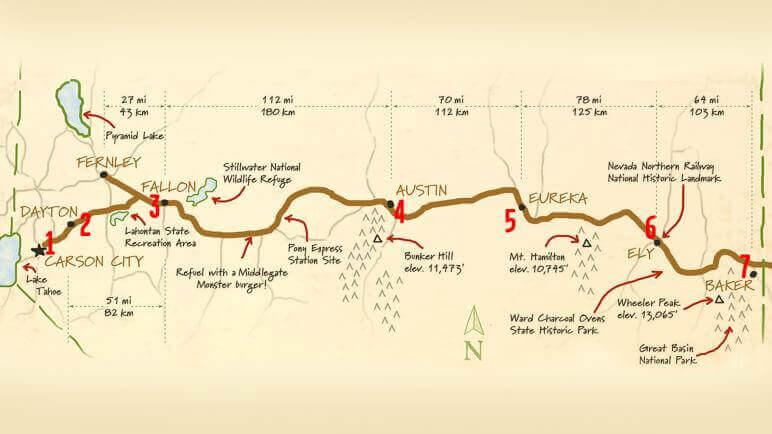 Not having done the trek since I was a kid, I was pumped to travel U.S. 50 from Carson City all the way across the state to Baker en route to the Great Basin Astronomy Festival. Comprised of seven of the eight official Loneliest Road stops, our schedule was an ambitious one that included all of the towns spread out across Nevada's portion of Highway 50: Carson City, Dayton, Fallon, Austin, Eureka, Ely, and Baker with plenty more stops in between. We were never more ready.
Stop No. 1 was in the heart of Nevada's Capital City at the Visit Carson City offices. Nestled up against one of the most famously historic neighborhoods in all of Nevada, there was plenty to keep us here for much longer than our passport stamps, but we had several hundred miles ahead of us. Welcomed with exuberance, we grabbed some reading materials for the drive, and two cha-chunks of a stamp later, we were in hot pursuit of the second on the list: Dayton.
Highway 50, sometimes called the Lincoln Highway, was the first transcontinental highway in the United States, spanning a little more than 3,000 miles coast to coast from New York to California. It opened for traffic starting in 1913, and even though Interstate 80 has basically replaced it as a more efficient country-spanning artery, in many ways, it sure is a lot more enjoyable to slow down and take your time. That, and in Nevada, the countryside along Highway 50 is far superior to Interstate 80, with some of the state's most classic Basin & Range topography all around you.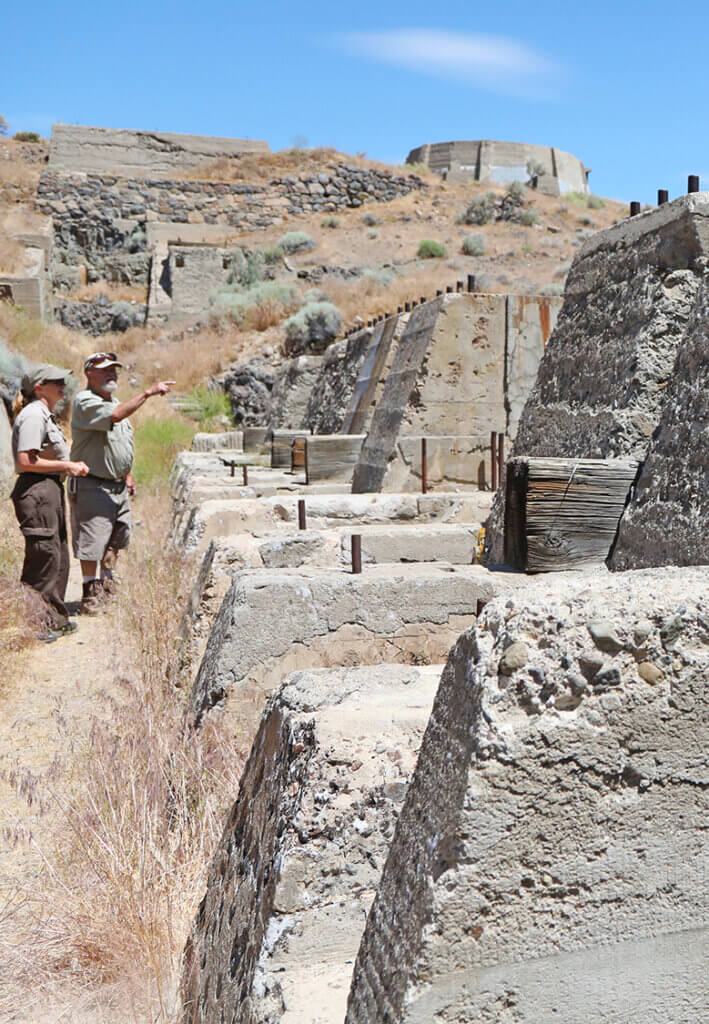 Travel Nevada Pro Tip
Road tripping Highway 50 packs a four-in-one punch, following travel routes that have been used for hundreds of years. While you're on the Loneliest Road, read up on, then keep an eye out for all kinds of Pony Express Trail, California Emigrant Trail, Lincoln Highway, and Loneliest Road in America history.
The traffic undoubtedly thinned out as we headed eastbound, and about 20 minutes later we were screeching into historic Dayton's city limits. Even though Dayton was the site of Nevada's first gold discovery, it quickly transformed into a milling operation to support the most legendary silver strike in the world happening just up the mountain: the Comstock Lode.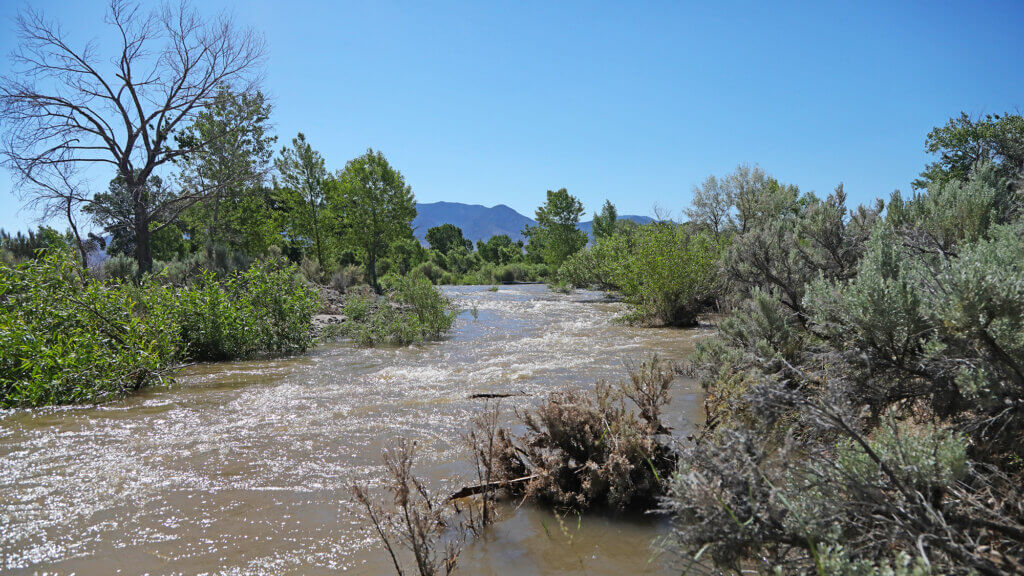 One of Dayton's main attractions is Dayton State Park, where you'll find the stretch of the Carson River where Abner first wielded that gold nugget, and across the street, ruins of the stamp mills used to support Virginia City's mining boom heard 'round the world.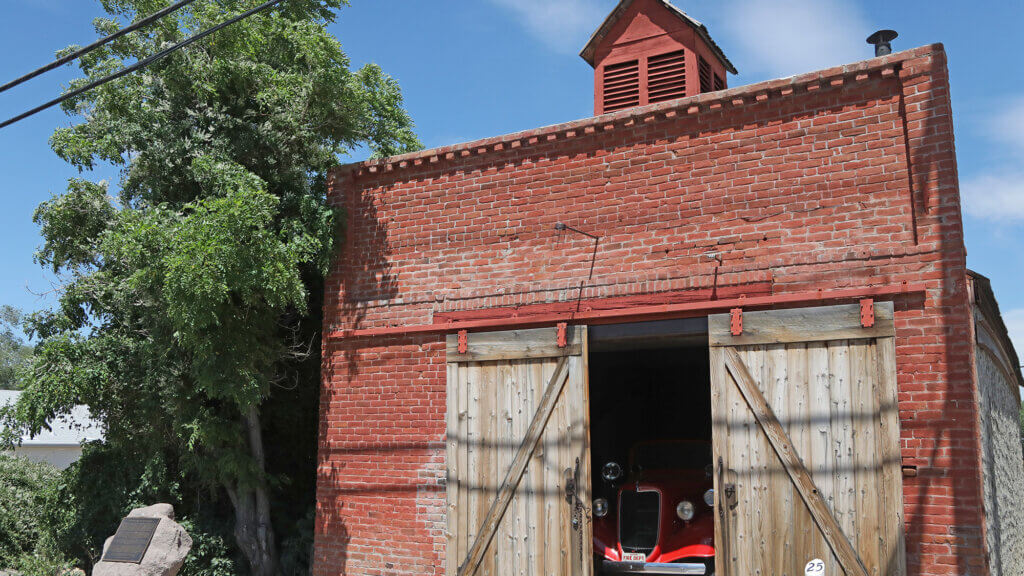 There are plenty of places in downtown Dayton, NV to grab a passport stamp, and whether or not you snag it at the Dayton Museum and Historical Society—take the time to check out the Dayton Historic District, which rivals Genoa as one of the oldest settlements in the Silver State. With stamp 2 officially in the bag, we loaded up and headed toward Fallon, the Oasis of Nevada.
Nearing Fallon's city limits, we blew by a guy running alongside the road carrying an American flag. A full-sized American flag. Something you might not see every day, but something totally and completely common along the Loneliest Road. Each year, hundreds of people test their own physical (and mental!) endurances with all kinds of running and cycling challenges. "We're going all the way to Maine!" he blurted out. A transcontinental jog?Talk about inspiring. If I could walk, bike, or run Nevada's portion of U.S. 50 alone, I would call it a success. Getting to see a team of ridiculously fit mega-athletes and their support vehicles attempting this lifetime achievement was pretty amazing to say the least.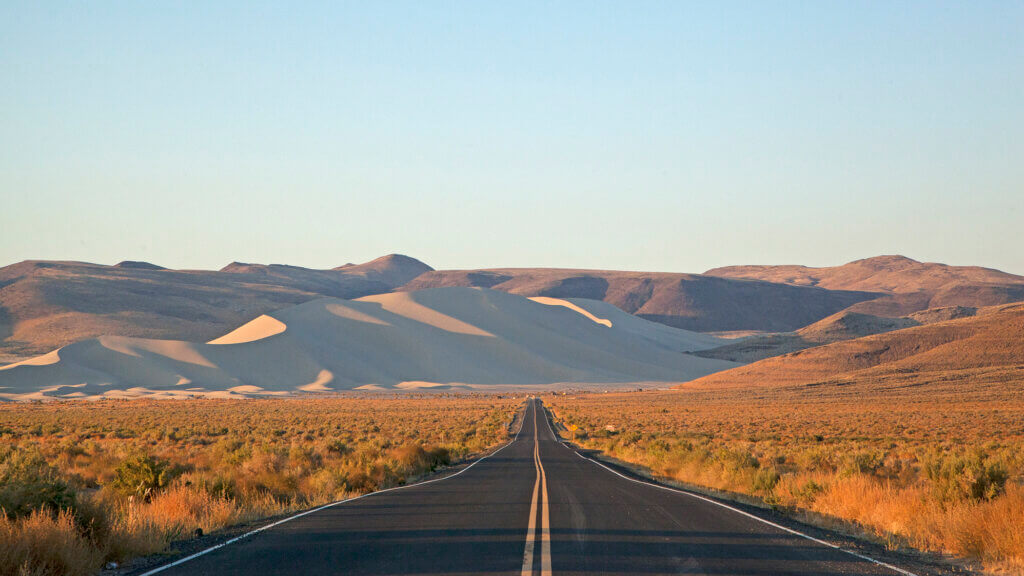 Another friendly hello and a clunk of a stamp later, we were in and out of Fallon and headed for the next destination. Building momentum on this already-incredible jaunt, we ripped by Sand Mountain…one of Nevada's three singing sand dunes, and holdover from glacial Lake Lahontan. Although hard to believe, retreating glaciers from another time eventually broke down to hunks of quartz that were washed down the Walker River and blown to the area. Sort of like a gazillion dump trucks deposited beachy, singing sand in the middle of the desert, it's just there.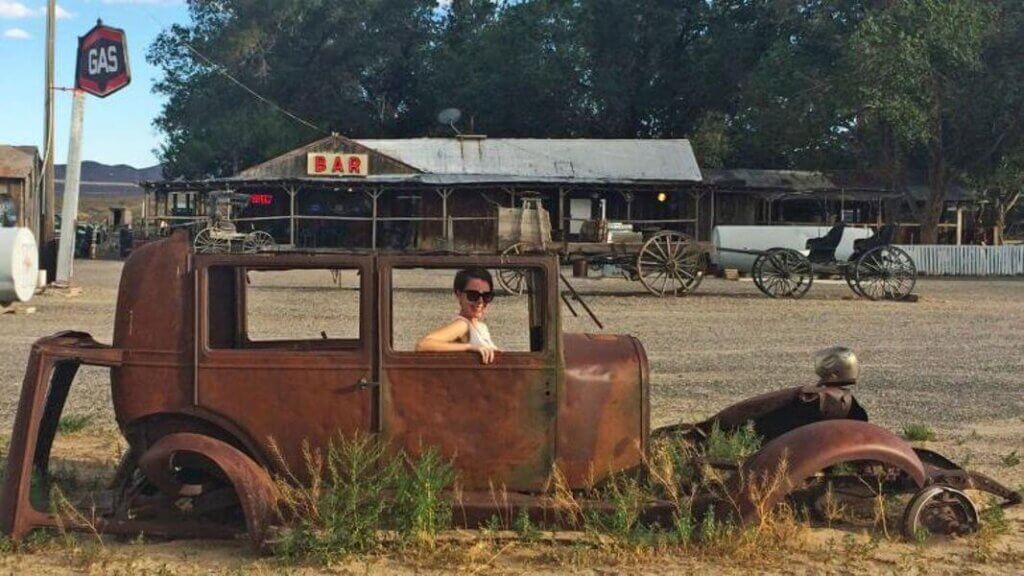 When do you have a crazy-cool photo opp like this, staring you straight in
the face?
We forged on before passing by what to me, was an irresistible pit stop. A lot of old cars, a welcoming old fueling station, sun-stained signs and a wooden building that looked ready to collapse screamed out to me, beckoning me off Highway 50 and into the lot of this new-to-me place. I had to get myself in that rusted-out 1940s vintage car, like immediately.
After getting that out of my system, we had to check out the building…which, contrary to its appearance, was a functioning restaurant—and not just a restaurant, a landmark that's been part of the Highway 50 experience since before it became a highway. One foot in the door and it was obvious—this was about to be one of those experiences every road tripper dreams of. The kind of place you only have access to once you're out there and doing it. Only in Nevada. Thousands of dollar bills lined the ceiling and a vibrant wall of military patches commanded my attention before I spotted a Middlegate Monster Burger T-shirt. The lady behind the counter gave us the rundown on this gargantuan mega-burger, and the T-shirt you could win if you ate one, and it wasn't long before my husband was gobbling one up—or at least trying to. No time limit was a grand advantage, but he couldn't leave the building or use the restroom, and had to eat everything except the pepperoncini stem and the wooden spears holding mammoth meal together.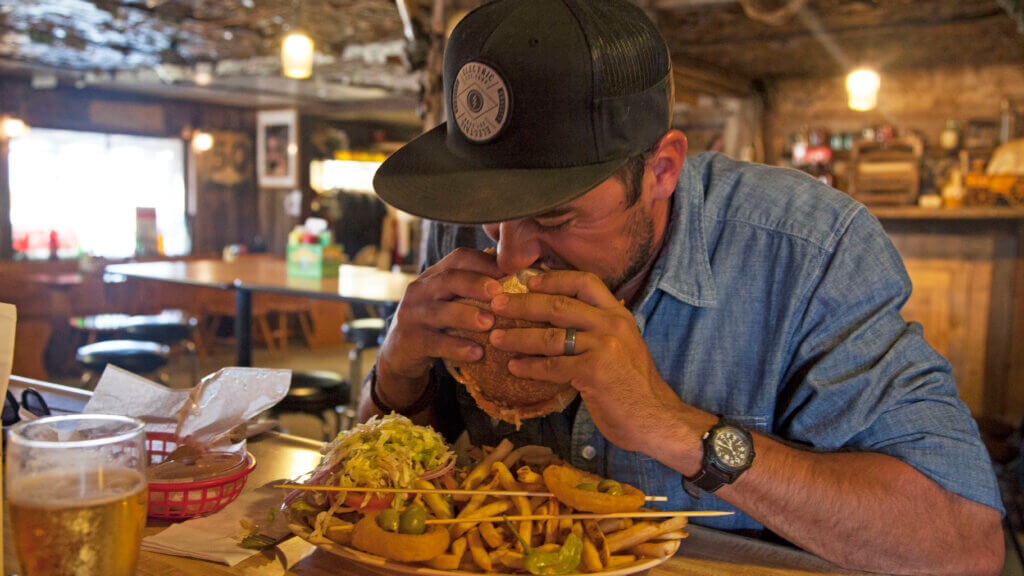 Although we hadn't eaten all day, I watched my husband's heroic attempt to eat the Middlegate Monster Burger shrivel to a humiliating one. And if he wasn't already bitter with defeat, he had to shamefully spear his napkin in the remaining grub as an official white flag of surrender!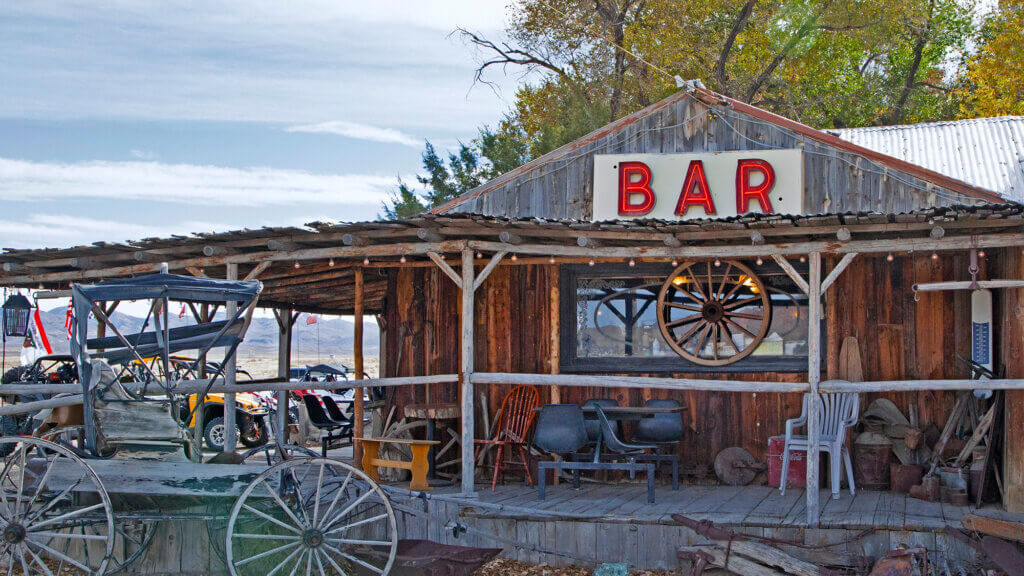 One of Nevada's most famous (and favorite!) Sagebrush Saloons.
While he worked on wolfing down this colossal burger, I had a few minutes to take in the history of the place. I didn't realize so much Pony Express History surrounded us, but here I was standing in an old Pony Express Station converted into one of the last great roadhouses in America. This brief mail delivery system was in operation for less than two years, but brought on 30 Pony Express Stations now found along the Loneliest Road in America. Each station was about 20 miles apart, promising trusted stopovers where riders could stop and rest, change horses, or even settle into for the night, and Middlegate Station was just that.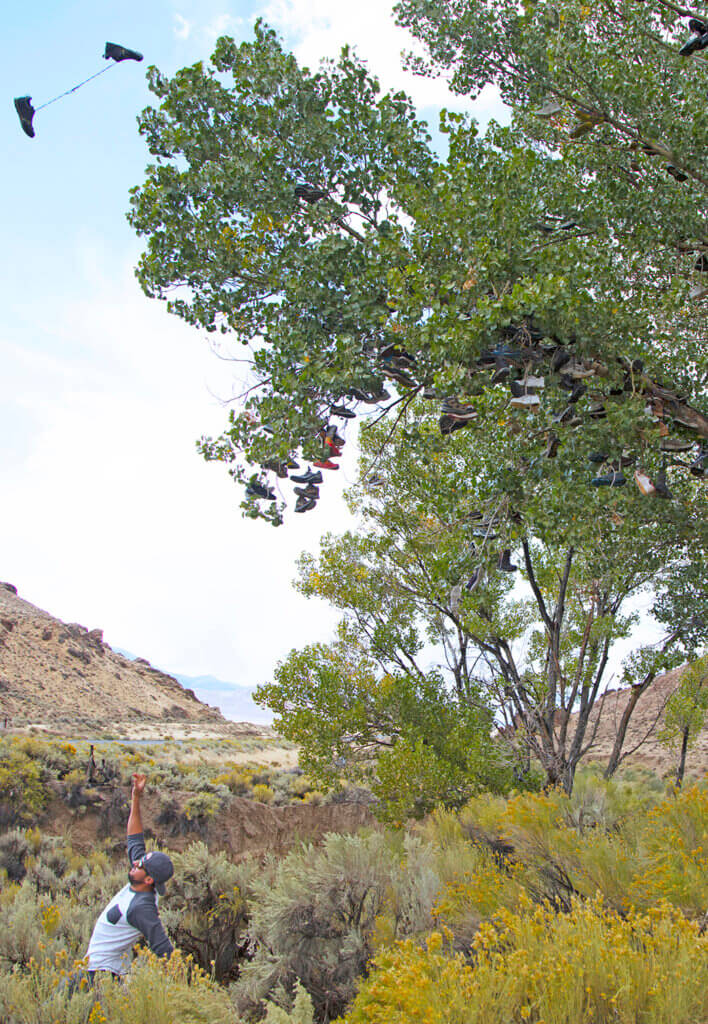 With such an outlandish tradition, thousands of others have followed suit, making the tree a great roadside Nevada spectacle.
Not far from Middlegate, another Nevada wonder was about to slap us across the face: the one and only Shoe Tree. We'd heard about this Weird Nevada landmark before, but you just can't fully comprehend a tree full of shoes until you're standing there beneath its wild glory. Story goes that the very first pair soared to the top decades ago after a couple of newlyweds got into a spat on their way home, after being married in the Biggest Little City in the World.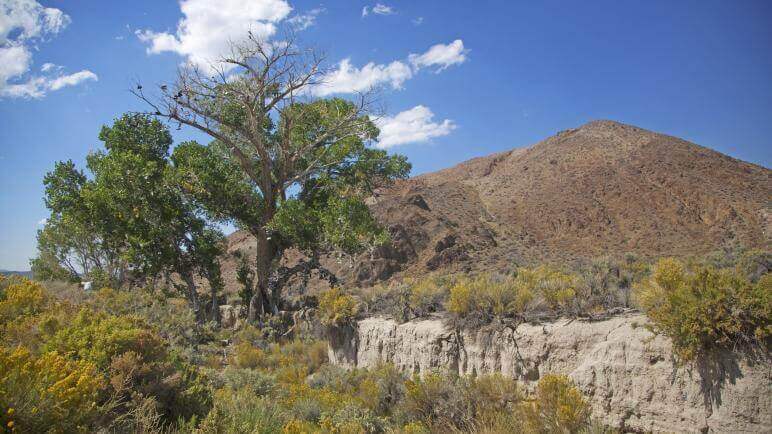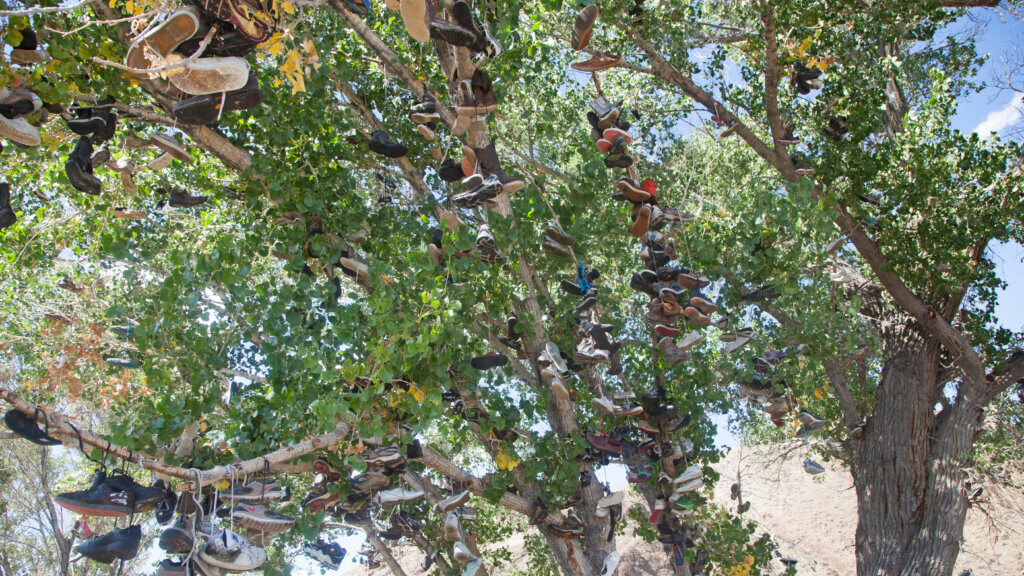 The young wife was so disgusted that she decided she'd be better off walking than stuck in the car with her new betrothed, and enraged by her stubbornness, threw her shoes up on the tree and sped off down the highway. He didn't get too far down the highway before he snapped to his senses and returned to her, and after lovingly making up, the couple returned to the spot each year, tossing another pair of shoes on the tree to commemorate another anniversary together.
We'd had such a great morning making all these stops, but now? With more than half the drive to go, we had some serious ground to cover before arriving in Baker. With the longest stretch of seclusion in front of us, I slinked into my seat, hit play, and let Nevada take the wheel, showing off with those iconic stretches of road this Lonely Highway is so known for. While we were in the thick of the heart of society just an hour earlier, the highway's signature moniker became more and more obvious with each mile traveled.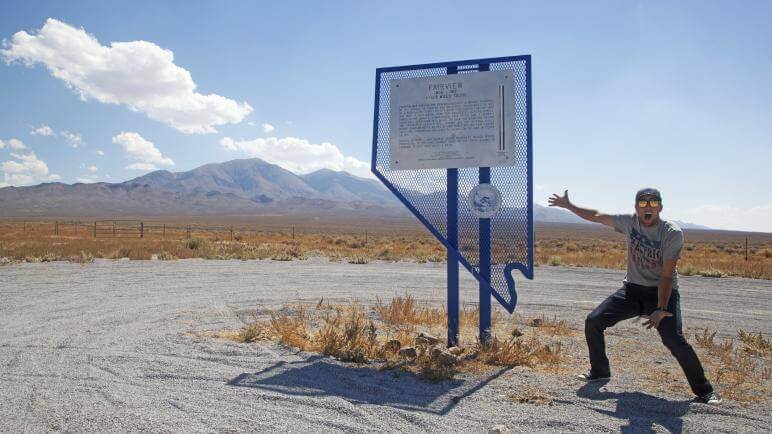 With the exception of a few cars here and there, the only other thing besides us and the open road were some historical markers. Most of them highlighting booming mining camps eons ago, they had fallen victim to time and now appeared to be vast open plains. Genuinely interested in the history behind it, we were psyched to stop…but even more happy with this photo opp, that eight years later, we're still laughing about.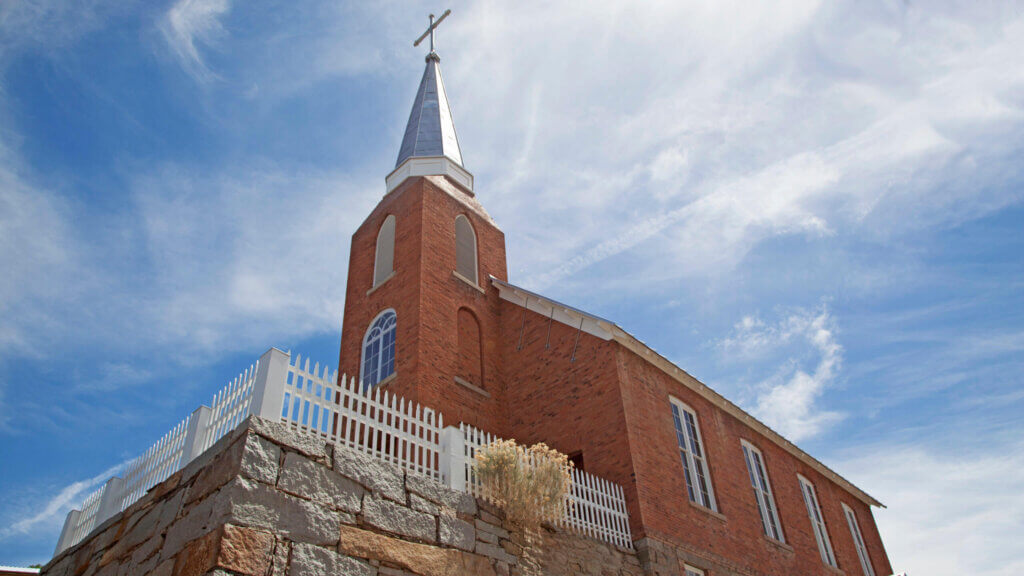 It wasn't long before we were in downtown Austin, surrounded by the magnificent church steeples the town is so well known for.
With stamp No. 4 in the bag, there was only one thing holding us back …the mystery T-shirt mural. Having passed this dozens of times on my excursions through Austin, it just always gets a smile out of us. An old laundromat…or? But hey, if we're doing the Loneliest Road experience, we are most certainly taking a picture with the wondrous T-shirt mural of Austin. Consider that one in the books!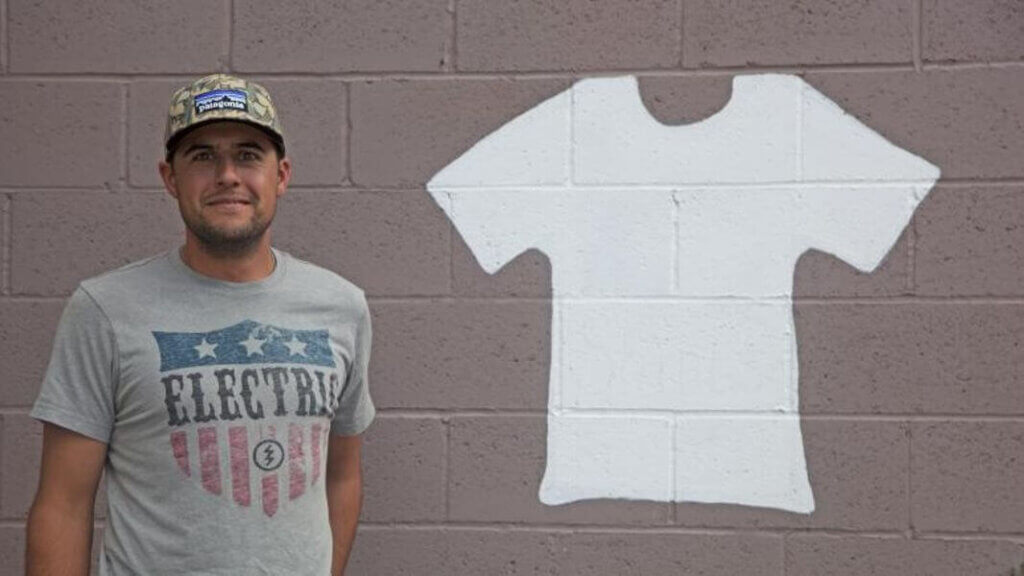 The "Friendliest Town on the Loneliest Road"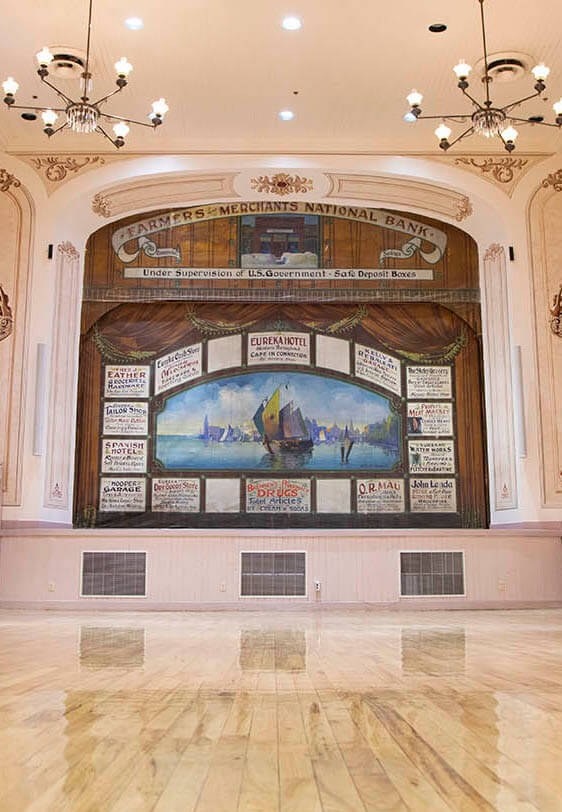 Only about an hour later, we were in the "Friendliest Town on the Loneliest Road," or Eureka. And baby, town motto confirmed. We had a great time walking around a completely vibrant 1800s era mining town, in what was easily the most exciting place to stop and get our passport stamp. That had everything to do with the venue: the one and only Eureka Opera House, which has been masterfully restored to its original 1880s glory.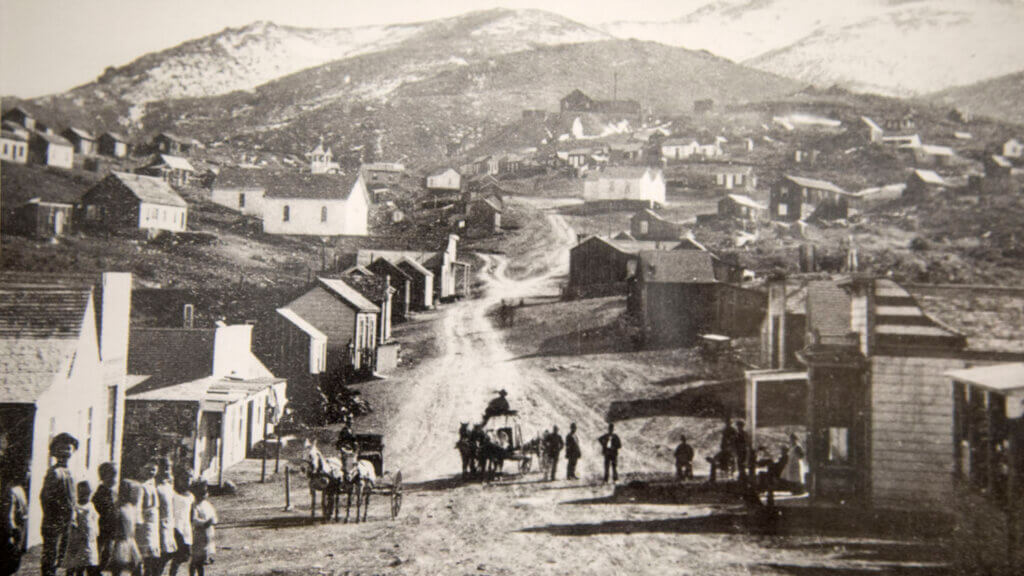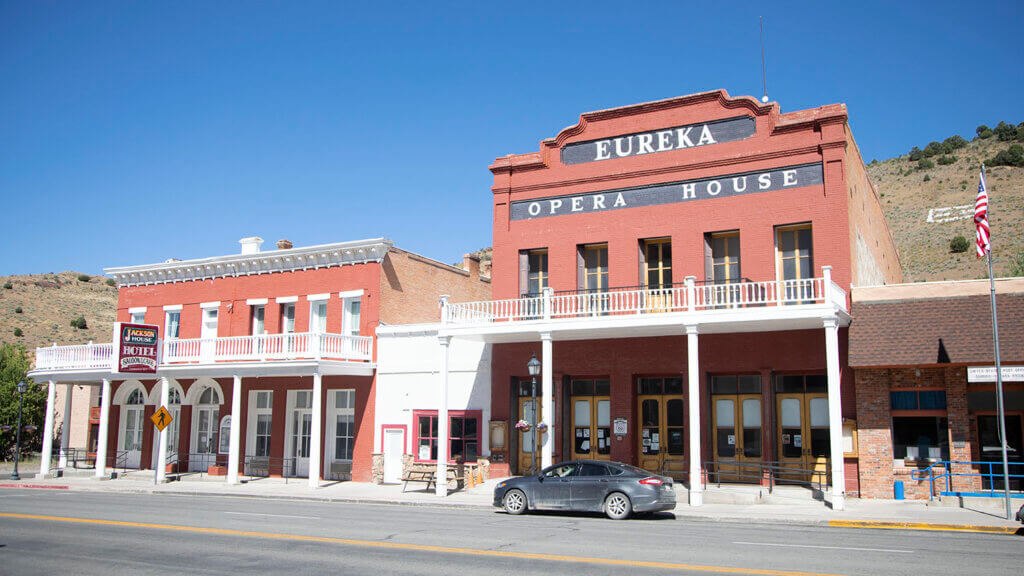 That had everything to do with the venue: the one and only Eureka Opera House, which has been masterfully restored to its original 1880s glory.
Before long we were back at it and totally crushing our west-to-east trek across the Silver State! Long, sweeping valleys with dramatic golden light lit up the landscape and dazzled us until we secured our sixth stamp in Ely. From here, the countryside started to get become more and more dramatic, with high desert mountains rising taller, then dropping into wider valleys again and again as we made our final descent into Baker. We had successfully survived the Loneliest Road, with seven stamps to prove it. Every road trip comes with far too many rewards to count, but by far and away, this little passport secured the biggest satisfaction of the whole trip with all the community stamps to commemorate it.
Iconic roadscapes nowhere but Nevada can quite deliver, taken between Eureka and Ely on the Loneliest Road in America.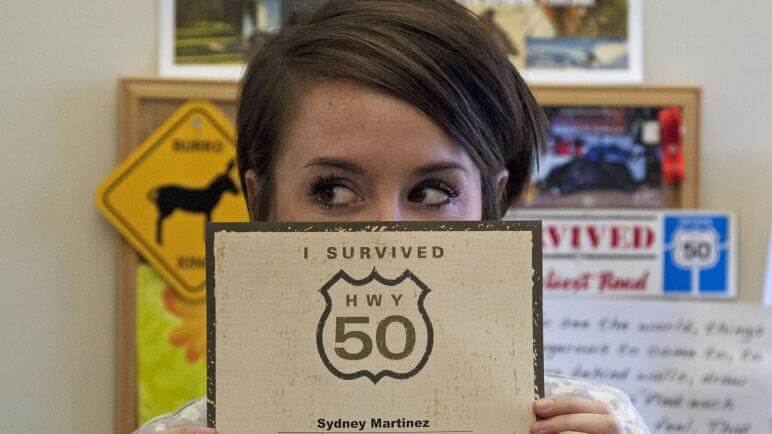 Now all that was left was mailing this bad boy in for my official certificate. After a mind-blowingly beautiful long weekend at Great Basin National Park, I was back in Reno and decided I wanted to march my survival guide passport into the office, versus mailing it. A warm welcome by the program coordinator, a customized governor signed certificate and Highway 50 pin later, I was a certified survivor!
So! After countless great American road trips, how does this one stack up? With mountains of sand, one serious burger challenge, Pony Express history, a weird ol' tree full of shoes, the City of Churches and T-Shirt Mural, 120+ year old opera houses, old railroad towns, and more, all leading to the oldest trees beneath the darkest skies—this trek contained its entirely own subculture. A road trippin' subculture only found in Nevada. Only in the Road Trip Capital of the USA.
One totally amazing road trip, and as far as lonely?
Anything but.