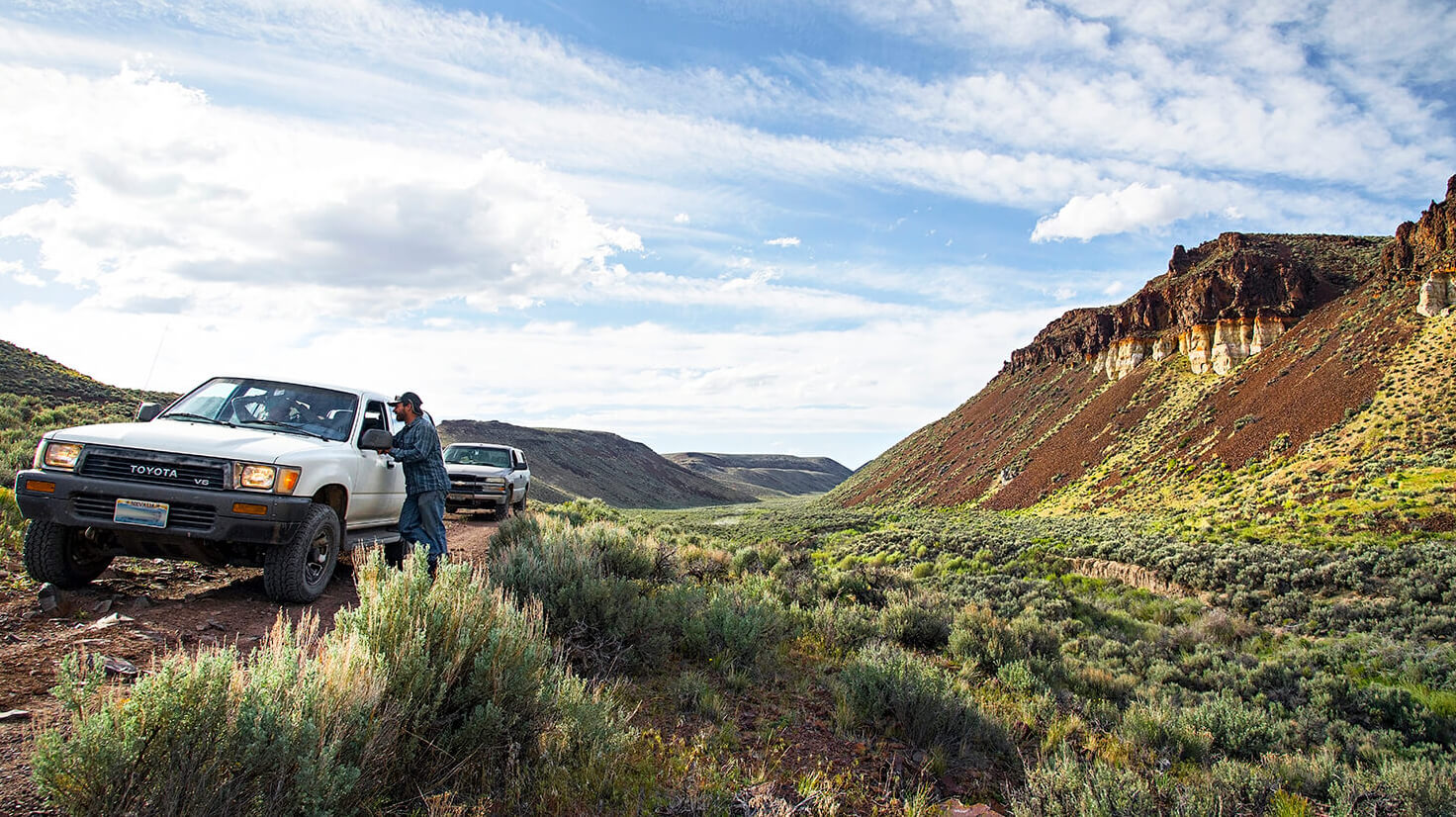 Where the Crowds Aren't: 10 Secluded Silver State Escapes
More than fifty million annual visitors certainly aren't wrong about visiting our wild, beautiful state. Big-name locales like Valley of Fire, Red Rock Canyon, and Great Basin National Park reel in multitudes from around the world—in every season, to boot—and for damn good reason.
However, at the very same time, the Silver State also beckons seekers of serious solace and solitude. Sound like you? Then bolster your bucket list with this handful of crowd-free, lower-key—but no less trip-worthy—Nevada destinations, within road trip range of our two big metros.
Travel Nevada Pro Tip
When traveling the Silver State's spectacular backroads, tracks, and trails, be sure to live by Nevada's
Dirt Road Code
. Travel in an appropriate adventure-mobile (preferably with high-clearance, 4×4 capabilities, and a spare tire or two); carry plenty of extra snacks and water, let someone know where you're headed and when you plan to return, and practice Leave No Trace methods whenever possible.
Ditch the crowds and discover these classic, crowdless Nevada escapes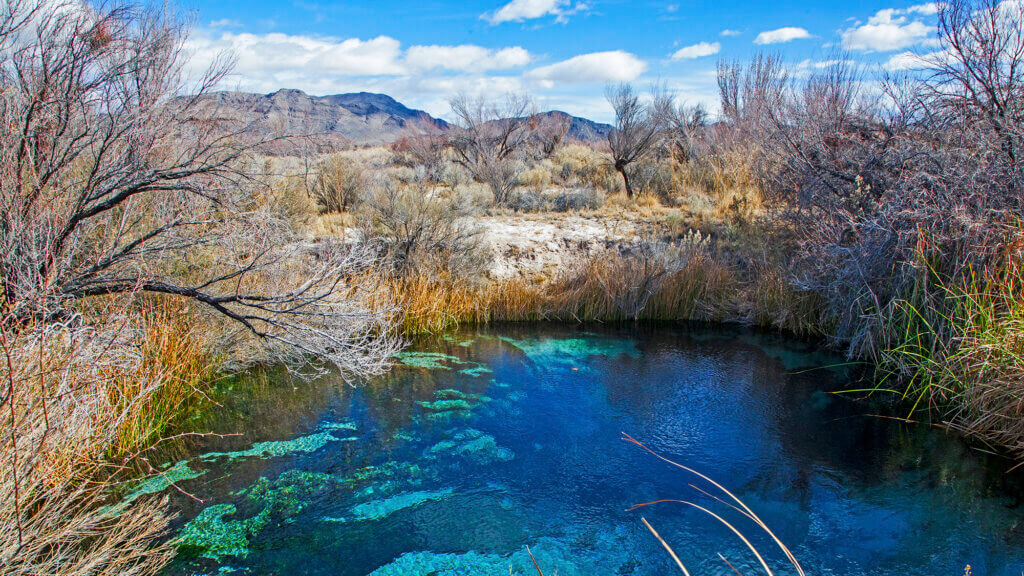 Ash Meadows National Wildlife Refuge
Distance from Las Vegas: 2 hr / 93 mi
Find it on the Death Valley Rally road trip
About a million and a half people get extreme in Death Valley National Park each year, but a fraction of that number are lucky (and in-the-know) enough to take in this literal desert oasis, just a half-hour jaunt east. An island within the massive Desert National Wildlife Refuge Complex, Ash Meadows' 23,000 acres are marked by wide-open desert uplands, lush wetlands, and stunning sapphire spring pools among the collective home of nearly 30 species of endemic plants and animals—the highest such concentration in the U.S.—including the Devils Hole pupfish, the world's rarest fish. Wander the interpretive trails and boardwalks, scope out mysterious Devils Hole, or turn up at nighttime for a quiet and mesmerizing celestial show.
Grab Grub: Swing into the Longstreet Inn for burgers, hot sammies, and chops at the on-site café and steakhouse. If you come via Pahrump, taste-test your way around town at Sanders Family Winery, Artesian Cellars, Desert Cane Distillery, and Stonewise Mead & Cider.
Turn In: Longstreet Inn Casino & RV Park (Amargosa Valley); Holiday Inn Express & Suites – Pahrump, Saddle West Hotel & Casino, Wine Ridge RV Resort & Cottages (all in Pahrump)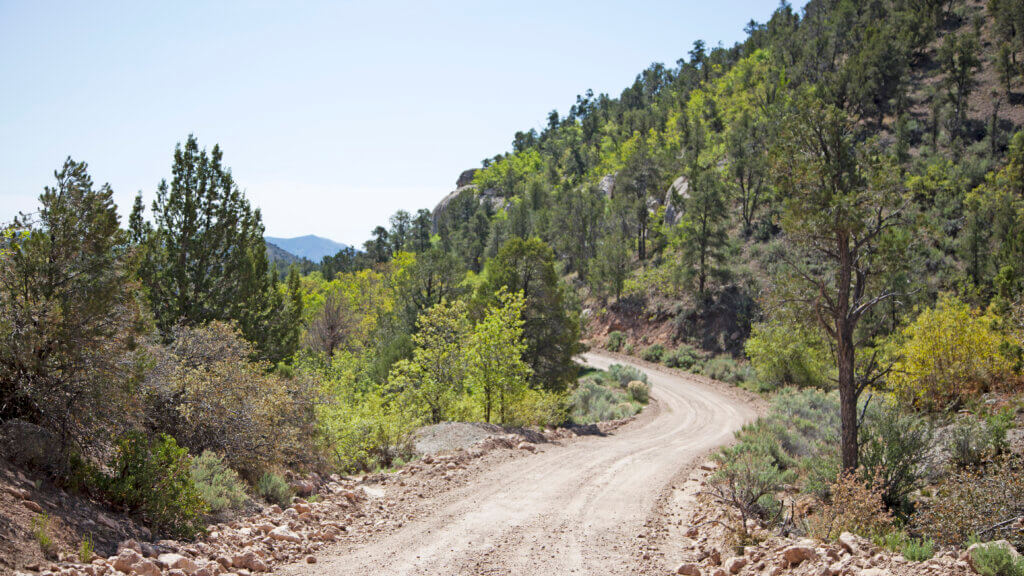 Beaver Dam State Park
Distance from Las Vegas: 3.5 hr / 185 mi
Distance from Caliente: 1 hr / 34 mi
Find it on the Great Basin Highway road trip
Nestled against the Utah border, Nevada's quietest and most remote park rewards a one-hour dirt road ramble with stunning scenery, marked by deep, stream-cut canyons among lovely mixed-conifer forests. Amble along easy trails to breathtaking lookouts, past fin-like erosional features, and up to multiple waterfalls. Beaver Dam Creek harbors trout-packed honey holes (if you've got a tenkara rod, pack it!) and plenty of evidence of the critters that earned this park its name. Numerous tree-shrouded campsites in this designated Watchable Wildlife Area lie within earshot of trickling streams, wild turkeys, and even bobcats. Many times of year, you may have the entire park to yourself. [4×4 not generally required in dry months, but call the park office to check dirt road conditions: (775) 728-4460]
Grab Grub: Feast on fresh, hot sammies and burgers at Side Track Restaurant (and schmancy cocktails at Side Car Speakeasy next door) or dig into hearty diner classics at Knotty Pine Restaurant & Lounge.
Turn In: Camp at the park, or spring for a room at Patty's Motel (Caliente), Pine Tree Inn & Bakery (Panaca), or Overland Hotel & Saloon (Pioche).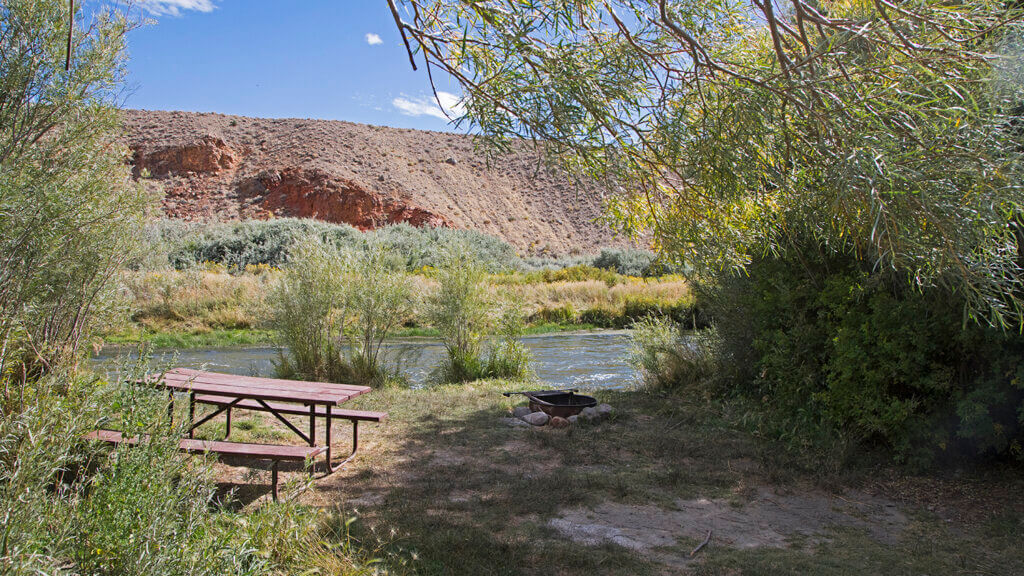 Walker River State Recreation Area
Distance from Reno: 1.5+ hr / 85+ mi
Find it off the Free-Range Art Highway road trip
The latest and greatest addition to the Nevada State Parks system provides direct access to the stunning and still-wild East Walker River. Spanning 12,000 acres and 29 miles of picturesque river and rangeland, this storied slice of the Silver State promises top-notch camping, hiking, wildlife viewing, OHV exploring, and fly fishing. Fishermen have known about these waters for generations, and the fabled Elbow section can pack out on summer weekends, but the recently opened Pitchfork Ranch offers seven literally gorge-ous miles of river to fish, kayak, canoe, or float along a nicely mapped seven-mile water trail. Add in 16 tree-covered campsites (for tenters and RV-ers alike) and nice facilities, and you've got yourself a lovely waterfront escape.
Grab Grub: Yerington has you covered with country classics at Sherry's Stage Stop, beers and bar bites at Cabin Fever, and more. Or take the southern Smith Valley route and stop for burgers and brews at another classic Sagebrush Saloon, Iggy & Squiggy's Junction Bar.
Turn In: Camp at Pitchfork Ranch, primitive Bighorn Campground, or Two Trees dispersed area; or pull into Walker River Resort RV Park (Smith), or the Yerington Inn, Main Street Inn, or Copper Inn (all in Yerington).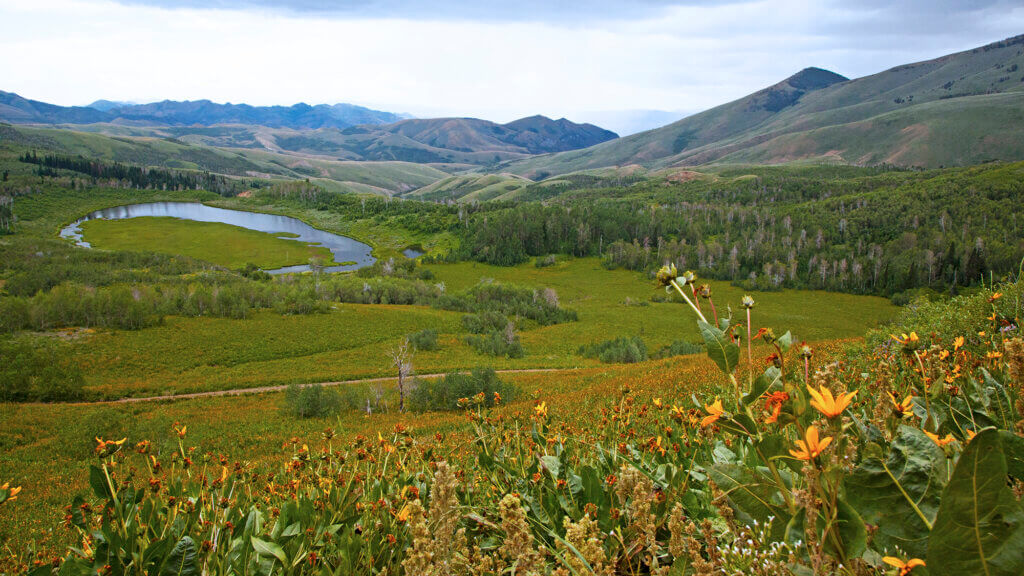 Jarbidge
Distance from Elko: 3.5 hr / 105+ mi
Find it on the Rubies Route road trip
It doesn't get farther away than Jarbidge. And we mean from most places; this is one of the Lower 48's most remote towns and wilderness areas, which is exactly why it's awesome. The historic, backcountry mining town is set in a canyon cut by the trout-packed Jarbidge River, lined with aspen groves, and towered over by nearly 11,000-foot peaks. Although the population only ranges from around 11 to about 100 seasonally, summer and fall visitors still have their choice of a few nice lodging options—and two Sagebrush Saloons (because Nevada)—in between forays into the truly untamed mountain landscape ensconcing it all. An absolute recreationalist's paradise, the nearby Jarbidge Wilderness and surrounding terrain entice anglers, off-roaders, shutterbugs, and all manner of off-grid solace seekers.
Grab Grub: Pop into the Outdoor Inn for hot home-style faves and homemade delights—like pies, jellies, and milkshakes—washed down by plenty from the adjacent room's full bar. Stock up on forgot-to-put-it-in-the-camping-box sundry items at the Jarbidge Trading Post. Or just knock a few back at the Red Dog Saloon, home to an impressive whiskey selection, for a town of this or any other size.
Turn In: Although camping abounds along the Jarbidge River—both in established USFS campgrounds and dozens of boondocking sites—you can find indoor comfort at the Outdoor Inn (plus 14 RV sites), The Barn Hotel, and the quaint Tsawhawbitts Ranch Bed & Breakfast (named after the legendary character that was later anglicized to today's "JAR-bidge").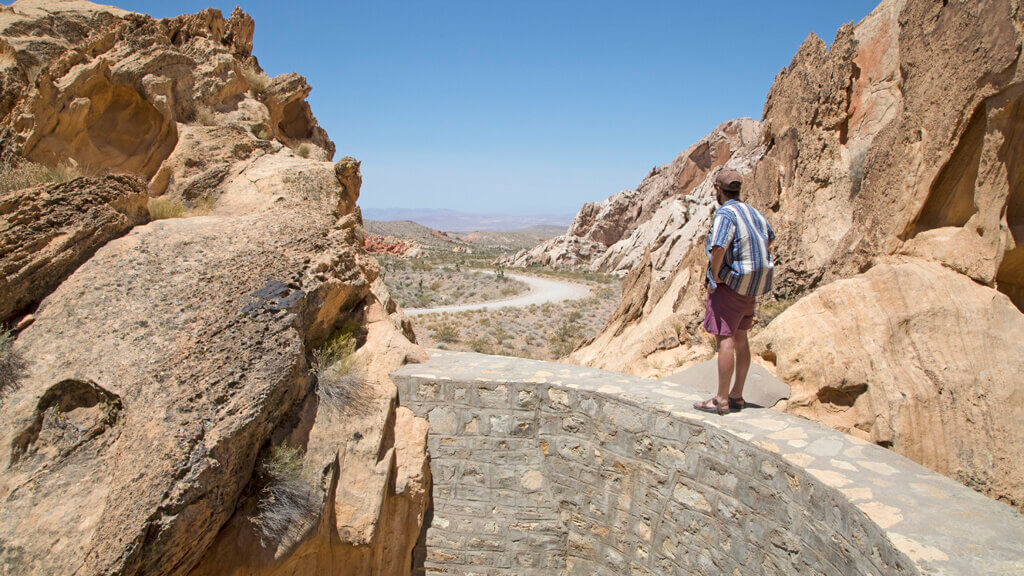 Gold Butte National Monument
Distance from Las Vegas: 2 hr / 95 mi
Find it on the Great Basin Highway road trip
If that "ditch the crowds" bit piqued your interest, this remote, rugged 300,000-acre slice of the Mojave Desert may be your best bet in this whole bunch. The monument boasts star-studded skies, ghost town history, impressive petroglyph panels, unique vantages of Valley of Fire and Lake Mead—so close yet SO far from the throngs of visitors there—and some of the dreamiest sandstone formations in the state. That said, this is serious desert backcountry. Rugged roads, distant services, and sweltering summers are only fun if you are prepared to survive them. Don't get us wrong; Gold Butte begs to be explored. Just be sure you do your homework and brush up on the Dirt Road Code and our Recreate Responsibly tips before you head for those reddish-hued hills.
Grab Grub: Fill your belly (and snack bag) in Moapa Valley with hot meals, cold deli sandwiches, and sweet treats at The Inside Scoop or pizza at Pirates Landing. After a day of exploring, reward yourself in Mesquite at Katherine's Steakhouse or the ample Sierra's Buffet.
Bed Down: In Mesquite, get back on the grid at the Casablanca Resort & Casino (and RV Park), Virgin River Hotel & Casino, or the Eureka Casino Resort. In Moapa Valley, modern comforts await at the North Shore Inn at Lake Mead.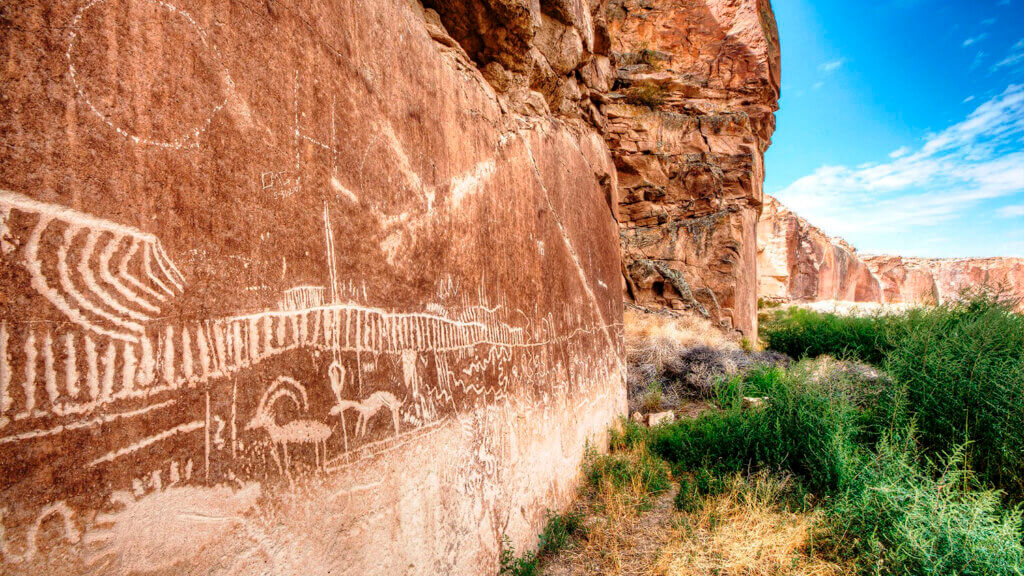 Basin & Range National Monument
Distance from Las Vegas: 2+ hr / 125+ mi
Find it on the Great Basin Highway road trip
The largest of Nevada's national monuments at more than 700,000 acres, Basin and Range stands out with its spectacularly unique geologic, natural, and cultural history. Golden eagles soar over towering peaks as desert bighorn sheep hoof it around sweeping valleys dotted with unusual rock formations and the petrified remains of ancient sandstorms, including one of Nevada's most breathtaking (and only) natural arches. Admire ancient art in the form of 4,000-year-old petroglyph panels at the Hiko and White River Narrows. As with Gold Butte, this is real-deal off-grid territory here, so make sure you know what you need to know to stay safe as you meander these much lesser-traveled dirt roads, tracks, and trails, which you're likely to be navigating solo.
Grab Grub: Stock up on supplies (and fuel) in Alamo, where you'll find small but well-equipped Great Basin Foods and some made-to-order meals tucked inside the Sinclair—as well as famously spacey E.T. Fresh Jerky a little up the road.
Turn In: If you're looking for an indoor respite, Alamo's Sunset View Inn's got you covered, as well as several motel options 60 miles east in Caliente.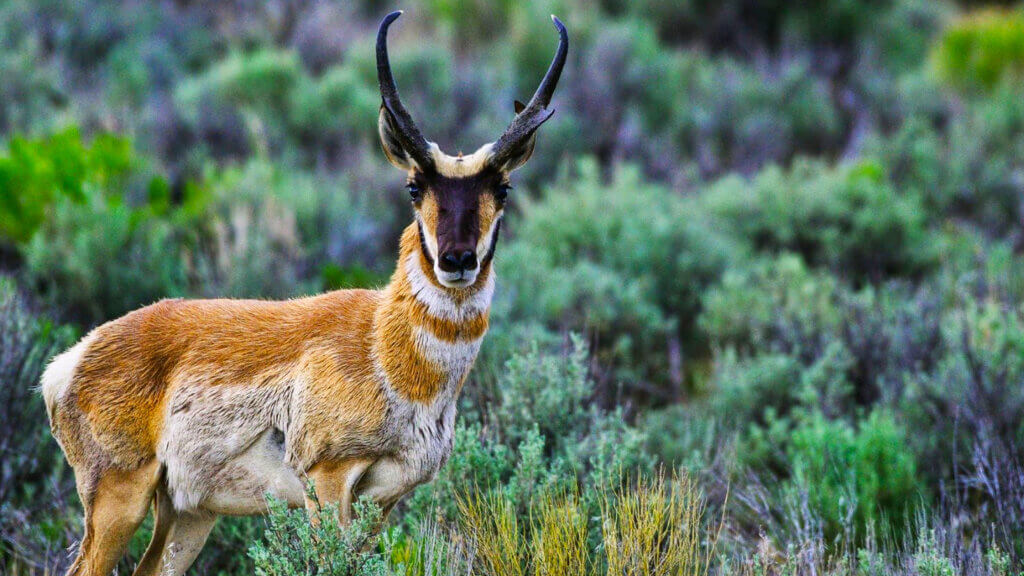 Sheldon National Wildlife Refuge
Distance from Reno: 4.5+ hr / 300+ mi
Find it off the Burner Byway road trip
Established in the 1930s to rehabilitate the nearly extinct pronghorn antelope, the country in and around this 572,896-acre refuge (Nevada's second-largest and easily farthest-flung) in the Silver State's far northwestern corner is an outdoor-oriented solitude seeker's dream. High-desert tableland panoramas are broken up by lush springs, waterfalls, fish-filled lakes, and winding canyons, like the unrivaled Thousand Creeks Gorge. Recreation opportunities are infinite, but some of our favorites include soaking in Virgin Valley Warm Spring after rockhounding for Nevada's state gemstone, the legendary Virgin Valley black fire opal. Up here, it's easy to get yourself a hundred miles (or more) from gas, pavement, or people—so pack wisely and come prepared.
Grab Grub: Most visitors will pass through Denio Junction, home to a small bar-café with solid burgers. Others may take the more rugged route up from Gerlach, where Bruno's Country Club, the Miners Club, and the recently revamped Empire Store have your taste buds' backs (as well as the only gas for hours).
Bed Down: On-grid options await at Denio Junction's small motel and the Royal Peacock RV Park; in Gerlach at Bruno's Country Club, and Iveson Ranch; and in Vya at the Old Yella Dog Ranch.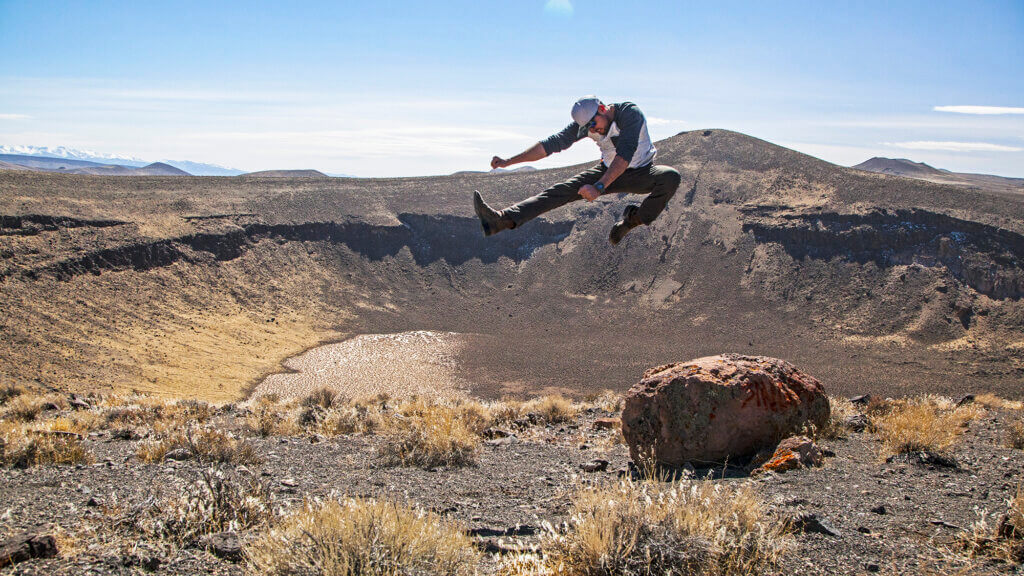 Lunar Crater
Central Nevada
Distance from Tonopah: 1.5 hr / 85 mi
Distance from Ely: 2 hr / 98 mi
Find it off the Free-Range Art Highway road trip
Wanna know what Buzz and Neil were feelin' as they bounced around on the moon? In Nevada, you can. Lunar Crater wasn't actually hollowed out by a wayward space rock, but its resemblance to features on the actual moon earned it a NASA designation as a "Terrestrial Analogue Site," meaning the landscape was authentic enough for astronauts to train here in preparation for actual lunar missions. From Lunar Crater's rim, you can also view 20 extinct volcanoes in the surrounding hills; while you're at it, be sure to also check out the Lava Beds just a little further down Highway 6 to the north. Located in the far middle of Nevada, down a dirt road off of low-traffic Highway 6, you aren't likely to have to share this stunner with other humans.
Grab Grub: There's nothin' out here (but that's the point, right?). Fill the tank (and your belly) in Tonopah at Tonopah Brewing Co. or Hometown Pizza; or in Ely at Racks Bar & Grill or Economy Drug & Old Fashioned Soda Fountain.
Bed Down: Same deal. In Tonopah, crash at The Mizpah Hotel, the recently restored Belvada, or the gloriously weird Clown Motel; in Ely, choose from the classic Hotel Nevada & Gambling Hall, the Jailhouse Motel & Casino, the Bristlecone Motel, and more.
Great Basin Highway
3 to 5 days / 350 to 585 mi
Learn more about the Great Basin Highway road trip
This diverse, park-packed adventure kicks off with red rock spires and sandstone canyons, ending with alpine peaks, ancient bristlecone pine forests, and some of the nation's darkest, most star-studded skies. Take your time weaving from Las Vegas to Great Basin National Park, via larger-than-life landscapes like dazzling Valley of Fire and Cathedral Gorge State Parks, storied ghost towns, and a few funky little communities. Pack your boots, bikes, fishing gear, and everything else in your garage, because the options for action out here are as endless as the masses are scarce. (Well, OK; Valley of Fire gets pretty packed, but get there at sunrise en route to Caliente, and you'll be rewarded with peace, quiet, and splendorous light.)
Grab Grub: Some of our favorite along-the-way eats include: The Inside Scoop (Overton), Side Track Restaurant (Caliente), Pine Tree Inn & Bakery (Panaca), Historic Silver Café (Pioche), and Racks Bar & Grill (Ely).
Bed Down: While camping abounds in every park, some of our favorite lodging options include: North Shore Inn at Lake Mead (Overton), Sunset View Inn (Alamo), Patty's Motel (Caliente), Overland Hotel & Saloon (Pioche), Hotel Nevada & Gambling Hall (Ely), and Hidden Canyon Retreat (Baker).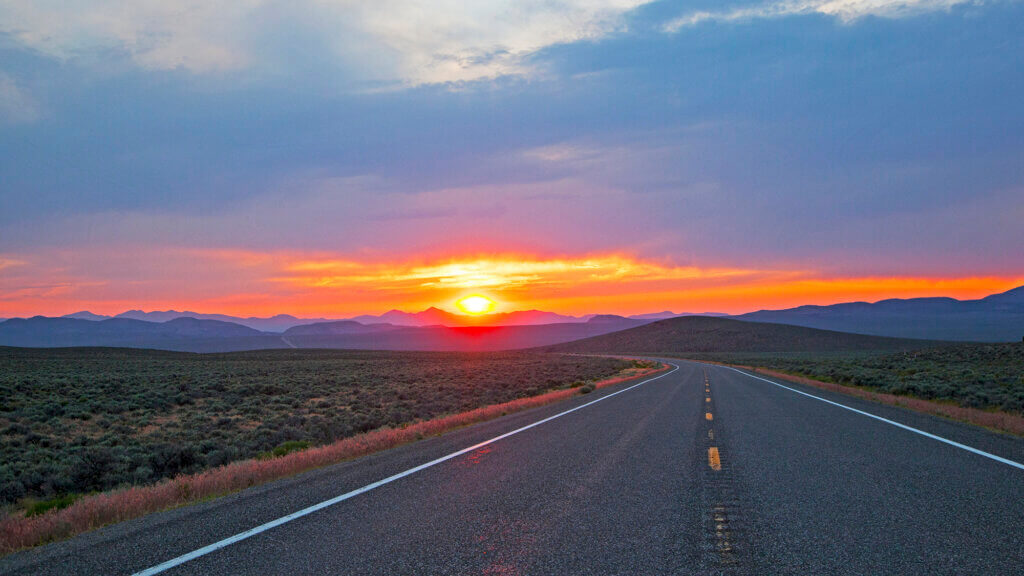 The name says it all! In 1986, LIFE magazine dubbed Nevada's Highway 50 the "Loneliest Road in America." The article noted "no points of interest" along the route and "warned" readers against traveling it without proper "survival skills." They were right about the route being wide, open, and pretty much crowd-free, but they were dead wrong about what's (not) on it. Explore ghost towns, historic mining communities, stunning state parks, outdoor action galore, and some of our favorite Sagebrush Saloons, to boot. Cap it all off at Great Basin—one of the Lower 48's most off-the-beaten-path national parks—where sky-scraping peaks and 5,000-year-old trees beckon visitors who prefer pure nature over traffic jams and crowded vista points.
Grab Grub: Favorite along-the-way eats on this route include: Sassafras Eclectic Food Joint (Carson City), The Slanted Porch (Fallon), Middlegate Station (Middlegate), Champs Burgers (Austin), Urban Cowboy Bar & Grill (Eureka), Cell Block Steakhouse (Ely), 487 Grill (Baker)
Bed Down: Hardman House (Carson City), Best Western Fallon Inn & Suites (Fallon), Paradise Ranch Castle and Union Street Lodging (Austin), Jackson House Hotel (Eureka), Jailhouse Motel & Casino (Ely), Stargazer Inn (Baker)
In love with the Silver State as much as we are? Learn what you can do to help us keep the places we cherish special—and open—for us and future generations.
Get Inspired
Related Stories